The top water-resistant tents have unique features that are not found in other tents. They're comfortable yet durable, providing a safe, warm, and cozy environment for the camper inside. Luckily, these tents are available in most outdoor shops online or off. 
However, with a myriad of designs, brands, and models, selection can get confusing and time-consuming.
To help you out, we've put together a list of our favorites along with detailed advice to help you choose the best option for your needs and budget.
Editor's Choice
MSR Hubba Hubba NX 2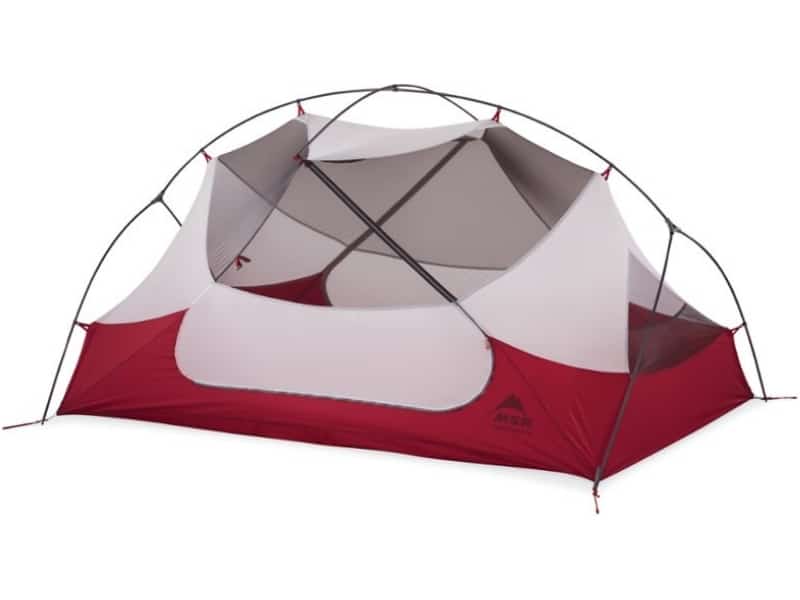 Overall, it all comes down to quantity with quality–– that is, owning multiple advantageous features instead of one. For this reason, the MSR Hubba Hubba is our top pick.
Compared to the MoKo Waterproof 3P, which is only good at being rainproof, the MSR Hubba Hubba embraces the many technical features of what generally makes an excellent tent. These include lighter weight, durability, wind-resistance, breathability, and an aerodynamic shape, not only a waterproof coating.
Built to endure punishing trails, the Hubba Hubba is twice as light as ordinary rain-resistant tents but is as hard-wearing. The 20D rainfly and 30D floor are weaved from a tight nylon blend that's as tough as higher denier fabrics.
The model is built to sit through harsh weather. Its shape is low and round to keep the wind from blowing it over. The rainfly gutters out excess precipitation over the door and the aluminum poles can handle high winds.
The only downsides to this elite-level tent are its awkward mid-rain pitching and the price tag. You can't set the Hubba Hubba in the middle of the pouring rain without getting the inner canopy wet. And you can't set an average budget for it either. But, these are just minor limitations for a tent that performs so well.
But if you're up to spending more for a model that delivers more, then that isn't a problem at all.
Bottom line: The MSR Hubba Hubba performs all the critical features of a superb weatherproof tent. It doesn't center on being waterproof. It's robust, lightweight, and convenient as well.
Further reading: If you plan to hit the outdoors in less than stellar conditions, then check out our tips and hacks for camping in the rain.
Camping Tents for Heavy Rain: What to Look Out For
Tent Waterproofing
For rainy weather conditions, of course, you'd want a waterproof tent. But to check whether it truly is, look at three things: the hydrostatic head, rainfly coverage, and the seams.
Hydrostatic Head
You often see numbers from 1500 to 6000 mm on tent specs. But what do they mean?
The HH or Hydrostatic Head is undoubtedly the most crucial aspect of a waterproof tent. The tent could be highly breathable and superiorly structured, but without a good HH rating, it's next to being useless.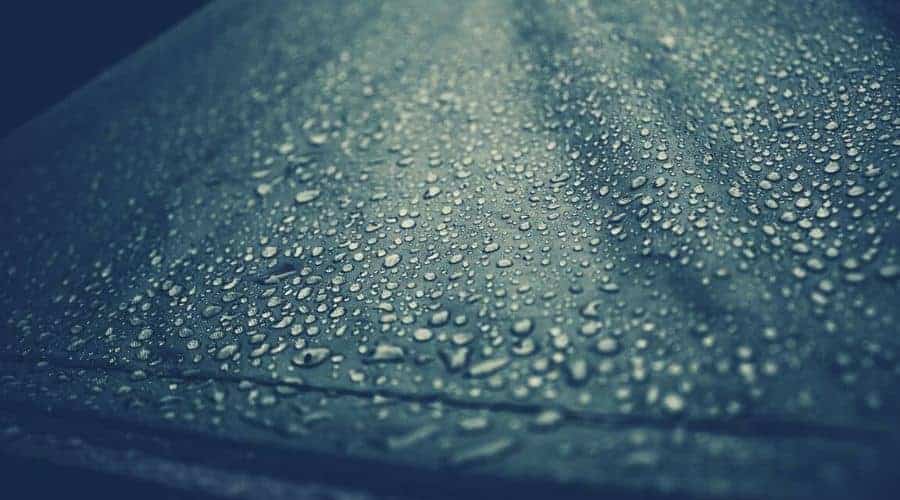 An HH rating describes how waterproof the tent's material is. Tent fabrics are coated with a waterproof treatment that keeps the rain out. The rating fundamentally measures its effectiveness in millimeters. That corresponds to how high a standing column of water could be placed against a fabric before it begins to leak. The higher the number, the more waterproof it is.
Make sure to choose a tent that's graded above 1500 mm for the rainfly and the inner canopy walls and the base, 4000 to 8000 mm. The base should have a considerably high HH because it has to be laid on top of wet ground and have to withstand puddles and the damp earth underneath.
Full rainfly coverage
Most waterproof tents are double-walled that come with rainflys, the second and outermost layer. While some heavy rain tents have highly waterproofed walls that may not need full coverage, opt for a big and engulfing rainfly anyway.
Rainflys not only protect you from heavy rain. Well-designed flies that cover the entire canopy give extra protection from all the elements. They also keep you warm against plummeting temperatures and help regulate the heat inside the tent. Roomy flysheets have huge vestibules that provide more storage space to keep your gear safe and dry.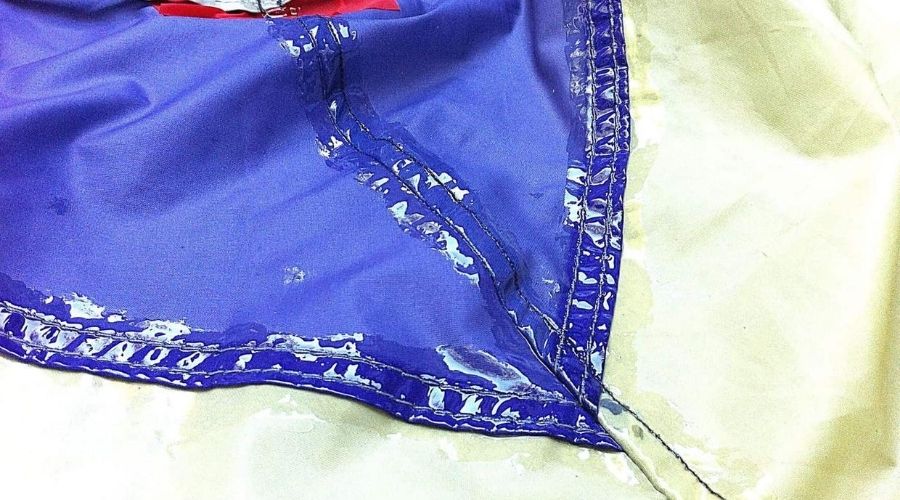 Sealed seams vs. taped seams
Not all seams are made equally. The age-old question to buy a seam-taped or seam-sealed tent is ever-present when it comes to rainproofing or weatherproofing.
Seam tape is a layer of polyurethane film placed underneath the seams to keep the water out. In contrast, sealing uses a special glue or sealant that's spread across the seams, covering the stitching holes.
Both ways are effective and have their specific applications. Sealed seams are more flexible, durable, and less prone to degradation. Look for them in thin and lightweight or ultralight tents. Meanwhile, taping adheres to heavier fabrics better and longer. So if the tent fabric is rated 68D and above, taped seams are highly recommended.
Tent Shape & Design
While rounded models are perfect for windy conditions, waterproof tents don't need to follow that guideline strictly. You may pick canopy-style tents with high, tall walls and square-like shapes or rounded dome tents depending on the kind of activity you're headed to.
For leisurely picnics on safe and relaxed camping grounds, family-sized canopy tents give enough comfort and protection for extended stays. Nevertheless, if you're backpacking and heading towards more technical trails, choose spherical tents with low profiles.
Dome and basecamp models have a more aerodynamic shape that's set closer to the ground. This low profile means there's less surface for the gusts to slam into. So they're less likely to be toppled by the wind.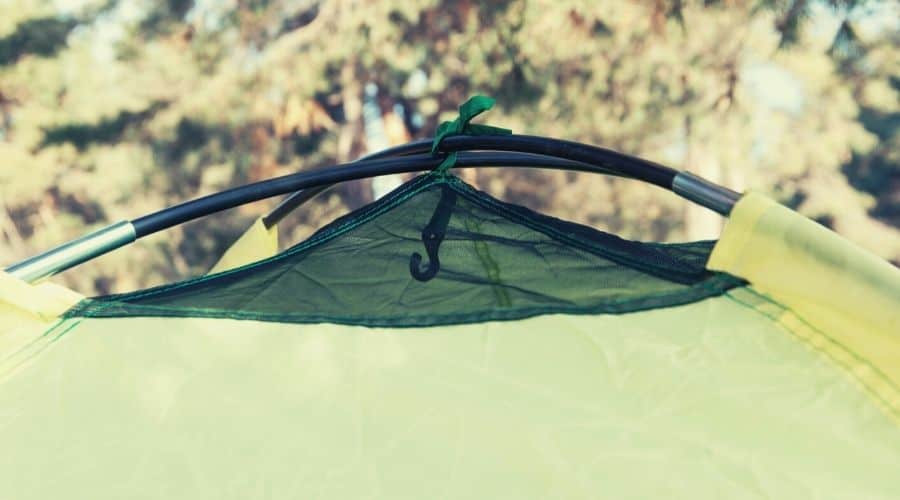 Breathability
As mentioned previously, high HH ratings correlate to better waterproofing. However, highly waterproof fabrics are often less porous and, therefore, less breathable.
So it's practically impossible for a very waterproof material to be breathable. There isn't just enough airflow. But there is a balance that every camper can look for. You should be able to enjoy waterproofing and avoid stuffiness at the same time if you check on the tent's design instead.
To compensate for the rainflys lack of breathability, the best tents for heavy rain have two walls to aid air circulation. Make sure to select models with large enough No-See-Uhm mesh parts in the inner canopy, two doors with mesh tops, large windows, and a rainfly with big vestibules and at least one ventilation window. With these, there are enough openings and space for ample air circulation.
Packed Size and weight
Due to the double walls and waterproofing, rainproof tents are some of the most cumbersome and burliest models out there. That's just par for the course.
When fully packed, compressed, or stuffed into its storage bag, the tent's two layers, various protection coatings, fabric thickness, capacity, and floor space, contribute to the packing size. The bigger it is, typically, the heavier the tent is.
When backpacking, a model with a substantial packed size not only weighs your rucksack down. It also takes up much-needed space, eating away plenty of room that's meant for other items and gear. You could hang the tent outside your bag while hiking, but that exposes it to snagging branches and other elements that could tear the walls.
To avoid this, the ideal solution is to buy an ultralight, weatherproof tent like the MSR Hubba Hubba. But if the expense is way beyond your budget, you should, at least, find the balance between weight and performance. A 2P model should not exceed 8 lbs, and it's packed size should not fill more than 1/2 of your bag.
Conversely, if you're going to be driving to your campsite, then the overall packed size and weight shouldn't matter too much unless you overload your car with other gear.
Capacity and interior room
The sleeping capacity points to how many people can fit inside the tent, excluding their gear. The capacity impacts comfort and many other factors that are influenced by the kind of outdoor activity you're into.
There's no industry standard for how big a specific capacity tent should be. Roomier tents are, of course, heavier and bulkier. They're mostly canopy-style shelters that don't need to leave designated camping spots. And if you have the luxury of having a car to carry the tent for you, maximizing on space and capacity for added comfort is not uncommon.
Meanwhile, backpacking tents are small, minimalistic, and space-conservative to reduce packing size, lighten the tail weight, and keep the tent aerodynamic. The size is only big enough to fit the appropriate number of people without being too cramped.
Best Tent For Heavy Rain
Geertop Portable 4 Tent
Best Value Waterproof Camping Tent
The Geertop Portable 4-person backpacking tent is a budget-friendly, versatile shelter that offers excellent value for money.
It's designed for use during the many seasons of the year. For wet seasons, the standard 3000 mm anti-tear checkered polyester rainfly, 5000 mm Oxford floor, and waterproof seams are strong enough to repel heavy rain. Meanwhile, during winter, it can stand in as a snow tent with its heavy denier walls and long snow skirt.
As with virtually all 4-season tents, pitching with the rainfly could get uncomfortably hot during the summer months. But the Geertop's inner canopy is created with a proportionate amount of fabric and No-See-Uhm high-density mesh parts. So it can function without the fly.
The model is reasonably heavy, but being a 4-person tent, that's not its most disadvantageous trait. It's the peculiarly thin floor. The Geertop may claim that its Oxford floor is high denier, but it is thin and surprisingly delicate enough to expect holes from rocks and insects if you don't treat it with care.
There's also the problem with this tent's ventilation system. The rainfly is bulky enough to prevent water from seeping through. However, its two small windows aren't sufficient to stop a considerable amount of condensation from forming in the morning.
Capacity: 4-people
Seasons: 4-season
Weight: 9 lbs
Floor dimensions: 7'10 x 6'11
Wall(s): Double
PROs

Versatile
Mesh-to-fabric balance
Budget-friendly

CONs

Thin floor
Lacks large windows
Ventilation problems
MSR Hubba Hubba NX 2 Tent
Best Tent For Heavy Rain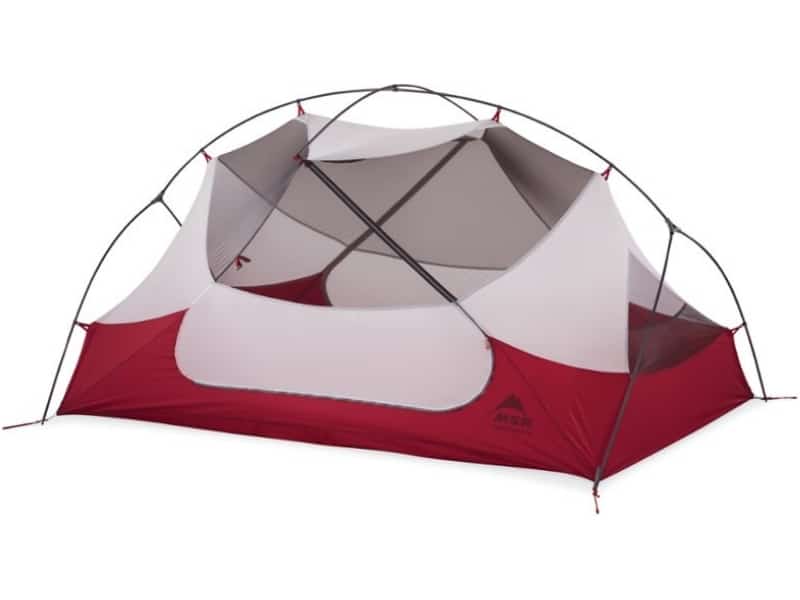 The MSR Hubba Hubba is a tough model to beat. With its technical prowess and overall masterful design, it's an elite outdoor shelter for both windy and rainy conditions that's dragged only by its high price.
Built for extended backpacking trips, the Hubba Hubba's ultralightweight is two times less than the standard 2-person tent and 2-5 ounces lighter than other branded ultralights. And while most models promote durability through high denier fabrics, it sticks to a 30D floor and 20D rainfly and focuses mainly on the kind of ripstop nylon blend being used.
However light the Hubba Hubba is, its durability is surprisingly still equivalent to thicker tents that can withstand rough weather conditions.
As mentioned, the model's Wind Lab tested aluminum DAC poles build a hard-wearing frame that's able to sit through wind speeds up to 60 mph–– all while maintaining an easy set-up. The unified hub-and-pole system makes pitching smooth and quick. But the multiple mesh parts of the inner canopy makes pitching in the middle of the rain awkward and difficult. The canopy will inevitably get wet.
The Hubba Hubba's rainfly has built-in gutters just above its two doors that lead water out of the entrance. It can also switch to stargazing mode, allowing campers a better view of the sky while staying inside the tent.
This model's only major fault is its incredibly demanding price. It costs twice as much as regular tents, and most of its essential parts are sold independently. You'll need to spend more than what you initially planned on.
Capacity: 2
Seasons: 3-season
Weight: 3.8 lbs
Floor dimensions: 7' x 4'2
Wall(s): Double
PROs

Lightweight
High-quality nylon fabric
Strong wind-resistant frame that's easy to set-up
Multifunctional rainfly w/ 2 doors & stargazer mode

CONs

Awkward to pitch in heavy rain
High price with a footprint that's sold separately
Bottom-Line: Difficult to beat as scores well across all categories, the MSR Hubba Hubba NX2 is our pick for the best wet weather tent.
Teton Sports Mountain Ultra Tent
The Mountain Ultra's most prominent feature is its roominess. Though there's nothing remarkable about the model's regular dome shape, it gives plenty of headroom and storage space through that extra 1 ft added to its width.
So while the Coleman WeatherMaster 6 provides comfortable space by generally being a large tent, Teton Sports' Mountain Ultra maximizes interior space by having a broader base. This makes it perfect for a short camping trip with more gear involved.
But the dome shape does contribute to shortening its pitching time. With only one pole intersection, the standard and easy frame make for a beginner-friendly tent that will only take minutes to set up.
However, the tent does have shortcomings in its floor design and zippers. The 50D polyester Oxford floor may be waterproof, but it isn't tall enough to defend the tent from the wet and muddy ground. Tiny droplets bouncing off the dirt may find their way above the base, letting the moisture in.
On the other hand, the snaggy zippers may be a minor annoyance at first, but they can turn into a full-blown problem when they bite into the wall, get stuck, or tear right through it.
Capacity: 2-persons
Seasons: 3-season
Weight: 7.2 lbs
Floor dimensions: 6'8 x 5
Wall(s): Double
PROs

Big Interior space with plenty of room
Storage pockets
Easy to set up

CONs

Short bathtub floor
Snaggy zippers
MoKo Waterproof 3 Tent
The final tent on our list is a close runner up to the MSR Hubba Hubba. The MoKo Waterproof 3 may not be an ultra-lightweight tent. It may not be the most durable and most advanced outdoor shelter available today. But it focuses on one thing, and it does it perfectly well– to keep you dry.
The MoKo tent's rainfly is rated 2000 mm with an additional 2500+ mm waterproof coating. Along with the 5000 mm base and unique pitching style, it tries to be true to its name as it repels as much water as possible.
Unlike the Hubba Hubba, the model has a peculiar pitching style that's incredibly convenient when you need to set it up in the middle a heavy rain shower. The fly is pitched first instead of the inner meshed canopy. So you're guaranteed a dry interior that hasn't been penetrated by raindrops. You can also use the fly to shelter your gear even if you haven't pitched the canopy yet, keeping them from being wet any further.
The full-coverage rainfly engulfs the canopy, but it also leaves big vestibules to keep the water from reaching the interior and give the usual benefits of the added ventilation system and storage space.
But with this much waterproofing and flysheet fabric, the MoKo Waterproof 3 is too bulky and heavy for extended backpacking trips. It's best used for established campsites and accessible trails. So the 4-season tent is better for a car camping trip.
Lastly, the model seems to make up for all that fabric with lighter fiberglass poles. While that may seem smart, it can backfire with its durability issues. Fiberglass poles fracture easily, especially when they're punctured by sharp objects.
Capacity: 3-person
Season: 4-season
Weight: 9.9 lbs
Floor dimensions: 9 x 7
Wall(s): Double
PROs

Highly waterproof coating
Unique and effective anti-rain set-up
Large protective rainfly
Big vestibules & storage pockets

CONs

Heavy, suitable only for car camping trip
Fiberglass poles may break easily
Bottom-Line: When it comes to sheer water-resistance then Mountain Ultra is a great tent for heavy rain.
Coleman WeatherMaster 6 Tent
Best Camping Tent For Rain
Undoubtedly the WeatherMaster 6 is only for leisure and comfort. It focuses on giving campers with a cozy overnight stay even with average weather protection.
With an apex height of 6 feet and 8 inches and a 99 ft² square footage, the two-room Coleman tent is one of the largest of its capacity type. The spacious interior is designed to hold two queen-sized air beds, allocating 4.9 ft² for every sleeping person.
Its other standout features include its massive screen porch and hinged doors. The 9 x 6 ft screen room provides insect-free lounging and sightseeing. It doesn't have a floor of its own, but it does give ample space to secure coolers and chairs, equipment that you won't mind getting wet from the rain.
On the other hand, the unique hinged doors make access in and out of the tent easy for kids and adults alike. Two fiberglass poles run along the door perimeter. This makes zipper snagging less of an issue.
The WeatherMaster could improve ironically, its "mastery" of the weather – with the tent as it stands only suitable for light-moderate rain showers. The coated polyester fabric, anti-wicking thread, and bathtub floor are not enough to brave the storms. You may experience leaks when the weather worsens.
In addition, the model can't stand on its own and may develop mesh holes in the future. So if you do decide to get the WeatherMaster 6, take good care of the mesh room. Keep it away from sharp objects.
Capacity: 6-person
Seasons: 3-season
Weight: 32 lbs
Floor dimensions: 11 x 9 with 9 x 6 screen room
Wall(s): Double
PROs

Tall and roomy
Huge screen porch
Uniquely hinged doors
Storage pockets

CONs

Not freestanding
For leisure camping only
Less durable mesh