Camping with a large group of family or friends can be an incredible experience. Without the right tent, however, things can turn sour in a hurry and see your fun-filled outdoor trip descend into a bit of a sufferfest.
To avoid this, and make your family trips as fun and comfortable as possible, we recommend opting for a roomy, robust, comfortable shelter that feels like a home away from home: enter the cabin tent.
Cabin camping tents are ideal for camping families, offering room in spades, solid weatherproofing, and a more robust design than their tunnel or dome-style cousins. As the name suggests, they're like cabins made with canvas or nylon instead of wood.
To help you find the ideal tent for your future group camping adventures, we have examined the top-rated cabin models on the market and reviewed seven of the best. Read on to discover your future home away from home!
Editor's Choice
Eureka Copper Canyon LX
Let's get straight to the bottom line: we frickin' love this tent!
Why? It does everything we need a backcountry bolthole, does it to a high standard – and provides a little more on top of that.
The Copper Canyon is available in 4-, 6-, 8-, and 10-person models. For our review, we tested the 8-person model and were blown away by what it offers given its altogether reasonable price tag.
The CC 8-Person weighs a mere 24 lbs. and 5 oz, making it the lightest model we tested. Despite this, it is also one of the most rugged, water-resistant, spacious, and feature-rich. It also sets up in next to no time, has great ventilation features, and has a generous center height that will allow the tallest members of your camping crew to walk around inside without stooping.
All in all, this is the best family cabin tent we've ever had the pleasure of catching our Zs in.
Bottom Line: A spacious, durable, waterproof family camping tent that boasts a bounty of comfort- and convenience-enhancing features.
At a Glance: Cabin Camping Tents Quick Recommendations
Best Cabin Tents: Reviews of Our Top 7 Picks
Eureka Copper Canyon LX
Editor's Choice
The Eureka Copper Canyon LX has featured on our list of the best cabin tents for several years running and once more it has beaten off stiff competition to stand head and shoulders above the best of the rest.
The main selling point of this 8-person tent is its livability. It has 130 square feet of interior space, an 84-inch center height, and near-vertical walls that maximize headroom throughout the tent. Unlike many so-called "8-person" tents, the Copper Canyon can comfortably accommodate 8 adults, and with room to spare.
Compared to other cabin tents at a similar price point – the Core Instant and the Wenzel Klondike, for example – the Copper Canyon wins our overall title on account of its roomier interior space, more robust waterproofing, and use of more rugged, durable materials.
Features-wise, the Copper Canyon also stands out. It has a large extended awning for drying clothes or kicking back in your camp chair, plenty of wall pockets for gear storage, adjustable vents to prevent stuffiness and condensation, and a duo of canopy storage shelves.
If you're looking for something a little bigger or a little smaller, the Copper Canyon is also available in 4-person, 6-person, and 12-person models.
Specs
Interior Space: 100 sq. ft.
Peak Height: 84"
Weight: 24 lbs. 5. oz.
PROs

Roomy
Waterproof rainfly and inverted seams
Ample storage for camping equipment
Two doors
Removable room divider
Extended awning

CONs

Partial-coverage rainfly
No vestibule
Bottom-Line: An affordable, well-made family cabin tent that's ideal for 2- or 3-season camping trips.
Core 9 Person Instant Cabin
Runner Up
The Core 9-Person Instant features a quick setup design that lets you get down to enjoying the great outdoors a little sooner than almost any other model in our review.
The poles in this shelter are pre-attached, meaning you just need to unpack, unfold, extend, and you're good to go!
But this shelter's got a lot more going for it than a speedy setup…
It also uses Core's H20 Block Technology, which combines water-repellent fabrics with a DWR (Durable Water Resistant) coating, sealed seams, and rain-resistant doors and windows to provide good enough weather resistance for summer camping. Its oversized mesh windows and mesh ceiling provide plenty of ventilation and make it a great option for trips in humid conditions.
The Core also features a handy room divider for privacy, a plethora of storage pockets, and an electric charge port for use at hookups.
While this Core tent loses a few points for its lack of an awning or vestibule space, it's still an outstanding option for large families looking for a shelter that removes the fuss and hassle of setup.
Specs
Interior Space: 126 sq. ft.
Peak Height: 72"
Weight: 37 lbs.
PROs

Spacious
Zippered privacy panel/room divider
Multiple storage pockets
Easy and quick to set up
Electrical cord access port
Telescopic tent poles

CONs

Low hydrostatic head rating
Partial-coverage rainfly
Bottom-Line: One of the best cabin tents out there for buyers keen to minimize the hassle of setup and takedown.
Wenzel Klondike 8 Person
Best Value
Looking for a shelter that offers a generous sleeping space and a separate nighttime stargazing area? If so, the Wenzel Klondike might just be the shelter for you!
This 8-person instant cabin tent boasts a sleeping area that measures a roomy 16 feet by 11 feet by 6' 5" tall, making it more than big enough to accommodate 8 sleepers. In addition to this, you also get a huge 60-square-foot screened porch area that you can use for bug-free dining and lounging, gear storage, stargazing at night, or even to park your car in!
While the Klondike is made with high-quality materials, the downside is that they lack water resistance and it only comes with a partial-coverage rainfly. While this will keep you dry in light rain showers, a model like the Eureka Copper Canyon or Kodiak Canvas is a far better option if you plan on being out in all weather.
Specs
Interior Space: 98 sq. ft.
Peak Height: 78"
Weight: 26 lbs.
PROs

Affordable
Huge screen room that can fit a queen-size air mattress
Good ventilation
Easy to set up
10-year warranty
Functional carry bag

CONs

Not the most robust waterproofing
Fiberglass poles
Bottom-Line: The Wenzel Klondike is a spacious tent that's the perfect choice for families who need a little more room for gear storage or bug-free lounging.
Kodiak Canvas Flex-Bow Deluxe Canvas Tent
Best Canvas
The Kodiak Canvas Deluxe is a beast of a tent that's in a league of its own when it comes to ruggedness and weatherproofing.
The wall fabric is Kodiak's proprietary Hydra-Shield canvas, highly durable and silicone-treated, which makes it virtually impermeable in rainy conditions. The floor is made with even tougher, polyester-reinforced 16-ounce vinyl, which all but ensures you won't have to deal with any groundwater sneaking in beside you while you sleep.
All of this is held together by Kodiak's super-sturdy Flex Bow frame system, which provides excellent performance in high winds and uses steep sidewalls to maximize headroom and shed rainwater in an instant.
A few additional features also help to make the Kodiak a winner. These include an adjustable gear loft for overhead storage, a large awning to offer shaded coverage when you enter and exit, and two funnel-flow vents that help with temperature management and improve airflow.
The Kodiak also has two large doors for added convenience, fine mesh screens on the windows simultaneously warding off small insects whilst allowing you to take in the views, and a handy internal gear organizer.
This isn't the lightest or cheapest tent out there, granted, but you still get an awful lot of bang for your buck.
The Kodiak Canvas is also available in 4-person and 8-person models
Specs
Interior Space: 100 sq. ft. (6-person model)
Peak Height: 73"
Weight: 68 lbs.
PROs

Robust
Waterproof enough for winter camping
Durable
Huge extendable awning
Huge windows

CONs
Bottom-Line: The Kodiak Canvas is the best all-season, waterproof cabin tent out there and also one of the most spacious offering ample standing room, enough space for your gear, and the durability and waterproofing needed to withstand even the roughest of storms.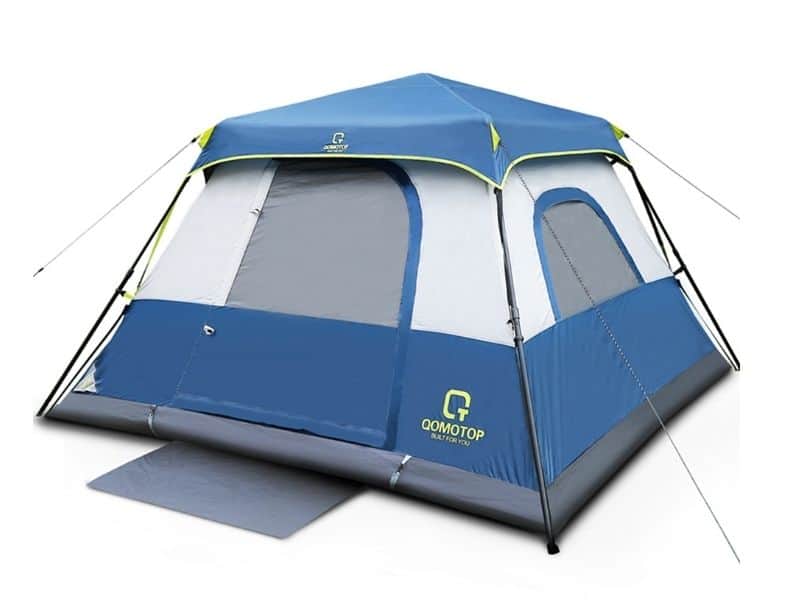 QOMOTOP Instant Cabin Tent
Best Budget
A low-cost tent that performs just as well as several of its more expensive competitors in all of the most important metrics. That, folks, is the QOMOTOP in a nutshell.
This 6-person budget cabin tent is made with a sturdy steel frame and burly, 68D fabric. While its rainfly's waterproofing is nothing to write home about and provides only partial coverage, it's good enough to withstand light rain.
The QOMOTOP is also pretty roomy for a 6-person cabin tent, offering 15 square feet of floor space per sleeper. There's no vestibule, screen room, or awning, but you do get 6 mesh-covered windows, 2 floor vents, a huge door, an electrical cord port, and a few storage pockets in the tent walls.
Setting up this shelter is a breeze thanks to its extendable poles and central pole hub system. For 2 people, it should take no more than 2 minutes.
The QOMOTOP Instant is also available in 8-person and 10-person models.
Specs
Interior Space: 90 sq. ft.
Peak Height: 76"
Weight: 29.9 lbs.
PROs

6 large mesh windows and mesh roof
2 floor vents
Steel upright poles
Detachable room divider
Easy to set up
Factory-sealed seams and sturdy bathtub-style floor

CONs

Not the best performer in wet weather
Short on features
Bottom-Line: An affordable shelter that performs just as well as some of its much-pricier peers in all of the most pertinent specs.
Ozark Trail 3-Room Instant
Best for Livability
If you have a larger camping crew or simply need a backcountry bolthole with a little more space, the Ozark Trail 12-Person Instant Cabin Tent is a great pick.
With no assembly required, the Ozark Trail gives you more downtime by minimizing the hassle of pitching and packing away at the end of your stay.
The Ozark can be set up by two people in just two minutes thanks to its use of pre-attached steel poles and a central pole hub – just unfold and extend the poles, pop in a stake or two, and your home for the night is ready to roll.
With 256 square feet of interior space and a center height of 82", the Ozark is also the most spacious model on our list and ideal for camping in large groups. All that space can also be divided into three separate rooms using two room dividers – ideal if any members of your camping crew are precious about their privacy.
As regards features, the Ozark is up there with the best of them. It has a huge front awning, a power outlet, ground vents to improve airflow, and seven large, mesh-covered windows for bug-free stargazing.
Specs
Interior Space: 256 sq.ft.
Peak Height: 82"
Weight: 61 lbs.
PROs

Huge!
Two room dividers
Easy to set up
Two doors
7 windows
Steel poles

CONs

Heavy
Middling weather resistance
Bottom-Line: Family cabin tents don't come much roomier than this!
Coleman Instant Cabin Tent
Honorable Mention
Let's talk about the sun. For most campers, it's the thing that makes or breaks their days in the backcountry. If it's out, the good times are sure to roll. If it's hidden behind a ceiling or precipitating cloud, our camping trip becomes something to be endured rather than enjoyed.
But the sun ain't always a good thing, especially not when it peeks over the horizon circa 6 a.m. and rouses us from our sleep. While most tents do very little to mitigate this problem, this one has you covered.
The Coleman Instant Tent has many things to admire, but none more so than its "dark room" technology, which effectively blocks out 90% of sunlight. This feature lets you carry on getting your beauty sleep long after the sun rises and will also help keep the interior temperature down during the day and stop lights from campsite neighbors or facilities disturbing your sleep at night.
But the Coleman Instant has more going for it than fancy technologies alone. A lot more.
With 140 square feet of floor space and a center height of 79 inches, this is a large tent – large enough to accommodate 9-10 sleepers plus all their gear. While there's no vestibule, you do have a screened porch and plenty of wall pockets for storage. A huge hinged door on either side, 5 mesh windows, and 2 roof vents also help to boost airflow on balmy nights.
The Coleman Cabin Tent is also made with extra-durable, 150D polyester fabric and uses Coleman Tents' proprietary WeatherTec waterproofing to provide protection in moderate rain showers. While it only had a partial-coverage rainfly, the near-vertical walls and large valances make this a better performer in wet weather than other tents like the OT QOMOTOP or CORE 9-Person.
Specs
Interior Space: 140 sq. ft.
Peak Height: 79"
Weight: 27.6 lbs
PROs

Spacious
Screened porch
Rugged, durable fabric
Good ventilation
Room divider
Dark room technology blocks 90% of sunlight

CONs

Low hydrostatic head
Partial-coverage rainfly
Bottom-Line: Roomy, durable, easy to set up, and, thanks to its dark-room technology, one of the best instant cabin tents out there for folks who like to hit the snooze button and lie in a little longer.
How to Choose a Cabin Tent
Capacity and Liveability
We recommend choosing a shelter that provides each sleeper with around 14/15 square feet of floor space, though this figure may decrease a little if you're camping with kids. To ensure everyone can move around inside without stooping, also look for a center height of around 74 inches, which will leave plenty of headroom for campers up to 6 feet tall. 
One feature that is often overlooked when gauging livability is storage space. Vestibule (or screen room) space and storage features like gear lofts and storage pockets play an important part in a tent's livability. The reason for this is simple: they free up interior floor space by allowing you to store your camping gear either outside or above the sleeping area.
The only tents on our list with vestibule or screen room space are the Wenzel Klondike and Coleman Instant Cabin, though the Kodiak Canvas and Ozark Trail have large extended awnings that can be used to protect gear stored outside.
Weather Resistance
Weather resistance is mainly determined by two things: the coverage provided by the rainfly and the rainfly's hydrostatic head rating.
While most dome tents have full-coverage rainflys, cabin tents, for the most part, use partial-coverage flys, i.e., ones that cover only part of the tent (usually the roof and a portion of the walls). As you'd expect, a full-coverage fly provides better protection against the elements.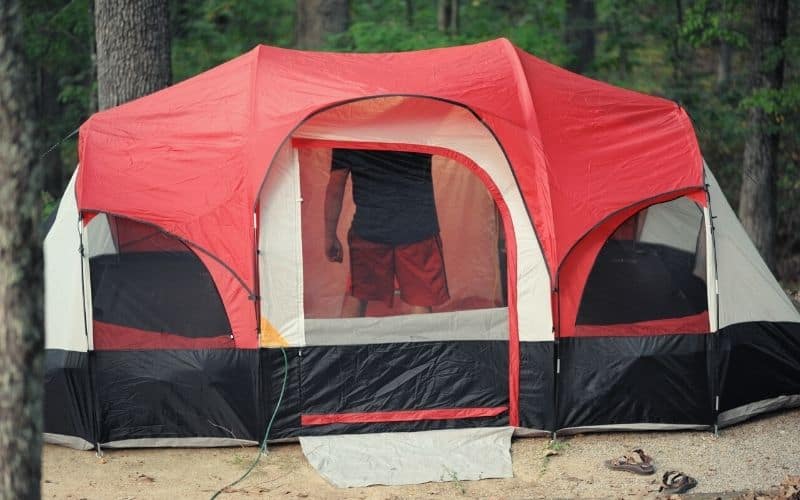 All of the tents on our list have partial-coverage flys, though the Kodiak Canvas is made with entirely waterproof fabric, it therefore streaks ahead of the rest in terms of wet-weather performance, making it the best cabin tent for rain that we tested.
And hydrostatic head? This is the rating system used to determine a fabric's degree of water resistance. Simply put, the higher the hydrostatic head (HH), the more waterproof the fabric will be. For example, a model like the Eureka Copper Canyon, with a HH of 1,200mm, will offer better protection than the Ozark Trail or OT QOMOTOP, which have a HH of just 600mm.
Durability
Durability is determined mainly by the materials used for the poles and in the tent fabric.
With tent poles, you'll come across three materials: steel, fiberglass, and aluminum. Of the three, steel is the sturdiest and most durable, but also the heaviest. Fiberglass is lightweight and cheap, but also prone to breakage in strong winds or under stray feet. Aluminum is the ideal happy medium, striking a good balance between strength and weight.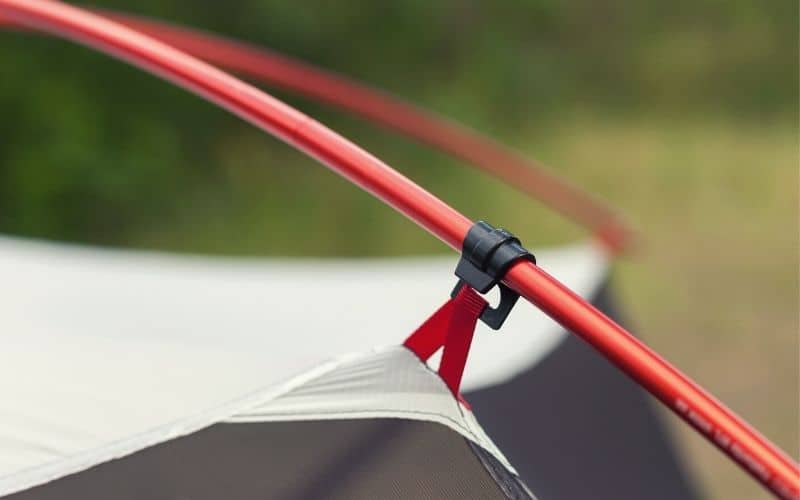 The most common fabrics used for tents are polyester and nylon. We've also included one canvas model on our list – the Kodiak. Like most canvas tents, the Kodiak is far more robust and waterproof than its synthetic-made competitors, but also weighs (and costs!) significantly more.
With polyester and nylon tents, durability is mostly determined by the density of the fabric. Fabric density is measured in denier, usually represented in the product specifications by a 'D' appended to a number, i.e. '20D', '50D', etc. The higher the number before the 'D', the denser and more durable the fabric.
The toughest model on our list (by a country mile) is the Kodiak Canvas. This is followed by the Coleman Instant Cabin, which is made with extra-burly 150D polyester fabric.
Ventilation
Without adequate ventilation, tents soon become very stuffy places, especially when filled to max capacity or when camping in warm weather. At any time of year, poor ventilation is also sure to lead to condensation, which isn't just irritating but also likely to leave you, your sleeping gear, and the rest of your kit anywhere from a bit damp to wetter than an otter's pocket. 
Keen to avoid the above? Look for ventilation-boosting features like mesh windows, mesh panels in the canopy, vents, and large doors – ideally two of them to maximize airflow.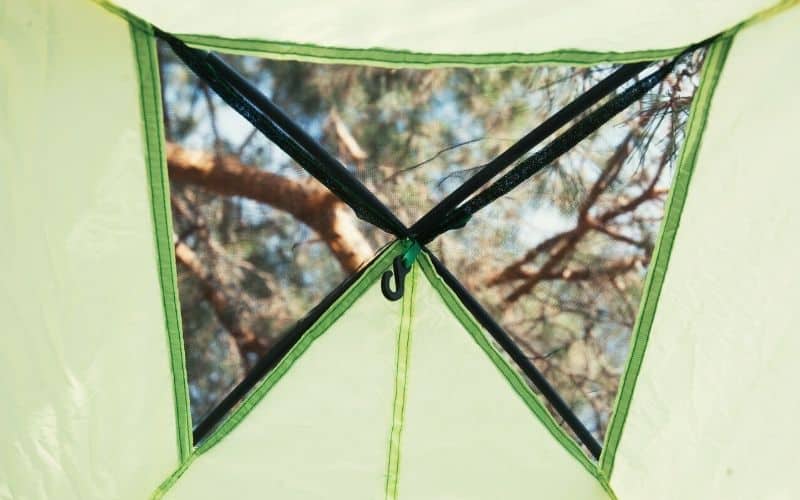 Weight
Most cabin tents are designed for car or frontcountry camping. As such, they're far heavier than their A-frame or dome-style cousins, most of which are made for backpacking.
Nevertheless, even when car camping, you'll still have to transport your shelter from your vehicle to your campsite, something that might be tricky if you have no one lending a hand or you're not comfortable shouldering loads upwards of 30 pounds.
The lightest model on our list is the Eureka Copper Canyon, which weighs a modest 24.5 lbs. The heaviest? The Kodiak Canvas, which weighs a mighty 68 lbs.
Ease of Setup
Five of the tents on our list are "instant" tents, meaning they use pre-attached poles and a central hub that allows you to transform them from packed to pitched in 1-2 minutes. These include the Core Instant Cabin, Coleman Instant Cabin, OT QOMOTOP, Ozark Trail, and Eureka Copper Canyon.
The Wenzel Klondike, on the other hand, will take even two experienced hands at least 10 minutes to assemble, and the Kodiak Canvas roughly 5 minutes.
Tent stakes and guy lines are included with all of the models on our list.
Features
A handful of features can seriously enhance any tent's practicality and convenience. The most important of these are a large vestibule for gear storage, a hinged door, room dividers for privacy, and internal storage features like a gear loft or built-in pockets in the walls.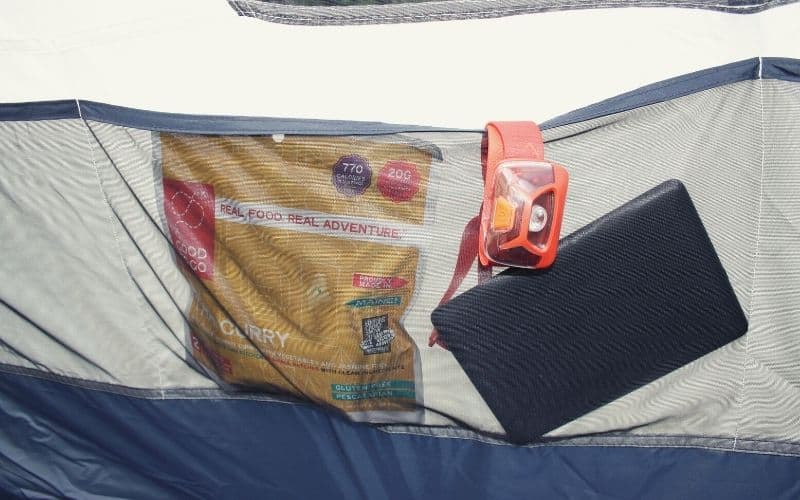 Cabin Tents FAQs
What is a cabin tent?
A cabin tent is a camping tent distinguished by its near-vertical walls. The steepness of the walls means that the height of the shelter is nearly uniform from side to side. This contrasts with the walls of dome tents, in which headroom decreases the further you move from the center.
What size tent do I need?
This depends on two things: how many people you're camping with and how much gear you bring. We recommend allowing around 14 square feet of floor space per adult in your group. However, if you plan on bringing lots of gear with you, and don't have vestibules for storage, this increases to around 16-18 square feet, depending on just how much gear each person has.
Cabin vs. Dome Tent?
Generally speaking, this comes down to whether you prioritize space and liveability or weather resistance. As mentioned above, the straight-walled design of cabin tents makes them far roomier than domes. However, it also means they're less aerodynamic and, therefore, poorer performers in strong winds.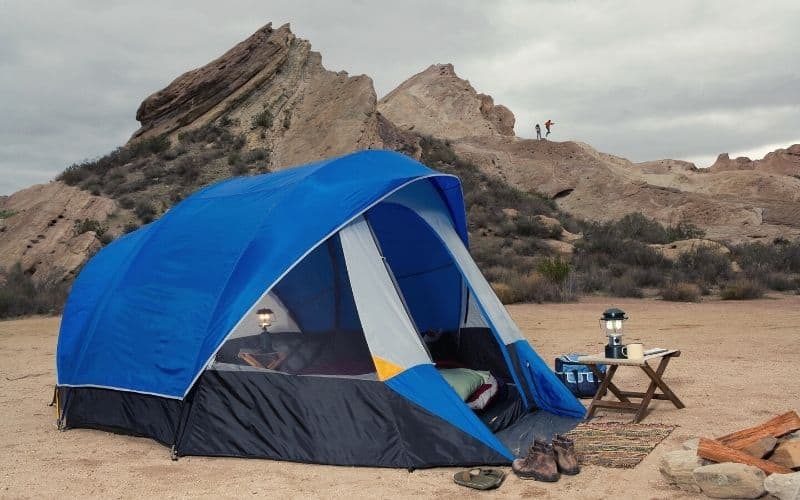 It's also hard to find a genuine 3- or 4-season cabin tent with a full-coverage rain fly and high hydrostatic head rating. So, if you're an all-weather kinda camper, a dome-style tent is the way to go.
Cabin Tents: The Verdict
We hope the above list has helped you find the best instant cabin tent for your needs.
To recap, our pick of the bunch is the Eureka Copper Canyon. This is a durable, sturdy, and spacious shelter that boats all the features needed for comfortable family camping trips.
If you need a little more weather protection, we recommend the Kodiak Canvas. The Kodiak won't win any prizes for lightness, sure, but it's the best performer in strong winds and waterproof enough to keep you dry in a deluge, never mind a downpour.
And if you're looking for a more affordable shelter for occasional summer camping trips, check out the Wenzel Klondike and OT QOMOTOP. Neither of these tents has the bells and whistles found on our list's pricier models, but both are well-made, reliable, and ideal for 2-season camping.
Did you find our article interesting? If you did, leave us a comment in the box below! And, as always, feel free to share this post with your friends!