Best Water Purification Tablets
Aquatabs
Campers looking for quick and convenient chlorine dioxide tablets should check out the Aquatabs Water Purification Tablets. Every standard Aquatabs sheet has 100 separately wrapped packets each of which can purify 0.75 liters of clean water. The entire sheet of 100 only weighs about 0.64 ounces, so packing one or two sachets in your backpack will be as light as a feather.
When you need to purify your H20, it will take a packet of Aquatabs only 40 minutes to work. Manufacturers claim Aquatabs can kill off Giardia cysts, bacteria, and viruses. If you don't believe the manufacturers, consider that Aquatabs is the only brand to have both NSF 60 certification and World Health Organization approval.
Aquatabs are the best water purification tablets for occasional hikers who want a fast, reliable, and easy way to clean out water-borne diseases.
The 7 Best Water Purification Tablets of 2022
Looking for the Best Purification Tablets for Water?
You're in the right place! In this guide, we will be covering the following:
Dangers of drinking from contaminated water sources
How water purification tablets work
How water purification tablets are effective vs other methods
How to use water purifying tablets
Our recommendations for the best water purification tablets
All hikers need to ensure they have a reliable source of clean H2O before they head into the wild. This is especially true if you're planning on going on long hikes. After only two days without water, you could die of dehydration.
While there are usually many sources of water on hiking trails, most often the aqua you'll be scooping into your cup isn't safe to drink straight out of the stream. One of the most convenient ways for you to eliminate harmful viruses and bacteria from stream water is to invest in a bottle of water purification tablets.
In this article, we'll go over what water purification tablets are, how they work, and what you should look for when purchasing a bottle of them.
Dangers of Drinking Water In The Wilderness
Hikers who want to go on treks that last a few days or longer will need to rely on natural water sources to keep themselves hydrated. Stuffing bottles of purified water into your backpack can get really heavy really fast, making it impossible to carry all that around with you that you need for an extended trip in the backcountry. You'll need to grab some of your potable water from streams, lakes, and creeks to stay hydrated.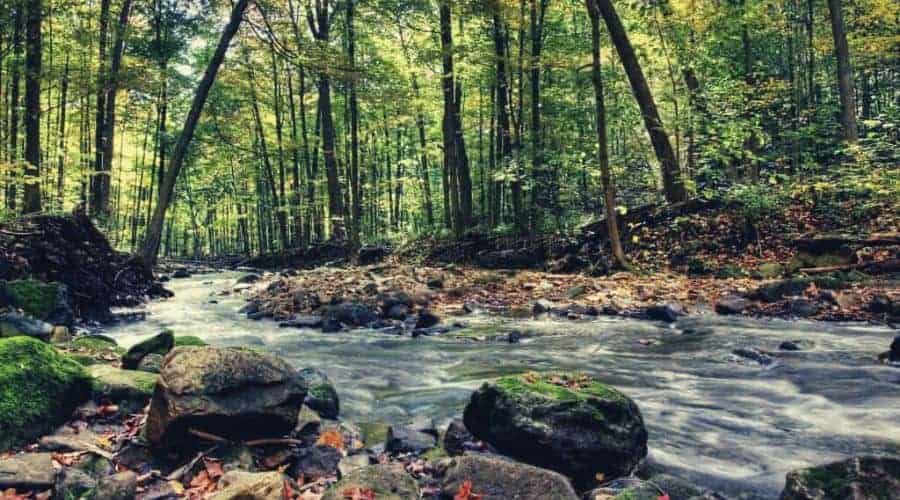 Of course, it's never advised you simply grab your canteen and start drinking straight from the stream. In any stream or lake there are countless microorganisms that could make you very sick, if not potentially kill you. This is why it's so critical for hikers to invest in high-quality purification tabs or other purification systems that kill off all harmful bacteria, parasites, and viruses.
Common Camping Protozoa: Cryptosporidium And Giardia
Two protozoan names all campers should be aware of are Cryptosporidium and Giardia. Both of these pathogens are common in untreated water and usually originate from human or animal feces. If you get either of these protozoa in your system, then you will experience severe gastrointestinal issues like diarrhea or vomiting.
According to the US Centers for Disease Control and Prevention (CDC), most iodine and chlorine tablets are ineffective against Cryptosporidium, but they are somewhat effective against Giardia. Chlorine dioxide, however, is good at killing Cryptosporidium and even better at eliminating Giardia. If you can't boil your water, the CDC recommends running it through a filter and using a purification tablet to produce safe drinking water possible.
Types of Water Purification Methods: Filters, Purifiers, And Boiling
Besides water tablets, the two most popular means of purifying stream water include boiling and water filters.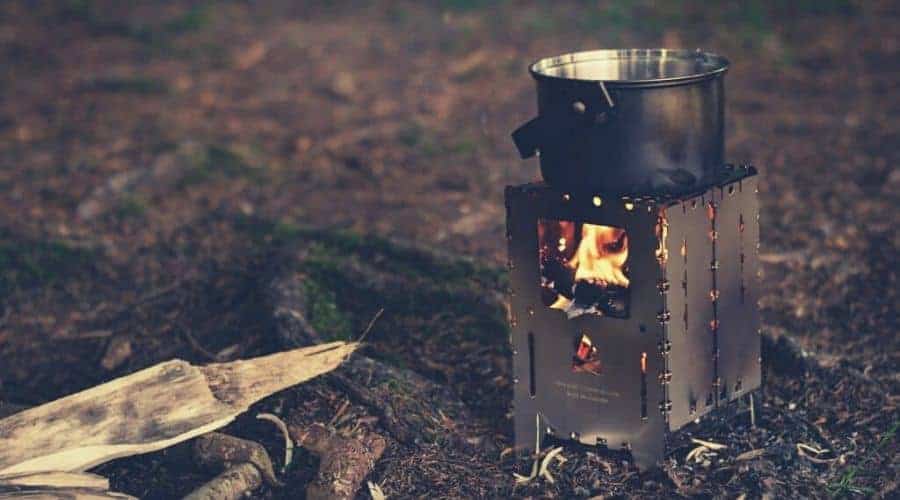 Boiling is usually considered the most effective method at killing harmful pathogens, but it has its cons as well. The most obvious drawbacks to relying on boiling water are that you will either need to spend some time building a fire or you'll need to carry a canister stove and a fuel container with you. If you are going to boil water, however, just be sure to keep it at a rolling boil for at least one minute to thoroughly kill off harmful pathogens.
Water filters, on the other hand, are devices that use cartridges to capture sand and water-borne bacteria. These are not to be confused with water purifiers, which are usually designed with chemicals or UV lights that are able to kill off more strains of bacteria and viruses. Some filters come with sachets of activated charcoal to help improve the taste.
A few of the major filter & purifier designs include pumps, gravity filters, bottle filters, and squeeze filters. All of these filters have their pros and cons, but the major cons are that you'll most likely have to do field cleaning and carry a bulkier device in your backpack.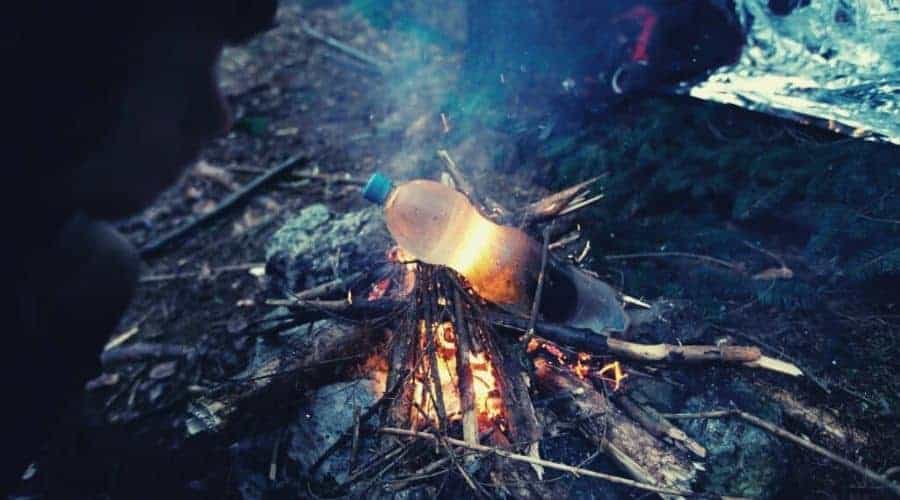 The major cons associated with purification tablets are that they can take a long time to purify water, the water could have a strong chemical aftertaste, and iodine can cause health problems in some people. On the positive side, however, purification tablets are the easiest to pack, easiest to use, and most inexpensive method of purifying water available.
Why Do You Need Tablets that Purify Water?
A pack of tabs is an easy way to prevent yourself from serious infections while from untreated sources. Many purification tablets now on the market can get rid of 99.9 percent of harmful pathogens, and some even have flocculation capabilities. Flocculation means these tablets can draw down sediment to make your water clear.
Different tablet brands vary in what they can and cannot eliminate, so be sure to read the manufacturer's details carefully before purchasing any product. It should be noted, however, that they generally can't get rid of pollutants and man-made chemicals.
Hikers who are concerned about weight will be happy to know that most packs weigh only a few ounces. One jar of water purification tablets will certainly take up less space in your backpack than a few full bottles of clean water, a stove, or a filter.
How Do Water Purification Tablets Work?
Most brands use one of three chemicals as their active ingredient: iodine, chlorine, or chlorine dioxide. These three chemicals are effective against bacteria & viruses found in wilderness water. There are many debates in the outdoors community as to which chemical works "the best," but you have to decide for yourself what will be most effective for your situation.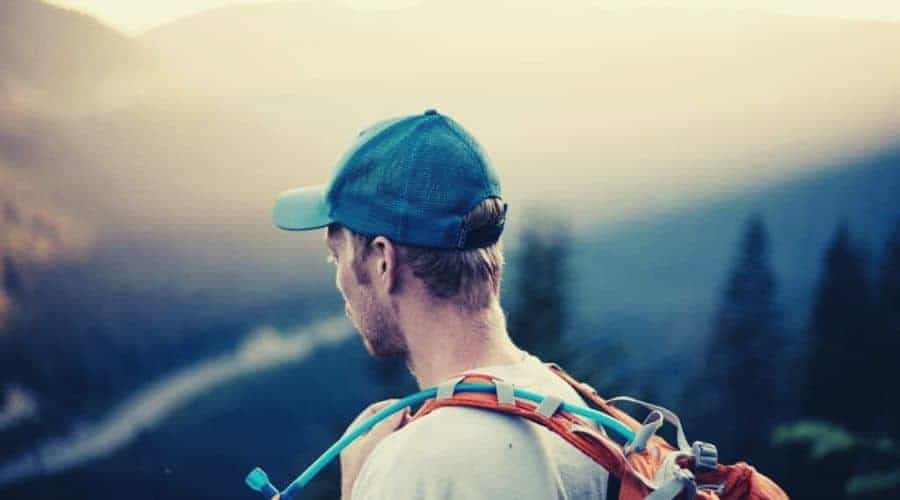 The Iodine vs Chlorine Dioxide Water Purification Tablets Debate
Some hikers claim chlorine-based tablets are better than iodine because a number of tests have proven iodine can't completely kill the pathogen Cryptosporidium. Also, iodine can cause serious health issues in people who already have thyroid disorders. If you're going to use iodine tablets, be sure to never to use them for longer than a few days in a row.
On the flipside, a few campers argue that iodine is a better option than chlorine because of the toxicity associated with heightened chlorine exposure. Some studies suggest people who drink chlorinated water as their primary source of hydration have higher risks of cancer.
Drinking Water in the Wild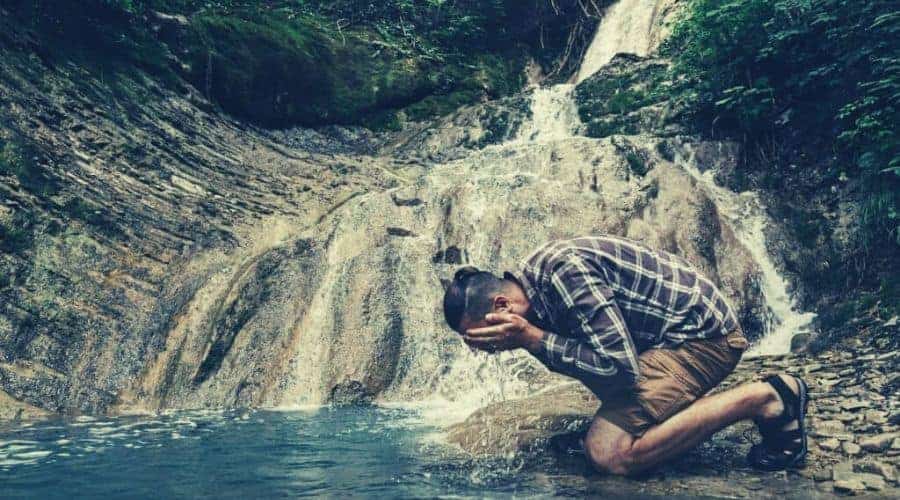 All the brands we featured have slightly different instructions, so it's important to read through your bottle's label thoroughly and follow the manufacturer's suggestions. There are, however, a few general rules that most follow:
Fill a liter bottle with stream water.
Drop one tablet (or two) into your water bottle.
Put the cap back on, but leave it slightly open so oxygen to escape the bottle.
Let your bottle sit for 5 minutes.
After 5 minutes, use your forefinger on the top of the slightly loosened cap and shake your bottle for 2 minutes.
Lastly, let it sit for another 30 minutes before drinking.
Again, the above instructions are a standard technique for using water purification tablets. Always follow the specific instructions on your product's label for the best results.
What to Do if the Chemical Taste Bothers You?
One complaint many campers have about purification tabs is the nasty taste. If the taste is a serious issue for you, there are taste-neutralizing tablets and drops on the market to improve the flavor. Most of these neutralizing tablets, however, only work for iodine and contain the chemical Tetraglycine hydroperiodide as an active ingredient.
A few higher-priced brands have odor-fighting chemicals in them. As always, look at the manufacturer's details to see if your tabs will get rid of the nasty taste associated with iodine or chlorine.
The Results
Potable Aqua Tablets
Each of Portable Aqua's tablets are made with 20mg of tetraglycine hydroperiodine and 8 mg of titratable iodine. When you drop a tab, expect to wait 30 minutes for the iodine to fully eliminate all the bad bacteria.
When this bottle of tablets is sealed, it is good indefinitely. However, once you open the Portable Aqua Tablets, it's important to inspect your tablets before every use. Tablets that are good for use will look grey or brown. Tablets no longer fit for usage will turn yellow or green. After you open a Portable Aqua Tablets, it's recommended to buy a new bottle for the next camping season regardless of how many you used.
To use the Portable Aqua Tablets, all you have to do is take two out of the bottle, place them in about one liter of water, and shake for 5 minutes. After you're done shaking, put it aside for about 30 minutes and then drink.
Every bottle of Portable Aqua Tablets weighs a little under two ounces has 50 tablets that are able to treat 23 liters. Manufacturers say Aqua Tablets can kill most bacteria and Giardia Lamblia, but they can't handle viruses, Cryptosporidium, or certain cysts.
PROs

Easy to use for new campers on well-maintained trails.
Only takes 30 minutes to purify water.
Can kill bacteria and Giardia Lamblia.
Indefinite storage when closed.

CONs

You'll have to replace bottle after opening for next season.
Not designed to handle viruses, cysts, or Cryptosporidium.
Bottom-Line: The Portable Aqua Tablets are a great brand for occasional hikers who are going to well-maintained trails, only want one season's worth of tablets, and don't expect as much exposure to Cryptosporidium or pollutants on their hike.
Katadyn Micropur Water Purifier Tablet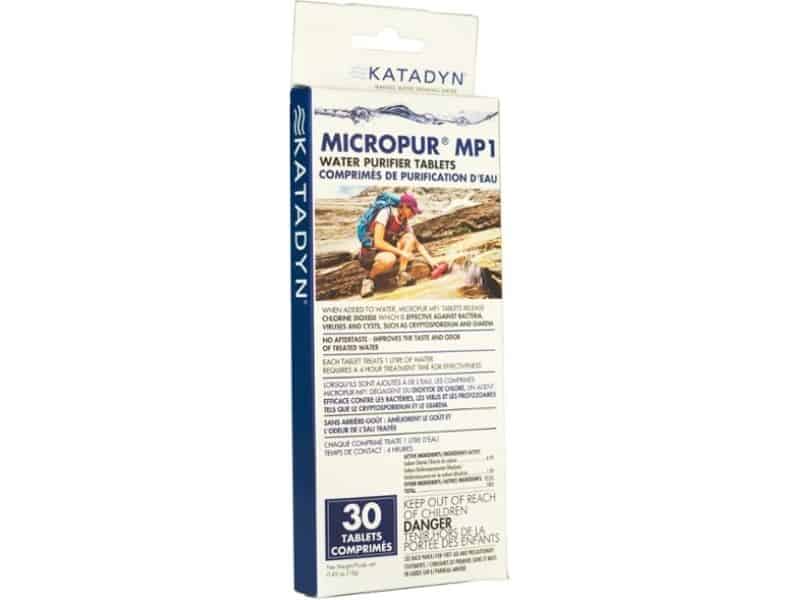 Micropur Tablets by Katadyn use sodium chloride to fight against viruses, bacteria, and parasites. Customers can choose from either a 20 or 30 pack of their Micropur Tablets to purify water depending on their hiking needs. Every tablet treats one liter, so you either get 20 or 30 liters of usage depending on what bottle you buy.
Manufacturers say the Micropur Water Purification Tablets can kill all harmful microorganisms, but you have to leave the tabs for a longer time to kill them all off. To kill all the bacteria, leave a Micropur Purification Tablet in for 15 minutes. If you're concerned about Giardia and Cryptosporidium, then wait for 30 minutes. Anyone who wants to be extra safe can leave the Micropur Purification Tablets in their water for the max time of four hours.
All of the tablets in these packs are individually sealed to enhance shelf life. As for portability, you'll only add 0.9 ounces to you backpack taking a full sachet of tablets around with you.
One of the key features of Micropur Purification Tablets is that they don't have a nasty taste. Micropur executives say they formulated these tablets to eliminate all odor-causing bacteria.
PROs

No chlorinated taste.
Effective against all common viruses, bacteria, and protozoa.
Packets individually wrapped to preserve effectiveness indefinitely.
Only weighs 0.9 ounces.

CONs

Takes 4 hours to fully purify water.
Bottom-Line: Campers who will be hiking in areas with relatively clear water shouldn't have issues with Micropur Purification Tablets. Although they won't get rid of dirt, Micropur Purification Tablets are ideal for hikers who want superior protection against pathogens, convenient packaging, and safe water with a decent taste.
Aquatabs Water Purification Tablets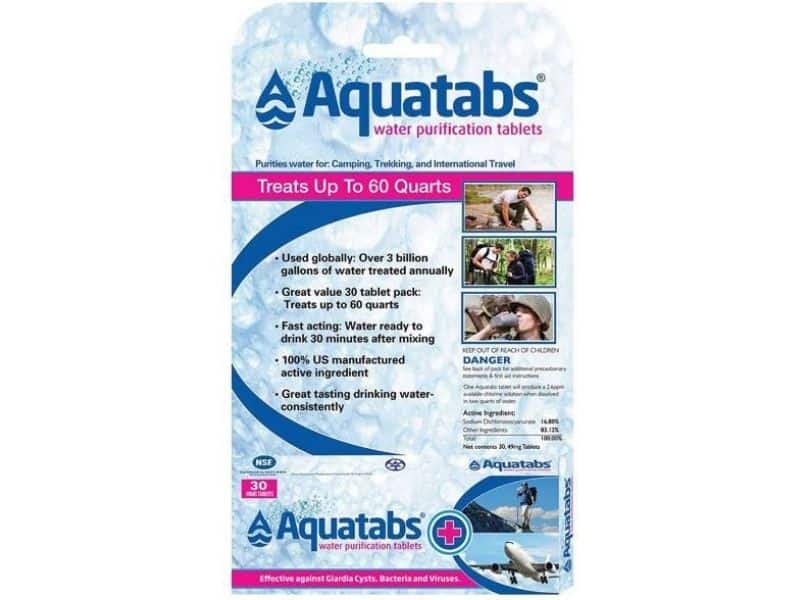 Aquatabs Water Purification Tab are effervescent tablets come with chlorine as the main ingredient. These tablets have been proven effective against Giardia cysts, bacteria, and viruses.
One Aquatab can handle 0.75 liters, which means you'll get 75 liters of use out of a standard sheet of 100 Aquatabs. If you think you'll need more coverage, then you should know Aquatabs offers a 200 sheet.
Each packet of Aquatabs weighs about 0.64 ounces. All 100 Aquatabs you'll get in your packet are individually sealed and has a shelf life of 5 years.
You can use one Aquatabs tab per 0.75 ounces of water. Mix or shake for 10 minutes, set aside for 30 minutes, and then drink.
One feature in Aquatabs' favor tablets is its impressive list of official recommendations. Aquatabs has both NSF 60 certification and the approval of the World Health Organization.
PROs

Convenient sealed packaging good for quick access.
Purifies completely in 40 minutes. 5-year shelf life.
WHO recommendation and NSF 60 certification

CONs

Chlorine aftertaste.
Not proven effective against Cryptosporidium.
Bottom-Line: Aquatabs are conveniently designed for quick use on hikes. If you think you'll only need a quick water purification tablet for a few cups of stream water and don't mind the taste of chlorine, then Aquatabs might be right for you.
AquaMira Drops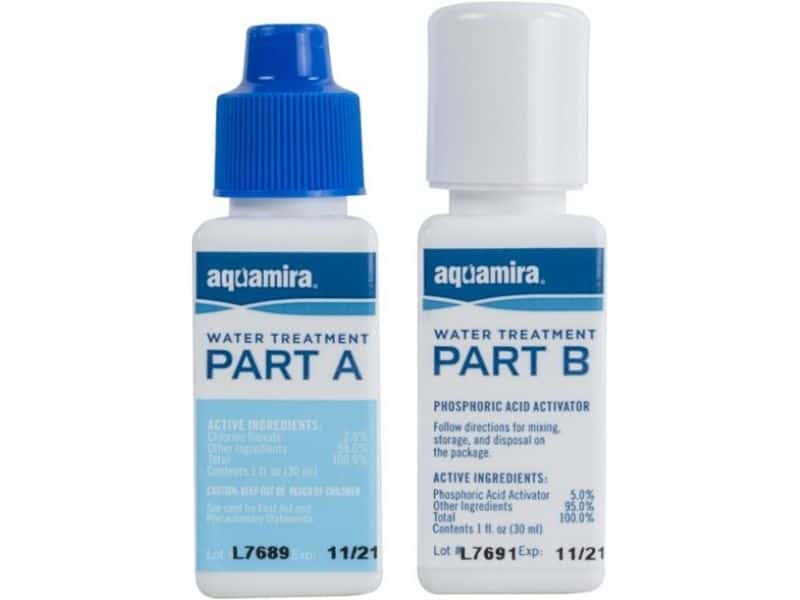 All AquaMira Tablet packages come with two 1-ounce bottles of liquid treatment that are able to purify 30 gallons of water. With chlorine dioxide as the main ingredient, AquaMira claims to handle pathogens like Cryptosporidium and Giardia as well as common bacteria and viruses.
The first AquaMira bottle is called "Part A" and contains the active chlorine dioxide. The second bottle ("Part B") has phosphoric acid as its main ingredient. To use this product, place seven drops from both Part A and Part B into a tiny container and let it sit for 5 minutes. You should notice that the clear water in this container slowly turns yellow. Once it's completely yellow, you can dump these 14 drops into a liter of untreated water.
The minimum wait time is 15 minutes. If you're extra concerned, AquaMira recommends doubling the dosage and wait time. You could leave the AquaMira treatment in your liter of water for as long as 4 hours.
One nice feature about these tablets is that they get rid of odor-causing bacteria. Manufacturers claim your water will have a pure taste after it's been treated.
Both of the bottles you'll receive in your AquaMira set have a 4-year shelf life and can purify 30 gallons of water. Put together, these bottles weigh about 2.4 ounces.
PROs

Made in easy-to-squeeze plastic bottles.
Can get rid of bad odor and taste.
Treats 30 gallons of water per packet.

CONs

You have to remember to pack two containers instead of one
Bottom-Line: Hikers who want a liquid-based water purification system able to handle 30 gallons and don't mind carrying around two bottles will most likely enjoy AquaMira's product.
Polar Pure
Best Iodine Tablets for Water
Polar Pure uses the power of iodine crystals to kill bacteria, viruses, and bacterial mutations. The main draw of Polar Pure iodine water tablets is that they can treat up to 2,000 liters of water before they've lost their effectiveness. This product is ideal for campers who frequently go on hikes and want tablets that will last a long time.
To use Polar Pure, you first have to fill the small glass bottle with stream water and let it sit for about an hour. During this time, you can fill a larger container with as much as you need on your hike.
After the one-hour purification process is up, look on the side of the Polar Pure bottle and find the correct dosage of treatment for the volume you have in your second bottle. Simply pour the recommended amount of capfuls from this jar into the contaminated water you wish to treat and let that sit for about 30 minutes.
Another nice feature about Polar Pure is that it has an indefinite shelf life. Even after you open the Polar Pure bottle for the first time, this product will last you many years. You can easily tell when the product is no longer effective when the crystals have totally dissolved.
Polar Pure is also easy to pack and store in your travel gear. One glass Polar Pure bottle measures 4 x 4 x 2 inches and it only weighs 5 ounces.
PROs

Long-lasting product used to treat 2,000 liters
Convenient measuring guide on side of the bottle.
Indefinite shelf life.
Easy to pack 5-ounce bottle.

CONs

Takes 1 hour 30 minutes to treat water
Taste of iodine
Bottom-Line: Campers of all skill levels who want a product with an indefinite shelf life, don't mind the taste of iodine, and think they'll treat 2,000 liters of water on their hikes, should take a closer look at Polar Pure Iodine Tablet for water Purification.
Chlor-Floc US Military Water Purification Water Powder Packets
Chlor-Floc's Powder Packets have the high distinction of being the go-to purifier for US Military personnel. In case you couldn't guess already, the "floc" in this product's name has to do with the powder's flocculation abilities. Once you put your Chlor-Floc into your water it will get to work bringing all the sediment in your water to the bottom of your bottle while the chlorine gets to work killing pathogens. This makes Chlor-Floc ideal for people who are traveling in areas with murky water.
Each Chlor-Floc Packet comes with 30 sachets in a box that can treat 8 gallons of water. Each packet of powder can handle roughly 1 liter of water.
One of the nicest features of Chlor-Floc's packets is that they work fast. After stirring in this mixture for about 7 minutes, you only have to let it set for 15 minutes before you can safely drink it.
You can use one or two tablets for every liter of water depending on how dirty it is. Manufacturers say Chlor-Floc's powder can effectively kill Giardia, bacteria, and viruses. One container of Chlor-Floc only weighs 0.8 ounces.
As a bonus, every Chlor-Floc package comes with a camouflaged pouch you can store your sachets in.
One drawback of the Chlor-Floc is that it has a shorter shelf life than other products. Typically you have to use Chlor-Floc a few months to one year after receiving it.
PROs

Flocculation agent clears water and brings dirt to bottom.
Purifies within roughly 25 minutes.
Easy to pack in provided pouch.
Trusted by US Military.

CONs

Shorter shelf life.
Chlorine aftertaste.
Bottom-Line: Hikers who want fast-acting military-grade water purifying powder with flocculation capabilities can't go wrong with Chlor-Floc Water Purification Powder Packs.
DayOne Response P&G Purifier of Water
DayOne Response Purifier Of Water is put out by American multinational Procter & Gamble. This powder purifier uses chlorine hypochlorite as its main ingredient.
The standard 6 x 9.75 x 0.5 inch packet of DayOne Response powder comes with 12 sachets and has a shelf life of 3 years after the manufacturing date. Every DayOne Response packet can handle a maximum of 2.5 gallons. These packets of sachets weigh less than one ounce.
In addition to disinfecting your water, the DayOne Response powder also works as a flocculent. This powder is excellent for treating dirty water and it can get rid of bacteria, viruses, cysts, and even certain pollutants.
After dumping your powder into a container of water and shaking it around for a few minutes, you'll be able to drink that water within 30 minutes. Manufacturers also claim there's no funky aftertaste when drinking water purified by DayOne Response powder.
A nice feature about purchasing P&G's DayOne Response powder is that the company promises to donate 120 liters of purified drinking water to people in need.
PROs

Each sachet handles 2.5 gallons of water.
Chlorine hypochlorite works as flocculent, odor-neutralizer, and disinfectant.
Only takes 30 minutes to make.

CONs

Not ideal for occasional campers
Bottom-Line: The P&G Purifier Of Water should be considered a luxury product. Hikers who need a powder that can handle stream water with soil and want anti-odor protection would be most likely to get the best use out of DayOne Response.
Water & Hydration Further Reading
Check out our other guides on water and hydration: