To many folks, it may seem like a dreadful undertaking to carry on adventuring when the weather's not at its best. However, as the Norwegians say: "Det finnes ikke dårlig vær, bare dårlig klær!" Or, to us, "there's no bad weather, only bad clothing!"
The moral behind the maxim? Kitting yourself out with good clothing is kinda like acquiring a passport for year-round, all-weather adventuring.
But what does "good clothing" consist of? The best place to start, of course, is with reliable wet-weather gear, including a rain jacket and bomber pair of pants.
Below, we explain why all adventure junkies should have a pair of waterproof pants and what to look for when buying. We also review 7 of the best options for women out there.
Editor's Choice
Arc'teryx Beta SL Pant
The Women's Beta SL delivers in a variety of ways. They are lightweight enough for fast-and-light hiking and backpacking trips, but also tough enough to withstand backcountry skiing or even mountaineering trips.
The main feature in the Beta SL beyond their outstanding waterproofing is the full-length waterproof zippers. These allow you to rock these waterproof hiking pants without having to take off your hiking boots, skis, or crampons.
Ventilation is an issue with all waterproof garments. But with these full side zips, you can zip down and vent immediately, so you won't overheat while you're on the go. They also give you full and easy access to your mid-layer's pockets.
The cuff of the Beta is beefy, using much sturdier, abrasion-resistant N150p Gore-Tex fabric. This provides increased tear strength to resistance against scuffs and scrapes.
The careful design of the rigid waistline, creative paneling structure, and gusseted crotch all allow the wearer to move with minimal restriction. With this, you can expect less hindrance to movement whether hiking, climbing, or mountaineering. Even when you're bundled up for colder temperatures, you'll have full mobility.
Bottom-Line: The Women's Beta SL wins our "Best Women's Rain Pants" award because they bring immense value. In simple terms, the versatility, durability, and lightweight design are all but peerless. The price may be high, but the Beta SL will become your go-to H20-blockers for years to come, meaning they provide an outstanding ROI nonetheless.
How To Choose The Best Women's Rain Pants
Women's Rain Pants For Wet-Weather Adventures
There are a lot of factors to consider when choosing a pair of rain pants for women or men alike). Here are the most important:
Waterproofing and Breathability
Water resistance and breathability are often discussed and debated. It is a delicate balance that must be obtained in order to feel comfortable and support your body's homeostasis or temperature regulation.
RELATED: Best Pants for Hiking
But finding that balance ain't easy…
With complete breathability, you forgo water resistance. With complete waterproofing, you forgo breathability. As such, the name of the game is finding a model that strikes the happiest happy medium between the two.
Rain gear is typically rated in millimeters, using a measurement called the hydrostatic head (HH) rating.
In women's waterproof pants (or women's water-resistant pants), this rating usually ranges from around 5,000mm to 30,000mm. A rating at the lower end of this scale indicates less water resistance and is ideal for use in light showers. Anything in the 15-30k range, conversely, is better suited to more extreme conditions.
As for breathability, it is commonly rated in grams. It represents how much vapor can move through 1 square meter of material, from the inside out, in a 24-hour period. This is typically represented as "g/m²" or "g/m²/24h" (e.g. 15,000 g/m²). As with hydrostatic head, the higher the figure, the more breathable a pant's fabric will be.
RELATED: Best Hot Weather Hiking Pants
Fit
Fit is critical to comfort and performance. While you want to leave enough room to be comfortable for layering purposes and mobility, you also want to avoid a baggy fit. A set of baggy "britches", after all, are britches highly likely to snag on rocks, undergrowth, or your crampons or snowshoes.
You also want to make sure the hem length is accurately sized for your height with regular shoes on and not hiking boots. This will help you find a more exact length and avoid purchasing a pair that is too lengthy if you happen to don footwear other than hiking boots. This will help you avoid tripping on the fabric or dragging it along the ground.
Features
When buying a technical trouser, like women's waterproof pants, there are a few features that can greatly enhance your comfort and the pants' performance. The most important of these include a gusseted crotch, articulated knees, full-length zippers, pockets, and reinforced material around the ankles.
With a gusseted crotch, the seams are created in a diamond shape to provide added freedom of movement and comfort. This feature is especially critical if you are wearing a climbing harness.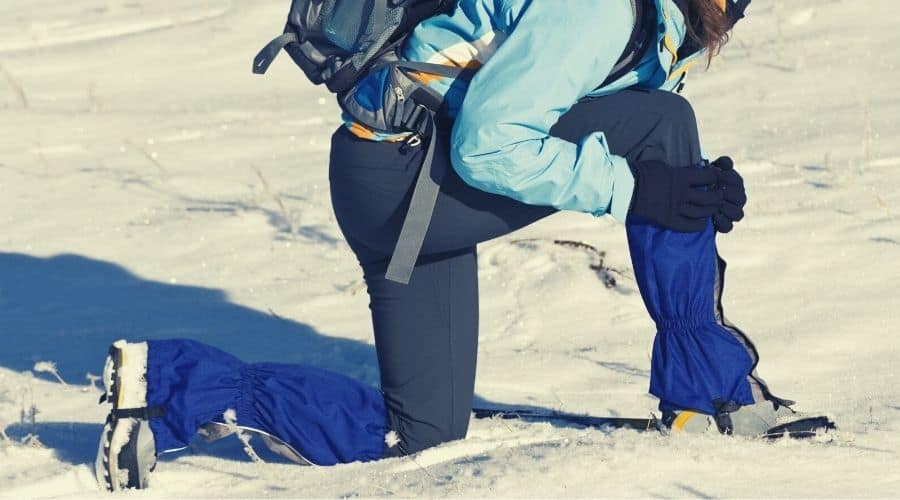 Articulated knees are great to help the leg bend in a natural way so as not to obstruct your range of motion. This is done by sewing darts—triangular wedges—into the legs.
Half or full-length side zippers are excellent for fast on/off access. This is handy prior to a downpour because you most likely won't have enough time to find a comfortable location to remove your footwear. Full-zip rain pants are also easier to put on, particularly when you have cold fingers or are wearing a baselayer.
Inner ankles are often reinforced because this is the area that will likely be scuffed by boots, crampons, or skis, as well as by any sharper rocks or vegetation in the terrain.
RELATED: Best Cold Weather Hiking Pants
As regards pockets, the more the better is usually the recognized standard. With waterproof fabric, more pockets might mean more points at which H20 can sneak in. However, if the pockets use waterproof zippers and/or storm flaps this is less of an issue.
Value
Just as we mentioned in our Editor's Choice box up top, we feel that you gain enormous value with the key factors below:
Lightweight materials
Versatility
Durability
Packability
If you can find at least 2 to 3 out of the 4 attributes, you will have found true value. As mentioned above, though, all models will vary in water resistance and breathability, so be sure to choose a pair that will work under the weather conditions you believe you will encounter the most.
The Best Women's Hiking Rain Pants: Our Top 7 Picks
Arc'teryx Women's Beta SL Pant
Editor's Choice
The Arc'teryx women's Beta Pant embraces a minimalist design to keep the weight down without sacrificing water resistance or durability, making them ideal for just about any kind of female adventurer.
N40r Gore-Tex Paclite, DWR, and stretch technology is incorporated for ultimate waterproofness, increased tear strength, durability, and unrestrained movement. The hem and the insteps of the Beta are also reinforced with abrasion-resistant fabric for sharp or rough surfaces that may scrape or scuff the lower leg area.
Arc'teryx includes waterproof, full-length side zippers for "rapid ventilation" and to allow you to slip them over your first layer without having to remove your footwear. Other nice touches include lace hooks at the hem that attach to your footwear and drawcords that allow you to cinch the hem for a tighter seal.
The Beta SL pants aren't the lightest in the bunch, weighing in at 11.6oz and they don't have any pockets. But, despite these minor, less-that-perfect characteristics, the Beta are so much more than something you toss in your rucksack and forget about.
They're technical rain gear designed for serious action in challenging weather and are good to go just about wherever you happen to take them in the outdoors, whether you're hiking on a bad day in the Pacific Northwest or in a biblical downpour on Dhaulagiri.
PROs

Very breathable
Highly versatile
Gore-Tex
Extra water-resistant N150p-X Gore-Tex reinforcements in ankle
Articulated knees and gusseted crotch

CONs

Limited adjustability
No storage pocket
High price point
Heavier than the Arc'terx Zeta SL
Bottom-Line: The women's Beta is a versatile rain shell trouser designed for varied conditions and activities, from mountaineering and skiing to snowshoeing or backpacking trips.
Patagonia Women's Torrentshell 3L Pant
Best for Long-Term Durability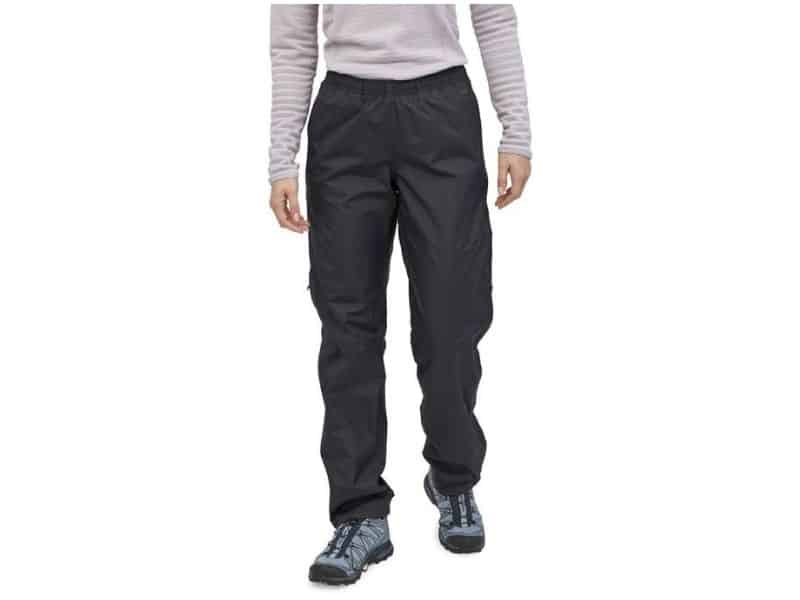 Patagonia includes some great features in their highly functional Women's Torrentshell 3L Rain Pant while still maintaining a fairly average price point.
The Torrentshell 3L Pant consists of Patagonia's 3-layer waterproof and breathable H2No shell. The top layers consist of a 100% nylon ripstop face fabric with a polycarbonate PU membrane and a durable water repellent (DWR) finish.
The Torrentshell 3L are lightweight at 10.9oz and will stow into one of the two zippered hand pockets. Designed to get on and off easily with cuff-to-thigh side zippers, this feature doubles as an excellent ventilation system when things are getting a little sticky inside. All zippers also have storm flaps treated with a DWR finish, meaning there's no need to worry about leaks.
As for mobility, there is no real accentuation of articulation at the knee or stretch technology integration. This is where your comfort might be sacrificed a bit while you're out hiking, unless you shoot a size up to buy yourself a little more legroom.
Designed to be lightweight with just a few added bells and whistles, the Patagonia Torrentshell pants are easy to toss in your rucksack and carry throughout the day in case you see some wet weather.
PROs

Breathable
Stow pocket
3-layer waterproof system

CONs

Storm flaps instead of waterproof zippering
No noticeable knee articulation
Bottom-Line: Plain and simple, the Torrentshell 3L Pant is one great, affordable choice for an emergency waterproof trouser that will offer long-term durability due to the quality of construction and materials.
The North Face Women's Venture 2 Half Zip
Best 2.5-Layer Pant
The North Face Venture 2 Half Zip pants are lightweight and easily packable, making them perfect to toss in your pack for any adventure.
Their waterproof and breathable technology consists of DryVent™ fabric with a 2.5-layer construction and a polyurethane (PU) coating. With this combination of technology, the Venture 2 are intended for use in highly active, aerobic, fast-and-light activities.
The Venture 2 Half Zip weighs in at 8.11oz and stuffs into the left-hand pocket that has a handy hang tab. This allows you to store them inside your gear cupboard or tent or carabiner them to the outside of the rucksack for easier access.
The Venture 2 also feature knee-length side zips that allow for easy slip-on and slip-off access. The half zippers only unzip from the bottom, so there are none of the venting capabilities found in some of the other models in our review. This may leave you feeling a bit clammy if you're working up a sweat.
When purchasing, be aware that the North Face Venture 2 runs a little on the long side. We recommend the short version for women between 5'5" and 5'9". Fit must be optimal for waterproof pants, as you want to avoid tripping on extra material at the cuffs.
PROs

Affordable
Lightweight
Relaxed fit

CONs

Very long
No waterproof zippers
Noisy plastic feel
Bottom-Line: If you don't do a lot of wet-weather activities, but you need something that won't weigh you down in case you experience a sudden downpour, then the Venture 2 Women's Half Zip are a great option.
Outdoor Research Women's Helium Pant
Best For Backpacking
Outdoor Research have made impressive strides in bringing more versatility to their Women's Helium Pant and advancing the technology, while still keeping the price point economical.
The Helium uses Pertex Shield Diamond Fuse 2.5L technology along with a 100% nylon and 30D ripstop material to increase durability and abrasion resistance without adding too much weight.
Diamond Fuse fabric is quite exceptional. It uses diamond-shaped filaments designed to sync together in order to create a more durable and hard-wearing fabric, and one that's ideal for those doing their adventuring in rougher terrain.
Outdoor Research crams these ultra-lightweight 6.1 oz trousers full of great features, too. Maybe the best of these is a zippered back pocket that doubles as a stuff sack with a carabiner loop. For a better standard fit, the Helium Pant also includes an elastic waist drawcord and gusseted crotch.
Quarter ankle zippers with storm flaps and broad cuffs also offer smoother on/off access when you're on the move. There are no venting features on the Helium, but they are so ultra-lightweight and breathable that vents are largely unnecessary.
PROs

Ultra-lightweight
Stuffs small
Affordable

CONs
Bottom-Line: The Outdoor Research Helium Pant is a super lightweight option that packs small. They may not be as durable as some of the heavier waterproof-breathable pants out there, but you can depend on their performance in even the gnarliest wet weather.
Marmot Women's PreCip Eco
Top Eco-Friendly Pick
The Marmot Women's PreCip Eco continues to be an all-time favorite, boasting sweet design elements needed to keep you dry and an even sweeter price tag.
The PreCip Eco are made with Marmot's waterproof-breathable NanoPro™ Eco fabric, which uses a 100% recycled ripstop nylon. The seams are taped to prevent leaks and all zippers have bonded storm flaps to prevent moisture from sneaking in.
The Marmot Precip packed weight is 7.41oz. While incredibly lightweight, Marmot still managed to throw in a few great design features like 2 zippered hand pockets and 1 zippered back pocket to carry essentials. Ankle side zips rise up to just below the knee to permit a quick on or off transition without having to remove shoes or boots.
For whatever reason, despite having included 3 pockets, Marmot decided to omit a reverse zipper inside any of the pockets to create a built-in storage pouch. Despite this, it's still possible to roll them up tight enough to toss into a pocket in your backpack or a 2-liter stuffsack
PROs

PFC-free Marmot NanoPro™ Eco fabric
3 pockets
Lightweight
Eco-friendly

CONs

No stuff sack
Does not stuff into any pockets
Bottom-Line: The simplicity of the Marmot women's PreCip Eco Pant is why they remain a top seller. They're functional, lightweight, and are made with minimal impact on nature—the perfect trifecta for the ethically minded backpacker.
Columbia Sportswear Women's Storm Surge
Top Budget Pick
If you need something more trail-suitable than a poncho but don't have enough coinage to splurge, then Columbia Women's Storm Surge is your go-to gear-to-be.
In the Surge, Columbia Sportswear uses their 2-layer Omni-Tech air-permeable membrane laminate with fully sealed seams. The face fabric is 100% nylon combined with a 50% recycled polyester lining.
No bells and whistles here, simply the basics. The hemline incorporates velcro to let you make adjustments at the ankle. Elastic at the back of the waist is added with a built-in drawcord for comfort and to ensure they fit snugly. However, there is no articulation or added stretch, no side zips for ventilation, and no pockets.
The Storm Surge has a packed weight of 9.6oz. They are lightweight and compressible enough to toss into any backpack or luggage. They are perfect for mild rain or snowy conditions and for light to moderate activity. Nevertheless, the simplistic design, solid waterproofing, and affordability make the Storm Surge a great option for anyone on a budget.
PROs

Affordable
Simplistic design
Offered in Plus sizing

CONs
Bottom-Line: The Storm Surge is an excellent choice for anyone who doesn't plan on heading out in the worst of the wet weather and requires few frills, but would like to have the extra protection from the elements in an unexpected downpour.
REI Co-op Women's Talusphere Pant
Best for Mobility
The REI Co-op Talusphere shell pants are quite heavy and slightly bulky for a backpacking trip, but can still be a great option for those who prioritize free movement over weight and portability.
REI uses their proprietary waterproof laminate Elements in the Talusphere. This is a 2.5-layer laminate with sealed seams that make the affectionate dubbed "TP" a fully waterproof garment. The Talusphere shell is an excellent top layer to wear over insulating layers as it can block up to 60 mph gusts of wind.
With 4-way stretch and knee articulation, the Talusphere allows for a full range of motion when out and about, making this TP perfect for a variety of activities like light hiking, snowshoeing, cross-country skiing, and more. Another great feature found on the Talusphere is that the left-hand pocket doubles as a storage pouch, making them more easily packable.
PROs

Windproof
Sealed seams
4-way stretch
Left zip pocket doubles as storage pouch

CONs

Heavy (12 oz)
Uncomfortable waist drawcord
Bottom-Line: The REI Co-op Talusphere is not a lightweight option, but it will certainly protect you from the elements when you need it. They're an excellent pair of rain pants when weight is not a big deal and can be used for a variety of outdoor activities.