A successful winter hiking trip starts and ends with having the right gear in tow. Although what you carry in your pack is important, what you wear on the trail can make or break your wintertime adventures.
In particular, there are few pieces of gear that have as much impact on your outdoor experience as a pair of hiking pants, so finding a quality model is of the utmost importance. To ensure that you get the best you can buy for all your future hiking trips, we've reviewed the 7 top models on the market for you to check out.
Editor's Choice
Outdoor Research Cirque II
After reviewing 7 of the top winter hiking trousers on the market, the OR Cirque II came out on top. That's because it features an extra-durable and comfy layer of nylon fabric that's water repellent for use in wet environments.
The Cirque II also comes with reinforced panels around the inner ankle, plus a set of pockets for storing gear as you hike. They also boast ActiveTemp technology to help wick away moisture so you stay comfortable during your cold-weather treks.
Bottom line: The OR Cirque II winter hiking pants for men are the top all-around choice for wet and blustery alpine conditions.
Best Winter Hiking Pants: What To Look For
If you're shopping for the top winter hiking pants, it's imperative that you know what to look for before you make your purchase. With so many excellent options to choose from, being informed from the get-go is essential.
To help you out, here are some of the most important considerations to keep in mind as you shop.
Weather-Resistance
Winter environments are known for being wet and cold, so protecting yourself from the elements is critical. When it comes to winter hiking pants, however, you'll first need to decide if you want to go with a waterproof or water-resistant model.
Whether you choose a waterproof or water-resistant pair of hiking pants really depends on your personal needs and the conditions you expect to face in the great outdoors. For example, If you expect to hike a lot in very wet or snowy climates, you may need waterproof pants.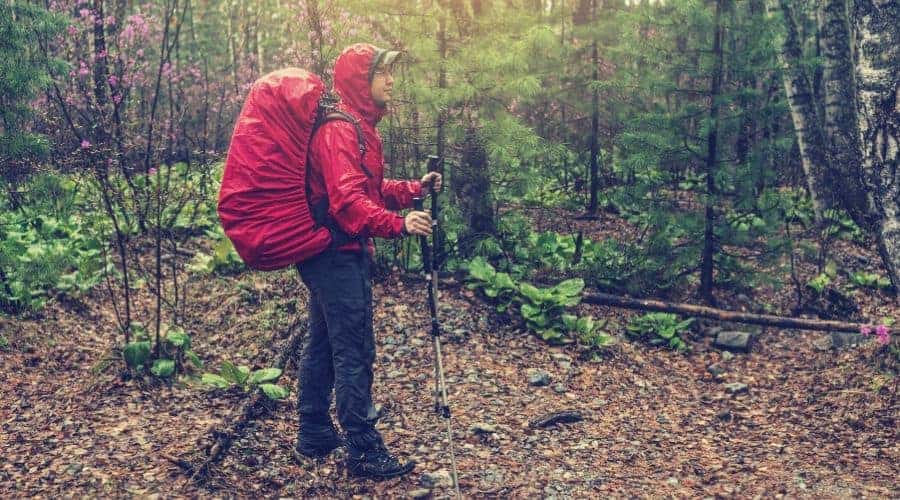 Alternatively, for general winter trekking, water-repellent trousers may be better. That's because waterproof cold-weather pants are almost always less breathable than their water-resistant cousins, which means more sweat during high-octane hikes. Gross!
If you decide that a waterproof model is what you need, you'll want to look for trousers with a number of key features, such as:
A waterproof-breathable membrane (e.g., Gore-Tex, BDry, eVent)
A Durable Water Repellent (DWR) coating/finish
Waterproof or water-resistant zippers
Built-in gaiters, boot laces, or adjustable hems
Combined, all of these features work together to keep you from getting soaked when the weather's doing its worst.
Insulation
In addition to deciding whether you'd like waterproof or water-resistant pants, you'll also have to decide how you feel about insulation in your trousers.
While many folks would automatically think that a layer of insulation is ideal for winter hiking, it actually isn't appropriate for the majority of wintery conditions. In fact, you'll generally find that it's better to opt for non-insulated lower-body clothing to hike in unless you're planning on spending time in very frigid conditions.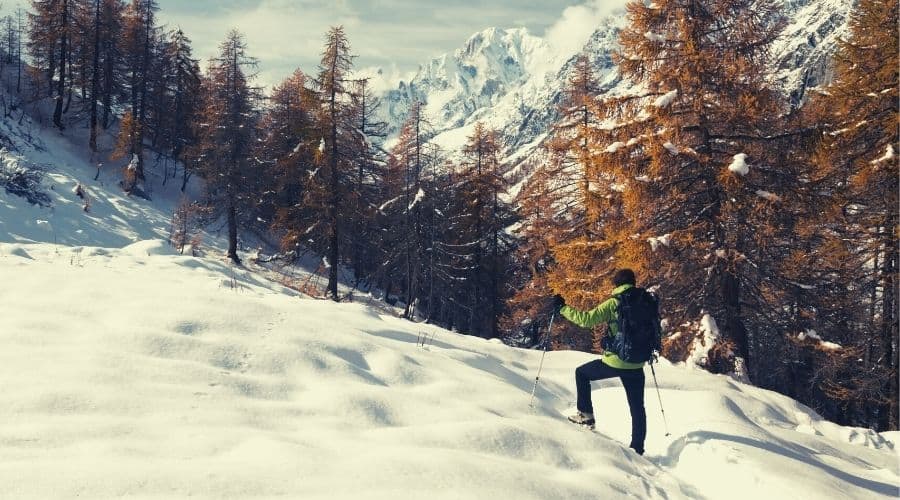 For the most part, it's better to opt for non-insulated trousers that you can supplement with base layers or mid-layers if you need extra warmth or moisture control. Otherwise, you'll find that you'll sweat a lot more as you start hiking if you have insulated trousers in most mild winter weather conditions.
That being said, if the mercury is dropping fast or you live somewhere that's particularly cold, a bit of insulation might be the better choice.
Breathability
In a cold-weather context, most folks don't think much about the breathability of their gear. But, you'll actually sweat quite a bit during your outdoor escapades, so having hiking pants that provide plenty of airflow is essential.
Breathability in hiking pants comes down to the type of fabric being used, the amount of water resistance, and whether or not you choose an insulated model.
In general, models that are waterproof or well-insulted aren't very breathable, so look for ventilation options like side zippers for added comfort on the trail.
Fit
A proper fit is essential for any piece of outdoor gear and winter trousers are no exception.
As far as fit goes, be sure to consider sizing up if you think you might wear a base layer under your gear. This is particularly important with shell-type models, like the Arc'teryx Beta AR, which aren't very comfortable to wear on their own.
The bottom of your trousers should also be large enough to fit over boots, but they shouldn't be so large that they can get caught on crampons or snowshoes as you walk.
Moreover, don't forget to consider selecting a model with comfort-focused features like articulated knees, a gusseted crotch, and stretchy fabrics, which allow for plenty of freedom of movement.
The Top 7 Best Hiking Pants For Winter
Outdoor Research Cirque II
Editor's Choice
Snagging the Editor's Choice award in our review, the OR Cirque II is a do-anything set of winter hiking trousers that excels in chilly environments.
Built from stretchy 90D double-weave nylon with a reinforced lower leg, the OR Cirque is durable enough for regular use in wintery environments. It also comes with a DWR (durable water repellent) coating, which allows for plentiful wind and water-resistance in damp conditions.
Meanwhile, Outdoor Research crafted this pant with zippered hand and thigh pockets for extra hiking gear storage on the go. One of the pockets even comes with a clip for an avalanche beacon to ensure that you don't lose your most valuable piece of gear when traveling in avalanche terrain.
When it comes to keeping you warm and comfortable, the Cirque II also features a brushed tricot-lined waistband with moisture-wicking ActiveTemp technology. It also has a gusseted crotch and articulated knees for improved fit and range of motion on the trail.
Although this model is a little too thick for warmer winter conditions, overall, the Cirque II is a solid layer if you need hiking pants for mountain adventures.
PROs

Durable, yet stretchy fabric with DWR treatment
Reinforced panels around the ankles
Zip pockets at the hand and thigh
Gusseted crotch and articulated knees improve range of motion

CONs

Somewhat thick for mild wintery conditions
Bottom-Line: The OR Cirque II is one of the best pants for cold weather and winter hikes thanks to its durability and exceptional comfort.
Arc'teryx Creston AR
Best For All-Season Hiking
If you want one pair of cold-weather hiking pants that can do it all, the Arc'teryx Creston AR just might be what you need.
Featuring Arc'teryx's abrasion-resistant Wee Burly™ double-weave stretch nylon and polyester fabric, this model is rugged, yet comfortable enough for extended days in the alpine all year long. Arc'teryx even built the Creston AR with a low-profile seam construction to reduce the likelihood of chafing as you charge uphill.
For added comfort, these softshell trousers have a fully articulated patterning and a low-profile stretch waistband. Their slim fit around the lower leg also limits your chances of damaging your gear with a rogue crampon as you hike.
Furthermore, the Creston AR comes with a full set of zippered pockets on the thigh and the back, as well as handwarmer pockets for stashing small bits of gear. Despite all of these extra features, these trousers weigh only 12.9oz (365g), so they're light enough to take on any trip.
While we'd argue that the Creston AR is a bit pricey for a set of non-waterproof winter pants, it's a versatile option that's ideal for year-round excursions.
PROs

Stretchy, comfy, and durable fabric
Slim fit reduces the risk of damage with crampons
Fully articulated patterning for comfort
Lightweight and suitable for year-round use

CONs

A bit pricey for a non-waterproof option
Bottom-Line: For all-season pin protection without skimping on performance, the Arc'teryx Creston AR won't disappoint.
Rab Vector
Best For Mild Winter Weather
When balmy winter temps have you eager to hit the trail, the Rab Vector should be at the top of your list.
Rab engineered these soft shell trousers using their Matrix™ breathable double-weave nylon stretch fabric, which has a textured face on one side for enhanced abrasion-resistance. At the same time, the Vector is still lightweight and cozy enough for everyday use and for adventuring in mild conditions.
As far as features go, the Vector comes complete with a set of 4 zippered pockets (thigh, hand, and rear) as well as a built-in belt to help you get the perfect fit. They also come with articulated knees for ample stretch as you move.
Meanwhile, the Vector also has a set of buttons along the bottom hem so you can adjust the width of the lower pant to match the size and shape of your hiking boots. They also come with a reinforced instep for added durability in the mountains.
Although some folks might find that the Vector's relatively thin nylon fabric isn't warm enough for use in chilly temps, for mild conditions, it's a sure bet.
PROs

Highly breathable and very stretchy fabric
All pockets have zippers for securely stashing gear
Includes a built-in belt
Adjustable hem with a reinforced instep for durability

CONs

A bit thin for frigid conditions unless used with a mid layer underneath
Bottom-Line: When heading out in mild wintertime conditions, the lightweight and oh-so-comfy Rab Vector is an outstanding choice.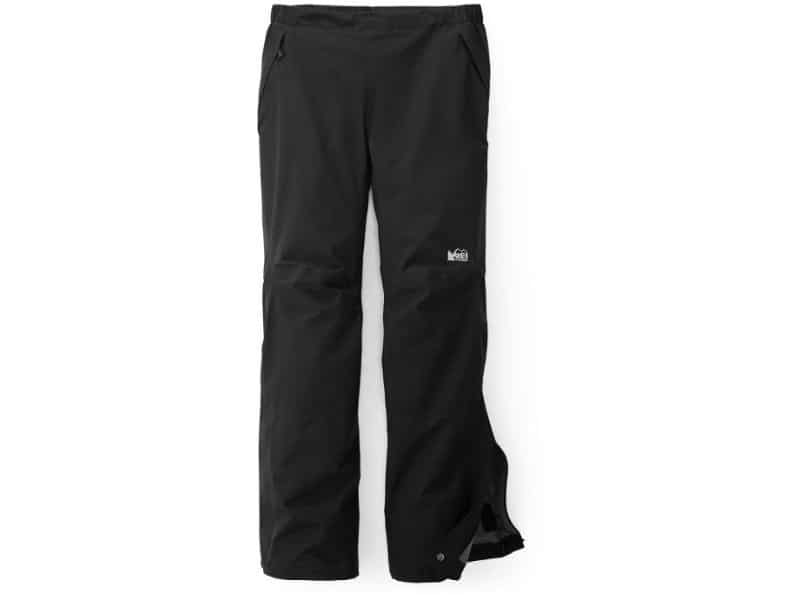 REI Co-op XeroDry GTX
Best For Wet Conditions
With the REI Co-op XeroDry GTX, snowy winter hikes don't have to mean that you spend all day being cold and wet in the great outdoors.
These outer shell pants for men and women are made with a polyester face fabric and waterproof 2 layer Gore-Tex Paclit technology to help keep you dry in foul weather. Plus, they even have a DWR coating on the outer fabric to shed rain, snow, and other mixed precipitation.
Unlike many other outer shell trousers, though, the XeroDry GTX has fully articulated knees and under-leg gussets to ensure freedom of movement as you hike. Moreover, they have an elastic waistband, as well as a set of hiking boot lace hooks to help you get a dialed-in fit and maximum water-resistance on the trail.
For added convenience, REI designed the XeroDry GTX using a set of zippered hand pockets. This pair of pants actually packs into its left-hand pocket should you need to stash them in your pack mid-adventure.
Even though these trousers' lack of insulation means that they're not quite as warm as snow pants, they're still a great choice for wet conditions and cold weather use. This is especially true if you couple them with a base layer to keep you warm.
PROs

Fully waterproof construction
Gusseted crotch and articulated knees improve freedom of movement
Packs into its own pocket
Elastic waistband and boot laces offer a better fit

CONs

Not warm enough for use without mid layers or base layers
Bottom-Line: If staying dry in a wintery mountain environment is your top priority, the REI Co-op XeroDry GTX is worthy of your consideration.
Arc'teryx Beta AR
Best For Alpine Adventures
If alpine pursuits are on the cards for your next winter excursion, the Arc'teryx Beta AR ought to be along for the ride.
These fully waterproof trousers are made with Arc'teryx's lightweight N80D Most Rugged fabric for increased durability in rough environments without adding weight to your pack. Additionally, they feature Keprotec™ instep patches on each pant leg to protect your gear from damage while trekking with crampons or snowshoes.
For waterproofing, the Beta AR is made with a wind-resistant and fully water-tight 3-layer Gore-Tex Pro membrane. It even comes with tiny GORE seam tape and Nu water repellant to ensure water can't sneak in during blizzard conditions.
Each pant leg on the Beta AR also comes with side zippers so you can quickly ventilate during high-octane pursuits in alpine environments. Plus, these side zips boast WaterTight zipper construction to keep you dry when not in use.
Like most pieces of Arc'teryx gear, the Beta AR doesn't come with the most budget-friendly of price tags. But, if you want a set of the best winter hiking pants for a wide range of alpine pursuits, these are truly hard to beat.
PROs

Gore-Tex Pro waterproof membrane
Fully seam-taped and DWR treated
Side zippers for increased ventilation
Reinforced instep for durability

CONs

Very expensive
Limited selection of pockets
Bottom-Line: Alpine escapades in foul conditions are no match for the lightweight and fully waterproof Arc'teryx Beta AR.
Columbia Snow Gun
Best Value
Designed specifically with budget-friendliness in mind, the Columbia Snow Gun is a wallet-friendly option for snowy locales.
These snow pants made it onto our list of the top models on the market because they offer a waterproof construction and plenty of insulation for cold temps. In particular, we like that they come with 60g of synthetic insulation, plus Columbia's Omni-Heat technology to help keep you warm when the mercury drops.
That being said, unlike many other insulated winter hiking pants, the Snow Gun also features Omni-Tech, which allows for ample breathability as you cruise your way to the summit. They also come with vents on each pant leg for added ventilation, as well as internal gaiters to help you stay dry.
Furthermore, you can tell that these trousers are made with comfort in mind because they have an adjustable waist and articulated knees for freedom of movement. Their list of features also includes 2 zip pockets for gear storage on the move.
Although synthetically insulated snow pants do have their limits on the trail during periods of balmy weather, in frigid locales, the waterproof Columbia Snow Gun is a sure bet to keep you toasty warm.
PROs

Warm enough for use in cold climes without the need for mid layers
Feature a layer of waterproofing for wet conditions
Vents on each pant leg for airflow
Internal gaiters prevent snow from entering each pant leg

CONs

Insulated trousers aren't ideal for warmer conditions
Fairly heavy and bulky
Bottom-Line: The Columbia Snow Gun is your go-to layer for any conditions where you need to stay warm without breaking the bank.
Mountain Hardwear Yumalino
Best For Warmth
Functional warmth is the name of the game with the cutting-edge and water-resistant Mountain Hardwear Yumalino.
As far as versatility goes, this pair of pants best meets the needs of cold-weather hikers with its unique mix of warmth and durability-focused features. It boasts a stretchy nylon face fabric with a DWR finish for protection from the snow, as well as UPF 50 protection for those bluebird days.
If that wasn't enough, the Yumalino comes fully lined with microfleece throughout the inside of each pant leg for increased insulation from the cold. Plus, despite being warm enough for chilly outdoor escapades, these trousers also feature enough stretch and use a full-length inseam gusset to ensure plenty of freedom of movement with each step.
Overall, even though this pair of pants may be a bit too warm and heavy for light and fast missions in the mountain, they're a nice choice if you want an outer shell and a mid layer all in one set of trousers.
PROs

Built-in microfleece insulation for warmth
DWR finish for weather protection
Stretch fabric has UPF 50 protection
Full-length inseam gusset for freedom of movement

CONs

Most pockets don't have zippers
Too heavy and warm for lightweight trips
Bottom-Line: When warmth is key in the winter environment, it's hard to imagine a more functional choice than the Mountain Hardwear Yumalino.