We've all been there: You arrive at camp, stoked about your hammocking setup, only to spend the next hour trying to pitch your sleeping area for the night.
The good news? It doesn't have to be like this.
With our calculator, you can perfect your hammocking system in no time flat. All you have to do is input some basic information, like your anchor height and ridgeline length to get the ideal dimensions for your setup.
Up next, we'll walk you through the basics of using our hammocking pitch and sag calculator to make sure your adventures go off without a hitch.
Key Takeaways
Measure up – Measure your gear before your first outing to ensure your calculations are correct
Prep at home – Utilize our calculator to get the right hang and practice your hammocking setup at home to check your skills
Play around – Try out different sit heights and ridgeline lengths to perfect your system
Don't underestimate – The importance of a well-pitched hammock
How To Use the Hammock Calculator
Before we get too far ahead of ourselves here, let's talk a bit about how to actually use this hammocking calculator. The idea behind this tool is that you can utilize it to add some basic dimensions of your campsite and your hammock.
Once you input all this data, the tool will spit out some need-to-know info about how high to hang your anchor points. It'll also provide some insight into the total force and weight placed on your anchors as you snooze.
So, here's a step-by-step guide to using this hammock hang calculator to find the perfect hang angle:
Find a tape measure and calculate your hammock and ridgeline length.
Estimate the distance between your trees or anchors.
Determine your preferred sit height above the ground.
Calculate the total weight of all the people that will be in your hammock at once (e.g., you, your partner, or even your dog).
Determine your ideal hang angle. This is usually a 30-degree angle, though you have a few degrees of wiggle room on either end.
Input all your dimensions into our calculator.
Receive instant guidance on how high you should place your anchor points on each tree.
You're all set! Enjoy your hammocking experience!
Hammocking Terms Defined
Now that you know how our tool works, let's discuss some of the terms and definitions you'll need to understand to get the perfect hang with your hammock.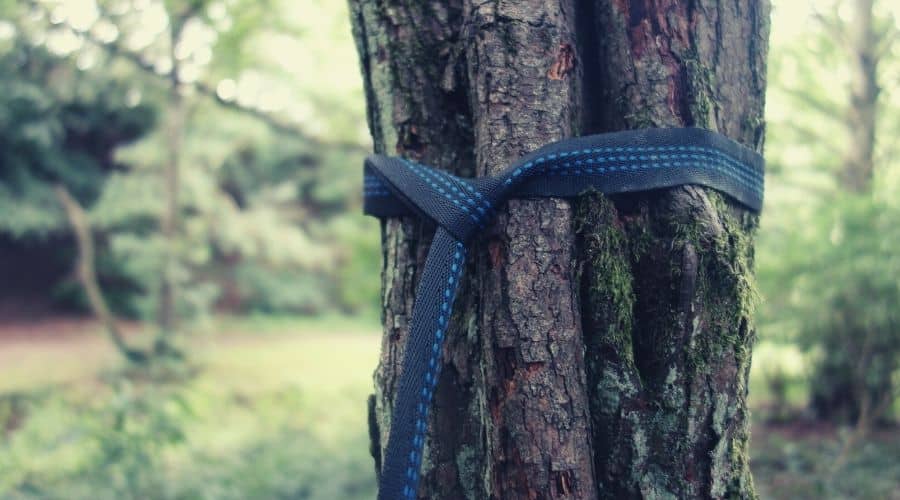 Distance Between Anchors
Every campsite and hammocking area has different anchors. So, knowing the distance between these anchors is of the utmost importance. In fact, knowing the length between your two trees is essential for hammocking. That's because it will determine how much "sag" (curve) is in your hammock and what length of rope or webbing you'll need.
RELATED: Check our guide to the best knots for hammock camping
As a general rule, you'll get the best pitch on your hammocks if this distance is 3 to 4 feet longer than the hammock itself. Or, in other words, your trees should be about 10 to 15 feet apart. You can select anchors that are further apart, but this will require a longer suspension length.
Ridgeline/Hammock Length
While they might seem similar, ridgeline and hammock lengths technically refer to different dimensions.
In particular, your ridgeline length refers to the overall size of your ridgeline, which is usually about 75% to 85% of your hammock's length. Meanwhile, a hammock's length refers to how long the hammock is when it's pitched.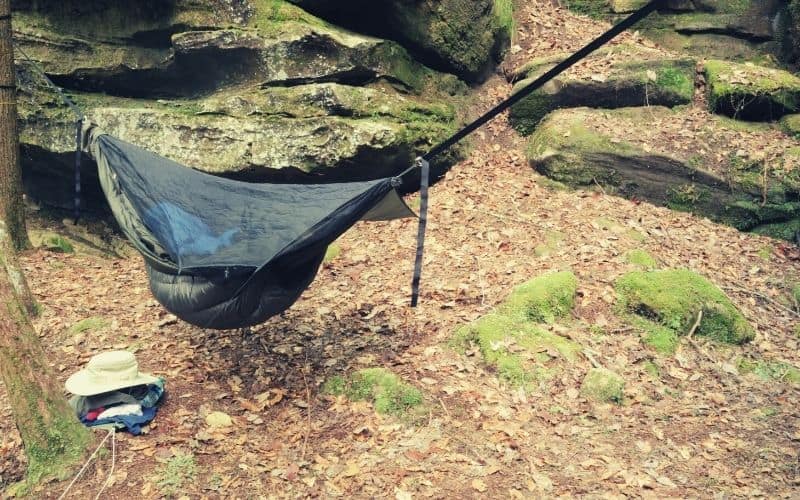 Suspension Length
Your hammock's suspension is the cord or webbing that's used to attach it to an anchor. Therefore, the suspension length refers to the distance between one end of your hammock and the anchor itself. It's important to know this information as it could affect the overall height of your anchor points.
Preferred Sit Height
The preferred sit height is essentially how high off the ground you think you'd want to be while you snooze.
For safety reasons, we generally recommend that folks keep their sit height between 15 and 25 inches off the ground. Of course, your setup will work if you want to go with a higher sit height. But, doing so is likely going to increase the risk of injury should your system fail at night.
Weight In Hammock
The weight in your hammock refers to the weight of the person or people that plan to sleep in it at night. As you can imagine, this weight has a major impact on the forces placed on your anchors, so it's important to know this information from the get-go.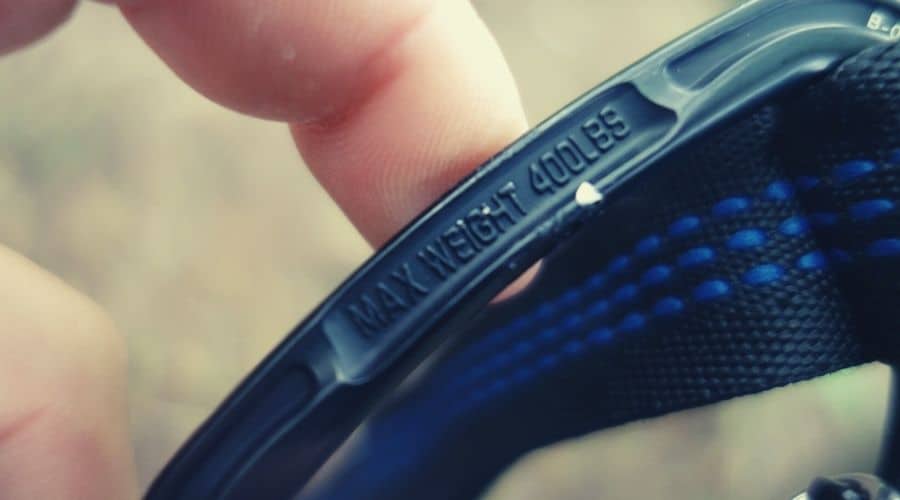 You can find information about the weight capacity of your hammocking system from your gear manufacturer. Make sure that you don't exceed this capacity as doing so can be dangerous, placing excessive stress on your anchors while you snooze.
Hang Angle
This angle refers to the angle between your cord or webbing and your anchor point. In general, you should aim for a 30-degree angle in your system. That way, you can minimize the stress on your trees without negatively impacting your comfort at night.
Cord Tension
Cord tension is how much force is placed on your suspension straps during your hammocking adventure.
This tension is directly correlated with the amount of weight placed in your hammocking system. As a result, the more weight you have in your system, the more force on your webbing and cord.
The good news is that most purpose-built hammocking straps and cords are designed to withstand way more pressure than you could possibly put on your gear at night. But, it's essential that you're aware of this information so that you don't accidentally overload your system while at camp.
For insight into the weight limit on your system, consult your gear's manufacturer. They likely list the total force capacity in kilonewtons (kN), which you can convert easily to pounds or kilograms (1 kN equals 224 lbs or 102 kg of force).
Hang Point
The final aspect of your hammocking setup is the hang point. This refers to the height of your suspension system (e.g., straps or rope) above the ground. Thanks to our tool, you should have a pretty good idea of what your hang point should be to ensure a fantastic setup process.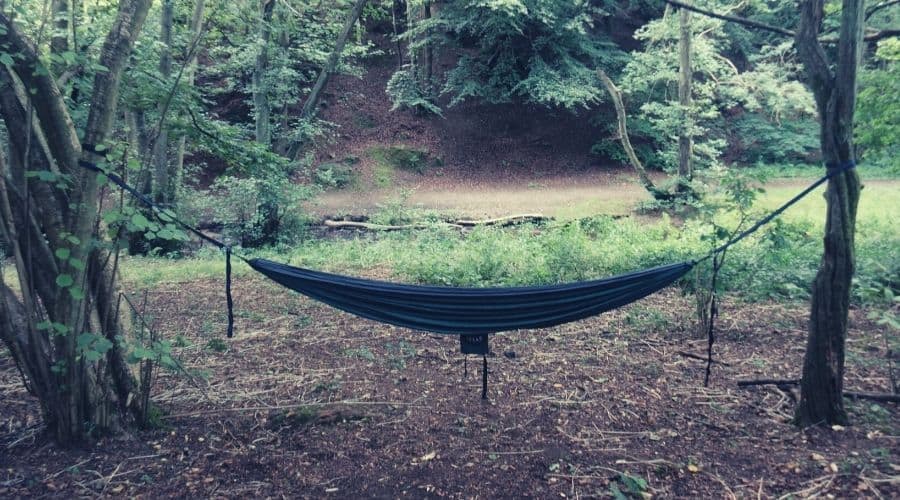 Hammock Hang Calculator: Hang Like a Pro
With our ultimate hammock calculator in tow, pitching your hammock campsite right for the night is easier than it ever has been before. Now, you can head out into the backcountry or your own backyard confident that you have the skills you need to get an amazing pitch on your hammock set-up, every time.
If our calculator helped you master the art of the hammocking hang or if you have a question about how this all works, let us know in the comments below! We hope you'll share this article with your friends, too, so they can enjoy their adventures with minimal hassle. See you on the trail!