Whether you're an avid camper, backpacker, or a once-in-a-while kinda patron of the wilds and national parks, hammocking is an awesome, fun way to catch your Zzs in the outdoors. After all, hammocks are lightweight, packable, and can be the perfect replacement for a tent.
As simple as a hammock is, however, you will need some practice rigging it up in order to ensure you'll be as comfortable as possible. So to help you get started on the right path and to get a good night's sleep, we will break it down, step by step, to make sure you optimize your hammock camping setup.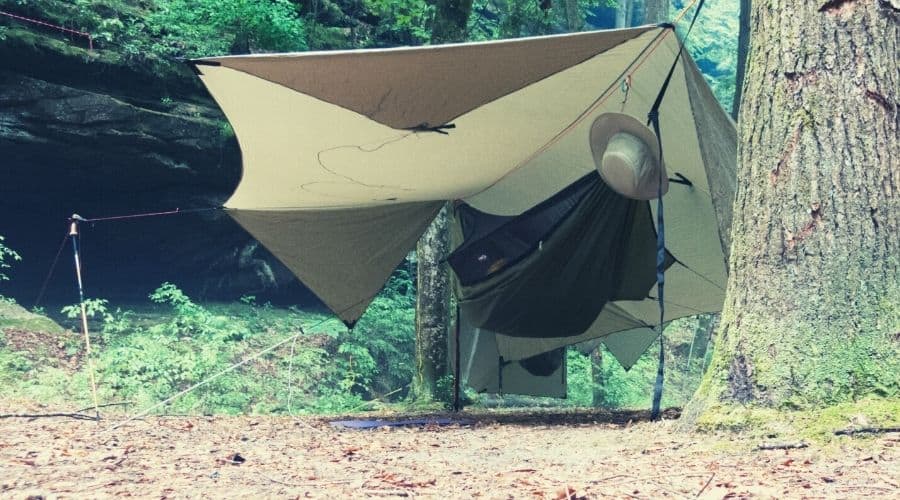 Step #1: Select The Right Hammock
When it comes time to choose a hammock for camping, the material, design, and construction are all major factors to consider.
Traditionally in marketing materials for vacationing, we are bombarded with pictures of hammocks on desolate beaches made with crisscrossed ropes or slats. Don't let these ads fool you, as this style is conducive to what's known, in hammocking parlance, the Human Waffle Effect.
We recommend choosing a hammock made of parachute or ripstop nylon material. This material is lightweight and soft, but also rugged and extremely durable.
Most single hammocks have a 400 lb. max weight capacity rating, while a double hammock is likely to be able to accommodate two sleepers with a combined weight in the region of 500 lbs. If you happen to be on the tall side, we recommend opting for a model that's at least 8 feet long (2.4 meters). And when in doubt, always go larger for extra comfort.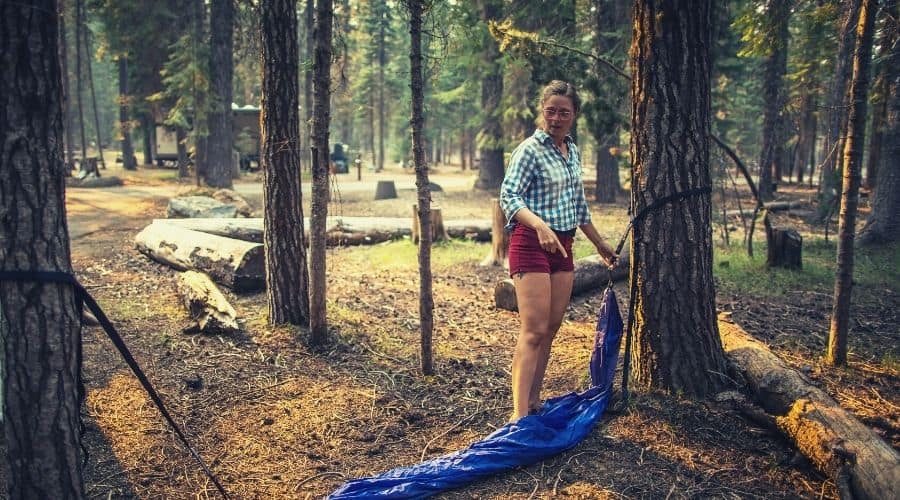 Step #2: Choose Your Pitch
The process of hanging a hammock isn't difficult, but doing it well is essential to your comfort, getting a better night's sleep, and reaping the benefits that might just make hammock camping preferable to sleeping in your bed at home.
First up, scout the area for the ideal hammocking location. The optimal distance between anchors for a hammock is 12 to 15 feet apart (3.7 to 4.6 meters). If you're no good with measurements, an easy alternative is this: if you can parallel park a car between your two would-be anchors, they're probably the perfect fit.
RELATED: How to go hammock camping with your dog
If the length between your two anchors is not optimal, there will be some drawbacks. If you hang your hammock too tight, shoulder squeeze is on the cards. Hang it too loosely, on the other hand, and the hammock will sag too low and your rear end will be kissing the ground.
The appropriate harnessing height minimum is 6 feet up on the anchor. If you're petite, you will have to extend your arms as high as you can and then work the strap upwards by shimmying it.
If you happen to have a set of trekking poles or can locate a long slender branch, use them to help you push the strap high enough to ensure your hammock will not touch the ground when you get in.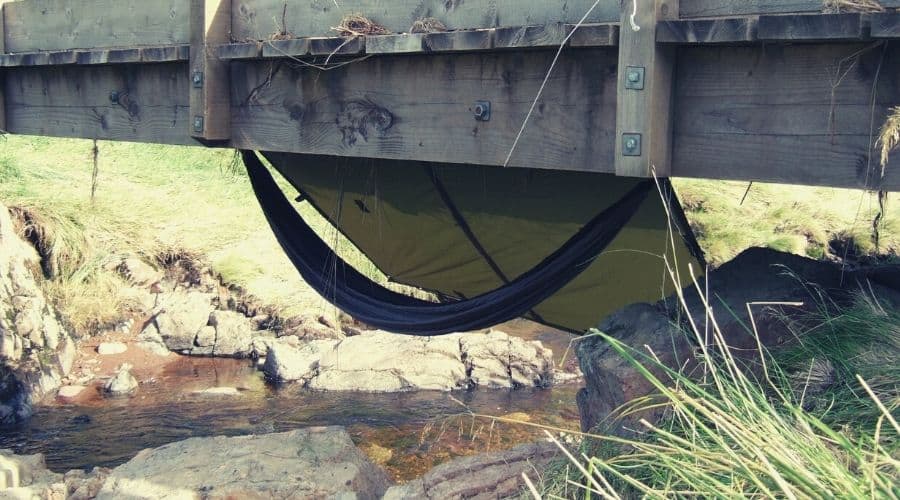 Step #3: Do A Little Housekeeping
Before you lie in your hammock, scan the area below where you will be setting up your hammock. Clear any sharp rocks or branches in case you get a little playful and fall out or a strap fails.
Make sure that each hammock strap is not twisted when encircling an anchor. Hanging each strap flush and flat against the tree will save the tree from damage and also make the anchor more secure.
Step #4: Hang Your Hammock
After suspending your hammock, it's time to check your hammock angles.
You can avoid shoulder squeeze and excessive sag by taking the "deep curve" degree angle approach. This entails getting a good 30-45° angle between the hammock straps and the anchors to lower the center of gravity.
The recommended distance between the hammock and the ground is around 12 to 18 inches (30 to 46 cm) once you're inside.
Following these guidelines will help you avoid a hammock that is too taut or overly loose. Either of these issues will cause you to be uncomfortable in just about any sleeping position.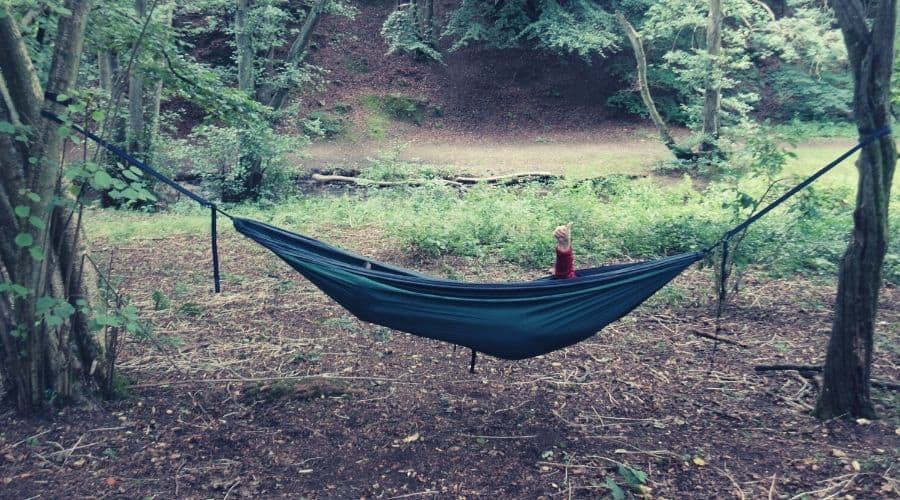 Step #5: Sleep Diagonally Across the Hammock 
The hammock setup process takes a few minutes. During this time, you may have to do a few test runs by getting inside the hammock. To lie inside, grab the walls of the fabric on each side and spread it wide open. Take a tiny step back with one foot, sit down, and then swing your legs up and around.
When it comes to lying in a hammock, we recommend that you angle your body diagonally across the hammock from the center line. At this angle, you will notice that the center is the tightest section, while the sides will be hanging loose. This occurs as the hammock flattens out and cradles your body, thereby eliminating pressure points.
But it's worth bearing in mind that there is really no right or wrong way to sleep in your hammock. By following the above recommendations on angles and hanging height, the hammock will conform to your body's natural curves, thereby reducing pressure points and the risk of back pain. Chances are, you'll want to sleep in it every night!
Many people tend to be active sleepers and shift position throughout the night. Sleeping in hammocks, you'll be able to roll over, sleep on your side, and even curl up in a fetal position at whichever degree angle you like.
When searching for the ideal sleeping position, keep in mind that you will not flip yourself out of the hammock, so don't hesitate to adjust in any way you feel comfortable.
If you still don't believe how well you will sleep, check out 6 health benefits of sleeping in a hammock.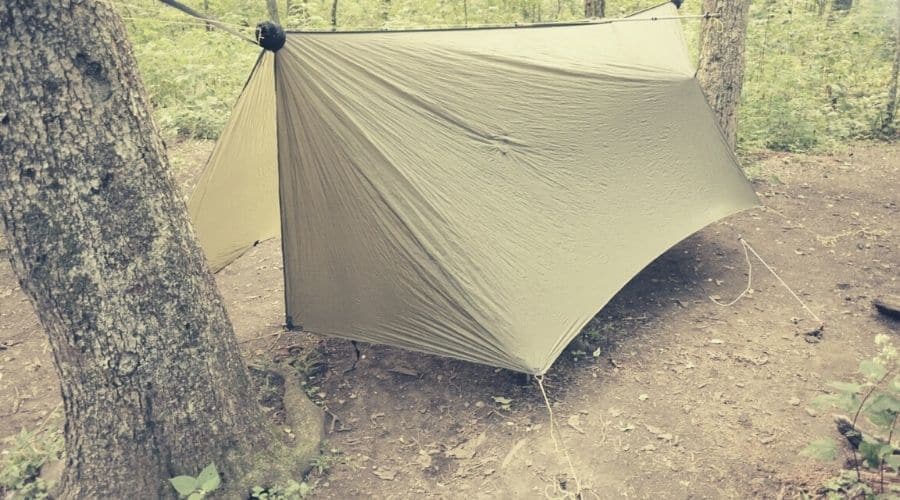 What Tips You Should Know When Laying In A Hammock?
Here are some additional hammock safety precautions and tips to help you get a super comfortable and restful sleep with a few key accessories.
1. Avoid Dead Trees and Branches
First, inspect each of the anchoring trees. If either tree appears to be dying or dead, do not hang your hammock there. Do some more scouting. Always look up to avoid any dead branches or possible falling objects before you set up your hammock.
2. Bring a Sleeping Bag
Hammocks are perfect for camping in warm, humid areas locations due to the added air circulation they allow compared to a tent. But once temperatures drop below 60℉, things can get a little chilly without adequate insulation.
As such, it's wise to pack a sleeping bag if you anticipate temps will be too cool for your pajamas (!) alone to keep you toasty. Sleeping bags are also, of course, lighter and less bulky than a couple of blankets. Just be sure to check the temperature rating for your sleeping bag and make sure it is adequate for the temperatures you expect to experience while camping.
3. Use an Underquilt or Sleeping Pad
An underquilt or a hammock sleeping pad is also necessary to keep out the cold in cooler temps. The underquilt performs the same function as a sleeping pad when camping in a tent. That is, it insulates your underside by providing a buffer between your body and the cool air.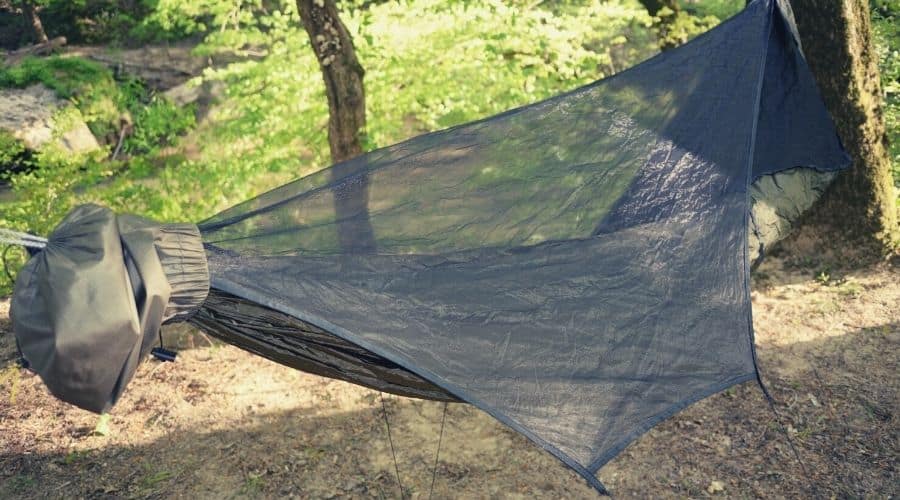 4. Bring a Bug Net
If you're sleeping in an area with a lot of bugs, an insect net that will surround and shield you from airborne biters is a must. Kammok makes an insect net for 'mocks that is easy to use and ensures you can fall asleep without having to worry about being munched alive before breakfast!
5. Rainproof Your Sleeping Spot With a Tarp
Hanging a camping tarp above your hammock is the best way to protect yourself against inclement weather. There are various ways in which you can hand a tarp, but the best are usually simple setup options like the ridgeline configuration.
6. Don't Leave Food In Your Hammock Overnight
To avoid inviting any unwelcome visitors, be sure to store your eats in a bear box at least 100 feet away from where you sleep.
Is Sleeping in a Hammock Safe?
Hammock camping is safe as long as you use caution, follow the basic hanging guidelines, and keep in mind the list of 6 tips featured above.
We hope that hanging about in a hammock will take your camping experience to all-new levels because stargazing in a hammock is awesome and an absolute must for both the adventurously and aesthetically inclined.
If you have any comments or more questions about how to sleep in a hammock, please fill out the comment box below and we'll be sure to respond. And if you think this article was helpful, please share with your friends!