How to Set Up A Hammock Without Trees: Your Go-To Guide
Looking for tips on how to hang a hammock without trees?
You're in the right place! In this guide, we will be covering the following:
The top ways to hang a hammock if you're on a camping trip
Reliable methods for hammocking without trees at home
Top tips and tricks for getting the perfect hang while hammocking
Fact: Hammocking is awesome.
Setting up a hammock, on the other hand, isn't always as blissful as hammocking itself.
In fact, while many of us might know the ins-and-outs of setting up a hammocking station on trees, trying to hang your hammock when you're not in the woods is a challenge.
The good news is that we're here to help. Whether you're looking to create a backyard napping spot or you want to go hammock camping without trees, there's a solution for your needs.
In this article, we'll introduce you to 6 tree-free methods for hammocking. That way, you'll know how to hang a hammock without trees on all your upcoming adventures.
Do
Select a pitching method that's appropriate for your hammocking location
Ensure that your two anchor points are strong enough to support your weight
Consider making a permanent hammocking structure if at home
Don't
Forget to test your hammocking setup before climbing inside to ensure it's pitched properly
Overlook the power of being creative with your hammocking setup, even when there are no trees available
Six Tree-Free Hanging Methods For Your Hammock
In The Wild
Hammock camping sometimes involves staying at campsites that don't have suitable trees for your sleeping area. So, here are some methods to try on your next adventure:
Cars & Trucks
For car camping situations, pitching your hammock off of your car or truck's roof rack may be a more suitable option. Of course, doing so is only possible if your car is nearby and if you have a boulder, tree, or structure close by to serve as a secondary anchor point.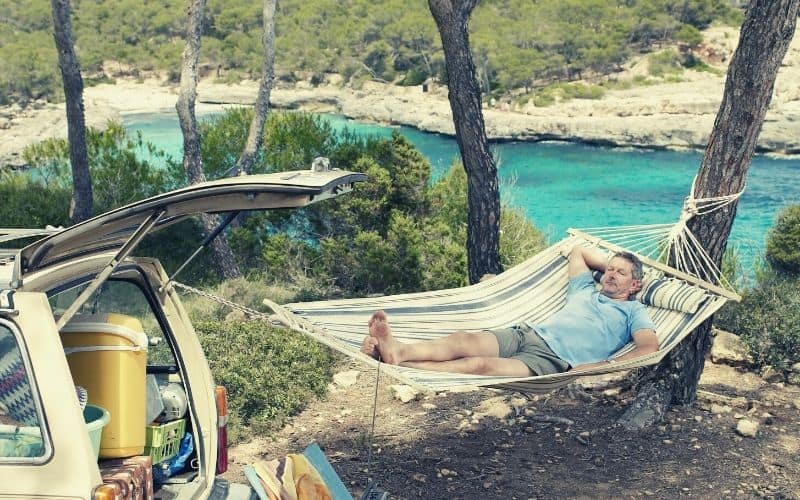 If you're keen to try out this method, you'll need a vehicle with a roof rack as well as some tree straps. Tie the straps to the part of the roof rack where it attaches to your car's roof as this reduces the overall load on your vehicle.
Then, attach one end of your hammock to your roof rack and the other to a secondary anchor point to complete your camping setup for the night.
Hammock Stands
A hammock stand is one of the most convenient ways to pitch your campsite for the night if you're staying at a roadside campground.
Hammock camping stands are available at many outdoor gear stores, so you can usually get one relatively easily. Many models are also collapsible, which makes them an ideal choice for use at the campground.
To use one of these stands, you simply need to follow the instructions and set it up in your preferred snoozing location. Once the stand is pitched, you can attach your hammock to it using the included chains or straps. It's as easy as that!
Rocks
If you're hammock camping without trees, rocks are an ideal anchoring system. In fact, you'll find that many popular camping spots up in the alpine boast massive boulders, which make for superb hammocking locations.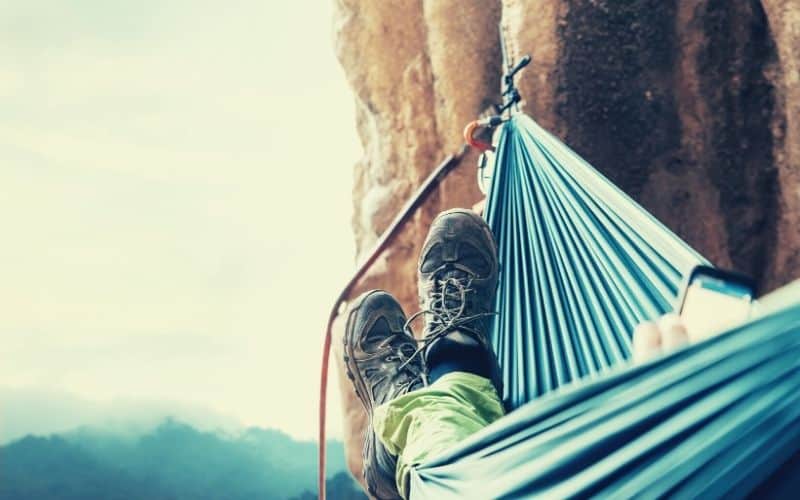 The good news is that hanging your hammock off of rocks is fairly straightforward.
To do so, you'll want to make sure that your rocks are at a distance of about 10 to 18 feet apart and that they're large enough to support your weight. This usually means searching for boulders that are at least 6 to 8 feet tall.
To pitch your hammock on rocks, you have a number of options. For example, you can opt for very long pieces of webbing or tree straps to wrap around the boulders to create anchor points.
Or, you can use pieces of climbing gear (e.g., cams and nuts) to anchor into the rock. However, if you're going to use climbing gear for your setup, be sure to get quality instruction on how to do so properly to avoid injury.
At Home Or The Backyard
For at-home hammocking, you have multiple ways to hang up your snooze spot. Here are some awesome methods to try at home or in your backyard:
Posts/Poles
If you don't have any solid trees to use in your backyard, fence posts and poles can serve as the next best thing.
You can buy quality posts at nearly any hardware store for this project. But, make sure that your posts have at least a 5-inch diameter and are 6 to 8 feet in height, or they won't be able to support your weight while hammocking.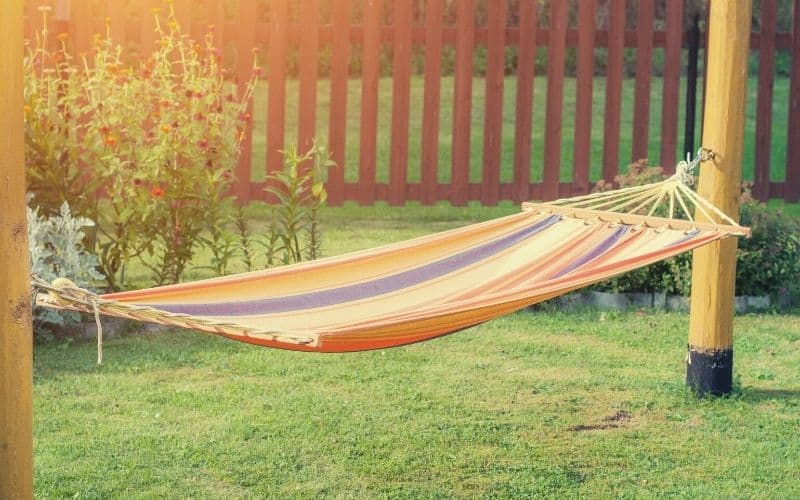 Once you've found an ideal hammocking spot for your posts, you'll do the following:
Dig two holes into the ground for your posts. These should be about 2 feet deep, 10 to 15 feet apart, and 4 to 6 inches wide.
Place a post in each hole and backfill the holes with concrete. Encasing your posts in concrete is essential to prevent them from failing under load.
Wait about 12 hours for the concrete to set.
Fix J-hooks to each post to serve as anchors.
Tie one end of your hammock to each post and adjust the tension until you get the perfect hang.
Buildings
When hammocking at your own home, you can sometimes use buildings as anchor points. In fact, sturdy building structures, like columns, banisters, and joists can all be fantastic pitching locations.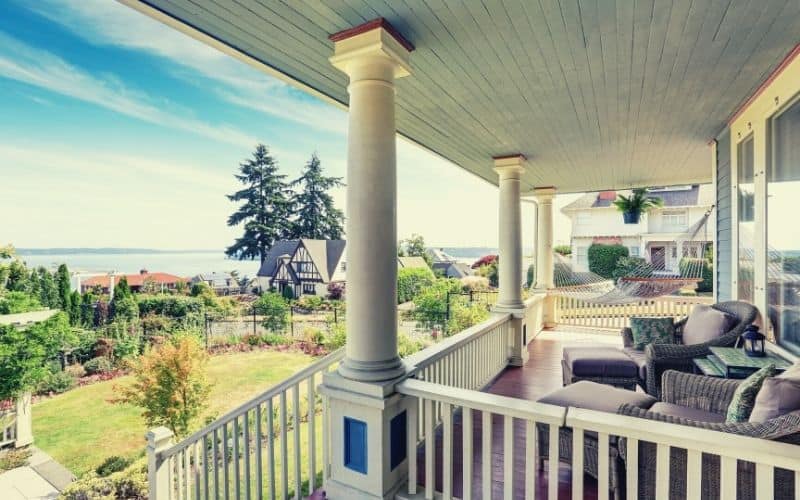 For this method, you'll want to head to the hardware store and invest in two J-hooks to serve as your anchors. You can bolt these J-hooks to a column and then use carabiners or chains to attach your hammocking setup.
Do note, however, that regular ol' drywall isn't strong enough to support your weight. If you want to use your wall as an anchor, you'll need to use a stud finder to find the frames behind the drywall. Otherwise, you risk damaging your home (and self) in the process.
Build A Hammock Structure
For more permanent hammocking systems at home, you may want to consider building a permanent hammocking structure. This could be as simple as a DIY stand or as complex as a full-on weatherproof snoozing area.
Since there are so many different ways to create a hammocking structure, you can fine-tune your design to meet your space constraints and budget. If you're looking for some ideas for your structure, you could check out this video of a DIY hammocking pergola:
The concept behind most of these hammocking structures is quite similar to creating hammocking anchors using posts. However, creating a full-fledged structure lets you take your design to the next level.
Use Your Hammock As A Tarp
If all else fails, using your hammock as a tarp is always an option. The majority of hammocks are crafted from highly water-resistant materials, so they can protect you from the elements in a pinch.
For this method, you'll pitch your hammock like you would if you had a tarp. If two trees or two rocks aren't available, you can use a set of study trekking poles or your car as your anchors.
One option is to hang your hammock off trekking poles that are spaced 10 feet apart and use guylines to tension it properly. At the end, you should have a makeshift A-frame tarp to keep you dry at night.
Become A Hammock Hanging Guru
At this point, you're a veritable expert when it comes to figuring out how to hang a hammock without trees. So, whether you're heading into the backcountry or you're keen to set up a peaceful napping spot in your backyard, you have plenty of excellent methods to choose from.
We hope our article helped you become more confident in your hammocking abilities. If you successfully used one of these methods during your adventures, let us know in the comments below. Also, don't forget to share this article so your friends can brush up on their hammocking skills, too!