Colorado Springs is located in slap-bang in the heart of some of the most unique geography in the world. From its deep desert canyons and to the towering, snow-capped Front Range mountains, this is one of few hiking destinations that can cater to every taste, and there's no shortage of breathtaking views.
Ready to see it for yourself?
Below, we provide all the information you need to start planning your hiking adventures in the area. From a calf-busting ascent of the famed Pikes Peak to family-friendly strolls through the otherworldly rock formations of the Garden of the Gods, our guide has something for everyone!
1. Seven Bridges Trail, North Cheyenne Cañon Park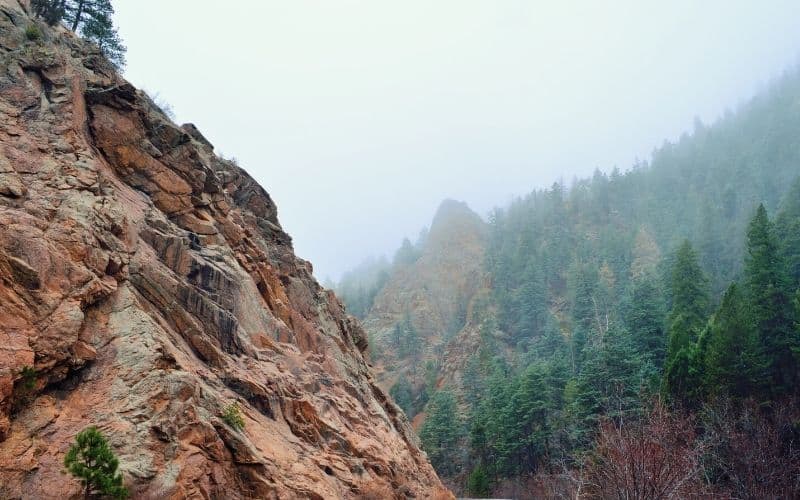 Type: Out and back
Distance: 3.5 miles
Difficulty: Moderate
The Seven Bridges Trail follows North Cheyenne Creek and rises about 912 feet in elevation, taking you over a series of 7 bridges along the way.
Depending on the time of the year you decide to go, you'll pass a few small waterfalls throughout the hike. Although you'll be hiking in a forest of ponderosa pines for the most part, the trail occasionally opens up and provides sweet views of the surrounding terrain.
Parking is located at 4415 Lower Gold Camp Road, not far from downtown Colorado Springs, where you can find plenty of spaces. After parking, you will walk a short distance before reaching the trailhead, which is marked as "Trail 622".
This is a popular mountain biking and trail running route, and it can get busy in late spring and early fall.
Related Reading: Check out the best hiking and camping in Colorado
2. Palmer Trail, Garden of the Gods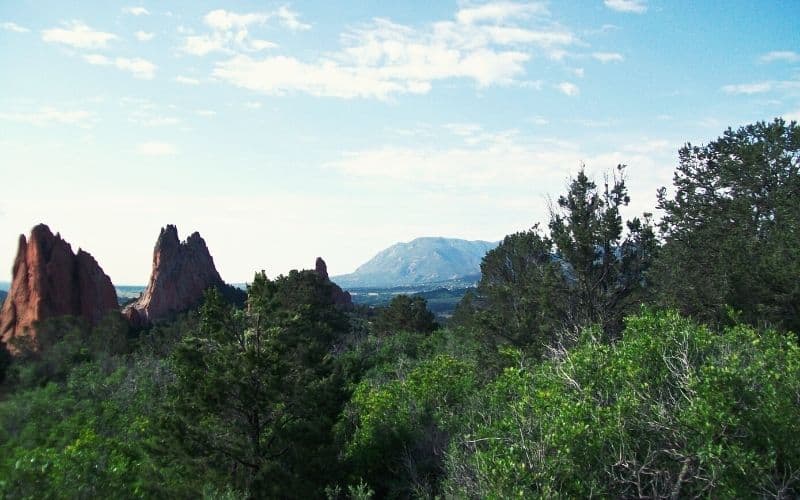 Type: Loop
Distance: 5.7 miles
Difficulty: Moderate
The Palmer Trail, named after General Palmer, takes you up 1,292 feet to a spot offering great, unobstructed views of the surrounding mountains and quirky rock features of the Garden of the Gods.
The hike starts out at the Section 16 Trailhead, with parking located nearby off of Gold Camp Road and Break Creek Road. If you have the time, be sure to check out Palmer Park before you leave town!
This can be a challenging hike with snow or mud underfoot, so we recommend hiking it between March and November for the best conditions. This trail is also popular with mountain bikers and trail runners, so be sure to keep an eye out for them while you hike!
3. Barr Trail to Pikes Peak, Pike National Forest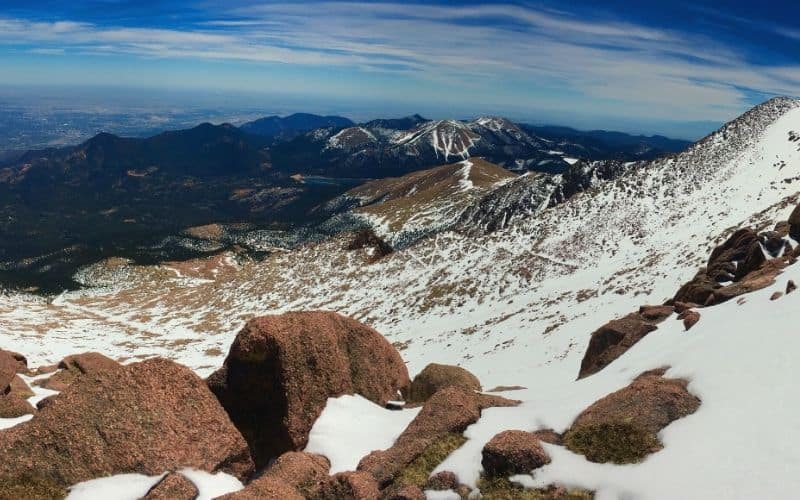 Type: Out and back
Distance: 25 miles
Difficulty: Challenging
The Barr Trail is a challenging, strenuous, and intense hike that's ideal for more experienced hikers.
This trail gains 7,434 feet in elevation and requires a plethora of supplies, and an early start for an optimal outcome. Getting to the parking lot and trailhead early is key because of how quickly the weather can change – afternoon storms here are frequent (and notorious!).
This hike will have you tackling steep terrain in certain sections, most notably at the start and the finish so requires strong calves and a good night's pre-hike sleep!
Your efforts in reaching the top are rewarded with spectacular views over the valley and Pike National Forest. The west side of the peak offers views of the creeks and valleys below while the south side can give a glimpse of Boehmer Creek and the reservoir.
The trail starts at the Barr Trailhead on Hydro Street off Ruxton Ave. All parking is paid parking.
For more detailed info on the Barr Trail and its alternative, the Crags Trail, check out our guide to hiking Pikes Peak.
4. Mount Muscoco Trail, Cheyenne Canyon/Manitou Springs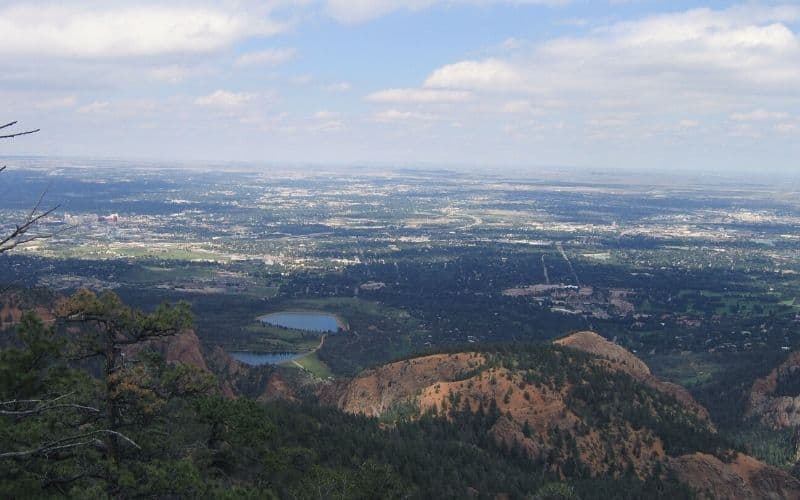 Type: Out and back
Distance: 4 miles
Difficulty: Moderate
This short but rewarding hike near Manitou Springs is the ideal post-work adventure for anyone keen to get in a good workout and enjoy some sweet views along the way.
The trailhead begins at the Mount Cutler and Mount Muscoco Trailhead along North Cheyenne Canyon Road in Manitou Springs. The trail is well-marked for the duration.
The last half of a mile of this hike is the steepest and is best described as very moderate scrambling. Good boots are also recommended because the lower sections are mostly on loose gravel.
Once you've gained all 1,292 feet of elevation, the top will greet you with sweeping views of North Cheyenne Canon Park and the windmills of Colorado Springs.
If you have a little more time on your hands, be sure to check out the Manitou Incline, Helen Hunt Falls, and Red Rock Canyon Open Space, all of which are just a short drive from the Muscoco trailhead!
5. Catamount Falls Trail, Green Mountain Falls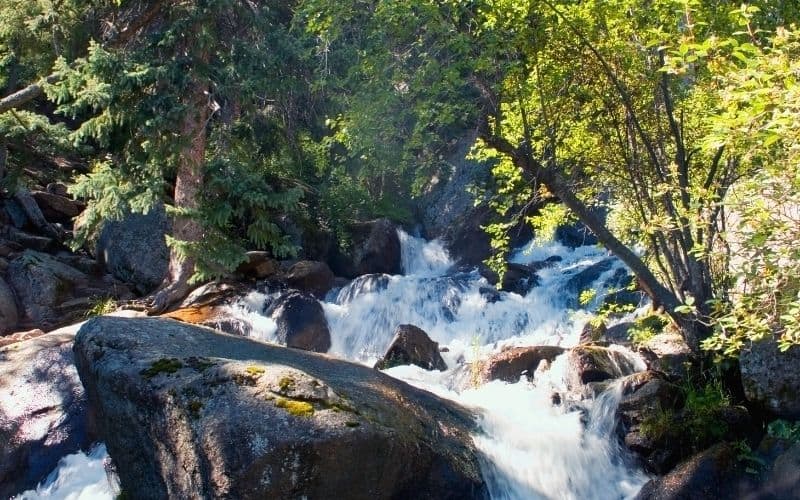 Type: Out and back
Distance: 6.4 miles
Difficulty: Moderate
Starting just 25 minutes from Colorado Springs, the Catamount Falls hike is ideal for anyone seeking an afternoon getaway from the city.
This hike begins in the town of Green Mountain Falls and leads you up to the Catamount Reservoir on a well-marked trail. Along the way, you'll pass three pretty waterfalls and come across several overlooks where you will enjoy views of the surrounding forest and the valley below. The first half of this hike is fairly steep but things level off towards the end.
Parking is available on both sides of the trailhead, which is located on Belvidere Ave right before Maple Street.
6. Perkins Central Garden Trail, Garden of the Gods Park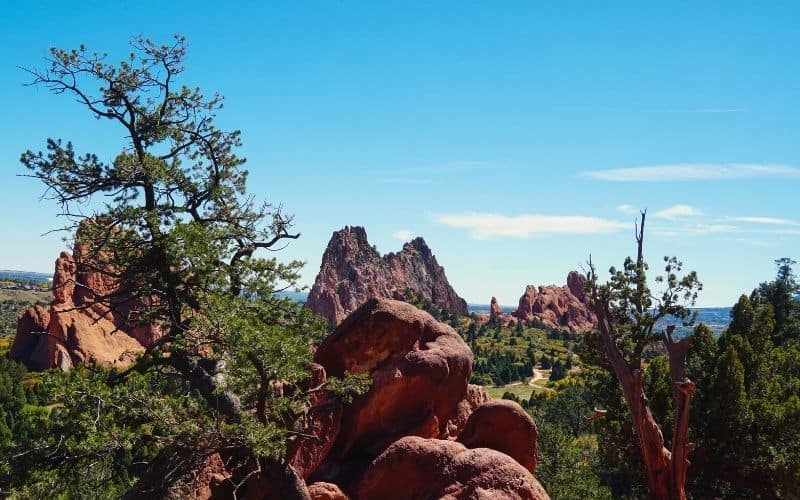 Type: Loop
Distance: 1.1 miles
Difficulty: Easy
The Perkins Central Gardens hike takes you around a short loop and gives you a close-up look at two of the most popular rock formations in the Garden of the Gods. First is the 'Tower of Babel', and second is the 'Kissing Camels' – both of which are geological wonders. This area also tends to have a plethora of wildlife, so be sure to bring that camera!
This area can crowd up quickly, and finding a parking space is often tricky, so it's best to start your day early. Parking and the trailhead are found on Juniper Way Loop.
7. Siamese Twins Trail, Garden of the Gods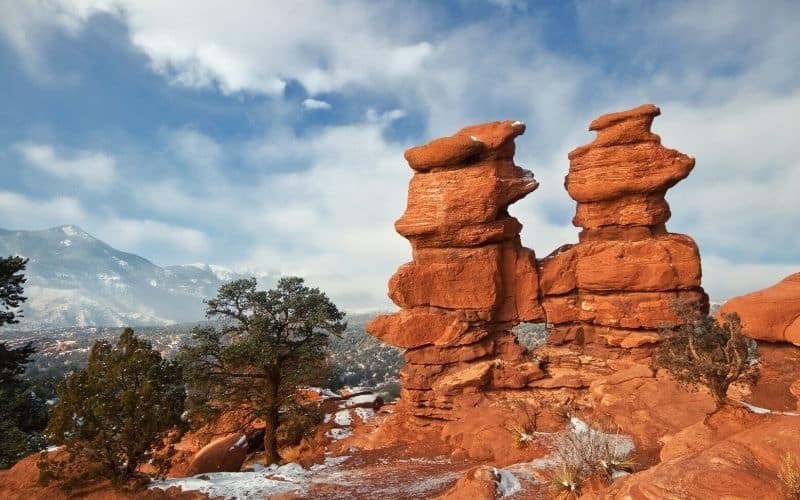 Type: Loop
Distance: 0.5 miles
Difficulty: Easy
This family-friendly hike gives you a good, up-close-and-personal look at more unique rock formations, most notably the Siamese Twins Formation, and some unexpectedly cool views of Pikes Peak. Once you reach the 'twins', you'll get a glance at the nearby mountain ranges through the rock formation, which can make for some pretty spectacular pictures.
Pro-Tip: If you align your camera correctly, you can get a picture of Pikes Peak framed directly between the Siamese Twins formation.
Parking and the trailhead are located nearby off Garden Drive. Be sure to stop by the Garden of the Gods visitor center before you leave. And if you have more time on your hands, head a little north to Pulpit Rock Park and Austin Bluffs Open Space. In both locations, you'll find plenty more quirky rock formations and escape the worst of the crowds!
8. Cheyenne Mountain via Talon and Dixon Trail, Cheyenne Mountain State Park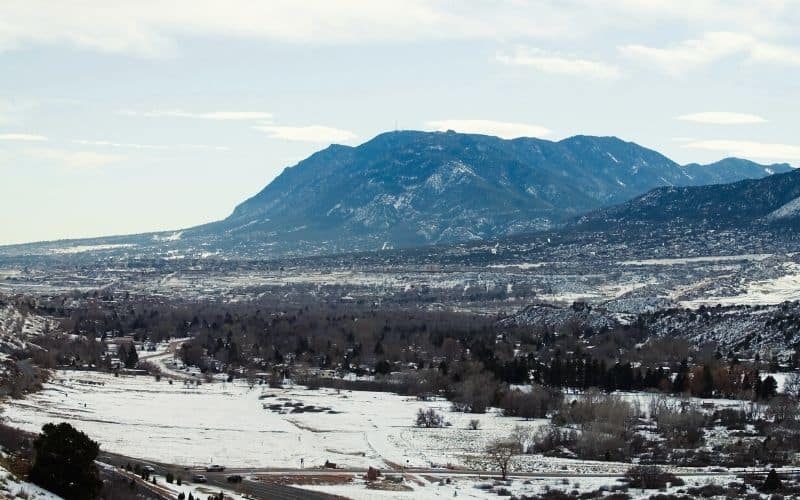 Type: Out and back
Distance: 15.6 miles
Difficulty: Challenging
If you're looking for an all-day adventure and enjoy a good challenge, the Cheyenne Mountain hike is a great option.
With 15.6 miles to cover and over 3,000 feet of elevation gain, this hike is no cakewalk and is best suited to hikers with plenty of experience under their belts and energy to burn.
The bulk of the route is only moderately difficult but is rated 'challenging' due to its length and a handful of scrambling sections you'll need to negotiate to get to the top (and back down again!). The views at the end, however, are well worth the effort!
We highly recommend an early start for this one in order to avoid afternoon storms or simply make it back to town for a well-earned feed before closing time!
The parking and trailhead are located off of JL Ranch Heights Rd right before the Cheyenne Mountain State Park Welcome Center.
Related Colorado Hikes
For more great Colorado Hikes check out our guides to:
Hiking in Colorado Springs: The Home of Happy Hikers!
From the Pikes Peak Region to Ute Valley Park, Colorado Springs has an abundance of trails and natural beauty to explore and enjoy! We hope that our guide has kindled the spirit of adventure in you and given you all the inspo and info needed to get out and see them for yourself.
If you enjoyed or used our guide, let us know how we did! And if you have any questions or comments about hiking in Colorado Springs, let us know in the comments box below!