Visiting the Rocky Mountains should be on every outdoor enthusiast's bucket list. And there's no better way to experience them than by summiting Pikes Peak.
Pikes Peak is located a short drive from downtown Colorado Springs. Being the highest point in the area, this iconic mountain can be seen from miles in every direction. And from the summit, you'll have stunning views of the Continental Divide and much, much more.
In this guide, we'll tell you everything you need to know so gather up your gear, lace up those boots, grab some trail mix, and get ready to hit those trails!
Article Topic Key Takeaways
Stock up – Bring water and snacks
Prep – Plan ahead and bring a map
Timing – Arrive early at the trailhead and don't try to summit in the afternoon
Be flexible – Turn around if afternoon storms roll in or you start feeling lightheaded or nauseous
Respect – Don't underestimate the difficulty of hiking a 14er
Seasonal – The best time to climb Pikes Peak is in the summer
Pikes Peak Trails: Barr and Crags Trails
You can hike to the summit of Pikes Peak from the east or the west of the mountain.
Coming from the east, you'll start at the Barr Trail Trailhead. This way is 25 miles to the summit. This route has a lot more accommodation options at the start. Manitou Springs is a full-service town with restaurants, hotels, breweries, coffee shops, and more.
To hike to the summit from the west, you'll take the Crags Trail in Pike National Forest. The Crags Trail length is much shorter than the Barr Trail at 14.5 miles. You start at the Crags Campground, which is at a higher elevation. At 10,000 feet, you'll only have 4,402 feet of elevation to gain over the 7+ miles to the top.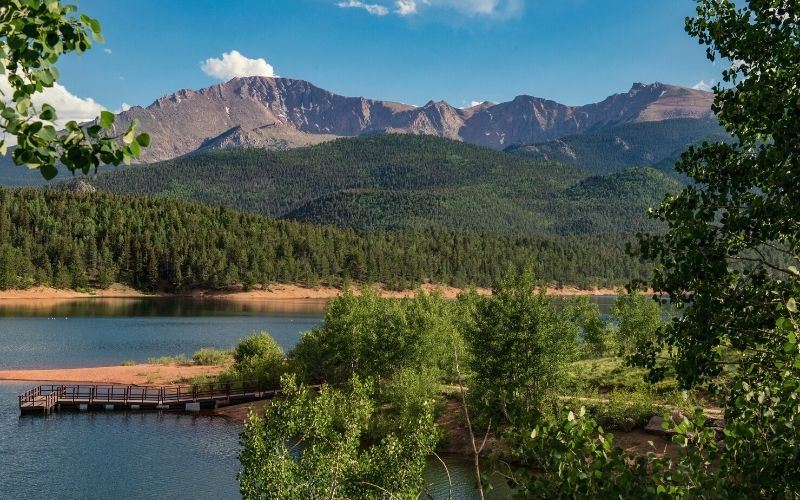 If you're ascending Pikes Peak via the Crags, your best option is to camp at the Crags Campground. The closest town to the Crags Campground is Divide, Colorado. While Divide does have a restaurant and small store, it isn't the full-service town that Manitou Springs is.
Barr Trail
Approaches Pikes Peak from the East
25 miles
7,434 feet of elevation gain
Type: Out and back
Difficulty: Hard
Starts: Barr Trailhead
Ends: Pikes Peak Summit
Nearest Town: Manitou Springs
Crags Trail
Approaches from the West
14.5 miles
4,402 feet
Type: Out and back
Difficulty: Hard
Starts: Crags Trailhead, Crags Campground
Ends: Pikes Peak Summit
Nearest full-service town: Woodland Park
Good Things to Know About Pikes Peak
If you recently flew to Colorado from a lower elevation, take a few days to acclimatize. It's common for people who fly from sea level and quickly go to high elevations to experience altitude sickness, which could easily ruin your trip.
Staying hydrated is important when going to high elevations. So, drink plenty of water. There isn't much potable water on the way up, so make sure you carry plenty with you and bring a water purifying system to top up from streams.
During summer, afternoon storms are common in the Rocky Mountains, and they're no joke if you're caught in one above the tree line. Many hikers get in trouble when they don't leave early to summit a fourteener – don't let this be you!
Planning for The Barr Trail Route
The Barr Trail is the route most hikers take up. This is very well-maintained and is relatively easy to follow. It is 12.5 miles to the top from the trailhead, which is near Manitou Springs.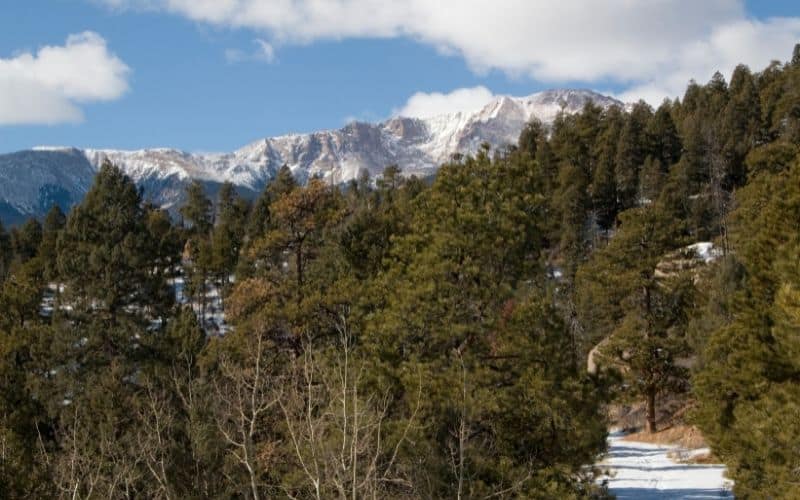 Getting to the Trailhead
Manitou Springs is a nice resort town and a great place to find lodging. You can also take a free shuttle from downtown Manitou Springs to the trailhead.
If driving to the trailhead, you'll have to pay to park. The route starts at the Barr Trail Trailhead. Take Ruxton road out of downtown. Then, turn right on Hydro Street, follow this road uphill to the trailhead parking lot.
Now that you've made it to the trailhead, here's what to expect when hiking Barr Trail to the summit. We've broken up the route into two sections. Get ready for an epic mountain adventure!
Section 1: Barr Trailhead to Barr Camp (mile 1-6.5)
This section is 6 ½ miles long with over 3,500 feet of elevation gain. Plan for this to take between 4 and 7 hours to complete.
There aren't many trail markers to guide your way, so you should bring a map or GPS device with you. The first three miles are the most difficult of this section. There are lots of sharp switchbacks and you'll put in plenty of leg-burning ascent.
When you pass the Fremont Experimental Forest sign, avoid the wide path to the left. Stay on the singletrack trail here. Once you've made it to Barr Camp, stop for a break. You earned it!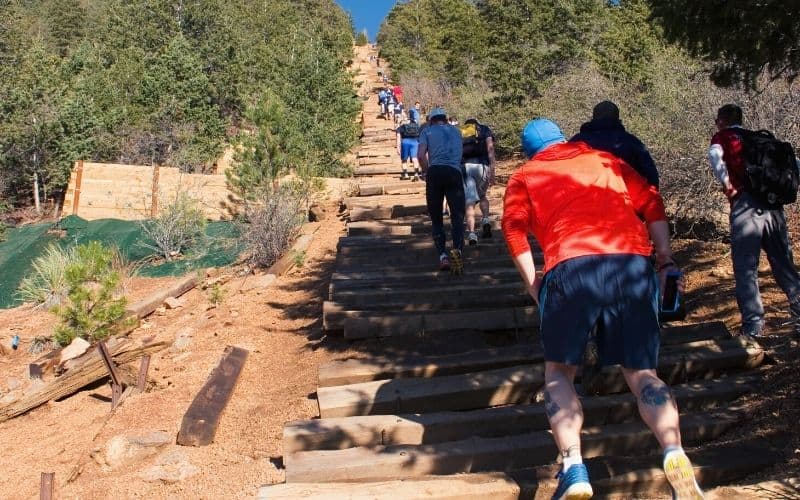 If you want, you can make a reservation to stay at Barr Camp. This will break the extremely long climb into two days. Hiking nearly 8,000 feet uphill is difficult, but two days where you gain 4,000 feet in elevation per day is much more manageable.
If you're staying at Barr Camp, bring a sleeping bag – at such high altitudes, nights can be cold, even in summer. There is also an area for tent camping here.
After Barr Camp, the second section of the ascent to the summit of Pikes Peak begins.
Section 2: Barr Camp to Summit (Mile 6.5-13.5)
The section from Barr Camp to the mountain summit is 7 miles long. You'll gain nearly 4,000 feet while hiking this section. Plan for it to take between 4 and 7 hours.
The first two miles out of Barr Camp are fairly easy-going, with more moderate elevation gain.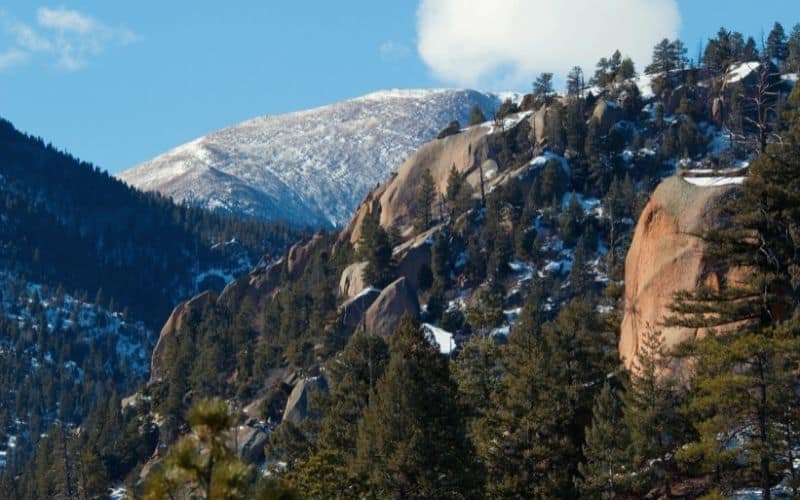 At mile 3 of this section (mile 9.5 overall), however, it gets really steep again. You'll be on steep terrain with less tree coverage all the way to the top from here. Get ready for those switchbacks!
There's an A-frame shelter about halfway up this section. This is a great place for a break to grab some shade and a snack. It's first come, first-served, but most people will make room for you to take a break in here if they can.
Soon after this, you'll see a sign that says "Three Miles to the Summit." Take a right onto the narrow path here. This is where it gets really challenging. The air will be thinner, the sun will be bright, and the terrain will be rocky and rough.
But keep pushing on, you're almost to the summit. Once you've reached the top you'll be at 14,115 feet of elevation! Take it all in, snap some pictures, but don't linger too long up there… you still have to hike back down the mountain.
Planning for the Crags Trail Route
This route to the top of Pikes Peak is less popular than the Barr way. But, you'll certainly see some other hikers out here. This route is shorter, but 14 ½ miles is nothing to scoff at. And, you'll gain less elevation getting to the summit on this route, 4,402 feet to be exact.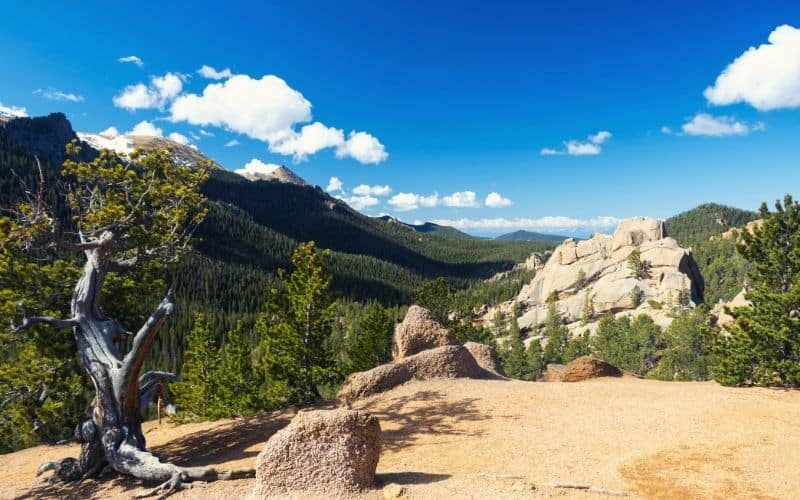 Backcountry camping is allowed along this route on the way up the mountain. Be sure to camp at least 200 feet from the trail and water sources.
Getting to the Trailhead
This route starts in a much less populous area. You'll feel more like you're on a backcountry adventure as you hike away from the Crags Campground. But it's still Colorado, so you'll see plenty of other people getting their outdoor recreation on.
To get to the Crags Campground from Colorado Springs, take US Highway 24 west towards Woodland Park to the small town of Divide. In Divide, go south on Colorado Highway 67. After about 4 miles, turn onto Forest Service Road 383. This is a dirt road, but most vehicles will be able to handle it. Go slow over the washboard sections and you'll be fine.
Follow Forest Service Road 383 for about 3 miles. The Crags Trailhead is across from the big parking area just before the Crags Campground.
Pikes Peak via the Crags Trail
Begin hiking on the trail that leads away from the parking lot then take the trail labeled 664A across a log bridge. You'll start to climb at this point. The first mile from the trailhead parking lot is one of the most difficult parts of this hike. It's steep and there are sharp switchbacks, but the trail is smooth and not too challenging.
You'll climb through some meadow areas, up into a basin. In the summer months, there will be wildflowers and the weather will be cool and crisp. In the winter, this is a popular area for snowshoeing. You'll see some awesome rock formations around here, too.
From here you can see where you're going: almost straight up! Take a moment to assess the weather, since you won't want to be caught above treeline in a summer storm. When you get to the top, you're at the Devil's Playground Trail. You'll be walking this trail on a ridge toward the summit, and you can see your route pretty clearly.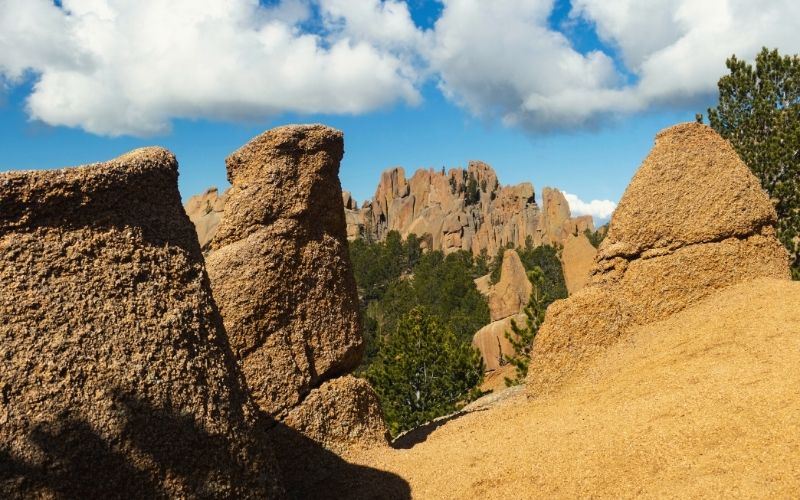 This ridge along Devil's Playground goes gradually uphill. But, you've done the bulk of the climbing by now. You cross the Pikes Peak Highway along the way up, but stay on the trail. You'll get a hefty fine if you try to walk on the highway.
After you cross the road it gets steep and rocky. But, you're almost at the top. Follow the cairns and don't try to go too fast through this part as you can easily veer off-trail.
And now you're at the top! Snap some pictures, and sit down for a break before heading down the way you came.
Further Tips for Hiking Pikes Peak – America's Mountain
If 25 miles in a day sounds like too much, but you still want to bag the summit, you can reserve a shuttle to take you down the mountain and back to your car in Manitou Springs.
If you don't want to hike Pikes Peak but still want to see the top, you have two options. You can drive up Pikes Peak Highway, which is a toll road. This road goes all the way to the top. Or, you can take the cog railway to the top. This cog railroad has been running to the top of the mountain for over a century, and offers a pretty unique experience!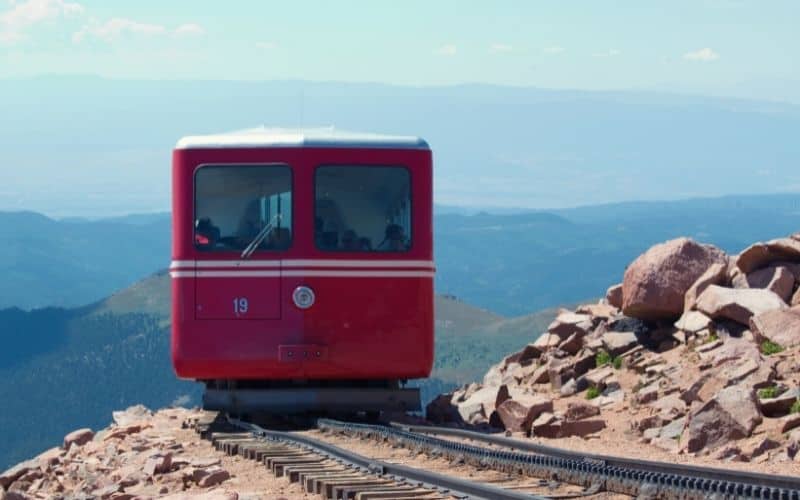 At the top, make sure you pay a visit to the Summit House Visitor Center, where you can learn all about the mountain's history.
Related Reading
For more hiking adventures in Colorado check out:
Time to Bag That Fourteener!
Hopefully the above has provided all the info you need for hiking Pikes Peak this summer. As with any fourteener, this mountain should not be underestimated. But by following the above tips, keeping an eye on the weather forecast, and sticking to the trails, this mountain is perfectly doable for anyone with reasonable fitness levels.
Happy hiking!
Have any thoughts on this guide? Leave us a comment below! Feel free to share this with any friends, too!