Going hammocking can be a fun and rewarding experience. That being said, figuring out what you need to do to set the hammock up in the first place isn't as straightforward as it might seem.
If you're struggling to find the correct way to pitch your hammock while camping or while at home, worry not—we're here to help.
In this article, we'll walk you through everything you need to know about hanging a hammock.
That way, you can spend more time enjoying your adventures and less time worrying about setting up your campsite at night.
Key Takeaways
Check first – Make sure that hammocking is allowed at your campsite
Prep at home – Take time to learn the hammock hanging process before you head out camping
Pack wisely – Bring the right gear for hammocking on every trip
Choose wisely – Select strong, live trees when hanging outside and never hammock above sloping or rocky terrain
Safety first – Don't hang a hammock too high off the ground and never overlook the importance of Leave No Trace while hammocking
Hanging A Hammock 101: The Basics
Hammocking is a fantastic way to enjoy the great outdoors. However, hammocks are notoriously challenging to set up. So, it's important that you know what you're doing before you head outside.
In this section, we'll discuss some of the basics of hanging a hammock. That way, you can be confident that your hammocking adventures will always go according to plan.
Important Hammock Camping Considerations
Like any other type of camping trip, hammocking expeditions involve quite a bit of pre-planning. However, hammocking is unique because it requires some special considerations that just aren't relevant when you sleep in a tent.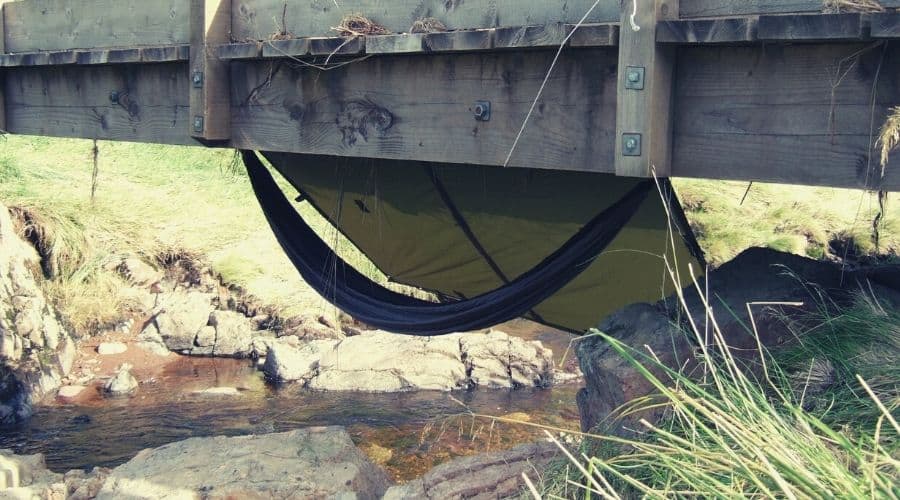 In particular, before you go hammocking, you'll want to ask yourself the following questions:
Is hammocking allowed at your campsite?
Can you commit to hanging your hammock properly so you don't damage any trees?
Will you be able to find trees or boulders to serve as anchors?
Are there safe places to hang your hammock at your campsite?
Does your hammocking spot follow Leave No Trace guidelines?
If you answered yes to all of these questions, then your outing is off to a good start.
However, if you answer no to any of these questions, you might want to reconsider your plans. That's because the ideal hammocking trip is legal, safe, and environmentally friendly. Otherwise, you run the risk of breaking local laws, endangering yourself, or hurting the environment, all of which are less than ideal for any camping trip.
Essential Hammocking Safety Concerns
We've already briefly mentioned the importance of safety while hammocking. But, it's worth diving deeper into the key safety concerns of hammocking so you know what you're getting into before you leave home.
When deciding on the perfect hammock hanging location, keep the following in mind:
Aim to keep your hammock low to the ground (a height of no more than 18-20") at all times
Avoid hammocking over jagged rocks or sloping terrain, just in case the hammock breaks
Only use live, sturdy trees that are firmly rooted to the ground
Steer clear of trees that are home to wildlife or poisonous plants
Look above your potential hammocking site for dangerously perched dead trees or branches that can fall
How To Hang a Hammock The Right Way: 4 Steps For Success
Now that you understand the most important hammocking considerations and safety concerns, let's turn to the hanging process. Up next, we'll walk you through 4 steps that you can take to pitch a hammock wherever you might be.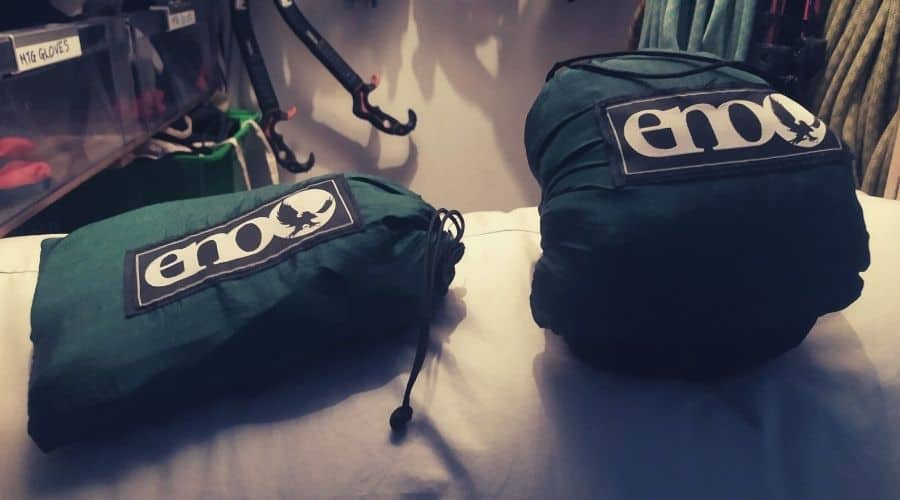 1. Get The Right Gear
First things first, it's essential that you have the appropriate gear for hammocking. Regardless of where you want to hang out in your hammock, you'll require the following pieces of gear:
Hammock. Of course, no hammocking adventure is complete without the hammock itself. If buying a new hammock, be sure to choose a hammock that offers a large enough maximum weight capacity for your needs.
Carabiners & Clips. Whether you use carabiners or steel chains, it's imperative that your hammocking hardware is strong, secure, and sturdy. For carabiners, you should only use steel or aluminum carabiners that are rated for climbing (no plastic!).
Rope(s) & Straps. Unless you plan to use a hammock stand, your hammock will need to have ropes or straps to wrap around a tree or post for hanging. Ideally, you'll have tree straps that are at least 0.75" wide (2" is best) to prevent damage to trees while hammocking, and 6-9 feet in length.
If you're hanging a hammock with rope, Leave No Trace principles encourage you to pad your trees to avoid damage. Padding options include purpose-built tree strap pads, sections of an old foam sleeping pad, or a cut-out bit of an old carpet.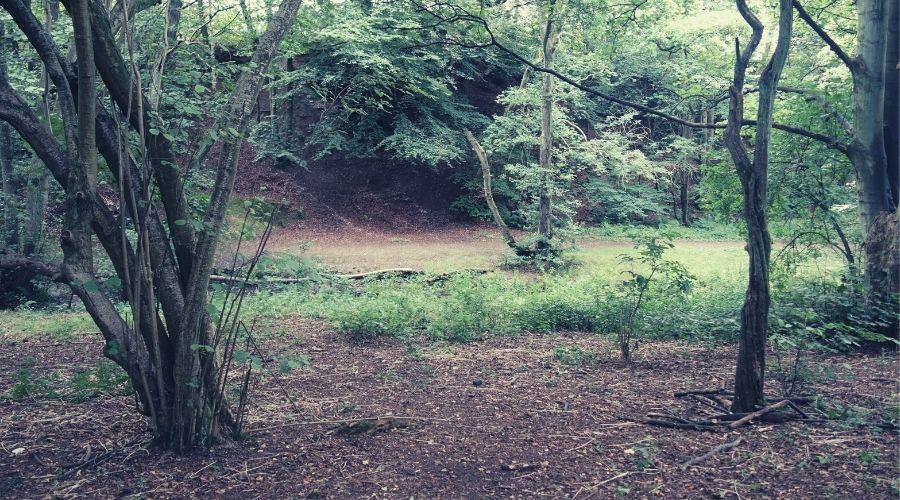 2. Use The Right Trees
Once you have the right gear, it's time to look for the perfect hammocking trees as anchor points. Depending on where in the world you're camping, finding two trees may or may not be as easy as it sounds. In fact, in alpine areas, deserts, and other tree-free locales, you may struggle to identify trees that are suitable for your needs.
RELATED: Learn all the basics with our 101 guide to your first hammock camping trip
Should this be the case, you may want to consider using large boulders, instead. Or, if you're at home, you can always use a hammocking stand or bolt hooks and a chain into a wall or porch, or you can even install posts in your backyard to serve as anchors.
While hammock camping in forested terrain, however, you'll want to look for two trees that are:
12 to 15 feet apart in distance from each other
At least 10 inches wide at the point where you'll hang your hammock
Healthy, strong, and sturdy
It's also worth mentioning that you should never hang more than one hammock on a given tree to avoid putting too much stress on the tree. If you're going to hang a hammock between two trees, you'll need to find other trees to use for anyone else that you happen to be hammocking with.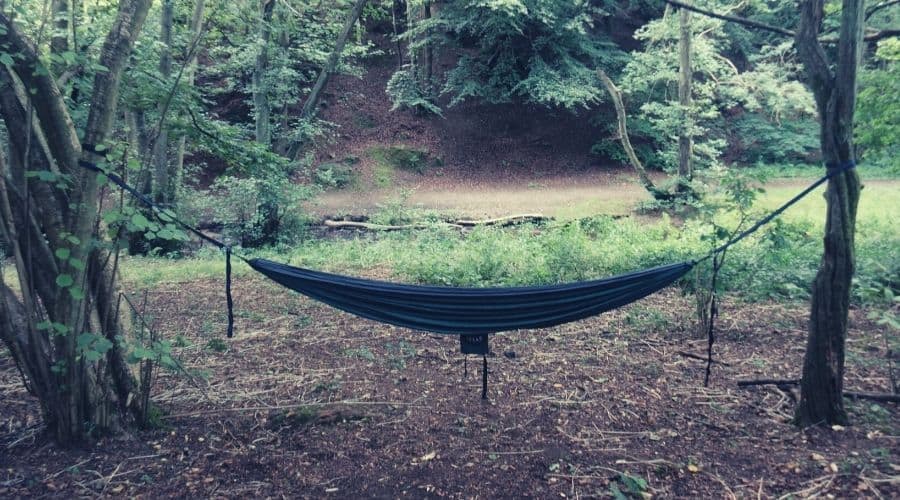 3. Know Your Angles & Measurements
Before we get into the nitty-gritty details about how to pitch your hammock, it's important to recognize that hammocking is all about angles and measurements.
Thankfully, the math involved with hammocking isn't complicated. But, there are 2 key measurements that you'll want to make sure that you remember while you're pitching camp, namely:
30-Degree Angle. When you set up your hammock there should always be about a 30-degree angle between the tree and your straps.
18 to 20 Inches. For safety reasons, you should aim to hang the hammock at about chair height, which is no more than 18 to 20 inches off the ground (18 inches is preferred).
If you can remember these 2 measurements, your hammocking experience will be off to a good start.
4. Understand The Process
It turns out that there are many different ways to pitch a hammock. Therefore, figuring out which method is right for you depends on where you want to hang your hammock in the first place. 
Here's what you need to know based on your preferred hammocking location: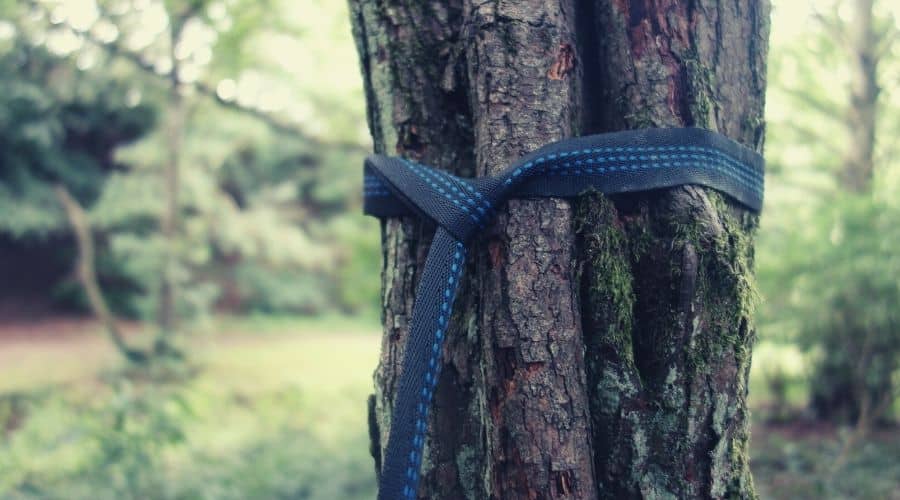 For more remote adventures in forested locales, you'll probably need to know how to hang a hammock from a tree. Here's what you need to do to get camp set up for the night:
Find quality trees or boulders to serve as your anchors.
Follow your manufacturer's directions for using purpose-built tree straps.
Otherwise, girth hitch your straps/ropes around the tree trunk (place padding underneath the rope/strap if you're not using tree saver straps).
Create an overhand or figure eight on a bight knot with the straps or rope.
Clip your hammock to the bight using the carabiner.
Repeat steps 3-5 for the other end of the hammock.
Sit in the hammock to test it.
Make adjustments to the height/tautness as needed until you have the perfect campsite for the night.
RELATED: Learn all the hammock knots you need to know.
Backyard Hammocking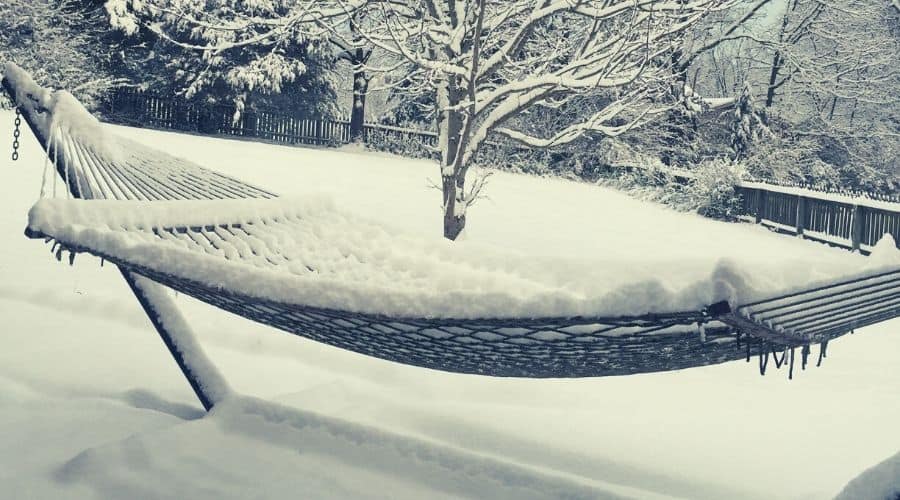 Hammocking is a great way to relax in any backyard. Thankfully, if you have large, sturdy trees at home, you can pitch your hammock just like you would if you were on a camping trip.
If you don't have (a) designated hammock tree(s), though, you have 2 other options for backyard hammocking.
The easiest option would be to use a hammock stand, which you can buy from most outdoor gear stores.
For a more permanent solution, you could create hammocking posts that you dig into the ground. These posts should be at least 3 feet deep, 10 to 15 feet apart from each other in distance, and at least 6" in diameter.
However, you'll need to back-fill the holes around these posts with cement. So, they're best for permanent hammocking installation rather than occasional hammocking.
Hanging a Hammock Indoors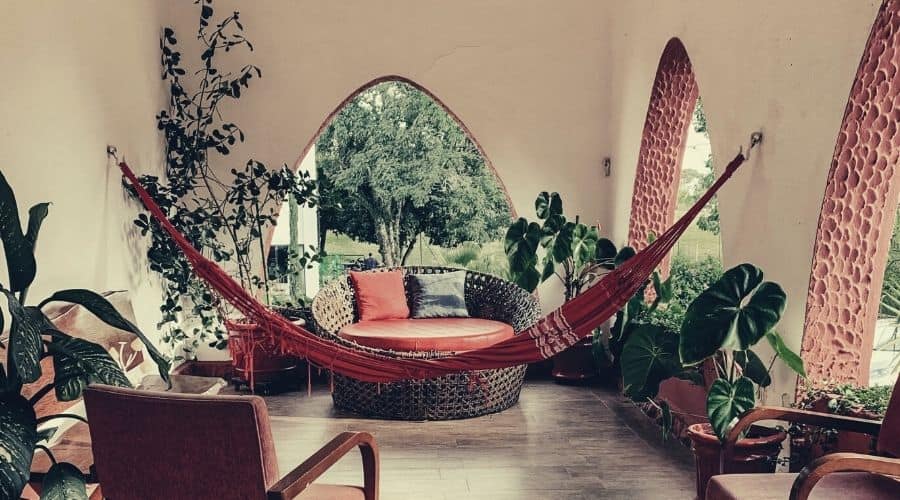 Finally, indoor hammocking is an excellent option for everyday relaxation. However, unless you happen to have very large trees inside your home and lots of space, you'll need to be more creative when figuring out how to setup a hammock indoors.
The easiest option is to invest in a hammocking stand, which you can place in any room in your home. We'd recommend going with this option unless you feel particularly comfortable around power tools.
Alternatively, you might be able to hang your hammock off of the studs in your walls or ceiling using J hooks and steel chains.
However, this is risky and is not recommended due to the extreme forces placed on your home's studs while hammocking. Therefore, we strongly recommend using a stand at home whenever possible.
Set Up Your Hammock Like A Pro
We hope that our article helped you become confident in your hammocking abilities. Whether you plan to go hammocking in the backcountry or in your backyard, knowing how to set up a hammock properly is essential.
If our article helped you become a hammocking pro, let us know in the comments below. Also, don't forget to share this article with your friends so everyone can enjoy the wonderful world of hammocking!