Want to swap out your heavy tent for a hammock, but concerned that it might cause back pain?
In recent years, hammocking's popularity has exploded worldwide. But if you're new to the hammocking game, you might have a few questions you'd like answered before deciding to switch up your sleep system.
One of the most common questions asked of the happy hammockers here at My Open Country is the following: can sleeping in a hammock cause back pain?
While we'd love to give you a definitive answer here and now, the truth is that it ain't quite so simple. This being so, read on and all will be revealed.
The Good: The Health Benefits of Sleeping in a Hammock
Are hammocks good for your back (and, indeed, the rest of you)? Below, we've listed some of the main potential health benefits of sleeping in a hammock:
1) Zero-Pressure-Point Sleep
Sleeping on a bed can put more pressure on your back, butt, and shoulders. A great mattress addresses many of these sleep concerns, but they are expensive and, of course, unavailable when hammock camping. (Unless you are glamping. If you are, drink an extra mimosa for us miserable sods that are dirt-bagging it!)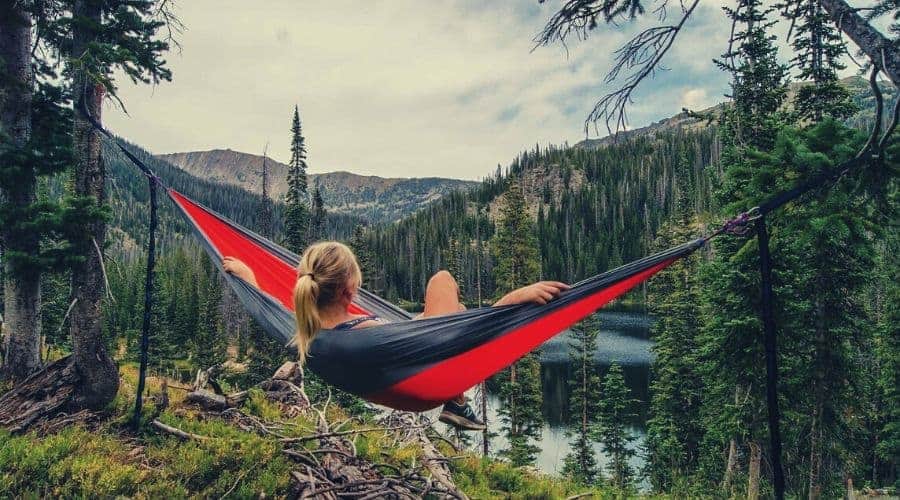 For many people, beds mean even more pressure points between your body and the sleep surface. If you sleep in a hammock, however, you spread that pressure over the length and width of your body while you rest. The fabric conforms to your body instead of your body conforming to a harder surface. This helps to reduce pressure while you get your night´s rest.
2) Sleeping Stability
When sleeping in a hammock, being wrapped inside the hammock fabric makes tossing and turning more difficult. Given that shifting around in your sleep is among the main causes of nocturnal back pain, the more stable sleep position hammocking provides could well cure those aches and pains you've been waking up with all these years.
Do you have pre-existing back pain? Your doctor has probably already told you that the ideal sleeping position to counter your back issues is on your back with your head slightly raised. Because a hammock leaves no alternative, it reduces the risk of inadvertently sabotaging your back's well-being by shifting into a suboptimal position during the night.
3) Align Your Spine
One of the main causes of back pain during sleep is a misalignment of the spine. Because the "cradling effect" of a hammock limits movement, your back is far less likely to shift into any pain-inducing positions while you sleep.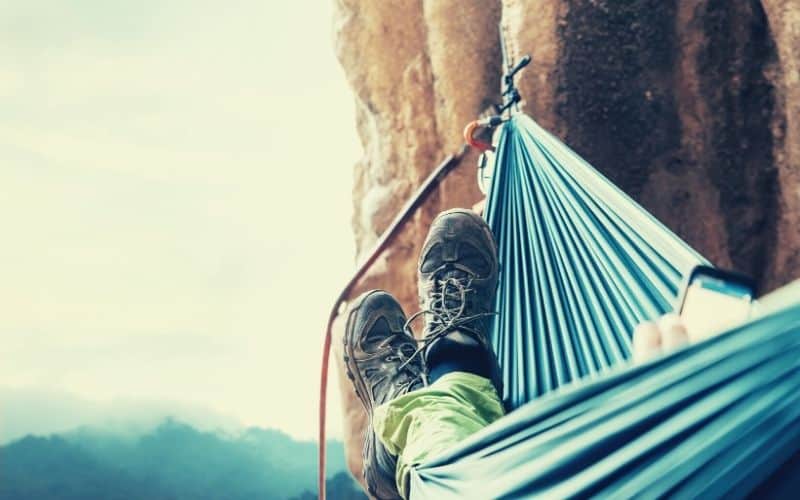 4) A Deeper Sleep
The gentle rocking motion provided by a hammock can induce deeper states of slumber. They may also help you fall asleep faster.
The vestibular system informs your brain´s motion and orientation functioning (among other things). The soothing sway seems to affect your vestibular system in a good way when you sleep, just as it does when rocking a baby to sleep.
The Bad: Why Hammocking Might Not Be So Brilliant
We wouldn't be covering this post's bottom line if we didn't throw in this caveat and necessary disclaimer: in some cases, sleeping in a hammock ain't altogether advisable.
RELATED: How to clean your hammock
The main potential disadvantages to using a hammock are as follows:
1) Exacerbation of Pre-Existing Problems
For people with pre-existing back problems, hammocking is unlikely to provide a golden ticket to good sleep. In fact, those with conditions like a pinched spinal nerve or scoliosis are more likely to exacerbate their conditions.
2) Lower Back Issues
All humans are created equal, but all bodies are created with various quirks and idiosyncrasies that make no two alike. And some of them, alas, just don't take kindly to the airborne sleeping experience.
Most people are likely to find hammocking either helpful as regards back issues or at least suffer no ill effects. A small percentage, however, will find that the bow in the curve of hammocks causes pain in their lower back.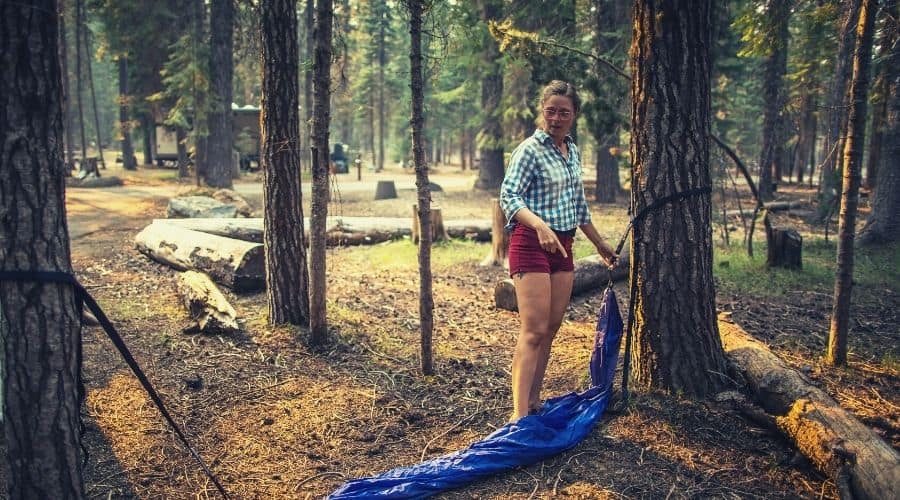 If you have had back issues in the past or have any doubts, we recommend you ask your physician before you consider switching up your nighttime routine and definitely before you go sleeping in a hammock long term.
3) Human Error
Sleeping on a camping mattress is easy. You inflate the thing, throw it in your tent, and—hey presto!—you're good to go (to sleep)! When sleeping in a hammock, however, a little more care is required to ensure your setup is comfortable and optimized for trouble-free sleep as regards your back…
The Useful: How to Set Up a Back-Healthy Hang
Nothing's more likely to lead to an uncomfortable night in the hammock than incorrect set-up.
Below, we've added a few tips to help you set up for success:
1) Learn the Ropes
The correct setup of your hammock will allow you to fall asleep faster and pave the way to satisfying, deeper sleep. This topic is covered in more detail in our post on safe and sound hanging practice. For now, we'll just reiterate the main points.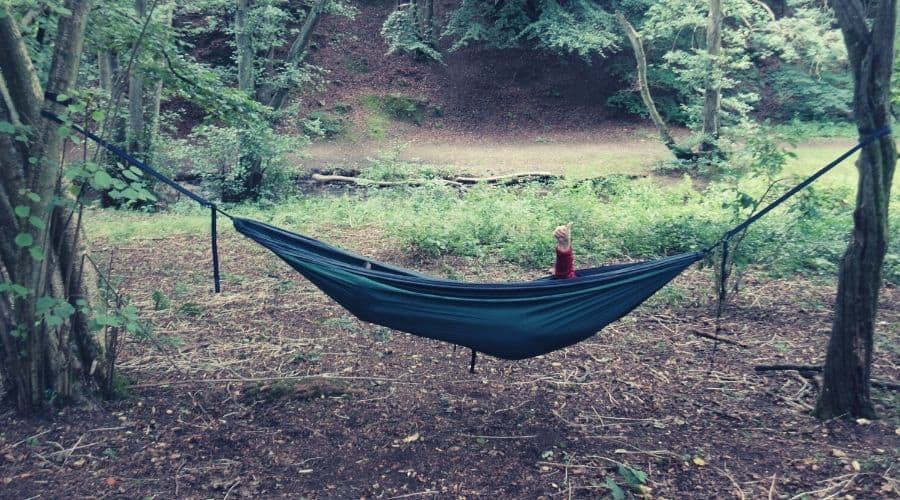 First up, check your angles, ensuring the angle between your straps and anchors is roughly 30 degrees. Secondly, make sure the bottom of your hammock is around 18-20 inches from the ground when you're inside. Thirdly, make sure all your hardware is fit to the task, checking the weight capacity of the hammock and straps and ensuring your anchors are sturdy.
2) Pillow Up
Use a pillow (or clothes jammed into a stuff sack when camping) for your neck when you sleep. You may think that you don't need something to help support your neck and head when held in midair by fabric and cords, but you feel the absence quickly in a hammock.
3) Lie Diagonally
Sleeping diagonally in your hammock creates more space and allows you to stretch out enough for your muscles to relax. Lying this way also reduces the "droop" in the curve of the fabric.
4) Use a Mat or Underquilt
Lay out your ground mat or underquilt in the hammock. This will lend more support and a cushioning layer of soft foam or fabric between your body and the material.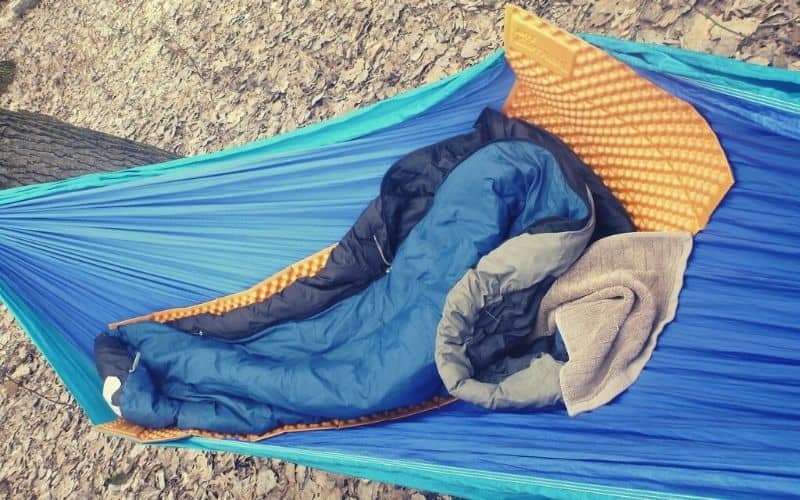 5) Under-Knee Support
Place a pillow or a blanket (or down jacket when on the trail) under your knees for additional back support.
The Verdict: Are Hammocks Bad for Your Back?
So, are hammocks bad for your back? There are a lot of anecdotal benefits and negatives about hammock sleep out there. Most of the information online, however, comes from hammock companies. They, predictably, do not provide an altogether impartial look at the actual effects that their merchandise can have on a body or offer any suggestion that hammocks may actually cause back pain for some sleepers. 
The take-home?
Take these (often) lofty claims with a pinch of salt, be aware that everybody will respond differently to the hammocking experience, and break yourself into hammocking gently, starting off with shorter daytime sessions before trying to pull an all-nighter. In time, we're sure, 95% of you will be swaying your way to many nights of comfortable, pain-free, and deep sleep.
Are you tempted to try a hammock out on your next trip? Or have you decided to stick with your tent? Did we miss anything? Let us know in the comments below!