Thinking about switching your tent for a hammock on your next camping adventure but confused about how to get started? You're not alone.
Camping in a hammock can be a rewarding experience with the proper preparation. Having the correct gear and the right skill set will ensure that your hammock adventures are fun and safe.
In our guide, find out what hammock camping is and how to make your experience as enjoyable as possible with our top nine tips. Additionally, learn what gear is important to invest in from the hammock itself, the kit required to hang it, your sleeping system, and which other extras are worth getting.
And why do people love hammocking so much? We cover the reasons you may want to switch your tent for a hammock on your next camping trip.
What Is Hammock Camping?
Hammock camping is any outdoor trip where you spend the night in a hammock. There are various types of hammock campers—some prefer hammocking in remote mountains, while others would rather stick to a campground.
This type of camping is a wonderful option for outdoor enthusiasts of all skill levels and abilities. At the end of the day, you don't have to be a professional survivalist to sleep well and enjoy yourself while sleeping in a hammock suspended between two trees.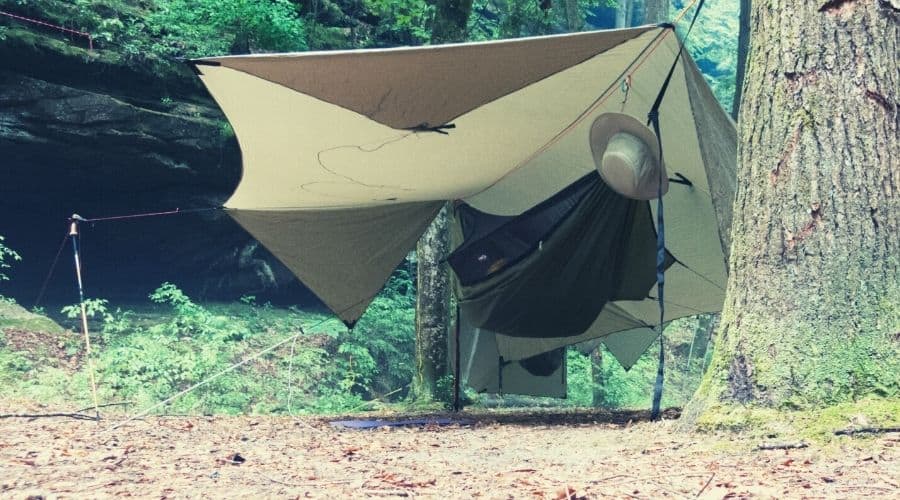 What Are Top Hammock Camping Tips?
Going hammocking for the first time can seem daunting. To ensure your adventure goes off without a hitch, we've compiled our top 9 hammock camping tips for beginners in the list below.
Start Small
Choose Your Spot Wisely
Hang Your Hammock Right
Know Your Hammock Knots
Practice Leave No Trace
Bring A Bug Net
Prepare For Cold Weather
Think comfort
Be Safe
1. Start Small
The idea of taking your hammock on a remote backpacking adventure might sound spectacular; however, we'd recommend starting with something a little smaller. Mainly because many people go through a breaking-in period as they search for a comfortable way to sleep in their hammock.
For example, we'd recommend setting up your hammock in your backyard first, just to test out the system. Then, you could spend the night in your backyard as you figure out the ideal way to lay in a hammock. Doing so is important if you'd like to avoid back discomfort or a poor night's sleep while out in the woods.
When you feel ready, you might consider making your first adventure a campground-based outing. You may also choose to bring a tent on your first overnight, just in case you struggle to catch some Zzzs at night.
2. Choose Your Spot Wisely
An anchoring system is essential when choosing a spot for your hammock camping set up. Hammocks require something to hang from; without it, they just don't work. Ensure you have some form of anchoring option at your campsite. This will most likely be a set of two trees, but you could use boulders in a pinch.
Backpacking expeditions to the high alpine, where there are no trees, therefore aren't hammocking-friendly.
Unfortunately, hammocks aren't welcome at all campgrounds, especially those in popular national parks, like Joshua Tree. As a result, you'll need to check in on local regulations before you book a place to stay to ensure that you're good to go on your adventure. We recommend calling your local ranger to clarify any rules or expectations before making any plans.
3. Hang Your Hammock Right
No hammock-camping outing is complete without a well-hung hammock. The good news is that setting it up is relatively easy, as outlined in the steps below.
Locate two live trees that are strong enough to support your weight while you sleep.
Follow the directions on your tree straps to attach them to 2 trees spaced about 10 to 15 feet apart. 
Connect both sides of your hammock to this webbing so that it hangs about 18 to 20" above the ground. Make adjustments until you find the best suspension system solution at your campsite.
Pitch your bug net and then your tarp using a ridgeline for suspension. Ideally, both your tarp and mosquito net will fully cover you as you sleep to protect you from the elements and biters.
Sit back, relax, and lie down for the evening to enjoy a superb night's sleep in the great outdoors.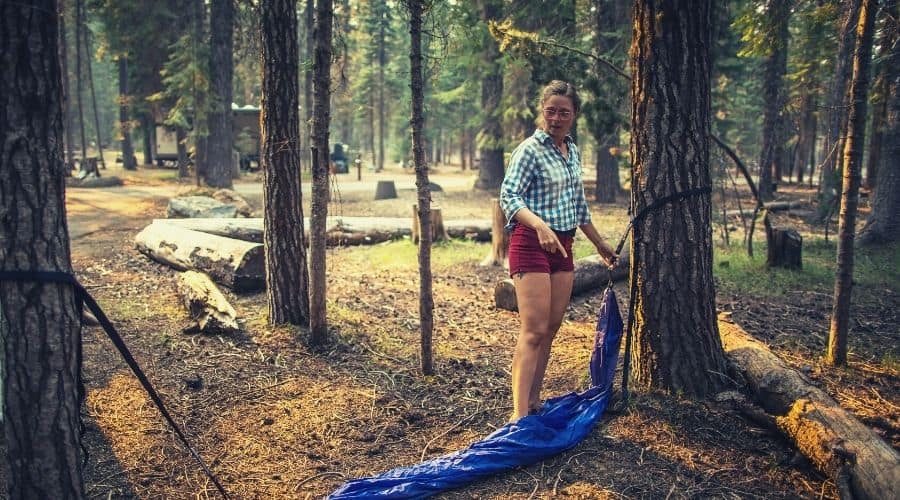 4. Know Your Hammock Knots
Even the simplest hammock suspension system requires knowing how to tie a few knots. While you don't need to know every knot under the sun, there are a few knots that every hammock camper should know to set one up. In particular, we recommend learning at least one or two from the following list.
Bowline
Figure 8 on a bight
Overhand on a bight
Clove hitch
Girth hitch
Taut line hitch
Double fisherman's knot
Water knot
Square knot
Now, that may seem like a whole lot of knots to learn. But, it's good to have a host of different knots in your repertoire to choose from as you set up camp for the night. That way, you can be sure that you have the skills you need to go hammock camp in any environment.
5. Practice Leave-No-Trace
Outdoor hammock camping should adhere to Leave No Trace guidelines, just as you would on a tent-based expedition. Specifically, a camping hammock exerts siginificant pressure onto the tree trunks it hangs from, posing a risk of tree damage and death. To mitigate this issue, it is recommended to use tree-saver straps when using a camping or backpacking hammock.
Even if it seems a bit over the top, using special straps or padding under your straps can prevent the tree bark from getting damaged. In many popular destinations, like national parks, you may even be required to use these special straps to protect fragile ecosystems.
As with any outdoor getaway, it's also best to place your camp area at least 200 feet from water and trails. Doing so helps limit your impact on the environment and other campers.
6. Bring A Bug Net
If you're hammock camping in the summer, a bug net is essential. Hang the net above your sleeping area using the ridgeline and ensure it extends to the ground to avoid potential exposure to mosquitoes and midges while you sleep.
Whilst the bugs may not seem bad when you arrive by late afternoon they'll be out in full force and you'll be glad for the protection. Hanging a net will help ensure you're not kept up until the small hours of the morning by incessant buzzing and biting insects.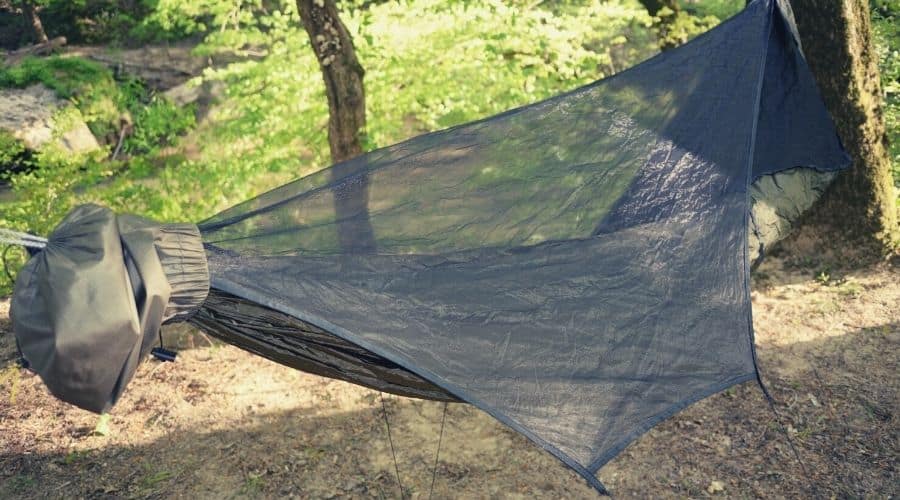 7. Prepare For Cold Weather
While hammock camping is popular in the summer, with the right gear you can also hammock camp in cold weather. To comfortably sleep while suspended between two trees in winter you'll need a four-season sleeping bag, and we'd recommend packing an underquilt along with a sleeping pad for added insulation.
Of course, these pieces of gear will add weight to your pack, but they're well worth it for the extra warmth. That's because cold air circulation under your hammock can easily give you a chill. So, it's best to come prepared with the right equipment to help you stay warm, regardless of what the conditions bring.
8. Think comfort
As with all kinds of camping, comfort is key when sleeping in a hammock. Instead of lying down in line with the hammock,  try lying diagonally with your head to one side of the center line and your feet to the other. This way your body is ergonomically positioned within the hammock which relieves pressure points on the body.
A further tip for a good night's sleep is to hang the foot end of the hammock around 10 inches higher than the head end. This will help prevent your body from sliding into the middle sag of the hammock as you sleep.
Although most people find a comfortable sleeping position while hammocking, you might not get it the first time. As a result, we recommend you try out a number of sleeping positions until you find one that's comfortable for you.
9. Be Safe
Since hammock camping involves being suspended above the ground the following tips will help you make sure safety is your top priority.
Stay Low to the Ground: Hammocks shouldn't be pitched more than around 18 to 20" above the ground to prevent injury if your system falls.
Select Reliable Anchors: You should only pitch hammocks on live, healthy, and strong trees.
Choose Your Terrain Wisely: Avoid pitching hammocks above sloping or rocky ground, which can hurt you if you roll out in your sleep. Flat ground that's mostly covered with dirt, leaves, or pine needles is ideal.
Follow Directions: Always follow your hammock's stated maximum weight capacity. If you're adventuring with a partner, opt for a model that's strong enough to accommodate two people.
Tie Your Knots Properly: The old "if you don't know a knot, tie a lot" saying doesn't really apply to hammocks. In a load-bearing situation like you get with hammocks, an improperly tied knot can lead to serious injury should it fail.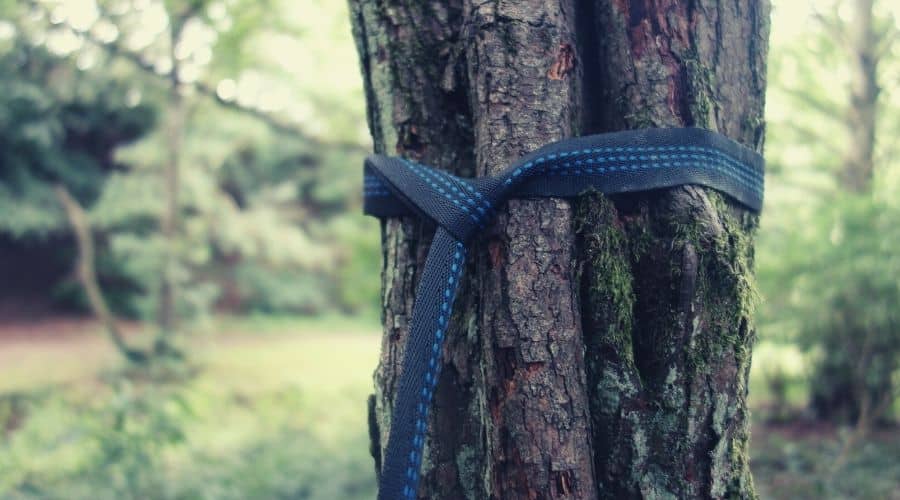 What Hammock Camping Gear Do You Need?
Like any camping trip, hammocking can be a gear-intensive pursuit. The list below features the most important hammock essentials for your next outing.
Hammock camping setup
Hammock sleeping system
Hammock Extras
1. Hammock Camping Setup
Any hammock camping setup comprises of a hammock, tree straps, carabiners, and guyline. Each component is expanded on in the following list.
Hammock: A good camping hammock should be light enough to put in your pack, but durable enough to support your weight—take care to check the user weight capacity when buying. You can also find double camping hammocks that are comfortable enough to accommodate two people at a time.
Tree Straps: Proper hammock setup requires a set of straps that will serve as attachment points between your hammock and two sturdy trees. Ideally, you'll use straps that are designed specifically for hammocking as these reduce the likelihood of damaging trees in the process.
Carabiners: You'll need to pack 2 to 4 carabiners to attach the hammock to its straps to form a suspension system. Only aluminum and steel carabiners that are rated for climbing are appropriate for hammocking. When in doubt, call the carabiner manufacturer for specific advice.
Spare Guyline: You can never go wrong with having too much guyline while hammocking. Spare lines and ropes are always useful for fine-tuning your suspension system or pitching your tarp. And you can always use your spare line to set up a gear storage system or a clothesline while in camp.
2. Hammock Sleeping System
A hammock sleep system can be a combination of a sleeping bag or quilt, a sleeping pad, and/or an underquilt. Each is expanded upon in the following list.
Sleeping Bag or Quilts: Just like if you were sleeping in a tent, you'll want a sleeping bag to help you stay warm at night. Thankfully, you can use your regular sleeping bag or quilt while hammocking. Alternatively, you can get a lightweight, hammock sleeping bag.
Sleeping Pads: If you tend to get cold at night, you may want to consider a sleeping pad for your adventures. Hammock sleeping pads help insulate you from the cold air below you at night.
Underquilt: Just like a hammocking sleeping pad, underquilts insulate you from your surroundings. However, many people prefer to use an underquilt in very cold conditions because they have a better warmth-to-weight ratio.
3. Hammock Extras
Practical extras that enhance comfort levels in your hammock setup include bug nets and tarps. Both are expanded upon in the following list.
Bug Net: A must for any summertime adventure, a bug net is essential if you want to get some itch-free sleep at night. You can hang your bug net from your ridgeline for a quick and simple bug-free setup, or you can buy a hammock with a built-in mosquito net.
Tarp: Another must-have for hammocking, a tarp is critical for keeping you dry in the rain. You can suspend a tarp from your ridgeline for the perfect waterproof sleeping system.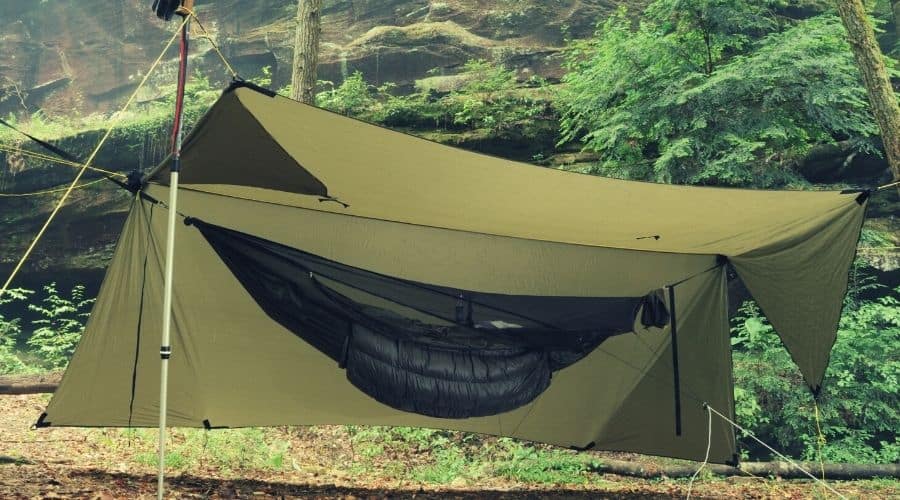 Why Camp in a Hammock?
Camping in a hammock offers a unique outdoor experience for a number of reasons. It's a minimalist and eco-friendly way to camp that fosters a deeper connection with the great outdoors, making it a popular choice for outdoor enthusiasts seeking an immersive and refreshing camping experience.
From a practical point of view, you can set up your campsite virtually anywhere with suitable trees. This frees you from having to find level ground, dealing with water-logged soil, or worrying about rocks and roots beneath your tent.
It also provides a comfortable and suspended sleeping platform. Many people find this alleviates pressure points on the body improving comfort levels and it also offers improved ventilation. The hammock's open design allows air to circulate around your body, helping you stay cool during warm nights, particularly refreshing in hot and humid climates. Additionally, being off the ground reduces the risk of encounters with insects, critters, and dampness, enhancing overall comfort and safety.
Lastly, hammock camping allows you to immerse yourself more fully in nature. You can choose picturesque spots with scenic views, gently sway in the breeze, and even stargaze from your hammock.
Ready For Your First Tree Hammock Camping Adventure?
Whether you're a first-time hammocker or a seasoned veteran, camping in a hammock is an exceptional experience. We hope our article has boosted your confidence and has you sleeping comfortably in a hammock on your next outdoor adventure.
If you found that this guide helped you master the basics of hammocking, let us know in the comments below! Also, don't forget to share this with your friends so you can all make the most of your future adventures.