Once ridiculed by "serious" campers and traditionalists as a passing fad, inflatable camping tents are now more popular than ever. And it's easy to understand why. Not only are they easier to pitch and repair than traditional tents, but many are also better performers in suboptimal weather.
If you've never owned one, choosing the most suitable option for your needs can be a tricky business. To help you out, we've put together a list of the best models on the market this year. Below our individual reviews, you'll also find detailed buying advice so you know what features and attributes to look for (and to avoid) when weighing up the options.
Our Top Picks by Category
Budget: Moose Outdoors 4-Person
2-Person: Heimplanet Cave and Heimplanet Fistral
Family Tents: Quechua 6-Person, Coleman Meadowood, and Heimplanet Mavericks
Editor's Choice
Coleman Meadowood Air
What does it take to scoop the award of 'Best Inflatable Tent'? When testing the options, our scorecards singled out several must-have attributes, including roominess, solid waterproofing, easy setup, livability, ventilation, and convenience-enhancing "bonus" features. This Coleman tent ticks all of those boxes.
The Meadowood offers a generous 55 square feet of living space and has a lofty peak height of 75 inches. This means there's plenty of room for four adult sleepers and that you'll be able to walk around inside without hunching. There's also a huge vestibule for gear storage and a "rack" of pockets for smaller items you want to keep off the floor.
On top of reinforced, puncture-proof air chambers and 4,000mm waterproof fabrics, value-adding features like dark room technology, multiple air vents, and a wealth of interior storage options seal the deal.
Bottom Line: A spacious, waterproof, high-quality shelter that trumps the best of the rest in every important metric.
At a Glance: Quick Recommendations
Best Inflatable Tent: Reviews of Our Top 7 Picks
Coleman Meadowood Air Tent 4-Person
Editor's Choice
Floor space: Sleeping compartment – 63 ft.², Vestibule – 55 ft.² ⸱ Height: 75" ⸱ Weight: 20.9 pounds
This four-person tent is one of the pricier options on our list. Nevertheless, it's a great pick for families who have a lot of extra camping gear or just enjoy a little extra space.
In addition to a roomy sleeping compartment (63 ft.²) that can comfortably accommodate four adult sleepers, it boasts a giant 55 ft.² vestibule area that could host another 3-4 sleepers or be used as a dining area, storage garage, or chill-out area for bug-free evening card games.
The Meadowood is one of the most waterproof tents on our list, boasting a waterproof rating of 4,000mm. It also has a UV Guard 50+ sun protection rating, multiple vents to boost airflow, and uses "dark room" technology to keep the tent interior cool in warm weather and let you sleep long past sunrise in the morning.
While a little trickier to set up than other options on our list, the Meadowood can be transformed from packed to pitched in six or seven minutes if you have a strong pump arm!
PROs

Repair kit included
4,000mm waterproof rating
UV Guard 50+
Blackout bedrooms
Huge vestibule
Great peak height (6'3")

CONs
Bottom-Line: A roomy 4-person shelter with a great peak height and "dark room" technology that cools the interior and allows you to continue your good night's sleep long after sunrise.
Heimplanet Fistral
Best Lightweight
Floor space: 45 ft.² ⸱ Height: 44" ⸱Weight: 5.5 pounds
If you're in the market for a super-study tent that's light enough to take backpacking but comfortable enough for car camping, the Heimplanet Fistral is an excellent pick.
There's a lot to love about the Fistral, but we particularly like its two-layer design and two-layer air poles. While the former makes it breathable and highly water-resistant, the latter makes the structure virtually puncture-proof.
The inner layer is a 40D, 210T ripstop nylon fabric which is covered by a 100% polyester 40D, 240T ripstop rain fly. The rainfly has a waterproof rating of 2,500mm, so it's a safe bet even in torrential rain.
The two-layer air beam is made from thermo polyurethane (TPU) and the outer layer of the air beam is made from a high-density polyester. The air poles are continuous, but they can be sectioned off once they're inflated. It doesn't come with an air pump, but it does come with adapters.
At only 5.5 pounds, this is one of few inflatables out there light enough to use as a backpacking tent. Despite this, its intelligent, high-volume architecture helps to make the vast majority of the 45 square feet of floor space, so it feels very livable and sleeps two people comfortably.
There's no getting around the fact that the Fistral is pricey for its size. However, quality-wise, this is one of the best inflatable tents on the market, meaning it offers good value for money regardless.
PROs

Superb quality and long-lasting
Frame can be pumped up in less than a minute
Dual-layer air beam covers protect against punctures
Two doors

CONs

Very expensive
Low peak height (44 inches)
Bottom-Line: A high-quality, versatile product that is a great long-term investment for serious campers.
Moose Outdoors 4-Person Tent
Best Budget
Floor space: Sleeping compartment – 55.2 ft.², Vestibule – 20 ft.² ⸱ Height: 50" ⸱ Weight: 15 pounds
This four-person tent is, in a few words, an absolute steal at the price. While it lacks a few bells and whistles and isn't quite as high quality as others on our list, it costs a (very small) fraction of the price and packs enough performance for the needs of most occasional campers.
The Moose Outdoors 4-person has a 55.2 square foot sleeping area, 20 square foot vestibule, and a 50-inch peak height. So, in terms of livability, it's up there with the top performers on our list. There are also a few interior pockets to help keep your gear organized and free up floor space.
While highly waterproof, the MO 4-Person isn't quite as wind-resistant as its pricier competitors, mainly because the air beams are a little narrower. And because they aren't covered with the same burly materials, they're a little more likely to puncture.
PROs

Cheap!
Sets up in 3 minutes
3-month warranty
Ripstop fabric
3,000mm waterproof rating
Great ventilation
Air pump included

CONs

Not as stable in strong winds
Materials are not very rugged
Bottom-Line: An outstanding deal for anyone looking to buy their first air tent.
Heimplanet Cave 2/3-Person Dome Tent
Runner Up
Floor space: 40 ft.² ⸱ Height: 40" ⸱ Weight: 10.6 pounds
Like all Heimplanet tents, the Cave isn't going to win any prizes for affordability, but its super-sturdy build, solid waterproofing, and roomy interior mean it merits a place on our list nonetheless.
The Cave has a futuristic look about it, and on first impressions, you might think it would be a nightmare to set up. This isn't the case at all. All of the crisscrossing tubes in the tent are inflated via a single valve, so pitching is an absolute cinch.
The Cave also has a "Multi-Chamber Safety System" that isolates the air tubes once inflated. This means that if you do get a puncture in one beam, all the others will remain fully inflated.
The other main selling points for the Cave are its performance in sub-optimal weather. The geodesic design allows it to withstand winds of up to 100 miles per hour (!) and its 2,500mm rainfly and 5,000mm flooring mean it's waterproof enough to keep you dry in a deluge.
The Cave weighs in at 10.6 pounds, so is almost twice as heavy as the Fistral. It does, however, offer an extra 5 square feet of living space and has a slightly roomier feel inside because the walls don't curve quite so sharply to the floor.
All told, a great airbeam tent if you don't mind paying a pretty penny to get the best of the best.
PROs

Highly waterproof fabric
Multi-Chamber Safety System
Can withstand strong winds
Spacious living area for 3
Inner tent has multiple pockets, gear loft, and lantern hanging points
Comes with a functional carrying bag

CONs

No front porch or vestibules
Air pump not included
Pricey!
Bottom-Line: One of the best air tents out there for campers who like to head outdoors no matter what the weather's doing.
Heimplanet Original Mavericks
Best for Billionaires (Premium Pick)
Floor space: 142 ft.² ⸱ Height: 79" ⸱ Weight: 62 pounds
If you have cash to burn and a very large climbing crew, or simply won't settle for anything less than the best of the best, the Heimplanet Mavericks is the tent you've been looking for.
This tent costs a small fortune, but in return for that princely sum, you get a shelter that can accommodate 10 people, withstand near-hurricane-force winds, keep you dry in biblical rain, and has every bell and whistle you could ask for.
The Mavericks offers a whopping 142 square feet of floor space and has a peak height of 6 feet and 7 inches, so it's by far the roomiest tent we've reviewed. It also has three doors, which is a huge boon to livability when camping with a larger crew.
Thanks to the geodesic design, the Mavericks offers excellent stability in high winds (the manufacturers claim it can handle wind speeds of up to 110mp/h!). In wet weather, its highly waterproof fabric (5,000mm HH) has you covered, while those oversized doors and a series of air vents help to keep things cool when camping in warmer conditions.
Does this tent do enough to justify its price tag? We're kinda on the fence on this one. While we have no doubt that this is an awesome tent and love the idea of camping with all our crew in one place, we're aware that a better choice might be to buy 2 of the Quechua tent (below) and save ourselves a large handful of $.
PROs

Awesome waterproofing
Plenty of storage pockets
Incredibly stable in windy conditions
Huge!
3 windows
Great ventilation

CONs
Bottom-Line: One of the best inflatable tents out there…but also the priciest by a country mile.
Quechua 6-Person Inflatable Family Tent
Best for Livability
Floor space: 107.6 ft.² ⸱ Height: 82.7" ⸱ Weight: 55.1 pounds
If you're looking for a large, reliable, waterproof tent for family camping trips, you should pencil this one in on your shortlist.
The Quechua is far from being the lightest tent on our list, weighing a mighty 55.1 pounds. However, it's easy to pitch thanks to its all-in-one, quick-pitch structure, which has a pre-assembled bedroom and flysheet, and a 5.2-liter pump. Even moving slowly, two people can pitch this tent in 4-5 minutes.
In terms of livability, the Quechua is a standout. It offers 107.6 square feet of floor space, a peak height of 82.7 inches, and the sleeping area is divided into two separate rooms for privacy. It also has two enormous, walk-through doors and a huge vestibule for gear storage.
The Quechua brand is still "up and coming" in the US, but the quality of this tent shows why it has become so esteemed in Europe over the past decade or so. It oozes quality from every stitch and seam and is made with extra-burly, confidence-inspiring materials.
The tent fabric is made with extra-burly polyester and the inflatable poles have a two-layer design that uses a thermoplastic polyurethane (TPU) air chamber in combination with a 600-denier polyester cover for added durability. The tent also comes with large steel pegs.
What we love most about the Quechua is its versatility – come good weather or bad, we'd be perfectly happy to make this our home for the night.
In wet conditions, the 2,000mm rainfly and bathtub floor have you covered. Quechua independently test their tents in labs subjecting them to 200 liters of water per hour per square meter for four consecutive hours, so you know this one's a winner when conditions are ranging from wild to woeful.
The Quechua also has a few non-standard features that make it a standout in hot summer months. First up, its "Fresh & Black" technology blocks out 99% of the sun's rays. This helps to keep the interior cool, lets you sleep in in the morning, and protects your skin from UV damage. The ventilated flysheet and mesh-covered air vents, meanwhile, allow ample airflow and stave off condensation.
PROs

Easy to pitch for such a large tent
Very roomy
Waterproof
Tough materials
Solid performer in strong winds
Plenty of interior pockets
Large vestibule

CONs
Bottom-Line: A tough and highly livable tent that performs better than competitors in both hot and cold weather.
Vango Odyssey Air 500
Wildcard Entry
Floor space: 57 ft.² ⸱ Height: 77" ⸱ Weight: 41 pounds
To get your hands on this one, you'll have to pay a little extra for shipping from the UK. However, Vango was one of the first brands to make tents with inflatable poles and to this day makes some of the best inflatable tents out there.
The Air 500 is one of the most liveable models on our list. In addition to a huge blackout sleeping area, it boasts a huge, 57-square foot screen room/covered porch area for late-night lounging or gear storage. It also has pre-angled beams and near-vertical sidewalls that maximize internal space.
The Air 500 also excels in all weather conditions. Its rainfly has a waterproof rating of 4,000mm hydrostatic head, while the large mesh-covered doors and high and low air vents combine to provide plenty of airflow in warmer weather.
Features-wise, the Air 500 is a bit of a standout. In addition to that huge vestibule, you get multiple interior pockets, a room divider to give you two rooms and more personal space, high-visibility guylines, a dual-action pump, and a cable entry point for hookups.
Other than the long time it will take this to arrive from the UK, the only downside is its weight – at nearly 41 pounds, you'll get a good workout hauling it from your car to your setup point!
PROs

Tough, 70-denier fly fabric
Pump included
High waterproof rating (4,000mm HH)
Huge porch area/vestibule/screen room
Multiple storage pockets
Darkened sleeping area reduces the amount of early morning light

CONs

Takes slightly longer to set up (8-10 minutes)
Ships from the UK
Bottom-Line: With its huge vestibule and roomy interior, the Air 500 is ideal for any family camping trip.
Reasons to Choose an Inflatable Tent
Not sure if an inflatable is the way to go? Let us try to convince you! Here are the main benefits of inflatable over traditional tents:
1. Speedy Setup
One of the main advantages of most inflatable tents is that they take very little time to set up compared to a similar-sized traditional tent or even an instant tent.
Airbeam tents can also be pitched by one person (usually with a double-action pump). All you have to do is roll them out, attach the pump, and spend a minute or so (depending on the size of the shelter) pumping, then you're good to go. They really are the most convenient option in the tent world and in almost all camping scenarios.
2. Easy to Disassemble
Inflatable tents tend to be heavier and bulkier than similarly sized regular tents, but their lack of metal poles makes them far more packable and easy to disassemble when decamping.
3. Bad-Weather Performance
In strong winds, the poles in regular tents can be prone to snapping and, in some cases, puncturing the fabric. Because inflatables have built-in air beams instead of poles, the worst that will happen in windy conditions is that the shelter will lose a little bit of shape or flatten (assuming, that is, you have used plenty of tent stakes!).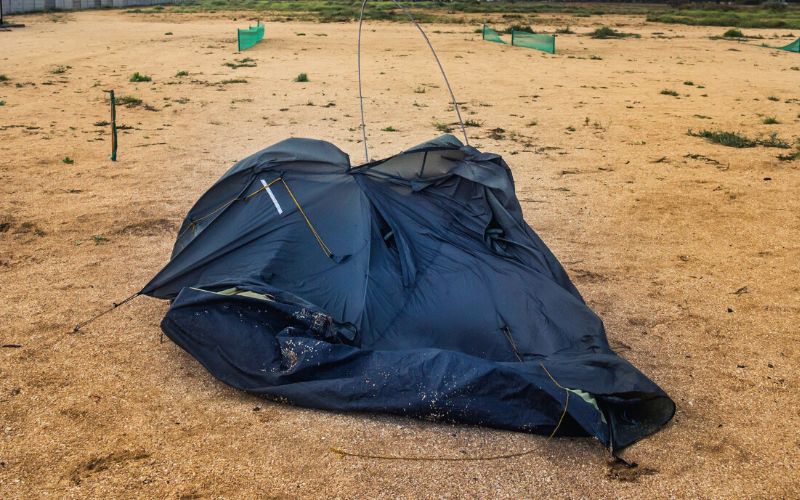 4. Simple Repairs
Tent poles are tricky to repair and costly to replace. With an inflatable shelter, you won't have that problem. Most of these tents are sold with an emergency puncture repair kit and, if not, a little bit of good ol' duct tape will do the trick.
5. Lost Poles?
If you've ever turned up at camp and discovered you're missing a pole, you're not the only one to have done so (and suffered the consequences). In such scenarios, of course, your shelter is rendered all but useless unless you happen to have Jedi-like skills in transforming stray branches into weight-bearing structural joists.
With an inflatable tent, losing your poles isn't an option because, well, there aren't any. In most cases, the same goes for forgetting your rainfly or groundsheet as most of them use an all-in-one design that integrates all components. NB. Just don't forget your pump!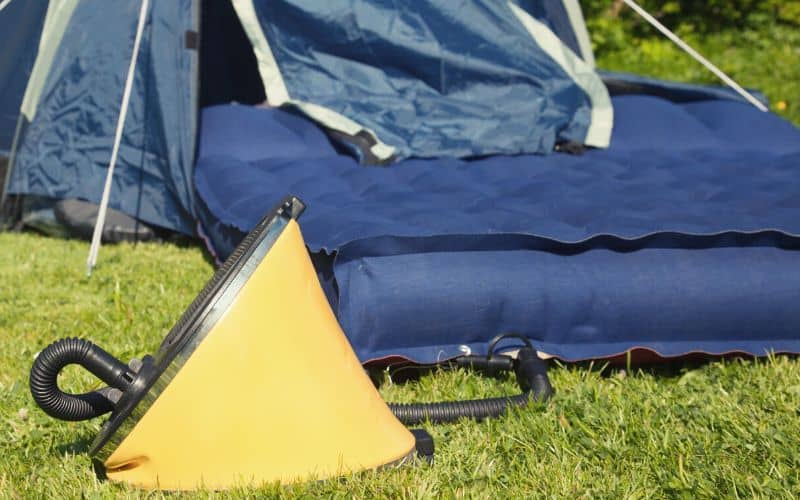 How to Choose an Inflatable Tent
Livability: Capacity, Peak Height and Vestibules
How big do you need your shelter to be? As a general rule, we recommend choosing a model that provides each sleeper with around 14 square feet of floor space. This will give each of you enough room for a sleeping pad plus a little bit of gear. The largest model on our list is the Heimplanet Mavericks (142 sq. ft.) and the smallest is the Heimplanet Fistral (45 sq. ft.).
Peak height refers to the height of the shelter at its tallest point (the center, in most cases). While a lower peak height is okay for shorter trips or if you're happy living on all fours, we highly recommend something a little loftier for longer trips.
The tallest shelter on our list? The Quechua 6-Person, which measures 6 feet 10 inches from floor to ceiling.
Vestibules are a great addition that can help free up interior space by allowing you to store gear outside the sleeping area. One of the major differences between inflatable and traditional tents is that inflatables rarely have vestibules. The models that do have vestibules on our list are the Coleman Meadowood, Vango Odyssey Air, Moose Outdoors 4-Person, and Quechua 6-Person.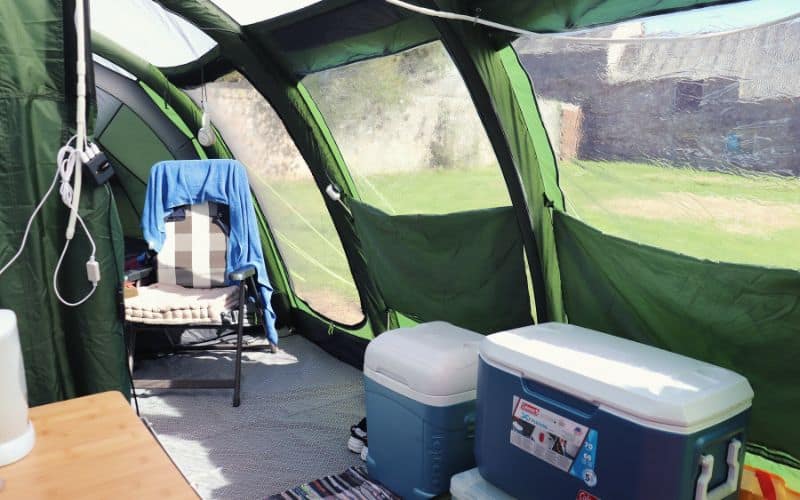 Material
Inflatable tents are made of the same types of fabric that traditional tents are made of. The most popular fabrics are nylon, polyester, and cotton canvas. Tent fabrics come with a thickness rating, called deniers (D), and a thread count (T). Generally, the higher these numbers, the more durable (and heavier) the fabric is.
With inflatable camping tents, the most important fabric you'll want to pay attention to is the material used in the inflatable beams. Your air beam should be made of a heavy-duty material such as an extra-thick polyester or polyurethane (PU). Some "air poles" are made with an extra layer of fabric on top (similar to a bicycle tire) for extra protection.
Weight
As we mentioned above, airbeam tents usually weigh a little more than their aluminum-pole counterparts.
As with regular tents, how much your inflatable should weigh will come down to how you plan on using it. If you're backpacking, then anything over seven pounds will probably be too heavy. This is especially true with inflatables because the integration of components means you can't split the load between carriers. If you're car camping, however, weight isn't really an issue.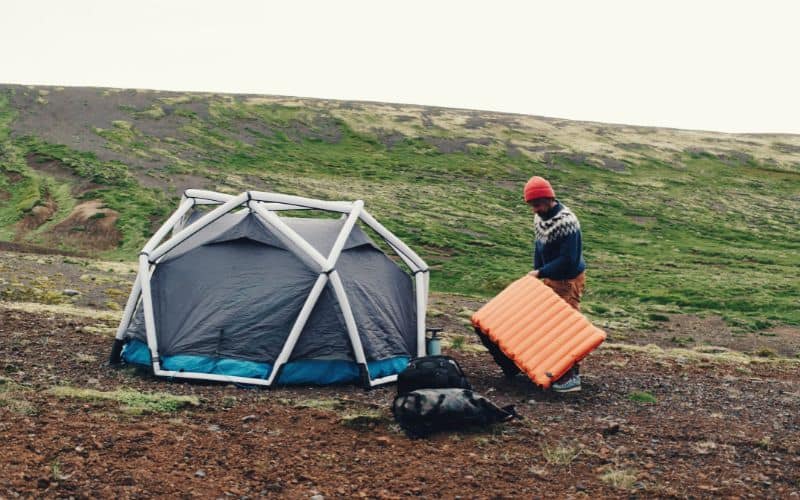 The only potential backpacking inflatable tent on our list is the Heimplanet Fistral, which weighs just 5.5 lbs. All of the other tents featured weigh over 10 lbs.
Weather Resistance
Another specification to look out for is the tent's hydrostatic head (HH), which essentially tells you just how waterproof the fabric is. This is given in millimeters (i.e.1,500mm, 3,000mm, and so on), and the higher the number, the more waterproof the fabric.
The most waterproof air tents on our list are the trio made by Heimplanet, all of which have a 2,500mm hydrostatic head rainfly and 5,000mm HH flooring, and the Coleman Meadowood Air (4,000mm).
Features
A handful of features can seriously enhance any tent's practicality and convenience. The most important of these include storage features like a gear loft, wall pockets, and vestibules. Other handy add-ons are things like air vents, bug netting, double doors, and lantern hanging loops.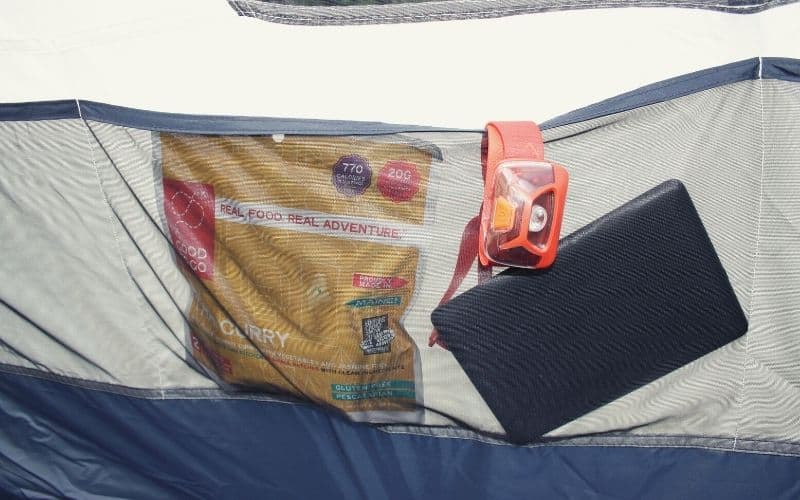 Best Inflatable Camping Tents: The Verdict
Just in case you're still undecided, let's have a little recap to help you out.
Our favorite inflatable tent is the Coleman Meadowood Air. This shelter boasts a spacious living area and an enormous screen room for gear storage or bug-free chilling. It's also incredibly well-made, highly waterproof, and throws in a handful of great features that make it a true standout.
If you're new to the game of camping or just don't want to splurge on something quite so pricey, we recommend checking out the Moose Outdoors 4-Person. This isn't as sturdy or rugged as other options on our list, but it's an absolute steal at the price and is reliable, roomy, and weatherproof enough for the needs of most campers.
So, how did you like our article? If we missed anything or you have any questions, let us know! And if you'd like to share this post with your friends, please do!