While being tall has its advantages, squeezing into a regular-sized tent ain't one of them! From bumping your head on low ceilings to being forced to crawl around your tent on all fours, most camping tents aren't created with lengthy people in mind.
If you dream of being able to "stand tall" in your own tent, do we have the guide for you! In this informative guide, we'll share with you our top 7 picks for accommodating tall campers. We've also included lots of tips on how to choose the best camping or backpacking so be sure to read to the end!
Top Choices by Category
Best for Couple or Solo Campers: Marmot Limelight, MSR Hubba Hubba, Big Agnes Copper Spur HV UL
Best for Families: Eureka Copper Canyon LX, Wenzel Klondike, Coleman Instant Cabin, DANCHEL Cotton Bell.
Budget Picks: Wenzel Klondike, Coleman Instant Cabin.
Editor's Choice
Eureka Copper Canyon LX 8
Lengthy campers looking for the king of all tall tents will love the Eureka! Copper Canyon.
Whether you're a tall camper looking for a roomy shelter or a family looking to squeeze in the whole gang, the Eureka! offers more than enough space to keep everyone happy. Near vertical walls create lots of standing room and an impressive peak height of 84 inches means no more crawling around inside!
The Eureka!'s massive size offers more than just headspace, it adds tons of versatility too. Its two rooms will hold your entire camping crew or you can choose to sleep in one room and use the other as a living area. On sunny days, just slide the rainfly off and enjoy the amazing ventilation offered by the mesh roof.
Despite its large size, the Eureka! packs down into a manageable size. Throw it in your car and you'll still have ample space for the rest of your gear.
Out of all the tents for tall people we reviewed, few offered the space and comfort of the Eureka! If you're looking for the best tall tent, this is it!
Bottom line: Few tents for tall people offer as much space, comfort, and general convenience as the Eureka! Ideal for family camping trips.
At a Glance: Quick Recommendations
Best Tall Tents: Our Top 7 Picks
Eureka! Copper Canyon LX
Editor's Choice
Sleeping Space: 130 square feet (including screen room) · Peak Height: 84 inches · Weight: 33 lbs. 8 oz.
The Eureka! Copper Canyon is a durable, freestanding tent that's tall enough for the tallest campers to walk around in comfortably. It's a cabin-style shelter with two spacious rooms and enough space for your entire camping crew.
On top of being one of the best tents for lengthy campers, we love the Copper Canyon's livability. The large mesh windows and multiple wall vents will provide both the scenic views and ventilation most campers crave. On top of providing some much-needed airflow, its two walk-in doors allow people to come in and out without disturbing each other.
Despite its massive size, the Eureka! is easy to set up, too. While one person can awkwardly tackle the job, you'll probably want to grab one or two friends. Since this is an 8-person shelter, finding a helper or two shouldn't be a problem!
Additional thoughtful features include storage pockets, a new-and-improved rain fly, and a zippered power port. Only the Wenzel Klondike offers comparable features like oversize mesh windows and double doors.
PROs

Spacious
Great peak height
Good ventilation
Easy setup

CONs

Waterproofing on the low end
Bottom-Line: If you're looking for a spacious shelter that will sleep several tall humans comfortably, look no further than the Eureka! Copper Canyon LX!
MSR Hubba Hubba NX 2
Best for Backpackers
Sleeping Space: 29 square feet · Peak Height: 40 inches · Weight: 3 lbs. 4 oz.
For backpackers looking for a lightweight, durable, and high-quality dome tent, the MSR Hubba Hubba is an excellent choice.
The MSR is a nearly freestanding, two-person shelter with a roomy interior and lots of head space. It's incredibly easy to set up and highly portable thanks to a trail weight of just three and a half pounds.
While most backpackers expect a trade-off between weight and durability, the MSR has found the right mix of both. Both the rainfly and the floor are made from ripstop nylon that is exceptionally waterproof thanks to a coating of MSR's durable water repellent (DWR) Xtreme Shield.
With an interior peak height of 40 inches, the MSR initially appears to offer a decent, but not remarkable, center height. But this height just feels roomier due to a uniform peak height from door to door. This allows for 2 adults to sit up comfortably and move around, though the walls do taper down quickly at the sides.
Other useful features include an overhead gear loft, storage pockets, cable ports, and a mesh stargazing window.
PROs

Waterproof
Durable
Lightweight
Small packed size

CONs
Bottom-Line: Tall backpackers won't have to compromise on comfort or quality with this lightweight shelter. 
DANCHEL Cotton Bell 4-Person
Most Durable
Sleeping Space: Roughly 75 square feet · Peak Height: 98 inches · Weight: 60 lbs.
For tall and lengthy car campers that love braving the elements, it's hard to beat the Danchel Cotton Bell.
Canvas tents have earned a reputation for their longevity and weather resistance, and the Danchel is no different. Its heavy-duty, canvas khaki fabric is 100% waterproof and can easily withstand whatever mother nature throws at it.
Its yurt-style design offers an impressive peak height of 98 inches. With a diameter of 13 feet, tall people will enjoy plenty of legroom come bedtime.
All that weather resistance comes at a cost, however. Canvas tents have, unfortunately, also earned a reputation for their poor ventilation. The Danchel does a decent job of combating this by providing four mesh windows and four roof vents. It's certainly not as breezy as the Eureka or the Wenzel, but for that, you'd have to give up some of its superior waterproofing.
Overall, if you're a tall person looking for a roomy shelter that will last you for years to come, the Danchel offers the longevity and comfort you're looking for.
PROs

Easy setup
Waterproof
Insanely durable
Roomy

CONs

Limited ventilation when zipped closed
Heavy!
Bottom-Line: All-weather campers on the tall side can rely on this highly durable and waterproof shelter. 
Wenzel Klondike 8 Person
Best Value
Sleeping Space: 98 square feet (plus 60-foot screen room) · Peak Height: 78 inches · Weight: 26 lbs.
If you're looking for a tall family tent that offers lots of value for your buck, but with room for the masses, check out the Wenzel Klondike.
The Wenzel Klondike is an 8-person, cabin-style tent with an integrated screen room. The large ventilated panels make it the perfect choice for warmer conditions, but the partial-coverage rainfly offers enough coverage over the main compartment and screen room to keep you dry in case of rain.
Taller campers fear not! Thanks to the Wenzel's dome shape and 78-inch center height you'll enjoy plenty of room.
Despite being a surprisingly affordable tent, the WK is full of comfort-enhancing features like a spacious interior with two separate rooms, zippered side windows, mesh roof vents, and accessory pockets.
The only downside to the Wenzel Klondike is that all that ventilation doesn't lend itself well to cold-weather camping. Despite its 3-season rating, the Wenzel isn't the most insulative, so you might want to avoid the chilliest days at the beginning and end of the shoulder seasons.
PROs

Price
2 rooms
Ventilation – ideal for summer camping

CONs

Not freestanding
Waterproofing
Bottom-Line: A tall and spacious shelter with plenty of mesh windows for scenic views. 
Coleman Instant Cabin Tent (6-Person)
Best Budget
Sleeping Space: 90 square feet · Peak Height: 72 inches · Weight: 24.9 lbs.
The Coleman Instant Cabin is an affordable and spacious shelter with a remarkably fast setup time. If you don't want to mess around with a bunch of poles or a complicated setup, this is the one for you! Its unique design allows one person to set it up all on their own in just one minute.
Once assembled, you'll enjoy a cabin tent with plenty of room and excellent ventilation. Late sleepers will especially love the included dark room technology, which blocks out 90% of sunlight.
Like the Eureka!, the Coleman Instant has tall vertical walls which provide plenty of headroom. Only the very tallest of campers won't be able to stand up inside.
One downside to the Coleman is its included rainfly only covers the roof and leaves the rest of the "water-resistant" walls exposed to the elements. This might not bother the average camper, but frequent all-weather, backcountry campers might be better off with something with a full-coverage rainfly.
All in all, the Coleman Instant is an uncomplicated and user-friendly shelter that offers lots of value for its low price tag (one of the lowest price tags on our list, to be exact!)
PROs

Sets up in 60 seconds
Roomy
Dark room technology

CONs
Bottom-Line: A budget-friendly shelter that stands out for its easy setup and roomy interior.
Big Agnes Copper Spur HV UL 1
Best Ultra Lightweight
Sleeping Space: 20 square feet · Peak Height: 38 inches · Weight: 2 lbs. 6 oz.
Amazingly lightweight, compact, and freestanding, the Agnes Copper Spur HV UL 1 is our top pick of tall tents for solo backpackers.
It's no surprise that most ultralight tents sacrifice durability and liveability for performance. Despite its impressive 2 lbs. 6 oz. weight, the Copper Spur doesn't fall victim to this curse as it's surprisingly roomy for one person without sacrificing performance.
While the Copper Spur is designed to be compact and lightweight, it does feature enough room for tall guys and gals. With a center height of 38 inches, all but the tallest people will have enough room to sit up comfortably.
This is a premium backpacking tent, and that's reflected in its hefty price. If you're a beginner or are planning on using your tent only a few times a year, you'll be better off choosing the less expensive Marmot Limelight instead.
The Copper Spur achieves its super light weight by using Big Agnes' proprietary ultralight nylon double rip-stop fabric, which also makes it one of the most durable tents on our list.
PROs

Lightweight
Awning-style vestibule
Easy setup
Enough room to sit up

CONs
Bottom-Line: The best backpacking tent for tall backpackers looking to spoil themselves with a top-quality, ultra-lightweight tent. 
Marmot Limelight
Best 2-Person Tent
Sleeping Space: 33 square feet · Peak Height: 43 inches · Weight: 5 lbs. 2 oz.
At 5 lbs. 2 oz., the Marmot Limelight certainly is the second most lightweight model on our list after the Big Agnes Copper Spur. Given that it costs around half the price of the Copper Spur, however, the Limelight is well worth considering if you're looking for an affordable backpacking shelter.
The Marmot Limelight is a 1–2 person shelter that feels much roomier than its dimensions lead you to believe. With 33 square feet of floor space and a 43-inch peak height, it offers much more room than the Agnes. Thanks to its nearly vertical walls, the interior space is great and allows 2 people to easily sit up straight.
That extra weight does have its advantages. The Limelight is made from a highly puncture and tear-resistant poly-cotton blend that will last you for years to come, especially if you use the conveniently included footprint.
If the Agnes is the premium backpacking tent for experienced solo backpackers, then the Limelight is its beginner-friendly counterpart. With huge doors, a roomy interior, and a high peak height, the Limelight is an excellent starter model for tall solo campers or camping couples.
PROs

Durability
Price
Footprint included

CONs
Bottom-Line: Perfect for weekend warriors looking for a small but spacious shelter and who don't mind a bit of extra weight. 
How to Choose a Tall Tent
Center Height
If you're tall, you're going to want a tall tent (duh!) but be careful not to get fooled by the center height or peak height.
The center height is the height from the floor to the highest point in the ceiling. A high number for a center height doesn't necessarily mean the shelter will be suited for taller campers. For that, you want to look at the peak height in combination with the style of the shelter.
For instance, dome tents and canvas bell tents have high peaks, but they're less roomy than many other tents since their walls narrow down away from the center.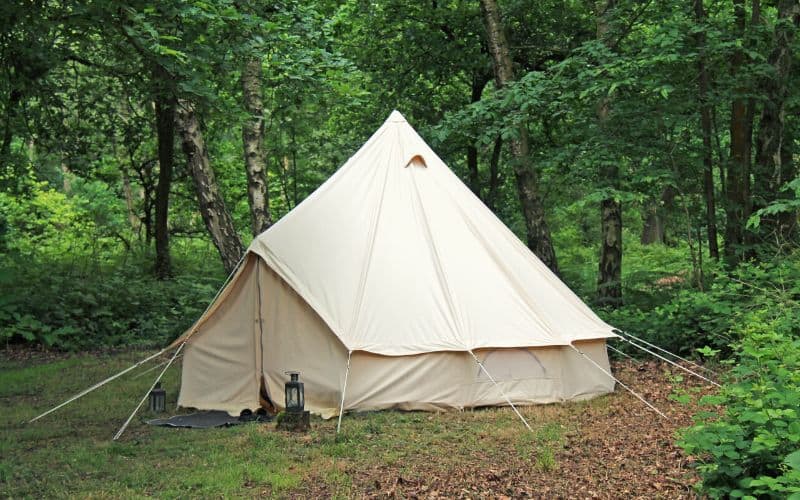 On the other hand, cabin-style tents like the Coleman 6-Person, Wenzel Klondike, and Eureka! Copper Canyon family tent generally has a near-uniform height from end to end thanks to their near-vertical walls, so a higher peak height guarantees more consistent headspace.
Floor Space
The exact floor size you'll need depends on how many people will be sleeping there. Remember to consider your gear as well, especially if you're bringing along space-guzzling furniture like air mattresses.
For backpackers, a good starting point is around 90 – 95 inches in length. This is on the top end of floor space for backpacking tents, so feel free to scale down if you don't mind getting cozy with your tent walls.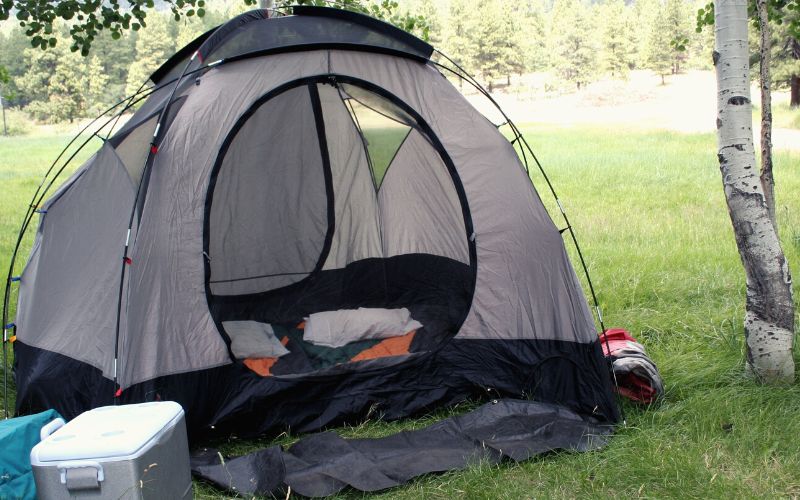 If you're planning on camping in a group, a good rule of thumb is to have at least 14/15 square feet of interior space for each person. Another good idea is to go up a size from what you think you'll need. For instance, if you're camping with two people, go for a 4-person model to enjoy the extra roominess – as long as you don't mind, that is, carrying a little extra weight.
Waterproofing
While choosing a tent, you're going to run into numbers like 2,000mm or 5,000mm. That's the fabric's waterproof rating.
When it comes to gear, waterproofing is measured in terms of something called the hydrostatic head (HH). In simple terms, the higher the hydrostatic head rating, the more millimeters of rain a piece of gear can withstand before the fabric begins to leak.
For tents to be legally described as "waterproof", they must have a HH rating of at least 800mm. In reality, there's not much "waterproof" about tents with such a low rating and they'll often only be able to withstand the lightest of rain showers.
For most campers, a 3-season shelter with a waterproof rating of 1,200mm will suffice. If you're regularly camping in poor weather conditions, however, you might want to upgrade to 2,000mm.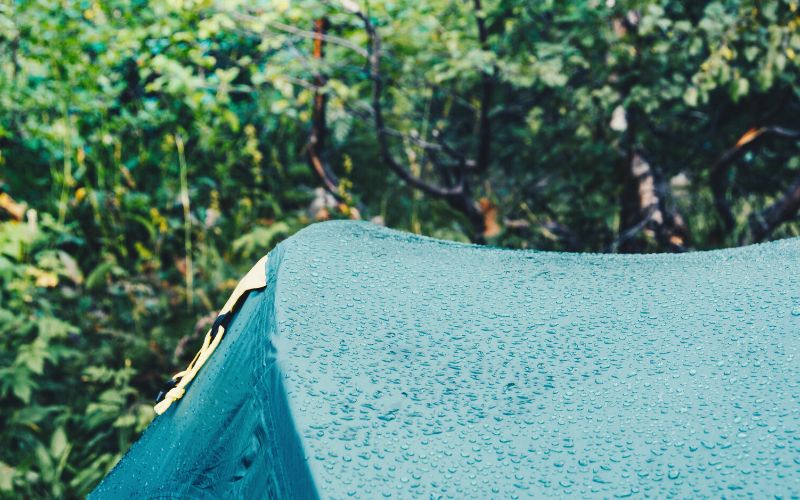 The discussion around waterproofing doesn't end with the HH rating, however. Other features are critical for staying dry.
A tent's seams are an easy culprit for letting water in, so look for seams that are taped or inverted. The doors and windows of a tent are another common trouble spot, so look for doors and windows with proper coverage and flaps to prevent leakage.
Lastly, don't forget about the groundsheet. Since groundsheets have to bear the weight of all kinds of standing, sitting, and sleeping, they are more liable to leak. Aim for a groundsheet made from nylon or polyester as they are thicker and more durable. You'll want to make sure your groundsheet has a HH rating of at least 3,000mm to stay dry.
Ease of Setup
The last thing you want is to arrive at your campsite only to discover you have no idea how to assemble your tent!
Most small tents are relatively easy to set up, even for one person. Larger tents can be more complicated, but thankfully, many manufacturers have started making the process as painless as possible by including things like easy-to-follow instructions and color-coordinated tent poles.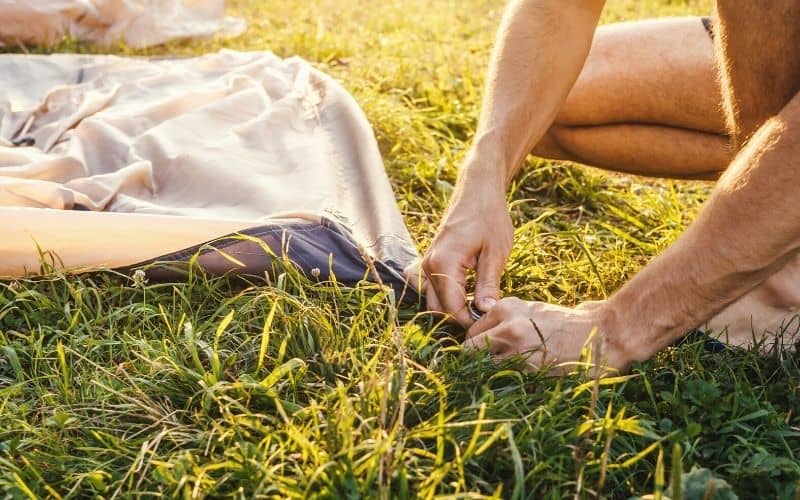 Broadly speaking, there are two types of tents: pop-up tents and pole tents. Pop-up tents like the Coleman 6-person have an umbrella-style frame that "pops" into place once it's unfolded. With a bit of maneuvering, these tents can be easily folded back into their carrying cases.
Pole tents have a number of poles that have to be threaded into the tent's material. Pegs or stakes driven into the ground are used for support.
Some manufacturers recommend as many as 3 or 4 people may be needed to set up a particular tent, so always double-check the requisites before purchasing. This is particularly true with extra-large and heavy tents like the Danchel Cotton Bell.
Lastly, don't forget to practice setting up your shelter in your backyard or even your living room before your next trip to avoid any surprises!
Durability
Materials matter when choosing your tent. The materials you choose will all influence the durability, packed size, weight, and longevity of your tent.
For the fabric of your tent, it's hard to beat canvas. Canvas is breathable and naturally waterproof, but it's also heavy and expensive. If you're a car camper looking to splurge on the best you can get, a canvas model like the Danchel Cotton Bell makes a good choice.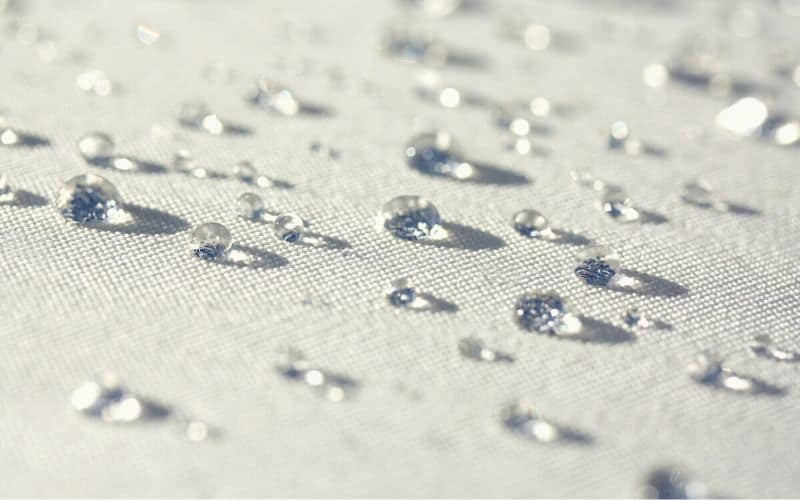 Nylon is another fabric that's popular for tents due to its strength and light weight. For backpackers and regular backcountry campers that need a strong and reliable tent, look for ripstop nylon (as used in the MSR Hubba Hubba) for extra durability.
Polyester-cotton or "polycotton" tents combine the best of both worlds. A polycotton tent will provide the strength of cotton with the ventilation and mildew resistance of polyester.
Remember, that you can improve the waterproofing of fabrics for many tents through the use of certain sprays.
Features
As if all of this weren't enough to consider, every tent has other unique features you might want to have.
If you can't help but bring a lot of stuff with you while camping, look for a tent with a vestibule. Vestibules are basically mudrooms attached to the front or along the sides of your tent that will keep your gear dry without encroaching on your living space.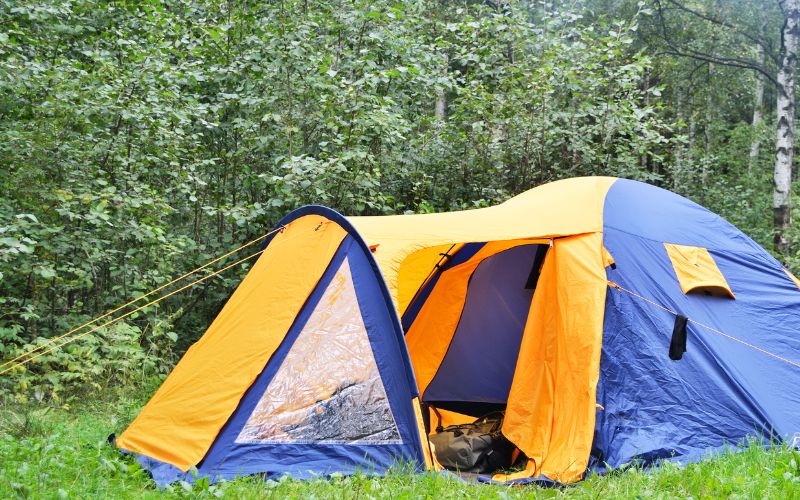 Keep an eye out for comfort-enhancing features like interior loops and pockets. Ceiling loops can be used for hanging lanterns while wall loops can be turned into mesh shelves for hanging your stuff. Tent pockets can be used to keep things off the floor and to help organize your tent.
Best Tall Tents: The Verdict
Tall folks deserve a good night's sleep too! We hope our guide to the best tents for tall people has simplified the process of choosing a tent for your next camping trip.
While we think the top tent for tall people is the cabin-style Eureka! Copper Canyon Cabin tent, any of the tents on our list will provide the tall guys and gals out there with a comfortable sleeping space.
Did we forget your favorite tents for tall people? Don't hesitate to let us know in the comments below and feel free to share this article with all your tall camping friends!