Instant shelters were once ridiculed by old-school campers as a fad that would never take off, a poor/lazy person's substitute for the real thing. A few decades down the line and we can now say, without fear of contradiction, that this sentiment hasn't aged well.
These days, instant camping tents are more convenient, lighter, more instant, and more like traditional models than ever before. So, if you want to spend more of your hard-earned downtime relaxing and less of it messing around with complicated, and uncooperative gear, instants are the way to go!
In this guide, we'll introduce you to 7 of our favorites on the market. Below our review, you'll also find plenty of advice to help you choose the perfect model for your needs.
Our Top Picks by Category
Budget: Ozark Trail 6-Person and Coleman Instant Cabin
Dome: Toogh Instant Dome
Cabin: CORE 6-Person Instant and Coleman Tenaya Lake
Waterproof: Kazoo Family Tent and Ayamaya Pop-Up
Editor's Choice
CORE 6-Person Instant Tent
Out of all the tents we tested and shortlisted for our award of the best instant tent, the Core Instant Cabin was our standout favorite.
This three-season, freestanding tent has everything you need for family camping trips. It's roomy, has a wealth of handy features, boasts a tall center height, and performs well in both warm and wet conditions. Our favorite feature, however, is the fact that it sets up in no time at all – something that can't be said of all cabin-style tents, even the 'instant' ones.
You unfold the tent like a towel and snap the pre-attached poles into place. The manufacturer claims you can set it up in 60 seconds or less. While this may be a touch optimistic, we did manage to get it assembled in under two minutes, which ain't bad!
This freestanding cabin tent has a lot more going for it than speedy setup time alone. Measuring 11 x 9 feet and boasting a peak height of 72 inches, it's one of the roomiest and most liveable options on our list. Its gear loft and abundance of mesh wall pockets also mean that all of that interior space is usable space.
While this isn't the most waterproof option out there, it excels in warm weather thanks to its excellent ventilation features and its CORE H20 Block Technology ensures it will keep you dry in light or unsustained rainfall.
Bottom Line: The ideal pick for any family or group car camping trip from spring to fall.
At a Glance: Quick Recommendations
Instant Tent Reviews: Our Top 7 Picks
CORE 6-Person Instant Tent
Editor's Choice
Floor Space: 99 ft.² ⸱ Height: 72" ⸱ Weight: 23 lbs.
The Core Instant Cabin tent ticks all of the boxes that need ticking for 3-season family camping trips. It's sturdy, waterproof enough for moderate rain showers, roomy, a breeze to set up, and rich in convenient, practical features.
The pre-attached poles in the Core are telescopic, so all you have to do is extend them, snap them into place, and your home for the night is good to go. While not as quick to set up as other tents on our list, the whole pitching process should take 2-3 minutes for one person.
Measuring 11 x 9 feet, the Core has plenty of room for 6 sleepers plus gear. There's also a huge wall organizer with multiple pockets that helps you keep your gear tidy and off the floor.
While we wouldn't recommend using the Core in a torrential downpour due to its use of only a partial-coverage rainfly, its H20 Block Technology provides enough water resistance to keep you dry in moderate rain. In warm weather, on the other hand, it comes into its own, mainly thanks to its large ground vents and huge mesh windows, which together ensure ample airflow.
If you like the look of this one but need a little more space, check out the Core 9-Person Instant Cabin.
PROs

Easy to pitch
Multiple interior pockets
Excellent ventilation
Fairly priced
Outstanding in warm weather conditions
Great peak height

CONs

Partial-coverage rainfly
Included carry bag is a little on the small side
Bottom-Line: A high-quality, durable tent that takes convenience to a whole other level.
KAZOO Family Tent
Best Waterproof
Floor Space: 91.8 ft.² ⸱ Height: 73" ⸱ Weight: 17.5 lbs.
Not all instant tents are made to withstand serious hostilities from the elements, but this is the Kazoo family tent's main selling point.
The Kazoo uses a double-walled design. The inner is made with 190T breathable polyester with a mesh ceiling and large mesh panels to boost airflow and stave off stuffiness and condensation. The rainfly is made with tough, 210T ripstop polyester, and has an impressive waterproof rating of 3000mm, which is more than enough for 3-season camping.
At 17.5 lbs., the Kazoo isn't the lightest option out there, but it is several pounds lighter than the Ozark Trail tent, the Coleman Instant Cabin, and the Coleman Tenaya Lake, despite having similar dimensions to all three and comfortably sleeping six.
The only real downsides to this tent are the lack of a vestibule and the shortage of interior pockets. On the plus side, the doorway converts into an extended awning, so you'll have a sheltered place to kick back or store gear during the daytime.
PROs

Waterproof
Extended awning
Mesh interior pockets
Mesh roof
Sturdy aluminum poles
Ample living space for 6 adults

CONs

No vestibule storage space
Bottom-Line: More waterproof than other pop-up tents on our list and big enough for two queen air mattresses.
Toogh 3-4 Person Instant Dome Tent
Best Dome
Floor Space: 90.75 ft.² ⸱ Height: 58" ⸱ Weight: 13 lbs.
If you want an extra-rugged, highly waterproof model for three-season camping, look no further than the Toogh 3-Person Instant Dome.
The Toogh is made with burly, 210T oxford fabric, making it one of the toughest tents on our list. The waterproof rating of the walls and flooring are 3,000mm and 10,000mm respectively, so it's also the most waterproof, although this does make it more prone to condensation and stuffiness in warm weather.
When it comes to setup, the Toogh is a dream. All you need to do is roll it out, lift the central pole hub, and, true to its name, it will pop into place. While setup takes a few seconds longer than the Core 6-Person, we found the Toogh much easier to pack away.
The features in this tent are, however, a bit of a letdown. While we love that the two doors can be extended into awnings, we don't love the shortage of storage pockets inside. Another downside is that, like most instant dome tents, the Toogh has considerably less headroom owing to the curvature of the walls.
PROs

Easy to set up and pack away
Doors extend into awnings
Great waterproofing
Available in multiple colors

CONs

Not the roomiest
Lacks storage options
Bottom-Line: A sturdy, waterproof model that lacks a few features but offers great value for money nonetheless.
Coleman Cabin Tent
Best Value
Floor Space: 90 ft.² ⸱ Height: 72" ⸱ Weight: 19.1 lbs.
The Coleman brand name is virtually synonymous with low-cost, high-quality outdoor products, and this 'dark rest' instant tent is no exception to the rule.
The standout feature of this shelter is the use of 'dark rest' technology, which essentially blocks out 90% of sunlight. This helps to keep the interior cool on warm, sunny days and prevents the sunrise from waking you up in the morning – ideal for campers who like to sleep in late!
Cool bonus features aside, this is a great tent for a family car camping trip. It may be heavy, but it's exceptionally sturdy, performs well in strong winds, is waterproof enough for three-season camping, and can be set up in two minutes tops.
This Coleman instant tent comes in 4-person, 6-person, or 10-person sizes, with each scoring high in the liveability stake thanks to their cabin-style design and steep walls. The 4-person model is just under five feet tall, so you can't stand in it, but the 6- and 8-person models both have a peak height of over six feet.
PROs

Roomy interior
Dark rest technology
Solid in strong winds
Practical carry bag
Multiple interior pockets

CONs

Not the toughest materials
Not as waterproof as the Toogh, Ozark Trail, Ayamaya, or Kazoo
Bottom-Line: A robust, well-made shelter with a special bonus feature that keeps you cool in hot temps and lets you sleep in long past sunrise.
Ozark Trail 6-Person Instant Cabin Tent
Best Budget
Floor Space: 90 ft.² ⸱ Height: 66" ⸱ Weight: 25 lbs.
The Ozark Trail is a very similar tent to the Coleman Instant in terms of size and functionality. However, the OT is a slightly better performer in wet weather, has more storage options, is slightly cheaper, and has a unique, built-in lighting system.
This spacious cabin-style tent measures 10 x 9 feet, giving you a generous 90 square feet of interior floor space. Despite this, it can be set up in circa 60 seconds thanks to its pre-attached tent poles and central pole hub. This means that all you need to do is unpack and unfold the tent, extend the poles, peg it out, and you're good to go.
While the OT only has a partial-coverage rain fly, the inner tent is rated to 1,200mm, so it's a solid performer in all but the wettest conditions.
In terms of features, the OT serves up a mixed bag. There's no vestibule or awning, sadly, and only one door, but there are a few add-ons that score it some serious points. The most impressive of these is the LED lighting in the pole hub that provides ambient lighting with the flick of a switch.
Other nice features include three mesh windows, an adjustable AC vent, an electrical port for hookups, and a full-wall organizer with multiple mesh storage pockets.
PROs

Large mesh wall organizer
Steel poles enhance durability and sturdiness
Waterproof coating
Good ventilation
Affordable

CONs

Steel poles make it heavier than similarly sized peers

No vestibule
Bottom-Line: Too heavy for anything but car camping, but a great tent if you're looking for quality materials at a bargain price.
Coleman Tenaya Lake
Best Storage
Floor Space: 117 ft.² ⸱ Height: 80" ⸱ Weight: 32 lbs.
The Coleman Tenaya Lake is like the five-star hotel of cabin tents – it may be pricey, but it offers the most comfortable and luxurious camping experience possible.
Unlike many so-called "eight-person" tents out there, this one breaks the mold by actually providing enough room for 8 adult sleepers. It measures 13 x 9 feet, giving a total of 117 square feet (14.62 square feet per sleeper). The 6' 8" center height and vertical walls also mean there's plenty of headroom from end to end and side to side.
What we love most about the Tenaya Lake, however, is the inclusion of two non-standard "bonus" features – namely, a duo of built-in "closets" and a detachable privacy screen. The storage closets have mesh shelves and pockets that help keep your gear organized and free up space in the sleeping area, while the screen lets you create two separate rooms.
The Tenaya Lake is the priciest option on our list, and takes a little longer to set up than others, but is still a great choice if you value comfort and liveability and are happy to spend around three minutes setting up instead of one.
PROs

Space galore!
Built-in storage closets
Wheeled storage case for easy transportation
Illuminated guy lines keep you from tripping over them in the dark
Hinged door

CONs

Heavy (only suitable for car camping trips)
Not as easy to pitch as other options
Not as waterproof as other options
Bottom-Line: An excellent tent for a large group of people who need lots of space as long as you don't mind a marginally longer setup time.
Ayamaya Pop-Up Tent
Honorable Mention
Floor Space: 106 ft.² ⸱ Height: 51" ⸱ Weight: 12.5 lbs.
If you're looking for a simple, lightweight, frill-free pop-up tent for occasional family camping trips in fair weather, the Ayamaya Pop-Up is well worth considering.
The Ayamaya weighs just 12.5 lbs, making it the lightest option on our list. Despite this, it's fairly sturdy and one of the most waterproof options we reviewed, boasting a waterproof rating of 3,000mm in the tent walls and 4,000mm in the groundsheet. While we feel it didn't perform as well as the Kazoo in wet weather, it's still waterproof enough for three-season camping.
The Ayamaya is the quickest and easiest tent to pitch on our list. When you reach your campsite, all you have to do is unzip the carry bag and let go, then the tent assembles itself instantly. Throw a few stakes in and then setup is done! We did find it a little trickier to get the tent back into the bag at the end of the trip, but this should still only take 2-3 minutes.
The Ayamaya's features aren't anything to write home about but aren't a cause for complaint, either. There are 2 large doors, rear hooded vents, a duo of small storage pockets, and four large windows. The front door also extends into an awning for outside lounging.
The only downside to the Ayamaya is the peak height, which, at 51 inches, is the lowest of any tent on our list.
PROs

Waterproof
2 doors
Excellent ventilation
Lightweight

CONs
Bottom-Line: A lightweight, waterproof, and feature-rich tent at an affordable price.
How To Choose The Right Instant Camping Tent
Types Of Instant Tents and Pop-Up tents For Camping
The two most common types of instant tent are cabin tents and dome tents.
Cabin Tents
If space is your number one priority, then cabin models are your go-to category.
These tents usually have four near-vertical walls that maximize headroom and are easy to stand and walk around in. Many often also have a removable room divider that allows you to create two separate rooms. Unfortunately, cabins tend to be heavy too, so they aren't practical for backpacking.
Dome Tents
Dome models are great in windy conditions because their low profile and curved walls make them more aerodynamic. However, they also offer far poorer livability than your average cabin tent. This is because they tend to have lower peak heights and those curved walls mean peak headroom decreases sharply towards the sides of the tent.
Instant Tent Features & Attributes
Ease Of Use
Don't be fooled by the term 'instant'. All of the tents in our review are far easier and quicker to set up than traditional tents. However, the only truly 'instant' model is the Ayamaya, which literally assembles itself the second you release it from its carry bag. The others will take from one to three minutes to set up.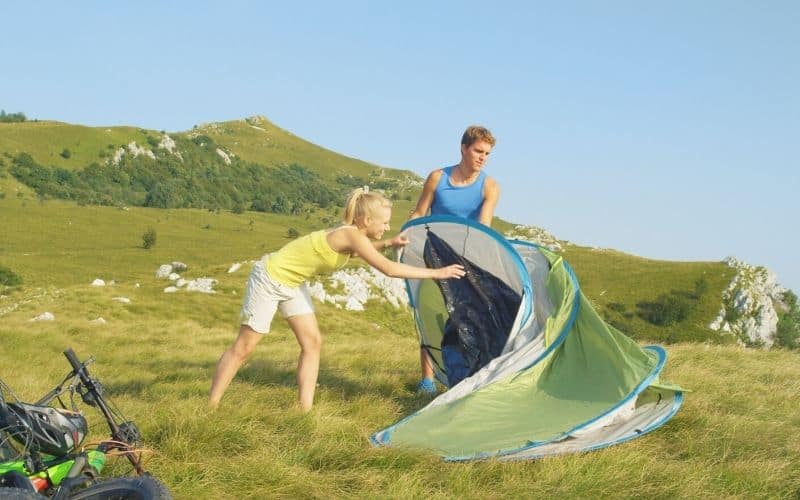 Size & Capacity
The dimensions of an instant tent are critical. First, you'll want to make sure it's big enough for however many people are in your group. In general, tents are typically suitable for one to two fewer people than the manufacturer claims, unless, that is, you want to be sleeping on top of each other!
For a more accurate idea of how many people the tent can accommodate, check for the overall square footage in the product specifications. Ideally, you want around 14 or 15 square feet per adult, so a 60-square-foot tent will be good for four adults.
If you usually bring a lot of camping gear, factor this into your calculations. If the tent doesn't have a vestibule or screen room (many instant cabin tents don't), then you'll have to use some of that interior space for gear storage.
Ventilation
Without proper ventilation, your pop-up tent could become unbearably hot in spring or summer, and prone to condensation at other times (which can soak your clothes and sleeping bags). Most tents have ventilation features like mesh windows or wall vents, but the amount, size, and location of these can vary.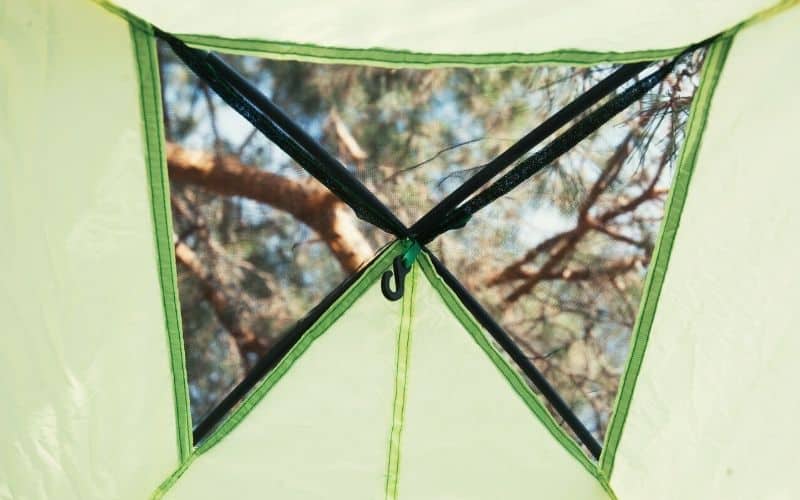 A combo of ground vents and roof vents is great because it allows cool air to come in at ground level and the hot air to rise to the top of the tent and escape out of the vents.
Doors And Windows
Some tents have one entry, some have two. The number of doors is a personal preference although if there are a lot of people in the tent, having an extra door means you don't have to crawl over each other to get out.
Windows are great for stargazing and providing extra ventilation. If ogling the night sky or summer camping are your thing, then, the more of them the better.
Waterproofing
If you plan on camping in less-than-perfect conditions, there are two things to look out for.
First, whether the tent has a partial-coverage or full-coverage rain fly. As the name suggests, partial-coverage flys cover only part of the tent, leaving the rest of it exposed to the elements. While water-resistant treatments are usually used on this portion, they won't offer the same protection. In short, if camping in wet weather, a full-coverage fly is the way to go.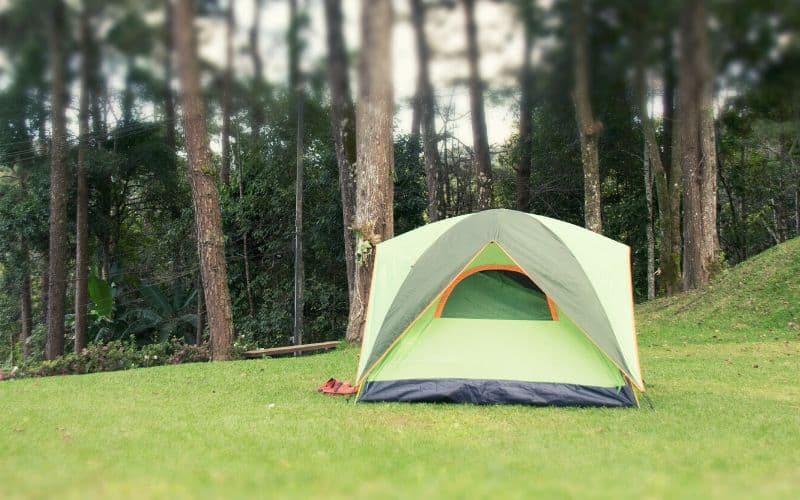 Next, just how waterproof is that rain fly? The level of protection a fly provides is measured in hydrostatic head, a test that gauges how much water pressure the fabric can withstand before it leaks. This usually ranges from around 800mm to 5,000mm. As a general rule, anything over 1,200mm is a safe bet for three-season camping.
Seasonality
A tent can be rated from one to five seasons, this is a rating that helps you to determine what type of weather and/or conditions the tent can withstand.
The majority of practical instant tents will be two or three-season, which means they can stand up to moderate wind and rain. Anything higher than that is more suitable for stormy, cold, or monsoonal type conditions.
If you plan on camping in the shoulder seasons, we recommend buying at least a 3-season waterproof tent with a full-coverage rain fly rated to at least 1,200mm hydrostatic head.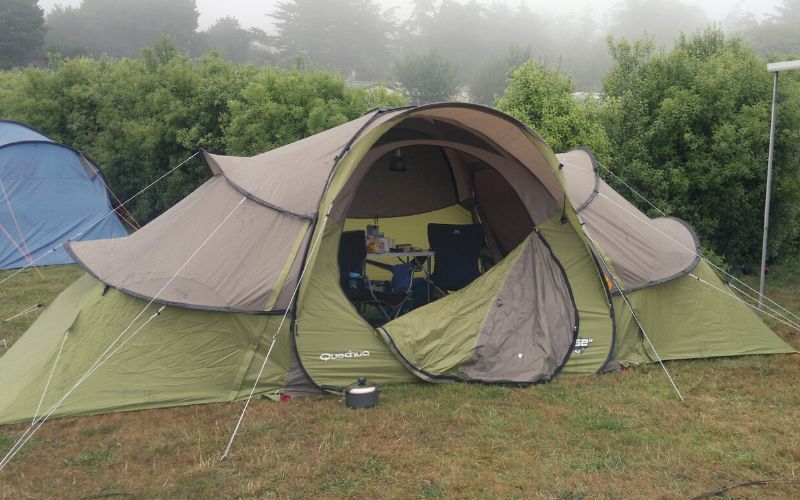 Best Instant Tents: The Verdict
Just in case you're still undecided, let's have a little recap to help you out.
After much deliberation, our standout favorite instant tent is the Core 6-person. The Core Instant Tent doesn't only score highly in every important metric, but it's also much more affordable than the closest competition in its performance class.
If you're on a tighter budget, we recommend the Ozark Trail 6-Person. This is the heaviest option on our list but all that added weight translates into superior sturdiness and durability. It's also very easy to pitch and includes a few great "bonus" features that are well worth having.
So, how did you like our article? If we missed anything or you have any questions, let us know! And if you'd like to share this post with your friends, please do!