In the past decade or so, the popularity of the via Ferrata has exploded worldwide. New "vie Ferrate" (plural) have popped up everywhere from New Mexico to China and the old routes are seeing more traffic than at any other time in their long, storied, and grisly history.
If you're keen to learn more about via Ferrata, want to know how it's done, or are looking for inspiration for a VF trip, you're in the right place. In this guide, we'll be covering it all!
At a Glance: Key Takeaways
Via Ferrata definition – The literal meaning is "iron path" and refers to climbing routes protected by steel cable, rungs, ladders, pins, and wire bridges
Seek a guide – Get help from a guide before tackling your first routes
Learn the grading system – avoid hopping on a route above your skill level
No limits! – The world is full of awesome vie Ferrate!
A Definition of Via Ferrata
A via Ferrata is, in short, a protected climbing route with steel cables, iron rungs, ladders, suspension bridges, and stakes that participants use to progress safely up or across mountainous terrain.
Climbers use a harness with a pair of lanyards and auto-locking carabiners to attach themselves to the above ironmongery as they climb, thus creating a form of climbing-hiking hybrid.
Routes vary in difficulty, with some being no more challenging than a low-grade but exposed scramble and others on par with serious and sustained multi-pitch rock climbing routes.
The term itself comes from the Italian "iron way" or "iron path".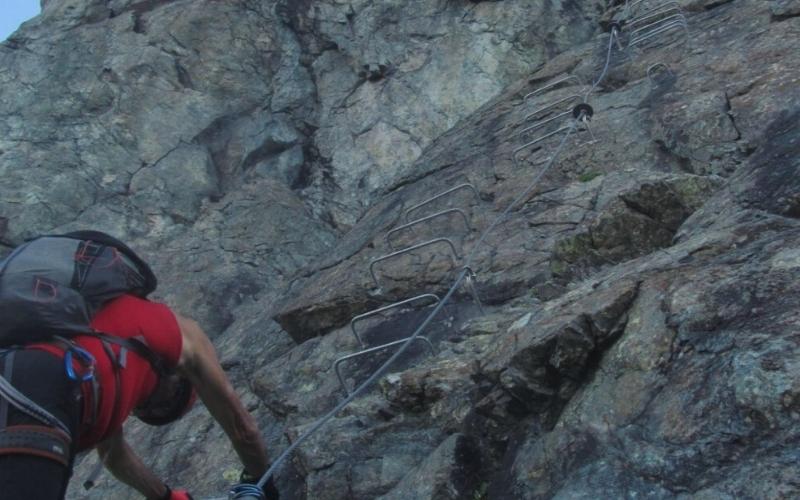 A Short History of Via Ferrata
Vie Ferrate first started to appear in the north of Italy, along the border of the Austro-Hungarian Empire, in the late 19th and early 20th centuries. The routes were constructed as a means of enabling troops to reach high-altitude posts in the Eastern Alps and transporting supplies to some of the highest positions the world has ever seen.
Construction of vie Ferrate went into overdrive in the buildup to, and during, World War One, when Italian and Austro-Hungarian forces competed for prized terrain along the border and rushed to install themselves in elevated positions that would let them dominate the high peaks and surrounding terrain.
To this day, the remains of many of the original "iron ways" can still be found across northern Italy, Tirol, and Slovenia.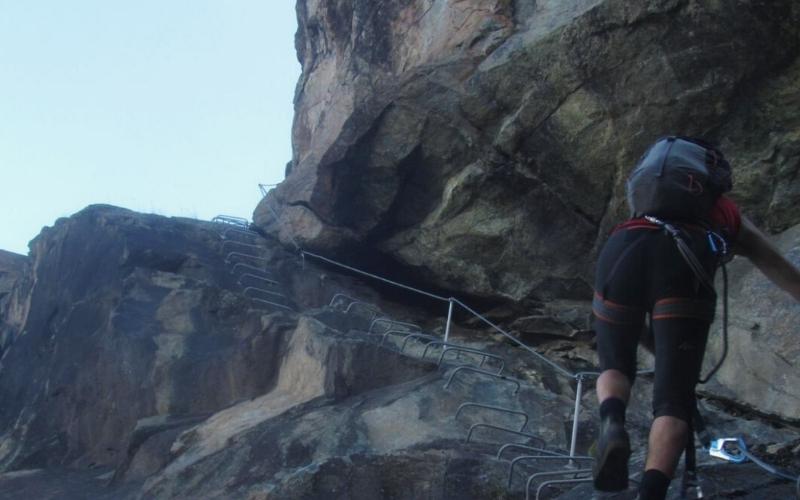 In the aftermath of the war, the routes left behind by both militaries were quickly adopted by local mountain-goers and became a fully-fledged recreational activity. Soon, other nations wanted in on the act, and routes have now been constructed in locations as diverse as England, Spain, Germany, the US, China, and Malaysia.
How to Do Your First Via Ferrata: 6 Tips
1. Get a Guide (and Experience)
Like any new sport or activity, the best way to learn the ropes quickly is to enlist the services of a guide. Unlike many sports, the risks of not doing so are fairly severe…
Going with a guide will help you build confidence and also let you discover if the "iron ways" are for you before you splash out on the required (and pricey) kit.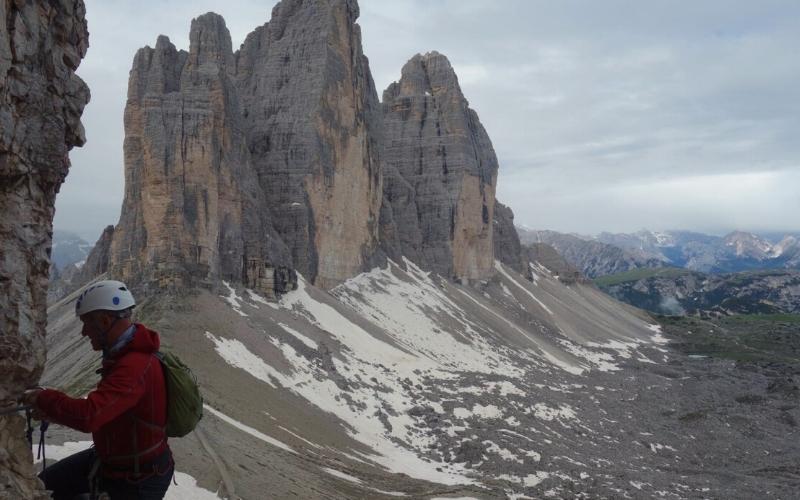 2. Tool Up: Via Ferrata Equipment
Making a DIY via Ferrata kit with two carabiners and lanyards is easily done, but if you plan on tackling testier routes or making a regular thing of it, we highly recommend investing in a custom Ferrata set.
This will include a climbing harness (a sit harness alone or combined with a chest harness), gloves, approach shoes, a climbing helmet, and a lanyard set with two elastic arms and automatic-locking carabiners with a palm release.
You don't need climbing shoes, but a pair of stiffer approach shoes or hiking boots are highly recommended.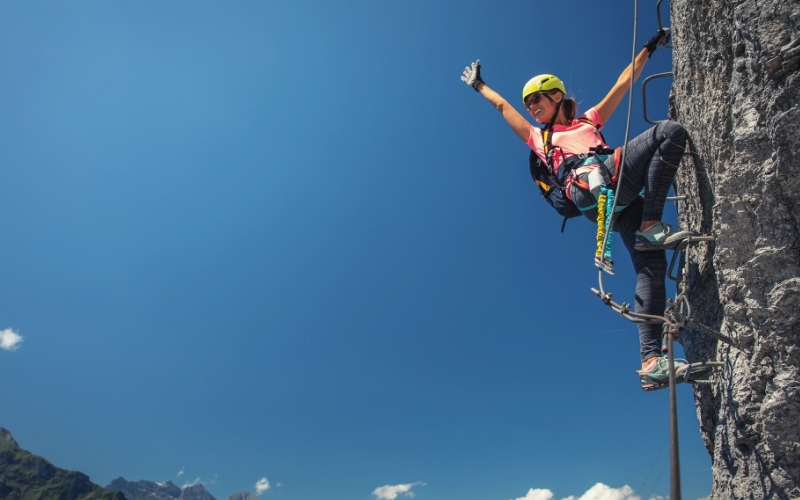 3. Choose Your Route with Care
As with hikes, don't bite off more than you can chew. Start with shorter, easier routes, then gradually progress onto more challenging ones as you develop your skills.
Many routes are no more than advanced scrambles, while advanced and even intermediate routes can tackle steep terrain or fairly blank, exposed rock faces like those encountered in traditional rock climbing.
Each country has its own grading system. For more on these, check out this handy guide from the UIAA.
Whichever route you choose, make sure you do your research first, check the forecast, and give yourself plenty of time to complete it in daylight.
When planning, be sure to identify escape routes in case anyone in your party is injured or you have to flee a thunderstorm.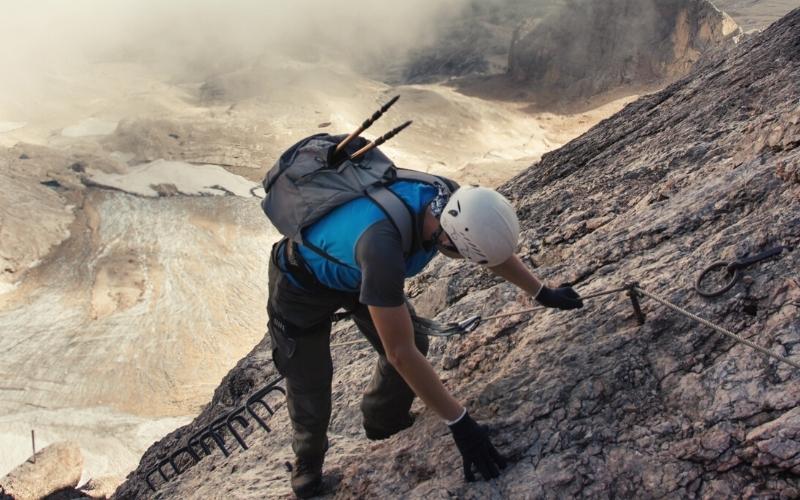 4. Go Early
There are plenty of things that could go wrong on any trip to the mountains, and via Ferrata is no exception. Rockfall, gear failure, extreme weather, and animal encounters are just a few. One of the greatest dangers, however, is the presence of other people on your route.
For the most part, vie Ferrate are not as vertical as rock climbing routes, and on most of them, you'll come across ledges or terraces strewn with rocks that climbers ahead of you or animals could send crashing down the route. This being so, setting off before the crowds is wise.
Going early will also give you plenty of time to complete the route and find your way back to your vehicle, tent, or rifugio before dark.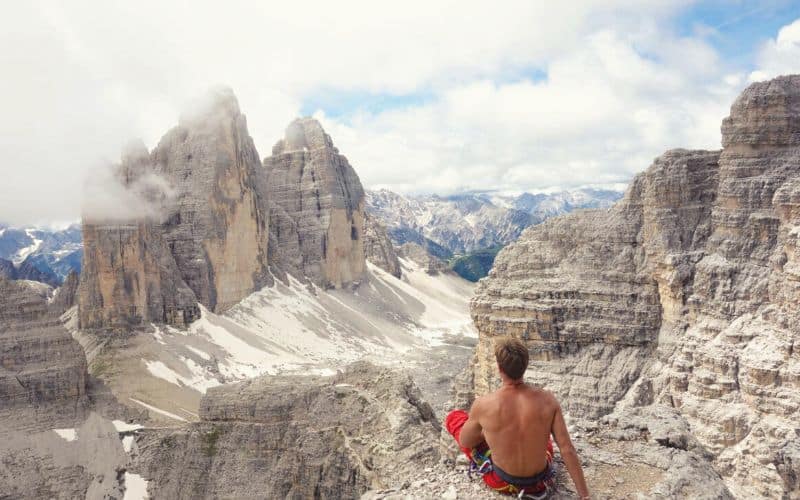 5. Footwork
Ask any climber what it takes to become competent in their sport and the vast majority will say the same thing: footwork. The reason for this is simple – humans are blessed with far larger and more powerful muscles in our lower body than in our upper body, so using the former will let us go for longer without suffering fatigue or 'pump'.
But what does good footwork look like?
In a few words:
Do all the heavy pushing with your legs, using your arms and hands only for balance
Try to make a triangular shape with your body, with your arms forming the top apex and your feet the lower vertices. This will help to ensure most of your body weight is on your lower limbs
Take small, balanced steps instead of making big lunges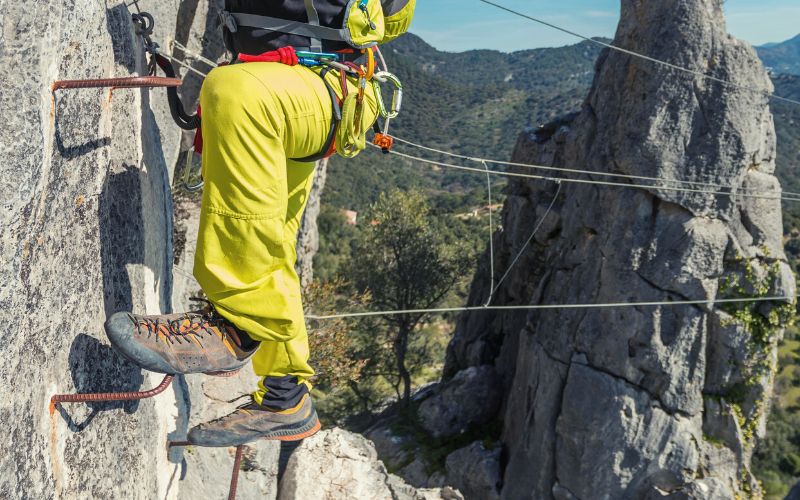 While you don't need any previous climbing experience to take on vie Ferrate, you do need a good head for heights and a solid grounding in the use of VF climbing gear.
6. Be Safe
On the face of it, via Ferrata might seem like a far safer option than rock climbing and mountaineering, or even regular hiking. You are, after all, tethered to the rock and metal cables at all times, so what could go wrong?
The biggest danger, alas, lies in the very underestimation of the activity's inherent dangers, which can lead to the biggest killer in any activity in the mountains – complacency.
This usually kicks in after you've done your first few routes and start to get a little lax with safety by neglecting to clip into every piece of fixed protection or trying to speed things up by clipping only one piece during transitions between cables. The remedy, of course, is to stay focused and make a point of staying clipped in at all times.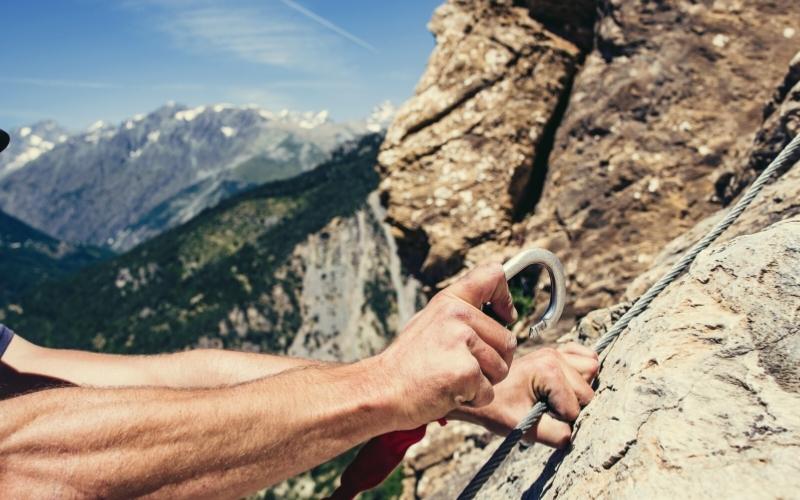 5 Awesome Via Ferrata Destinations
1. The Dolomites
The Dolomites are generally considered to be the home of the via Ferrata. While this isn't strictly true (routes appeared in other locations in northern Italy and Austria around the same time), the range is home to the highest concentration of vie Ferrate in the world and is the undisputed mecca for via Ferrata climbing.
If it were possible to imagine a hiker's heaven, the Dolomites would provide a very solid blueprint.
The area is home to some of the most dramatic landscapes and towering peaks on the planet and yet, in the midst of it all, you'll find subtler delights like paradisaic alpine meadows, gorgeous flora, and idyllic alpine villages, not to mention some of the tastiest cuisine the world over.
The vie Ferrate here is, essentially, like a vintage wine compared to the low-price plonk on offer elsewhere. Our favorites are:
Via Ivano Dibona
Monte Paterno
Civetta
Giro Del Sorapiss.
Slightly further afield, you'll find the awesome Sentiero dei Fiori on Monte Adamello, just west of the Brenta Dolomites.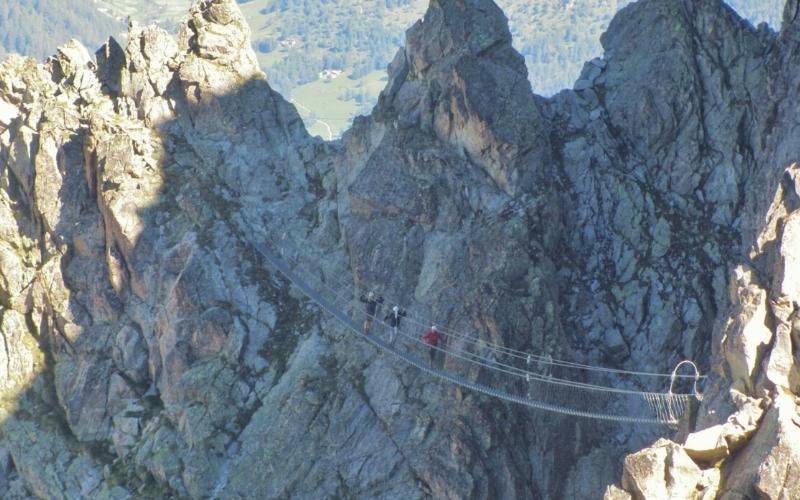 2. Julian Alps, Slovenia
The Julian Alps are perhaps the most underrated of all the big mountain areas in Europe. They're home to scenery not dissimilar to what you'll find in the Dolomites and dozens upon dozens of thrilling protected climbing routes.
Our favorites:
Mount Triglav north face (Prag Route)
Prisojnik (Kopišcar route)
Mala Mojstrovka (Hanza route)
Mount Mangart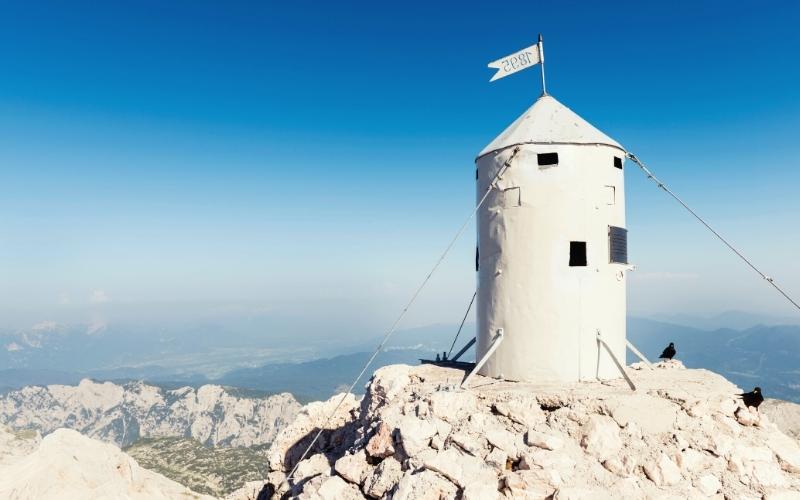 3. Austria
Austria is home to over 500 vie Ferrate, many of which were first developed during WWI. While most of the top routes are located in the alpine wonderland of Tirol, you'll find some of the best (and longest) routes on the planet dotted all around the country.
Stuibenfall via Ferrata, Ötztal Valley
Großer Donnerkogel Via Ferrata, Gosau Region
Innsbruck via Ferrata
Klamml via Ferrata, Wilder Kaiser Mountains
Five summits via Ferrata, Lake Achensee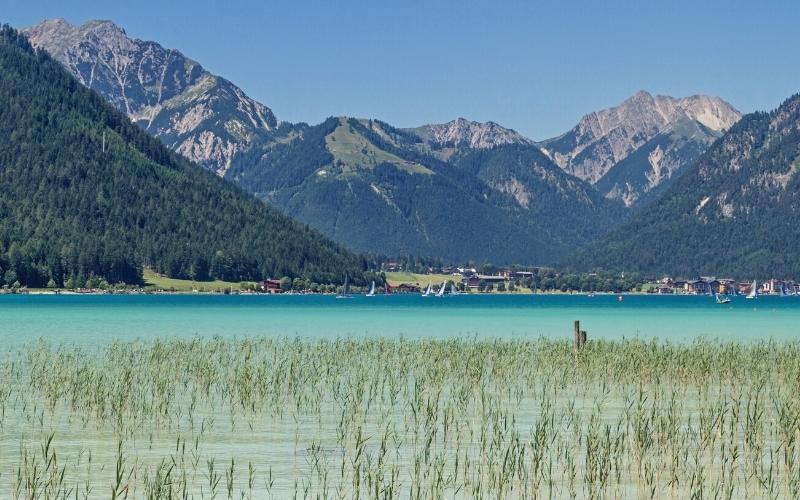 4. USA & Canada
In the past decade or so, dozens of awesome vie Ferrate have sprung up across the US and Canada. From Arkansas to Arizona, California to Quebec. The good news? North America's list of exhilarating vie Ferrate continues to grow and by the time you read this, a few more routes will probably be in place!
Here are our favorite VF routes and areas in North America:
Jackson Hole Mountain Resort, CO
Mt. Nimbus, British Columbia
Taos Ski Area
Mammoth Mountain, CA
Royal Gorge Bridge, CO
Palisades Tahoe, California
Canyon Sainte-Anne, Quebec
Telluride, CO
Mount Norquay, Alberta
Mount Ogden, UT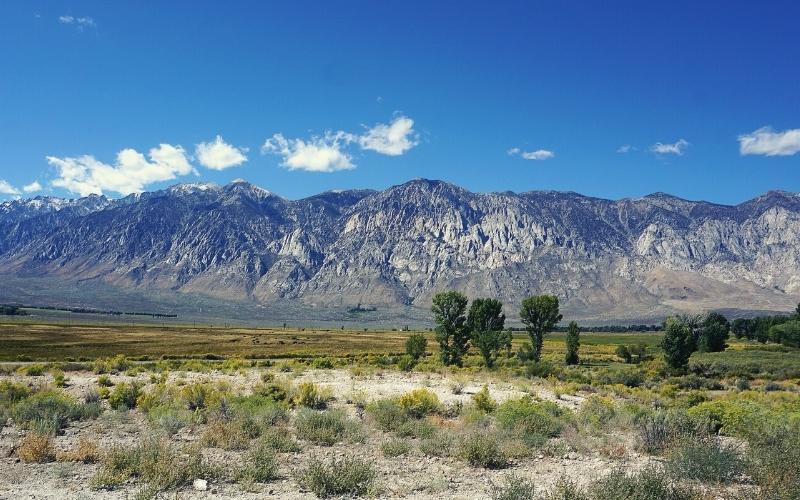 5. Andalusia, Spain
Andalusia is one of Spain's top rock climbing destinations, and hidden in a majestic canyon near the climber's mecca of El Chorro the via Ferrata route known as the Camino del Rey (The Way of the King).
It's hard to put into words how majestic, thrilling, and stunning this route is, so we'll let the picture do the talking!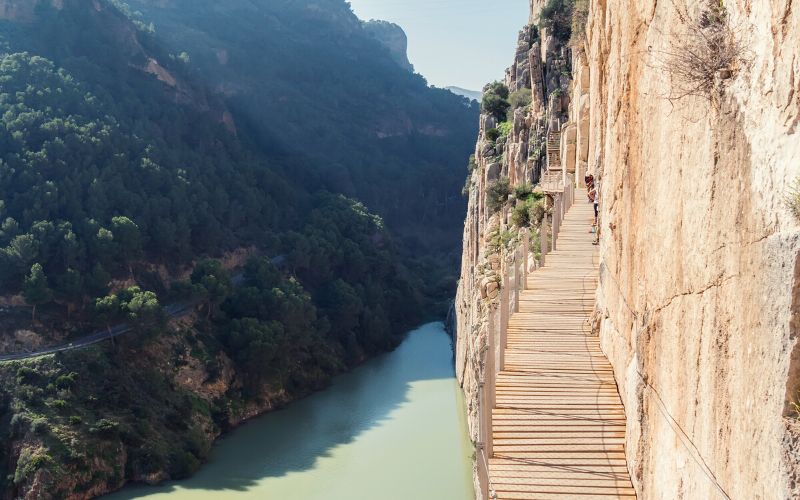 What is Via Ferrata? Know you know!
We hope our guide to 'what is via ferrata?' has inspired you to get out there and spend some time on the iron. If we missed any of your favorite routes or you have any more tips you'd like to share, let us know in the comments box below. And if you'd like to share this post with your friends, please do!