The wilderness is no place to be without the right gear. In rough terrain and wild weather, that means you need the most badass tent you can get your hands on. While several models claim to be capable of withstanding heavy rains, snow, storms, and 60 mph winds, only a select few merit the title of "bombproof".
But how are you to find such a formidable outdoor shelter? With a multitude of brands and types to choose from, how can you be sure that you're buying the best option for your needs and budget?
You've come to the right place. Here's what you need to know.
Editor's Choice
Hilleberg Jannu 2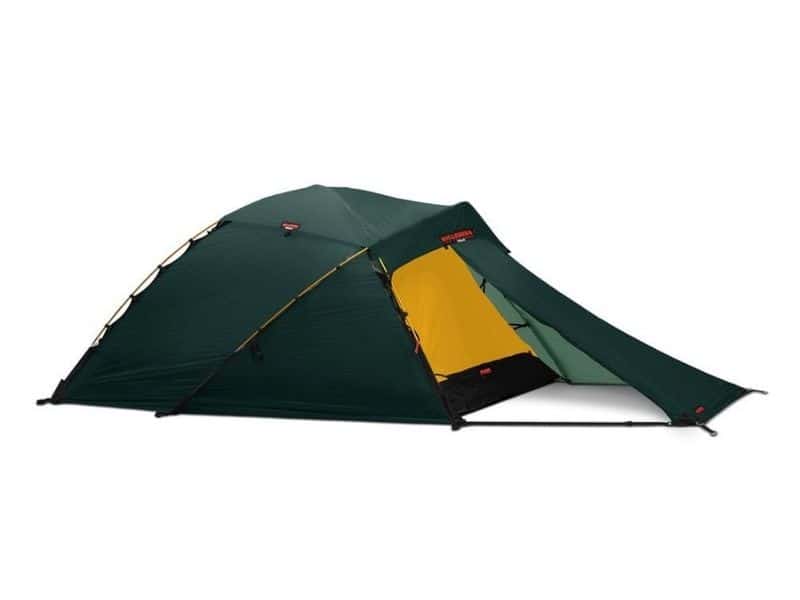 It was a close contest, but, in the end, the standout winner of the title of best 4-season tent goes to the classic and versatile Hilleberg Jannu 2. We found so little to fault in this all-season tent that we recommend getting one if you want to change your outdoor experience for the better. Particularly if you're an all-year-round kinda camper…
The Hilleberg Jannu's durability is in a different league. It has a silicone-coated ripstop nylon fly, 30-denier ripstop tent body, 9 mm poles, and its geodesic design. All of these allow it to withstand even the worst conditions. Snow? No problem. High winds? No problem. Driving rain? No problem! Freezing temps? No problem!
The Jannu triumphed over the Black Diamond Eldorado tent thanks to its superior waterproofing and ventilation. Besides a 15,000 mm and 5,000 mm hydrostatic head floor and fly ratings, it boasts large vents and mesh areas with adjustable fabric panels for more dialed-in airflow.
Additionally, this beast of a shelter also features an adjustable, 12.9-foot vestibule with plenty of room for cooking, storing dirty gear, hanging wet clothes, or kicking back in your camp slippers to enjoy the views.
Bottom line: The Jannu is a tent that's earned almost cult-like status with mountaineers all over the world. Why? On account of its durability, versatility, and take-anywhere-anytime kinda ruggedness. It's an expensive tent, for sure. But like all high-quality gear, it's an investment well worth making. This is particularly true for buyers keen to extend their camping adventures into the year's colder months. Our pick as the best four-season tent.
Best 4-Season Tent For Your Next Camping Trip
Black Diamond Eldorado
Sturdiest
The Eldorado is, simply put, a beast of a 4-season tent. It's strong, exceptionally weatherproof, very livable, and built to go just about wherever you're willing to take it. Perhaps best of all, moreover, you get all of this in a very lightweight, portable bundle that tips the scales at just a fraction over 5 pounds.
The Eldorado uses a two-pole design that's optimized to fend off the very worst the weather can throw at you. It uses a single-walled, low-volume design with internal poles for enhanced wind-resistance and superior performance in sub-zero temps. and a bomber model that owes its sturdiness to its unique fabric and internal aluminum pole system.
Its patented ToddTex ePTFE fabric offers expedition-grade weather protection and is also puncture-resistant, an additional durability feature that's non-standard and allows you to pitch in rocky terrain without any fear of "springing a leak" mid-sleep, or poking holes with a sharp piece of gear. Another non-standard feature that makes the Eldorado an upgrade on most single-wall tents is the ToddTex fabric's use of tiny fibers that wick water to the outside, thus reducing condensation, which is one of the most commonly cited grievances of users of single-wall tents the world over.
The Eldorado's low height and narrow shape also make it impressively aerodynamic. But most of its strength comes from its internal poles. These help the model stand firm against the strongest gusts as they're positioned inside and, thus, supported by the entirety of the tent rather than the other way around.
And the downsides?
Well, first of all, as much as the interior-pole system used in this tent contributes to the tent's stability, it is a little bit tricky to set up and might take you a while to master. Secondly, although the wicking capacity of the ToddTex fabric is an upgrade on most single-wall tent competitors, the Eldorado only boasts a single air vent, meaning the condensation-curbing done by the fabric is largely negated by the lack of airflow.
Capacity: 2-person
Weight: 5.07 lbs
Floor dimensions: 7'3″ x 4'3″
Peak height: 3'7″
Wall(s): Single
PROs

Exceptionally weather resistant
Light enough for one person to carry
Highly durable
Very livable for a mountaineering model
Small footprint

CONs

Difficult to pitch
Fairly poor ventilation
Bottom-Line: a bombproof, out-and-out mountaineering 4-season model that performs best at high altitudes but is roomy enough to moonlight at the treeline or even basecamp.
The North Face Mountain 25
Most Versatile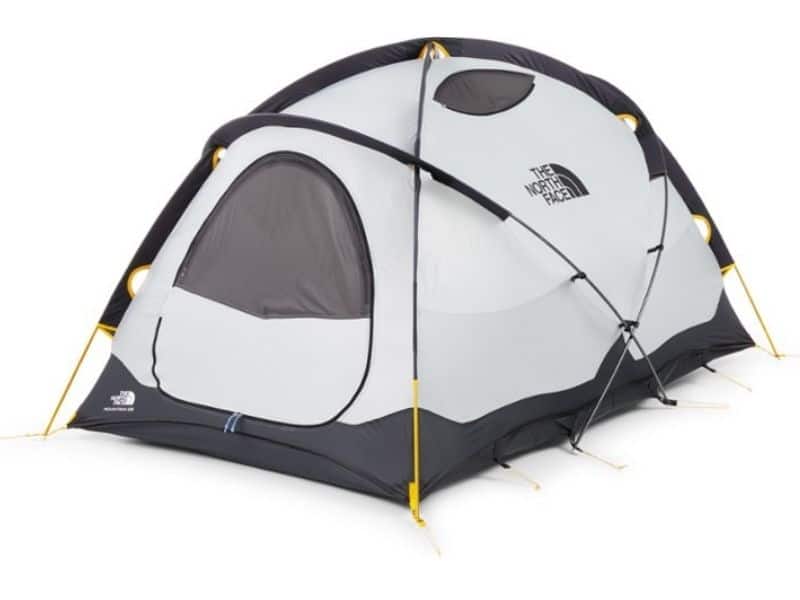 The North Face Mountain 25 is another livable expedition model that's highly versatile, storm-resistant and, take-the-hell anywhere kinda durable.
Ever seen those snaps of Everest basecamp with all those little yellow domes spread across the base of the Khumbu Icefall? Those domes, for the most part, are The North Face Mountain 25.
Sold already? Just in case you aren't, let's take a closer look at why this 4-season tent is an outstanding choice for 4-season wanders.
The TNF Mountain 25 uses a 40-denier, 1500 mm HH, silicone-coated nylon fly that's more than capable of dealing with heavy rain, snow, and driving winds.
The interior is none too shabby either, boasting a 32 ft² floor area inside a double-walled design that includes ample mesh paneling in the canopy, dual peak vents that can be opened fully, rainfly vents, and enough space between each wall to keep air circulating and ward off condensation.
The Mountain 25's lattice-like geodesic pole configuration and use of both pole sleeves and clips are further winning features, helping to keep it standing straight and sturdily in strong winds and reducing noisy flapping to a minimum.
Aside from handling rough weather, the Mountain 25's two-wall design and awesome ventilation mean it's also a winner in less extreme climes. In 3-season or even 2-season conditions, you can simply pull open the vents, and in dry summer conditions the rainfly can be left behind or the doors left open to keep things cool.
Perhaps the most notable downside to this model is its heavyweight and bulk. At 9 lbs, it tips the scales at almost twice as much as other two person tents on our list. Given its array of other impressive features and reasonable price tag, however, those few added pounds are well worth carrying.
Capacity: 2-person
Weight: 9.81 lbs
Floor dimensions: 7'2 x 4'6
Peak height: 3'5
Wall(s): Double
PROs

Great ventilation
Highly versatile
Very livabile
Durable

CONs
Bottom-Line: a burly, slightly heavy product that's built for high-altitude adventures but is versatile enough to use in 4, 3, and even 2-season conditions.
Mountain Hardwear Trango 2
Most Livable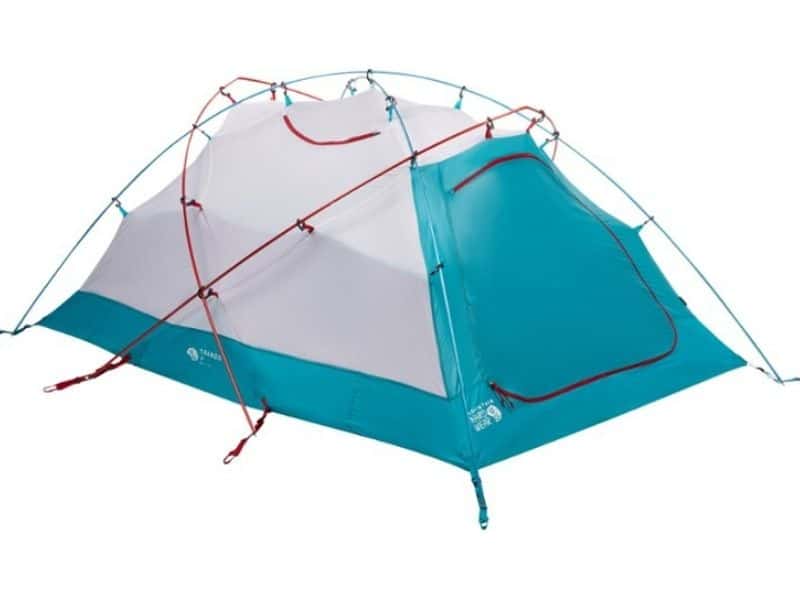 Mountain Hardwear's Trango is a long-standing favorite 4-season model among mountaineers everywhere and second only to The North Face Mountain 25 in terms of popularity.
But what makes it so highly regarded? The short answer is this: abundant space, a highly livable design, and outstanding protection from the elements.
The slightly longer answer goes as follows…
First up, the Trango 2's dimensions border on palatial for a two person mountaineering model, offering up a total of 8 sq ft more than the relatively roomy Mountain 25. The interior is also blessed with plenty of convenient storage pockets (7 in total), while the vestibules are big enough to accommodate all of your gear and even the odd stray yak.
Another lovable quality this product brings to the table is fuss-free pitching. Despite its large size, it can be popped up by a lone pitcher in just 4 or 5 minutes thanks to its sewn-in fly and color-coded poles, clips, and grommets.
This model, however, does have a few downsides…
Like many 4-season models designed for high-altitude expeditions that prioritize warmth, the Trango isn't the best at keeping out condensation in above-zero conditions, meaning it lacks the versatility and all-year usability of better-ventilated models like the Mountain 25 or Hilleberg Jannu 2.
Additionally, all that space in the Trango comes at a cost of added bulk and weight. At 9 lbs 10.2 oz, this is almost the heaviest 4-season product on our list and unlikely to win any awards for portability anytime soon. However, if comfort and livability are high on your list of must-have attributes for extended cold weather expeditions, then this product deserves a place on your shortlist.
PROs

Spacious
Large Vestibules
Impressive livability
Easy to set up

CONs

Heavy and bulky
Sub-par ventilation
Bottom-Line: A roomy 4-season product that's a little on the heavy side but makes up for this shortcoming with impressive livability and solid weather protection.
Hilleberg Jannu 2
Top Mountaineering Tent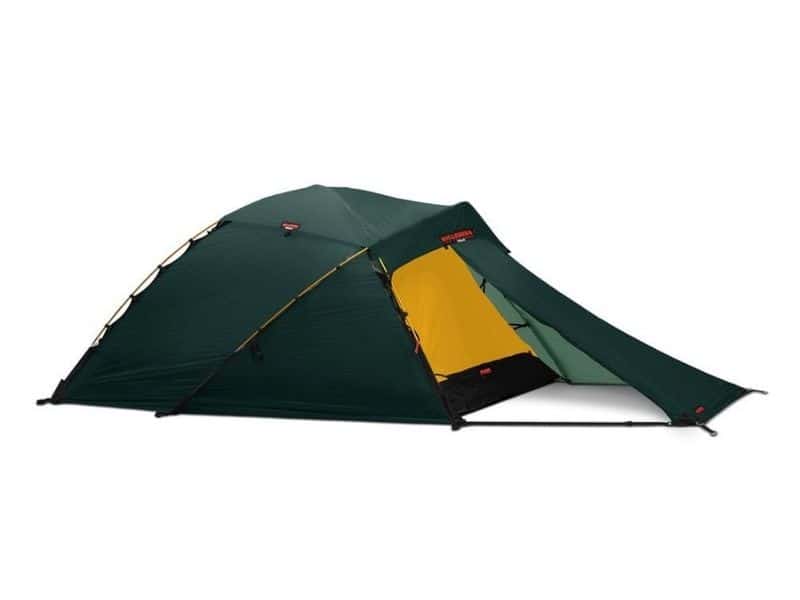 An award-winning classic, Hilleberg's Jannu 2 is an all-around 4-season model that's packed with features that makes it suitable for both mountaineering and car camping. It's bombproof in terms of weather resistance, highly breathable, dependable, and even multi-functional.
The expedition-worthy Jannu's main selling point is its outstanding weather-resistance. It has a durable, silicone-coated ripstop nylon fly with a 26.5-pound tear strength, a rugged web of intersecting 9 mm poles, and a low profile, all of which makes it perfect for harsh terrain, heavy rainstorms, and battering winds.
During winter, the dome tent frame is designed to resist snow loading, so there's less worry about the roof collapsing or sagging, especially if you're using it as a basecamp and leaving it unattended while out on your wanders.
The Jannu excels in terms of ventilation, using multiple flaps and vents that permit steady airflow, even with the doors closed.
The top of the tent features a large main vent that can be configured in several ways, while the inner canopy maintains a good balance between mesh and fabric and includes a coverable inner vent for further, dialed-in airflow regulation. Also, the Jannu's rainfly has a breathable nylon panel positioned just above that inner vent to support breathability and a sizable 1200 mm Kerlon cover that lets you do your aeration without any fear of saturation (!) while you sleep.
And the vents aren't the only parts that can be changed to your liking. The Jannu can easily be set-up into different configurations thanks to its adaptable vestibule. Unlike other models in our review, this vestibule is fully detachable, so you can set it up however best suits your needs and your pitch.
The Jannu's downsides are few and far from dealbreakers. While its zippers are a little small and tricky to use with large gloves, this is a very small inconvenience and easily fixed by attaching a few cord toggles to the pull tab.
The only major disadvantage to this product, in fact, is its price tag. Given that the Jannu is an investment that's sure to serve you well for many years to come, however, we'd recommend placing it somewhere very near the top of your shortlist nonetheless.
Capacity: 2-person
Weight: 7.05 lbs
Floor dimensions: 7' 9″ x 4' 9″
Peak height: 3'4″
Wall(s): Double
PROs

Exceptionally weather resistant
Superior ventilation
Highly durable
Multiple setup configurations
Easy to pitch
Outstanding snow-load handling capability

CONs
Bottom-Line: a pricey but incredibly well-made mountaineering model that scores highly in every metric by which a 4-season tent might be measured.
REI Co-op Arete ASL 2
Best Overall Mid-Range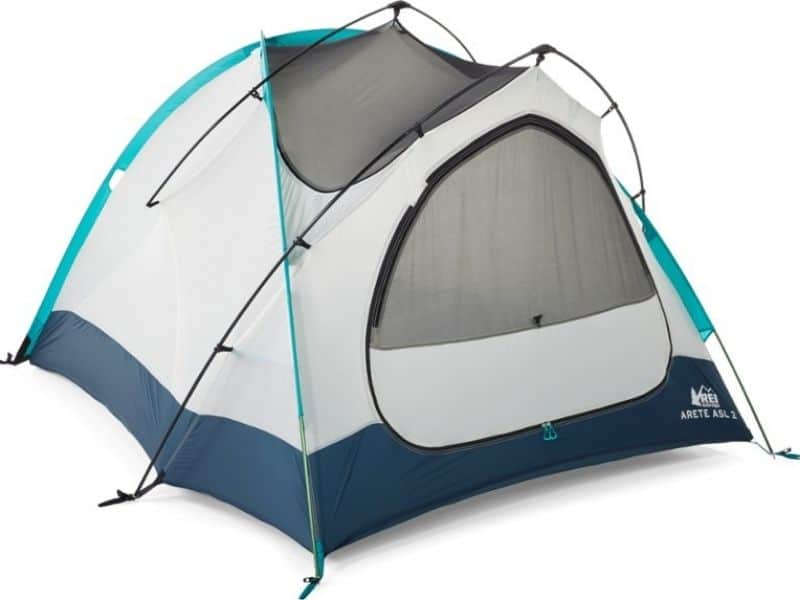 If you're looking for a budget-friendly and lightweight 4-season model that still offers good comfort and weather protection, the REI Arete ASL deserves a place on your shortlist.
In 2018, REI completely overhauled this long-term winter camping favorite and added a half-length pole, increased its center height and headroom, and amped up its ventilation. This drastically improved the Arete ASL's weather performance and livability. The additional pole keeps the rainwater from pooling on the rainfly, helping keep the interior dry, and the upgraded ventilation makes it more comfortable and resistant to condensation in humid conditions.
The Arete is not designed for high alpine expeditions and extended stays in extreme conditions. Instead, it's better for summer mountaineering, car camping, and other 3 or 4-season trips around the treeline.
With a max height of 3 ft and 7 in, this product is also great for tall individuals, leaving plenty of room to sit upright. And even though you can only fit 2 adult sleepers inside, the added floor length provides plenty of room for gear storage at your feet.
The Arete's most prominent handicap is its small vestibule, which is only big enough to accommodate a few pairs of wet boots and makes for a very cramped cooking area.
Capacity: 2-person
Weight: 6.31 lbs
Floor dimensions:7'4″ x 5′
Peak height: 3'7″
Wall(s): Double
PROs

Lightweight
Budget-friendly
Plenty of headroom
Freestanding and easy to pitch

CONs

Not designed for extreme conditions
Small vestibule
Bottom-Line: a lightweight, roomy 4-season model that lacks a few high-end features but makes up for these failings with a very reasonable price tag.
Black Diamond Firstlight
Best Low-Cost Mountaineering
Continuing with the budget-friendly line-up, the Black Diamond Firstlight is a cost-conscious alternative to the Black Diamond Eldorado. This model also excels in high-alpine expedition environments but comes in at only half the price.
Weighing in at a tiny 3.6 lbs, the Black Diamond Firstlight is a 2-person 4-season backpacking tent that very nearly edges into the "ultralight" weight band. Boasting a minimalist, single-wall design, small footprint, and small pack size, it's a great choice for the gram-counters and those who like to travel light and fast on alpine ascents.
To achieve this light weight, Black Diamond skipped the traditional waterproof coating in favor of a patented, high-quality NanoShield fabric that's lined with water-resistant silicone. While this provides enough water-resistance to fend off the odd shower at lower elevations, the NanoShield is more suitable for frigid environments where you're more likely to encounter snow than rain.
Capacity: 2-person
Weight: 3.3 lbs
Floor dimensions: 6'10″ x 4″
Peak height: 3'6″
Wall(s): Single
PROs

Lightweight
Easy to set up
Small packed size
High-quality
Insulated
Ideal for 3/4-season backpacking

CONs

Less breathable fabric
Single-wall design not ideal for lower elevations
Only 27.3 square feet of floor space
Bottom-Line: a superbly portable two-person, single-wall model that's best suited to ultralight alpine adventures above the treeline.
Eureka! K2 XT
Most Durable
Eureka's K2 is a highly durable, family-friendly model that's best for hunting, ski trips, and other treeline or campsite camping adventures.
With its thick, 1800 mm 75D StormShield polyester fly, 70D nylon taffeta body, and 3000 mm floor, the K2 is a product that's guaranteed to keep you safe and dry in stormy weather.
The high-denier fabric and burly pole design contribute to making this one of the most resilient and hard-wearing 4-season tents out there. Unlike many of its lighter-weight competitors, therefore, this is one model you can expect to withstand the test of time and several seasons of frequent use in harsh environments.
The Eureka! K2 also offers plenty of space for sleeping and storing gear. With 52 ft² of floor space and 18 ft² of vestibule space, it's big enough for 3 adult sleepers and all the gear you could need for extended backcountry camping trips. It also boasts a total of 14 storage pockets, 4 gear loft loops, a handy flashlight loop, and 4 zippered vent panels in the canopy for improved airflow.
All of these added features, however, make the K2 a bulky and heavy tent. Weighing over 11 lbs, it's not one you'd like to carry long distances unless splitting the load between 2 or 3 carriers.
Capacity: 2/3-person
Weight: 11.75 lbs
Floor dimensions: 8'11″ x 7'8″
Peak height: 4′
Wall(s): Double
PROs

Highly durable
Multiple interior pockets
Two vestibules
Roomy
3-person tent

CONs
Bottom-Line: an incredibly robust, livable, and reliably waterproof model that's a little on the heavy side but ideal for car camping or extended backcountry trips.
Big Agnes Battle Mountain 3 Tent
Best Basecamp Tent
Big Agnes has a long-standing reputation for producing highly livable and well-made tents. Their latest entry to the mountaineering class of tents is the Battle Mountain 3, which balances weight and performance well enough to make it suitable for both base camping and alpine ascents.
The Battle Mountain performs well in both freezing weather and more clement conditions. It uses a hard-wearing, puncture-resistant nylon taffeta base with a virtually impregnable 10,000 mm waterproof polyurethane coating and a silicone-treated, 1,200 mm tear-resistant polyurethane
The 44 sq ft of floor space makes this 3-person 4 season tent is an incredibly roomy option for two sleepers, or a slightly "cozy" one for teams of three. When it comes to the peak height, the Battle Mountain's 44-inch center height means it straddles the ground between mountaineering and basecamp models in terms of headroom. While trumping most mountaineering competitors in this particular metric, it could get cramped for taller people and come to feel a little claustrophobic if stuck inside in a storm.
Capacity: 3-person
Weight: 8.82 lbs
Floor dimensions:7'4 "x 6'2"
Peak height: 3'8″
Wall(s): Double
PROs

Lightweight
Very durable floor
Has awnings and a roomy vestibule

CONs
Bottom-Line: a lightweight, highly durable product that only lets itself down on account of its slightly stingy peak height and lofty price tag.
Alps Mountaineering Tasmanian 2
Best Treeline Tent
The Alps Mountaineering Tasmanian 2 isn't a standout performer as regards durability and weather-resistance, but it's a comfortable, roomy model that's ideal for casual campers doing their camping around or below the treeline in less extreme 4-season conditions.
This product boasts a 1,500 mm HH, 75-denier fly, a poly taffeta, 5,000 mm HH floor, strong aluminum poles, UV protection, robust shock cords, and an extra pole that stabilizes the entire structure against winds of up to 40 mph.
Being a typical treeline variant, it is also roomy. At 7 ft 8 in. long, there's enough legroom for even the tallest sleepers, and its 46-inch peak height means you can sit up comfortably without touching the roof. The Tasmanian 2 also has a relatively spacious 13 ft² vestibule. This roominess, however, adds to the tent's overall weight (8.8 lbs) and packed size (6.5″ x 19″), meaning it's not one you'd like to be carrying on your lonesome.
Perhaps the Tasmanian's most endearing attribute is that it's beginner-friendly and very easy to pitch. The uncomplicated frame, single-pole structure, continuous pole-and-clip system, and burly size #8 zippers all make setting up a breeze, even for newbies and in inhospitable conditions.
Capacity: 2-person
Weight: 8 lbs
Floor dimensions: 7'8 x 5'
Peak height: 3'10
Wall(s): Double
PROs

Great for winter car camping
Weather-resistant
Easy to set up
Long and roomy

CONs

Heavy and bulky
Lacks ventilation needed for camping in warmer seasons
MSR Access 2
Best Ultralight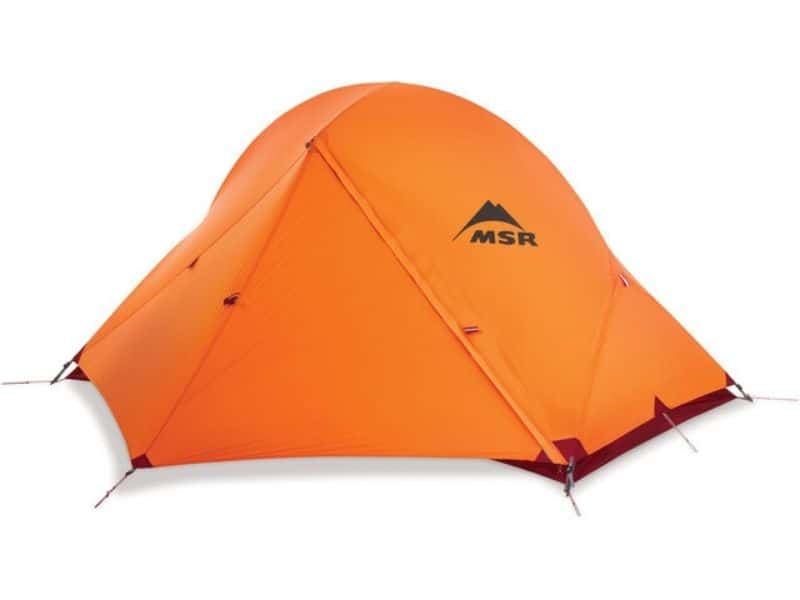 The MSR Access 2 wins our vote at the best ultralight 4-season tent currently on the market, but it's well worth noting that it's also among the most versatile 4-season tents out there. While technically a 4-season tent, the Access 2 is that rare breed that performs exceptionally well in a wide variety of conditions and environments.
The Access 2's DuraShield-coated fabrics, taped seams, 1200 mm fly, and 3000 mm base make it far from "bombproof" compared to other tents in our review. They are, however, more than capable of withstanding moderate rain and snowfall. It's breathable inner canopy fabric, double-wall design, two doors, and use of a large ventilation flap in the D-shaped door, meanwhile, mean it ventilates well and keeps interior stuffiness to a minimum.
In high winds, the Access 2 is a bit of a winner, too. Using Easton Syclone poles made with cutting-edge composite materials and a central-support frame for added stability, it's built to endure even the most challenging winter conditions, 60-mile-per-hour winds and heavy snow loading included.
Like the Black Diamond Firstlight, this tent's lightweight (4 lbs.) and small packed size (6" x 18") make it ideally suited as a winter backpacking tent, ski tours, or any other trip where you want to keep weight and bulk to an absolute minimum.
Capacity: Two person
Weight: 4.1 lbs
Floor dimensions: 7′ x 4 '2"
Peak height: 3' 6"
Wall(s): Double
PROs

Highly reliable in rainy weather
Ultralight
Versatile
Easy to set up
Huge vestibule (17.5 ft²)
Ideal for traveling fast and light
Suitable for 2/3-season use

CONs

Not made for extreme conditions
Not the roomiest out there (29 sq ft)
Bottom-Line: an incredibly versatile tent that keeps pack size and weight to a minimum without compromising excessively on all-weather protection. Our pick ast the best 4 season backpacking tent.
How To Choose An All-Weather Tent
With an array of brands, models, and features, it's far from easy to choose the top all-season tent for your needs. However, there are a few simple key considerations that you can remember to get the basics down and buy the perfect tent for your future adventures.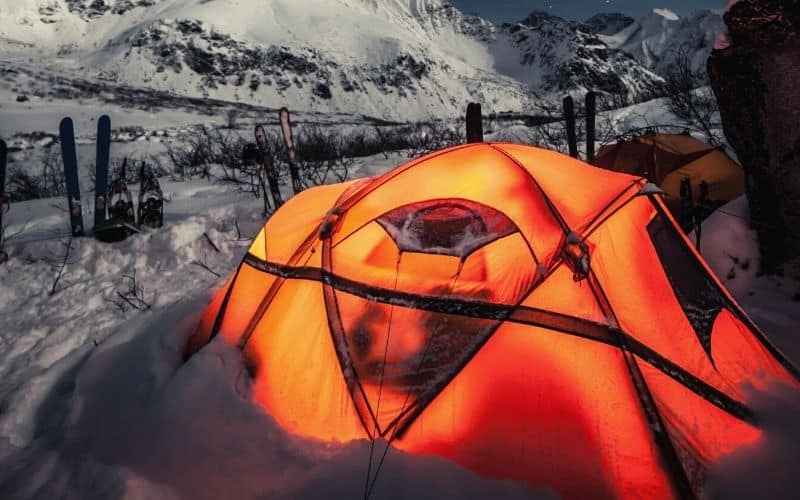 Double Wall Vs Single Wall Tents
One of the major classifications of tents of any season is the number of layers or walls that they use. Simply put, a double-wall tent has two walls: an inner tent canopy and an outer layer called the rainfly. The rainfly provides extra protection and vestibules for storage.
Meanwhile, the single-wall variant opts out of the rainfly or combines the two aforementioned parts into one structure. Its vestibules are typically reduced into awnings and are sewn into the canopy. They're lighter and built to be tough enough to compensate for the lack of a second wall.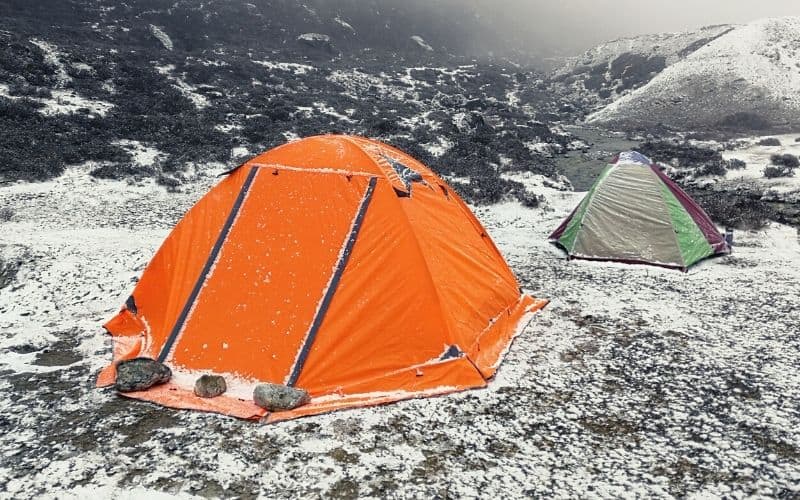 Single-wall tents are most suited to mountaineering and high-altitude camping. The compact size and light weight are perfect for vertical assaults where the temperatures are frigid and there's less chance of condensation, which is the most significant downside to using single-wallers at lower levels. We've written up a guide to the tents that perform best in extreme cold weather if you need something extra warm.
Most campers prefer 4-season double-wall tents because of their versatility. Having two walls means there's an extra shield against the weather, and as mentioned, the vestibule can conveniently shelter wet and muddy gear. Also, the inner canopy has mesh panels that significantly increase ventilation, temperature control, and help avoid condensation.
Water Resistance
Robust protection from the cold and wet is key to keeping yourself happy and healthy when out in the wilds at any time of year, but especially in 4-season conditions. Any 4-season backpacking tent worth its salt, therefore, should be all but impregnable to rain, snow, sleet, and groundwater. Meeting this standard depends on two features in particular: waterproofed seams and a high HH rating.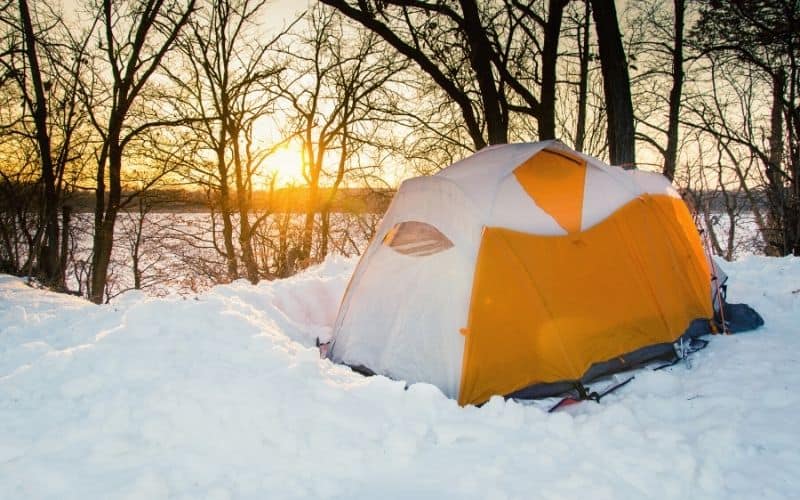 Tent seams are the lines where sheets of fabric have been sewn together. For heavier, thicker winterized tents, they're typically taped with polyurethane film. For lightweight or ultralight tents, the seams are more commonly sealed with waterproof glue. While taped seams typically offer better protection, they usually need to be replaced every few years.
Most tents use a DWR (Durable Water Repellent) coating on the tent body (or tent canopy) to protect the interior of the tent from moisture that's seeped through the rainfly. But the most important spec to look for when trying to gauge how waterproof any tent will be is the tent's Hydrostatic Head or HH index.
This, in short, describes how waterproof materials are. Shown in millimeters or mm, it corresponds to how much water pressure the tent fabric can withstand before it begins to leak. The correspondence is daily simple: the higher the HH rating, the more waterproof the tent will be.
In 4-season tents, the minimum HH rating should be in the region of 1,500 mm in the rainfly and 3,000 mm in the base or floor. That said, this will also depend on where you plan on doing your pitching…
Some winter camping tents, like the Big Agnes Battle Mountain Tent (1,200 mm fly and 10,000 mm floor), for example, use a lower-rated rainfly because they are designed for use in freezing conditions any airborne H20 is likely to be frozen as opposed to liquid and, therefore, less likely to saturate the fabric.
Durability
The best four-season tents are built to withstand both the roughest of weather and the test of time.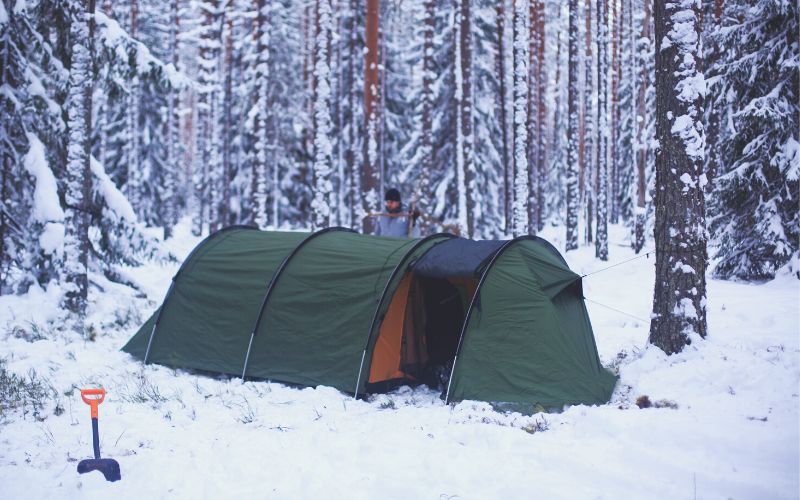 The models most likely to do both have a windproof, preferably geodesic design, high-denier fabrics, and robust poles.
Whether you're in the market for a treeline, basecamp, mountaineering, or even a campsite tent, those with a geodesic design and lower profiles are the best performers in 4-season conditions.
Because these tents use angled walls and sit close to the ground, they have less surface area for the wind to push against, which prevents the tent from getting blown over and the poles snapping under stress. The sloping walls of the tent also stop the snow piling up ("heavy snow loads") and turning your tent into an involuntary igloo!
In especially windy conditions, easily adjustable and plentiful guylines will help provide additional support.
Tent durability also pertains to its fabric. 50 to 70-denier Nylon Taffeta is typical for four-season shelters. The standard is higher compared to the 3-season tents' 40D because camping in frigid climates is more taxing on your textiles (!). Snow is abrasive. It rubs into the fabric and wears it out faster. High winds, moreover, make tent walls more likely to tear. One great example of this is the Eureka! K2. Its 75D fly and 70D nylon taffeta body can last for years without showing signs of wear.
When it comes to tent poles, aluminum is the ideal pick for frigid, 4-season conditions. Steel poles can be up to twice as heavy and carbon fiber is notorious for breaking in sub-zero conditions. The Black Diamond Eldorado tent is a good example. This model uses an aluminum frame and weighs in at a very friendly 5.07 lbs, giving it just about the best strength-to-weight ratio out there.
Weight And Packed Size
When camping, your tent is almost always the heaviest and bulkiest item in your backpack. This is especially true of four-season tent models, which tend to weigh a hefty percentage more than even their three-season tent cousins.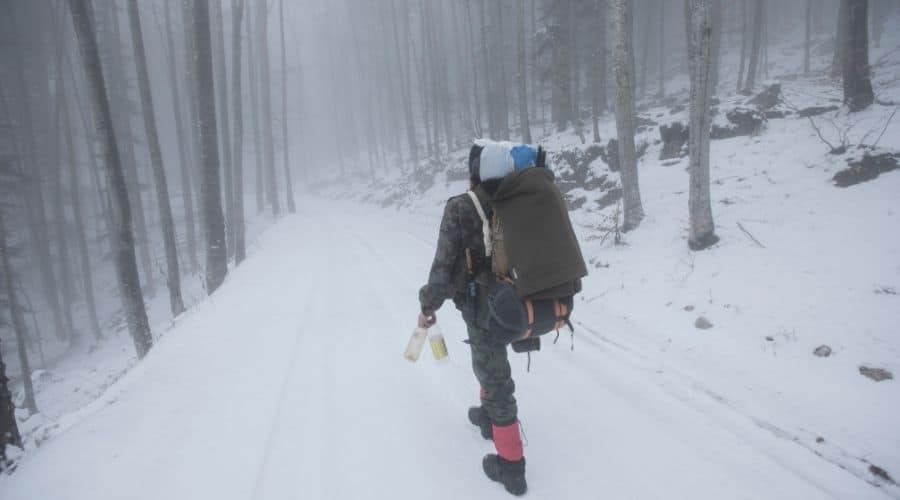 Because you'll be lugging that weight and bulk around on rough, potentially snowbound trails, getting your hands on a tent that keeps both to a minimum without compromising too much on protection and space is the key to finding the best product you can buy.
Most winter tents are cumbersome precisely because they're built to act as an all-in-one shelter. The thick, high-denier fabric, silicone-impregnated rain flys, burly guylines, and heavy-duty poles and pegs all add to the tent's overall weight.
When selecting your tent, always make sure you check its packed weight and trail weight. The former refers to how much the entire tent package weighs. That includes the tent itself, stuff sacks or bags, poles, stakes or pegs, guylines, and other accessories. The trail weight, on the other hand, is the weight of the bare essentials: the inner canopy, rainfly, poles, and pegs.
Pack size refers to the tent's dimensions when stowed inside its stuff sack. In most cases, this generally corresponds to the tent's weight and capacity, meaning the heavier and more spacious the tent is, the more room it will take up in your pack.
The bottom line as regards weight and pack size is this—look for the best weight-to-performance ratio you can afford and make sure you can comfortably carry the tent to your campsite. Unless you happen to have calves and thighs of steel, we wouldn't recommend going over the 8-pound mark for a single carrier.
If sharing the weight of the tent between two people, naturally, you'll have a little more leeway with the options.
Size: Floor Area And Peak Height
A 4-season tent's size usually corresponds to the tent's intended use.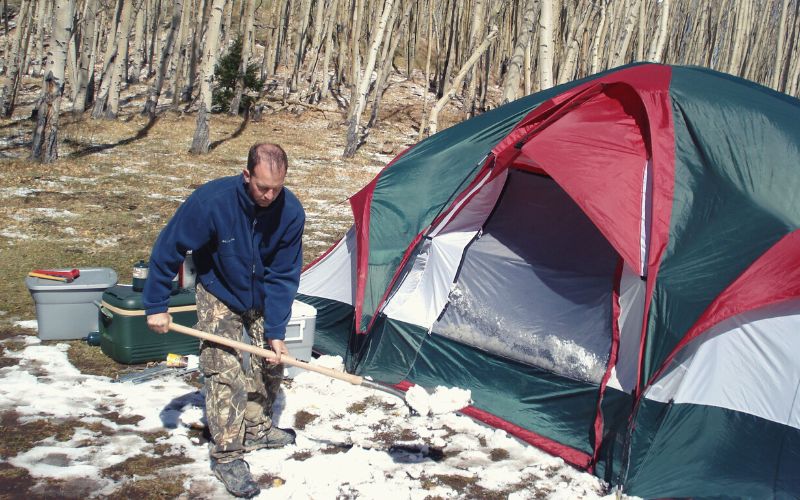 Treeline and basecamp tents are made for extended stays in less severe environments, and so focus more on space and livability. This means they're usually roomier affairs with taller center heights that provide more headroom.
Mountaineering tents are usually more minimalist, boasting less living space, lighter weights, and low profiles—all critical features in the high-altitude terrain for which they're intended.
As a general rule, you should look to buy a 4-season or winter tent that offers roughly 15 square feet of floor space per adult sleeper in treeline or basecamp tents. For mountaineering tents, this can drop to around 12 square feet.
With regard to center height (or "peak height"), we recommend tents offering a minimum of 38 inches for mountaineering and 45 inches for all other styles of winter camping.
It's also worth noting that there is an increasing number of tents out there that tick the boxes for both mountaineering and treeline or basecamp camping. The Mountain Hardwear Trango 2 is a fine example. It boasts a spacious interior but also a low-profile, bombproof design that makes it a bona fide mountaineering tent.
Ease Of Setup
Pitching time may seem inconsequential, but that's only if you've never tried putting up a tent in a downpour or storm! In such scenarios, you want a tent that can be set up quickly to avoid getting cold and soaked.
How easy a tent is to setup depends largely on its type and design.
Small, standard dome tents are usually the most beginner-friendly and the easiest to set up, taking no more than a few minutes to pitch in even the most blustery conditions. Most mountaineering tents are designed this way to provide shelter quickly in dangerously hypothermic environments.
Two of the features that contribute most to ease of setup in tents are pole clips, color-coded poles, and one-piece pitching.
Pole clips allow you to attach the tent poles to the fabric without having to thread them through sleeves in the tent's fabric – something that's tricky at the best of times, never mind in howling winds or rains! That said, clips are more prone to cause tears in the fabric in high winds because the force of the wind is on several small spots instead of being evenly distributed across larger sleeves.
Color-coded poles, as the name suggests, are simply poles that are colored the same shade as the grommets or clips that attach to, meaning there's less chance of making any time-consuming mistakes.
One-piece pitching means that the tent body and rainfly can be attached so you can pitch them simultaneously instead of individually. While not a deal-maker or dealbreaker, this is a handy feature that can save you precious minutes when pitching a double-wall model in particularly unfriendly conditions.
Adaptability And Versatility
Tents are becoming increasingly versatile and adaptable as the years progress. Once stolid boltholes for overnight sleeps in the wild, they're now multifunctional, year-round affairs that can be tweaked and configured to suit our needs and outside conditions.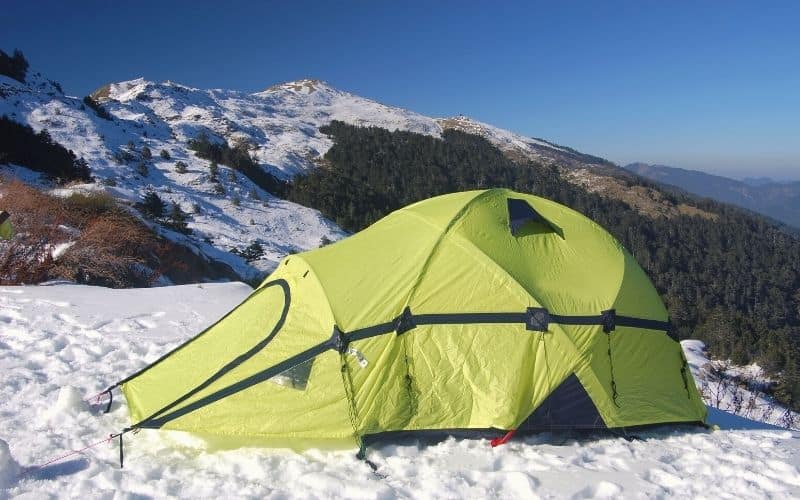 Adaptable cold weather tents is one that can be pitched in different ways or "modes". Nowadays, a variety of tents offer this functionality using different methods. Some have a removable vestibule for additional storage space or for camping in cramped locations, while others have a star-gazing mode which allows the campers to view the night sky while the rainfly is securely fastened halfway across the canopy.
The Jannu, featured below, also has a configurable vestibule that allows you plenty of space to use stoves near the tent without risking setting the walls on fire.
Versatility, on the other hand, points to how well a product can perform in a variety of conditions and activities. The most versatile 4-seasons tents are typically those that can be used with the inner tent or rainfly alone and have enough ventilating features to let you use them throughout the year.
If they are relatively lightweight and spacious, moreover, some models could feasibly be used for a wider range of activities, ranging from long-distance thru-hikes to basic car camping.
The MHW Trango 2 and TNF Mountain 25 excel in this respect as they are reasonably roomy, highly breathable, and well enough ventilated to perform well even in warmer, summer conditions.
Breathability And Ventilation
Breathability and ventilation refer to the tent's ability to let air circulate freely and regulate interior temperatures, which is essential to ward off condensation.
Condensation happens when the warmer and humid air inside interacts with the cold walls and ceiling. This typically beings with a few drips and beads of moisture on the tent walls, but over the course of a night, it could easily soak your sleeping bag, making you a prime candidate for hypothermia if that sleeping bag doesn't have a water-resistant shell.
A Double-wall tent like The North Face Mountain 25 or Hilleberg Jannu, for example, typically has far superior ventilation than single-wall counterparts (a model like the Black Diamond Firstlight, for example). This is because air can circulate between the walls and both include generously sized mesh panels in the canopy that lets interior air escape.
The bottom line? When buying your 4-season tent, look for a model with large ventilating windows, spacious vestibules, double doors, and plenty of high-density mesh in the inner canopy.
Storage: Vestibules, Interior Pockets, And Gearlofts
Having a generously sized vestibule or two and a few interior pockets can significantly enhance a tent's overall livability. Both not only help you locate your gear more easily, but also let you separate wet and dry items, food and clothing, sharps and non-sharps, and your own kit from your partner's.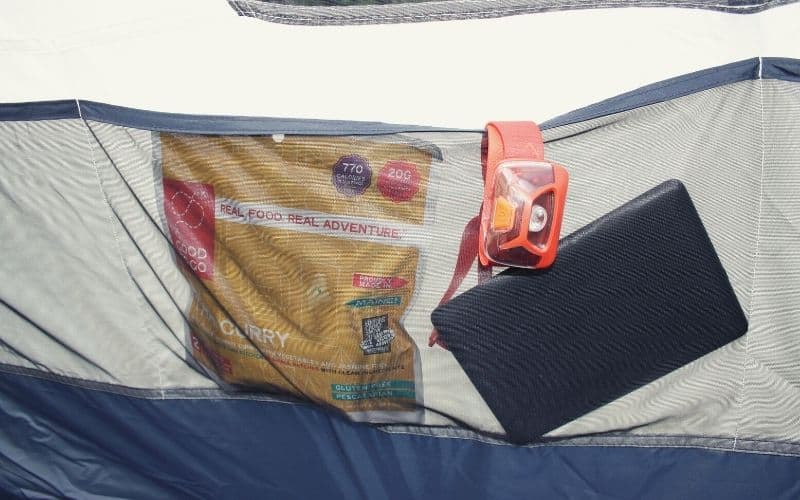 Vestibules also support ventilation, provide a sheltered cooking area, and provide a dry area to change in and out of dirty boots and stow any other items you don't want to bring inside. If considering a tent with no vestibule, be sure to check the tent's interior will be large enough to accommodate all the gear you'd normally store there.
Finally, a gearloft is an overhead, usually detachable shelf in the canopy. While these detract a little from your tent's headroom, they're ideal for storing kit you want to keep off the floor and drying damp clothes.
Lastly, we need to mention that 4-season tents are typically an expensive purchase, but there are good budget 4-season tents on the market.