You're no newbie camper. In fact, you're going to camp in some of the most extreme conditions possible. We're talking snow, wind, freezing cold weather, and more. We don't have to tell you that just any old tent ain't going to cut it.
Choosing a cold-weather tent isn't a task that should be taken lightly. In those types of conditions, you'll need the best protection you can get to keep yourself safe, comfortable, and healthy. We've created this guide for you – it has everything you need to know about winter tents plus nine of the best ones out there.
Editors Choice
Alps Mountaineering Tasmanian 2
Out of the list of cold weather tents we reviewed, we have selected the ALPS Mountaineering Tasmanian 2 as the best extreme cold weather tent – scoring well, it's a very well-designed, hassle-free, high-quality tent guaranteed to protect you from the elements
They used better zippers than most tents and made sure that both the rain fly and the tent are both made of thick, high-quality fabric. They made the tent roomy without making it too heavy. Even the vestibule area was considerate – it uses a pole that gives you extra space and gives the tent extra stability.
One thing we don't like (which has nothing to do with quality or performance) is the fact that the tent reminds us of a dog kennel with the design and gray/off white colors. However, the rain fly is orange, so we'll overlook this. Without hesitation, we can say that we rate this as the best tent for winter camping.
How to Choose the Right Winter Camping Tent
When you're camping in extreme conditions, having the right tent is just as important as having the right gear or the right shoes. It really becomes a matter of survival, especially if you end up spending a lot of time in your tent. Here are some important considerations when choosing the best cold-weather tent.
Sustainability
A good four-season tent should be able to sustain you through a big snowstorm. They should have amenities that make you feel like you're home. Here are some features that ensure that a four-season tent can sustain you through an extended period.
Ventilation
In freezing cold temperatures, you may not think that ventilation is essential, but having great ventilation options makes your four-season tent bearable. There may be days where you'll want to breathe in some fresh mountain air instead of just being stuck in a stuffy tent that sweats. Excellent ventilation reduces and even eliminates condensation.
Insulation
The primary purpose of a four-season tent is to keep you warm! There are only a handful of truly insulated tents on the market, and these would be your best options as far as staying warm is concerned. However, other tents are designed to keep you warm at a more affordable price.
Tents can be single-wall or double-walled. A double-wall tent is exactly what it sounds like–the tent walls are made with two pieces of fabric. This means that it holds heat more efficiently than the single-wall models. A rainfly can also provide excellent insulation if you get a full rain fly that extends all the way to the bottom of your tent.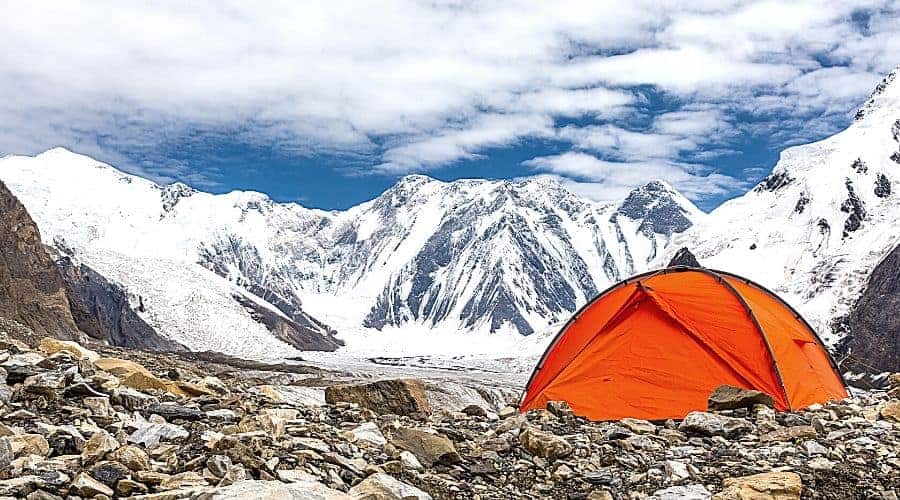 Size
Usually, bigger is better, but in the case of four-season tents, the opposite is true. It's much easier to keep a smaller tent warm. Only get as much space as you absolutely need for some gear, you, and anyone else who may be camping in your tent.
Also, consider the height of the tent. Do you want to be able to stand up? Do you want to be able to sit up? Make sure the tent height allows you to do either of these.
Tent Quality
Your four-season tent needs to be able to stand up to some pretty extreme weather. This means that you really should not skimp on the quality. Here are some of the areas you should check for top-quality parts.
Poles
Extreme environments can sometimes mean strong wind so you'll want to make sure your tent has strong poles. Poles for shelters can be made from several types of material. Some of the more popular types are:
Fiberglass – the lightest and most inexpensive
Aluminum – strong and flexible
Steel – the strongest and the heaviest
Composite – aerospace grade material that is super flexible and quickly returns to its original shape
A four-season tent should never have fiberglass poles. They can permanently bend, and even worse, shatter in cold temperatures. The composite material is the best, but it's costly. Out of the list, aluminum is the most practical and also the most popular and is excellent for a four-season tent.
Floor
For some reason, a lot of manufacturers will put their all into making these fantastic, high-quality tents, but they shoot themselves in the foot by giving the tent a crappy floor. The tent floor is the barrier that keeps you from sleeping on the ground. It should be made with a thick, high-quality fabric that resists tears and leaks.
Floors usually have a waterproof rating starting at 800mm. This means that the fabric was tested to see at what height of water leakage would occur. With cold-weather tents, you'll want to get a floor that has a rating of at least 5,000mm.
Weight
Four-season tents tend to be heavier than two or three-season tents because the material tends to be thicker and/or bulkier. If you're going to go backpack camping, finding the lightest cold-weather tent that fits your needs could be an advantage. However, don't go too light – you don't want the tent to blow away.
There is a slight advantage of having a more substantial tent. The weight of a heavier tent can help it stand up to strong wind better. As you may have noticed, your decision on all of the features discussed depends on your environment in some type of way. We talk about that in the next section.
Type of Camping Trip
We've established that you're going on an extreme cold weather camping trip, but what kind of camping will you be doing? Where? How long? Now that you know about the features of a severe weather tent answering these questions will help you make decisions about those features. If you're going survivalist camping, you probably don't want to get a really heavy tent or a tent with steel poles. If you're going to be camping in the arctic, you'll probably want a double-wall tent with superior insulation. If you're camping in the mountains, a tent with a top-quality floor can help prevent the rocks from poking holes in it. The type of camping trip will significantly narrow your choices down when looking for a four-season tent.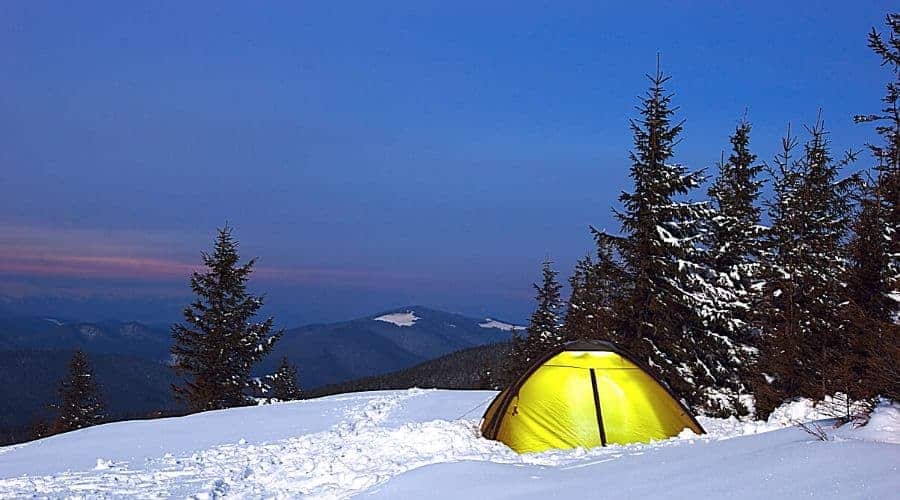 Winter Camping Tents Extras
If you're going to be in a winter tent, especially for an extended time, extra features will come in handy to make your stay comfortable. A lantern hook is excellent so that you can illuminate light without having to put your lantern on the ground.
Having a lot of storage space can help you stay organized and neat. A gear loft is essential, plus mesh pockets all around the tent. Vestibules are helpful to store gear that you may not want inside of your tent. Your tent should have at least one vestibule, although many have two.
Year-round Usefulness
A 4-season tent is supposed to be able to keep you comfortable in any season. Tents with certain features will do this, but without these features, a winter tent can quickly become uncomfortable in warm weather. While some people have more than one tent for different seasons, it's possible to save yourself some money by getting a versatile winter tent.
Having adequate ventilation and double-walls are two of the most essential features to make a 4-season tent versatile. If you get an insulated tent, make sure the insulation can be removed, or you'll essentially be in a sweatbox during summer months.
The Best Extreme Cold Weather Tent
Crua Tri Luxury Winter Tent
If insulation is your number one priority, then the Crua Tri meets this requirement beautifully. This dark rest double-wall tent has a thermal quilted layer that is superior at keeping you warm. It also blocks out noise and light so you can sleep comfortably without interruptions.
The fabric is a durable, heavy polycotton breathable fabric and it's lined with a TPU laminate, so you don't have to worry about waterproofing. It has a considerable vestibule area (3 feet x 6.5 feet), and is definitely spacious enough for three people as it claims with an interior floor space of 48.75 square feet.
The poles are made from an aero-grade aluminum and are some of the most durable aluminum poles around. It also has plenty of guy lines for added stability. Once you pitch, it will withstand some of the strongest winds. Unless you're in a hurricane, this insulated camping tent isn't going anywhere.
PROs

The Crua Tri is a well-researched and well-manufactured. You'll get your money's worth.
Even the floor has the quilted thermal layer, so you have 360-degree insulation (and comfort).
It has a great outside color that goes well with most environmental surroundings.

CONs

Heavy. It weighs a little over 60 pounds.
It takes a good bit of time and effort to set up.
Bottom-Line: Where quality and space are concerned, this product leaves nothing to be desired. It is probably the most insulated tent you'll find anywhere.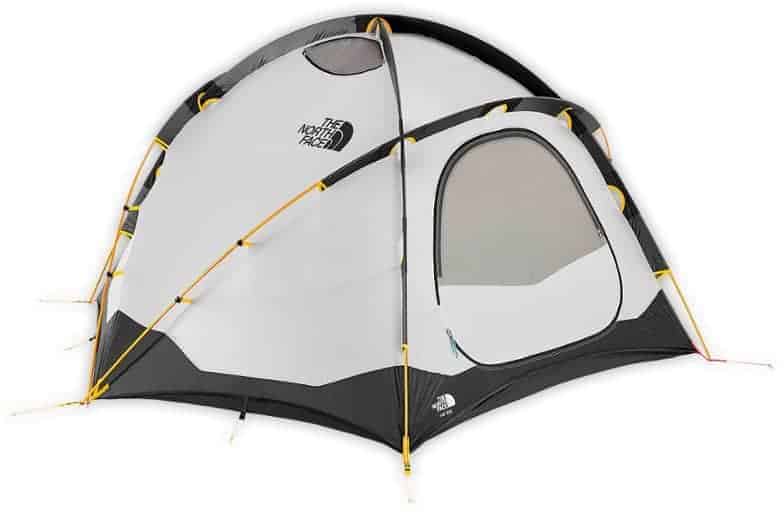 The North Face VE 25
The North Face produces superior products, and this mountaineering tent is no exception. There are large mesh pockets all around for ample storage space. There are even mesh pockets in the roof.
The floor is very impressive. It's a 10,000mm bucket floor that is made of high-quality nylon material, so you're not going to have to worry about floor leaks or tears. It's also fully taped and reinforced in every place that a guy line is attached.
It is a perfect igloo shape due to the architectural design of the poles. Instead of a simple two-pole system that creates an X at the top, there are extra poles that cross in the front and back, creating more X's gives added strength. The poles are made of a featherlight aluminum composite material so they are very durable and can withstand high wind.
PROs

With 48 square feet of floor space, it can accommodate three people reasonably comfortably.
Lifetime guarantee.
It has two doors for easy access and exits.

CONs

The vents at the top don't have mesh covers.
It can be annoying to slide the poles through those mesh panels.
Bottom-Line: This product is good because of the brand name and is a very high-quality model, but besides having a lot of mesh pockets, it doesn't have a lot of "wow" factor. If you don't need a lot of extras, this one is the right choice.
ALPS Mountaineering Tasmanian 2
Best Cold Weather Tent
If you're looking for a roomy model, this is a perfect choice. With over 51 square feet of floor space, you can easily fit three people without having to sleep right on top of each other. The rain fly has its own pole so that you have even more room in the form of a vestibule on both sides.
It has all the best features. It has a 5000mm poly taffeta floor and both the floor and the polyester tent fabric is 75D. The poles are made of an aluminum composite material, so they are reliable. It even features large, #8 zippers so you can quickly zip and unzip doors and window flaps with no problems.
PROs

It has two doors so people can enter and exit easily.
Plenty of storage space–it has a nice-sized gear loft, lots of mesh pockets, and two vestibules.

CONs

Doesn't have adequate ventilation.
It's lightweight and freestanding, which means it might not be the best choice for high wind areas.
Bottom-Line: This is a great, all-around product with plenty of space. It provides you with what you need without going overboard on all the features.
GeerTop
Economy meets quality with this GeerTop. First, it is great for backpacking because it is such a small size when it's packed away (17.3 inches x 6.7 inches) and it only weighs a little over six pounds. On top of that, it's straightforward and quick to set up, and the same goes for taking it down.
The poles are aluminum, but they are skinny so they may not be as strong as comparable tents. Because of this, we won't vouch for its ability to withstand high winds. However, there are a lot of redeeming qualities of the product that make it attractive. For example, the floor is made of a PU material with a 5000mm waterproof rating. It has a gear loft and a lot of storage pockets.
PROs

This is perfect for backpacking due to its lightweight and small pack size.
With over 38 square feet of floor space and two doors, it's excellent and accessible for two people.

CONs

The zippers are of lower quality and may break after a few uses.
The breathability isn't the best, so you may have problems with condensation.
Bottom-Line: As far as performance is concerned, this is a middle of the road product. However, it does an excellent job of keeping you warm when you use the rain fly with it.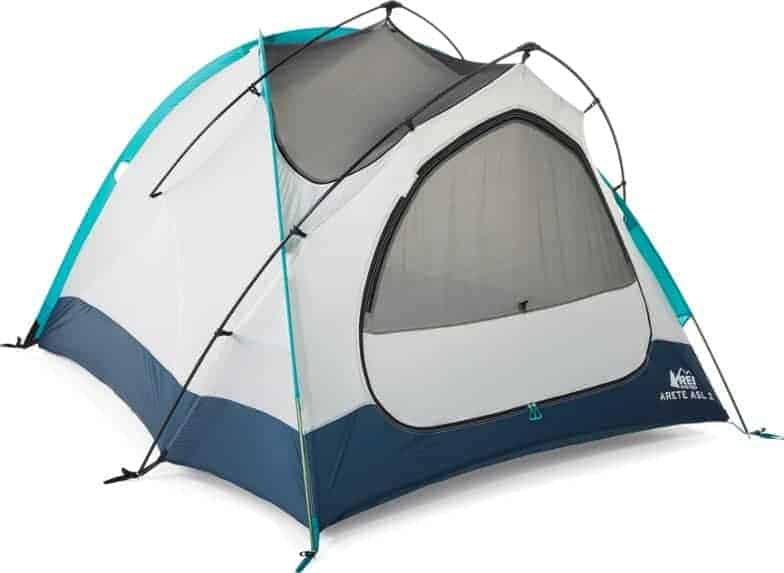 REI Arete ASL 2
Best Budget
If you just need a basic option to keep you warm, this freestanding tent is a good choice. We will say that you do sacrifice a lot of features and amenities with this budget option and it's probably not suitable for mountaineering. However, it has many attractive features such as mesh pockets, a hanger for lanterns/lights, and top vents with mesh zippered covers, so it's not entirely a minimalist product.
It has four aluminum poles, but only three of them add to the stability. It's made from sturdy nylon material, and the floor is made from nylon taffeta. We weren't able to find the waterproof rating of the floor, and this usually means it's on the lower end. However, it has a welded construction to prevent moisture from seeping through.
PROs

It's very lightweight, so it's excellent for backpack camping.
It has color-coding, which makes pitching easy.
It's has a good amount of floor space (32.9 square feet) and can comfortably accommodate two adults.

CONs

The fabric is thin–only 30D–so it may not last as long as other tents.
Because it's so lightweight with a freestanding design and thin fabric, it's not going to hold up well to high winds, torrential rain, or heavy snow. It's really better for calm, cold weather camping trips.
Bottom-Line: If you need to save some money and just want a simple model, this is a good choice, but just keep in mind that you'll sacrifice some quality.
Flytop 4 Season Backpacking
The Flytop backpacking tent is another budget option that can get you through cold weather. Itis extremely easy to set up with only two poles to attach. It's a freestanding design and very lightweight (5.94lbs.), so one person could pitch this model in 60 seconds or less. This also means it's probably not going to stand up to heavy wind on its own, but the full rain fly helps with this.
While we won't recommend it for mountaineering, heavy rain, or heavy snow, we can still vouch for its ability to keep you warm with the 210T breathable polyester fabric. With that being said, like the REI Arete ASL 2, the material is a little on the thin side. In fact, to give you a reference point, this type of taffeta is usually suited for workwear like uniforms. The floor is okay, but not at the standard you may want for extreme cold weather. It's made from a high-quality 210D Oxford polyester with a waterproof rating of only 4000mm, but it does have fully taped seams.
This product is definitely a "get what you pay for" type deal. It will keep you warm and dry, so if this is the most important thing for you when looking for a tent, this could fit right into any budget.
PROs

The rain fly gives it a nice-sized vestibule area for gear storage.
It is effortless to take down and put back in the bag.
Comes in multiple colors.

CONs

The given dimensions of 4.9 feet x 6.9 feet seem to be inaccurate because a lot of 6-foot tall people have said that their heads and feet touch the walls.
The metal stakes tend to bend easily.
Bottom-Line: This is definitely a budget option. It will keep you reasonably warm. As long as you don't expect too much from it, you won't be disappointed.
Marmot Thor 2-Person Tent
Named after the Norse god of thunder, this 4-season tent can stand up to just about any weather and environmental conditions you throw at it. It has two D-shaped doors, both with mesh panels and four zippers each. There is also a sizeable triangle-shaped window, so you have plenty of ventilation.
It is made from a 40D nylon ripstop fabric, and the floor is a 70D nylon with a 10,000mm waterproof rating. Amazingly, the rainfly material is even thicker than the wall fabric (70D), so you can rest assured that this product will keep you dry. There is a good-sized vestibule area on both sides as well as plenty of mesh pockets on the inside for storage.
It isn't as easy as some of the others in the list to set up. In fact, you might need two people to set it up. It's exceptionally sturdy with a five-pole system that is held in place with mesh seams and clips, but it is this system that also creates the need for the extra effort and time to pitch.
PROs

Small swatches of fabric are included in case you ever need to patch up tears.
It has several hooks to hang things.
When snow collects on the bottom flaps of the rainfly, it actually helps to anchor

CONs

The included aluminum stakes are a little on the low-quality end.
Bottom-Line: This is a great product that will last for a long time. It's going to keep you warm while staying secure in even the most extreme conditions.
Hillman 4 Season
We love budget options, so we're giving you a third budget option. The Hillman is a great, easy setup model that can get you through some of the coldest winter nights. While we aren't impressed with the thin, cheap, 20D nylon fabric of the walls, the floor completely makes up for this. It's made with a durable 310 taffeta nylon grid fabric and, like the Northface VE 25, the floor has a waterproof rating of 10,000mm. The seams are completely taped, so you definitely don't have to worry about water seeping through from the bottom.
It is one of the smaller 2-person tents we've seen on the market. In fact, it's probably not very comfortable for two adults. It has a floor area of 40 square feet, but it's less than four feet wide. This means you're going to sleeping (squeezing) right on top of the other person. Best suited for one adult and a small amount of camping gear.
PROs

The floor has an excellent waterproof rating.
It's a champ at keeping you warm.

CONs

The inner is not ventilated.
Condensation can be a problem.
The storage bag is exceptionally flimsy, so you may want to invest in a separate storage bag
Black Diamond Eldorado
The Black Diamond Eldorado is a great, time-tested winter tent. It's very lightweight (4lbs 8oz), so it's great for backpacking. It uses an exclusive ToddTex fabric which gives excellent breathability.
The two aluminum poles bend into place without too much effort. They are an internal pole system, but you have to be careful because they could poke a hole through the corner of your tent if you aren't careful. The freestanding design and lightweight could have trouble standing up to strong wind.
PROs

ToddTex is one of the better fabrics on the market.
It only takes a few minutes to set up.
It can be packed down to 7″ x 19″ making it perfect for backpacking.

CONs

With only 30.8 sq. Ft. of floor area, it would be a tight squeeze for two people.
It doesn't have a lot of storage areas.
Bottom-Line: This is probably the lightest mountaineering tent you will find, and it has excellent ventilation.