If you're not careful, camping and mountaineering gear could empty your bank account because this hobby, this way of life, has always been expensive. A four-season shelter, for example, is one of the most high-cost pieces of equipment out there. And that makes sense. They do provide both comfort and survival for all seasons.
However, nobody ever said that you can't be smart when selecting your gear. Awesome 4-season models that don't cost a fortune can be challenging to come by, but they do exist, and you'll find four of the best of them on the list below.
Editor's Choice
GeerTop Toproad 2
Frequently, a 4-season tent made to withstand winter weather would fall below expectations if used during the hot summer months. But this isn't the case for the Toproad 2. Its versatility is a rarity among low-cost tents as it vehemently tries to live up to its promises, protecting campers in virtually all seasons in moderate weather.
GeerTop's Toproad is designed to be pitched on snow, rain, and even during warmer seasons. The waterproof 210T breathable polyester provides enough protection from the cold weather. It also has a surprisingly good mesh-to-fabric balance in the inner canopy that allows for camping during the hot summer days when the fly is inevitably set down.
The tent, though, does carry minor inconveniences. It has snaggy zippers, and it's smaller than the standard 4-seasons tents that need to fit two people. However, its advantageous features far outweigh them. After all, you cannot expect a perfect tent for a bargain price.
Bottom line: Overall, the GeerTop Toproad 2 wins over the rest through its uncomplicated, beginner-friendly, and all-seasons nature–– all neatly wrapped up in a budget price tag. Easyily making it our pick for the best budget 4-season tent.
How to Select the Best Cheap 4-Season Tent
3-season vs. 4-season
One of the most fundamental questions when purchasing a tent revolves around the "season" you want it to be in. Does your outdoor excursion call for a rigid 4-season tent? Or can you just get by with a 3-season? What's the difference between the two anyway?
At first glance, the answer seems rather obvious. A 3-season tent is labeled as such because it's built for three seasons: spring, summer, and fall. And its 4-season counterpart includes winter.
However, it's not as straightforward as that. This industry season rating system just indicates what kind of environment and weather each tent can withstand.
The major difference between a 3-season and a 4-season tent doesn't exclusively fall into what time of the year they're used for. In fact, the term '4-season' is a misnomer. In many cases, it may even just refer to a snow tent. That's because a significant number of 4-season models are only convenient during winter. They trap heat in when the temperatures and humidity level soar, rendering them less effective shelters.
Hence, instead of classifying the two purely on the seasons, they're for, it's better to think of what environments these tents are built to handle.
In its essence, the 4-season tent is designed to insulate during plummeting temperatures, withstand harsh storms, heavy snowfall (not blizzards), and wind speeds ranging from 30 to 60 mph. It's constructed with higher denier materials, more guy-out points, and A-frame poles to prevent wind damage, sagging, and snow loading. So it's better for camping in harsh conditions.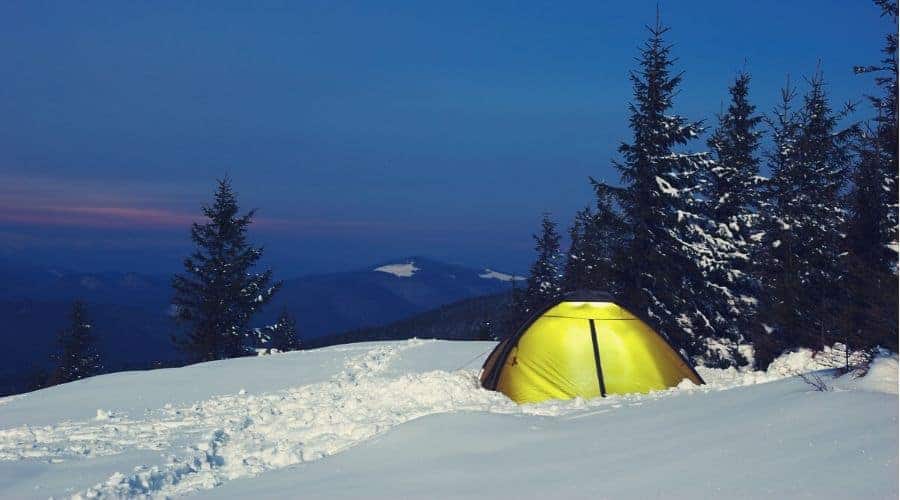 Purpose and category
Are you a casual hiker or an aspiring alpinist? Four-season backpacking tents vary in shape, size, and, ultimately, in function. So choosing one depends on how, where, and when you're going to use it.
There are three kinds of 4-season backpacking tents, all classified according to their intended use: treeline, basecamps, and mountaineering.
Treeline Tents
If you're only out for regular and casual winter camping, you'll need treeline tents. These are well-suited for light snowfall and moderate winds. This may seem like they're closely related to the 3-season variety, but 4-season treeline tents generally have larger floor areas and denser canopies with less mesh.
Mountaineering Tents
These heavy-duty tents are created for pitching at high altitudes. Their prime directive is to facilitate climbing in incredibly harsh conditions, so they're made lightweight and durable.
Mountaineering tents usually have no rainfly, and they have limited floor dimensions and a short height. It may feel cramped inside, but the small size helps the tent become more aerodynamic, giving less space for the high altitude winds to ram into. They also have highly wind-resistant poles and sturdy waterproof fabric.
Basecamp Tents
If you want something that's burlier than a treeline tent but bigger than the mountaineering type, choose a basecamp tent.
A four-season backpacking tent that is not set-up on the summit are called basecamp tents. They're as weather-resistant as mountaineering backpacking tents but heavier and roomier. They also come with double walls for better ventilation and added comfort for longer & more comfortable trips.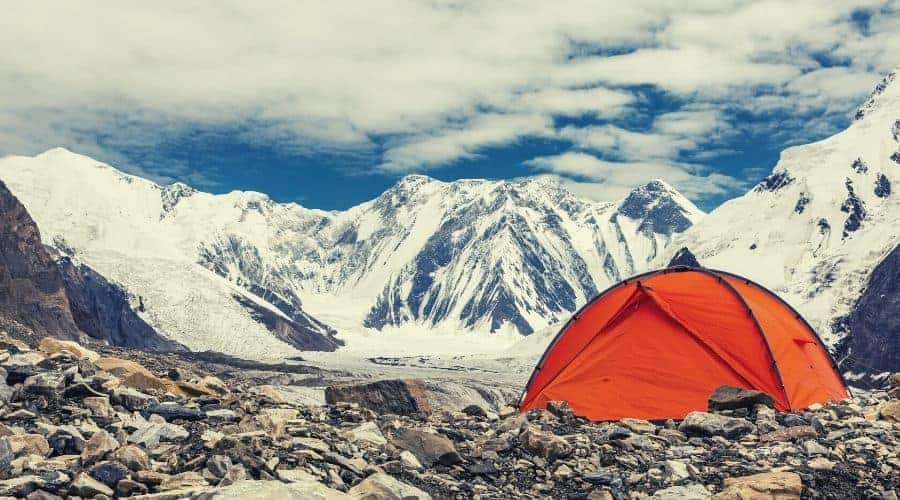 Weatherproofing
A 4-season tent's weather performance is affected by three significant factors: category, coating, and waterproofing.
Category
As mentioned above, not all 4-season tents are the same. Its category is a clear determiner on whether it can handle these extreme elements. Of course, being more suited to mild camping conditions, treeline tents would be no match against a mountaineering tent that can withstand gusts that travel more than 30 mph.
Coating
Depending on the brand, 4-season tent walls are always coated with some type of protective layer. The most common is Durable Water Repellent (DWR). This makes water bead up on the outside of the rainfly and prevents it from soaking through.
Great tents are also coated with UV protection since climbers are more exposed to the sun's ultraviolet rays at higher altitudes. Without an anti-UV coat, the sun could wear the tent out faster and affect the campers inside.
Waterproofing
Waterproofing, on the other hand, is precarious for a four-season backpacking tent. Firstly, it's an absolute no-compromise feature since these tents claim to be excellent and reliable shelters for many kinds of weather and seasons.
You'd need a water-sealed base and seams to keep yourself warm and dry. Check the tent's specs to verify its water-resistance grade. The Hydrostatic Head or HH coating index on the walls should be above 1500 millimeters while the floor should have 4000 to 8000 mm to avoid leaks.
In contrast, since not all 4-season models are genuinely fitted to match all types of weather, many of them may not be water-resistant at all–– and that's fine as long as they're used in the correct environment.
Perhaps the most suitable example of this is the Black Diamond Firstlight. This 4-season tent is a true snow tent that categorically performs best in deep wintery conditions with below-freezing temperatures.
The Firstlight won't ever need the bulkiness of a full waterproofing coat on its fabric since there's no melting snow in frigid temperatures that can seep through the walls. The DWR coating would be enough defense for the very minute water particles that try to get through.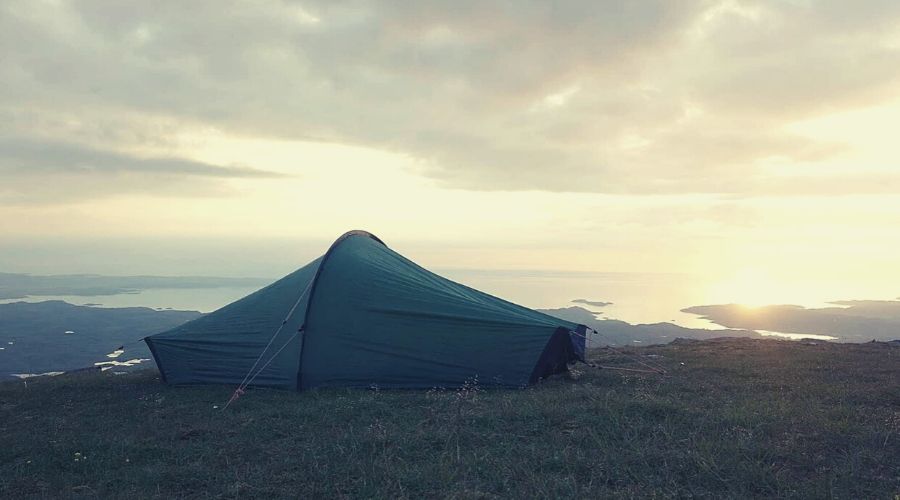 Structural design and durability
For the best 4-season tent, opt for a rounded tent that has a low profile. Dome, mountaineering, and basecamp models, as previously mentioned, have spherical aerodynamic designs that are set to be as close to the ground as comfortably possible.
The specific shape and sloping of the walls let the snow slide down to the sides, avoiding a massive and damaging pile on the roof. The roundedness also means less surface for the air to act against, preventing the structure from toppling over.
As for the fabric that makes up those tents, a 70D or 70 denier Nylon Taffeta is standard. For comparison, nylon that's used for other season-rated models are typically at 40 deniers. Winter tents need high denier ratings because snow is essentially abrasive and damaging. Durable, heavy-duty nylon can withstand that as well as the wind forces that cause tearing. Robust zippers can also protect against tearing as well as the elements.
For pole quality, all-season tents will generally have stronger and heavier poles to help the tent hunker down against powerful gusts.
Carbon fiber and aluminum poles are popular because of their durability, high strength to weight ratio, and quality finish. However, carbon fiber poles have proven to be more superior in strength and weight. The only downside to them is their high price. It's rare for the cheapest tents to have this type of pole.
Stay away from poles with plastic tips. They brittle easily and can get broken off after a few months of pitching on cold weather. DAC produces quality Wind Lab tested poles that are used by established brands such as MSR. Their stout poles provide torsional strength to avoid shredding.
Single-wall vs. double-wall
Tents can either have a single or double-wall design. If you don't already know, a double-wall tent has two layers, a rainfly, and an inner canopy. The rainfly is the first and outermost layer, while the canopy is where campers sleep in.
On the other hand, single-wall tents either have no rainfly or vestibules, or they're sewn on. They're lighter and are constructed to be tough enough to compensate for that one single layer.
In almost all aspects, 4-season double-wall tents can trump their single-wall counterpart. With two layers, they give ample protection against the elements. Next, the multifunctioning rainfly provides vestibules that can act as extra storage space for wet and dirty gear. And lastly, the mesh parts of the inner canopy and the spacious vestibules help ventilate the tent and promote free-flowing air. This is hugely helpful in humid environments.
In comparison, 4-season single-wall tents shine most when scaling towering mountains. Their compact size and light trail weight are meant for vertical ascents. They're built for high altitude winter landscapes. Single-wall four-season tents are mostly mountaineering types.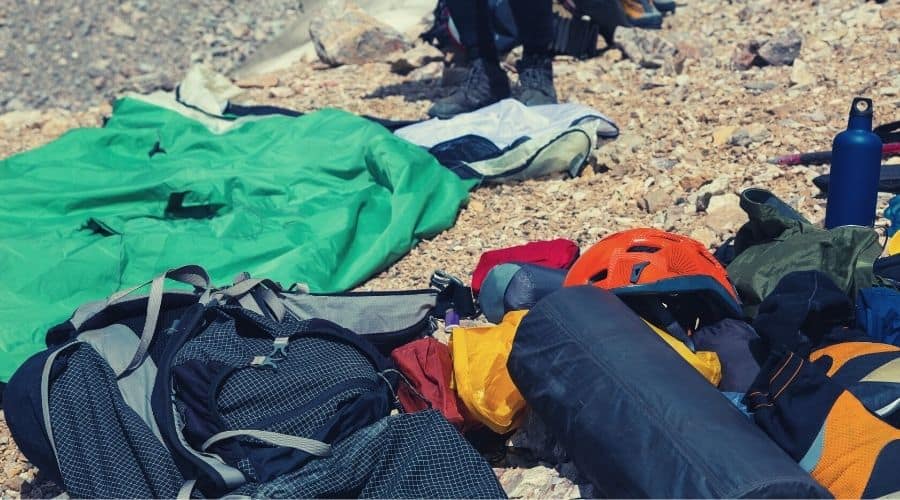 Packed Size and weight
The tent is one of the most cumbersome pieces of gear inside your backpack. And for 4-season models, the weight has always been a particularly significant issue (especially if the tent is double-walled).
Most of these tents have an average weight of 6.6 lbs. That accounts for the burly construction, high denier fabric, roomier floor dimensions, more spacious vestibules, and heavy-duty poles and pegs. For reference, that's 2 to 4 lbs heavier than a typical two or 3-season tent.
Even without measuring it, you can recognize a tent's weight just by looking at its packing size. This is its size when it's compressed into a sack or storage duffle bag. A bigger packed size will broadly correspond to a heavier tent since thicker fabric, two layers, more rigid coating, and a larger floor all add up.
Aside from just being heavy, a bulky packing size can take up significant space inside a bag, leaving less room for other vital items and gear.
So when selecting the tent that's best suited for you, find the balance between weight, price, and durability. Budget tents are typically big, double-wall, heavy, and durable, while lightweight tents are usually less heavy-duty and more expensive.
Square footage and peak height
The floor area or square footage can range from roomy to minimalist, depending on the tent's intended use. For example, the Black Diamond First light has a floor area of 27.3 sq. Ft while the ALPS Mountaineering Tasmanian 2 has 39.6 sq. ft.
The former belongs to the mountaineering variety, while the latter is a treeline type. Since both are made for distinctive conditions, it makes sense that they'd be sized differently. Treeline and basecamp types are commonly more spacious, so if space is an important factor for you, choose from one of them.
Another critical factor in buying the best 4-season tent is the peak height. Measured on the spot where the ceiling is farthest from the base, an adequate height makes it easy for campers to sit upright and move around inside. Again, short tents are better for mountaineering and expeditions as they're nearer to the ground and have less surface for the winds to blow through.
Choose tents that have cross-bracing poles attached to the ceiling. These intersections provide more vertical space and enhance the tent's lateral stability against strong gusts.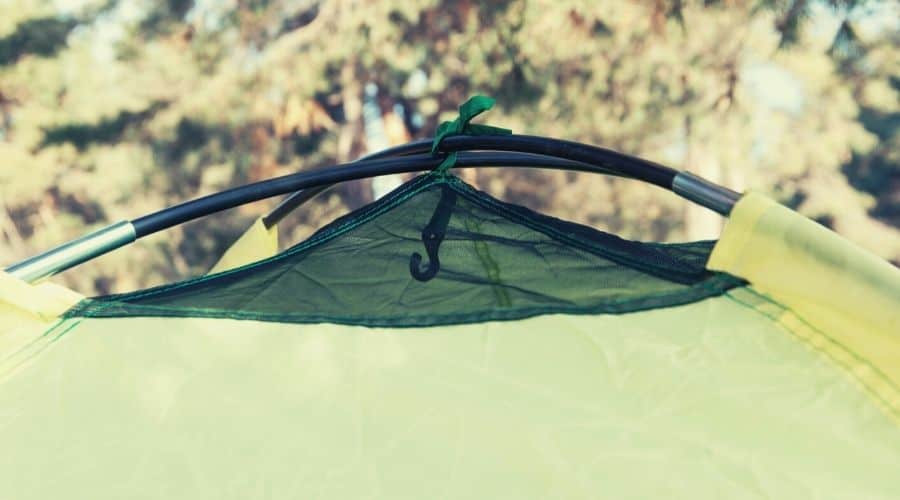 Ventilation
The last thing to consider before buying a 4-season tent is its capacity to ventilate. Poor ventilation means condensation inside the tent. When humid air comes into contact with the cold walls and ceiling, little droplets form and fall down.
The moisture's effects can range from mildly annoying to potentially dangerous. Having water on your sleeping bag, clothes, and other gear can seem like a minor irritant at first. But out in the wilderness, wearing soaked clothes and sleeping in cold and wet gear can contribute to hypothermia in the long run.
Unlike single-wall tents, double-wall varieties often have good ventilation because of their meshed inner canopies and two doors. The rainflys add to this as well with its own pop-up vents and spacious and airy vestibules.
Additionally, keep in mind that regardless of the tent's wall type, insulated tents for winter camping will have less ventilating prowess than the non-insulated kind. So condensation can happen no matter what the temperature outside is.
Top 5 Best Budget 4-Season Tents
ALPS Mountaineering Tasmanian 2
Best Value Tent
The Tasmanian is, no doubt, a casual snow tent. It's not suited for expeditions or for anyone who often hits rough trails, especially in heavy weather conditions. But it does offer casual campers ample protection against snowfall and 40 mph winds.
This treeline tent is adequately durable with its own form of weatherproof shock cords, 75D polyester fly and poly taffeta floor, 7000 series aluminum poles, UV protection, and standard 1500 mm wall and 5000 mm floor coating. There's also an additional pole that goes across the tent to stabilize it against strong gusts. That's enough protection from the elements for a long winter camp out with friends and family.
Like many a 4-season tent, this tent is still only limited to snowy environments. The thick walls and ventilating windows aren't enough to make this tent comfortable during hotter seasons, even if the fly is down.
Additionally, if you can get past the minor inconvenience of the additional poles occasionally snagging in the hooped vestibules, pitching the tent is smooth and easy. Casual hikers will still find it very convenient to set up with its continuous pole system, especially with the helpful hubs that extend on both ends of the tent.
The Tasmanian is also roomier than most shelters prescribed for two people. It's safe to say that it's built for tall individuals. So you'll have more legroom and enough space for storage right by the door. However, that large size does contribute to its heavyweight and overall bulk. Because of that, it has a considerable packing size.
Capacity: 2-person
Weight: 8 lbs
Floor dimensions: 5'2 x 7'8
Wall(s): Double
Category: Treeline
PROs

Great for winter camping
Weather-resistant
Easy to Set Up
Long and roomy

CONs

Heavy and bulky
Inner canopy isn't suited for warmer seasons
GeerTop Toproad 2
Editors Choice
As mentioned, the Toproad 2's humble versatility is what makes it a favorite and a top notcher in a long list of best budget 4-season tents.
It's built to cater to camping during the many different seasons of the year. As a snow tent, it provides standard protection with sealed waterproof seams, a big anti-tear checkered polyester rainfly with a 3000 mm coating, and enough ventilation for a comfortable sleep.
And as a summer tent, the inner canopy, without the rainfly, is covered with a good balance of its nylon fabric and no-see-um high-density fine nylon mesh. That won't leave campers with any less protection.
The canopy, though, belongs to the smaller versions of a 2-person tent. With a width of only 4 ft and 7 inches, the sleeping space could get cramped and crowded.
Lastly, the Toproad 2's set-up is also beginner-friendly. The typical dome shape and single intersection on top doesn't make for a challenging and long pitch. But its zippers do tend to get snagged on the fabric and, in some cases, get stuck and may even fail.
Capacity: 2-person
Weight: 5.7 lbs
Floor dimensions: 6'11 x 4'7
Wall(s): Double
Category: Treeline, Basecamp
PROs

Versatile
Good balance between mesh and fabric
Easy to set up

CONs

Small for a 2-person tent
Might have failing zippers
Black Diamond Firstlight 2P
Best Tent for Mountaineering
Alpinists on a tight budget should consider the two-person Black Diamond Firstlight. It's best for fast high-alpine expeditions in dry conditions.
Officially, the Firstlight isn't labeled as an ultralight tent because it sits comfortably in its own Goldilocks zone, not too light to trump ultralights but not too heavy to be a run-of-the-mill 4-season tent either. With its confident minimalist design, small footprint, and low packing volume, it's a viable ultralight substitute for cost-conscious climbers.
Another contributory factor to the Firstlight's weight is its NanoShield fabric. Because it's an alpine tent, it has understandably forgone the bulky waterproofing coat and went with a water-resistant silicone coating.
In frigid temperatures, the insulation and coating would be enough to protect against dry snow and wind. But obviously, this bivy tent won't sit well in wet and humid environments. It's best to treat the seams with waterproof seals yourself.
To add, the Firstlight also experiences ventilation setbacks as with many a 4-season tent. The NanoShield fabric is not as breathable as it's expected to be. Condensation forms now and then and engulfs the walls with dew in the morning. Again, the Firstlight only thrives in dry and cold conditions.
Capacity: 2-person
Weight: 3.3 lbs
Floor dimensions: 6'10 x 4
Wall(s): Single
Category: Mountaineering
PROs

Lightweight
Easy to Set Up
Small packing size
Small footprint
High-quality
Insulated

CONs

Less breathable fabric and poor ventilation
Not waterproof
WoneNice 2 Person Double Layer Tent
Best Budget Tent
Overall, the WoneNice 2-P double-wall tent is a decent outdoor tent for budding hikers out for some cut-price gear. It's an entry-level tent that's built for both snow and the rain.
The standard UV coating and 3500 mm polyester fly and long snow skirt do an excellent job keeping the elements out. Additionally, the 4000 mm waterproof base provides enough comfort and moisture-free floor to sleep on, even if it's been laid on top of wet ground. It's also strong enough to resist tearing against sharp rocks.
However, the WoneNice tent isn't for extended stays and major storms and snowfall. You might experience durability issues with the poles and the fabric itself when used long during severe weather.
Though it is a basecamp tent, it's better for casual winter camping with family and friends. Don't expect expedition-grade durability from the WoneNice 2-Person tent.
Capacity: 2-3 persons
Weight: 5.9 lbs
Floor dimensions: 4'11 x 6'11
Wall(s): Double
Category: Treeline, Basecamp
PROs

lowest price
strong waterproof floor

CONs

durability issues
Not so easy to set up
heavy and bulky
MIER 3-Person Lightweight Camping Tent
Most Beginner-Friendly Tent
For anyone new to trekking, the Mier 3-person tent could be a wise option. The tent is lightweight and easy to pitch.
This tent is especially great for fresh hikers because it can house 3 people while weighing under 6 lbs. So when it's a backpacking load and divided among those 3 people, it's not as punishing on the trails as individually carrying the usual 4-pound 3-season tent.
The Mier 3-person tent also comes with the common free-standing dome frame and easy clips for a fast set-up, a lightweight footprint, and a repair kit–– an excellent starter set for budding outdoor enthusiasts.
But like any cheap tent, the Mier camping tent has its own weather issues. It may have a 15D nylon fly, partially sealed seams, and an impressive 40D bathtub floor. But, it just can't withstand too much snow and rain. The thinner 7001 aluminum poles could also break faster when faced with high winds and repeated use. It is made to be a treeline, after all.
Capacity: 3-person
Weight: 5.5 lbs
Floor space: 30 sq. ft.
Wall(s): Double
Type: Treeline
PROs

Lightweight
Easy to set up
Comes with a free footprint

CONs

Not for severe weather
Less durable poles