Heading on a camping trip with all the family or a group of friends?
To help ensure your trip is one to enjoy and remember for all the right reasons, we've put together a comprehensive buyer's guide featuring six of our favorite 6-person camping tents. In addition to that, you'll find expert advice on what to look for when buying and recommendations on the type of shelter you need for different types of adventure.
Our detailed, BS-free guide includes tents for every occasion and any budget, from low-cost car-camping tents and ultralight backpacking tents to luxury "plastic palaces" and "bombproof" shelters for trips in dodgy weather. Wherever you're heading on your upcoming adventures, our list is sure to have a shelter to cover your needs!
Our Top Picks by category
3–4 Season Tents: REI Base Camp 6 and Rightline Gear SUV
Roomiest: Caddis Rapid 6 and Coleman Sundome
Vestibule Space: REI Base Camp 6 and North Face Wawona 6
REI Base Camp 6
Editor's Choice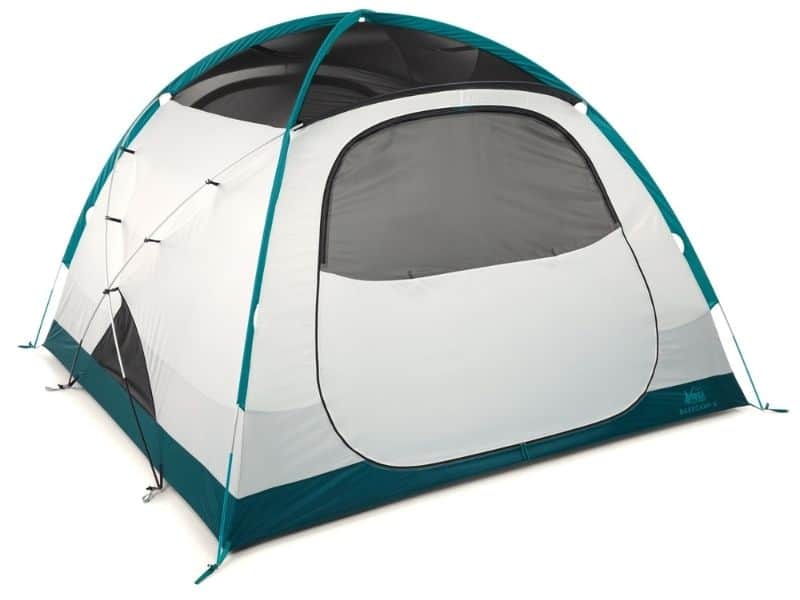 The best tent for three-season camping is one that can deal with anything the weather might throw at it in the non-winter seasons. Any decent tent needs to stand up to lashing rain, strong winds, scorching heat, and everything in between whilst scoring high on comfort, convenience, and livability. The REI Base Camp is that kind of tent.
The Base Camp is lightweight, roomy, and easy to pitch. It uses a double-walled design that lets you "batten down the hatches" in wet weather with a 1,500mm rainfly or to use the tent body as a standalone shelter to beat the heat on sticky summer nights.
This 6-person tent also has a whopping 44 sq. ft. of vestibule space, multiple storage pockets and hang loops, and at 20 lbs. 10 oz., is one of the lightest tents in our review.
Bottom line: A lightweight, livable, spacious, and versatile 6-person tent that's ideal for both backcountry adventures and family car-camping trips.
At a Glance: Quick Recommendations
Best 6-Person Tents Reviews: Our Top Six Picks
REI Base Camp 6
Editor's Choice
Season: 3–4-season ⸱ Living space: 84 sq. ft. ⸱ Center height: 74″ ⸱ Weight: 20 lbs. 10 oz.
Of all the 6-person tents we've reviewed, the REI Base Camp six dome tent feels like a true "home away from home" and is ideal for family camping trips.
This is the second priciest in our review after the REI Wonderland 6 and costs nearly three times as much as the cheapest, the Coleman Sundome. However, that extra outlay buys you an uber-practical shelter that's built to last a lifetime and fit for year-round camping in a range of locations.
With a peak height of 74 inches and 84 sq. ft. of interior tent space, the Base Camp has ample space for 6 adult sleepers. There's also more than enough room to store gear with an additional 44 sq. ft. of vestibule space.
The Base Camp is also one of the best 6-person dome tents out there for camping in varied weather conditions. This is thanks to its use of a full-coverage, 1,500mm rainfly, 150d polyester flooring, roof vents, and huge mesh-lined doors.
The dome shape does mean it offers a little less overall headroom than cabin tents with steeper walls like the Caddis Rapid 6, but the Base Camp 6-man tent is a whole 5 lbs. lighter, has two doors instead of one, and uses a double-walled design that makes it less prone to condensation.
PROs

Lightweight
Solid weather protection
Roomy
Huge vestibules
Double-doored design
A good tent for cold-weather camping

CONs

Not as well-ventilated as other tents
Bottom-Line: An extra-robust, highly weather-resistant dome-style tent that's suitable for both car-campers and backcountry adventurers alike.
Coleman Sundome 6
Best Budget
Season: 3-season ⸱ Living space: 100 sq. ft. ⸱ Center height: 72" ⸱ Weight: 18 lbs.
Looking for the best bang for your buck? If so, the search can probably be called off right here.
The Sundome offers outstanding value for money. It's both the roomiest and the lightest family tent in our review, whilst also the cheapest by a country mile. It's also very easy to pitch, has a decent peak height, a frame that's built to withstand 35+ mph winds, and is light enough to use as a backpacking tent when split between 3 carriers.
There are, however, a few downsides – as is to be expected from such an inexpensive tent.
For starters, the Coleman tent has only a partial rainfly, meaning it lacks the weather resistance offered by full-coverage rainfly tents such as the Weathermaster or North Face Wawona. It also has no vestibules, only one door, and uses fiberglass poles that are unlikely to survive a drop in rocky terrain.
PROs

Cheap!
3000mm rainfly
Very roomy
Decent peak height
Lightweight

CONs

Fiberglass tent poles
Only one door
Partial rainfly
Bottom-Line: This affordable tent makes a few compromises, but its robustness, huge interior, and above-average waterproofing make it great value for money nonetheless.
REI Wonderland 6
Best Premium
Type: Tunnel ⸱ Interior Space: 83.3 sq. ft. ⸱ Peak Height: 78" ⸱ Weight: 22 lbs. 15 oz.
The REI Wonderland is the new, updated, and improved version of REI's hugely popular Kingdom tent.
Like its predecessor, the Wonderland uses a tunnel-style design with near-vertical walls that maximize headroom from end to end and side to side. It also has strategic color-coding on the fly, poles, and footprint to make setup a cinch, and combines a "scalloped" fly with extensive mesh panels and windows to provide 360° views, even with the fly on.
On the face of it, the Wonderland's 83.3 square feet of floor space and 78" center height make it a roomy 6-person tent. However, unlike most tents on our list, it has no vestibule area, only a duo of small awnings that provide a sliver of cover over the doorways.
Like most REI shelters, this tent features are on the nail. You get a ton of interior pockets for gear storage, vents at top and bottom to stave off stuffiness and condensation, hanging hooks for a lantern or headlamp, and two extra-large doors that extend from top to bottom and wall to wall.
A center partition wall also zips into place to divide the interior into two separate rooms, making it a great choice of shelter for families or groups who like a little extra privacy come bedtime.
PROs

Roomy interior
Stable in strong winds
Room divider
Easy to set up
Plenty of pockets
Durable materials (75D fly, 150D floor)

CONs

Heavy
No vestibule
Partial-coverage rainfly
Bottom-Line: A well-made three-season tent that's ideal for car-camping families – as long as you don't need too much storage space.
Rightline Gear SUV
Best for SUV Campers
Season: 3–4-season ⸱ Living space: 57.6 sq. ft. ⸱ Center height: 80.4" ⸱ Weight: 20 lbs.
For campers who like to sleep in the comfort of their vehicle, but also have extra space for their gear, kids, or camping cohorts, the Rightline Gear SUV is one of the best 6 man tent options out there.
The Rightline may only have a partial rainfly, but its tape-sealed seams, bathtub flooring, and the 2,000 mm HH rating of the fly mean it offers robust enough weather protection for most three-season outings.
Compared to other SUV tents we've tried in the past, this one felt a lot more livable despite its fairly scanty floor space. This owes mainly to its impressive center height and the plentiful interior storage options.
The Rightline can be used either with a vehicle or as a standalone shelter. While adequately roomy when used attached to your SUV, it's worth noting that its 57.6 sq. ft. dimensions mean it's best described as a 4-person tent when used sans vehicle.
PROs

Can be used with or without a vehicle
Tape-sealed seams
Waterproof (2,000mm HH)
Vehicle Sleeve seals around any size of SUV, minivan, wagon, or pick-up
Great peak height

CONs

Partial rainfly
Only enough space for 4 when used without a vehicle
No vestibule or screen room
Bottom-Line: A well-made, super-convenient car-camping tent that can also moonlight as a standalone shelter.
Caddis Rapid Six-Person Tent
Best Instant
Season: 3-season ⸱ Living space: 100 sq. ft. ⸱ Center height: 80" ⸱ Weight: 25 lbs. 8 oz.
Once upon a time, instant tents were shunned by "serious campers" because of their cumbersome weight, bulk, and (usually) cheaper construction. In the Caddis Rapid 6, however, we find a perfect example of how far modern iterations of this style are compared to their predecessors.
The Caddis is, simply put, a cabin-style tent that combines the convenience of an instant with the performance and practicality of a traditional tent. It boasts a generously sized rain fly, has 100 sq. ft. of interior space, is made with superbly robust, high-quality materials, and yet can be set up in under two minutes thanks to its use of pre-attached poles.
The vertical walls and lofty center height of the Caddis also give it a roomier feel than any other tent in our review. However, its lack of any form of vestibule and its less impressive waterproofing means we favor the REI Basecamp and North Face Wawona for livability and camping in less-than-perfect conditions.
PROs

Very easy to set up
Spacious interior
Plenty of headroom
High-quality materials
Multiple windows

CONs

Partial-coverage rainfly
Bulky
Has only a few storage pockets
No vestibule or screen room for wet/dirty camping gear
Bottom-Line: Boasting 100 square feet of interior space and pitching in under 2 minutes, this beast of a shelter is a great pick for campers who value convenience and livability.
North Face Wawona 6
Best for Livability
Season: 3-season ⸱ Living space: 86.11 sq. ft. ⸱ Center height: 80″ ⸱ Weight: 20 lbs. 15 oz.
With an impressive 56 sq. ft. of vestibule space, 86.11 sq. ft. of interior space, and a bounty of storage options in the tent roof and walls, the NF Wawona 6 is among the most livable tents out there.
But this shelter has a lot more to offer than just a sh*t ton of storage and living space.
While the Wawona's partial-coverage rainfly doesn't offer as much weather protection as the REI Base Camp, it is more than capable of fending off light rain showers. Where it does outshine this REI tent is with its huge mesh front door, ceiling vents, and extensive mesh roof, providing superior airflow and making it a better tent for warm-weather camping.
The Wawona is also amongst the most robust and lightweight tents in our review. And while it might take a little longer to pitch than either the Caddis or the REI tents, in return for the extra effort you get a shelter with dimensions that border on simply palatial.
PROs

Huge vestibule area
Great storage options
Center height
Lightweight
Double-wall construction

CONs

Only 1 door
Partial rainfly
Bottom-Line: The perfect tent for family trips or campers who take an "everything but the kitchen sink approach" to gear selection.
Advice for Buying 6-Person Camping Tents
Camping Tent Types
Below, we've added an at-a-glance overview of the most common types of 6 people tents:
Dome Tent
Sturdy and stable in strong winds
The two-pole design makes them easy to pitch
Less headroom than cabin tents due to curvature of walls
Examples: REI Base Camp 6, Coleman Sundome.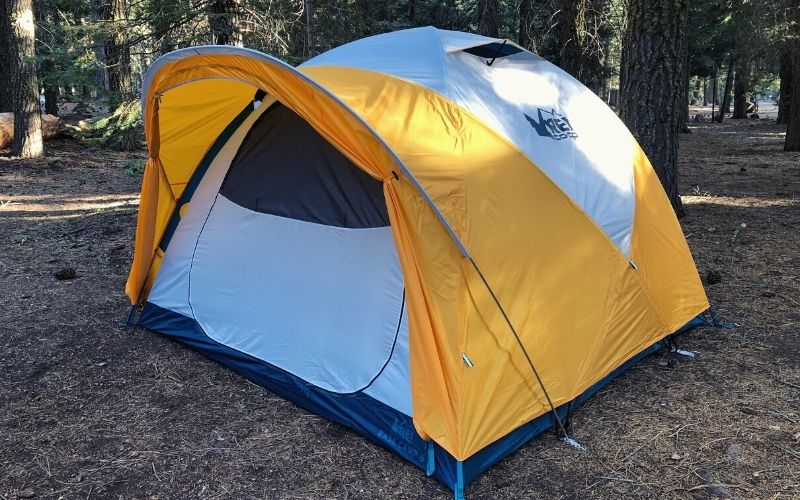 Cabin
Near-vertical walls create a roomier feel
Flatter ceiling provides more headroom throughout interior
Heavy and bulky
The verticality of walls makes them less capable of withstanding strong winds
Examples: Caddis Rapid 6.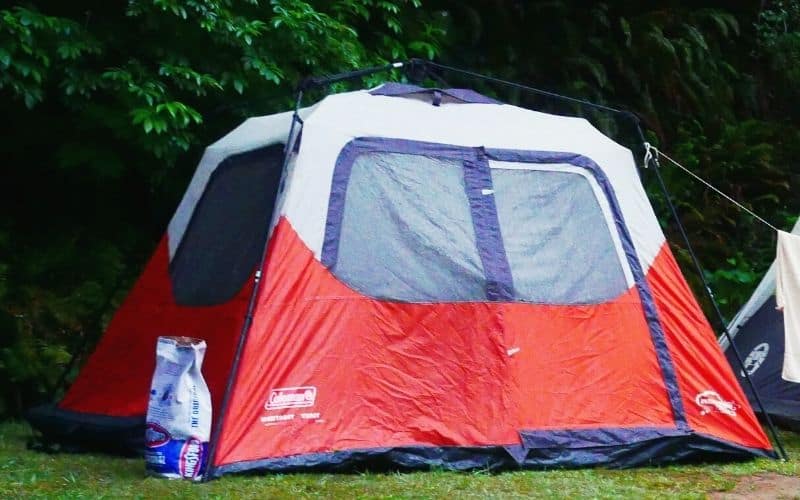 Tunnel
Easy to pitch
Good space-to-weight ratio
Less stable than dome tents in strong winds
Steeper walls provide a spacious feel
Example: REI Wonderland 6, North Face Wawona 6.
Multi-Room
Have partitions that create "rooms"
Ideal for added privacy
Often tricky to set up
Room dividers add weight
Example: REI Wonderland 6.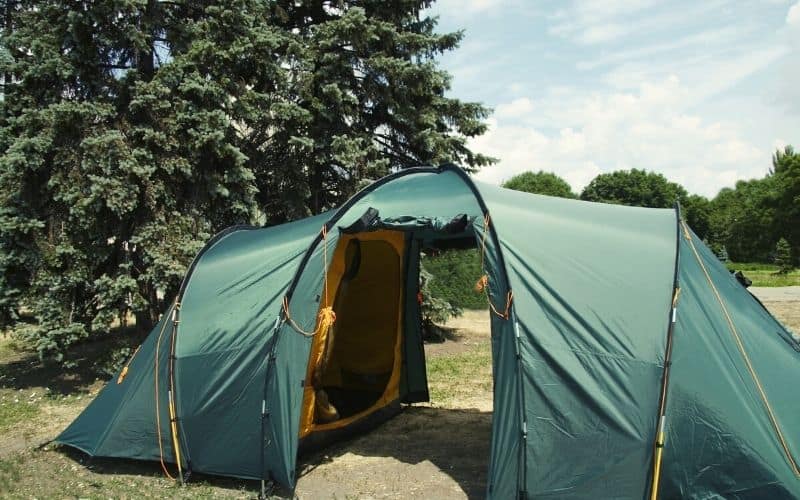 Instant
Easy to pitch
Cheap
Not ideal for bad weather conditions
Rarely have vestibules
Example: Caddis Rapid 6.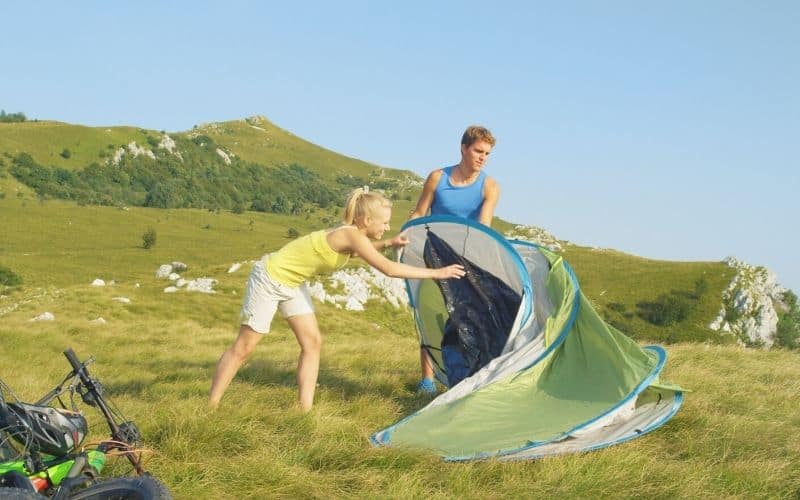 SUV/Hatchback
Can be attached to your vehicle for expanded coverage
Also serve as standalone shelters
Allow you to sleep up off the floor
Example: Rightline Gear SUV.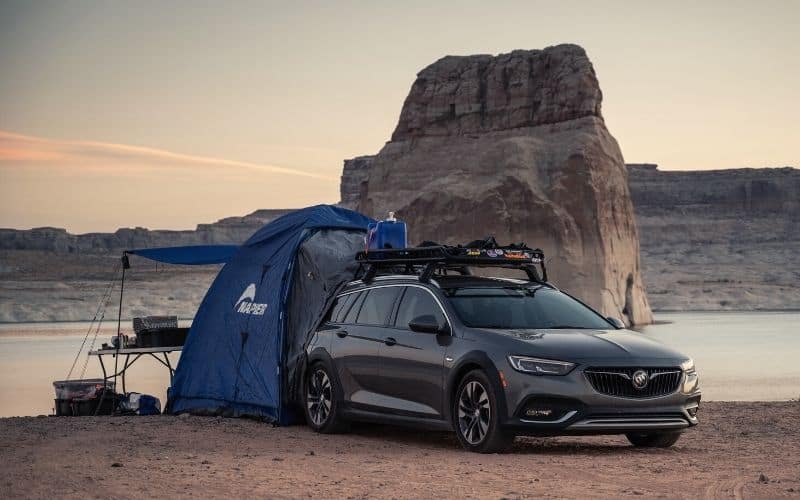 Livability
A 6-person tents livability is determined by several factors. The most important are the tent shape, floor area, peak height, and pole structure.
Floor Area and Capacity
All tents are sold with a "person rating" (2-person, 4-person, 6-person etc.). While these ratings can give you a rough idea of how many sleepers a tent can accommodate, they're best taken with a large pinch of salt since tent manufacturers often use them to make their tents seem roomier than they actually are.
A better way to gauge capacity is to search the product specifications for the model's overall square footage.
The average adult sleeper needs around 14 square feet of space for a comfortable night's sleep. Knowing this, you can divide the tents living area's total square footage by the number of peeps you plan on camping with to determine whether or not your would-be backcountry bolthole is going to feel more like a castle or a coffin for your camping crew.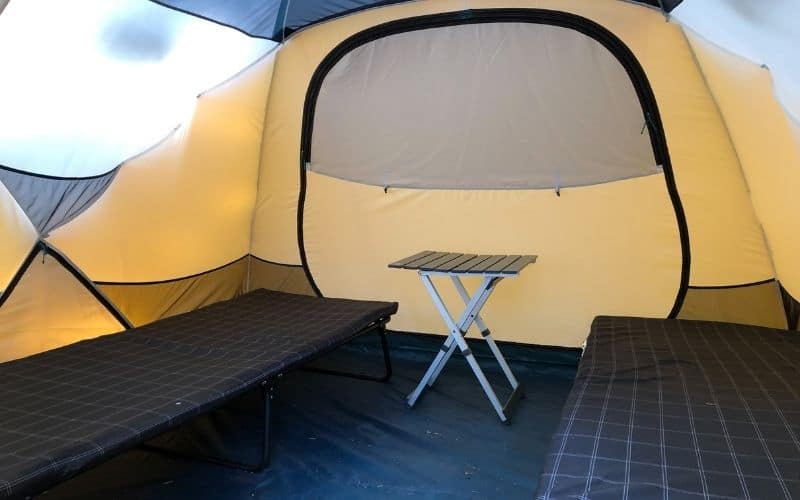 The more castle-like tents in our review – with regards to roominess – are the Caddis Rapid 6 and Coleman Sundome, both of which have a 100 sq. ft. floor area.
Peak Height and Pole Structure
Peak or center height refers to the height of the tent at its tallest point. As you might expect, this measurement is important as it affects how easy it is to move around inside.
The tents in our review have peak heights ranging from 72" (Coleman Sundome 6) to 80" (Rightline Gear SUV).
Number of Doors
While a single-door shelter will suffice for solo campers or couples, when you're camping in a group, double-door tents are far more convenient and practical.
Having two doors makes it easier to get in and out allowing you to sneak out to answer nature's calls without waking or disturbing your tentmates, on top of that it also improves ventilation.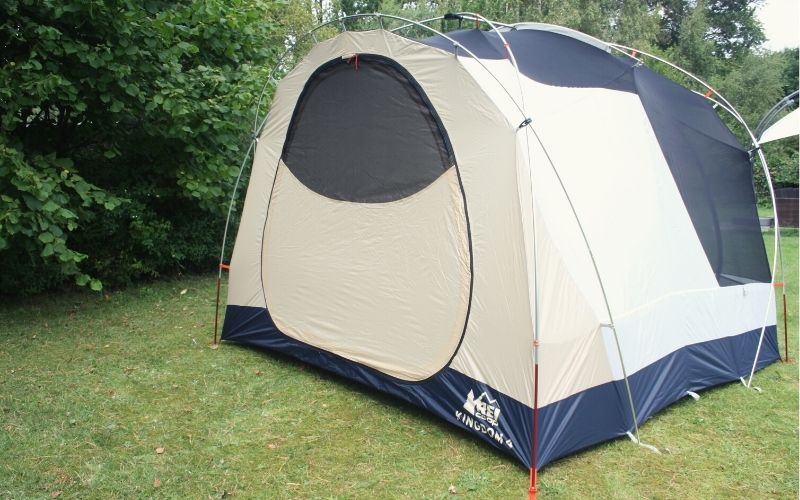 Weather Protection
To determine the level of protection a shelter will provide against inclement weather, the most important attributes to consider are waterproofing, seasonality, and the shape of the tent (covered above).
Seasonality
When buying a camping tent, the seasonality or season rating will give you a ballpark idea of the conditions in which it's intended to be used.
2-season tents: Ideal for summer camping when you expect high temperatures and little or no precipitation, these tents offer plenty of ventilation but poor weather protection.
3-season tents: The most versatile option because they can be used in spring, summer, and fall. Capable of withstanding heavy rain and strong winds. In warm and dry conditions, simply remove the fly for added ventilation.
4-season tents: Aka "winter tents", these are designed to withstand extreme weather – strong wind, driving rain, sleet, and snow. Their added weather resistance will however result in decreased breathability and ventilation, making them unsuitable for use in warmer weather.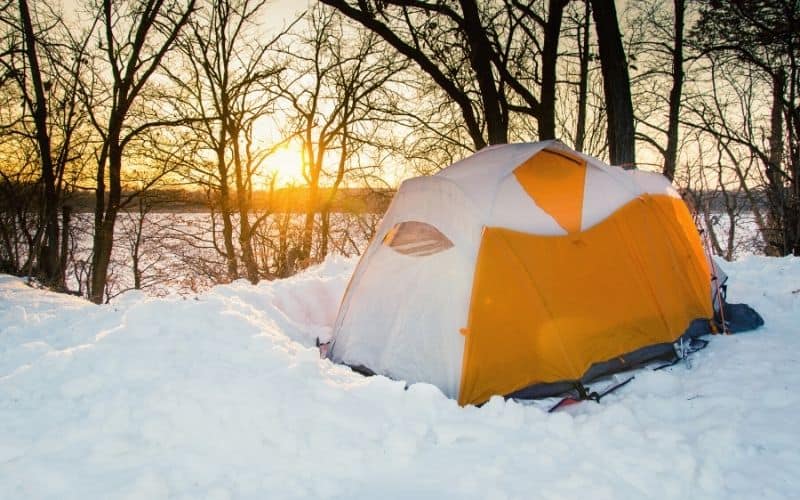 All of the tents featured in our review are 3-season tents except for the REI Base Camp 6 and Rightline Gear SUV, which both have robust enough weatherproofing to straddle the ground between a 3- and 4-season rating.
Waterproofing
The waterproofing capacity of tent fabric is measured using the Hydrostatic Head (HH) open-column water test. Simply this means it has been tested to determine how much water pressure a fabric can withstand before it starts to leak.
HH ratings are given in mm (i.e.1,500mm HH, 3,000mm HH, and so on), and the higher the figure, the more waterproof the fabric will be. For three-season camping, we recommend a shelter with a minimum 1,000mm HH rainfly and 1,500mm flooring.
Ventilation
Ventilation refers to a tent's ability to let air circulate inside the sleeping area, reducing the risk of stuffiness and condensation.
Several features can help to boost ventilation by improving airflow. The most important of these are extensive mesh panels in the canopy of the inner tent body, vents in the rainfly, mesh-lined windows, and double doors.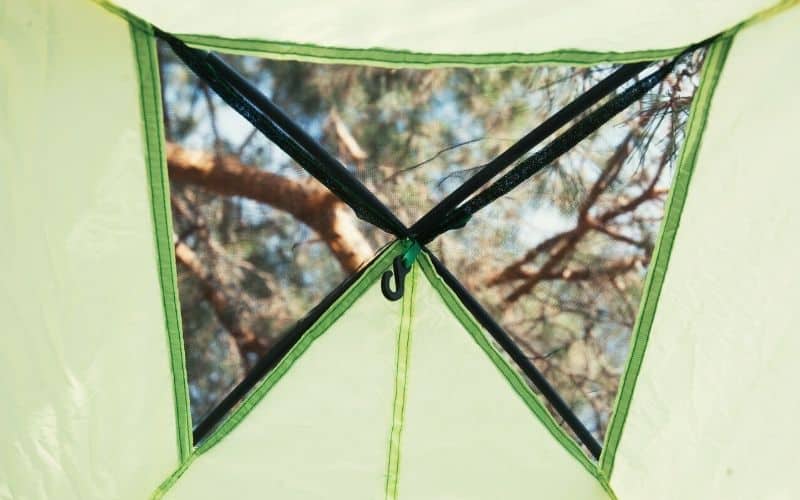 Quality and Durability
This is mainly determined by the fabric used in the body and fly, and the material used in the poles.
Fabric
As a general rule, the thicker the fabric, the more durable and robust it is. Fabric thickness is measured in denier (D), and most tent manufacturers will specify the denier of both the flooring and the rainfly. Some manufacturers also use fabric with a ripstop weave that helps to prevent tears and punctures.
Ultralight backpacking tents often have rainflys and floors as thin as 15D and 50D respectively, while those on a beefier car-camping tent can be as thick as 200D (fly) and 1000D (flooring).
Because thicker fabric means more weight, the most rugged and hard-wearing six-person tents are typically the heaviest.
Poles
Fiberglass, aluminum, or steel?
Fiberglass poles are mostly used in budget 6-person tents and are more prone to breaking, whilst aluminum poles are more robust and lighter, but also more expensive. Steel poles are the toughest of the bunch, but also the heaviest by far.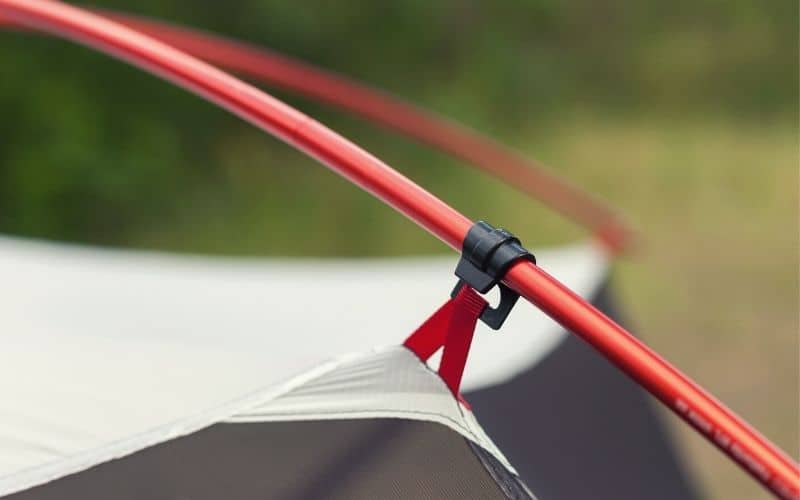 All of the tents in our review use aluminum poles except for the Coleman Sundome (fiberglass) and the Caddis Rapid 6 (steel).
Setting Up & Taking Down
Nobody wants to waste more of their precious downtime than is absolutely necessary putting up or taking down a complicated shelter.
The most "uncomplicated" tents out there are "instant" or pop-up tents which have poles that are pre-attached to the fabric, allowing for extra-quick pitching.
The next best thing, convenience-wise, are those that have color-coded poles and/or a freestanding design. Color-coded poles make it easy to identify which poles go in which sleeves, while a freestanding tent design means the shelter will stay upright even before being staked out with guylines.
All of the tents featured above have a freestanding design, and the only tent in our review without color-coded poles is the Coleman Sundome. The only "instant" tent in our review is the Caddis Rapid 6, which uses pre-attached poles that enable pitching in 1-2 minutes.
Weight and Packed Size
Manufacturers usually list both the trail weight and the packaged weight of their tents. Packaged weight refers to the overall weight of the tent and all accessories, including the inner, rainfly, poles, stakes, footprint, and stuff sacks. Trail weight (aka "minimum weight") refers only to the weight of the tent body, rainfly, and poles.
The lightest tent in our review is the Coleman Sundome 6 (18 lbs.), and the heaviest is the Caddis Rapid (25 lbs. 8 oz.).
The weight and packed size of your shelter aren't much of an issue if you're car camping and only schlepping your sleeping gear a few yards from your vehicle to your pitching point. However, if you're camping in the backcountry a tent that weighs and takes up as little room as possible in your backpack is preferable.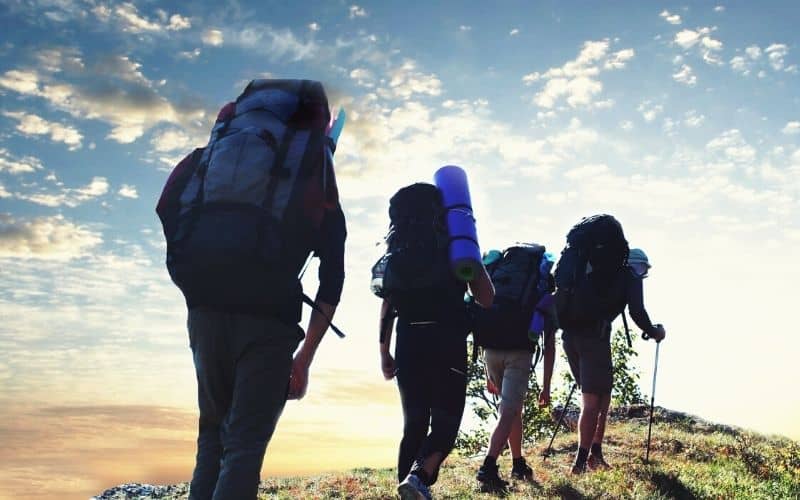 When buying, bear in mind that lighter tents often scrimp on weather resistance or use flimsier materials to minimize weight.
Storage Space: Pockets, Vestibules, and Gear Loft
Storage space is important for three reasons. First, it helps free up space for humans in the sleeping area, thus improving livability. Secondly, it helps keep your shelter clean and clutter-free. Thirdly, it helps you locate your gear more easily.
The three main storage features to look for when buying are large vestibules (the bigger the better if camping with lots of gear!), plenty of interior pockets on the tent walls, and a gear loft that lets you free up space by stashing items in the canopy above the sleeping area.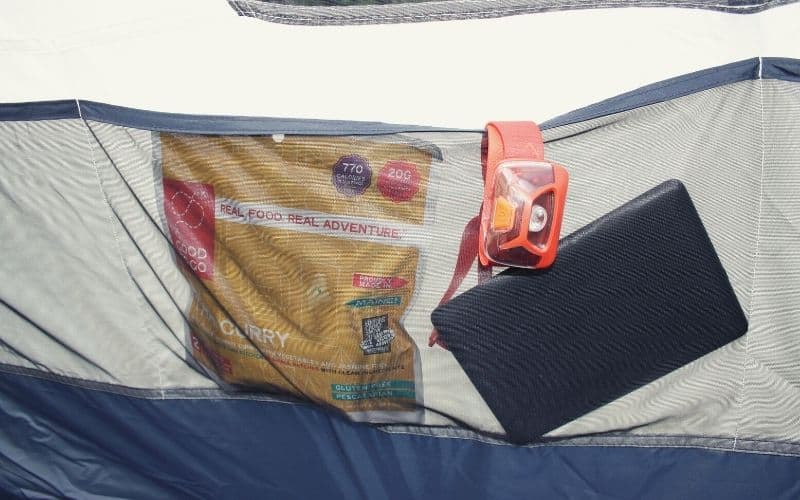 The North Face Wawona 6, which has an array of interior pockets and a whopping 66 sq. ft. of vestibule space, is the best tent for storage of all the tents in our review.
Best 6-Person Camping Tent: The Verdict
Out of all the 6-person tents we reviewed, the REI Base Camp 6 is the standout. The Base Camp might be fairly pricey, but it ticks every box that needs ticking. It's roomy, waterproof, easy to set up, has ample vestibule space and storage pockets, and uses a geodesic dome-style design and tough materials that make it ultra-robust and durable.
If the Base Camp is too expensive, we highly recommend the Coleman Sundome 6. The Sundome has a few shortcomings (a partial-coverage rainfly, cheap poles, and only one door), but it's very roomy and ideal for summer camping.
If you liked this post, let us know in the comments box below! And if you'd like to share it with your friends, share away!