Located a mere two-hour drive from downtown Los Angeles, Big Bear Lake is the perfect spot for both weekend jaunts and epic, multi-week adventures in the great outdoors.
Keen for a quick weekend trip spent fishing and boating on the idyllic Big Bear Lake? Then you'll love the Serrano Campground. How about spending the night stargazing from your remote forest campsite? Then Big Pine Flat campground is calling your name!
For everything else, check out the other awesome campsites featured in our guide to the best camping in Big Bear!
RELATED READING: For more great hikes and California campsites check out our other guides.
Our 11 Favorite Campgrounds Near Big Bear Lake
1. Pineknot Campground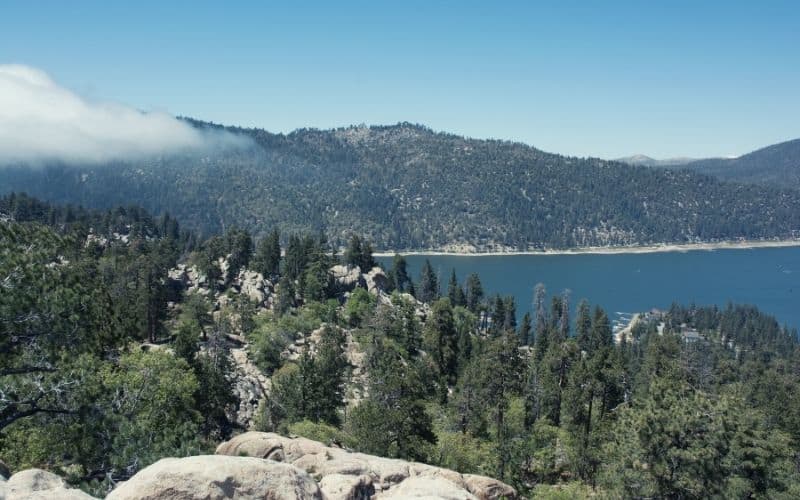 Pineknot Campground is one of Big Bear's most popular campgrounds thanks to its convenient location at the base of the Snow Summit Ski Resort. On top of snow sports, you'll have a vast network of local hiking and mountain biking trails to explore, including a portion of the epic Pacific Crest Trail. There's even a marina just 5 miles away!
This family-friendly campground features 48 RV and tent camping sites located in the midst of a typical California alpine forest. Be warned though, the sites are small, hilly, and lack RV hookups. If you're navigating a large RV, prepare for a challenge!
2. Serrano Campground, Fawnskin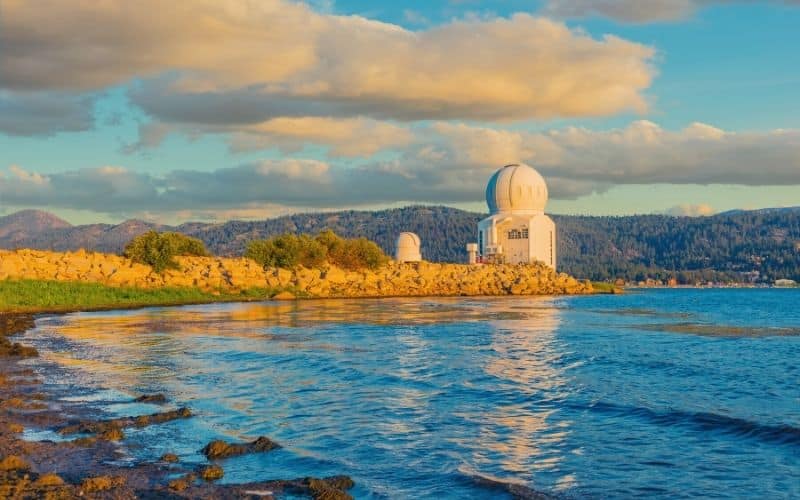 Just a short walk from Big Bear Lake and the Big Bear Discovery Center lies the Serrano Campground. If you're into water sports, this is the perfect spot to enjoy some fishing, swimming, or boating, since it's the only campground right on the lake.
The popular Alpine Pedal Path runs directly through the camp, offering up panoramic views of Big Bear Lake with the San Bernardino mountains in the distance.
Serrano is BB's largest campground, with over 130 standard and double sites available as well as accommodating group camping. RV campers will rejoice at the full hookups and nearby dump station, while all campers can enjoy amenities like drinking water, flush toilets, hot showers, and picnic areas.
3. Horse Springs Campground
Leave the forest behind you and enjoy some sweet desert solitude. Horse Springs isn't your typical BB campsite. Located almost 15 miles north of Big Bear Lake, you'll uncover a sprawling and secluded desert campsite perfect for dirt bikes and off-roading. Lots of designated green-sticker routes run through the area.
Each of the 11 campsites is first-come-first-served, so get there early during the peak season. You may be in the desert but you won't be completely roughing it thanks to the on-site potable water and vault (pit) toilets.
4. Holcomb Valley Campground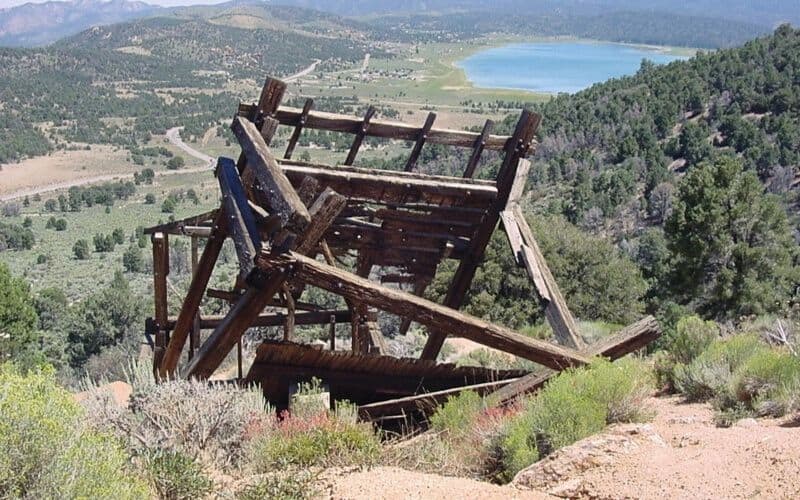 Seek your fortune at the Holcomb Valley Campground, an area once famous for the California gold rush. Nearby is the historic ghost town of Bellville. Once the richest gold mining town in Southern California, you can still take a peek at the few gravesites, mining shafts, and log cabins remaining.
The Holcomb Valley Campground offers remote, primitive camping for tents only. There are 19 single-family campsites available on a first-come-first-served basis. If spooky ghost towns don't do it for you, the grove of pine trees around the campground is filled with hiking trails and opportunities for rock climbing.
5. Big Pine Flat Family Campground, Apple Valley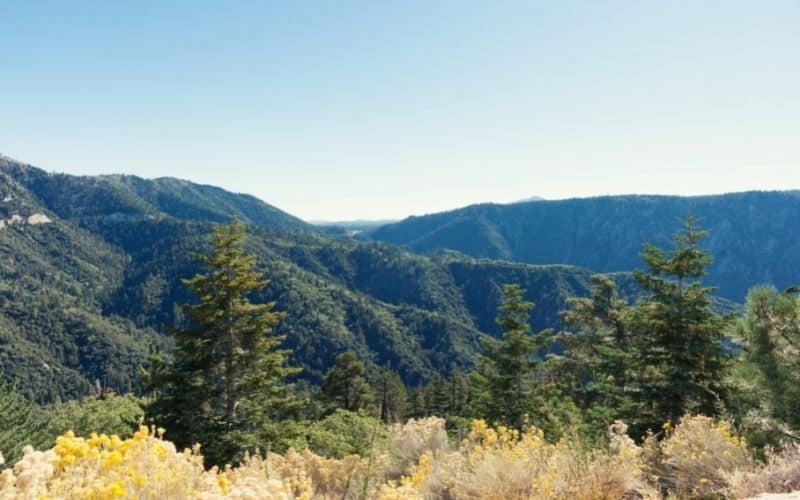 Big Pine Flat is one of the few remote camping areas left in BB where you can still escape the crowds. Tucked away on the edge of the San Bernardino National Forest, Big Pine Flat is parked right in that sweet spot where the edge of the forest becomes a wildflower meadow.
At close to 7,000ft in elevation, you'll enjoy a large, sprawling campground with plenty of room between sites.
The camp has 11 first-come-first-served RV and tent sites. While RVs are welcome, you'll have to travel down a pretty precarious dirt road to reach the campsites. Each site has a picnic table, fire ring, and grill, and the camp offers drinking water and vault toilets.
6. Hanna Flat Campground, Fawnskin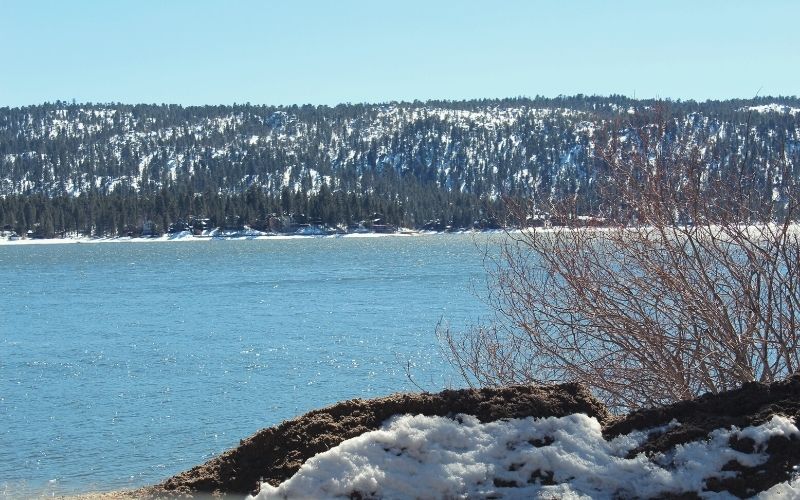 High above the Big Bear Valley, in a mature pine forest filled with Ponderosa and Jeffrey pines, you'll find the Hanna Flat Campground. This enchanting forest getaway is the perfect place to get back to nature and experience hiking, mountain biking, rock climbing, horseback riding, and off-roading around Big Bear Lake.
There are 88 paved campsites available at Hanna Flat and half can be reserved ahead of time. You won't find many fancy amenities, but it wouldn't be much of a remote forest getaway if you did! Still, expect to find potable water, vault toilets, and fire rings at each camp. Hanna Flat is also just 2.6 miles from the north shore of Big Bear Lake.
7. Barton Flats Campground, Angelus Oaks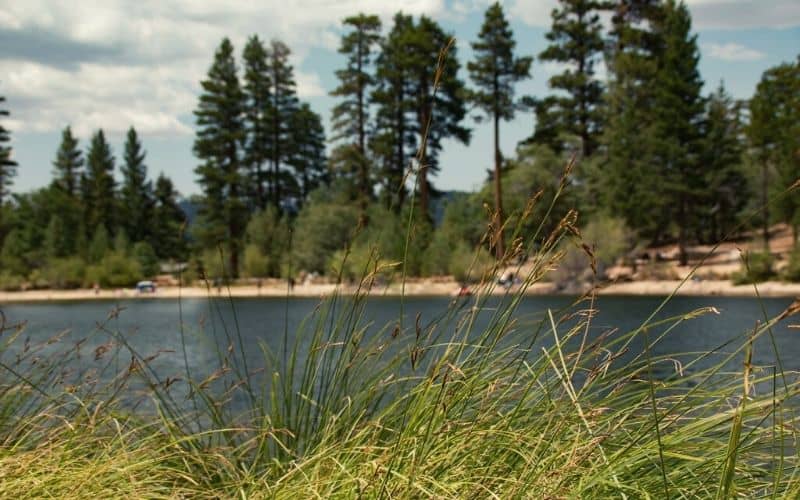 Hidden in a forest near the majestic San Bernardino Mountains is Barton Flats. Although it's located about 25 miles away from Big Bear Lake, nearby Jenks Lake should scratch the same fishing and boating itch!
The surrounding woods are jam-packed with scenic trails to explore. You'll find trailheads for the Santa Ana River Trail, the Rio Monte Trail, and the Jenks Lake Trail all nearby.
Baron Flats offers 51 reservable tent and RV camping spots nestled in this densely forested area. This neck of the woods is sometimes called "the Rim of the World", so don't be expecting too many amenities! You'll find just the basic stuff like showers, restrooms, a picnic table, fire ring, and grill combo at each site.
8. Holloway's Marina & RV Park
Plan the perfect lakeside getaway at Holloway's Marina and RV Park. Located in the heart of the Big Bear Valley, this family-friendly RV park offers a number of exhilarating ways to experience Big Bear Lake. Rent a paddleboat, kayak, fishing boat, or SUP, or give up the reins and book a chartered cruise instead.
The park features over 100 standard sites with full hook-ups and spoils you with a number of amenities. Book your next family trip here and enjoy hot showers, restrooms, laundry facilities, a basketball court, picnic tables, grills, and so much more.
9. Green Valley Campground, Green Valley Lake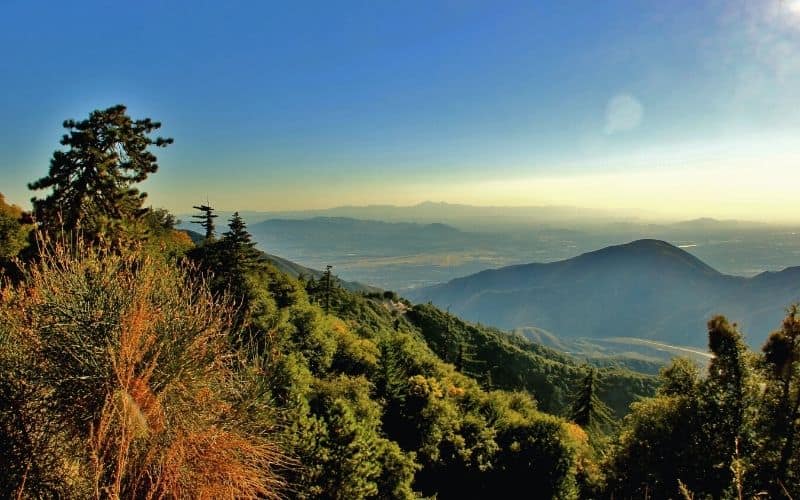 Nestled perfectly between both Big Bear Lake and Arrowhead Lake, Green Valley is an angler's paradise! As if two lakes weren't enough, just a mile away from the campsite you'll also find Green Valley Lake, which is known for its exceptional trout fishing.
Surrounded by a typical Southern California alpine forest, you'll have lots of opportunities to stretch your legs in the woods. Head to the top of the Green Valley lookout for spectacular views of the San Bernardino National Forest.
This great family campground offers 83 RV and tent camping sites. Enjoy amenities like vault toilets, potable water, and fire rings. Pets are welcome too!
10. Dogwood Campground, Lake Arrowhead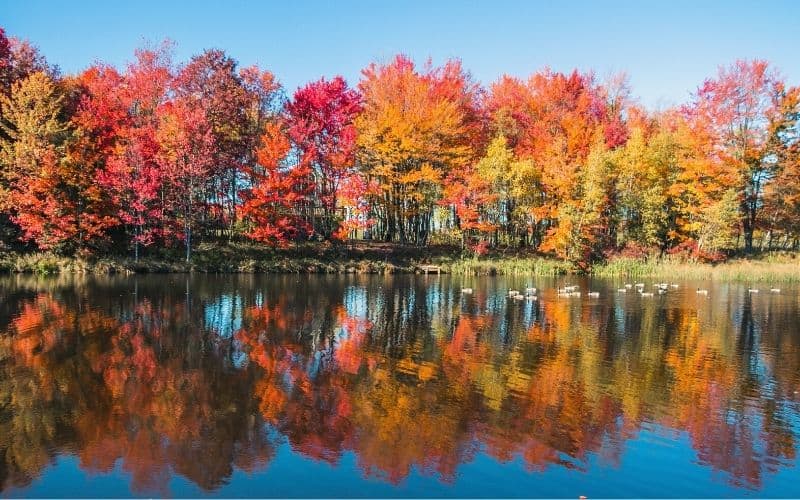 The Dogwood Campground is only available during the summer or the shoulder seasons, but it's a great family-friendly place to bring the kids. During the peak season, a number of interactive nature programs are offered and an amphitheater regularly hosts campfire programs.
The site is named after the many Dogwood trees that surrounded the camp and regularly put on an impressive display. Stop by during the spring bloom or in time for the fall foliage change to see the campground burst with seasonal colors!
The camp is large and offers dozens of spacious spots that accommodate tents and RVs. About half of the sites have full hookups and the park itself offers amenities like flush toilets, showers, and potable water.
11. Heart Bar Family Campground, San Bernardino National Forest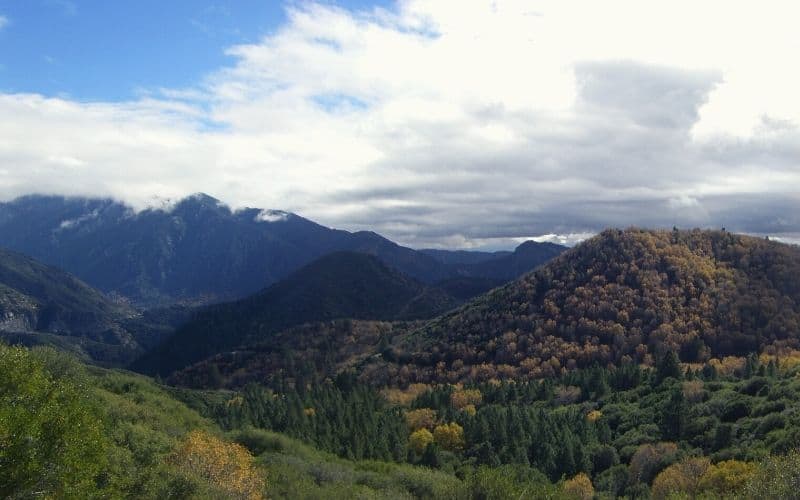 Located 30 minutes from Big Bear Lake in the heart of the San Gorgonio Wilderness is Heart Bar. Its convenient location just 25 miles from two major peaks, Sugarloaf Mountain and Onyx Peak, makes it the perfect starting point for those looking to conquer some summits. The famous Santa Ana River Trail is also located nearby.
There are 86 tent and RV sites available but no full hookups. Each site is large and spacious making it the perfect getaway for those seeking some peace and quiet. It's a remote spot so you'll only find the basic amenities like drinking water, vault toilets, and bear boxes.
Dispersed Camping in BB
If you're dreaming of the campgrounds less traveled, Big Bear Lake offers lots of dispersed camping opportunities too!
The Sand to Snow National Monument was established over 100 years ago and to this day it stands as an impressive example of the diversity and beauty of California wildlife. You'll find numerous primitive camping spots all along the trails beneath the San Gorgonio mountains.
Near the Holcomb Valley Campground is a flat and spacious primitive camping area. This open campground is perfect for stargazing and you'll enjoy views of Holcomb Valley in the distance.
Jenks East Flat is another peaceful and secluded primitive camping spot located near Jenks Lake. The forests nearby are filled to the brim with trails for both hikers and mountain bikers to explore.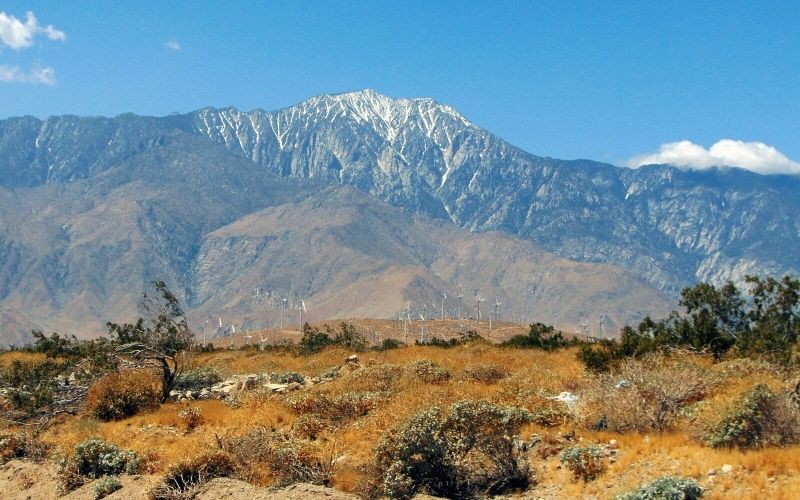 Just remember that many of the local forest service roads are closed in the winter, which makes it hard to reach many of these primitive sites.
Some San Bernardino National Forest campsites require a free Wilderness Pass to access, so be sure to check in with the Big Bear Discovery Center before setting off.
Yellow Post Sites
It's no surprise that wildfires in California are frequent and frightening. As a result, the California Forest Authority has designated several "fire-safe" spots in the backcountry for dispersed camping.
There are 13 Yellow Post Campsites in total located both to the north and south side of Big Bear Lake. Each of them is distinguished by a yellow post, hence the name "yellow post site". They're all available on a first-come-first-served basis and you can stay for up to two weeks. Remember that a California Campfire permit is required to have any kind of fire, whether campfires or stoves. Contact the USDA Forest Service to learn more about BB Yellow Post Sites and how to obtain a fire permit.
Happy Camping!
There are so many great camping spots in and around Big Bear Lake, it was hard to narrow it down! We hope that our list has inspired you to escape the hustle and bustle of city life and retreat to this awesome lakeside and mountain getaway.
Despite its SoCal location, the BB area never feels too crowded. You'll get all the fresh mountain air and scenic lakeside views you need to relax and recharge! Are any of your own favorite BB campgrounds missing from our list? Let us know! Comment below and tell us all about your own experiences camping in Big Bear.