Nestled in the San Bernardino National Forest lies the picturesque alpine gem that is Big Bear Lake.
Boasting an average of 300 days of sunshine every year, BB is a year-round getaway jam-packed with outdoor activities to enjoy. Beginners and experienced hikers alike can tackle one of the challenging mountain peaks or take a stroll down any of the scenic, family-friendly trails. Fishing, mountain biking, skiing, and snowshoeing are also all waiting for you at BB!
The iconic Pacific Crest Trail passes through here, too, meaning you can sample a piece of this famous thru-hike without all the months of planning and preparation, not to mention the mileage!
If you're ready to enjoy sweeping mountain views, a postcard-worthy lake, and gorgeous hiking trails for every skill level, read on and learn about our favorite 11 local hikes.
RELATED READING: Check out our other guides for more great hiking trips in California.
1. Castle Rock Trail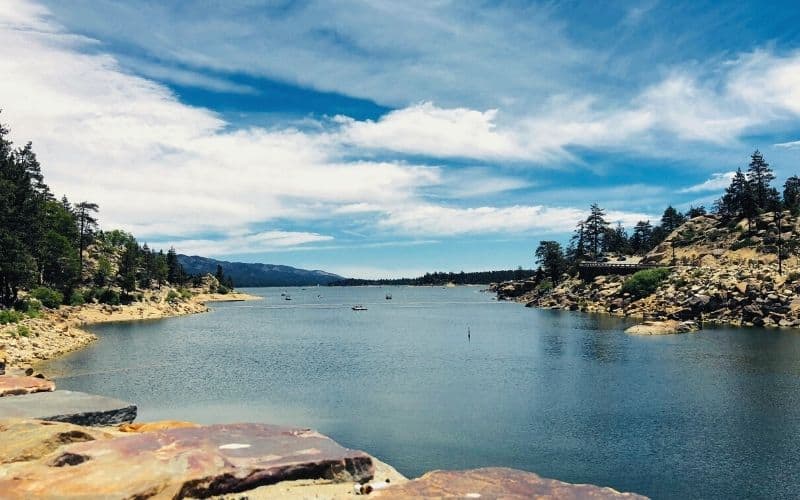 Type: Loop
Distance: 2.4 miles (750ft)
Rating: Moderate
Enjoy the view of Big Bear Lake peeking through the pine forest as you make your way up the Castle Rock Trail. While this trek may be short, it's quite challenging due to its steep elevation gain and rocky terrain. Prepare for a grueling ascent right from the start – things don't level out until you've reached the one-mile mark.
The Castle Rock Trail is heavily trafficked, so expect to share the path with lots of company. Don't let that deter you, though, as Castle Rock is one of the most impressive rock formations in the park and definitely worth a visit!
Those looking for an extra challenge can extend their hike down the Champion Lodgepole Trail, a charming hike to the ​​Bluff Lake Nature Reserve and its stately, towering pines.
2. Bristlecone Trail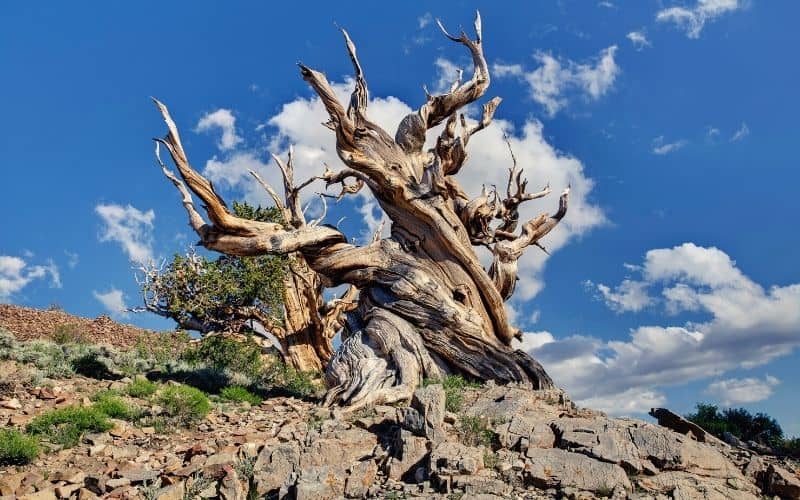 Type: Loop
Distance: 1.8
Rating: Easy
If you're looking for a family-friendly hike, this is it! Open for hiking, biking, and horseback riding, this easily accessible trek is perfect for all skill levels. This scenic round-trip is known to be bustling with California wildlife and is a favorite amongst birdwatchers. You may even get lucky and spot a Bald Eagle!
Fun fact: this hike is actually teeming with its namesake, Bristlecone Pines, and Jeffrey Pine. Bristlecones are a remarkable pine species known for their longevity – some specimens have survived for over 4000 years! Keep an eye out for them on the way now that you've got some cool tree facts to impress your friends with.
3. Cougar Crest Trail to Bertha Peak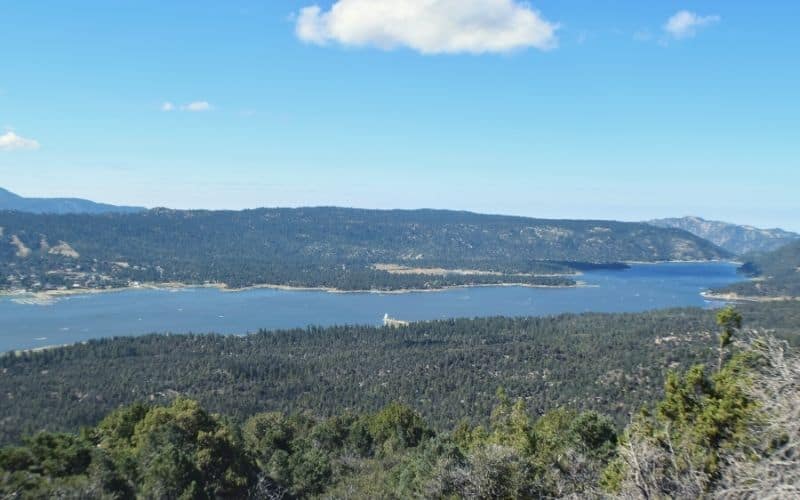 Type: Out-and-back
Distance: 8 miles (1,300ft)
Rating: Moderate
Make your way to the top of Big Bertha along the Cougar Crest Trail for spectacular views of BB and its lake. You'll be traveling through majestic old-growth forests on a steep and rocky dirt path above the lake's north shore and Serrano Campground.
The last mile to the summit of Big Bertha is along a forest service fire road with intense elevation gain, so prepare for the leg-burn!
While the sweeping views from the summit of Big Bertha are impressive, the Big Bear Discovery Center at the trailhead is also worth checking out. It's the largest visitor center in Big Bear Valley and it offers everything from wildlife exhibits to outdoor concerts and theater productions.
From here you'll also have access to the Woodland Interpretive Trail, which begins under half a mile east down the alpine pedal path.
4. Hanna Flat Trail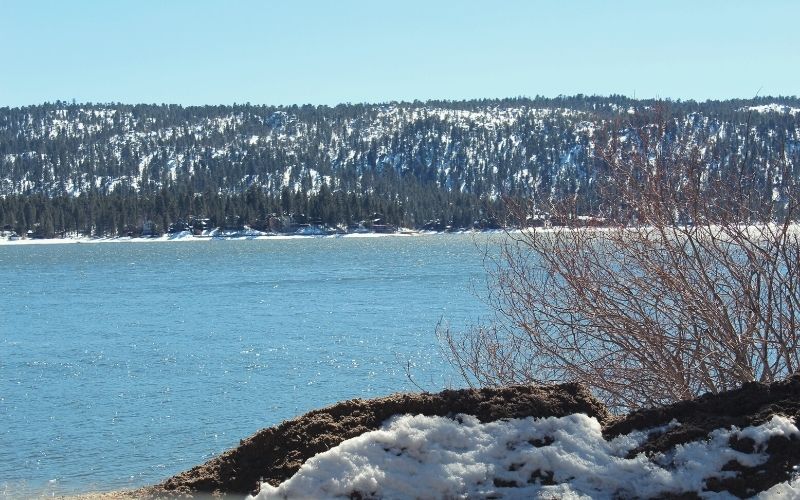 Type: Out-and-back
Distance: 9.5 miles (1,100ft)
Rating: Moderate
The hike from Hanna Flat is a hidden gem only the locals (and us) seem to know about. While it doesn't offer the same spectacular views as some of the other hikes on our list, you'll enjoy a variety of Southern California landscapes such as meadows, low shrubland, and gorgeous alpine forests.
You can start this hike from either direction, but we recommend starting from the trailhead at the Hanna Flat Campground. That way, you can choose whether you want to extend your trip for another two miles down the Grays Peak Trail for views of both this peak and Delamar Mountain.
RELATED READING: Check out our guide to the best campsites in Big Bear.
The Hanna Campground is right in the middle of Bald Eagle nesting grounds, so the trailhead is inaccessible from November until April.
5. Greys Peak Trail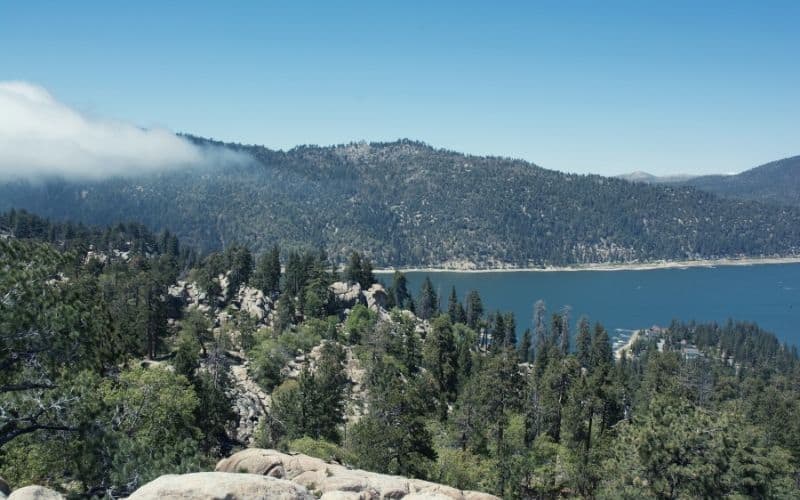 Type: Out-and-back
Distance: 7 miles (1,200ft)
Rating: Moderate
On the north side of BB Lake lies Grays Peak Trail, a mountain peak hike offering spectacular views of the lake below. This is a relatively easy peak to reach, making it the perfect choice for beginners looking to challenge themselves.
The trail is 3.5 miles to the summit and back again, traveling along a single-track path and sometimes a local access forest road.
To access the parking lot and trailhead, you'll need either a day pass or a California Adventure Pass. Thankfully, both can be purchased nearby at the Big Bear Discovery Center.
6. John Bull Loop Trail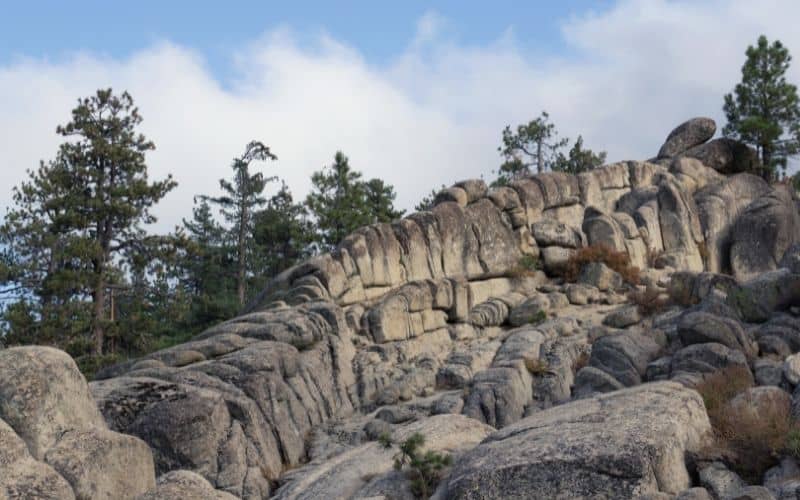 Type: Loop
Distance: 11 miles (900ft)
Rating: Challenging
If you're ready to sink your teeth into one of the most challenging trails in Big Bear, say hello to the John Bull Loop. You'll be hiking through the historic Holcomb Valley in the San Bernardino Mountains, an area rich in California gold rush history.
This is a strenuous hike through the unspoiled BB Wilderness, although most of the difficulties come from it's length rather than the elevation. It goes without saying that hiking boots and proper gear are a must, as well as some basic navigation skills. Need to brush up on these? Check out our guide on how to use a map and compass.
7. The Skyline Trail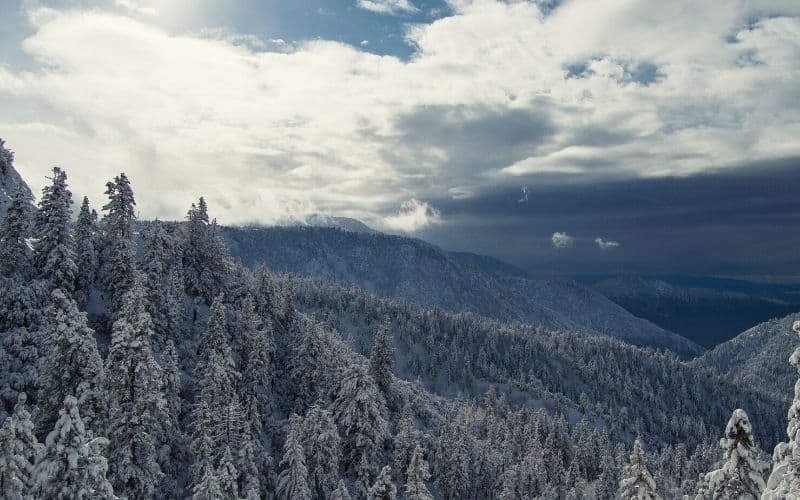 Type: Loop
Distance: 15 miles (1,500ft)
Rating: Challenging
Imagine yourself having a picnic at Grand View Point, a 1,500ft-high lookout featuring gorgeous views of Big Bear Lake and the San Gorgonio Mountain Range in the distance. All you need to do to get there is conquer the Skyline Trail, one of the most scenic treks in all of BB!
The hike in its entirety is quite long at 15 miles, but there are lots of junctions that allow you to hop on or off the path to shorten it. You'll be following along a single track that traverses the mountains above Big Bear Lake, with panoramic views the entire way.
8. Sugarloaf Mountain, Sugarloaf National Recreation Trail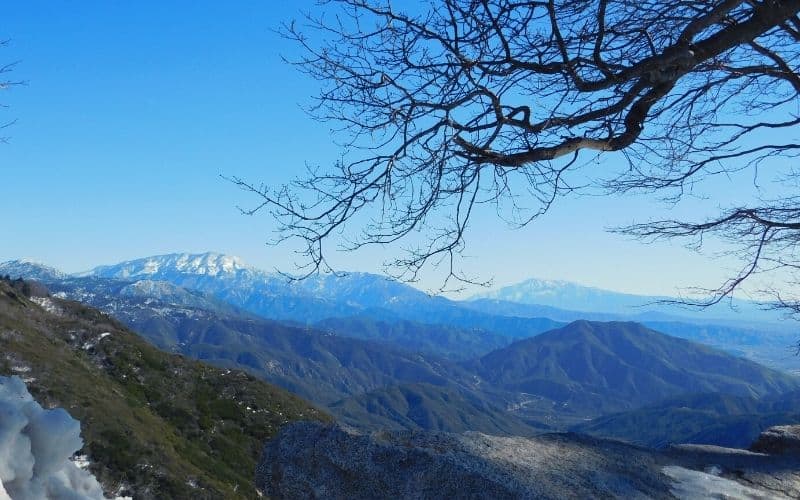 Type: Loop
Distance: 10 miles (3,200ft)
Rating: Challenging
There's nothing quite as sweet as reaching the peak of Sugarloaf Mountain. With its almost 10,000ft of elevation, Sugarloaf is the tallest peak near Big Bear Lake. 
Those looking for a paved path will be sorely disappointed. This round-trip features a long and grueling climb along a rugged and rocky dirt path. At least you'll enjoy spectacular views of the San Bernardino peaks in the distance!
The summit of Sugarloaf is actually forested and partially obscured, meaning you don't get the same stellar views offered by some of the other local peaks. Nevertheless, you'll still take in some lovely views of the Big Bear Valley below and feel good about conquering the tallest peak in BB!
9. Pine Knot Trail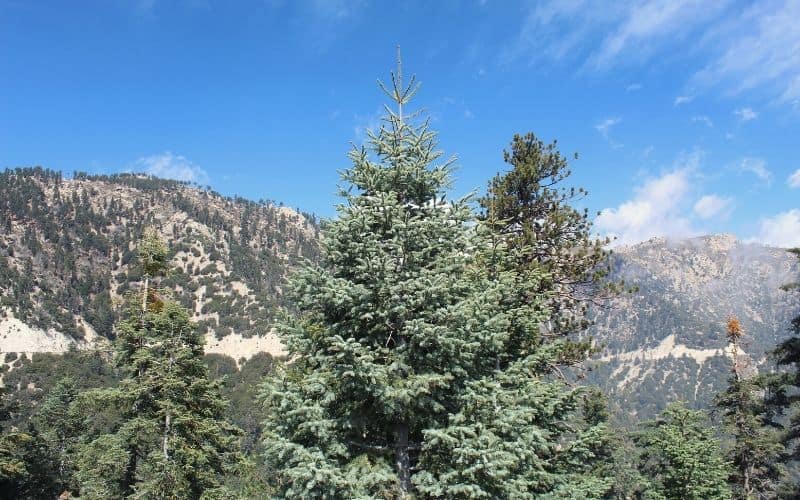 Type: Loop
Distance: 7 miles (1,000ft)
Rating: Moderate
The Pine Knot Trail is one of the most scenic hiking trails in BB and a favorite amongst the locals thanks to its stunning views of Big Bear Lake and San Gorgonio Mountain. This hike starts at the Aspen Glen Picnic Area and guides you through rugged alpine wilderness typical of this corner of Southern California.
While the trek is long and features plenty of elevation gain, the path itself is well-maintained and easy to navigate. If you're on foot expect to share the path with mountain bikers!
At the end of the Pine Knot hiking trail, add another half mile to your journey to reach the outstanding Grand View Point and take in the stellar views of Big Bear Lake from above.
10. Butler Peak Trail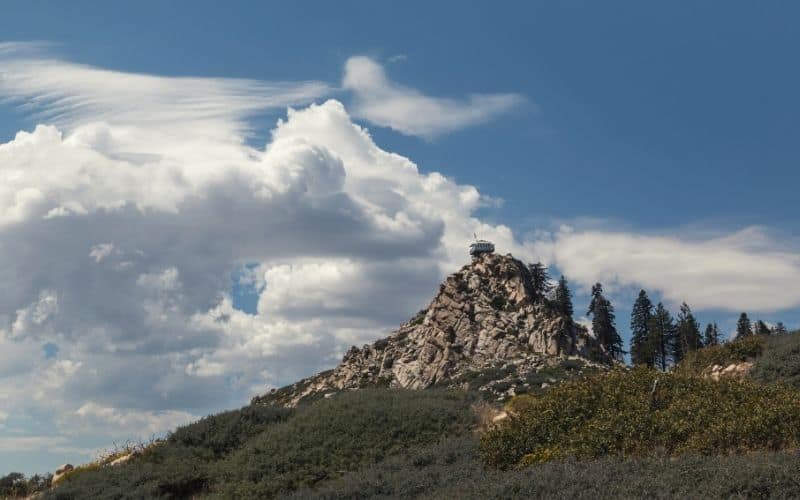 Type: Out-and-back
Distance: 14 miles (1,800ft)
Rating: Moderate
The Butler Peak Trail offers you another BB peak to strike off your list. This hike is a hidden gem that's one of the least frequented around the lake, so it's perfect for those looking to enjoy a little bit of quiet and remote nature.
While the hike is only rated as moderate, it's quite a challenging 14-mile trek to a lookout tower with picturesque views of Big Bear Lake below. If you make it all the way to the lookout tower, make sure to check out the Osborne FireFinder. This historic piece of equipment has been used for almost a century to pinpoint fire locations.
11. Pacific Crest Trail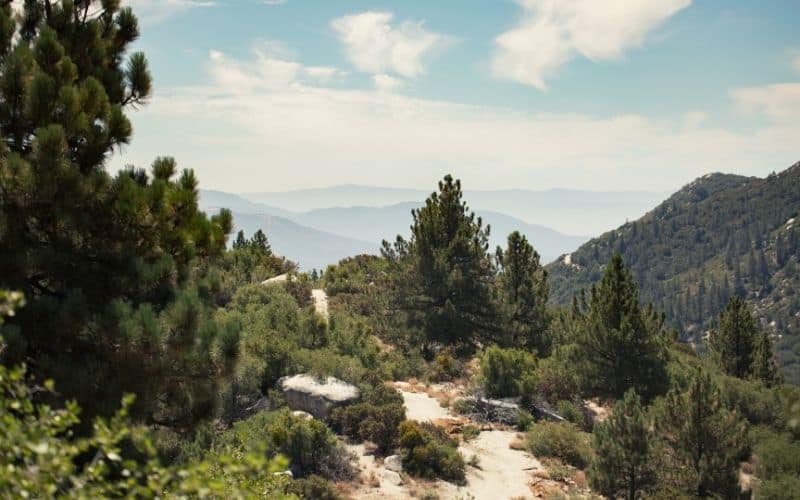 Type: Point-to-point
Distance: 39 miles
Rating: Moderate
The last Big Bear trail on our list is arguably the most famous. The Pacific Crest Trail is an iconic once-in-a-lifetime trek that stretches 2,650 miles from Mexico to Canada. Approximately 40 miles of this famous hike run through Big Bear Lake and the surrounding San Bernardino National Forest.
There is no trailhead or starting point to this one, as you can intersect with the Pacific Crest Trail directly from the end of the Cougar Cougar Crest Trail. You'll begin at the northern ridge of Bertha Peak and wind your way down to Holcomb Creek. It's nigh-on impossible to complete this in one day, but there are lots of entrance and exit points to help you break up the journey.
To say the experience is spectacular doesn't do it justice. You'll enjoy some of the best views in BB including the town of BB itself, the accompanying lake, and the San Bernardino Mountains.
Related California Hiking Articles
Best Hikes in Big Bear: Happy Hiking!
We hope you've enjoyed our list of the 11 best hikes in Big Bear, CA. With BB being so close to major cities like Los Angeles and San Bernardino, there's really no excuse not to add it to your weekend hiking checklist. So, what are you waiting for?! 
Be sure to drop us a line below and tell us all about your own favorite hikes in Big Bear. If you have any questions about these hiking trails, feel free to ask. There's nothing we love more than helping people plan their next outdoor adventure!