Is there any more essential piece of camping gear than a great coffee mug? While some will claim that biggies like a sleeping bag, tent, and sleeping pad are more important, those of us who depend on our morning brew for basic functioning in the hours that follow know otherwise!
Making a good cup of coffee is one thing, but keeping your brew warm and unspilled between toilet breaks, campsite chores, etc. is a different story. For that, you need not any old camping mug, but the best you can find. To ensure you get your hands on that kinda mug, we're here to help!
Whether it's your morning pour-over, an evening cup of tea, or a toddy by the campfire, the mugs below will keep your drinks hot and safe from spills on your next outdoor adventure!
Top Choices by Category
Budget: Coleman Enamel, Stanley Legendary
Double-Walled: Yeti Rambler, Miir Camping Cup, Hydro Flask Insulated, Stanley Legendary
Leakproof: Fellow Carter
Editor's Choice
Miir Camp Cup
What makes a camping coffee mug the best camping coffee mug? While this depends on your needs and preferences, a good starting point is a robust build, the ability to keep your drinks hot, and a lightweight and packable design. This, folks, is what the Miir Camp Cup offers in a nutshell.
This 12-oz. cup uses double-wall insulation to keep drinks hot and save you from burning your hands. It has a sleek design, is light enough for backpacking, and is made with 18/8, medical-grade stainless steel that doesn't transfer flavor and leaves no metallic aftertaste. This steel construction also makes it tough enough to survive some rough treatment around camp.
Bottom line: A tough yet lightweight camping cup that keeps your morning brew a little warmer a little longer than most.
At a Glance: Quick Recommendations
10 Best Camping Mugs for Coffee Reviewed
Miir Camp Cup
Editor's Choice
It's difficult to find anything to critique about the Miir mug. It fits in most cup holders, it's double-wall insulated, and it comes in a range of sizes and colors to suit individual needs and preferences.
We love that it comes in the classic speckle design of enamel mugs, but thanks to a powder coating and double-wall vacuum insulation you can enjoy nostalgic camp vibes without burning your fingers. And, it keeps your coffee hot.
As a bonus, the Miir is slim and lightweight enough for backpacking.
PROs

Functional and sleek design
Range of sizes and colors

CONs

Claims to be dishwasher safe, but recommended to hand wash
Some reports of peeling or chipping paint
Bottom-Line: Best of all worlds, our favorite camping mug the Miir offers form, function, design, and versatility at a mid-range price point.
Yeti Rambler Stainless Steel Vacuum Mug
Runner Up
One of the most trusted names when it comes to hot or cold insulation, the Yeti brand has a massive following with good reason. Perhaps the exact opposite of an enamel camp mug, the Yeti Rambler mug is designed and engineered to keep your beverage hot without burning your paws.
The Rambler is a double-walled and vacuum-insulated mug, and with Yeti technology, will keep your coffee piping hot longer than you may have thought possible. The slider lid can be closed, sipped from, or removed entirely.
The Rambler is made from kitchen-grade stainless steel and is virtually indestructible – it's even dishwasher safe. With a 14-oz capacity, you may not even need a refill.
PROs

Hot drinks stay hot
Dishwasher safe
Double-walled

CONs
Bottom-Line: If you've heard a lot about Yeti but aren't ready to invest in the cooler, the Rambler is a low-stakes option to see what all the fuss is about.
Coleman Enamel Camping Mug
Best Budget
It's worth noting that single-wall metal mugs are best for warm weather. They are not insulated and tend to lose heat the quickest. That being said, there's something so classic and low-tech about an enamel mug, it remains one of our favorites for camping in temperate climates.
We love the nostalgia enamel mugs offer, not to mention good durability and versatility at a low price point. For vintage vibes, and a do-it-all mug you can throw in a camping tote, the Coleman Enamel is great value and an absolute classic.
PROs

Classic look and feel
Lower price point

CONs

Not insulated, so hot beverages lose heat quickly
Less durable than other options
Bottom-Line: For family camping trips, campfire toddies, or to complete your backup stash of mugs, the Coleman is reliable and affordable.
Stanley Legendary
Best Value
The Stanley name is another brand you likely remember from childhood. Who doesn't have a Stanely thermos they inherited from their grandfather?
The Legendary is a modernized version of the original. Featuring double-wall vacuum insulation, a splash-free lid, and the Stanley iconic design, this stainless steel mug is a great all-around choice for enjoying a leisurely hot coffee in the morning.
PROs

Lifetime warranty from a trusted brand
Durable and rugged design

CONs

Not leakproof or spillproof
Few color options
Bottom-Line: Lacking a secure lid for tossing a beverage into your backpack, the Stanley Legendary is best used on leisurely camping trips.
Snow Peak Titanium Mug
Best Design
Titanium mugs are notorious for being lightweight and tough, but with a downside: lacking insulation, your coffee cools quickly. This double-walled model changes that.
Snow Peak is known for its exquisite, minimalist Japanese design and perfect marriage of form and function. Weighing just over 4 ounces, the Ti-Double 450 holds 15 ounces of liquid and can be paired with a silicone sipping lid.
While the single-wall Snow Peak mugs can be placed directly on heat, keep in mind the double-walled insulated mugs cannot.
PROs

Tough and lightweight
Optional lid

CONs

Pricey
Cannot be placed directly on heat
Bottom-Line: The best of both worlds when it comes to durability and heat retention, the Snow Peak Titanium is equally desirable and functional for use on and off the trail.
Fellow Carter
Best for Flavor
The thing about the Fellow Carter is that once you make the switch, you may never want to drink coffee out of a metal thermos again.
Available in an array of colors and sizes, the Fellow is designed with a leak-proof, screw-top lid, which lets you throw a hot tea in your bag for later. The curved metal lip for easy sipping is incredibly pleasant and the ceramic lined interior means there is no metallic taste that you get with a stainless steel camping mug.
If you like your coffee as a ritual, or are the type of person who travels and camps with an aero press, the Fellow Carter is for you.
Bottom-Line: For a superior beverage experience, the Fellow Carter offers the most unadulterated taste from frontcountry to backcountry.
Uberleben Kuksa
Best Aesthetic
If you want something a bit more authentic feeling for your nature escape and/or if food-grade stainless steel tends to remind you of your morning work commute, we recommend the wooden Uberleben Kuksa.
A traditional Scandinavian design of Sami herders, the Kuksa is carved from a solid piece of natural hardwood and protected with a BPA-free, food-grade finish.
While a more off-the-beaten-path option, the Kuksa will offer a deeper connection to the great outdoors.
PROs

Beautiful design
Surprisingly lightweight

CONs

Small volume
Least durable option
Bottom-Line: Just might become your new favorite way to enjoy your morning coffee ritual on your next camping trip.
TOAKS Titanium Single-Wall Cup
Best Ultralight
Incredibly heavy-duty while also weighing only 2.7 ounces, the TOAKS Titanium camp cup will survive just about anything and is ideal for long-distance backpackers. It won't rust or dent, you can place it directly over heat, and your coffee will even taste better – titanium doesn't give off the metallic taste that stainless steel does.
While it won't keep your beverage hot for very long, it is an excellent choice when you want to travel light and have one cup for many uses. From oatmeal to coffee to bourbon, the TOAKS Titanium does it all without adding too much excess weight or volume.
PROs

Lightweight
Indestructible

CONs
Bottom-Line: Best for backcountry trips where weight matters and your coffee isn't sitting around long enough to get cold.
GSI Outdoors Infinity Backpacker Mug
Best Plastic
While they are perhaps the least trendy option, there's something to be said for well-constructed plastic camping mugs. The GSI Outdoors Infinity is lightweight, versatile, BPA-free, and has a spill-resistant lid. It comes with a koozie to keep coffee warm (though not hot, and certainly not all day).
A plastic camping mug is an ideal lightweight choice for backpackers looking for value when they purchase new camping gear. This one has a collapsible tarpaulin handle, will keep your drink warm, and is a durable option for car camping or backpacking.
PROs

Great value
Built-in koozie and handle

CONs

Less insulated than a walled thermos
Lid seal could be improved
Bottom-Line: A great option for a lightweight, do-it-all plastic mug at a low price point!
Hydro Flask Insulated
Best Temperature Control
Another cult favorite, the Hydro Flask brand is known for its wide range of colors and sizes, durable stainless steel, and the ability to retain heat. A rival of the Yeti mug, the Hydro Flask coffee mug guarantees piping hot coffee and cold drinks for hours.
A soft coating makes the exterior more comfortable to hold than stainless steel, and it comes with a lifetime warranty.
PROs

Variety of colors and sizes
Keeps beverages hot or cold for hours

CONs
Bottom-Line: The Hydro Flask keeps hot drinks hot and cold drinks cold better than most!
How to Choose a Coffee Mug for Camping
Type
The style and design of the mug matter based on use. For backpacking, something indestructible, lightweight, and versatile like the TOAKS Titanium is the way to go. If you plan to camp with the family and enjoy some spiked hot chocolate by a campfire, consider something double-walled with a lid.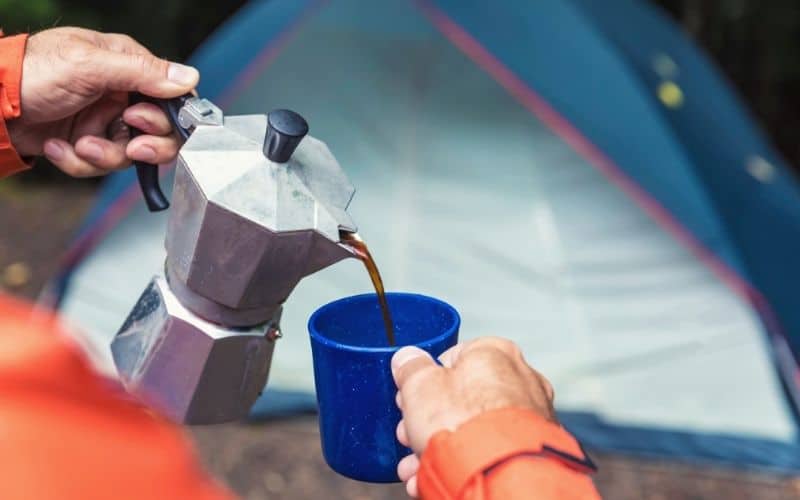 Material
Are you hard on your gear? Planning to backpack a lot? Do you care more about the ritual of your morning beverage? These considerations will help you determine if it is worth investing in something lightweight and titanium or if a simple enamel mug will do.
Insulation
Insulation adds weight, so if you tend to drink your beverages quickly and don't plan to be out in very cold weather, you might be fine with a single-walled mug. But, for leisurely mornings at camp, chilly nights by the fire, or anyone who tends to linger and savor every sip, double-wall insulation will keep your beverage piping hot while you stay up late stargazing or linger over breakfast.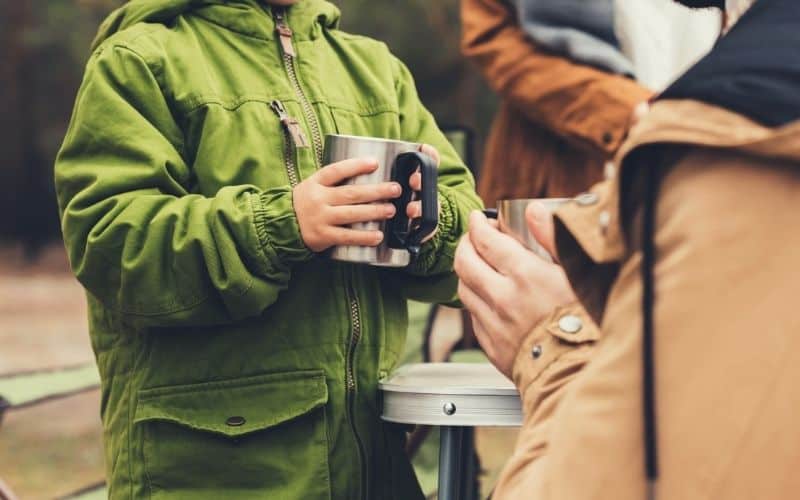 Lid Type
If you are hoping to pack a hot beverage for the summit of a snowy hike, you'll need a model with a super-secure, leak-proof lid like the Fellow Carter. If you just need heat retention and something splash-resistant, any lid with an opening that slides closed will do the trick!
Best Camping Coffee Mug: The Verdict
With a wide range of popular camping mugs, it may seem hard to choose just one. Backpackers will want something lightweight and versatile for multi-use purposes, while campers may care more about keeping drinks hot for leisurely conversations by the campfire.
Overall, our Editor's Choice for the best coffee mug for camping is the Miir Camping Cup. It offers all-around great value at a mid-range price point, comes in a variety of sizes and colors (including a classic camp enamel speckle design), and insulates well while keeping a slim and lightweight profile.
Do you have a favorite we missed? Let us know! And if you'd like to share this post with your friends, share away!