Despite being a smaller state, West Virginia is home to a wide variety of beautiful campgrounds that are ideal for anyone looking to get back to nature.
From RV camping along scenic mountain lakes to secluded campgrounds nestled deep in the forest, WV offers something special for every type of camper.
Ready to explore the wild and rugged beauty of West Virginia? Then sit back and enjoy as we take you through all of the Mountain States' top camping sites.
1. Holly River State Park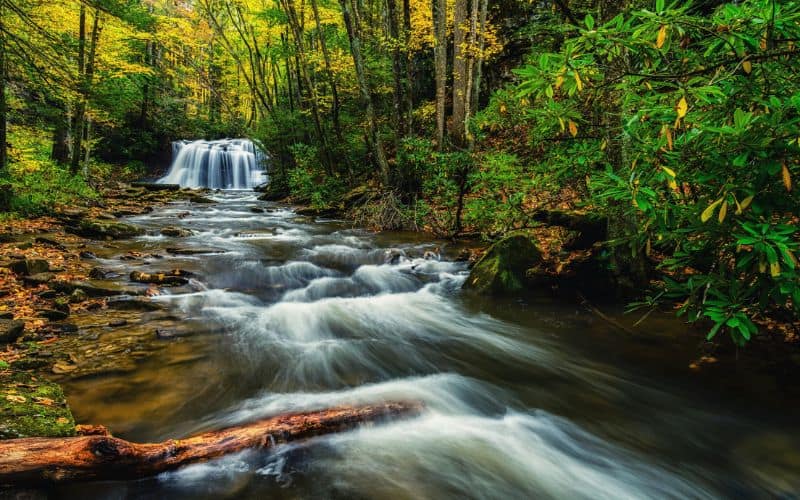 Holly River State Park is the second largest park in the West Virginia park system. Nestled in a narrow valley, the park is surrounded by heavily forested mountains. It's a beautiful natural setting where guests can camp, hike, horseback ride, swim, and play tennis.
Both tent and RV sites are available, along with rustic cabin rentals. Each site features electric hookups, cooking grills, a fire ring, and picnic tables. Other conveniences include centrally-located bathhouses with hot showers, laundry facilities, and picnic areas.
2. Spruce Knob Lake Campground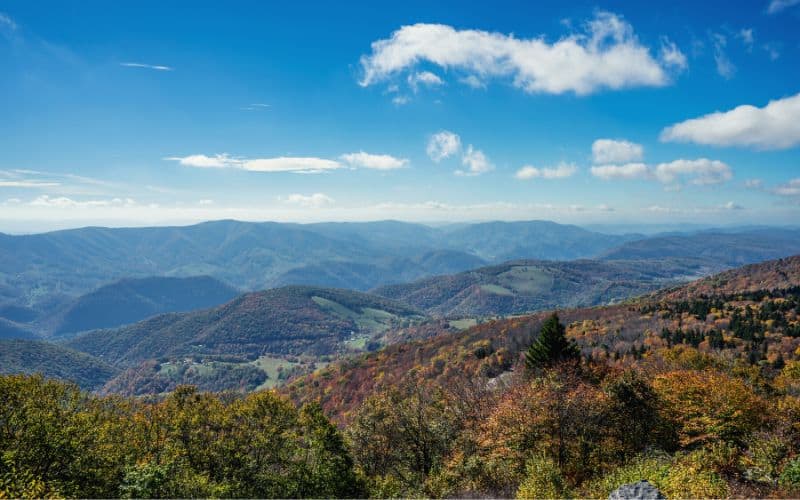 Spruce Knob Lake Campground is found in a vast, hardwood forest just one mile from a 23-acre lake.
Visitors can enjoy easy access to boating on the lake or hiking on the various trails of Spruce Knob Mountain. Spruce Knob Lake and its surrounding creeks are regularly stocked with trout, so bring your rod!
Spruce Knob Campground offers all the usual bare-bones state park amenities like vault toilets, fire pits, and picnic tables. Each site is surrounded by trees, so you'll have plenty of privacy and shade. Just remember that due to its high elevation, Spruce Knob can experience strong winds and fog year-round.
3. New River Gorge National Park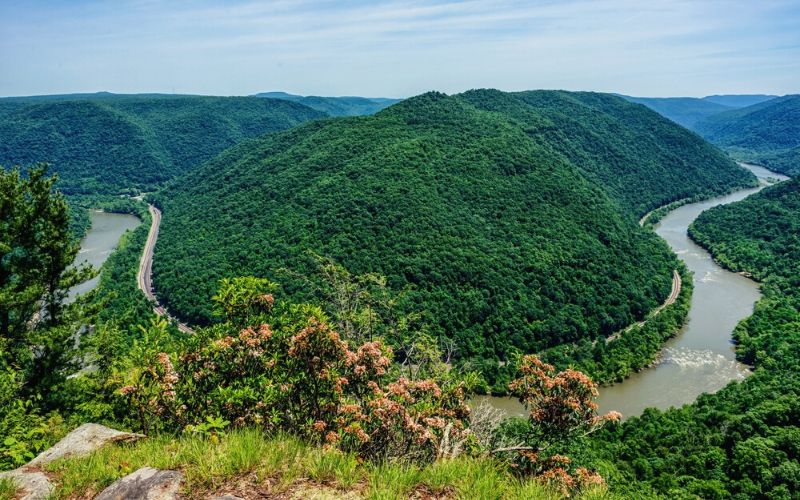 A scenic gorge surrounded by forested mountains awaits you at New River Gorge State Park! Home to over 70,000 acres of public lands, this is one of the most cherished natural regions in West Virginia.
The things you can do here will keep you entertained for weeks! Check out the cascading waters at Sandstone Falls, explore the many hiking trails, go whitewater rafting on the New River, or dabble in some rock climbing on the gorge's world-famous cliffs.
Only primitive camping is allowed at New River Gorge. All the primitive sites are located along the river and feature no RV hookups and limited restroom facilities. Sites are managed on a first-come, first-served basis. Stays are limited to 14 days in the same area.
4. Beech Fork State Park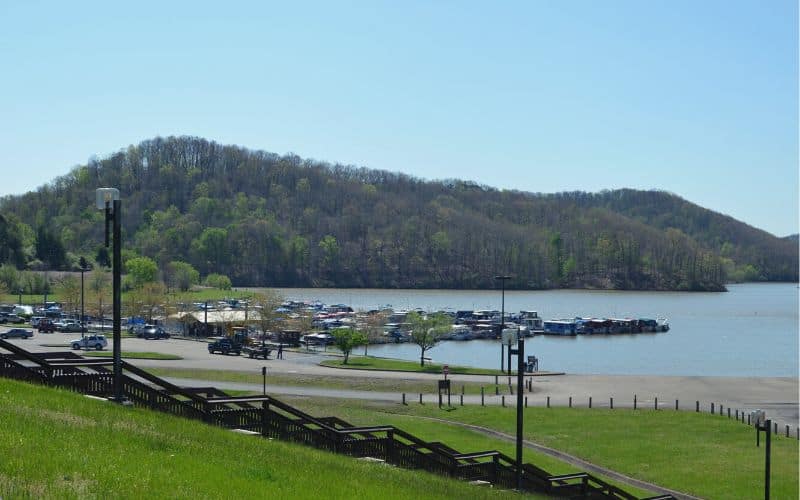 Out of all the West Virginia State Parks, Beech Fork is one you don't want to miss! Beech Fork is a 3,144-acre park located in the beautiful, rolling hills of southwestern West Virginia. There are miles of hiking trails to explore and exciting lake activities for the whole family.
There are a total of 272 campsites at Beech Fork State Park across four distinct campsite areas. 99 of these are lakeside campsites – but they go fast! All campsites have a paved parking pad, grill, and picnic table. Other amenities include a camp store, a fully-equipped shower house, and restroom facilities.
If you're looking for a glamping experience, there are also 6 cabins rentals along a ridgeline overlooking Beech Fork Lake.
5. Mountain Lake Campground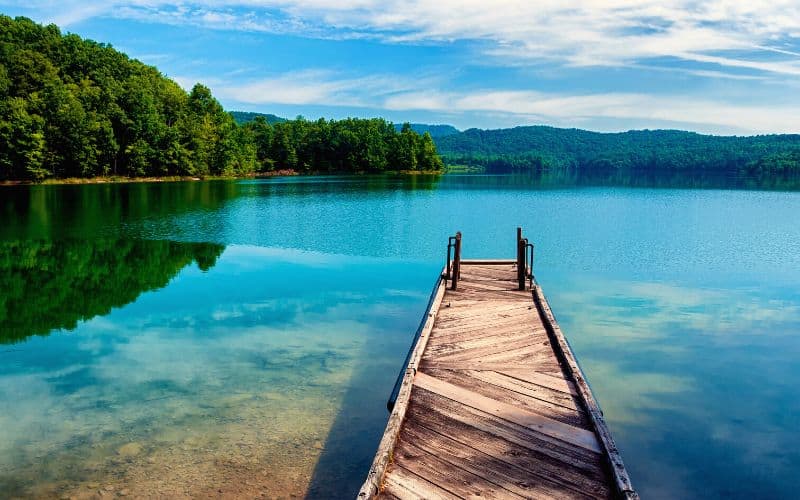 Mountain Lake Campground is the ultimate family-friendly campground. Located on the shores of picturesque Summersville Lake, you'll never be bored thanks to a wealth of on-site and nearby activities.
Around camp, you'll find a swimming beach, outdoor pool, mini-golf, an outdoor theater, and playgrounds. In the local area, you can try rafting down the New River Gorge, visiting the Summersville Dam, or going wine-tasting at the famous Kirkwood Winery.
There are several ways to stay, including tent camping, RV sites, trailer sites, cabin rentals, and yurt rentals. You'll be camping in style thanks to amenities like WiFi, bathhouses, laundry facilities, on-site dining options, picnic areas, and a camp store.
6. Blackwater Falls State Park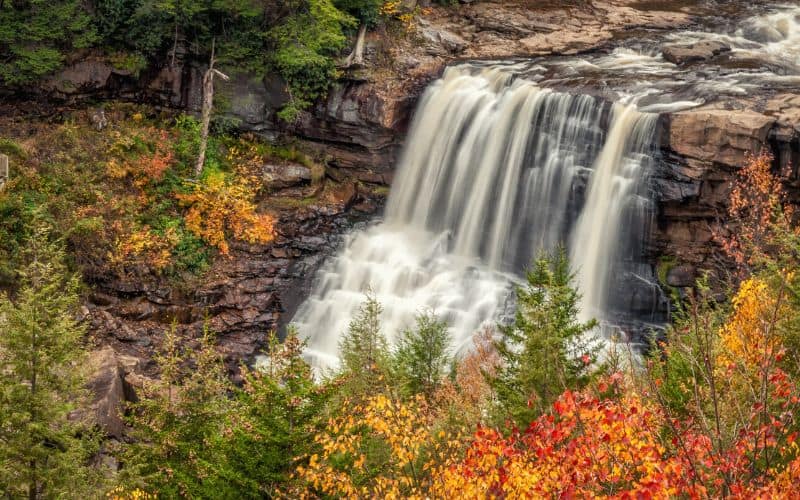 Located in the beautiful Allegheny Mountains of Tucker County, Blackwater Falls State Park is the perfect backdrop for the ultimate wild and rugged camp adventure.
The star of the show here is the Blackwater Falls, whose amber-colored waters cascade 5 feet before tumbling into a gorge below. The park also has over 20 miles of hiking and biking trails and the heavily-photographed Canaan Valley is close by for day trips.
Sixty-five sites are available for RV and tent camping. If you don't want to skip out on the comforts of home, there are also deluxe vacation cabins available for rent. Centrally-located amenities include bathhouses with hot showers, playgrounds, and picnic areas.
7. Audra State Park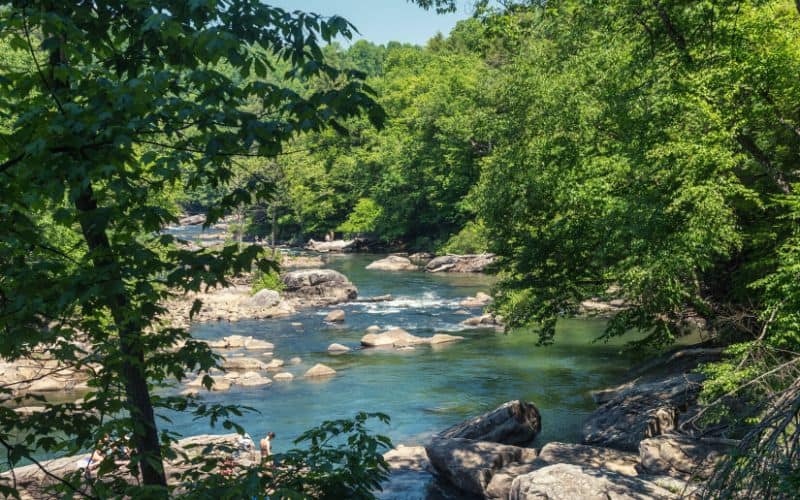 Audra State Park is a heavily wooded area found in Barbour County. The Middle Fork River divides the park in two, creating a lush environment filled with wildlife. For a picturesque view of the Middle Fork River, visitors can follow the beginner-friendly Alum Cave Trail, which is featured in our guide to the best hikes in West Virginia. 
There are a total of 65 sites available at Audra State Park, a few of which have electric hookups. On-site amenities include two bathhouses, a picnic area, a playground, a coin laundry, and a camp store.
8. Big Bear Lake Camplands
Nestled in the heart of the Appalachian mountains you'll find Big Bear Lake Camplands. Set in a lush forest with over 5,000 acres to explore, Camplands offers plenty of family-oriented fun. Enjoy recreational activities like world-class hiking, mountain biking, tennis courts, and an all-new water park with a lazy river, water slide, and kiddie pool.
Twenty-five wooded tent and RV sites around Big Bear Lake are up for grabs. There are several different campsite options to choose from, including rustic tent sites, standard RV sites with electric hookups, and pull-through sites with full hookups. Camp amenities include bathhouses, picnic areas, and a camp store.
9. Tygart Lake State Park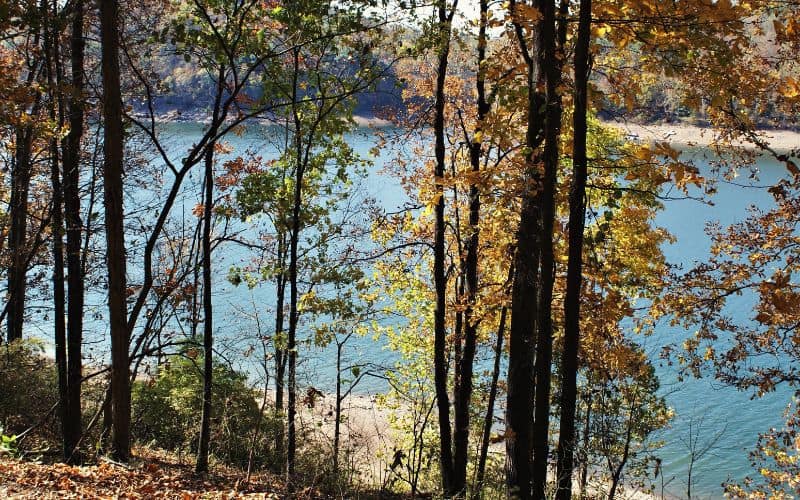 Just four miles south of Grafton, Tygart Lake State Park provides visitors with a 10-mile long, 1,750-acre lake to enjoy. There's an amazing range of water activities available including boating, kayaking, canoeing, trout fishing, and water skiing.
Tygart Lake State Park features 36 sites for RV and tent camping, each with the usual cooking grill and picnic table. All campsites are reservable and most of them even pick up great WiFi! Lakeview cabins are also available for rent.
10. Bluestone State Park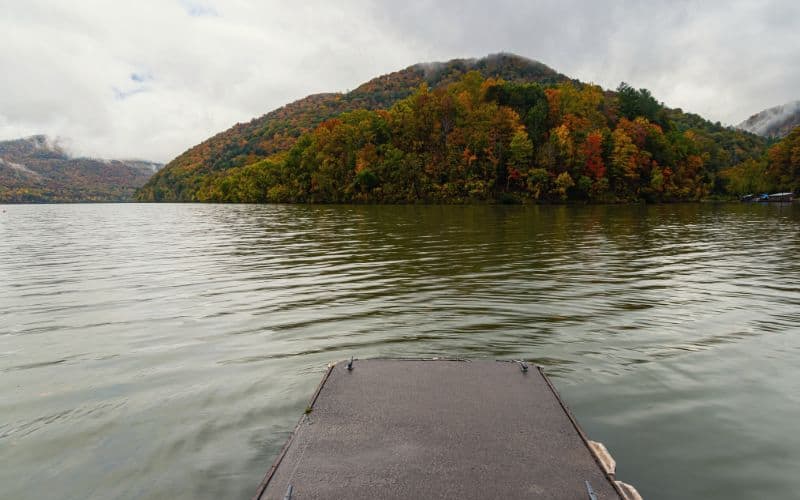 Looking to enjoy a peaceful and scenic lakeside retreat? At Bluestone State Park in southern West Virginia, you can enjoy awesome camping along a picturesque lake. There are plenty of lakeside activities to enjoy including boating, kayaking, swimming, and fishing.
If you're looking for something a little more adventurous, you can also try ziplining, mountain biking, horseback riding, and guided fishing trips at nearby Pipestem Resort State Park.
All Bluestone State Park campgrounds are open spring through fall. There are four distinct campgrounds available with over 120 RV and tent sites.
Tent Area Campground is perfect for those looking for bare-bones primitive camping while Meador Campground has both electric and water hookups, as well as bathhouses and hot showers.
11. Bear Heaven Campground, Monongahela National Forest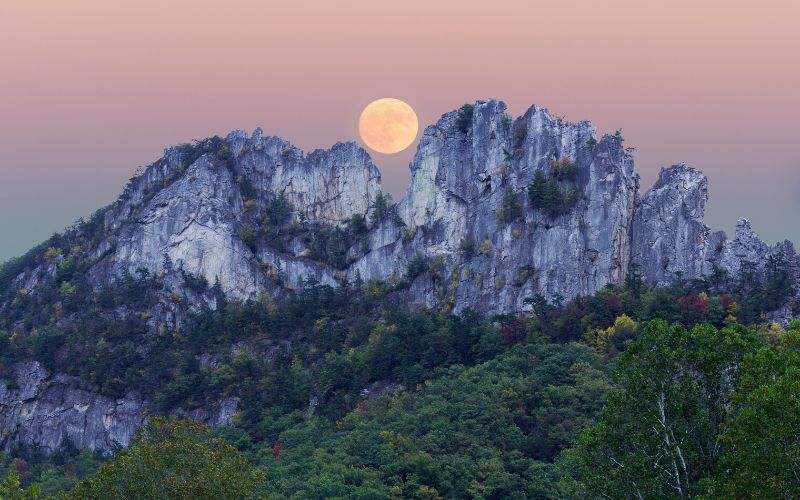 Monongahela National Forest is one of the most ecologically diverse areas in the US. The forest spans over 900,000 acres and every inch is filled with places to hike, bike, swim, go horseback riding, or fish.
Arguably the most famous West Virginia landmark, Seneca Rocks, is found here too. Fun fact: it was actually one of the first established climbing areas in the eastern United States! If you're new to climbing, local outfitters offer beginner-friendly climbing lessons, gear rentals, and guided climbs.
Bear Heaven is a small primitive campground with just eight first-come, first-served sites. The rock outcroppings in the area provide a unique landscape for wildlife viewing, and both hiking and stream fishing are also available nearby. What this campground lacks in amenities it more than makes up for in peaceful solitude!
Other West Virginia Campgrounds
While we did our best to list the most amazing campgrounds in WV, there are just too many to count! Check out camping opportunities in other fantastic spots and West Virginia state parks like:
North Bend State Park
Coopers Rock State Forest
Watoga State Park
Babcock State Park
Kumbrabow State Forest
Big Bend Campground
Grandview Sandbar Campground (a haven for rock climbers!)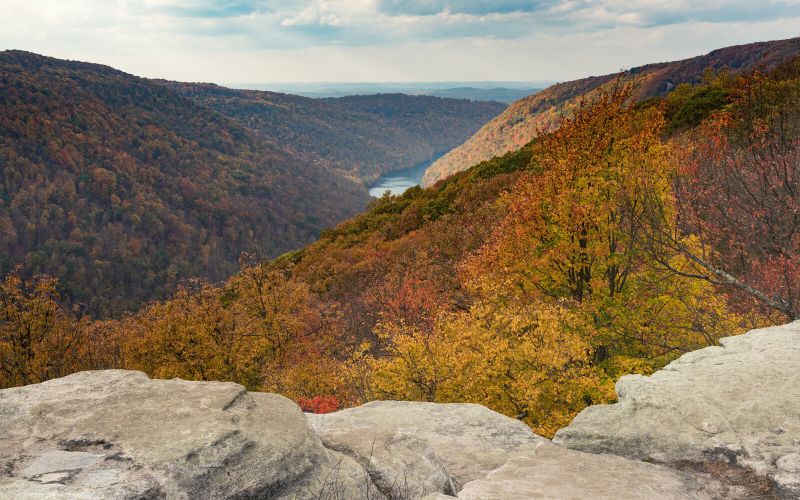 Best Camping in West Virginia!
For the top camping in the eastern USA, West Virginia is the place to be! With its abundance of camping locations in the midst of or very near show-stopping natural beauty, lush forests, and scenic waterways, the best camping in West Virginia has something to offer every type of camper. 
If you've enjoyed this article or have any questions about camping in the Mountain State, give us a shout in the comments below. And if you'd like to share this article with your outdoorsy family and friends, share away!