Some dogs never seem to tire. You know the type – they go for a hike, come home, flop on the floor for a quick nap, then wake up ready to run circles around you again.
Others, bless them, no longer have the trail legs they once did or aren't blessed with boundless energy that would let them join us on all our adventures.
Whether your four-legged friend tires faster than you do, is slowing down with age, or has some dachshund ancestry, using a backpack for adventures will allow you to bring your pup along for the ride, no matter how far or hard you plan on hiking.
In this guide, we aim to help you find the best option for you and your pup by introducing you to 6 awesome pup-portation packs and providing all the info you need to choose.
Editor's Choice
Kurgo G-Train
The Kurgo G-Train is, in a few words, the Mercedes Benz of canine transportation solutions. This dog-carrier backpack for hiking has it all. It's made with robust, extra-durable materials, can carry dogs that weigh up to 25 pounds, and provides oodles of comfort for both you and your pooch.
This model mimics the construction of a standard hiking pack – and a top-of-the-range one at that. It has a ventilated back panel, padded shoulder straps, pockets galore, water-bottle holders, and an interior compartment for your laptop.
Interior fiberglass rods also provide added structural stability, while its waterproof, muck-proof materials help you keep things clean no matter how gnarly your adventures.
Bottom Line: A robust, uber-comfortable, feature-rich, and trail-ready backpack that provides ample comfort for both human and canine alike.
At a Glance: Quick Recommendations
Best Dog Carrier for Hiking: Our Top 6 Picks
Kurgo G-Train
Editor's Choice
The Kurgo G-Train is the best dog carrier on the market for hiking with small and medium dogs that weigh 25 pounds or less. While at a higher price point than many of its competitors, this backpack comes with a lifetime warranty and is specifically designed for the trail.
Doubling as a hiking pack, the Kurgo features padded shoulder straps, a chest strap, padded waist belt, adjustable load straps, and two outer holders for water bottles. It is made of weather-resistant fabric and has a waterproof bottom with a removable, washable pad.
This model has mesh sides and a zippered mesh flap and can be rolled open, though fully closed it does not offer the same airflow and breathability as other models. Fairly standard, there is also a safety clip to attach to your pup's harness to avoid falling or jumping out. For urban adventures or commuting, there is also a padded laptop sleeve.
PROs

Designed with comfort in mind
Plenty of storage
Lifetime warranty

CONs

Not the most breathable model
A bit pricey
Bottom-Line: Thoughtfully designed and guaranteed for life, perfect for keeping your pup safe through challenging sections of trail or when they tucker out in that last mile.
K9 Sport Sack
Runner Up (and Best for Larger Dogs)
The K9 Sport Sack is the best dog backpack for hiking with larger breeds. It comes in six different styles, each with a range of 3-4 sizes. The Sport Sack is designed like a hiking pack, with padded back and shoulder straps, multiple storage compartments, and a hip belt. The largest size of the Rover 2 can accommodate dogs up to 80 pounds.
Developed in consultation with veterinarians, this model is designed to keep your pup safe and comfortable for hiking, biking, and urban adventures. All models have vet-approved safety features, mesh sides that allow for plenty of ventilation, and come in a range of styles, sizes, and colors.
With this style of carrier, your pooch will be in what is essentially a heeling position. This is perfectly safe and comfortable for your pup, but not for extended periods of activity. According to the K9 team, while also determined by weather and activity, dogs should generally not be in a Sport Sack for more than 45 minutes at a time.
PROs

Plentiful sizes and models
Veterinarian approved
Comfortable for humans and canines

CONs

Maximum 45-minute use time
A bit pricey
Bottom-Line: The best (and only) large dog carrier backpack on our list, the K9 Sport Sack is ideal for biking, hiking, and urban adventures with your bigger four-pawed friends.
Pecute Pet Carrier
Best Expandable
The Pecute Pet Carrier Backpack expands to nearly twice its size and can double as a mesh crate while taking a break on your adventures. The optional extra room for your pup to stretch out makes this one of the best dog backpack carriers for travel.
Features include chest and waist straps, lightly padded straps, a safety clip to attach to your pup's harness, and side pockets for storing pet gear and personal items. One side is designed to hold poop bags, dog treats, and a water bottle, while the other holds pet owner necessities such as a wallet and phone.
This model is incredibly well-designed and offers great value for money. It has excellent ventilation and visibility, and you can even opt for an acrylic or mesh window design. It also folds down for complete flat storage. Keep in mind this model is intended for smaller dogs, with a maximum weight of 18 pounds.
PROs

Expands for extra room
Excellent ventilation
Sustainable materials
Plenty of pockets

CONs

The acrylic panel can make it easy to overheat on hot days
Adjustable shoulder straps are not the most comfortable
Bottom-Line: Designed with pet comfort and human convenience in mind, this versatile dog carrier backpack is a fantastic option for hikers who travel.
Petsfit Comfort
Best Value
Thanks to its boxy design and solid bottom, the Petsfit Comfort offers support for small dogs who like to move around or curl up for a long nap while their human hikes. With this model, you will not have a sagging bottom or sides that cave in on your pup.
Four mesh windows and two entrances (one of which can be rolled up like a curtain) offer plenty of fresh air, versatility, and comfort for your pup to take in the surroundings. This pet backpack is safe for dogs up to 22 pounds but recommended for dogs weighing 15 pounds or less.
Other features include side pockets, padded adjustable straps, and a removable bottom mat that can be washed. It is also fully collapsible and stores flat when not in use. The tall design allows for enough room to add a small blanket for pups who like to get real cozy.
PROs

Roomy footprint
Great ventilation
Fleece mat
Adjustable straps
Durable materials

CONs
Bottom-Line: If your furry friend likes the royal treatment, this spacious and well-designed room with a view will be their new favorite way to travel.
PetAmi Deluxe
Best for Small Breed Dogs
Truly spoiled tiny pups will love the PetAmi Deluxe Pet Carrier. The sherpa-lined inside will keep your pooch nice and cozy, while still allowing them to enjoy the view and fresh air through the mesh windows.
Thoughtfully designed to meet both human and canine needs, this backpack has a side and back pocket to hold personal items, comes with a collapsible bowl, and is available in a selection of 12 color choices. The PetAmi features a safety leash and safety buckles to ensure your pup stays snugly inside.
While rated for dogs up to 18 pounds, the soft siding does tend to sag under that much weight. This model is recommended for small dogs weighing 10 pounds or less.
PROs

Stylish assortment of colors
Plenty of storage
Extra safety features

CONs

Lacks support and can cave in with heavier dogs
Bottom-Line: Style meets function with this model and it's an ideal carrier backpack for small breeds.
Pawaboo Pet Carrier
Best Budget
If you have a small pooch and are looking for a legs-free carrier to get them through that last mile or two of trail, the Pawaboo Pet Backpack is well worth a place on your shortlist.
This model doesn't have much in the way of bells and whistles, but is easy to use, made with durable materials, and comfortable for both owner and pet.
This model is made with breathable mesh and polyester fiber, so dried quickly when wet and won't have your pup overheating on summer hikes. The elastic leg openings stretch and it also has adjustable closures with enough give to accommodate your pup's paunch if they've been hitting the Kibble a little too hard.
While the manufacturer's recommended weight capacity for this dog carrier is 18 lbs, we wouldn't recommend trying to squeeze any canine north of the 15-pound mark in there due to the lack of padding on the straps.
PROs

Cheap!
Breathable
Soft, spongy mesh fabric
Adjustable neck/collar closure

CONs

Lacks padding in shoulder straps
Bottom-Line: A basic, frill-free dog carrier that's ideal for dogs weighing 10-15 pounds.
Why Do You Need a Dog Carrier?
There are several reasons why you may need to carry your canine while hiking, but overall the primary consideration is whether or not your pup can safely and happily hike everywhere that you do.
Older dogs may not be up for the long hikes they used to enjoy. Using a hiking backpack for dogs will give them a well-deserved break and still allow them to join their favorite adventures.
Small dog breeds are likely to need a ride when their legs get tired. They may want to walk for a while, then curl up in their backpack for a snooze.
More challenging hikes may have rock scrambles or river crossings that are dangerous for your canine to attempt. Again, for these sections, it is helpful to be able to safely secure your pup in a dog carrier pack before continuing.
Mercifully, while my three dogs are high-maintenance in their own very special ways, none of them require quite that much exercise. One of them in particular, Tuck, is an eight-pound elderly mutt whose spirit of adventure is much greater than his little legs will carry him.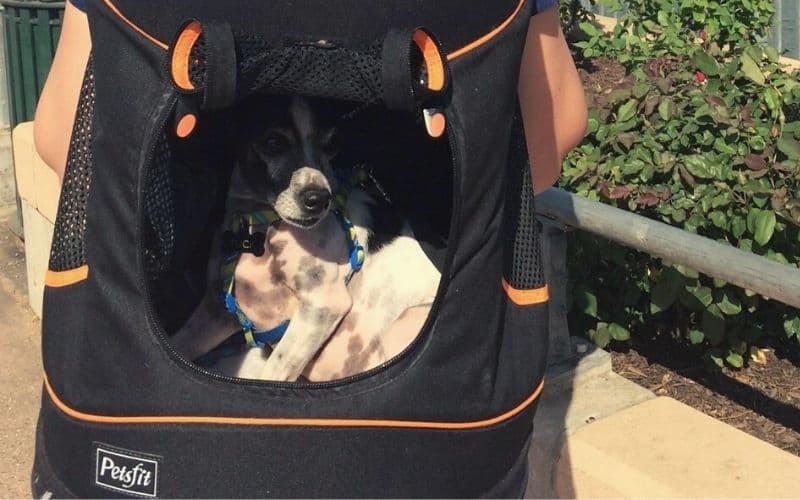 Tuck's Petsfit backpack is always the last thing we touch before leaving the house; as soon as he hears the familiar sound of the zipper, he yelps nonstop until we are out the door. Without this little godsend of an accessory, there are several occasions when poor ol' Tuck would've missed out on all the fun.
What to Look for When Buying Dog Carriers for Hikers
Size
It's important to properly measure the length of your pup to be sure you choose the right-sized carrier backpack. Length is typically measured from your dog's collar to the tip of the tail.
Weight Capacity
This one is really important and easy to overlook if your pup appears to fit just fine. For both safety and comfort, double-check the maximum weight capacity before purchasing. If your dog weighs more than the limit, opt for a different model or one size up.
Ventilation
Regardless of climate, good ventilation and airflow are important for keeping your dog cool. Look for a model with breathable mesh panels or a zip-up mesh window for air circulation.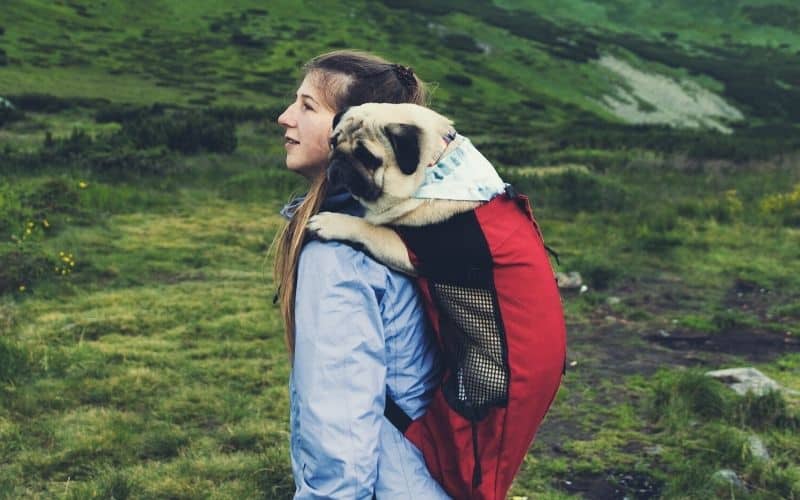 Design
Most pet carrier backpacks are designed for carrying small dogs, and your pup can curl up comfortably inside with a hard, supportive bottom. Others, such as the K9 Sport Sack, are intended to have your pup sit in a heel position, with their head and paws out to look around. If in doubt about the safety or comfort, ask your vet what style is best for your dog's weight and body type.
Safety
All backpack carriers should have a specific dog compartment with mesh windows or sides for ventilation. They should also come with a way to keep your pet secure, such as a small leash attached to the inside to clip to your pup's harness.
Best Dog Carrier: The Verdict
Overall, if you have a medium-sized dog or larger, you have limited options. But, the K9 Sport Sack's range of sizes and models just about guarantees you'll find one to give your pup a short break when needed.
If you have a small pup weighing less than 25 pounds, the Kurgo G-Train is the best backpack carrier on the market.
Do you have a favorite pet backpack we missed? Let us know! And if you'd like to share this post with your fellow canine-lovers, share away!