Dogs get every bit as psyched about hitting the trails as we humans do. And while we're able to splash some cash and kit outselves out with fancy hiking boots and threads, they depend on us for their wander-wear.
While there's nothing wring with using a regular collar around town, in the backcountry a good harness has several benefits. It will allow your dog to breathe more freely, give you more control when they're straining at the leash or spot wildlife, and ensure they don't come to harm if they should take a tumble off the trail.
In this guide, we'll tell you more about harnesses and introduce you to a selection of our favorite models for pups of all shapes and sizes.
Editor's Choice
Ruffwear Webmaster
Of all the dog harnesses we've reviewed, our best choice of all them has to be the Ruffwear Webmaster. With 5 points of adjustment and 5 different sizes, this harness accommodates for almost any size dog and provides comfort and control.
Its lightweight and durable material makes it ideal to use for every day walks or occasional hikes, not to mention the reflective trim makes it easy to spot your dog at night. For emergencies or for climbing obstacles, while the padded handle helps to lift your dog through rough terrain.
Bottom line: The Ruffwear Webmaster scores well across all the criteria which makes for an effective and comfortable hiking dog harness.
Difference Between a Walking Leash and Hiking Harness
The major difference between a dog hiking harness and a regular leash is its durability and design.
Hiking harnesses are made to be stronger and can withstand heavier wear-and-tear over a longer period of time. The clips and attachment points are usually heavy-duty and resistant to rusting. They can also easily swivel and are compatible with a regular leash to keep it from getting tangled while on the trail.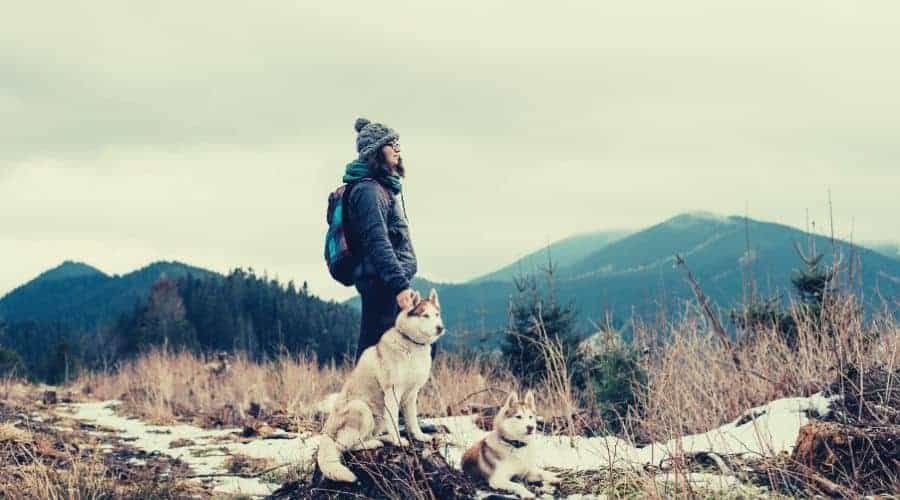 Additionally, hiking harnesses have a lot of extra design features like padded handles to assist your four-legged friend over rough terrain and reflective material to improve visibility.
How to Choose the Right Dog Hiking Harness
There are many factors to consider before buying a dog harness for hiking. Not all dogs are the same weight or build, so you want to make sure the harness fits your pooch's size and temperament before committing to one.
Fit
A big advantage that a hiking harness has over leashes or collars is comfort. But even with a harness, it's critical to make sure it fits just right for it to be both comfortable and functional.
A dog harness that's too small will be tight and will dig into your dog's body causing it discomfort. This will also make it hard for them to breathe, and the last thing you want is your best friend passing out on the hiking trail far from any help.
On the other hand, too loose of a dog hiking harness can lead to chafing and your dog can easily wiggle out and run loose. With these concerns in mind, how can you really tell that a harness is a perfect fit for your furry friend?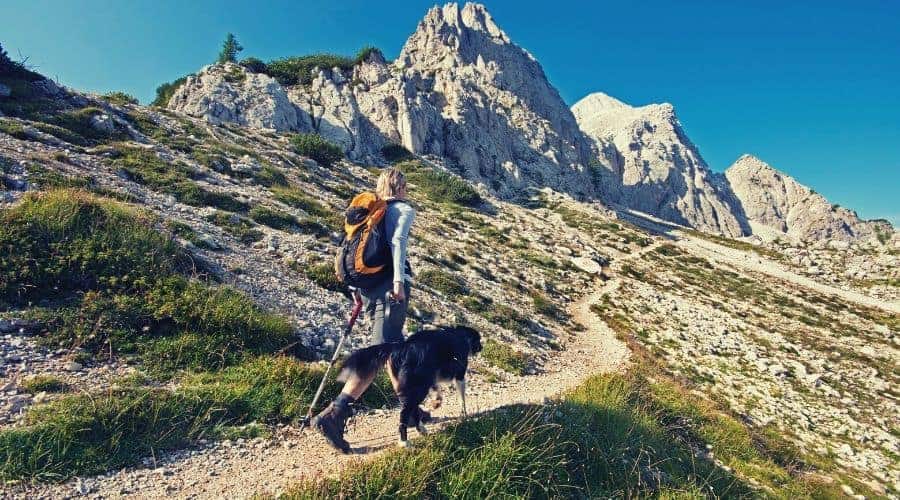 What you'll need to do is measure the girth of your pup, which is the widest part of your dog's rib cage. Next, you'll need to measure the back length which is the measurement from the base of the neck to the base of the tail. Lastly, you need the neck girth which is the circumference of the dog's neck where a collar regularly sits.
You can do all these measurements using a soft tape measure, then refer each measurement to the harness's sizing chart. Don't forget to take unique features such as wide shoulders or a long body into consideration.
Front or Back Attachment Design
A harness have either a front or back attachment and each option depends on the preference of the user. Front attachments are ideal if you want to discourage pulling, which makes them a popular favorite amongst many dog owners.
Additionally, a front attachment harness can help keep your dog closer to you. This is handy if you have a pooch that regularly pulls or lunges as you walk with them and will give them more polite leash skills.
Back attachments give your dog a little more freedom for it's the closest thing to an off-leash experience for them. This attachment is practical if your companion is already trained in basic leash skills.
Some harnesses have both a front and back attachment and can be used with a double-ended dog leash for training. You can control your canine's pace and posture as you walk and also have the option to use a traditional leash on the attachment points.
Material
The environment and conditions you'll encounter during hiking should influence your choice when it comes to the material of a harness. If there's going to be lots of mud or dirt involved, it's best to have a harness that's easy to wash or keep clean without washing.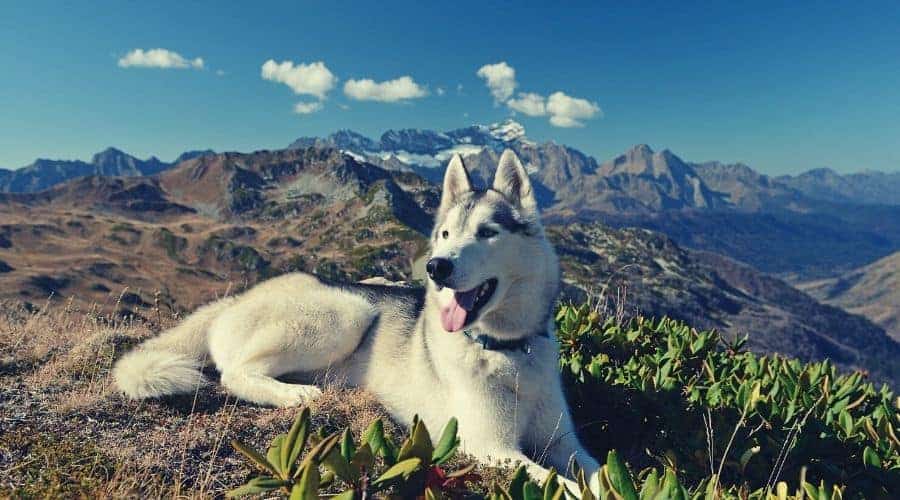 For hiking in hotter climates, a lightweight and breathable material like mesh is best so your dog doesn't get uncomfortably hot. If you like to hike in the early morning or evening when sunlight isn't abundant, reflective material on the harness will improve visibility.
In wet conditions or if your pup will be swimming with a harness on, it shouldn't have a lot of extra material that will weigh it down when it gets wet. Water-repellant, quick drying, or waterproof material is best for wet environments.
Bright Colors, Bells, and Lights (Optional)
In the possible chance your dog may run off and you lose sight of them, bright colors are a good idea just in case the unthinkable happens. A bright red or orange is an ideal color to contrast against the natural greens, browns, and greys you'll see in nature.
You may also want to consider purchasing a few cat collar bells and putting them onto your dog's harness. This way, you can also hear your four-legged friend in case you lose them or are trying to find them amongst many bushes and trees that obstruct your vision. Bells can also deter bears if you're in a bear country or help keep other hikers aware of your dog without getting surprised.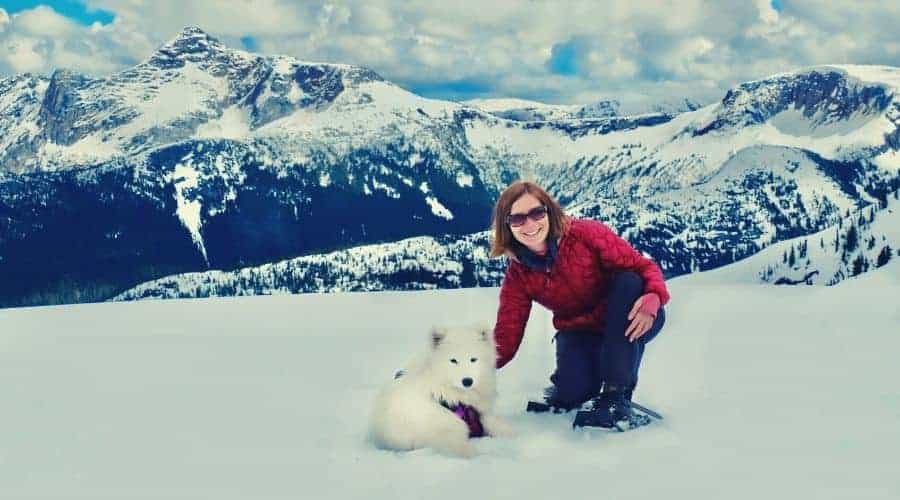 A waterproof light comes in really handy when it's dim outside, but don't wait until after dark to turn it on. A light on your dog's harness helps you to see exactly where they are if they're ahead of you on the trail.
Pockets and Pouches
If you want your pooch to carry his or her share of the load, then you could opt to buy a dog harness with pockets or pouches.
Get Your Dog Ready for the Trail
Having your dog trained to stick close to you off and on the leash is highly important before you let your pooch run free without a harness. Off-leash obedience can come in handy especially when called around elk, snakes, bears, other hikers, and more hazards.
If your dog still needs some work before his off-leash hiking debut, it's best to use long lines and waist leashes. A long line, or bungee waist leash, is the most comfortable way to follow leash laws and keep your companion safe until his training reaches a good point.
Best Dog Harness Reviews
Ruffwear Webmaster
Best Dog Hiking Harness
The Ruffwear Web Master has five different sizes and five points of adjustment that are highly ideal for custom-fitting to your dog's size and form.
It's also practical for dogs that have a little too much energy and tend to try and run off at random for it features two reinforced leash attachment points for extra security. The padded and reinforced handle helps to lift and assist your pup through rough terrain and over obstacles.
Its durable construction makes for a lightweight feel and it's resilient enough to for year-round use. The reflective trim and safety light loop makes visibility of your dog much easier, although the beacon light is sold separately.
Be mindful that it doesn't have a front leash attachment point. There are two attachment points as mentioned but both are on the back and one is made of metal while the other is a fabric loop. The product is also a little tricky to fit and adjust and tends to shift.
Also, if you live in hotter climates, this may be a little warm for your dog to wear, but overall, the Ruffwear Webmaster is effective in preventing canines large and small from bolting on you.
PROs

Second belly strap prevents backing out of harness
Sliding pad on bottom prevents chafing
5 points of adjustment

CONs

No front leash attachment point
Difficult to adjust
Bottom-Line: Our overall top pick as the best harness for dogs who like to hit the trails.
Kurgo Journey
This harness is perfect for active dogs that love being outdoors and running around. It's equipped with a front leash ring so you can train your dog not to pull with an extra back leash ring for extra support and control.
The Kurgo Journey is made with lightweight aluminum quick release buckles that are resistant to rust. The V-neck design allows for a fuller range of movement while the padded chest piece reduces strain on your dog's chest and neck.
With the reflective trim, it makes it easier to see your dog in dimly lit areas or at night. The product also features a back handle to assist your dog over any obstacles or to generally have better control over them.
The Kurgo Journey is made to last but is said to be a little heavy for smaller dogs. The buckle system isn't as convenient compared to other designs but it's definitely more secure. If you own a heavier dog, the front attachment point is prone to wearing away quickly especially if they tend to pull a lot.
Other than these small issues, the Kurgo Journey dog hiking vest is great for taking your pup on adventures while training them to not lunge forward and stay close.
PROs

Padded back handle for easy lifting
Adjustable nesting buckles for comfortable movement
Option of front or back clip

CONs

Feels heavy for smaller dogs
Front attachment point wears away easily
Ruffwear Front Range No Pull
The Ruffwear Front Range is lightweight, highly durable, and designed for your everyday outdoor adventures. It allows for easy on and off leashing and is equipped with 4 leash attachment points.
The reinforced webbing at the chest endures any pulling and tugging while also giving additional control to the user. This makes it practical for off-leash training and teaches your dog not to lunge forward or run off.
For extra comfort, the foam-padded strips across the chest and stomach give an equal load distribution and comfort while your dog is running, walking, or resting. As mentioned, there are 4 convenient attachment point that give your furry friend a full range of motion without constriction or uncomfortable pressure.
The easy access ID pocket allows for safe storage of your dog's tags. The bright and easily visible material has a reflective trim to help your dog stand out whether you're hiking in the day or at night.
The front attachment point seems a little weaker than the two loops on the front and end, not to mention the waist strap tends to slip a little. It has to be occasionally retightened which can be frustrating for your dog.
If you regularly take your dog walking, it's best to use a walking harness instead of this product for everyday activities due to its bulky design. In short, the Ruffwear Front Range gives you control of your companion and is ideal if your dog is a puller.
PROs

Fits medium to large dogs especially well
Comfortable fit prevents rubbing and chafing
Easy on and off leash transition

CONs

Front attachment is weak and comes a little loose
Waist strap slides around
Expawlorer Outdoor Adventure Pet Vest
With a stylish and durable design, the Expawlorer Outdoor Adventure is made with a scratch-resistant Oxford material out layer for a comfortable and ergonomic feel. Its lightweight Draflex buckle has a large loading capacity to greatly improve tensile strength. Because of the comfy design, it's easy to fit on and take off with little to no frustration.
Some safety features include nylon webbing with 3M reflective material for visibility at night and a sturdy handle that also acts as a seat belt attachment. The mesh lining with a soft and spongy material in the chest and belly prevents chafing and rubbing.
There's two attachment points on the Expawlorer: one is an aluminum V-ring on the dog's back and one is reinforced webbing on the dog's chest. The back attachment point doesn't do much to control pulling though, so it's recommended to use the front one.
Be mindful that if you own a larger dog, there's not too much room or give once it is on so it may feel a bit snug. The straps also tend to loosen up every now and then so the buckles need some occasional readjusting.
Other than that, the Expawlorer is revered for its no pull ability and secure fit on small to large dogs.
PROs

Front clip eliminates pulling and lunging
Clips are seated on top so it won't pinch fur
Mesh lining in chest and belly won't chafe

CONs

A little tricky to adjust
Not a lot of room when put on larger dogs
Straps are prone to loosening up
EzyDog Quick Fit
With a simple one-click fit system, EzyDog's patent pending adjustment harness let you know if it's the right fit without having to go through the frustration that other products can cause. It's as easy to use as a regular collar with most if not all the benefits of a vest.
Its neoprene padded chest sleeve is waterproof and covers the adjustable chest strap for a more durable and comfortable fit on your furry companion. There's high-visibility reflective stitching that's incorporated throughout the entire design of the harness for you and your dog's safety.
The heavy-duty quick-clip buckle system provides you with fast and easy on and off leashing. All you do to fit and adjust it is to slide the neoprene sleeve to one side, adjust the sandwich velcro to the correct size, and to hide the red safety mark when the velcro is adjusted.
The EzyDog quick fit comes in many colors and can fit many sizes from extra small to extra-large. Because of the mostly buckled design, it's not too practical for preventing pulling. Many have had fitting issues but are otherwise pleased with the easy one-click fitting system. If you have a bigger dog, you may run into some problems with fitting.
The EzyDog Quick Fit is quite the solid product but might be more suitable for smaller dogs rather than beefier or larger dogs.
PROs

Quick clip buckle system for easy on and off leashing
Neoprene chest sleeve is waterproof
Ideal for smaller dogs

CONs

Hard to adjust and fit for larger dogs
Not too effective against pulling
Hurtta Active Dog Harness
Available in 8 different stylish colors, the Hurtta Active is easy to put on and comfortable to wear without any chafing or rubbing. The adjustable collar and chest strap ensures a secure fit so you have control over your dog as you have him on a leash.
The 3M reflectors helps to improve visibility in low-lit areas or in the dark and the back of the harness is equipped with a sturdy handle to help lift your dog in emergencies. The connection point for the least is plastic so the integrity isn't as strong as metal.
The nylon buckles are also not very strong and the webbing isn't heavy enough for automotive use. Although it's easy to put the harness on and take it off, you still have to readjust every now and then since the buckles tend to loosen.
If you're training your dog not to pull on the leash, this can be an effective product for you. Although, if you're trying to train bigger dogs, the plastic buckles will definitely break after a short time.
PROs

Able to put on and take off easily
Equipped with sturdy handle for lifting

CONs

Plastic buckles are weak against bigger dogs
Connection point is made of plastic