Best Dog Packs by Category
Budget: Lifeunion Adjustable and Outward Hound DayPak
Small Dogs: Kurgo Baxter and Ruffwear Approach
Big Dogs: Mountainsmith K-9 and Ruffwear Palisades
What Are The Best Dog Backpacks?
The shortlist below shows our top recommendations for dog hiking backpacks, with the Mountainsmith K-9 winning the top spot.
Mountainsmith K-9
Ruffwear Approach
Ultimate Direction Dog Vest
Lifeunion Adjustable Service Dog Supply Backpack
Ruffwear Palisades Dog Backpack
Kurgo Baxter
Outward Hound DayPak
How to Choose a Dog Hiking Backpack?
Choosing the most suitable hiking backpack for your pooch is dependent on a variety of factors outlined in the list below.
Size/Capacity
Weight
Comfort
Breathability
Adjustability
Waterproofing
Durability
Leash Attachment Points
Features
Size/Capacity
There is no universal chart to determine the correct backpack size for your dog, so you'll need to rely on taking your own measurements. Be sure to accurately measure your dog's neck size, weight, and girth, and compare it to the manufacturer's size chart. The pack should fit snugly and not shift around as your dog walks. 
Doggy backpacks come in all shapes and sizes, with the average carrying capacity ranging from 5L to 25L., but your top priority should always be your dog's comfort. 
Be sure to consider the activity you'll be doing with your pooch as well. If you're just heading out for a day trip, you can stick to smaller daypacks or even hydration packs. If you're planning any multi-day backpacking trips, you might want to invest in a pack with bigger side saddles like the Ruffwear Palisades.
Don't choose a backpack solely based on your pup's weight. To get the best fit, you'll need an accurate chest measurement to get it right. If your dog falls between two sizes, read some reviews to see if you should size up or down.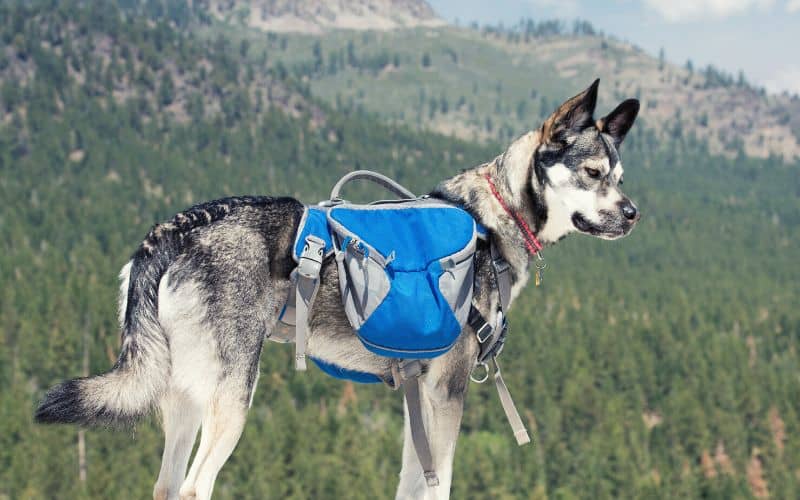 Weight
Dogs should never carry more than 25% of their body weight, but that's the upper weight limit. For most dogs, between 10% to 15% of their weight is a good starting point. For puppies and older dogs, this drops to 5% to 10%. 
While most backpacks for dogs are fairly light at an average of two pounds or less, you'll need to factor in the weight of the pack combined with everything you want to put in it. 
How much weight your dog should carry is also determined by factors like their age, breed, physical ability, and comfort level. It's a good idea to check with your vet before heading out on your first hike.
While extra components can be useful for carrying things like water and your dog's poop bags, they'll all add extra weight. If your dog is small or you plan to hike in the heat, your best bet is a minimalist-style backpack or vest like the Ultimate Direction Vest.
Never guess the weight of your dog's pack. It's easy to accidentally go over the weight limit. Always double-check the weight of the pack with an actual scale before hitting the trail.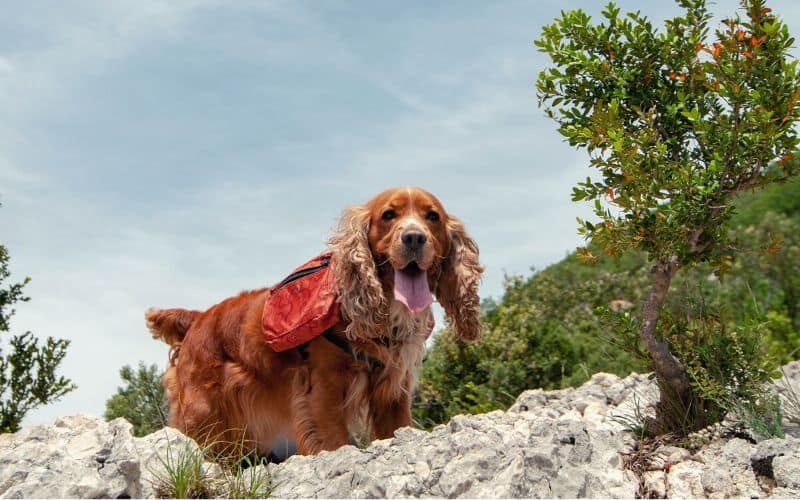 Comfort
Always use a backpack specifically designed for dogs and look for comfort-enhancing features such as padded straps and harnesses. If you plan to lift your pup using a handle, ensure there is sufficient padding on the chest strap.
No matter which backpack you ultimately choose, keep an eye out for signs of discomfort like fatigue, limping, whimpering, chafing on your dog's skin, or if they bite or snap at the straps.
Be sure to get your dog used to wearing his/her pack at home on short walks before you head out on longer treks. We all know the pain of lugging around an uncomfortable pack during a long trek and it's no different for our four-legged hikers.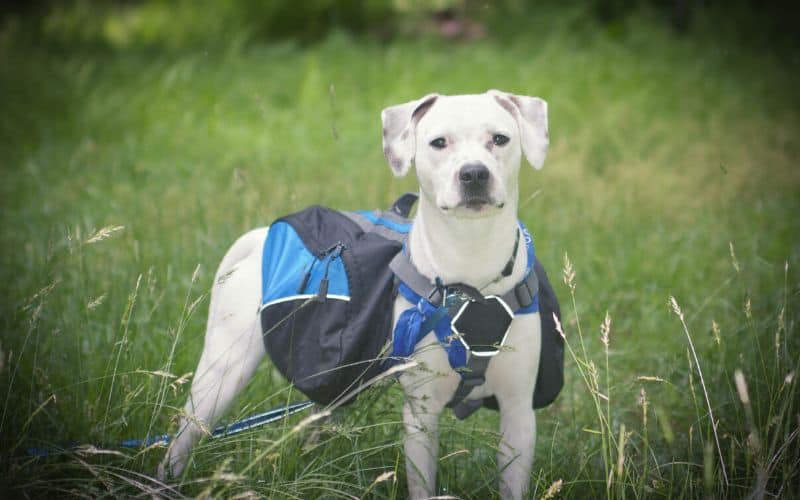 Breathability
Keeping your dog cool on the trail can be challenging, so breathability features on a dog pack can be a great help. If you live in a warmer climate, make sure your pup's pack is constructed with breathable materials and includes mesh panels, particularly along the spine.
The Outward Hound DayPak is a good example of an affordable pack that excels in hot weather thanks to the mesh panels along the back. The Mountainsmith K-9 is also a good choice for warmer climates thanks to its combo of mesh panels and perforated EVA padding.
Adjustability
More adjustability features in your dog's pack will provide a better fit, ensuring your pooch's safety and comfort. To maximize stability, the doggy backpack should be snug but not so tight that it causes chafing. Ensure the saddlebags sit directly above your dog's shoulders, as that's the strongest part of your pooch, and regularly check if you can fit two fingers between your dog's body and the straps. 
Most dog backpacks are created with a saddlebag style that distributes the pack weight evenly on both sides. If the weight isn't evenly balanced on your dog's back, you'll restrict your dog's movement and risk causing them discomfort or even injury. 
One-piece packs offer the least amount of adjustability. If you opt for this style, take extra care to ensure your measurements are correct to ensure a comfortable fit.
The most adjustable bags feature a number of adjustable straps along your dog's back that can be shortened or lengthened to ensure a snug fit. The 4-point adjustable system of the Mountainsmith K-9 and 8-point adjustment system of the Kurgo Baxter are the best examples.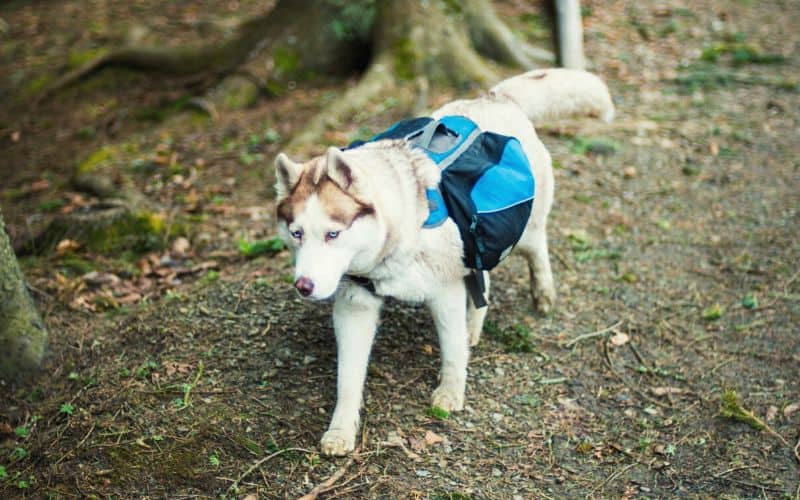 Waterproofing 
If you often hike in wet or cold conditions, it's advisable to select a waterproof pack. Look for materials with a high denier rating (denser fabric is less permeable) or a water-resistant coating. If your dog's pack becomes soaked while hiking, consider carrying it yourself until it dries.
As with humans, a wet pack on your dog's back can cause them discomfort and inadvertently lower their body temperature, which can spell trouble in cold temperatures. It will also, of course, result in wet gear inside and add to the weight of the pack.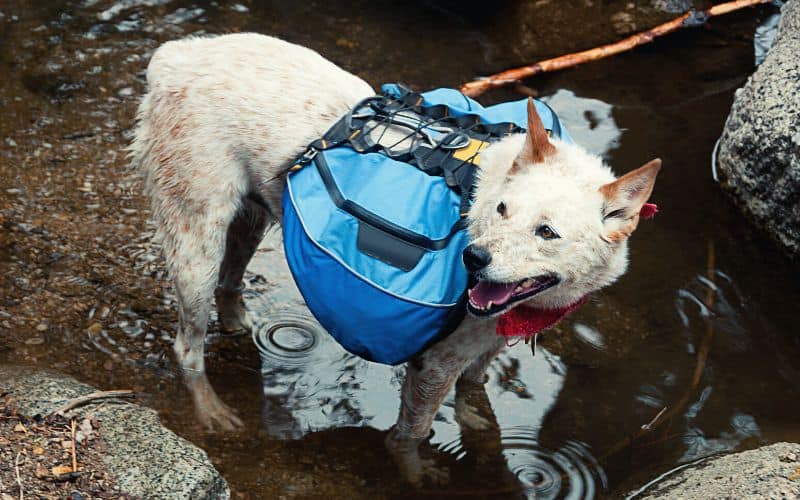 Durability
If you have an energetic dog, prioritize a pack made from durable and rip-resistant materials like ripstop nylon. The seams and leash attachments are the most vulnerable points on the pack, so look for strong stitching and reinforced panels. Also, if your dog will be carrying a heavier load, look for strong buckles and thicker handles.
The Ruffwear Palisades is the strongest pack on our list but the Lifeunion Adjustable Pack also holds its own considering its affordable price. 
From rolling around in the mud to running through the underbrush, your pup's pack is likely going to take a beating.
Leash Attachment Points
Dog backpacks typically come with either 1 or 2 places to attach your dog's leash. What you need is a matter of personal preference, although leash points in the back might offer less control over heavy pullers.
If you have your own heavy-pulling pup, you can buy leashes specially designed to hook onto both attachment points for better control. If your dog is particularly strong, look for a D-ring leash attachment made from steel or aluminum rather than plastic.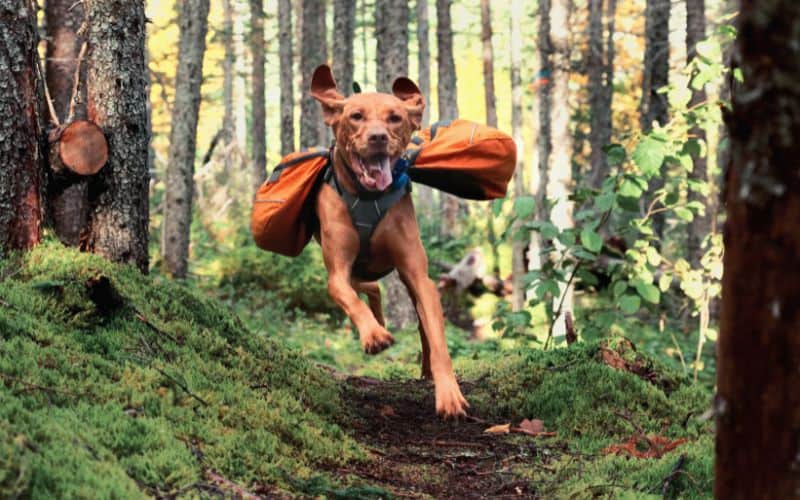 Features
Features such as exterior pockets, handles, and reflective trim can significantly enhance your experience while on the trail with your four-legged companion.
Nobody likes carrying their pup's poop during a hike, but if you choose a dog hiking backpack with exterior pockets you can make Fido carry his own waste (remember, poop can harm the environment so it must always be carried out!). You can also stash other gear like waste bags, treats, and water.
Handles are another important feature. They allow you to easily lift your pup over obstacles or keep a hold of them as others pass you on the trail. The problem is that not all handles are created equal. If your pooch is heavy, double-check the construction of the handle. The last thing you want is the handle to break, so look for reinforced stitching and a padded grip for comfort. 
If you regularly hike after dark or near hunting territory, reflective trim is an absolute must. Bright colors and reflective trim (and a bell!) can help your pup from getting mistaken for prey in the bush. These are also great if you plan to use your pack in urban areas.
Best Backpack For Dogs: The Verdict
While the Mountainsmith K-9 is our top choice for overall comfort and adjustability, the Lifeunion is an excellent budget-friendly option, and the Ruffwear Palisades ideal for larger dogs.
Remember, while your pup is getting used to carrying his new backpack, cut back on the length of your hike and always give them plenty of time to rest. Having your dog wear their own pack on the trail takes some of the load off of you, but you don't want to overburden your trail buddy too soon.
There you have it! There are a lot of doggy backpacks out there, but we hope this guide has shed some light on the best dog backpack for your pooch. 
If you have any questions, feel free to ask in the comments below. And if you'd like to share this article with any other dog owners you know, feel free!
And if instead, you are looking for a dog carrier backpack for carrying your tired pooch on the trail then our article on the best dog backpack carrier has all the advice you need.