Taking a family camping trip is a great way to unwind and spend some precious downtime with your kids and loved ones. But if your backcountry "crib" isn't up to scratch, there's a good chance your family camping trips will become an ordeal to be endured rather than a special occasion to be enjoyed.
To help you find the ideal family tent for any future outdoor adventure, we've put together a list of the 9 best options on the market this year. We've included tents for small and large families, car camping and backpacking, and something to cater to every budget.
If you're new to the camping game or need some help deciding which tent will work best for your family, scroll down – below our list of tents you'll find expert advice on all the things you need to consider before buying.
Our Top Picks by Category
Best for humidity: REI Wonderland 4, Coleman Sundome 6, and Eureka Copper Canyon 8
Has full rainfly: REI Grand Hut 6, REI Base Camp 6, and Big Agnes Copper Spur HV UL
Best for Storage: North Face Wawona 6 and the REI Co-op Base Camp 6
Tents under $260: Coleman Instant and Coleman Sundome 6
Editor's Choice
REI Co-Op Base Camp 6 Tent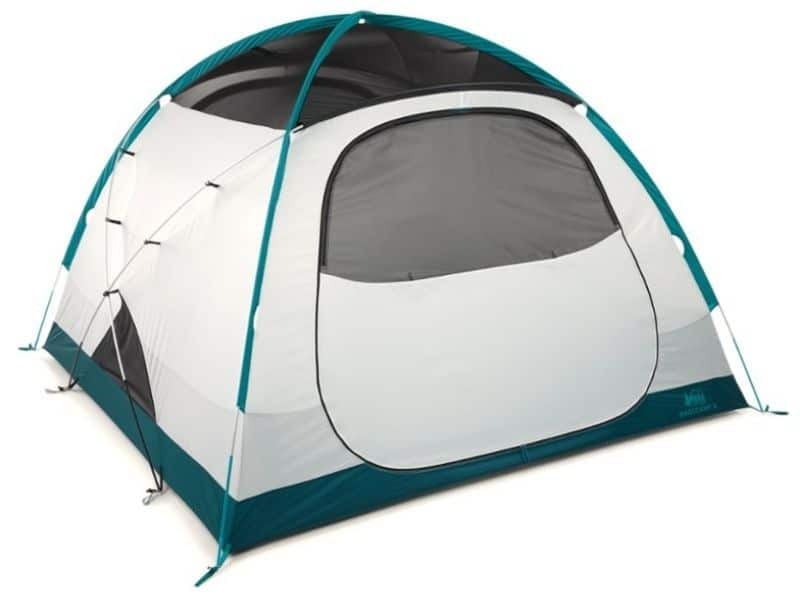 The Base Camp, as its name implies, is the ideal basecamp tent for multi-day family getaways. Despite stiff competition, the Base Camp's dialed-in design, family-friendly features, and top-of-class scores in every performance category made it a shoo-in for our award of the best tent for families overall.
The Base Camp 6 gives you 84 square feet of living space, a peak height of 74 inches, a 27-square foot vestibule, and myriad pockets for interior gear storage. It's also waterproof enough for three-season camping but well-enough ventilated that it won't overheat in sweltering summer conditions.
Our list includes a few roomier tents than the Base Camp, granted, and also a few with larger vestibules, taller peak heights, or which retail at a far friendlier price point. However, finding the perfect family tent is all about striking a balance between livability, weather protection, durability, and features, and the Base Camp does this better than any other family tent out there.
For a more in-depth look at the Base Camp's features and specifications, check out our detailed review below.
Bottom Line: Enough room for six sleepers plus gear and outperforms all other tents in its price range in every important metric.
At a Glance: Quick Recommendations
Best Family Tents Reviewed
REI Co-Op Base Camp 6 Tent
Editor's Choice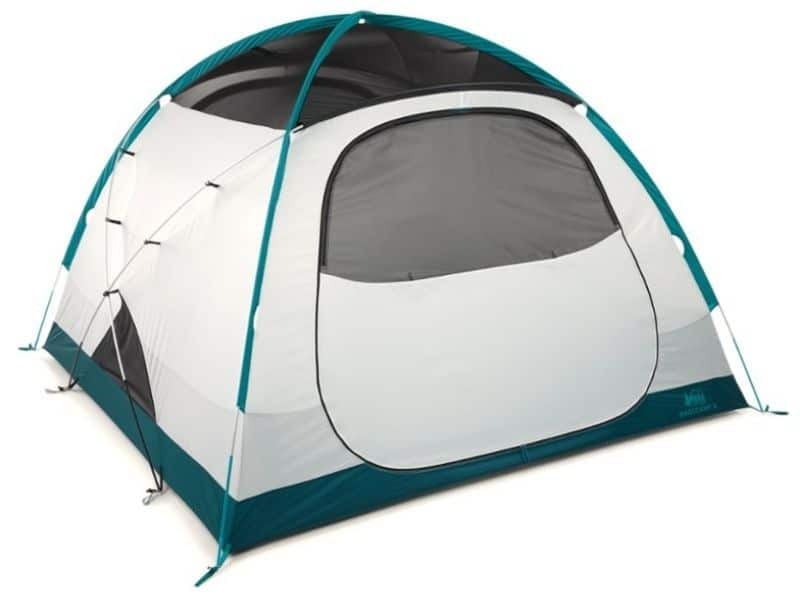 Type: Dome ⸱ Interior Space: 84 sq. ft. ⸱ Peak Height: 74" ⸱ Weight: 20 lbs. 10 oz.
The REI Co-Op Base Camp 6 does everything camping families need a tent to do. It's spacious, easy to pitch, performs well in hot and wet weather, and has plenty of storage options that help to optimize livability.
While the Base Camp's geodesic, dome-style design means it has a little less headroom than tunnel or cabin tents, it also gives it more stability in windy conditions. Its peak height of 74 inches is also impressive for a dome-style tent – just bear in mind that this will decrease the further you get from the center of the tent.
The Base Camp is made with among the burliest materials on our list. That includes a 75D rainfly and body fabric, and 150D floor, all of which are waterproof enough for 3- or even 4-season use.
The Base Camp is also full of value-adding features. It has two large air vents in the roof to boost airflow, 14 pockets for gear storage, hang loops, two large vestibules, and two huge doors.
While a fraction pricier than the REI Grand Hut 6, the Base Camp has an extra 10 square feet of vestibule room and performs better in wet and windy weather. And while it's not as roomy as the TNF Wawona, its superior weather protection and bountiful features will make it a better tent for some.
If the 6-person version of this tent is overkill for your needs, be sure to check out the Base Camp 4.
PROs

Spacious interior
Excellent weather resistance
Good peak height
2 roof vents and 1 wall vent
2 large vestibules
Plenty of pockets

CONs
Bottom-Line: A spacious 6-person tent that outperforms all others on our list in wet weather and boasts a shedload of practicality- and convenience-enhancing features.
The North Face Wawona 6
Best for Livability
Type: Extended dome ⸱ Interior Space: 86 sq. ft. ⸱ Peak Height: 80 inches ⸱ Weight: 20 lbs. 15 oz.
The NF Wawona 6 is among the most livable shelters out there and the perfect tent for families who require a little extra space for gear or R&R.
The Wawona has a whopping 86 sq. ft. of interior space, 44.7 sq. ft. of vestibule space, a peak height of 80", and a ton of storage pockets to help you keep your gear organized and the tent floor free of clutter.
But there's a lot more to love than living space alone…
Unlike many dome-style tents, the Wawona has particularly steep walls, more like those on a tunnel tent. This means that it boasts the structural solidity of dome tents but maximizes headroom by reducing the degree of curvature either side of center. This allows you to move around inside without having to hunch, which is a huge boon for livability.
The Wawona sleeps 6, but its huge front vestibule could easily accommodate another 2 or 3 sleepers, or simply serve as an oversize gear garage or hangout space for evening games and dining.
The previous version of the Wawona's main shortcoming was its use of a partial-coverage rainfly. While the fly in the new version doesn't cover the whole tent, it covers enough to ensure you'll stay dry even in heavy downpours. The only other potential downside to this tent is that it has only one door (one, however, that's big enough to drive a small vehicle through).
While a solid performer in wet weather, the Wawona comes into its own in hot weather. That huge vestibule means you can leave the door open to boost airflow without letting in bugs, while the large ceiling vents and mesh canopy keep stuffiness and condensation at bay when temps and humidity are high.
PROs

Huge vestibule
Huge door
Storage pockets galore
80" peak height
Great ventilation

CONs

Partial-coverage rain fly
Only 1 door
Bottom-Line: The ideal pick for families who camp with a lot of gear or simply prefer plenty of extra space.
REI Wonderland 4
Best 4-Person Tent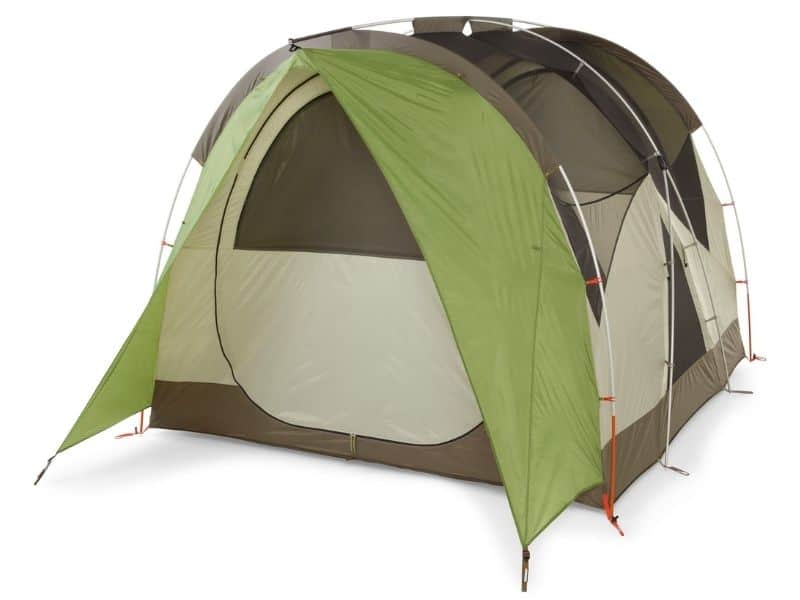 Type: Tunnel ⸱ Interior Space: 69.4 square feet ⸱ Peak Height: 75" ⸱ Weight: 21 lbs. 11 oz.
The REI Wonderland is the new, updated, and improved version of REI's hugely popular Kingdom tent.
Like its predecessor, the Wonderland uses a tunnel-style design with near-vertical walls that maximize headroom from end to end and side to side. It also has strategic color-coding on the fly, poles, and footprint to make setup a cinch, and combines a "scalloped" fly with extensive mesh panels and windows to provide 360° views, even with the fly on.
On the face of it, the Wonderland's 69.4 square feet of floor space make it a roomy 4-person tent. However, unlike every other family tent on our list barring the Big Agnes Big House, it has no vestibule area, only a duo of small awnings that provide a sliver of cover over the doorways.
Like most REI shelters, this tent features are on the nail. You get a ton of interior pockets for gear storage, vents at top and bottom to stave off stuffiness and condensation, hanging hooks for a lantern or headlamp, and two extra-large doors that extend from top to bottom and wall to wall.
PROs

Roomy interior
Stable in strong winds
Plenty of pockets
Durable materials (75D fly, 150D floor)

CONs

Only available to REI members
Heavy
No vestibule
Bottom-Line: A well-made three-season tent that's ideal for smaller families – as long as you don't need too much storage space.
REI Co-Op Grand Hut 6
Best Value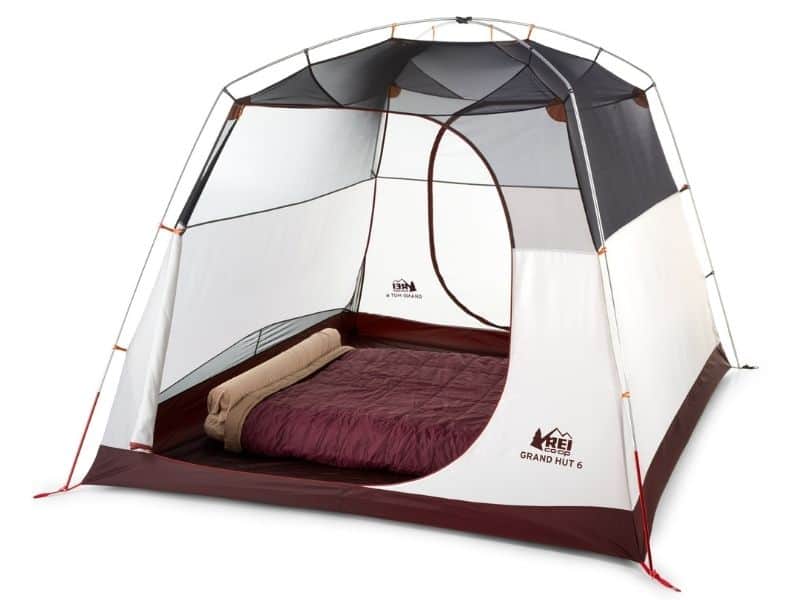 Type: Cabin ⸱ Interior Space: 83.3 sq. ft. ⸱ Peak Height: 78" ⸱ Weight: 16 lbs.
The Grand Hut is the perfect choice for buyers who want a high-performing, high-quality tent for six people without paying through the nose for it.
As with all things REI, this family tent is impressively well made. It uses 75D fabric in the rainfly and body, and 150D fabric in the flooring, which makes it one of the toughest on our list. The rainfly's 1,500mm hydrostatic head rating, along with the body's mesh panels and the double-doored design, moreover, make it a solid performer in both wet and warm conditions.
In terms of livability, this tent is a winner. It has plenty of interior storage options, steep walls to maximize headroom, a 78" peak height, 83.3 sq. ft. of interior space, and a 36 sq. ft. vestibule. This means there's not only plenty of room for 6 sleepers but also ample space for all of your gear.
In wild weather, this tent is a little less reliable than its close cousin, the REI Co-Op Base Camp, mainly because its vertical walls and 4-pole design make it more susceptible to billowing and/or buckling in strong winds. It also boasts fewer storage options than the Base Camp and a little less vestibule room, but has a lot more headroom and retails at a much friendlier price.
PROs

Great peak height
Relatively lightweight
Good ventilation
Very easy to set up
Waterproof

CONs

A poorer performer than the REI Co-Op Base Camp in inclement weather
Bottom-Line: An affordable, well-made, and spacious six-person tent that ticks every important box.
Big Agnes Big House 6
Best Cabin Tent
Type: Cabin ⸱ Interior Space: 83 sq. ft. ⸱ Peak Height: 81" ⸱ Weight: 16 lbs. 7 oz.
The Big Agnes Big House ain't the cheapest 6-person tent out there, but if you're looking for a family-friendly tent that combines reliability with a wealth of fancy frills, this is the tent for you.
This cabin-style tent boasts 83 square feet of floor space and a peak height of 81 inches. Despite the generosity of these dimensions, it weighs a mere 16 lbs. 7 oz., so could feasibly be used as a backpacking tent if the components were split between two or three carriers.
The Big House is a standout in two metrics: weather protection and livability. Its 1,500 mm rain fly and flooring ensures robust protection in all 3-season conditions. And although it lacks a vestibule, its steep walls and "high-volume architecture" make it feel extra-spacious inside. Four large wall pockets and corner bin pockets also partially make up for the lack of external storage.
What about those fancy frills? Well, we're not often the types to be swayed by non-essential bells and whistles, but there's no denying that the extra-large welcome mat, a duo of huge doors, backpack-style carry bag, huge gear loft (sold separately), and unique "shelter mode" (lets you pitch the fly without the tent body on balmy, bug-free nights) are well worth having.
PROs

Plenty of headroom
Easy setup
Relatively lightweight
Roomy interior
Fly converts into a freestanding portico

CONs
Bottom-Line: Has a few shortcomings, but is nevertheless the best family tent out there for fans of a cabin-style design and extra headroom. 
Coleman Instant Cabin Tent
Best Instant Tent
Type: Instant Cabin ⸱ Interior Space: 90 sq. ft. ⸱ Peak Height: 72" ⸱ Weight: 24.9 lbs.
Fuss-free camping, anyone? This, in short, is what the Coleman Instant Cabin Tent is all about.
If you're not a fan of messing around with poles and sleeves and guy lines and all that jazz, this one's a winner.
At first impression, we thought this was a very quirky-looking tent. Where, after all, is the rainfly? And those poles kinda make it look like an overgrown arachnid, right? But on closer inspection, we were soon obliged to repent of our skepticism.
The pole structure of the Coleman Instant Cabin is indeed a touch unique – instead of supporting the rainfly from the inside, it suspends the tent fabric from above. And therein lies the Instant Cabin's genius.
Not only do the poles have a telescoping design and pop into place around a central pole hub lickety-split, its use of an integrated rainfly means that the whole pitching process takes around one minute. For campers keen to maximize downtime (and minimize the usual pre-sleep struggle and stress), it doesn't get much better than this!
The only grumble we have with this design is that the integrated fly isn't removable, meaning there's no option to ditch it on hot and humid nights. This shortcoming is partially compensated for by the large vents/windows in the fly, but we're always fans of having the option to shed weight and optimize airflow by leaving the fly at home when the forecast calls for clear skies.
PROs

Roomy – fits 2 queen-size air beds
1-minute setup
Integrated vented rainfly
Solid weather protection
1-year warranty

CONs

Relatively low peak height
Lacks versatility
Short on interior pockets
Bottom-Line: For fuss-free pitching, the Coleman Instant lives up to its name.
Eureka Copper Canyon LX 8
Best 8-Person Tent
Type: Cabin ⸱ Interior Space: 130 sq. ft. ⸱ Peak Height: 84" ⸱ Weight: 33 lbs. 8 oz.
If you and your family need a little more legroom, the Eureka Copper Canyon LX is one of the best car-camping tents your money can buy.
This 8-person tent is all about livability. While there's no vestibule, it has 130 square feet of floor space, an 84-inch peak height, and steep walls that maximize headroom throughout the tent. This means it can comfortably accommodate a family of eight and is tall enough to let everyone walk around inside without having to hunch.
The Copper Canyon isn't a standout in rainy weather due to its use of a partial-coverage rain fly. On the plus side, however, the minimalist fly means there's plenty of airflow when camping in warm weather.
The Copper Canyon's feature set is also impressive given its (relatively) low cost. It has a large extended awning for drying clothes or kicking back in your camp chair, pockets galore, adjustable vents to prevent condensation, and two canopy storage shelves.
If you're looking for something a little larger or a little smaller, the Copper Canyon is also available in 4-person, 6-person, and 12-person models.
PROs

Roomy
Ample storage
Two doors
Removable room divider
Extended awning

CONs

Partial-coverage rainfly
No vestibule
Bottom-Line: An incredibly spacious tent that's ideal for summer camping trips.
Big Agnes Copper Spur HV UL
Best for Backpacking
Type: Dome ⸱ Interior Space: 57 sq. ft. ⸱ Peak Height: 50" ⸱ Weight: 5 lbs. 11 oz.
If you and your family like to stray a little further from the beaten path, there's no better tent to take along for the ride than the Big Agnes Copper Spur HV UL.
Let's start with the most important spec of all: weight. The Copper Spur HV UL weighs a piddly 5 lbs. 11 oz., making it the lightest family tent on our list by a large margin. Even if you don't split the weight between two carriers, that makes for a very comfortable carry, whether you're hiking 2 miles before setting up camp or 20.
As you might expect, all those weight savings result in a trade-off with spaciousness. The Copper Spur is the least roomy of all the tents on our list, offering just 57 square feet of floor space and a peak height of 50 inches. In better news, this spatial shortfall is partially offset by the 14-square-foot vestibule, which at least means you won't have to store gear inside.
It's also worth mentioning that, while the Copper Spur's proportions seem stingy in comparison to the family car-camping tents on our list, they're around average for a backpacking tent.
In every other metric, the Copper Spur is a solid performer.
The fly and floor are made with silicone-treated, double-ripstop, mixed-denier nylon with a 1,200mm waterproof polyurethane coating. In layman's terms, this means it's extra tough for the weight and waterproof enough for 3-season adventuring. For ventilation, there are high and low vents that help to circulate air inside the tent.
You also get a wealth of features not typically found on backpacking tents, including an abundance of pockets, gear loft loops, easy-grip zipper pulls, and quick-clip guy line attachment points. And if you feel like kicking back outside the tent, the door extends into a large awning to give you shelter from the sun or rain.
PROs

Ultralight
Waterproof
Great ventilation
Sturdy DAC pole system
Plenty of pockets

CONs

On the small side
Low peak height
Pricey!
Bottom-Line: The best option out there for further-flung adventures.
Coleman Sundome 6
Best Budget
Type: Dome ⸱ Interior Space: 100 sq. ft. ⸱ Peak Height: 72" ⸱ Weight: 16.53 lbs.
The words "great," "cheap," and "family tent" are rarely seen in close proximity but, thanks to the Coleman Sundome 6, we have one notable exception to the rule.
The Sundome has long been recognized as one of the best tents out there for  large groups. The reason for this is simple: it offers simply superb value for money. While not a standout in terms of waterproofing, the Sundome is extra-roomy, tall enough to walk around in, easy to pitch, lightweight, and, importantly, very fairly priced.
With a budget tent like this, of course, a few compromises are to be expected. With the Sundome, these take the form of a partial-coverage rainfly, fiberglass poles, a lack of vestibule room, and one door fewer than is ideal for convenience.
PROs

Affordable
3000mm rainfly
Spacious
Lightweight

CONs

Fiberglass tent poles
One door only
Partial-coverage rainfly
No vestibules
Bottom-Line: An affordable and reliable family tent that's ideal for fair-weather family camping.
Things To Consider When Looking For A Family Car Camping Tent
Camping Tent Types
Dome? Tunnel? A-Frame? Instant?
Typically, cabin and tunnel-style shelters offer the most headroom because their use of steep walls means that peak height is almost uniform throughout the tent. By contrast, the curved walls of dome-style tents mean that center height decreases the further you are from the center of the tent.
In terms of performance, the difference between these three styles of tent is fairly clear cut. Domes are far better performers in wild weather because their aerodynamic design means they take less of a battering from the wind. The steep walls of cabin and tunnel tents, on the other hand, mean they can buckle or collapse in blustery conditions.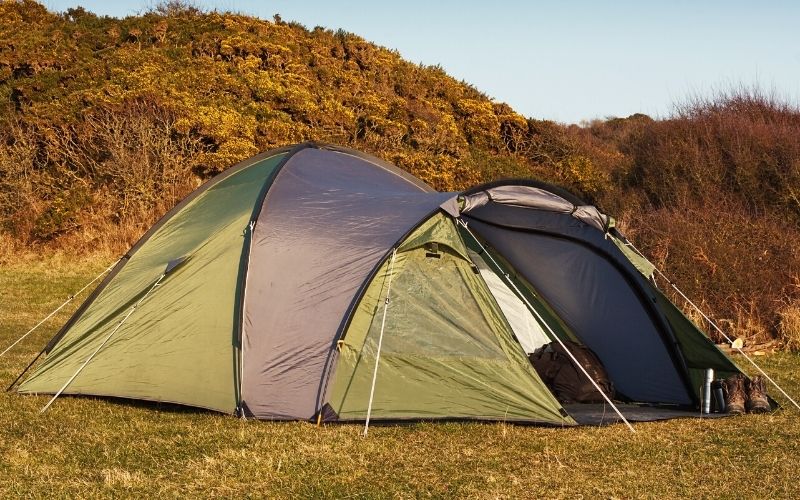 Size & Livability
When camping with the family, personal space is a real issue – and it works both ways, trust us! Without adequate space to move around in, cabin fever can quickly set in for you and your kids, especially if you get caught in wet weather and have to sit it out.
While all tents have a "person rating" telling you how many campers the manufacturers think they can host ("4-person," "6-person," and so on), it's best to remain skeptical until further inspection. The reason for this is that many brands are optimistic in their assessments, and the difference between two models of 6-person tent could be as much as 10-15 sq. ft. fo space, which is a lot!
The better way to gauge a tent's capacity is to find its overall square footage in the product specifications. The average adult sleeper needs roughly 14 sq. ft. of space, so all you have to do is divide the total space by 14, and – voila! – you'll know how many people the tent actually sleeps.
For example, 60 square feet divided by 14 = 4.28. This means a 60-square-foot tent will accommodate 4 people (and a bit of gear) comfortably.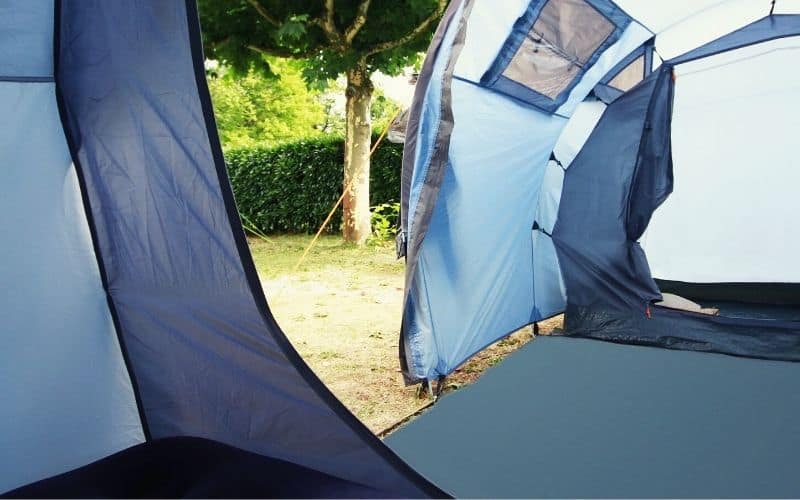 The next thing to look out for is peak height, aka "center height." This refers to the distance between the floor and the ceiling at the highest point. As this determines how much headroom you'll have and how easy it is to move around while standing, it's a big contributor to livability.
The roomiest family tent on our list is the Eureka Copper Canyon, which offers a whopping 130 sq. ft. of floor space. And the pokiest? The Big Agnes Copper Spur, though stingy dimensions are to be expected from tents that are geared towards backpacking rather than car camping.
Concerning peak height, the top dog is the Copper Canyon (84"), though the TNF Wawona (80") and Big Agnes Big House (81") also deserve an honorable mention.
Weather Protection
Three things determine just how well tents perform in suboptimal weather.
The first of these is the shape. As mentioned above, domes are standouts in strong winds thanks to their curved walls and (usually) superior geometrics.
The second is the type of rainfly. As you might expect, tents that use a partial-coverage fly (like the TNF Wawona, Eureka Copper Canyon, REI Wonderland, and Coleman Sundome), are far more likely to leak than those with a full-coverage fly (the REI Grand Hut, REI Base Camp, and Big Agnes Copper Spur HV UL).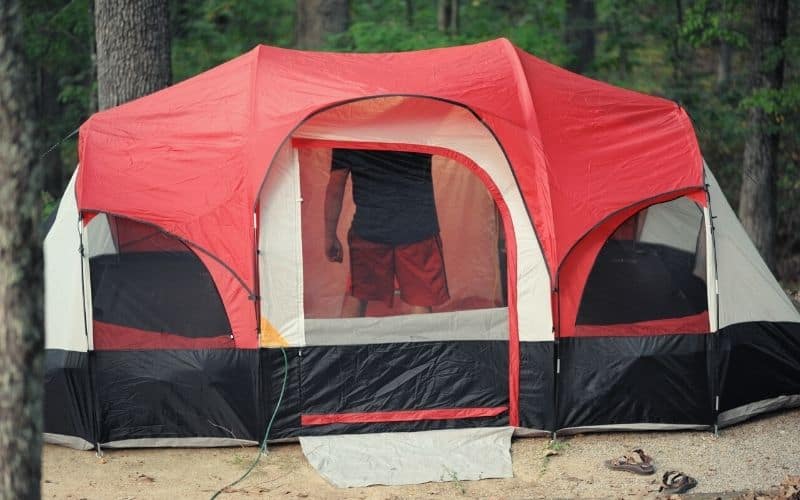 Finally, there's the fly's waterproof rating. This is measured using the hydrostatic head (HH) open-column water test. In a few words, this simply means it has been tested to determine how much water pressure a fabric can withstand before it starts to leak.
HH ratings are given in mm (i.e.1,200mm HH, 2,000mm HH, and so on), and the higher the figure, the more waterproof the fabric is. For three-season camping, we recommend a minimum 1,000mm HH rainfly and 1,500mm flooring.
Ventilation
Tents that lack ventilation can quickly become mightily stuffy, sweaty, and condensation-prone places.
The most important ventilation-enhancing features are large mesh panels in the canopy and tent walls, vents in the body and rainfly, mesh windows, and double doors. The best "ventilator" on our list – and, thus, the best for humid climates – is the REI Wonderland, though the Coleman Sundome and Eureka Copper Canyon were a close second.
Durability
The main determinants of durability are the tent materials, i.e. the fabric used in the body and rainfly, and the pole material.
Fabric
In most cases, the thicker a fabric is, the more durable and robust it will be. Fabric thickness is measured in denier (D), and most manufacturers will specify the denier of the flooring, the body, and the rainfly.
Some manufacturers also use fabric with a "ripstop weave," which simply means that the fabric is constructed in a way that makes it less vulnerable to tears and punctures. Consequently, a fabric made with a 20D ripstop weave will likely be more durable than fabric made with a 30D regular weave.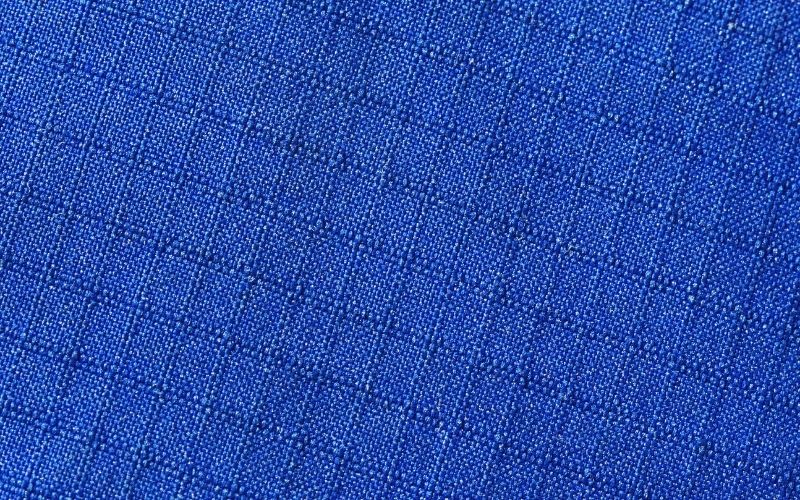 Canvas tents are the burliest and most durable of the bunch. We haven't included any of these in this buying guide, but if you think a canvas tent might be your bag, check out our reviews of this year's best canvas tents.
Poles
Fiberglass, aluminum, or steel?
Fiberglass poles are typically only found in cheaper tents and break more easily than aluminum and steel. Aluminum poles are more robust and lighter, but also more expensive. Steel poles are the toughest, but also the heaviest (by a long way).
All of the tents on our list use aluminum poles except for the Coleman Sundome 6 (fiberglass), and the Eureka Copper Canyon, which uses a combo of steel and fiberglass.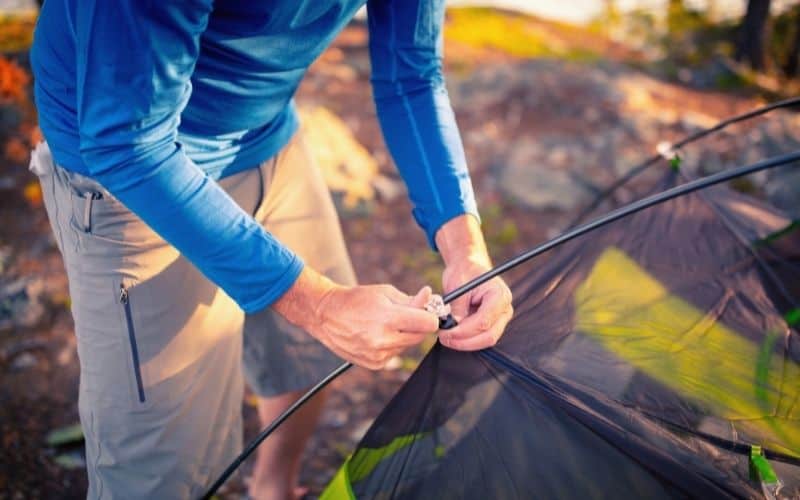 Setting Up & Taking Down
The top performers in this metric are pop-up or "instant" tents, meaning those that use poles that are pre-attached to the fabric and a central pole hub that opens like an umbrella. The only genuine pop-up on our list is the Coleman Instant Cabin.
If you don't plump for a pop-up, the quickest family tents to pitch are those with color-coded poles and clips and a freestanding design. Color-coded poles help you figure out which poles go in which sleeves, while a freestanding design means the tent will remain upright even before it's pegged out with stakes and guylines.
All of the tents on our list have a freestanding design, and only the Coleman Sundome doesn't have color-coded poles.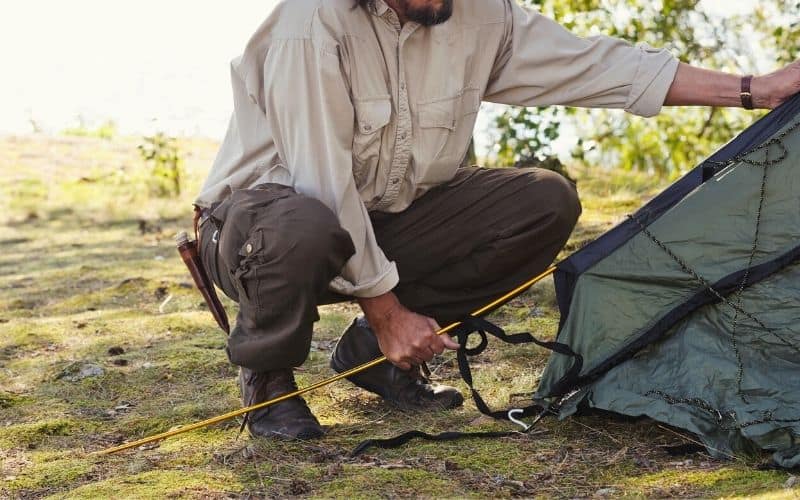 Weight and Packed Size
Most tents on our list are heavier models geared towards car camping, and so both weigh more and take up more room than their backpacking counterparts.
The one exception is the Big Agnes Copper Spur HV UL. The Copper Spur weighs just 5 lbs. 11 oz., but like all backpacking tents, compromises interior space to achieve those weight savings, offering a mere 57 sq. ft. of interior space and a peak height of just 50".
Storage Space: Pockets, Vestibules, and Gear Loft
Storage is important for two reasons: it frees up space for sleepers in the sleeping area, thereby optimizing livability, and it helps keep things neat, tidy, and organized.
The most important storage features are vestibules (or a separate floorless screen room), interior pockets, and a "gear loft" that lets you store kit and clothes above the sleeping area.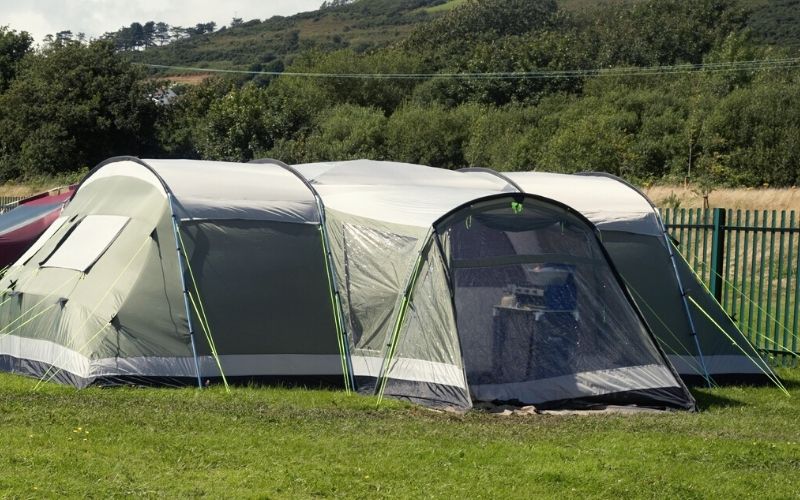 The two storage standouts on our list are the North Face Wawona 6 and the REI Co-op Base Camp, both of which offer near 45 square feet of vestibule area and have 10 and 14 interior pockets respectively.
The only tents with no vestibule space are the Coleman Instant, Big Agnes Big House, and REI Wonderland.
Best Family Tent: The Verdict
Our list of the best tents for families had many worthy contenders, but when push came to shove, our choice of the best overall was the REI Base Camp. This family tent ticks all the boxes – it's spacious, user-friendly, boasts outstanding weather resistance, and is rich in dialed-in, practical features.
If you're more of an occasional or fair-weather camper and would prefer something a little cheaper, check out the Coleman Sundome. The Sundome lacks a few bells and whistles and isn't a great performer in rainy conditions, but if you plan on doing your camping only when the forecast calls for decent weather, it's ideal.
So, how did you like our article? Got any questions? If so, drop us a line in the comments box below. And, as always, feel free to share this post with your friends!