The popularity of tents made from canvas has skyrocketed in recent years, and it's easy to understand why.
Modern iterations of this centuries-old staple of outdoor enthusiasts offer a far more luxurious camping experience than their nylon or polyester counterparts. While always famed for their toughness, the new school of canvas also combines old-school aesthetics with modern technologies to bring you unparalleled comfort and livability.
Ready to join the scores of campers converting to canvas? If so, read on!
To help you find the best option for you, we've reviewed 9 of the top models out there. Below our reviews, we've also thrown in detailed buying advice that provides all the info you need to make the right choice for you, no matter your budget or the size of your camping crew.
Top Choices by Category
Budget: Latourreg Outdoor Pyramid and Dream House 3-Season Pyramid
High-Capacity: Teton Sports Sierra
Bell: White Duck Regatta, White Duck Avalon Optimus, and Teton Sports Sierra
Cabin: Kodiak Flex Bow
Editor's Choice
White Duck Regatta Canvas Bell Tent
Scooping our award as the best canvas tent out there is the awesome White Duck Regatta. After much deliberation, this one stood head and shoulders above the best of the rest owing to its stellar performance in every important metric.
The Regatta is a little on the heavy side, but with enough room for up to ten sleepers and made with materials burly and waterproof enough for four-season camping we can let that slide.
In the summertime, the Regatta's layered windows and doors and ceiling air vents help to keep air circulating and occupants cool. In the winter, the thick, waterproof-treated fabric provides great weather protection and insulation, while the handy stove jack lets you install your very own central heating system if you plan on camping in more frigid conditions.
A few other features that make the Regatta a standout are the shock-absorbing grounding system, waterproof zippers, ultra-stable steel poles, and its heavy-duty stakes and pegs, all of which are of the highest quality.
Bottom Line: An extra-roomy canvas tent of superb quality that excels in all weather conditions.
At a Glance: Quick Recommendations
Best Cotton Canvas Tents: Our Top 9 Picks
White Duck Regatta Canvas Bell Tent
Editor's Choice
Capacity: 8–10-person (other sizes available) ⸱ Weight: 71 lbs. ⸱ Floor Space: 132 sq. ft.
If you're looking for a high-quality canvas tent that can accommodate all the family without costing an arm and a leg, the White Duck Regatta is the perfect pick.
This shelter offers a generous 132 square feet of floor space. The side walls are vertical for the first three feet before sloping inwards towards the apex, allowing just enough room for 10 sleepers. The lack of headroom near the periphery, however, does mean it might be tricky for all 10 to squeeze in when standing.
But this tent ain't just roomy! It's 8.5 oz. army duck canvas is tough, waterproof, and UV-resistant and its sewn-in PU groundsheet provides extra water resistance where you need it most.
While the Regatta's thick, waterproof fabric and stove jack opening mean it's suitable for four-season camping, we were equally impressed by its performance in summer. It has a pair of mesh-lined doors and windows that allow for bug-free ventilation, while the vents in the apex ensure there's consistent airflow.
Throw in an e-port for electrical hookups, waterproof zippers, shock-absorbing grounding, and a handful of storage pockets and you've got a shelter that provides everything you could need for a cozy, comfortable family camping trip.
PROs

Roomy
Waterproof
Sturdy
Stove jack opening
Great ventilation

CONs
Bottom-Line: An incredibly well-made, four-season, durable tent that feels like a genuine home away from home.
TETON Sports Sierra Canvas Camping Tent
Most User-Friendly
Capacity: 8–12-person (other sizes available) ⸱ Weight: 95 lbs. ⸱ Floor space: 200 sq. ft.
Got a large camping crew? If so, there are few canvas camping tents out there that can lay a glove on the Teton Sports Sierra.
The Sierra is, first and foremost, huge. With a whopping 200 square feet of floor space, it can accommodate 8 sleepers plus gear and canines, or 12 sleepers at a squeeze. Nevertheless, it's a breeze to set up, taking no more than 5 or 6 minutes with two people doing the pitching.
Size aside, there's plenty more to love. The Sierra combines 285 g/m4 walls with PVC flooring to provide optimal waterproofing and ruggedness. The doors and air vents are lined with fine mesh, so you can ventilate the interior without worrying about bugs.
The small details are also mightily impressive. There are e-ports for electrical hookups, high-quality zippers and stakes, reinforced corners and seams, and a rugged carry bag.
This one might be a little on the heavy side and not have the stove jack that is included in the White Duck Regatta or Elk Mountain Yukon, but otherwise it's a winner!
PROs

Huge!
Lifetime warranty
Very easy to set up
High-quality materials

CONs
Bottom-Line: A huge, extra-durable canvas tent that oozes quality from every stitch and seam.
Dream House 3-Season Pyramid
Best Tipi
Capacity: 2–3-person ⸱ Weight: 28 lbs. ⸱ Floor Space: 50 sq. ft.
If you're in the market for a simple, affordable, tipi-style tent for the yard or couples' car-camping trips, the Dream House Pyramid is a great option.
This shelter doesn't boast any bells and whistles, but it does everything most occasional campers need an overnight tent to do. It's roomy enough for two (three at a push), waterproof, well-ventilated, and durable enough to last a lifetime with proper care and maintenance.
The Dream House is a fraction roomier than the other tipi on our list, the Latourreg Pyramid. Unlike the Latourreg, it also has handy netting over the doors that lets you ventilate the interior without letting bugs in.
The only real downside to the Dream House is that its waterproofing isn't quite up to scratch for three-season camping. While we'd be happy to use it in shorter bouts of heavy rain or sustained lighter rainfall, we'd prefer a little more robust protection for a wet weekend away.
PROs

Affordable
Large doors
Mesh lining keeps bugs out
Well-ventilated
Easy setup

CONs

Quite small
Not as waterproof as other options
Bottom-Line: A great little tipi tent that's a little short on waterproofing but otherwise a winner.
DANCHEL Cotton Bell Tent
Best Value
Capacity: 4–5-person (other sizes available) ⸱ Weight: 44 lbs. ⸱ Floor Space: 78.5 sq. ft.
What makes a canvas tent great value? We'd say highly durable fabric, versatility, a good space-to-cost ratio, quality materials, and a few non-standard extras that elevate this tent's game over its similarly priced competitors. That, folks, is the DANCHEL Cotton Bell in a nutshell.
The DANCHEL is made with waterproof 285 gsm fabric walls and a PVC floor. While the walls aren't PU-coated, the fabric is waterproof enough to see you through even heavy rain showers. In warmer weather, the 4 mesh-lined windows and 4 roof vents help keep things fresh and sufficiently aerated inside.
While marketed as a 4-person tent, you could easily squeeze in another sleeper with a little bit of creative pad positioning.
PROs

Roomy
Waterproof
2 stove jacks
4 mesh-lined windows
Fairly priced

CONs
Bottom-Line: A well-made, fairly priced tent that's big enough for up to five adult sleepers.
Latourreg Outdoor Pyramid
Best Budget Canvas Tent
Capacity: 2–3-person ⸱ Weight: 26.4 lbs. ⸱ Floor Space: ~50 sq. ft.
If you're a camping couple looking for a low-cost canvas tent and are fans of the classic tipi-style design, the Latourreg Outdoor Pyramid is well worth considering.
The Latourreg measures 85" x 85" x 79", which makes it roomy enough for two sleepers plus gear, or three sleepers at a squeeze. Another boost to livability is provided by the two giant, walk-in doorways, though the lack of mesh covers may be an issue if you're camping in the buggy season.
This tent is made from 285 gsm cotton canvas with a 3,000mm waterproof rating, a 540 gsm PVC groundsheet, and has a 19mm galvanized steel support pole. This is pretty much par for the course for a cotton canvas tent in this price range but ensures far superior ruggedness and durability to nylon or polyester tents at the same price point.
PROs

A spacious tent for the price
4 upper vents
Functional carry bag
Easy to pitch
Plenty of headroom

CONs

Unsealed seams liable to leak in heavy rain
Bottom-Line: An affordable tent that's a little short on waterproofing and bug protection but a breeze to pitch and great for fans of a tipi-style design.
Kodiak Flex-Bow
Runner Up
Capacity: 8-person (other sizes available) ⸱ Weight: 79 lbs. (includes 6.5 lbs. in stakes) ⸱ Floor Space: 140 sq. ft.
Let's get straight to the bottom line: the Kodiak Flex Bow tent is one of the most well-made shelters out there that we've ever had the pleasure of catching our Zs in, canvas or otherwise. It combines everything we could wish a backcountry bolthole to offer: it's extremely durable, outstanding in wind and rain, roomy, easy to pitch, and packs a few great, non-standard bonus features.
The walls of the Flex Bow are made with marine-grade, highly breathable, silicone-treated, 8.5-ounce canvas, and the floor from polyester-reinforced 16-ounce vinyl. This combo makes it just about as rip-resistant, durable, and weatherproof as they come. Its burly steel poles also make it a standout performer in strong winds.
The Flex-Bow is one of the most livable shelters on our list. It boasts a generous 140 square feet of living space and has a peak height of 6.6 feet. Its near-vertical walls, moreover, mean that it retains most of that height from wall to wall, something that can't be said of any other tent on our list.
The Flex Bow, like all other models on our list, doesn't have a vestibule. However, one of its winning features is a large awning that extends from the doorway, giving you a sheltered spot to dry gear or enjoy some shade on sunny days.
PROs

Solid build (heavy-duty fabric and burly tent poles)
Outstanding weather protection
Room for 8 sleepers plus gear
Plenty of headroom
Door converts into a large awning

CONs
Bottom-Line: A beast of a tent that's a little pricey but by far outperforms its more affordable peers in windy and wet conditions. One of the best canvas camping tents there is for any long-stay family camping trip.
Kodiak Truck Bed Tent
Best for Trucks
Capacity: 2-person ⸱ Weight: N/A ⸱ Floor Space: Fits an 8-foot truck bed
The Kodiak Canvas Truck Tent is everything you could ask for in a truck-bed tent. It's super-easy to set up, tough enough to deal with years of life on the road, fully waterproof, sturdy, well-ventilated, and surprisingly roomy inside.
This tent fits all full-size trucks with an 8-foot bed. That includes the Ford F Series, Dodge Ram, Nissan Titan, Chevy Silverado, and many more. The main benefit of this style of canvas tent, of course, is that it gets you up above the ground (away from things that bite!) and lets you set up virtually anywhere.
Like any other Kodiak canvas tent, this one is made with the brand's proprietary, Hydra-ShieldTM cotton duck canvas, which is highly breathable and waterproof, and also just about as tough as any material comes.
Although this shelter only provides enough room for two sleepers, its roominess is one of the main reasons that it's the top canvas tent for trucks. It boasts a 5-foot ceiling height, uses a tunnel-style design that increases headroom, has a rear window that gives you access to the truck cab, and goes up "tailgate down" to maximize usable space.
It ain't cheap, but if you want a solid, reliable, convenient tent built to last a lifetime, your search can end here.
PROs

Waterproof
Highly durable
5 windows
Large D-shaped door
2 gear pockets
Clamp-on rails make it easy to mount to your vehicle

CONs
Bottom-Line: Ideal for anyone with a truck looking for a low-maintenance canvas tent.
White Duck Avalon Optimus Bell Tent
Premium Pick
Capacity: 8-person (other sizes available) ⸱ Weight: 95 lbs. ⸱ Floor space: 133 sq. ft.
If you have cash to burn and are happy to splash out for a top-end family canvas tent that excels in every metric, the White Duck Avalon Bell might be the one for you.
More than any other model on our list, this one feels like a true "home away from home." And that's not just because its weight (95 lbs.) makes it the closest to something made of real brick and mortar!
The Avalon Optimus Bell is made with tough, waterproof, 10.10 oz. army cotton duck canvas and uses galvanized steel poles in combination with a proprietary shock-absorbing grounding system to optimize its bad-weather performance.
This tent is also suitable for year-round use. In summer, the breathable cotton canvas and built-in roof vents help prevent condensation, stuffiness, and overheating. In winter, the pre-installed, silicone-coated, heat-resistant stove jack can be used to keep everyone inside extra-cozy, no matter how low the temperature gets.
And the downsides? Other than the eye-watering price tag, the only one of note is that its size and weight mean you'll need a friend or two, and roughly half an hour, to get it set up.
PROs

Fully waterproof
Spacious
Extremely durable
Stove jack
Waterproof tent bag

CONs

(Really!) expensive
Far heavier than other tents on our list
Bottom-Line: A luxury car-camping shelter that oozes quality from every stitch. Ideal for all-weather family camping trips and the best glamping canvas tent out there.
Elk Mountain Yukon Bell Tent
Honorable Mention
Capacity: 5-6 person ⸱ Weight: 48.5 lbs. ⸱ Floor space: 133 sq. ft.
The Elk Mountain Yukon Bell didn't do quite enough to earn our top spot, but it is the most rugged option on our list. This makes it well worth a look if rip-resistance and durability are high on your list of must-have attributes.
The Yukon Bell is made with extra-burly, 11-ounce polyester canvas with a breaking strength of 449 lbs. (warp direction) and 382 lbs. (fill direction). In layman's terms, this makes it roughly twice as tough and tear-resistant as the majority of its competitors. The central pole, meanwhile, is made with galvanized steel, so longevity is assured.
Toughness aside, there's a lot to love about this canvas tent.
For starters, its polyester fabric makes it more waterproof, breathable, and less susceptible to sun damage, than standard canvas tents, making it suitable for camping trips in both torrential rain and blazing sun.
Fan of wood-burning stoves when winter camping? If so, the Yukon Bell has you covered! It has an uncut stove jack pipe opening and sleeve (you can cut it to 4″, 5″, or 6″) that allows you to bring along your wood-burning stove to heat the interior in cold weather.
Space-wise, the Yukon Bell is on par with other canvas tents like the White Duck Avalon Optimus Bell and White Duck Regatta, boasting 133 square feet of floor space. The manufacturers state that this makes it capable of accommodating just 3 sleepers, but with a little bit of ingenuity you can comfortably fit in 6 sleepers without the stove jack.
PROs

Great ventilation
4 windows
Burly, 11 oz. polyester canvas material
Stove pipe jack (uncut)
Relatively light for the size

CONs
Bottom-Line: The most durable canvas tent on our list.
Why Choose a Canvas Tent?
Canvas tents have made something of a comeback in recent years. Here are some of the reasons behind that resurgence.
They're ideal for glamping.
They're more durable than a regular camping tent.
Canvas, unlike the synthetics used in regular tents, insulates making it great for winter camping or three-season camping.
Canvas's thickness also means it shields the interior from the sun, keeping the inside cooler in warm weather.
Canvas is also waterproof and highly breathable, meaning you'll have weather protection and avoid stuffiness and condensation.
They perform better in high winds thanks to the high tear strength of the fabric and their use of sturdy steel poles.
It's a sustainable material.
High-quality canvas isn't as susceptible to sun damage as a polyester, PU, or nylon tent.
Canvas tents are heat resistant, so you can add a stove jack to provide yours with a little central heating.
They look very, very cool.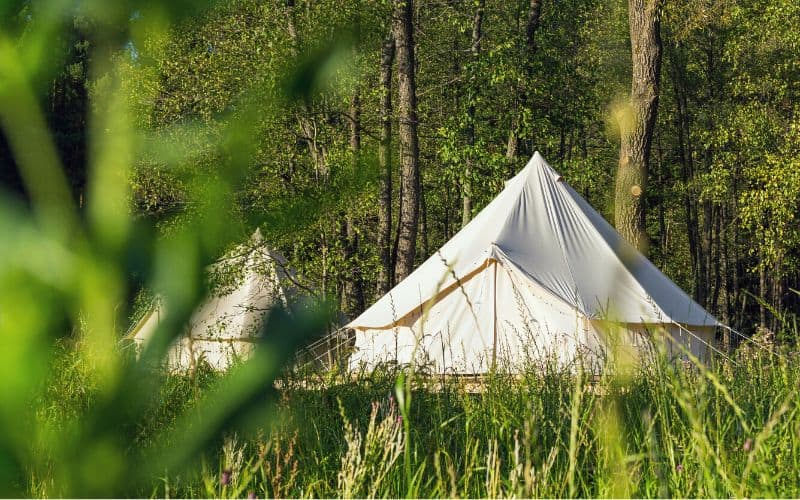 How to Choose a Canvas Tent
Shape
Bell, tipi, or cabin? Each style of tent has benefits and drawbacks.
Cabin tents like the Kodiak Flex Bow are usually the roomiest of the bunch, mainly because the center height doesn't taper away quite so sharply towards the sides, and there's no supporting pole in the middle. On the downside, the steep walls in a cabin-style tent mean they take the full force of the wind when it's blowy out.
Bell tents are perhaps the most luxurious option. These tents are shaped similar to yurts, with a short vertical wall around the base and a sloping upper portion that rises to a peak. While this design means they have less wall-to-wall headroom than cabins, it also makes them better performers in strong winds and means they have less unusable space than tipis.
Tipis are, of course, the most iconic of all types of canvas tents. Like bell tents, they are supported by a single pole at the center but have a conical shape courtesy of multiple poles that extend outward from the apex to the ground. This design makes them very easy to pitch but also means they often have a lot of unusable or restricted space around the edges.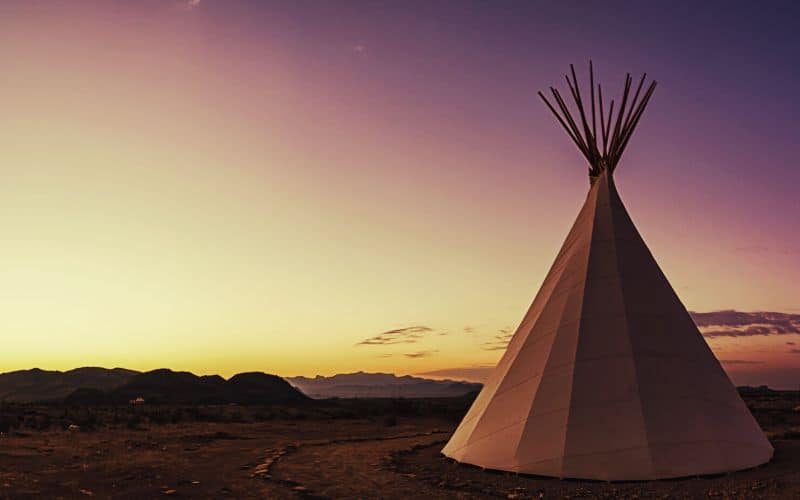 Another type of tent worth mentioning are truck-bed tents such as the Kodiak Canvas TBT featured above. As the name implies, these are designed to be affixed to the bed of your truck, which gives you an elevated sleeping platform and saves you from having to fiddle around with pegs and guylines.
Finally, there is the canvas wall tent. Wall tents are shaped like houses and are most commonly used for commercial purposes, weddings, or events. For this reason, we haven't included any on our list.
Size
With regular tents, we usually recommend choosing a model that provides around 14 square feet of space per sleeper. With a tipi or bell tent, however, you're going to need a little more. The reason for this is that the central pole and sloping walls on these canvas models tend to significantly reduce usable floor space.
For this reason, you'll need closer to 22 square feet per sleeper with these styles, though this may vary from tent to tent, depending on the design. With a cabin-style shelter like the Kodiak Flex Bow, however, all interior space is usable space, so the 14-square-feet-per-sleeper rule still applies.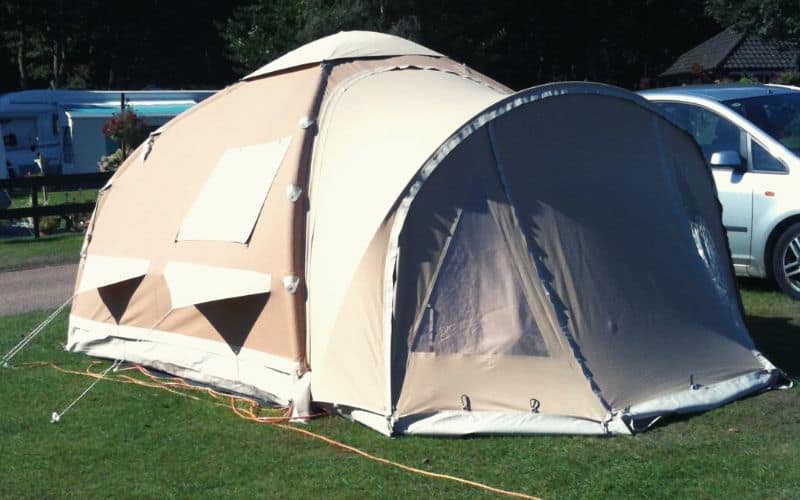 Material
Canvas is famed for its durability, whether it's made with heavy-duty cotton, polyester, or hemp-based fabrics.
Different manufacturers, however, use different types or thicknesses of fabric. Thickness is measured in either ounces per square yard (oz/yd2) or grams per square meter (gsm). As a general rule, the heavier the fabric is, the more resilient and weather-resistant it will be.
When comparing fabrics with different measurements, bear in mind that 1 ounce per square yard equates to roughly 34 grams per square meter.
Most of the tents on our list are made with 8.5 to 10.1-ounce fabric. Products in this range tend to be a better choice for 3-season use, though other factors come into play that makes some, like the Whiteduck Regatta, Kodiak Flex Bow, and Danchel Cotton Bell, suitable for winter too.
Weather Resistance
One of the main reasons campers opt for a canvas tent over polyester or nylon tents is their superior waterproofing.
The best canvas tents out there are made with an extra-tight weave that makes them naturally water-resistant. However, many models employ an extra waterproof coating like silicone or polyurethane (PU) to double down on wet-weather defenses.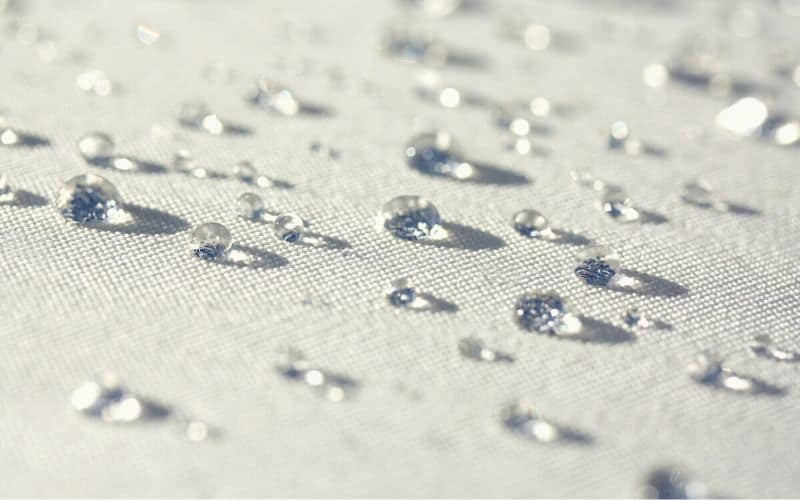 The most waterproof tent on our list is the Kodiak Flex-Bow, which is made with marine-grade, 100% cotton duck, Hydra-Shield canvas.
Ventilation
This is another key factor to consider. Without adequate ventilation, simply put, your tent will become like a sauna and riddled with condensation in warm and/or humid weather.
While canvas tents are typically more breathable than polyester or nylon equivalents, however, it's still wise to choose a model that has a handful of ventilation features.
What are "ventilation features?" These take the form of doors (ideally two of them) and windows with mesh netting (to prevent bugs getting in when you're trying to up airflow) and covered vents in either (or both) the base and upper portions of the tent walls.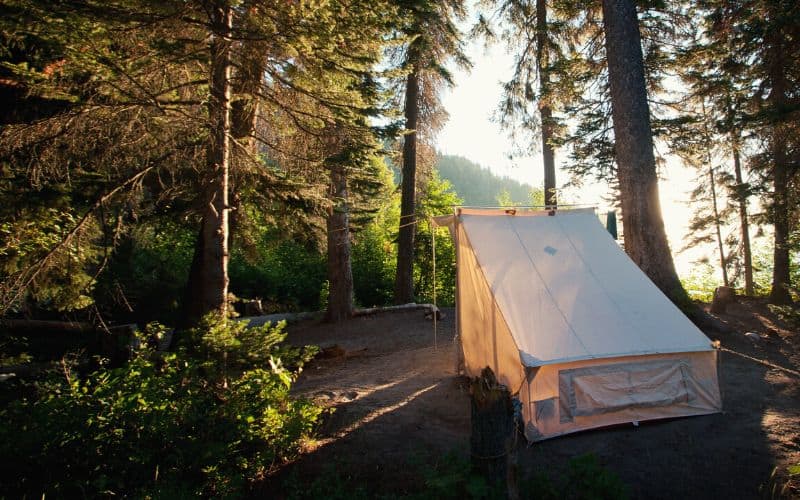 The standout performers in this metric are the Kodiak Flex Bow (mesh-covered windows), the Dream House Pyramid Tent (upper vents), and the White Duck Avalon Optimus Bell (built-in roof vents, multiple mesh-lined windows, two doors).
Weight and Packed Size
All of the tents on our list are designed for car camping only – that is, none are portable enough to take on a backpacking trip unless you happen to have a mule or two to do the carrying for you.
In short, there's no such thing as a "lightweight" canvas tent.
Nevertheless, weight and packed size have a direct impact on how easy (or difficult) it will be to schlep your tent from your vehicle to your campsite and to set the thing up once there.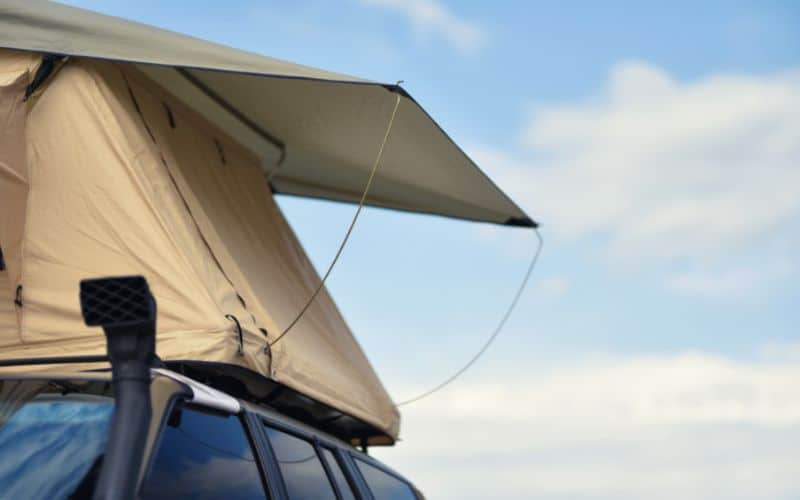 The lightest tents on our list are the two tipis, the Dreamhouse Pyramid and the Latourreg Outdoor Pyramid, which weigh 28 lbs. and 26.4 lbs. respectively. At the other end of the scale, we have the White Duck Avalon Optimus Bell, which tips the scales at a hefty 95 lbs. (forgivable for such a large tent!).
Ease of Setup
Most canvas tents are far more time-consuming to set up than your average synthetic camping or backpacking tent.
Weight aside, a few other features and factors determine how easy or challenging a canvas tent will be to pitch. The most important of these is the configuration of the frame and the style of the tent.
Generally speaking, tipis and bell tents are the easiest canvas tent designs to pitch. This is because all you have to do is erect the central pole, peg out the guylines, and you're good to go. This is exemplified by the TETON Sports Sierra (bell), which can be pitched in 3 or 4 minutes. That said, the Kodiak Flex Bow (cabin) was just as quick to set up.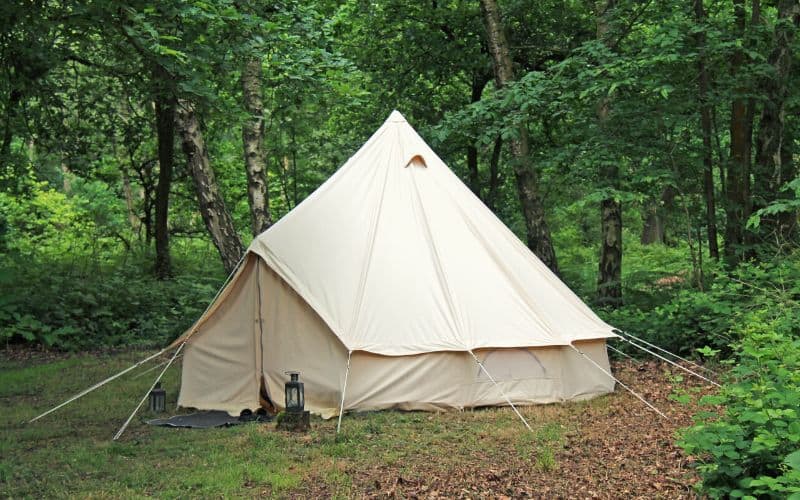 Best Canvas Tent: The Verdict
Just in case you're still undecided, let's have a little recap of our top picks.
If you're in the market for a high-quality bell tent, you really can't go wrong with the White Duck Regatta. The Regatta ticks every box that needs ticking, but deserves special praise for its outstanding performance in varying weather conditions and livability-enhancing features.
If you'd prefer a cabin-style shelter, the Kodiak Flex Bow is the way to go. This tent is so well made we'd be happy to live in the thing year-round (!) and its roomy interior, superb features, and robust waterproofing mean we'd be perfectly comfortable doing so!
If you liked this article or have any questions, drop us a line in the comments box below. And if you'd like to share it with your friends, please do!