Denali National Park is a national park unlike any other. It's wild, unspoiled, and regales visitors with the kind of scenery and experience that will have them thinking they've landed in either a remote corner of Siberia or a custom-made heaven for hikers.
If big, beautiful, and unblemished are your bag, this is the place to be!
To help guide you through the best this unique area has to offer, we've compiled a list of the 11 best hikes in Denali National Park to get you on your way.
Hiking Trails in Denali National Park: Need-to-Know Info 
Denali itself is not only the highest mountain in Alaska but also the highest mountain in all of North America, scraping the skies at a mighty 20,308 feet of elevation.
The name "Denali" derives from the Koyukon word meaning "The High One" and became the mountain's official name in 2015. Before then, the peak boasted two aliases—Denali and Mount McKinley, the name given to the mountain by a gold prospector in 1896 in honor of former president William McKinley.
Beyond containing the highest mountain in the United States, this national park is also home to a shedload of incredible hiking trails. There are options for all kinds of visitors, whether you want an exhilarating ascent, a backcountry odyssey, or an easy valley walk with all the family. The best part is that almost all of them promise jaw-dropping scenery no matter the difficulty rating.
Denali is also unique in that it only has a handful of marked trails, most of which are day hikes concentrated around the park's main entrance. If you crave a little more in the way of wildness, however, opportunities abound. After obtaining a backcountry permit, you'll be free to explore the vast open country beyond. Just don't forget your map…!
There are no trails, markers, or campsites in the backcountry of Denali. Instead, the National Park Service states that in Denali, "Our goal is to provide visitors with the means of self-reliance and self-discovery…"
Finally, wildlife encounters here are not uncommon. Bears are on the roam in almost every area of the park, so be sure to always carry bear spray. Sightings of moose are also frequent. Unlike with bears, if you see a moose, the safest thing to do is run to a safe location, particularly if the moose has calves.
Denali National Park: Our Top 11 Hikes in Alaska's Awe-Inspiring Wilderness
1. Savage River Loop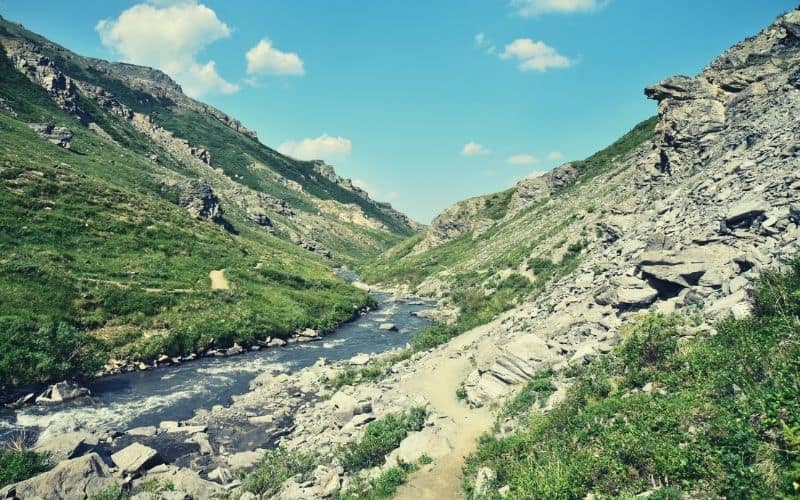 Type: Loop
Length: 2 miles
Difficulty: Easy
The Savage River Loop is a perfect example of a more leisurely day hike offering incredible rewards. This mellow, kid-friendly loop takes you through a picturesque area of the quintessential Alaskan wilderness, all with very little effort. It is also highly accessible because every parking lot area along the Savage River has a trailhead that links you to the loop.
The Savage River Loop is typically regarded as the best of the easy trails in DNP on account of the abundance of beautiful alpine scenery it offers up over its short, 2-mile length. It is also very family-friendly and a great way to start your journey in the park before moving on to longer, testier trails.
Most of this walk follows the flanks of the Savage River, skirting one side on the way up before returning to the Park Road trailhead on the other side. Despite its proximity to the road, the trail feels fairly wild most of the way. However, it can get busy in peak season, so don't expect to have it all to yourself.
Pro-Tip: Don't confuse the Savage Loop with the much more strenuous Savage Alpine Trail, which is covered in more detail below.
2. Horseshoe Lake Trail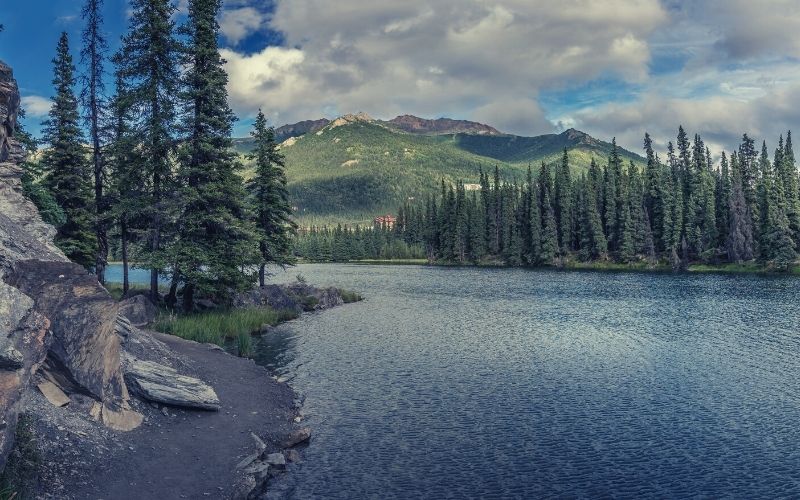 Type: Lollipop
Length: 3.2 miles
Difficulty: Easy
Denali hiking trails aren't all about calf-busting ascents to lonely and lofty summits. Case in point: the Horseshoe Lake Trail, a simple 3.2-mile stroll that's ideal if you want to see some wonderful scenery without the strain.
The entire hike takes approximately 2 to 3 hours, depending on your pace and the amount of time you spend gawping at the idyllic alpine scenery or watching wildlife along the way. It also involves only 250 feet of ascent, so should be doable even for young children.
The typical trailhead starts from the Denali Visitor Center, but another at the Railroad Crossing allows you to cut a mile off the total distance.
While you'll be treated to outstanding scenery each step of the way on this trail, its highlight is the lake itself, a sumptuous—picture-perfect little water feature encircled by alpine forest.
3. Mount Healy Overlook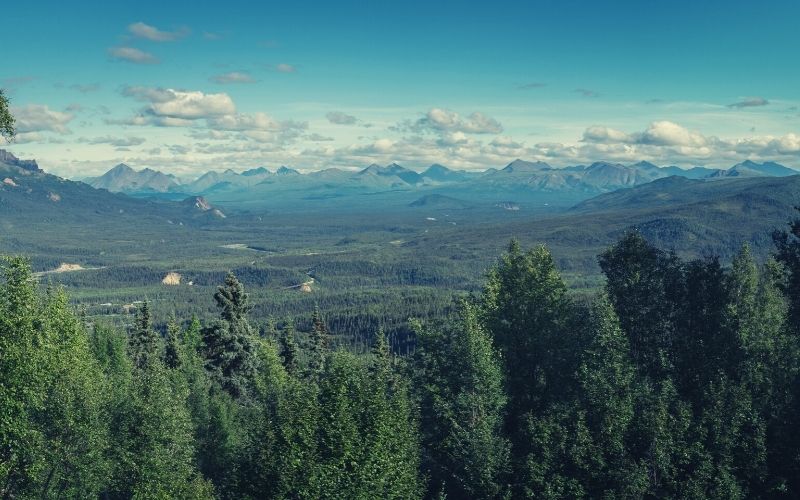 Type: Out-and-back
Length: 5.4 miles
Difficulty: Strenuous
The Mount Healy Overlook Trail is one of the most demanding day hikes in the park, but also one of the best for visitors keen to escape the crowds.
The trail begins at the new Murie Science and Learning Center. It starts out on a gentle incline before taking a fairly serious turn for the steep around 1.2 miles in. Over the last 1.5 miles to the overlook, you'll put in most of the hike's overall 1,700 feet of ascent. In other words, prepare to have a pair of seriously pumped calves by the end!
Overall, this hike takes about 4 to 5 hours to complete. While you'll be hiking in spruce forest for the first hour or so, thereafter the views are nothing short of stupendous.
4. Triple Lakes Trail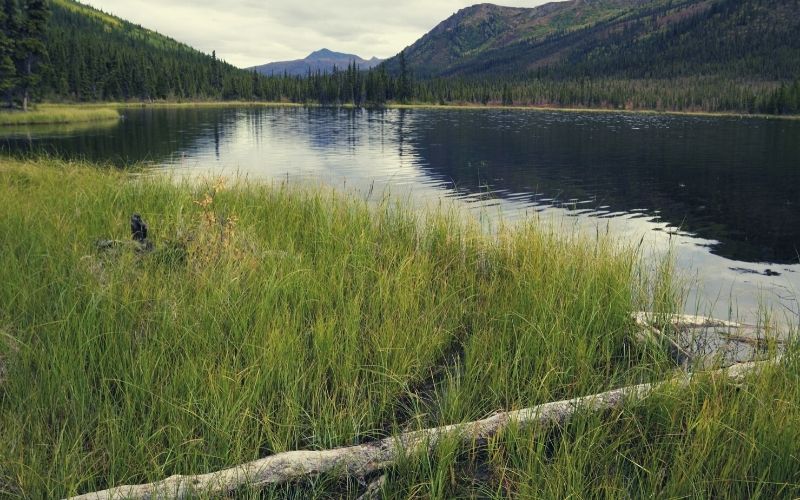 Type: Out-and-back
Length: 19.0 miles
Difficulty: Strenuous
Triple Lakes Trail is the longest of the marked Denali National Park hiking trails. We say "marked" because you can use a map to blaze a much longer route in the backcountry if you so wish, but only without the aid of signage.
The hike is challenging, both due to its length and the total elevation gain of about 1,000 feet. This, however, doesn't stop it from being a very popular trail, with thousands of visitors every year taking it on in one day or doing it as a multi-day backpacking trip.
There are two potential trailheads for this hike, but we recommend setting off from one at the southern end near the park entrance sign close to Nenana River Bridge. Starting here, you can hike the route one-way, then catch the shuttle bus to return to your car on Park Road.
We have two tips for those of you adding this hike to your list:
Firstly, the best time to do it is in the fall—the forests here are mixed deciduous and feature stunning red and yellow shades from September to mid-November. Secondly, most visitors only visit the highlights near either end of the trail, meaning the middle section is blissfully quiet and offers a feeling of true immersion in pristine wilderness.
5. Taiga Trail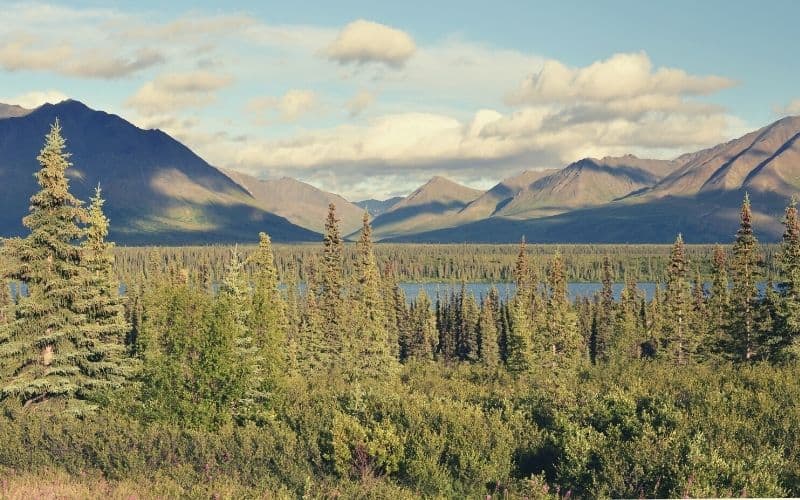 Type: Out-and-back
Length: 2 miles
Difficulty: Easy
The Taiga Trail is an easy trail that's ideal for anyone that wants to enjoy a little peace without venturing too far from the village or for families looking for a nice way to end their day in the park.
"Taiga" is the Russian-derived word for "boreal forest" or "snow forest." They include evergreens like pine, spruce, and larch, and are dominant throughout the wilds of Alaska.
The Taiga path is relatively flat and takes you to a gorgeous stretch of unique woodland that's often decorated with colorful wildflowers and also offers the chance to spot wildlife like moose, mountain goats, and maybe even bears. Have your bear spray handy…!
Although this is another short and more leisurely hike in the park entrance area, it gives you easy access to Rock Creek, Mount Healy Overlook, Horseshoe Lake, and Roadside trails, allowing you to link up for a full day of hiking if you want.
6. Thorofare Ridge Trail (AKA Eielson Alpine Trail)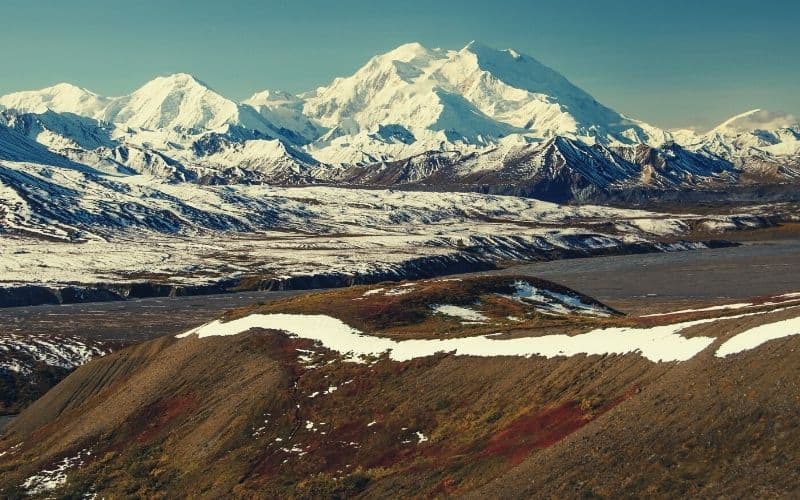 Type: Out-and-back
Length: 2 miles
Difficulty: Strenuous
Thorofare Ridge Trail is among the best Denali hikes for adventurers keen to enjoy a thrilling ascent and epic backcountry views without having to traipse many miles into the wilderness.
Thorofare Ridge's trailhead is found at the Eielson Visitor Center, which is worth a visit in itself for anyone interested in the history of the park. The visitor center is one of the busiest places along Park Road but even here the scenery is nothing short of stunning.
The official trail is only 2 miles long, but it is very challenging nonetheless. The entire route consists of steepish switchbacks to the ridge's crest. Over that short distance, you gain 1,000 feet in elevation, making it one of the most strenuous short hikes in the park.
The best parts of this Denali hike are the incredible overlooks you'll encounter along the way and the jaw-dropping panoramas at the top. From here, seasoned adventurers can head into the backcountry to lengthen the trail if so desired, but most will be happy to plonk themselves down and drink up the views of the surrounding snow-capped peaks.
If you do decide to push on, however, you will need a backcountry permit. Park rangers also offer guided hikes up to the ridge and beyond if you don't feel confident exploring the park on your own.
7. McKinley Bar Trail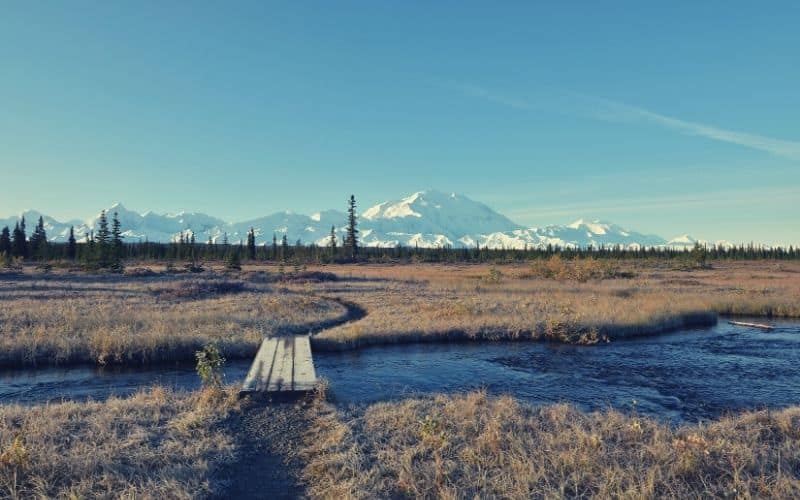 Type: Out-and-back
Length: 4.8 miles
Difficulty: Moderate
The McKinley Bar Trail starts by winding through a boggy spruce forest before emerging into the marshlands around the McKinley River, the highlight of the hike. Once there, you'll be treated to incredible views of Denali itself and other giants of the Alaska Range sprawled out on either side of it.
Overall, the hike takes about 2 to 3 hours to complete and features 486 feet of elevation gain. While relatively easygoing, make sure you bring plenty of bug spray. The marsh attracts many biting insects that can make it less pleasant for those that are unprepared.
8. Rock Creek Trail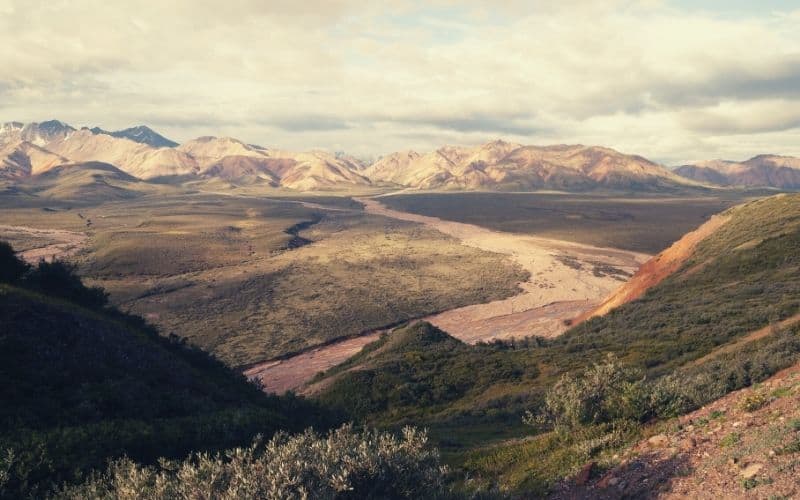 Type: Out-and-back
Length: 4.8 miles
Difficulty: Moderate
Rock Creek Trail is an out-and-back route but can be made into a loop if you join it with one of a handful of other Denali National Park hikes. These include the Taiga, Roadside, and Meadowview trails.
On its own, this hike measures 4.8 miles one way and involves around 950 feet of ascent. It offers the chance to explore an area that was popular with early trappers in the area and plenty of awesome eye-candy in the form of abundant wildflowers and ridge-line views of nearby Mount Healy.
The trail begins and ends at the Denali Visitor Center and is usually done as an out-and-back. However, if loops are more your thing, you can also return along the Roadside Trail and Meadow View Trail for a change of scenery.
9. Oxbow Loop Trail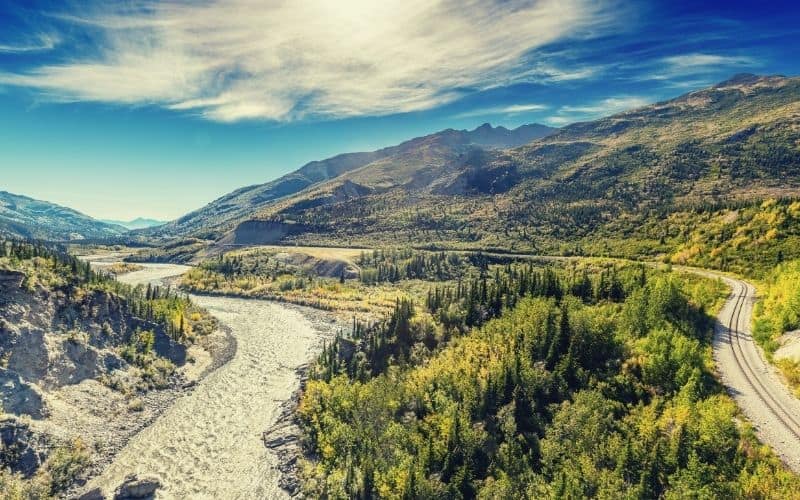 Type: Loop
Length: 3.0 miles
Difficulty: Easy
The Oxbow Loop is an easy, mostly flat loop on a small peninsula across from the Denali Park Village. While it lacks the challenge presented by other hikes in the park, it's a great option for families with kids, for breaking your legs in on day one in the park, or for a peaceful evening stroll.
Oxbow Loop takes you on an easy trek through the boreal forest until you reach the Nenana River. Here, you run right into a natural oxbow bend in the river, giving you an interesting view of the river and the surrounding forest.
The OLT is not on park ranger maps, so it's typically less crowded than some of the other easy hikes in close proximity to the village.
10. Savage Alpine Trail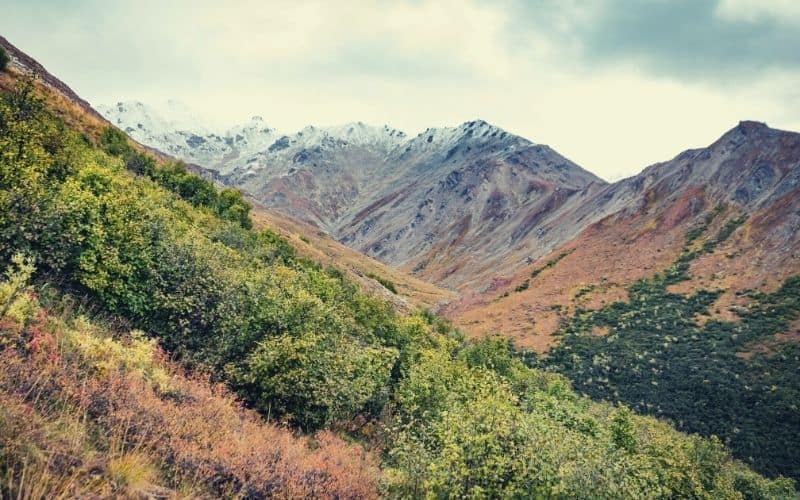 Type: Out-and-back
Length: 8 miles
Difficulty: Strenuous
The Savage Alpine Trail takes you higher up in the mountain ranges of Denali National Park, giving you some of the best vistas of the Alaska Range that the park has to offer.
The total trek is 8 miles long, making it one of the longer hiking trails in Denali National Park. If you want to cut it in half for a 4-mile one-way outing, however, you can park your car at the end in the Mountain Vista lot, then catch the shuttle to the Savage River trailhead and start from there. This way, you won't have to wait for the shuttle when exhausted at the end of the day.
You will start in the boreal forest and hike up into the alpine tundra. Once there, there are plenty of opportunities for detours to rocky overlooks, though some of these will involve a little bit of easy scrambling to reach.
The views of the Alaska Range improve as you ascend the trail, but it's also worth keeping an eye out on the surrounding hillside for some of the area's endemic Dall sheep.
The difficulty rating on this one comes from the 1,500 feet of elevation gain. However, because this is spread out over the 4-mile one-way distance, it never feels overly exerting. All told, the trip will take you about 6-7 hours if you go the full out-and-back distance.
11. McKinley Station Trail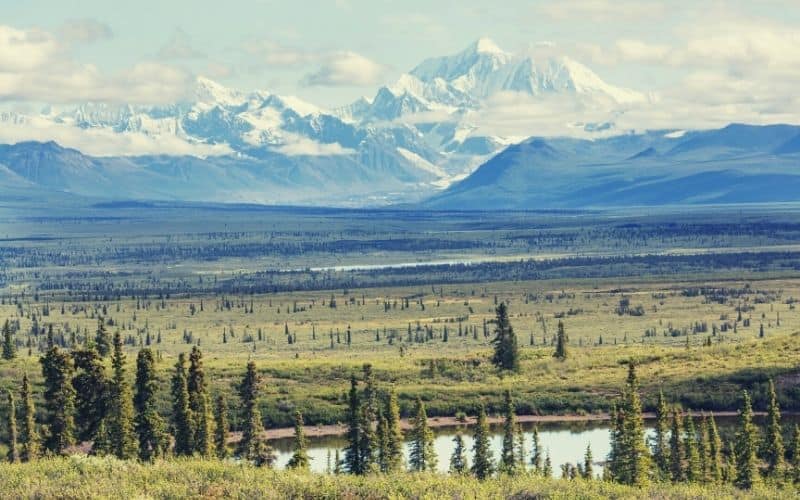 Type: Out-and-back
Length: 3.2 miles
Difficulty: Easy to moderate
McKinley Station Trail is another easier hike you can do if you don't have much time or are looking for a laid-back family hike. The trail has only 100 feet of elevation change and its 48-inch compacted gravel surface makes it easy-going for little ones and also wheelchair-accessible.
You can start the route either at Riley Creek Campground or the Denali Visitor Center. From there, this well-maintained trail weaves through quiet riverside woodlands and passes a handful of Denali's historic buildings. Other highlights you'll enjoy include the railroad trestle bridge, Riley Creek, Hines Creek, wildflowers galore, and maybe the occasional beaver in the creeks.
Each morning during the on-season rangers lead hikes on this path, giving visitors engaging background information on the area's rich history while they walk. And if you'd prefer to go it alone and extend your hike, this path also serves as a connector trail to the nearby Spruce Forest and Morino trails.
Awesome Alaska!
Denali NP is one of those places you're never likely to forget and, in all probability, one you'll wish to return to time and time again. Unlike many other popular hiking destinations around the globe, this park offers a true taste of pristine wilderness and trails that never fail to transport you into utterly unique and genuinely breathtaking landscapes.
If you only have one national park on your ticklist in 2023, we recommend you make it this one!
How did you like our list of the best hikes in Denali National Park? Let us know in the comments below! And, of course, feel free to share this article with any friends who you think could do with a little more of Alaska's awesomeness in their lives!