Alaska offers a once-in-a-lifetime opportunity to experience nature like never before. With almost 50% of the state still being uninhabited, the "The Last Frontier" is as wild and rugged as camping locations come.
The best part? You can experience Alaska's wild beauty in a variety of ways – from a remote mountain cabin to a lakeside RV park and everywhere in between. In Alaska, you'll be building your adventure, your way! Read on to be inspired for your next Alaska camping trip. Our guide will cover all the best campgrounds in Alaska, along with tips on how and when to camp there.
Extra Considerations for Camping in Alaska
Bear Safety
Alaska is home to both black and brown bears, and you don't want to mess with either of them. Some campgrounds don't even allow tent camping due to bear activity.
It's important to take bear safety seriously and follow all the guidelines set by the National Park Service. While you should always check to see if your campsite has specific regulations you must follow, here are some general tips:
Don't approach or feed any wildlife, including bears
Carry bear spray and know how to use it
Learn about proper food and cooking equipment storage
Don't scream or try to run away if you encounter a bear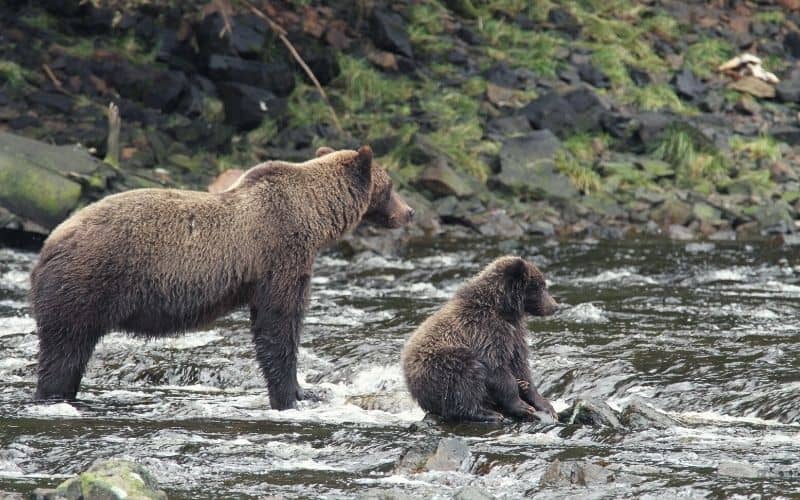 Bug Safety
Don't let mosquitoes prevent you from fully enjoying your next trip to beautiful Alaska! As the snow begins to melt and rainfall increases around mid-June, these troublesome pests seem to take over. Unfortunately for hikers and campers, mosquitoes are most prevalent in the backcountry.
Follow these guidelines to stop yourself from becoming a mosquito's next snack:
Use strong bug repellent, mosquito coils, and a head net
Expose as little skin as possible
Avoid dark-colored clothing
Avoid scented lotions, perfumes, or other beauty products
Winter Camping
Winter camping in Alaska is a truly magical experience. Along the frozen tundra, an entirely new world of outdoor experiences opens up such as skiing, snowshoeing, cross-country skiing, dog mushing, and ice fishing.
While winter camping in Alaska is truly a once-in-a-lifetime experience, it requires lots of planning and specialized gear. Temperatures at night can easily drop to -30°F/-35°C! You'll need at least a 3-season tent and a 4-season sleeping bag for most trips, and even more specialized gear if you're planning to visit areas that are remote or prone to strong winds
Reservations, Dry Camping, and Camping in State Parks
Dry camping (or boondocking) is legal in Alaska. Thanks to some of the most stunning and diverse scenery in the world, it's the perfect spot to get off the beaten path and explore nature, wild and untouched. Since almost 50% of Alaska is public land, you won't have any trouble finding a spot to pitch or park.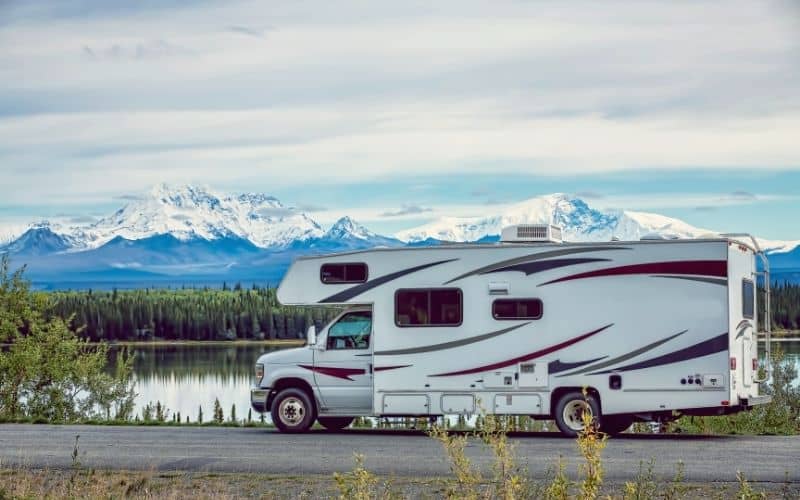 Galbraith Lakes is the place to go if you're seeking complete solitude and remoteness. What was once a massive lake has shrunk to half its former size, revealing this flourishing ecosystem to the world. The area is brimming with Alaskan wildlife and you'll be close enough to visit the Arctic National Wildlife Refuge.
With lots of free spots to camp and some excellent fishing, it doesn't get much better than Deadman's Lake. Don't let the spooky name fool you, this campsite is a calm, natural oasis that offers 15 first-come, first-served sites accessible to RVs up to 40ft.
While it's easy to get excited about all the off-grid possibilities in Alaska, remember to keep safety in mind. Cell phone coverage can be sparse, especially in the backcountry, so consider bringing a satellite phone and a GPS system to stay connected.
There are over 72 million acres of BLM land filled with campgrounds in Alaska. You can camp in any of these camps for free on a first-come, first-served basis for up to two weeks.
For dispersed camping, you'll need a permit to camp in National Parks or National Forests.
Best Campgrounds in Alaska: Our Top 19 Picks for Tent Camping, Free Camping, and RV Camping
Best Tent Camping in Alaska
1. Eklutna Lake Campground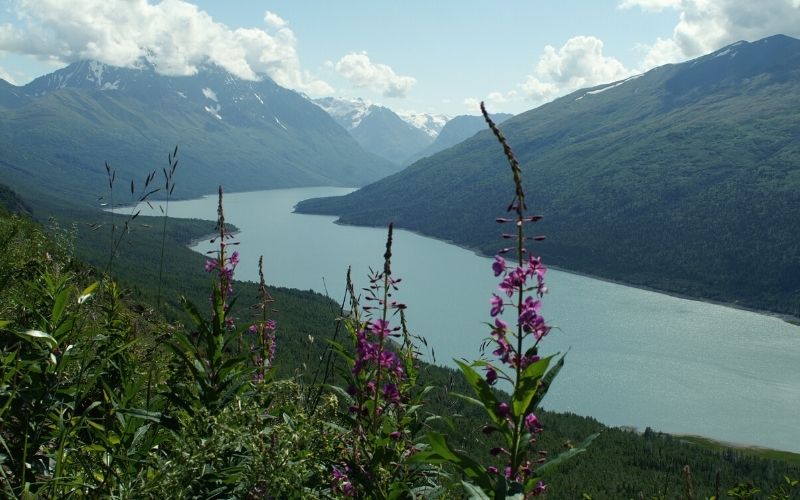 Along the crystal clear waters of Eklutna Lake lies one of the most popular Alaskan campgrounds. Here you can get your fill of an amazing variety of water sports, including everything from peaceful paddles around the lake to Dolly Varden and rainbow trout fishing.
The lake is just 22 miles from Anchorage, making it the perfect weekend getaway. If you don't feel like dragging all your gear with you, stay in one of the many public-use cabins available for rent. Just book early as they go fast!
The campground itself features over 60 first-come, first-served sites and just the basic amenities like vault toilets, fire rings, and tables. At the camp's parking lot you'll find many trailheads, interpretive displays, and even a telescope for wildlife viewing.
2. Granite Creek Campground, Kenai Peninsula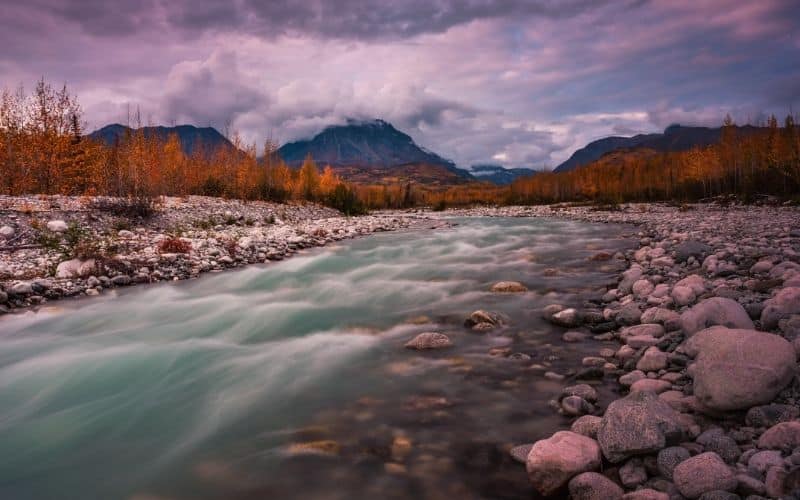 There's no better place to rest your weary head than along the thunderous Granite Creek with the imposing Kenai Mountains in the distance! Don't be fooled by this camp's name, when the glaciers start to melt in the spring this peaceful creek becomes a roaring river drawing an abundance of Alaskan wildlife.
Snaking its way through this area of the Kenai Peninsula and Chugach National Forest is the Johnson Pass Trail. This 23-mile trail is relatively flat, making it the perfect place to take in the spectacular views with your family. Those looking for a thrill will find it at nearby Six Mile Creek, a local favorite for white water rafting!
GCC is a small loop camp with just 19 sites, but most of them are creekside. Enjoy simple amenities like vault toilets, a hand-driven water pump, and tables.
3. Brushkana Creek Campground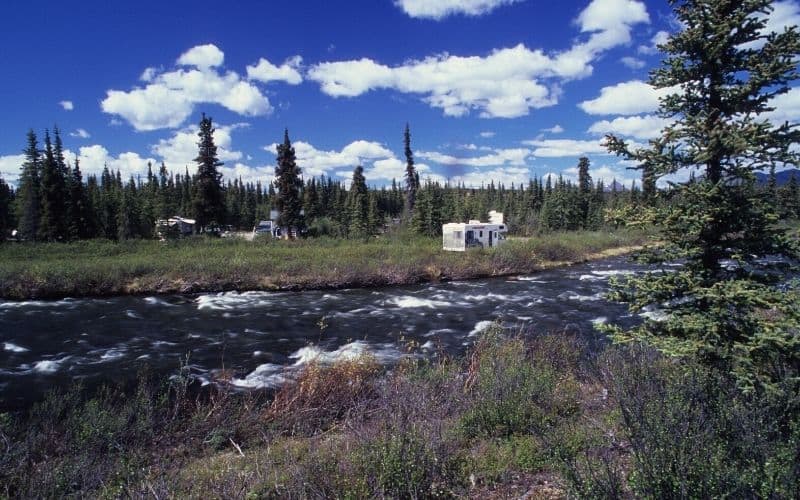 Situated on Brushkana Creek, this tent and RV camping spot is a cozy starting point to explore nearby Denali State Park. The Brushkana Creek trailhead starts directly from the camp and leads you to Brushkana Overlook, a panoramic viewpoint with impressive vistas of the creek below and the vast Alaskan range.
Related Reading: Best Hikes in Denali National Park
Located conveniently off the Parks Highway, Brushkana CC offers 22 first-come, first-served sites with just the basic amenities.
4. Bertha Creek Campground
If you've ever dreamt of becoming a Klondike gold miner, you'll have the chance to live out all your prospecting dreams at Bertha Creek on the Seward Highway! This creek, once famous during the Alaskan gold rush, still offers you the chance to pan for gold flecks in its depths.
If you don't manage to strike it rich, you can always check out the nearby Chugach National Forest. As the second-largest forest in the entire nation, you can just imagine all the opportunities for hiking, climbing, and biking available.
Since there are only 14 first-come, first-served tent and RV sites with basic amenities, be sure to arrive early!
5. Williwaw Campground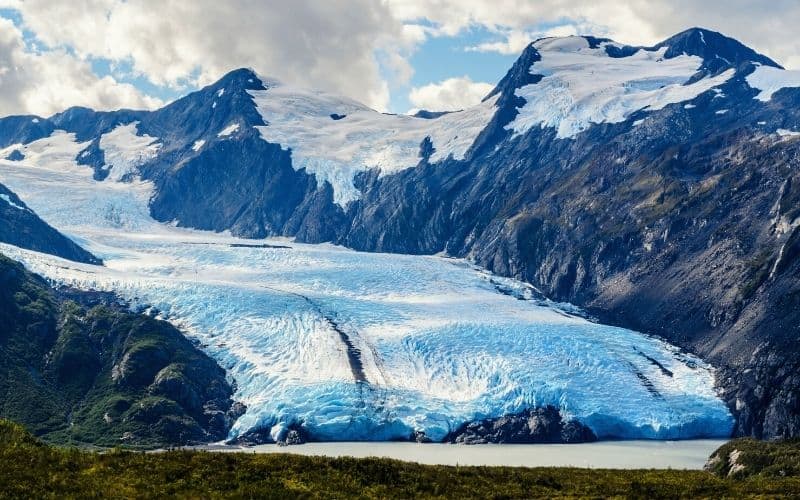 In the heavily wooded Portage Valley, you'll find the Williwaw Campground. There's so much to do and see you'll never want to leave! Fish for salmon in Williwaw Creek, go wildlife watching on one of the many local hiking and bike trails, or check out the nearby Portage Glacier.
This small camp features 19 tent and RV sites with all the usual amenities from potable water to on-site fire rings and tables.
6. Chena Lake Recreation Area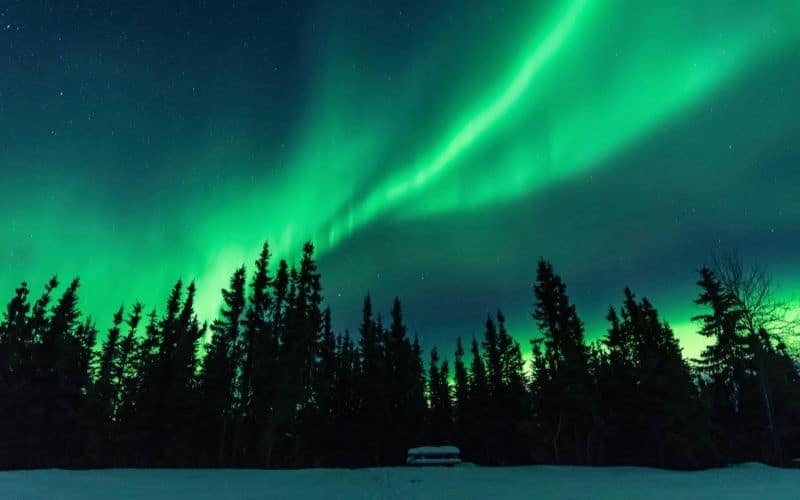 If you dream of seeing the Northern Lights, there's no better place to do it than Chena Lake. A boat renting facility allows you to take to the lake on a kayak, canoe, paddleboat, or rowboat and catch the show from the water.
Remember that you can only catch the Northern Lights during the end of the summer season (late August through September), so it's an extremely popular time to visit. All the sites are first-come, first served, so arrive early!
There are two distinct campsites in the area, Lake Park and River Park, and both accommodate tent camping and RVs. Those looking for some lakeside fun should check out Lake Park while avid fisherfolk should try their hand in the tumultuous waters of the Chena River.
7. Sourdough Creek Campground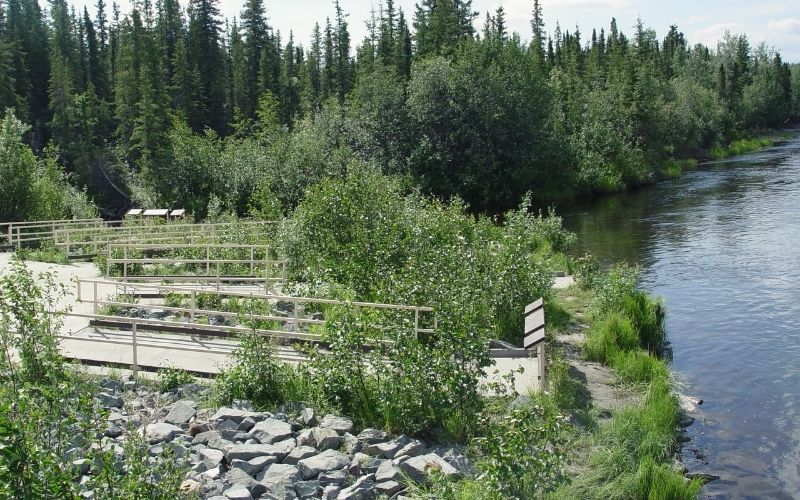 This remote campground is located along the quiet and scenic Gulkana River watershed. Several hundred ponds and lakes are scattered throughout the area and provide ample fishing, boating, and swimming opportunities.
Directly from the campground you can head down the local interpretive trail and take in some unspoiled Alaskan countryside along the way. Keep an eye out for moose, deer, and even timberwolves!
There are 42 sites available including 4 accessible and 2 walk-in sites. The camp is equipped with potable water, restrooms, tables, and fire rings.
Best Free Camping in Alaska
1. Salmon Lake Campground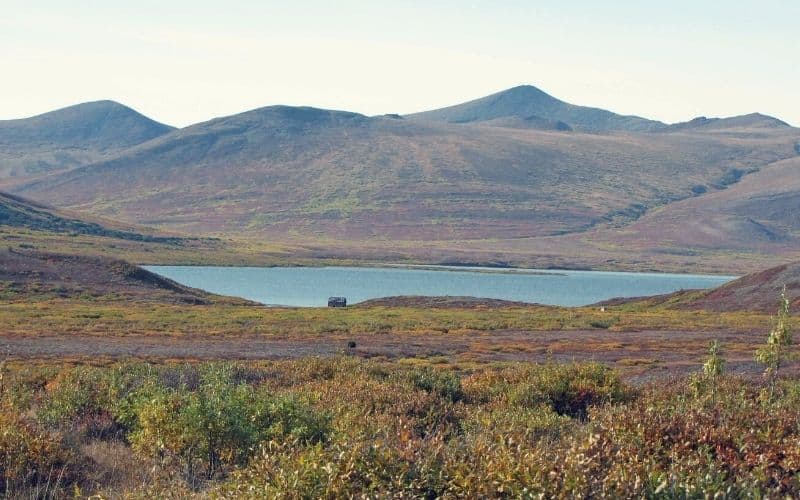 Those looking to truly experience the remote wilderness of the Alaska backcountry will find it at Salmon Lake.
Located just 40 miles outside of Nome on the Seward Peninsula, this primitive camping spot offers a sandy beach, a crystal-clear lake, and an abundance of wildlife to take in. Keep an eye out for both foxes and grizzly bears along with a variety of birds and small mammals.
The camp is maintained by the Bureau of Land Management, meaning it's free to camp there but it offers only the most basic amenities. You'll find a single vault toilet that is cleaned and well-maintained along with food lockers, fire pits, and picnic tables.
2. Lake Lorraine Campground
Lake Lorraine Campground is a small, wooded campsite across the water from Anchorage. This camp might not seem like anything special, but it's a quiet and secluded spot to enjoy some free Alaska tent camping. There are only 14 tent sites available with basic amenities like tables, fire pits, potable water, and a boat launch.
3. Lower Skilak Lake Campground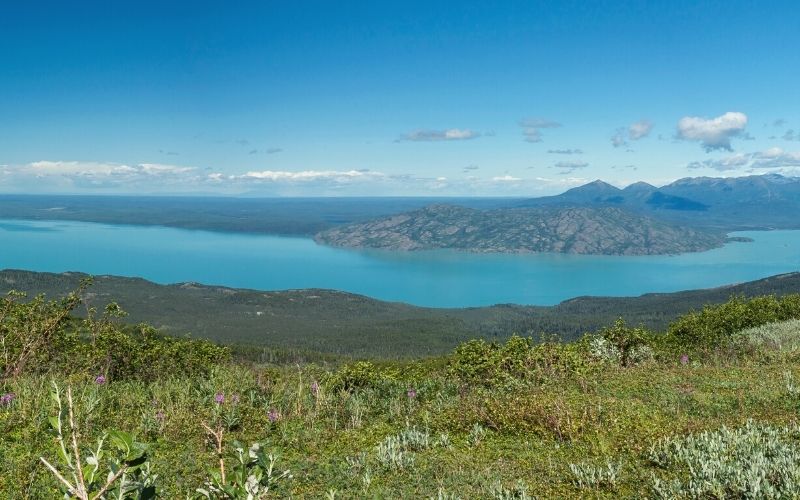 The Lower Skilak Campground is the only free campsite out of the three campgrounds located around the lake. Located in the heart of the Kenai Wildlife Refuge, this camp offers ample opportunities to take in the true Alaskan wilderness.
There are only 10 spots available, so make sure you arrive bright and early during the peak summer season. The amenities are bare-bones, just picnic tables, fire rings, and a boat launch, making it the perfect place to enjoy nature without all the fuss.
Best RV Parks in Alaska
1. Big Bear RV Park & Campground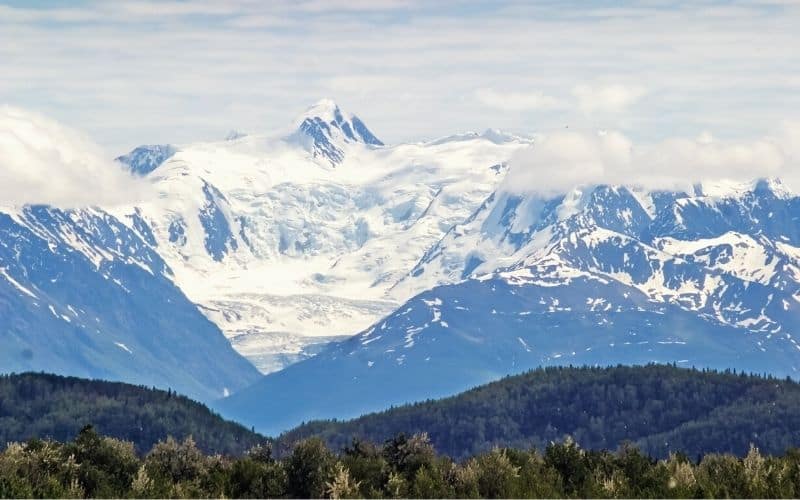 Located just an hour from Anchorage, Big Bear RV Park is your opportunity to visit Alaska's biggest metropolis by day and sleep under the stars by night! This clean and spacious campground is located in the heart of the Mat-Su Valley and offers travelers the choice of experiencing both exhilarating outdoor activities and Alaskan city living.
While Big Bear is an RV park, they also offer tent camping and cabin rentals. Full-hookup sites are available along with showers, laundry facilities, a dump station, and propane fill-ups. Take note that most amenities are pay-per-use.
2. Eagle River Campground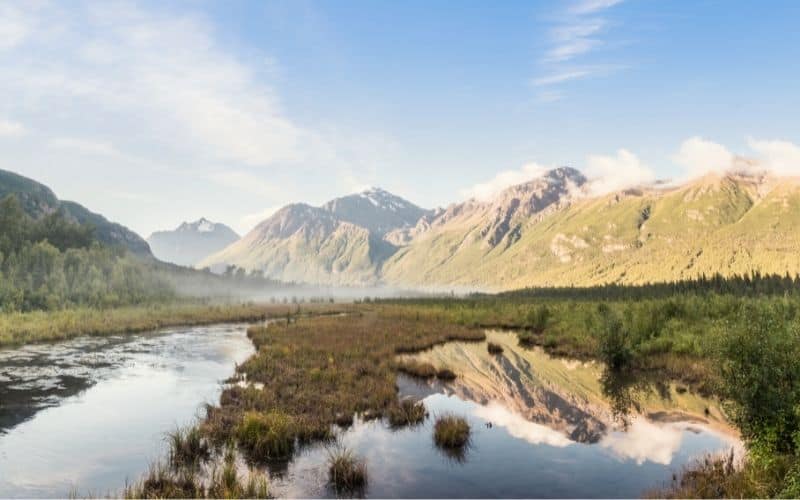 Just 30 minutes away from Anchorage on the Glenn Highway, the Eagle River Campground allows you to immerse yourself in the Alaskan wilderness while remaining close to town. Hike along the shores of the roaring Eagle River or try your hand at some king salmon fishing in the early summer months.
The campground is quite rustic and that's part of its charm. With 57 sites available, you'll still enjoy all the basic amenities like picnic tables, fire rings, flush toilets, potable water, and a dump station.
3. Heritage RV Park
How does camping at Homer Spit sound, an ocean-front angler's paradise known for its premium salmon and halibut fishing? The spit itself is a 4.5-mile long geographical landmark that juts into Kachemak Bay. People travel across the world to reach this "cosmic hamlet by the sea" thanks to its superb fishing, clamming, hiking trails, and ocean beachfront!
Choose from any of the 107 sites available all with full hookups: water, 20/30/50 amp electric, and septic. Other park amenities include free showers, satellite TV channels, and picnic areas.
Book early to snag one of the coveted Heritage RV Park ocean-side sites!
4. Savage River Campground, Denali National Park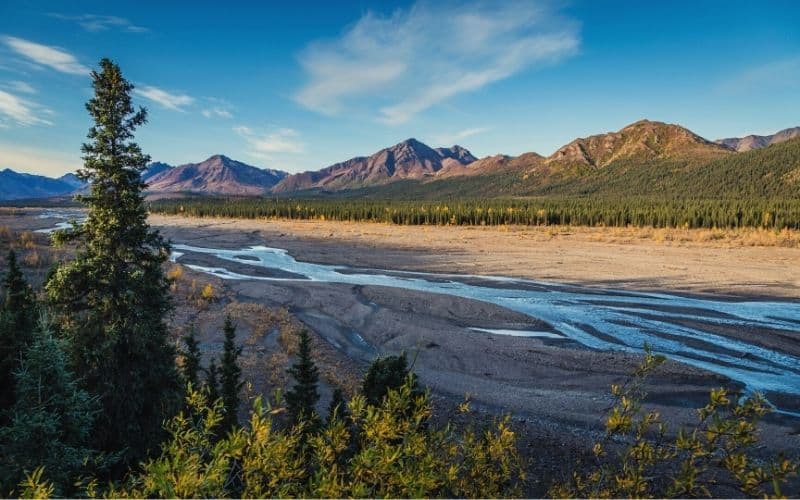 Nestled in an enchanting boreal forest, Savage River offers both scenic water and mountain views. A quick trail from the camp leads to the tranquil Savage River, while right next door is the Denali National Park with its striking views of Mount Denali in the distance.
The camp accommodates both RV and tent campers alike, but only in the summer. This is a rustic campground with only basic amenities like fire rings, water, and restrooms. Showers are only available at the nearby visitor's center.
5. Homer Spit Campground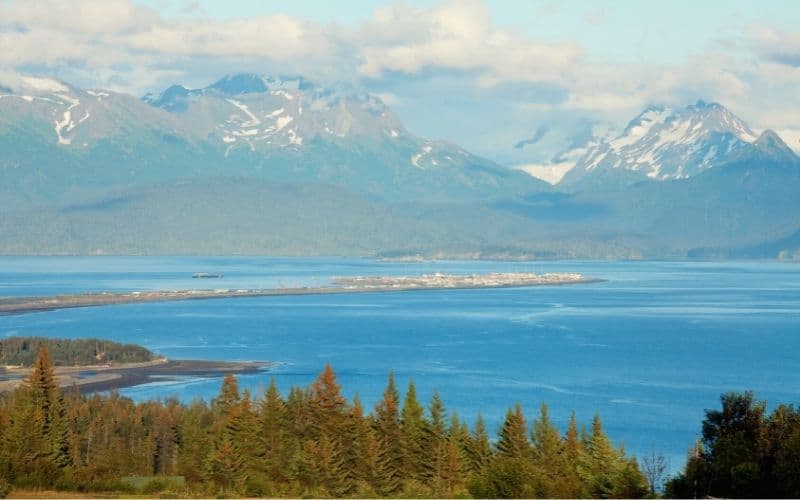 Although it's called the "Halibut Fishing Capital of the World", you'll find more than just halibut at Homer Spit! Cast a line for salmon directly off the fishing pier or book your own fishing charter. Unwind after a long day of fishing at the local spit where you'll find many bustling restaurants, gift shops, and galleries.
The RV park accommodates motorhomes up to 40ft including the coveted beachfront and beach view sites. Remember that the closer you get to the beach the fewer hookups you'll find. All sites include bathrooms, $2 showers, water fills, laundry facilities, a dump station, and Wi-Fi.
6. Riley Creek Campground, Denali National Park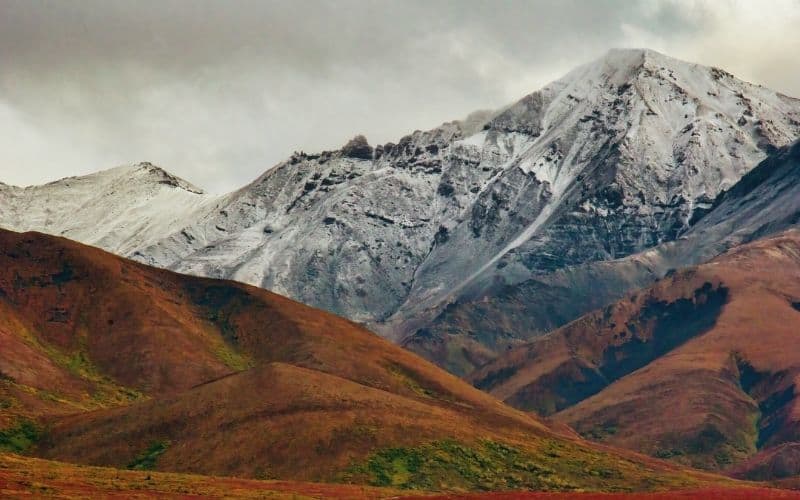 Want to visit Denali National Park in the off-season? Riley Creek is the only camp that allows Denali National Park camping all year round! Conveniently located right off the highway, you'll find the scenic Riley Creek and a convenient general store just a quick walk from the campsite. The only drawback is you may hear occasional traffic noise.
Riley Creek is open to both RV and tent campers, and the surrounding alpine woods offers a fair bit of privacy between sites. Enjoy lots of perks like water, flush toilets, showers, food lockers, and laundry, but remember that some of these amenities are seasonal only.
7. Bird Creek Campground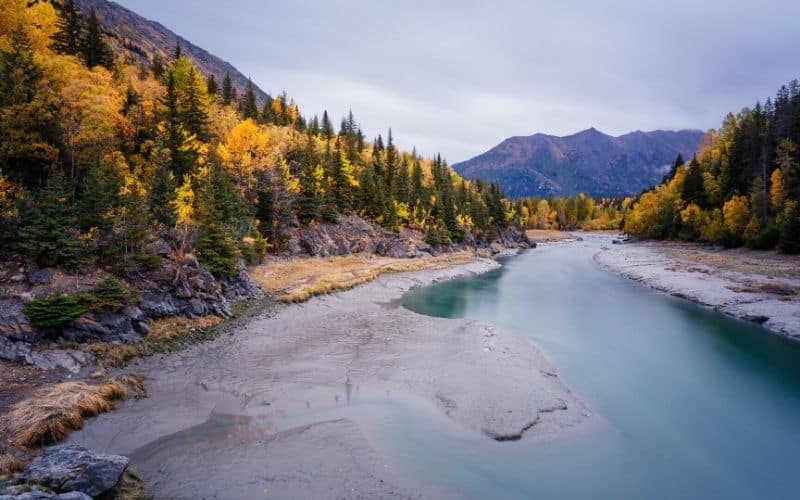 Immerse yourself in the exhilarating Alaskan wilderness at Bird Creek Park. Few campgrounds offer as many opportunities to get outdoors and experience the natural beauty of Alaska's backcountry. Hiking, biking, climbing, fishing, and abundant wildlife watching are all waiting for you!
BCC is small, with only 22 sites for tent and RV campers available. Two rustic cabins are also available for rent. You'll find all the usual amenities like water, picnic tables, fire rings, vault toilets, and food lockers.
8. Byers Lake Campground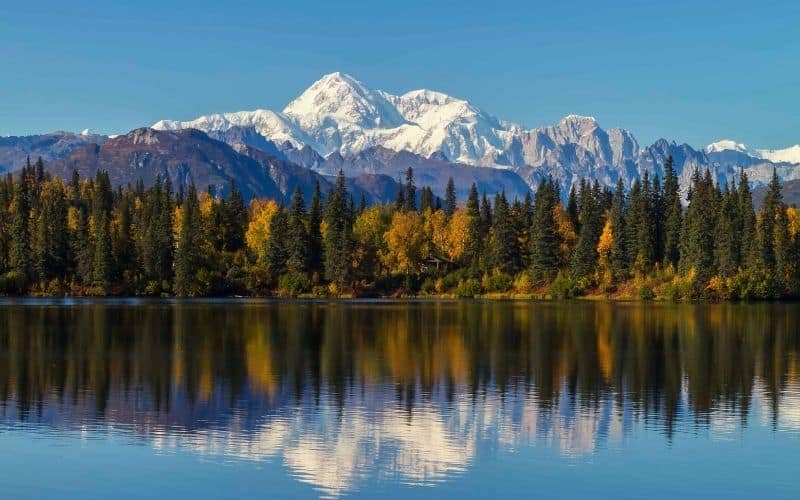 If you're looking for a quiet and secluded retreat, you'll find it at Byers Lake. This remote lakeside campground is closed to motorboats making it the perfect place for some tranquil fishing or to explore nearby Denali Park.
The camp offers 73 sites and can accommodate RVs 35" or smaller. You'll enjoy amenities like water, toilets, and picnic sites, along with a boat launch for small boats. Public Byers Lake cabins are also available for rent making it a cozy winter camping location.
9. Denali Grizzly Bear Resort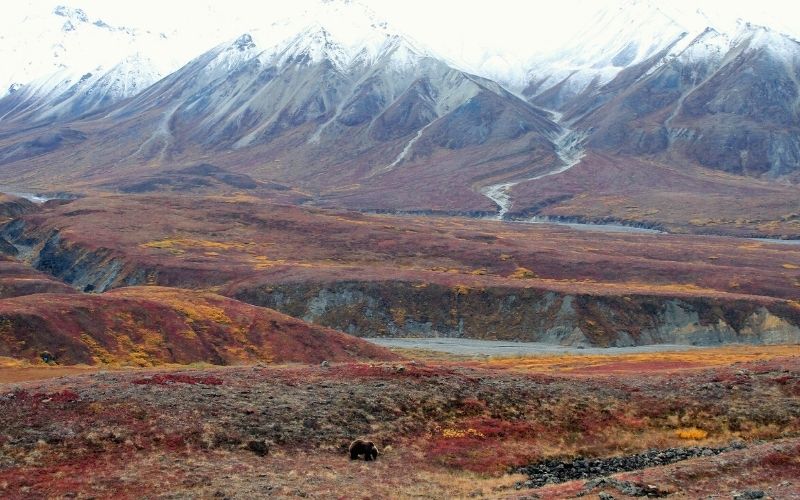 Want to explore the untamed wilderness of the Denali National Park without renouncing all the comforts of home? The Grizzly Bear Resort will blow you away with both its natural beauty and modern conveniences. Nearby Denali National Park allows you to climb North America's tallest peak, Mount Denali.
The Denali Grizzly Bear Resort is a pioneer-owned and operated RV and walk-in tent campsite, with some luxury cabins available to boot! You'll be spoiled with lots of premium amenities like coin-operated flush toilets and showers, central cooking shelters, a laundry facility, and Wi-Fi.
Related Reading: Best Alaska Hiking Trails
Awesome Alaska!
For thrill-seekers and nature lovers, it's pretty hard to beat Alaska! With its awe-inspiring views and rugged, unspoiled wilderness, Alaska offers the ultimate adventure getaway.
We hope we've given you a taste of the amazing variety of camping opportunities available. From rugged, dispersed camping to the joys of glamping in a rustic log cabin or full-service RV park, Alaska offers the right opportunity for every type of camper.
How'd we do? Did we manage to list all your favorite camping hotspots and RV parks? If we missed any of your favorite campsites or RV campgrounds, be sure to let us know in the comments below, and feel free to share this page with all your outdoorsy friends!