You can't visit Minnesota without going for a hike, and the North Star State doesn't disappoint. You can find rushing waterfalls, expansive beaches, and dramatic overlooks, to name a few. In short, whatever kind of hiking you prefer, you'll find it here!
Use our guide to choose from epic thru-hike adventures, mountain summit scrambles, and straightforward family outings.
1. Superior Hiking Trail, Northern Minnesota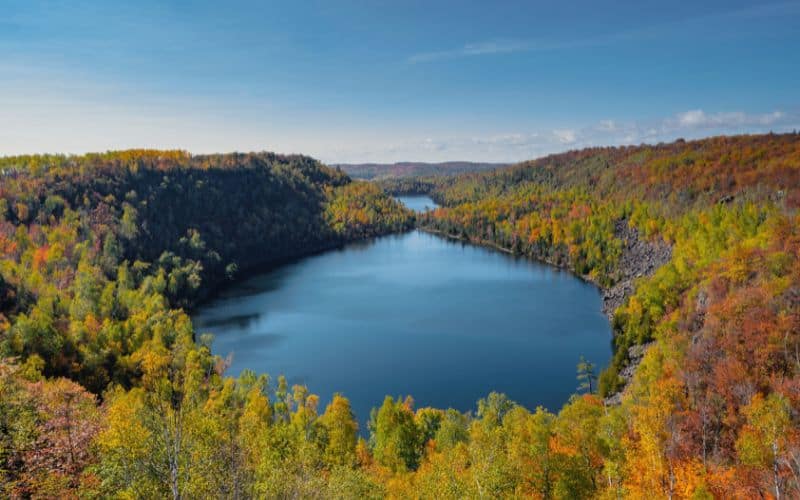 Type: Point to point
Length: 260 miles
Difficulty: Challenging
Superior Hiking Trail, or SHT, spans the entire North Shore from Duluth to Canada. This thru-hike is one of the most scenic hiking trails in the country as it follows Lake Superior, offering breathtaking views of the lake and surrounding geography, including waterfalls, overlooks, and dense forests.
There are over 50 trailheads about 10 miles apart, making the SHTl a great destination for runners, day hikers, and overnighters alike. For example, the out-and-back hike to Egge Lake is one of the more mellow sections of the SHT and takes about 2 hours to complete.
The trail is well-maintained, but even day hikers should prepare for moderate to challenging hiking. And whatever stretch you do, check for trail conditions and potential closures and plan accordingly.
2. The North Country National Scenic Trail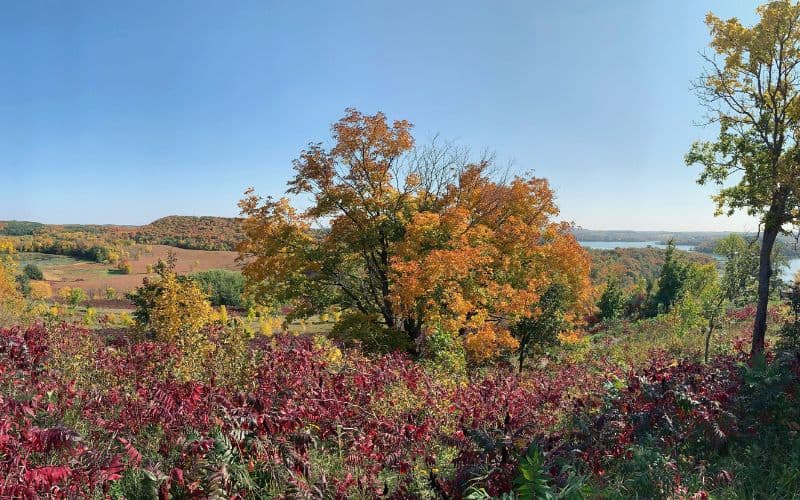 Type: Thru-hike
Length: 4,800 miles
Difficulty: Challenging
Few people have thru-hiked the North Country Trail (NCT) from Vermont to North Dakota. However, many people enjoy the 850-mile section that covers all the best parts of Minnesota, from the Sawtooth Mountains to the North Shore to the Red River Valley.
Like the Superior Hiking Trail, there are many options for day hikers and one to two-night adventures. The NCT Association breaks the Minnesota miles into five different regions, each with its unique features.
Here are a couple of our recommendations:
Maplewood State Park – Hike between the Trails Center and the Maplewood Church for an easy 3-mile hike through tranquil forests and past quiet lakes.
Magnetic Rock & Gunflint Overlook Hike – This 8.4-mile out-and-back takes hikers through a mixed regenerating forest and past a magnetic rock that will trick your compass.
While on the NCT, watch for wildlife, and don't forget to donate to the Trail Association.
3. Silver Creek Trail, Jay Cooke State Park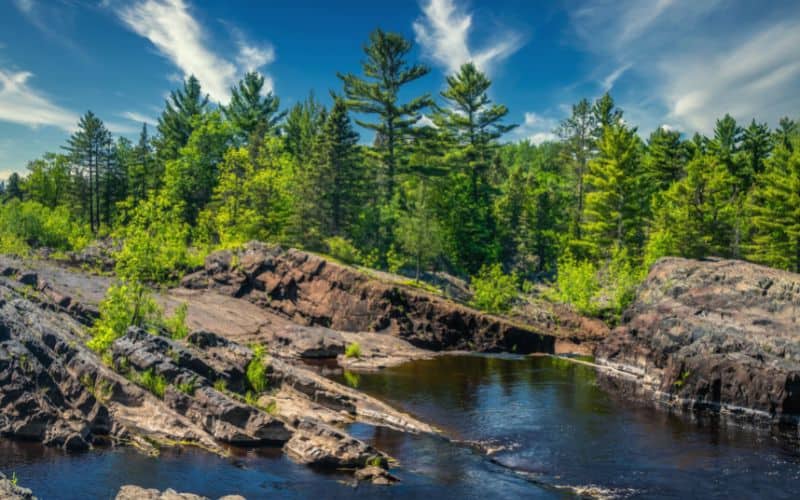 Type: Loop
Length: 3.4 miles
Difficulty: Easy
If you have limited time to explore Jay Cooke State Park, make Silver Creek Trail a priority. This easy 3.4-mile loop provides hikers with a good overview of what the park offers.
Starting with a swinging bridge over the St. Louis River, the path follows the river bank for a mile and a half. Throughout the hike, enjoy a close look at jagged rock formations and exposed bedrock carved by the St. Louis River's rushing whitewater. The hike's return portion meanders through a Birch and Basswood forest that feels quiet and secluded even on busy days.
Jay Cooke State Park boasts over 50 miles of hiking trails, so there are plenty of options for extending your hike. Use Summer and Lost Lake Trails to reach backcountry camping sites within the park. Whichever route you take, don't forget to pay the $7 Minnesota State Park Entrance Fee.
4. Riverview Trail & Fifth Falls Trail, Gooseberry Falls State Park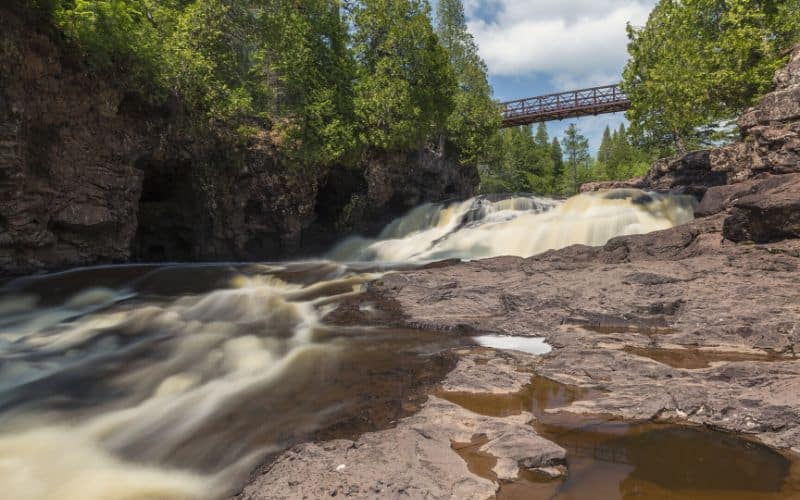 Type: Loop
Length: 3.6 miles
Difficulty: Easy
There's no other park in Minnesota where you can see so many beautiful waterfalls in so few miles. To get the most out of Gooseberry Falls State Park, combine the Riverview and Fifth Falls Trails into a 3.6-mile loop.
Start at the Lakeview Shelter Parking lot and follow the ADA-accessible Riverview Trail for half a mile. The Riverview portion has overlooks at three of the park's most popular waterfalls, the Upper, Middle, and Lower falls.
To get to the Fifth Falls Trail, take the Gitchi Gami State Trail 0.1 miles from the Upper Falls viewing area. This part of the hike is less accessible but still easy for most hikers. The trail parallels the Gooseberry River up one side, across the river, and takes hikers back on the other side. Fifth Falls is the smallest of the falls but worth the extra miles if you want some solitude.
While visiting Gooseberry, don't forget to check out the Visitor Center and large Nature Store to learn about the area and buy sweets after your hike.
5. Snelling Lake Trail, Fort Snelling State Park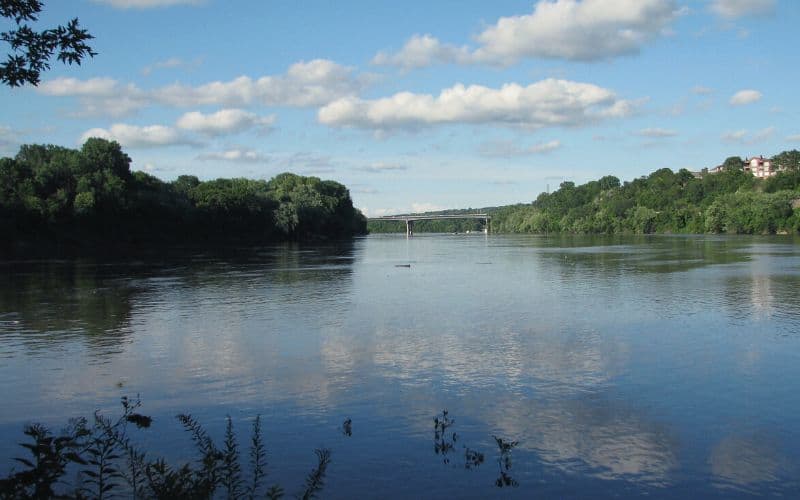 Type: Loop
Length: 3.4 miles
Difficulty: Easy
Fort Snelling State Park allows Minneapolitans to escape into nature without leaving the city. There are nearly twenty miles of hiking trails, and Snelling Lake is one of the best.
With a little bit of everything, Snelling Lake Trail follows an easy, gravel walkway through a restored prairie, past the shores of Snelling Lake, and into a river bottom forest. The park is also home to the confluence of the Mississippi and Minnesota Rivers, a unique geological phenomenon.
Located only 15 minutes from downtown Minneapolis, Fort Snelling State Park is open all year round with maintained cross-country skiing and snowshoeing trails for winter adventurers.
6. Eagle Mountain Trail, Boundary Waters Canoe Area Wilderness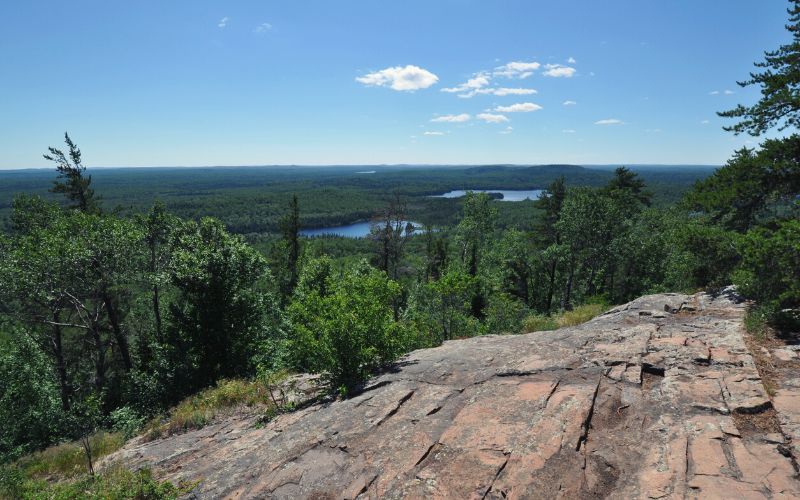 Type: Out and back
Length: 6.3 miles
Difficulty: Moderate
Eagle Mountain Trail leads to the highest point in Minnesota (2,301 feet) and some of the state's most spectacular views. But it's not an easy hike. Be prepared for steep, scrambly sections that get your heart pumping and your legs burning. Conditions are also often wet and slippery, so bring sturdy, waterproof shoes or boots.
The path begins in a dense forest and crosses several bogs. Stay on the boardwalks to avoid damaging the fragile bog environment. After 2.5 miles of relatively level hiking, follow signage and take the left fork to continue up Eagle Mountain.
Although the last stretch is strenuous, your hiking efforts will be rewarded. Not only is there a plaque and a billion-year-old rock at the top, but there is also amazing scenery. From the summit, enjoy expansive views of the Superior National Forest; if it's clear, you can see sapphire Lake Superior.
Pro-Tip: You must have a permit to hike in Boundary Waters Canoe Area Wilderness. Use the self-serve Permit Kiosk at the trailhead to get a free permit, and make sure to have it on you at all times.
7. Ozawindib and Deer Park Trails to Aiton Heights Fire Tower, Itasca State Park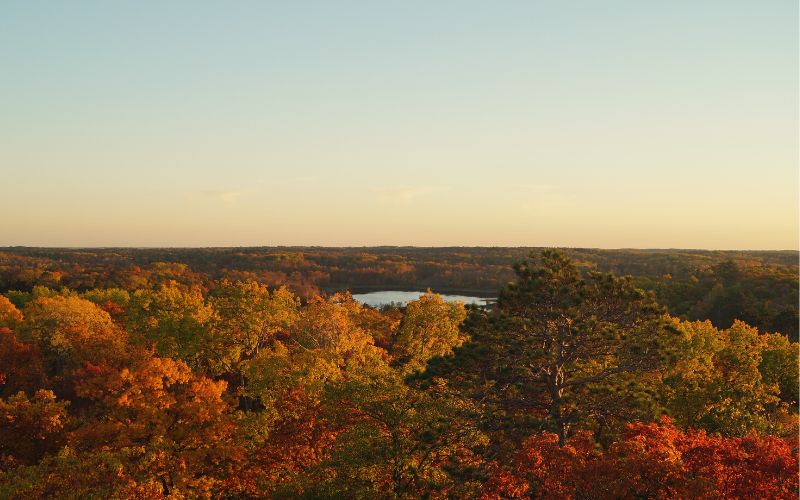 Type: Loop
Length: 3.5 miles
Difficulty: Moderate
Itasca State Park encompasses 32,000 acres, over 100 lakes, and the headwaters of the mighty Mississippi River. With close to 50 miles of trails, Itasca features some of the top hiking in the state. An ideal way to take in the area's beauty, combine the Ozawindib and Deer Park Trails into a 3.5-mile loop.
First, take the Ozawindib Trail from the historic Douglas Lodge. Then use the Myrtle Lake Crossover Trail to connect with the Deer Park Trail. Highlights of this hike include old-growth forests and miles of lakeshore, where you might see porcupines, deer, and maybe even a bear.
Of course, the main attraction of this hike is a 100-foot fire tower. The historic structure can only support a few people at a time, so you might have to wait your turn to climb the stairs to the observation deck. The wait and the stairs are worth the chance to see miles of uninterrupted wilderness in every direction.
8. Glacial Pothole Trail, Interstate State Park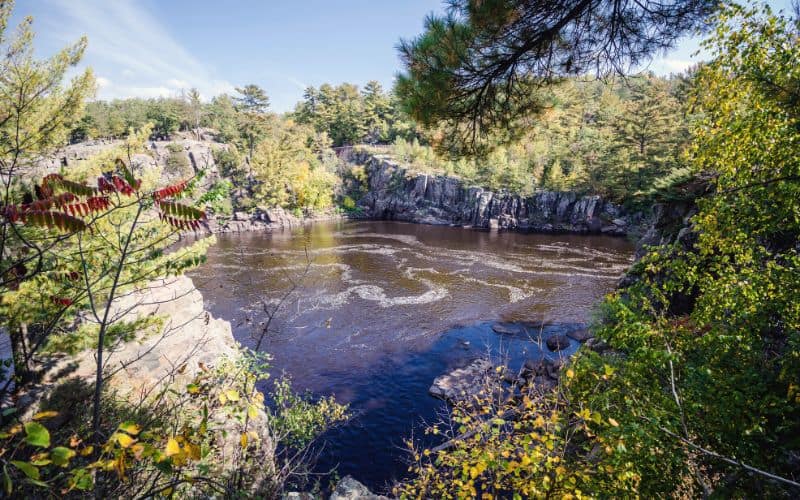 Type: Loop
Length: 0.5 miles
Difficulty: Easy-Moderate
As the name suggests, Interstate State Park is right off the highway. However, panoramic views of the lazy St. Croix River and quiet forests make this park feel like a nature getaway. Use the Glacial Pothole Trail to experience the one-of-a-kind geological formations the park is known for.
Although only half a mile long, Glacial Pothole Trail is packed with beauty. The hike begins on a mellow gravel path but soon ascends a river bluff. From the top, enjoy views of the Dalles of the St. Croix, a constricted basalt canyon carved out by rushing river water.
A little further along the path, you will see glacial potholes, or smooth rock indents formed by receding glacial waters. One such indent is the Bottomless pit, which is not quite bottomless but over 60 feet deep nonetheless!
To explore more of Interstate State Park, combine the short pothole trail with one of the park's other riverside trails.
9. North River Trail, Afton State Park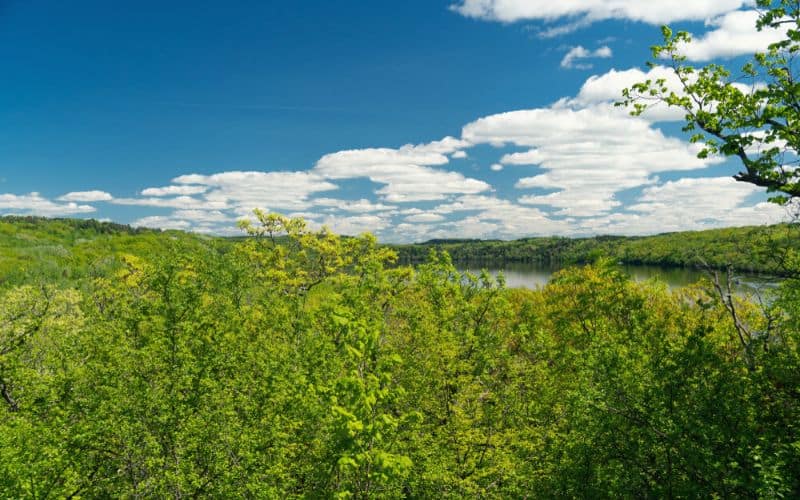 Type: Loop
Length: 3.8 miles
Difficulty: Moderate
Afton State Park is a hiker's paradise and is only an hour's drive from the Twin Cities. The park offers over 20 miles of hiking trails through deep ravines, up bluffs, and through restored prairies. One of the best ways to enjoy this park is on the North River Trail, a 3.8-mile loop.
Start from the visitor center (where you can learn about the region from interpretive displays) and follow the north section of the River Trail down a crushed limestone path. After an easy mile along the St. Croix River, the path travels up a bluff, where you can take in vistas of the river and surrounding woodlands, bluffs, and prairies.
For a closer look at remnant and restored prairies of Afton State Park, the NRT connects to the Prairie Loop. It is an easy hike that would add another 3.2 miles to your day and some intriguing views of the park's oak savannas, glacial moraine, and pine plantations. Keep your eyes peeled for bald eagles, hawks, and waterfowl as you go through this Minnesota gem.
10. Wolf Creek Falls Trail, Banning State Park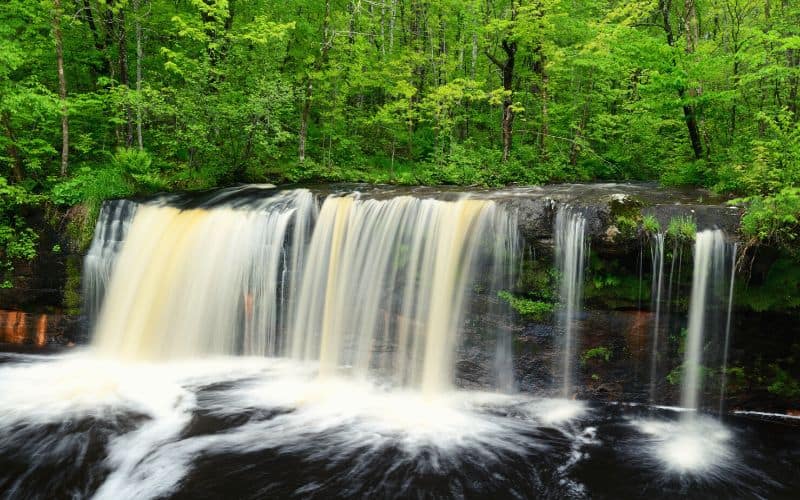 Type: Out and back
Length: 1.3 miles
Difficulty: Easy
If you always jump at the chance to visit a waterfall, don't miss the Wolf Creek Falls Trail in Banning State Park. The hike begins at the parking area in the Banning State Park campground. However, you can also access it from the Trillium, Spur, or Quarry Nature Trails, for an extended adventure.
The Quarry Nature Trail takes hikers along the scenic Kettle River to the ruins of a historic sandstone quarry. You might see whitewater kayakers navigating the Kettle River rapids during the spring and early summer.
Once you meet Wolf Creek Falls Trail, expect smooth and often slippery rock surfaces. Be careful where you step! The rocky path is sometimes difficult to follow, but the waterfall is worth it. Make the falls your lunch spot and bask in the spray.
There are many ways to get to the falls. We recommend bringing or downloading a map for this hike.
11. Little Two Harbors Trail, Split Rock Lighthouse State Park
Type: Out and back
Length: 1.2 miles
Difficulty: Easy
Looking out over Lake Superior from the Little Two Harbors Trail feels like looking at the ocean. The lake is immense, you can't see the other side, and there's even a clifftop lighthouse. The Little Two Harbors Trail is considered an easy hike despite rocky and uneven beaches.
Hike from the Diver Parking Area or the Trail Center. Either direction, you're in for a treat. You get to see stunning views of Lake Superior and a restored lighthouse. Not only that, but you'll go by a tram house, a pump house, and the Lighthouse Keeper's home.
For nature buffs, the trail's birch forest provides cover for songbirds, falcons, and bigger wildlife, including bears, foxes, and bobcats. The dramatic cliffs and pebble shorelines speak for themselves.
You'll have to visit the park and see for yourself why the Split Rock Lighthouse is one of the most photographed attractions in the state.
Other Awesome Minnesota Hikes
Our list attempted to narrow down all the top North Star State hiking trails to a select few. There are, however, plenty of other great options out there. Some of those that very nearly made our list include:
Hidden Falls Trail, Nerstrand/Big Woods State Park
Pike Island Trail, Fort Snelling State Park
Border Route Trail, Boundary Waters Canoe Wilderness Area
Cannon Valley Trail, Cannon Falls
Minneopa Falls Trail, Minneopa State Park
Lebanon Hills Loop, Lebanon Hills Regional Park
Upper Cliffline Trail, Blue Mounds State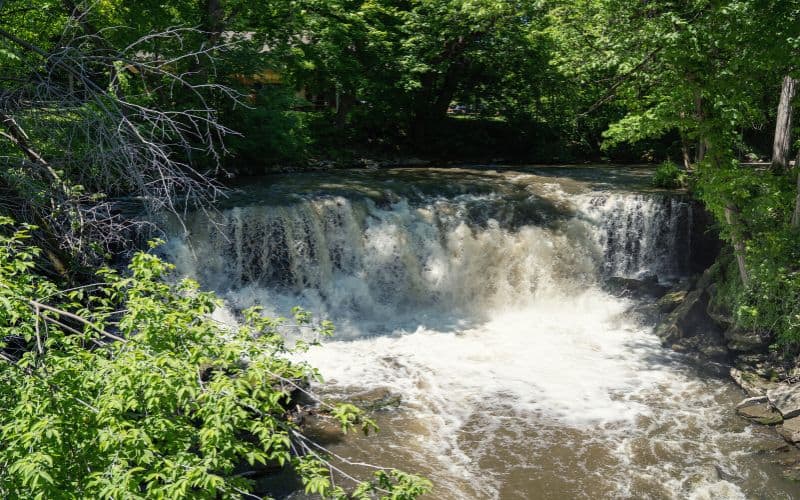 Best hikes in Minnesota: Happy Hiking!
You could spend a lifetime exploring the trails and walking paths in the great state of Minnesota. Along the way, you'll see towering forests, raging rivers, wide-open beaches, and everything in between.
We hope our guide to the best hikes in Minnesota makes choosing where to begin a little easier.
Do you have a favorite hike in the North Star State? Let us know in the comments below and don't forget to share this article with your hiking buddies.