However pretty a lacy bra might be, it won't be of much use out on the trails. What you and "the girls" need when out on your wanders in the wild is trail-worthy support from the best your money can buy.
While there are plenty of good sports bras out there, there are a few that are a cut above the rest. Below, we'll introduce you to 7 sports bras that fall into that category to help find the perfect companion for you and your boobs' backcountry adventures.
Editor's Choice
Patagonia Barely Sports Bra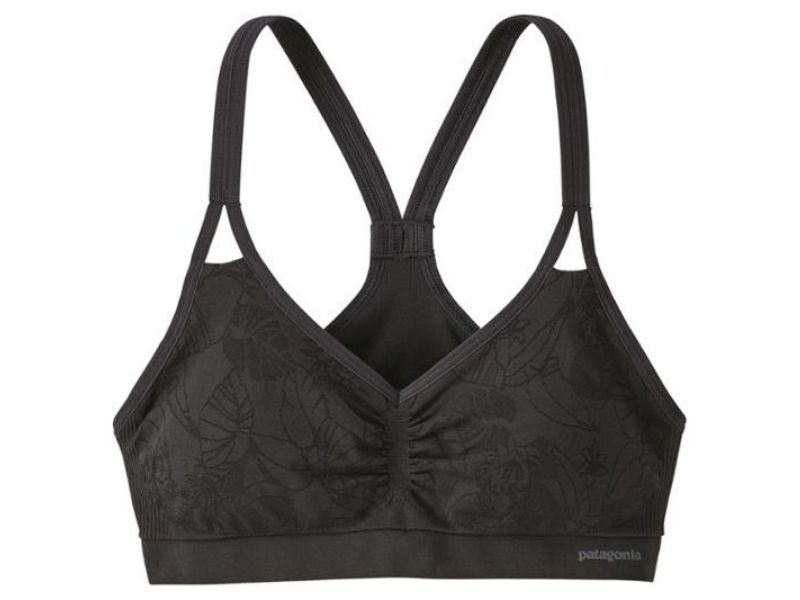 We believe that the best hiking bra is one that places a priority on comfort and support. For hikers, that means all-day wearability on all types of trails and in all weather conditions. And the Barely Sports Bra delivers on each of these fronts with high-performing fabrics, great motion control, and a design that makes it feel—yup, kinda like it's not even there!
This eco-conscious, Fair Trade undergarment is made with a blend of soft and lightweight recycled nylon and spandex. This winning combo breathes well, is high-wicking, quick-drying, and keeps odors at bay for hours or even days on end.
The Barely provides medium-impact support, which is the ideal level for activities like hiking. It's also easy to put on, doesn't have any hooks or clips that may cause chafing, has built-in pockets for pads, and, overall, makes you look good and feel great!
Bottom line: Patagonia's Barely Sports Bra is a natural-feeling, performance-oriented bra for sports that ticks every box that needs ticking for the female hiker. It's lightweight, offers less rigid support, and excels in keeping your chest comfortable, dry, and odor-free throughout even the longest and most grueling of days on the trails.
How To Choose A Hiking Bra
Most of us have a fair idea of what makes a good hiking bra, but what features go into the making of a great one? Read on to find out…
Impact Level
Impact is the force that's distributed throughout your body when it hits the ground. Walking, running, and jumping have different impact levels and each causes different intensities of breast stretching and bouncing.
For this reason, there are 3 levels of sports bras to accommodate every woman's specific needs and activity types. These athletic undergarments are categorized as high, medium, and low impact.
Compression or low-impact sports bras are made from soft, stretchable materials. The cups are less form-fitting as they flatten and compress the breasts towards the chest. With their less rigid construction, compression sports bras for hiking have "freer" feeling designs, using multiple straps, cut-outs, and large underbands like those on a crop top.
For medium-impact activities like dancing, power walking, skiing, and cycling, encapsulation bras are a better bet. These have the tried-and-tested construction of a classic bra, but are sturdier and bigger. Encapsulation bras often have underwires and wide straps. They also have 2 fully-formed cups that hold the breasts in place, giving a more natural shape. A good example of this style is Odlo's Seamless High.
Lastly, high-impact or combination models are better for more dynamic activities like obstacle courses, mud runs, and trail and marathon running. These burly, no-nonsense kinda bras are made tight and firm, blending both compression and encapsulation into one undergarment.
Usually, hiking only requires medium-impact bras. But the type of bra you'll need depends on the difficulty level of your outdoor adventure. If your day involves gentle walking only, encapsulated bras are a more breathable and comfortable option. For our alpinist sisters, combination sports bras give you the level of support that you need for your scrambling and climbing.
Underwire Vs. No Underwire
The traditional bra has an underwire to lift, isolate, and shape the breasts. This is great for women with bigger cup sizes. However, do remember that underwires tend to pop out their sockets and poke your sides. This is never ideal at the best of times, and out on the trails the discomfort and annoyance will likely be doubled.
Style And Color
Hiking bras come in all sorts of styles and colors. The ideal option for you is largely a matter of personal taste. However, a few features specific to different styles might just sway your opinion.
Wide and parallel shoulder straps better disperse breast weight compared to narrow, crisscrossing varieties, which are often prone to chafing. And if you need extra support, many brands offer cushioned straps that don't dig into your shoulders.
If you prefer more hassle-free styles, consider front or back closures, i.e. varieties that have zippers and hook and eye clips at the front or back. Compared to the pull-over variety, you can put these on and take them off faster and more easily.
As for the color, lighter hues may look great, but they're also tougher to clean and are always susceptible to sweat stains. And if you're comfortable with taking off your tops when it gets too hot, avoid skin-tone coloring unless you're happy looking half-naked from a distance!
Size
Surprisingly, a whopping 80% of women wear the wrong bra size. The confusion derives mainly from different brands having no uniform bras sizing system. The sizing in the Patagonia Barely, for example, runs smaller compared to the Icebreaker Merino Sprite Racerback bras.
Many women are apt to choose smaller size bras because they're more readily available and more "attractive", and this problem extends to undergarments made for your time on the trails. Ill-fitting hiking bras, however, choke the upper half of your body, leading to sores, chafing, bad posture, and even breathing difficulties.
So how do you find the ideal bra size? Start with a calculation. Whether it's for sports or everyday use, your bra size should be the same. Measure the circumference of the fullest part of your chest and the ribcage below the bust (underband area).
A cups are typically better served by low and high-impact bras. B and C cups need both compression and extra coverage, while Ds and all the cup sizes above that need all the extra support they can get.
For adjectival bra sizes (those ranging from S to XL), refer to the manufacturer's chart for a more detailed look at their sizes, and don't be too self-conscious if you end up needing a bigger cup size. The most important thing here is to give full support and maximize comfort.
Breathability And Wicking
The best hiking sports bras keep the skin moisture-free. For this reason, always choose models made with quick-drying, high-wicking, and breathable materials.
"High-wicking" fabrics are made with fibers that pull moisture away from the skin and let it evaporate on the bra surface, keeping your chest cool and sweat-free as you walk. These fabrics are also resistant to mold and bacteria, which is especially helpful in sweaty areas like under your arms.
Durability And Wash Care
Any hiking garment's lifespan lengthens if it's washed correctly. But what exactly does "correctly" mean when it comes to hiking bras?
First up, don't soak your sports bra overnight in hope of getting rid of sweat stains as this can impair their elasticity. Instead, purchase removers that can spot-treat stains.
Ideally, you should hand wash your bras in the sink with a mild detergent. If you'd rather use your machine, put it inside a lingerie bag and wash on a gentle cycle. Do not use fabric softeners of any kind (they impair breathability) and leave your undergarments to air dry. Lastly, avoid ironing as this will also compromise its overall structural integrity.
Reviews Of The Best Hiking Bras
Icebreaker Merino Sprite Racerback Bra
All-Season Bra
The Icebreaker Merino Sprite is a quick-drying and lightweight bra that's great for any season.
The Merino Sprite is light, low-volume, and has a low-profile on the shoulders. It uses a sleek, seamless design to minimize the risk of chafing and make it virtually invisible under a regular t-shirt.
What makes the Icebreaker Merino Wool Sprite perfect for all seasons is its uniquely blended fabric. Its combo of elastane, wool, and nylon wicks sweat quickly and effectively and provides a thin but noticeable layer of insulation. In summer, this leaves you feeling cool and dry, and in winter provides a small degree of much-needed warmth.
In terms of support, this encapsulation-style bra offers more than enough for regular hiking, even if it falls into the low-impact category.
However, the Sprite Racerback's limited coverage does make it less suitable for bustier women and we don't advise using this one for trail running or ascending highly technical hiking trails. The shoulders, being too stretchy, will not control your chest's bounce and may even cause chafing.
PROs

Lightweight
Effective moisture wicking
Quick-drying
Excellent odor control

CONs

Limited coverage
Not for technical hiking trails
Bottom-Line: A very well-designed and well-thought-out bra that offers year-round comfort and is ideal for hikers who light to keep things light, low-key, and low-profile.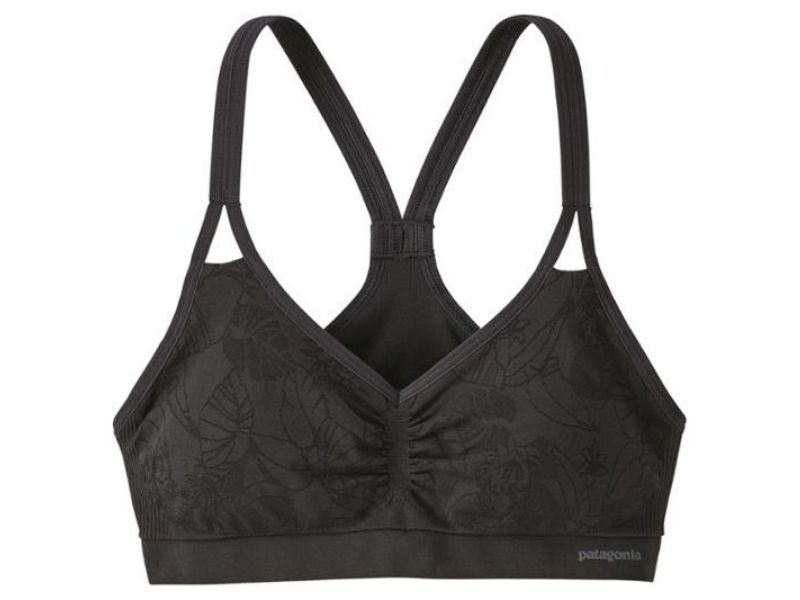 Patagonia Barely Sports Bra
Editor's Choice
The first moderate-impact bra in this list is Patagonia's Barely Sports Bra. This encapsulation hiking "racerback" is exceedingly comfortable, eco-conscious, and can even double as a swimsuit.
Sold already? Ok, but let's take a look at its other attributes and drawbacks before you make your decision…
The Patagonia Barely is made with a super-soft and lightweight combination of recycled nylon and spandex blended with patented proprietary technologies. The fabric is specifically engineered to control odor and provide all-day hiking comfort for your skin. It's also sewn in environmentally conscious and Fair Trade-certified workstations.
Though constructed from a completely different blend of materials, this one gives the Merino Wool Sprite a good run for its money in the quick-drying, breathability, and moisture-wicking stakes. In fact, it dries so quickly that you can wear it for a quick swim on a hot day and find it bone-dry again just a mile or so down the trail.
Adding to this bra's comfort is its lack of hardware. A cross between a racerback and a slip-on tank top, it uses no hooks, adjustable straps, or clasps, meaning there's zero risk of getting pokes or sores from plastic.
As for appearances, the Barely maybe isn't the most attractive option on our list. The muted and earthy-color options aren't the most flattering and may not appeal to those who like a little more in the way of flair. However, the Barely does make up for this minor aesthetic failing with its middle cinch, which helps to give a nice shape without losing too much coverage.
And the downsides? Like the Brooks Maia, the Patagonia Barely sizing runs slightly small. And while the latest versions of this sports bra have less stretch and more robust straps, it still won't provide you with the hiking support that you need if you have a fuller chest.
PROs

Very comfortable
Quick-drying
Lightweight
Fair Trade Certified

CONs

Sizing runs small
Earthy color choices
Lacks support for larger cup sizes
Bottom-Line: An incredibly comfortable sports bra that's made with the kind of high-performing fabrics needed for long days on the trail in hot or humid conditions.
Brooks Fiona
Great For Technical Trails
Tougher hiking routes that involve scrambling, boulder-hopping, or steep, bumpy descents require a bra that provides extra support. The Brooks Fiona bra is just that type of bra. This combination bra uses a design that controls bounce and has molded cups that securely encapsulate the breasts, making it ideal for more demanding trails.
The polyester fabric and wide, adjustable front straps make this a comfortable option that can be worn throughout the day without any pinching, chafing, or strains. It's also highly supportive, but not so tight that it restricts movement and breathing.
Another great advantage to the Fiona is that it's geared towards medium and larger sizes. So if you're a B, C, or even a DD, this one will fit you like a glove…just pay attention to the sizing chart and size up when necessary.
There are, however, a few downsides…
Firstly, some skin types may not react well to the bra's band. If you have sensitive skin, you may find the Fiona causes slight irritation below your boobs after longer days on the trails. This can be easily remedied with lotion or moisturizer, but it's always good to know before you buy.
Secondly, do not expect the Fiona to dry as fast as the Patagonia Barely and Icebreaker Sprite. The polyester blend is too thick to wick excess moisture quickly and the use of an interior lining adds to drying time.
PROs

Great for technical trails
Effective bounce control
Comfortable and adjustable front straps
A good fit for medium to larger chested women

CONs

Not quick-drying
Band may be abrasive to some skin types
Bottom-Line: A highly supportive, comfortable polyester sports bra well suited for higher-impact activities and larger cup sizes but loses points on its outdoor-specific competitors for its lack of wicking and quick-drying capacity.
Odlo Seamless High
Great For High-Impact Hiking
If you prefer your breasts to be held firmly against your torso, Odlo's Seamless High bra is a great option, especially for gals who like to wear running bras on a hike for optimal support.
The Odlo Seamless High bra is built for higher-intensity activities such as trail running. It's a very snug encapsulation bra that features ample coverage, a side rib structure that provides more compression, and a polyester blend fabric with knitting spiral technology that controls bounce and gives extra support.
If you're accustomed to looser, low-impact styles, this snug-fitting bra may not be the greatest choice, but for runners, rough trails, via ferrata, and faster-moving hikers, it's a winner.
Because it's already very close-fitting, the Seamless High doesn't have adjustable straps, meaning that it's less adaptable than some of the other products on our list. That said, the back hooks can be shifted to provide a more precise fit.
The Seamless High makes up for this small shortcoming with a smooth, seamless finish that lessens the chances of getting sores or chafing, ventilation zones that help prevent overheating, and a huge bottom band that allows it to moonlight as perfectly passable outerwear.
PROs

Great overall support
Perfect bras for trail running
Chafe-free, seamless finish
Fair Trade Certified

CONs

Straps are not adjustable
Very snug fit
Bottom-Line: An exceptionally comfortable, high-performing option that lacks a little in the way of adjustability but is ideal for higher-impact activities and gals who want to keep bouncing to an absolute minimum. 
Brooks Maia
Good For Smaller Chested Women
The Brooks Mia bra is a medium support sports bra that combines both compression and encapsulation to give you extra support during moderate-impact activities.
Surprisingly, the adjustable rear straps and padded hooks on the Maia don't irritate your skin when they're pressed by your backpack. And the encased underwire between the cups and the outer shell, combined with the extra gel padding on those wide shoulder straps, all help to add extra support as well as some much-needed comfort.
In terms of breathability, this isn't the top performer on our list, but its nylon-spandex-polyester combo fabric is high enough wicking to shed most of your sweat relatively quickly.
Maia bras are available in sizes up to 44DD. The sizing, however, leans toward the smaller side, so make sure you shoot a size up when buying online. The recent updates to this model have thinned down the strap, made the bands slimmer, and have positioned the hooks closer together, all of which makes it less suitable for full-figured, bustier ladies.
PROs

Great for A and B cup sizes
Gel padded shoulders
Comfortable adjustable straps and back closure
Easy to take off

CONs

Sizing runs small
Less well-suited to bustier ladies
Bottom-Line: The Brooks Maia provides great support and is wonderfully well-designed. It's also a full-coverage kinda undergarment that you can easily wear as outerwear without feeling overly exposed.
Smartwool PhD Seamless Racerback
Great For Winter Hiking
A truly high-end sports bra, the Smartwool Seamless Racerback is a great choice for winter hikes and alpine ascents as it offers comfort, insulation, and support in one package.
Just like the Brooks Fiona, Smartwool's Seamless Racerback boasts an outer shell and an inner lining. But instead of polyester, Smartwool's lining is made from merino wool, giving it the edge as regards effective moisture wicking and thermo-regulation.
In winter, the Seamless Racerback's double layers and wool blend provide extra insulation, which comes in mightily handy in especially frigid temperatures. The trade-off, as you might expect, is its performance in warmer weather, when that extra lining and wool fabric is likely to have you working up a sweat in a hurry.
The Seamless Racerback is a compression-style bra that's ideally suited to medium-impact hiking activities. The outer layer is made from nylon and elastane to keep the bra from losing its shape and prevent excessive stretching, meaning it's not too snug and not too loose. As a bonus, it has a slight lifting effect that gives a naturally perky appearance.
Finally, the seamless finish, wider straps, soft fabric, and lack of hardware make the Smartwool Racerback bra outstanding as regards comfort and prevention of chafing and abrasion.
And the downsides?
Well, barring its poorer performance in warm weather, the only other notable downside to the Racerback is its loft price tag. However, if you're looking for the perfect balance between warmth, breathability, and support for winter hiking, the Smartwool Racerback's well worth spending a few more $ on.
PROs

Insulating
Provides slight lift
Seamless finish
Very comfortable

CONs

Expensive
Too warm for hiking in hot weather
Glamorise No-Bounce Camisole
Top Plus-Size
A sports bra that's suitable for fuller-figured women is worth its weight in gold. And the Glamorise Camisole is just that kinda bra. With its convenient design, high-performing fabrics, and excellent support, this is one wardrobe addition that no fuller-buster hiker should be without.
This high-impact hiking bra provides commendable control even without an underwire. It has a high-coverage, camisole design, tough reinforced cups, a two-way stretch back, firm shape, and fully alterable, wide straps.
Each of these features contributes to the bra's impressive motion control over the breasts and make it ideal for curbing all the jiggling and bouncing we're used to experiencing on the trails, particularly on steep descents.
The Camisole hiking bra is also easy to put on thanks to its use of multiple hooks on the back, is made with breathable, high-wicking fabric, and uses mesh panels in the upper camisole portion to help keep things cool.
PROs

Perfect bra for fuller-figured ladies
Excellent bounce control
Great coverage
Easy bra to put on

CONs
Bottom-Line: A high-wicking, breathable hiking bra that might be a little stiff for the tastes of some gals but is nevertheless a great option for fuller busts thanks to its camisole-style design, extensive coverage, and five-star bounce control.