Let's face it: No one likes wet and muddy boots.
Hiking in snowy and mucky terrain can make keeping your feet dry seem like an impossible task. However, with the right gaiter, you can enjoy your outdoor escapades even when the weather and trail conditions won't cooperate.
Finding the right pair of gaiters for you isn't easy, though, which is why we've created this guide to simplify the process for you. Coming right up, we'll introduce you to the 9 of our favorite pairs of hiking gaiters and offer you some top tips to make the buying process as painless as possible.
Editor's Choice
Outdoor Research Verglas
After reviewing 9 of the top hiking gaiters available, 1 pair stood out above the rest: the Outdoor Research Verglas. In particular, we appreciate the Verglas for its rugged, all-waterproof construction, which is ideal in muddy environments and snow.
The Verglas' reinforced Cordura panels in high-wear areas also allow for improved durability after years of hiking and adventuring. We also found that the Verglas' velcro and buckle closure system provides some of the best weather-resistance on the market, while its lace hooks and instep straps help ensure the perfect fit on nearly every pair of boots.
Bottom line: If you're looking for an incredible pair of all-rounders, we'd opt for the Outdoor Research Verglas.
Best Gaiters For Hiking: What To Look For
Trying to find the best hiking gaiter but don't know where to start? Here are some of the most important features to keep in mind as you shop: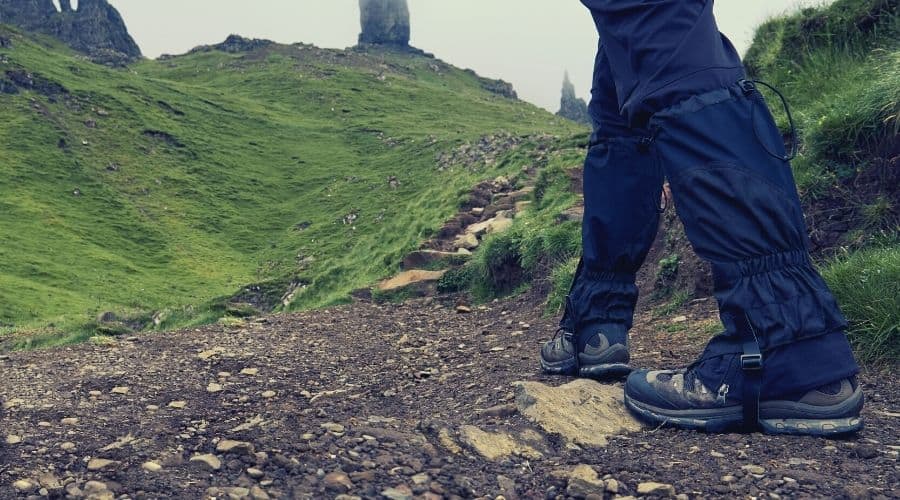 Height & Protection
These days, gaiters are sold in a whole slew of different sizes, but the height of the model you choose has a direct impact on its functionality on the trail. In particular, most models come in 1 of 3 different heights, each with their own advantages and disadvantages:
Over the ankle. Best for use with low-top shoes, an over-the-ankle gaiter (aka "ankle gaiters") can keep debris out of your boots and wick away sweat, but they offer little in the way of ankle and lower-leg protection.
Mid-calf. Perhaps the most versatile option, a mid-calf gaiter is a good middle ground between the enhanced protection and waterproofing of a knee-height model and the breathability of over-the-ankle alternatives.
Knee. When maximum protection from the snow, mud, and sun is your top priority, a knee-height gaiter is your go to. However, you will have to sacrifice a bit of breathability in the process.
As you can see, the amount of protection that a gaiter affords is directly linked to the height of the gaiter. Indeed, the higher the gaiter, the more protection you get for your lower leg.
But, more ankle protection and a higher gaiter height usually comes with trade-offs in terms of breathability and comfort.
Waterproofing
If you're looking to keep your feet dry on the trail, waterproofing in a gaiter is of the utmost importance.
Most of the time, gaiter manufacturers achieve waterproofing in 1 of 3 ways:
However, the closure system on a gaiter also makes a difference in terms of waterproofing. In particular, hook-and-loop or velcro closures are considered the gold standard for gaiter waterproofing because they're more effective than zippers when it comes to keeping you dry.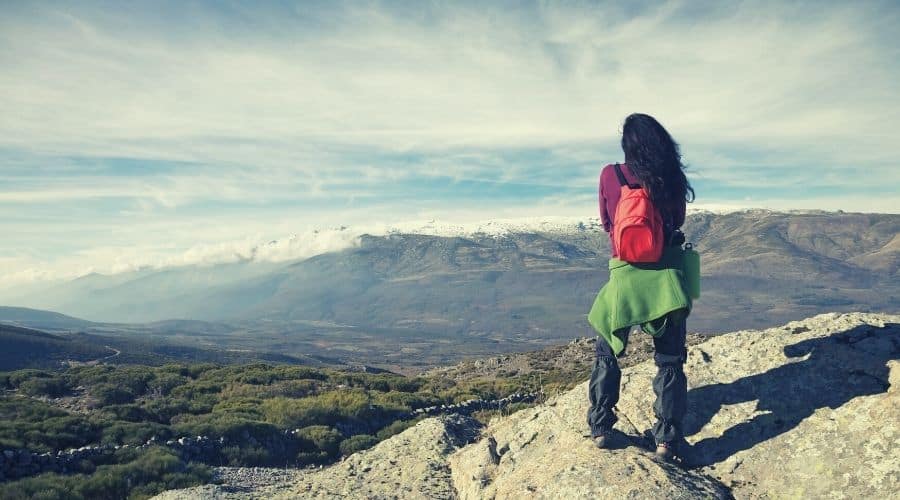 Durability
The best gaiters for hiking are durable enough to withstand rugged trails and harsh conditions. In general, they're made with burly fabrics, like ripstop nylon, and they may also have reinforced Cordura panels in high-wear areas around the foot and low ankle.
Additionally, the durability of a gaiter's buckles and straps is also a concern. Stainless steel buckles and Hypalon rubber or neoprene-coated straps tend to be the most robust and capable of withstanding years of regular use.
Comfort & Breathability
If you spend a lot of time hiking in hot conditions, having a gaiter that's comfortable and breathable is essential.
Comfort and breathability in a gaiter is generally a factor of the type and thickness of the fabric as well as the height of the gaiter itself.
In general, over-the-ankle models with thin fabrics are much more comfortable and breathable than knee-high alternatives with thick, durable materials. This makes the former the best bet for trail-running and hiking in warmer conditions, and the latter better for cold-weather hiking or outings above the snow line.
But, it's important to point out that if you're hiking in very hot conditions, some sweat is inevitable, regardless of a gaiter's construction.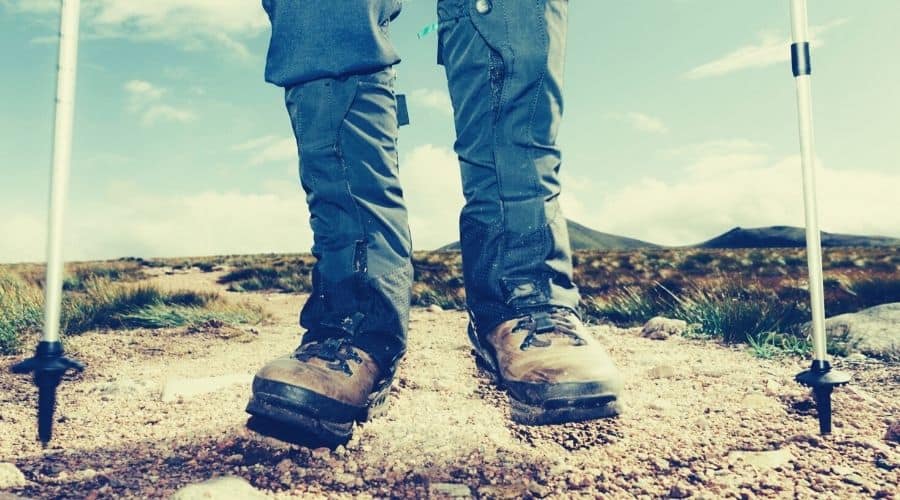 Weight & Packed Size
Weight and packed size are a concern for any piece of gear and gaiters are no exception. Here's what you need to know:
Weight
Weight varies widely from gaiter to gaiter, with some ultralight gaiters tipping the scales at just under 2oz (56.7g) and others weighing up to 9oz (255g).
This difference in weight is almost always attributable to the gaiter's height and thickness, with thicker, more protective knee-height models weighing the most. Meanwhile, lighter alternatives tend to be more breathable, even if they don't offer as much protection.
Packed Size
As far as packed size goes, this usually goes hand in hand with the gaiter's weight. That's because heavier, knee-high models tend to be bulkier than their thin, over-the-ankle counterparts.
The good news, though, is that if you plan to wear your gaiters at all times while hiking/backpacking, packed size doesn't need to be your top priority. Alternatively, if you suspect that your gaiters will spend a lot of time in your pack, a lightweight, highly packable option might be a good choice.
The 9 Top Hiking Gaiters
Outdoor Research Verglas
Editor's Choice
When it comes to keeping your hiking boots clean and dry in the mountains, the Outdoor Research Verglas is hard to beat.
Picking up our editor's choice award in this review, these hiking boot gaiters are made with abrasion-resistant ripstop nylon fabric for extra durability on the trail. Moreover, they come with reinforced Cordura panels around high-wear areas to withstand frequent use in rugged terrain.
As far as keeping your feet dry in muddy locales, this knee-high gaiter doesn't disappoint. The Outdoor Research Verglas is engineered with a 3L Pertex Shield waterproof-breathable membrane to help keep you dry in deep snow and heavy rain.
Additionally, these waterproof gaiters come with a reliable front hook-and-loop (velcro) closure system and a buckle top cinch strap to seal out snow and debris as you hike. They also come with reinforced boot lace hooks and a Hypalon instep strap for a seamless connection between your shoes and gaiters on the trail.
That being said, the Outdoor Research Verglas is a bit heavy and pricey when compared to the competition. But, when it comes to durability and performance on the trail, this model is a sure bet.
PROs

Extra-durable ripstop nylon fabric with Cordura reinforcements
Hypalon instep strap and lace hooks ensure a better fit with your shoes
3L Pertex Shield waterproof-breathable membrane
Both men's and women's versions available

CONs

Fairly pricey
Somewhat heavy compared to similar models
Bottom-Line: Built specifically with performance in mind, the Outdoor Research Verglas excels in terms of durability and functionality in rough environments.
Outdoor Research Thru Gaiter
Best For Summer Hiking
If summer hiking is more your style, the highly breathable Outdoor Research Thru Gaiter should be toward the top of your list.
Featuring a blended ripstop nylon and recycled polyester construction, this ultralight gaiter is designed to provide maximum breathability on hot days in the mountains. It even boasts UPF 50 protection to help shield you from the sun's harmful rays.
Thanks to their over-the-ankle design and velcro closure system, this model is quick and easy to put on. As a result, they're perfect for light and fast hiking trips where time is of the essence.
Additionally, this pair of gaiters is made with Outdoor Research's proprietary ActiveIce cooling technology. This technology allows for enhanced thermoregulation on hot days by wicking away sweat to keep you cool and dry.
While the Thru's low height and lack of waterproofing means that they don't offer a lot of protection against snow and rain, they are a solid option for hot weather summer hiking.
PROs

Built-in ActiveIce technology for thermoregulation
UPF 50 sun protection
Easy to put on and take off

CONs

Low height doesn't offer a lot of protection
Not waterproof
Bottom-Line: If you need a pair of gaiters that's lightweight and highly breathable, the Outdoor Research Thru are a nice option for summer hiking and trail running adventures.
Kahtoola INSTAgaiter Mid
Best For Low-Top Hiking Shoes
When low-top hiking boots and shoes are your go-to footwear, the water-resistant Kahtoola INSTAgaiter Mid might be just what you need.
Crafted out of a stretch-woven nylon and polyester fabric, this model puts breathability at the forefront of its design. At the same time, as some of the best hiking gaiters on the market, they come with a DWR finish to help keep your feet dry in light rain and wet conditions.
The INSTAgaiters also boast a VISLON zipper entry system, which makes it easier to quickly put them on before you leave camp for the day. There's even a built-in flap behind the gaiter to prevent rain from seeping in during a storm.
Like other low gaiters, one of the primary drawbacks of the INSTAgaiter is their limited protection from debris on the trail.
However, Kahtoola did design this model with an extra-rugged TPU instep strap underfoot and an elastic drawcord closure system at the ankle. As a result, these gaiters help keep sand and rocks out of your shoes as you hike, which is always a concern with low-top shoes.
PROs

DWR finish for added water-resistance
TPU instep strap is durable and easy to use
VISLON zipper allows for easy on/off

CONs

Low height isn't ideal for deep snow or heavy rain
Slender design is less ideal for high-volume high-top boots
Bottom-Line: When keeping sand and pebbles out of your low-top hiking boots is your chief concern, it's hard to go wrong with the Kahtoola INSTAgaiter Mid.
Salomon Trail Low Gaiter
Best For Day Hikes
A fan-favorite for day hikes and trail running, the Salomon Trail Low excel when it comes to ease of use and comfort on the trail.
This innovative low gaiter is made from a unique blend of polyester, polyamide, and elastane fabric. This allows them to stretch and fit the contours of your boot or trail runners for an improved fit as you hike.
Moreover, they have integrated padding around the sides of the ankle for improved protection as you cruise through rugged terrain. For added versatility, the Trail Low also have a reflective logo for enhanced visibility during nighttime runs and other adventures.
One of the more unique features of this gaiter is the hook-and-loop closure system. Unlike many other models that have a single piece of velcro running down the front of the gaiter, these hiking gaiters have an innovative strap that wraps nearly completely around your foot for improved comfort.
Finally, although we can't recommend this ankle gaiter for the snow, its unique closure system and oversized instep strap mean it fits exceptionally well over low-top boots and trail runners on day hiking excursions.
PROs

Highly breathable design for hot summer conditions
Unique wrap-around closure system provides an improved fit
Very lightweight and packable

CONs

Primarily for keeping debris out of your shoes—not for snow
Limited water-resistance
Bottom-Line: If your go-to outdoor trip is a day hike or quick trail run, the breathable, ultralight Salomon Trail Low are a strong contender.
Outdoor Research Rocky Mountain Low
Best For Backpacking
A mid-calf gaiter specifically designed for backpacking and other more remote excursions, the Outdoor Research Rocky Mountain Low is an affordable and water-resistant option that's ideal for alpine locales.
Featuring a classic mid-calf gaiter design and an abrasion-resistant 420D nylon fabric shell, these gaiters are rugged enough to withstand frequent use. They also come with a set of reinforced boot lace hooks for improved durability in the mountains.
If that wasn't enough, the Rocky Mountain Low boast a Hypalon instep strop, which sheds snow to stop annoying (and potentially dangerous!) underfoot clumping as you hike.
Also, each gaiter has a fully elasticized bottom edge which allows it to stretch over boots of nearly any size. Meanwhile, its elasticized upper closure system helps to seal out moisture and debris as you hike through mud and snow.
Even though the Outdoor Research Rocky Mountain Low Gaiters are technically water resistant rather than fully waterproof, their mid-calf design and lightweight construction make them suitable for backpacking and other warm-weather pursuits in the mountains.
PROs

Highly abrasion-resistant nylon construction
Reinforced boot lace hooks for durability
Elasticized bottom edge can fit over various boot sizes

CONs

Not fully waterproof
Elastic upper closure can slide down your ankle as you hike
Bottom-Line: The Outdoor Research Rocky Mountain Low Gaiters are an affordable choice for backpacking in wet and muddy conditions.
REI Co-op Backpacker Gaiter
Best For All-Mountain Use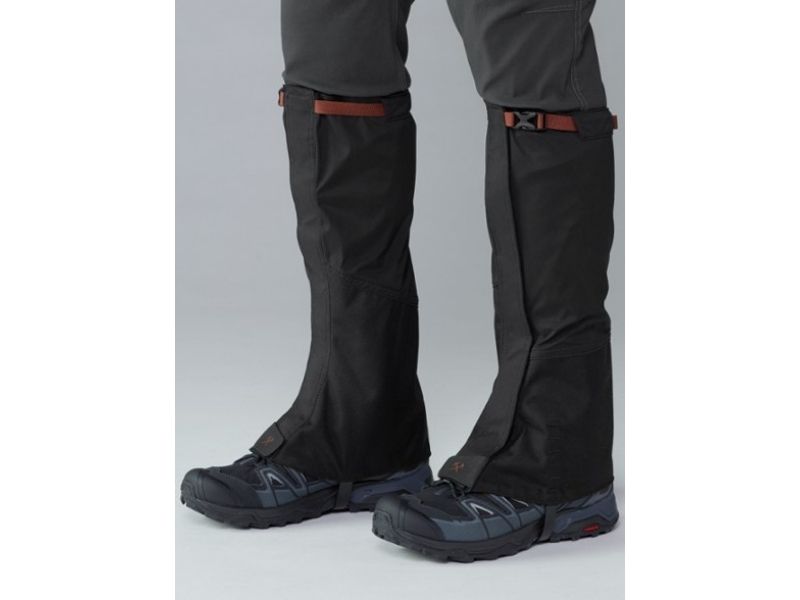 Whether you're looking for a set of gaiters for winter day hikes or summer backpacking trips, the knee-high REI Co-op Backpacker Gaiter is a reliable choice.
A popular option for all-season use, this model is made with thick nylon fabric for improved durability. It also comes with reinforced fabric around the ankles to prevent rips and tears from crampons, rocks, or sticks.
These rain gaiters also come with a 3-layer waterproof membrane that helps to keep water out when hiking in mucky conditions. For added waterproofing, REI even designed this model with lace hooks that help to ensure a snug fit on nearly any type of footwear.
Unlike many other alternatives, these gaiters also come with an adjustable webbing strap that helps to secure them around your calves. As a result, they are less likely to slip down as you hike for improved comfort on the go.
While the thick waterproof nylon fabric of the REI Co-op Backpacker Gaiters might not be the most breathable option, they're a great choice when weather-resistance is your chief concern.
PROs

Adjustable top buckle prevents slippage as you hike
Reinforced fabric around the ankles for improved durability
3-layer waterproof membrane for use in snow and wet conditions
Lace hooks help provide a secure fit

CONs

Thick nylon fabric isn't very breathable
Bottom-Line: If you want a single set of gaiters that's suitable for use in any mountain context, the REI Co-op Backpacker Gaiters deserve some serious consideration.
Pine Trail Leg Gaiter
Best Value
Backpackers and hikers on a budget can rejoice with the Pine Trail Leg Gaiter, which offers quality trail performance at a budget-friendly price.
Despite being one of the most affordable options available, each Pine Trail Leg Gaiter is constructed out of a durable polyester, which can hold up throughout years of use and abuse.
They also boast a fully adjustable design, so you can use them with various types of footwear with relative ease. Furthermore, this model has all stainless-steel hardware, which is better able to withstand rugged terrain than plastic alternatives.
Thanks to their knee-high design, these gaiters are also an ideal choice for use in very wet and muddy terrain. They even come with a stuff sack for easier storage when you're not on the trail.
That said, it's worth mentioning that the Pine Trail Leg Gaiter's polyester fabric is heavy and it isn't the most breathable option. However, for the price, they're still a great value.
PROs

Highly affordable
Includes a stuff sack for storage
Adjustable design can be used with different footwear
Stainless steel hardware for increased durability

CONs

Polyester construction is heavy and lacks breathability
Bottom-Line: If your budget is your chief concern, it's hard to go wrong with the durable Pine Trail Leg Gaiters.
Black Diamond GTX FrontPoint
Best For Winter Hiking
Whether it's a snowshoeing day hike or a full-fledged winter camping expedition, the Black Diamond GTX FrontPoint is an incredible candidate for your winter outdoor escapades.
Thanks to their ripstop nylon construction, the FrontPoint are abrasion resistant enough to handle frequent outings in tricky terrain. Moreover, as the only model in our review with 3-layer Gore-Tex fabric for waterproofing, they're a solid bet for use in winter environments.
For added convenience, Black Diamond crafted this model with a hook-and-loop closure (velcro) that allows for quick on/off in cold temperatures. They also have a snap closure at the top to prevent them from coming undone in deep snowpacks.
Additionally, with the FrontPoint, you get a neoprene-coated instep strap, which prevents debris from balling up under your foot as you hike. Each gaiter's streamlined design also helps to prevent rips and tears that come from crampons and other sharp pieces of gear.
However, since the Black Diamond GTX FrontPoint are designed for use with a wide range of different footwear, from trail running shoes to mountaineering boots, they don't come with lace hooks. Therefore, they can sometimes slide around on your feet as you hike, especially with low-volume boots and shoes.
PROs

3-layer Gore-Tex for waterproofing
Neoprene-coated instep strap prevents debris build-up
Easy to put on and take off

CONs

A bit pricey
Lack of lace hooks can cause fit issues on low-volume boots and shoes
Bottom-Line: If winter adventures are your jam, the Black Diamond GTX FrontPoint boasts all the waterproofing and durability you need.
Kenetrek Waterproof Breathable Hunting Gaiter
Best For Deep Snow
Decidedly rugged, the Kenetrek Waterproof Breathable Hunting Gaiters are a pair of snow gaiters that are perfect for wintertime excursions.
As some of the best gaiters for snowshoeing on the market, the Kenetrek feature a polyester shell fabric to help keep you warm and dry while outside. They even have a built-in Stormblocker waterproof membrane that's similar to Gore-Tex for improved weather protection in the winter months.
Furthermore, they have a set of Hypalon rubber instep straps that are rip-resistant and debris-repellent to prevent snow buildup as you hike.
Each gaiter also comes with a single large hook-and-loop (velcro) closure system that runs up and down the front of your leg for easy on/off. They also come with an adjustable upper strap so you can secure the gaiters above your calf for a more secure fit.
That being said, it's worth pointing out that the Kenetrek didn't include lace hooks on this model. This means they can slide around on your feet if you're sporting low-volume footwear.
PROs

Stormblocker waterproof liner
Hypalon rubber straps prevent debris buildup
Velcro closure system allows for easy on/off

CONs

Lack of lace hooks can be a problem for low-volume footwear
Isn't breathable enough for use in very hot climates
Bottom-Line: If you're going snowshoeing or you like to plod around in deep snow, the Kenetrek Waterproof Breathable Hunting Gaiter is a reliable option to help you stay warm and dry.