A reliable headlamp is a crucial piece of gear for hikers, backpackers, and campers. Without one, issues can quickly arise, from losing the trail in darker conditions, tripping on roots, misplacing valuable equipment, or mistakenly eating your dog's kibble instead of your trail mix.
The headlamp market offers a range of options, from subpar to exceptional. We've narrowed it down to our top 11 headlamps, with the Black Diamond Spot 350 taking the lead. Following closely are the BioLite Headlamp 330, Petzl Tikkina, Coast HL7, Princeton Tec Snap, Black Diamond Storm 400, Petzl Actik Core, Ledlenser MH10, Fenix HM50R, Nitecore NU25, and Fenix HL60R.
To help you choose the right option for you we've included some handy headlamp buying advice. The main features to consider are brightness, beam distance, battery type, battery life, weight, weather resistance, cold weather compatibility, durability, headlamp lighting modes, comfort, and ease of use.
At a Glance: Best Hiking Headlamp
Top Hiking Headlights by Category
Budget: Petzl Tikkina, Black Diamond Storm 400, Princeton Tec Snap
Ultralight: Nitecore NU25, BioLite 330, Petzl Tikkina
Rechargeable: Biolite 330, Petzl Tikkina, Petzl Actik Core, Ledlenser MH10, Fenix HM50R, Fenix HL60R, Nitecore NU25
What Is The Best Headlamp For Hiking?
Having reviewed numerous headlamps, we settled on our favorite options in the list below.
Black Diamond Spot 350
BioLite Headlamp 330
Petzl Tikkina
Coast HL7
Princeton Tec Snap
Black Diamond Storm 400
Petzl Actik Core
Ledlenser MH10
Fenix HM50R
Nitecore NU25
Fenix HL60R
Black Diamond Spot 350
Editor's Choice
Black Diamond has earned a reputation for creating high-quality hiking headlamps, and the BD Spot 350 tops our list for best hiking headlamp this year.
The Spot delivers 350 lumens of light that will allow you to see up to 85m of trail ahead of you. While it's not the brightest headlamp on our list, this range is more than enough for the needs of most hikers. Most hikers will also appreciate the Spot's excellent battery life and how easy it is to use.
In addition to that impressive distance beam, the Spot has an additional two beam patterns, with the proximity light offering an 8-meter, wide-beam 'halo' of light and a red light mode ideal for use around camp.
All the lighting settings are dimmable and easily adjusted via a large, touch-sensitive button that can be operated even when wearing gloves. To top it off, the brightness memory will remember your settings the next time you power the headlamp off and on again.
The newest incarnation of the Spot has a significantly improved battery burn time than the older model. On the highest brightness setting, you can expect over 3.5 hours, and nearly 200 hours of power on flood – giving it a longer battery life than most of the competition. One cool added feature is a LED battery indicator that lets you see the remaining battery life available.
To cap it off, the new design is more compact and comfortable than its predecessor. It also has an improved ingress protection rating (IPX8), so is more able to withstand submersion and torrential rainfall.
If we're going to be picky, the one downside to Spot is the lack of compatibility with micro-USB rechargeable batteries (the Spot only accepts 3x AAA batteries). This, however, is the only metric in which we would mark it down.
PROs

Bright light
Easy to use
Waterproof
Excellent battery life
Lightweight (3 oz./86g)
Compact and comfortable design

CONs

Lack of rechargeable battery
Bottom-Line: The Black Diamond Spot 350 performs well across the board. It's bright enough for just about any task, hardy, has a long battery life, and weighs a mere 3 oz.
BioLite Headlamp 330
Best for Trail Running
For trail runners, the Biolite 330 is our top recommendation due to its low-profile, ergonomic design, and tiny trail weight.
The low-profile design is achieved by innovatively shifting the battery pack to the back of the head, which also helps to balance the weight and prevent the lamp unit from sliding down your forehead. Combined with its low overall weight (2.34 oz. / 69g), this also helps to reduce any bounce or movement when running.
The Biolite 330 has three white light settings (Flood, Spot & Strobe). The maximum output is 230 lumens, with a beam distance of 75m. The only caveat worth mentioning here is that you can expect the rechargeable battery to run down in less than the 3.5 hours the manufacturer specifies.
The flood setting uses a separate 100 lumens LED, which is one of the brightest on our list and helps illuminate up to 16m of your campsite. At just 40 hours, the battery life on this low light setting is the poorest we tested, meaning the 330's not the best suited to longer trips in the backcountry.
One great feature is the ability to dim both settings for more precise light output. The 300 also features a brightness memory whenever you switch it off, and on again. To help you get on with routine tasks without waking up your tent mates, it features a red light mode, and a strobe setting is included for emergencies.
On the downside, the single-button design can be a little tricky to control, particularly when wearing gloves. And while the headband is extremely comfortable, it is not possible to remove the head torch from the band, meaning a very careful handwash is the only way to get it clean.
PROs

Hugely comfortable no-bounce design
Lightweight
Reflective headband wicks well
Brightness memory

CONs

Single-button design can be tricky
Unable to machine wash head strap
Not the best battery life
Bottom-Line: If comfort is a primary concern or you're a trail runner in search of a new headlamp, then the Biolite 330 is without a shadow of a doubt the best option out there.
Petzl Tikkina
Best Budget Headlamp
The Petzl Tikkina is a great minimalist headlamp at a great budget price.
The 250 lumens on high mode may make the Tikkinia one of the weakest headlamps on our list. However, with a spotlight distance of up to 60m, it's plenty powerful for the average hiker and will see you safely back to camp/your car/home on night hiking trips.
In addition to distance mode, there are two more white light settings: movement mode and a floodlight option. Each of the three-beam settings can easily be cycled through with the large single button.
The Tikkina is designed to take three standard AAA batteries, but the battery compartment can also accommodate Petzl's CORE battery. The ability to use rechargeable or regular AAA batteries, combined with its feathery weight (2.86 oz, making it the second lightest headlamp on our list) makes the Tikkina a contender for the best backpacking headlamp, too.
The Tikkina's large button is easy to find and operate, allowing you to quickly cycle through all the beam modes. We did, however, find it a bit fumbly to work when wearing gloves in colder weather.
As a budget pick and a lightweight headlamp, the Tikkina does have some drawbacks. The primary issue we have with it is that the battery drains very quickly in distance mode, despite the lower output compared to other headlamps. In under 2 hours, you'll find yourself with a dead lamp. With proximity lighting, you're good for over 100 hours.
The three white brightness settings also don't dim, so you are stuck with only three brightness levels in total. And because there's no red LED, be prepared for some night blindness after a jaunt to the toilet in the middle of the night.
PROs

Practical headlamp for a great price
One of the most lightweight headlamps on our list
USB rechargeable headlamp (combined with CORE battery)
Decent battery life in proximity mode

CONs

Not very powerful
No dimming
Average light quality
Poor battery life on distance mode
Bottom-Line: The Petzl Tikkina is a cheap, reliable, compact, and dependable headlamp that is simple to use. While it lacks the functionality of other high-powered headlamps, it does its job well, and for a great price.
Coast HL7
Most Intuitive
The Coast HL7 has the most intuitive and user-friendly output controls of the headlamps we tested. It features a single powerful beam that can be adjusted to spot or flood mode with a twist of the focus ring, with the brightness then adjusted to the desired level with a second small lever.
In spotlight mode, the HL7 provides 305 lumens in an intense beam reaching up to 125m/410ft. This makes it perfect for long-distance trail finding and places it third in beam distance behind the Ledlenser MH10 and Fenix HL60R. Its lowest proximity light produces 4 lumens in a wide beam reaching up to 16m, which is great for nights at camp or bedtime reading.
Overall, the beam quality is excellent, and the ability to adjust and fine-tune the settings makes it stand out from the pack.
As an older model compared to the more recently updated Black Diamond and Petzl headlamps, this is a pretty heavy option (4.4 oz. /125 g). Despite the heavy battery pack being positioned at the back of the head strap, it still feels a little cumbersome compared to more recent, updated offerings from competitor brands.
A second letdown is the short battery life on the maximum brightness setting. The three AAA batteries will drain in less than an hour and a half, making it one of the poorest performers we tested in this metric. Switch to flood mode at 4 lumens and you've got a mediocre (consider the light output) 70 hours of burn time.
PROs

Powerful, bright beam
Excellent beam distance and quality
Very intuitive beam setting control
Superb floodlighting
Excellent optical quality

CONs

Bulky and heavy
Contender for worst battery life
Bottom-Line: If you want easy control over the output of your headlamp, without constantly pushing buttons to cycle through modes, then the Coast HL7 is the one for you.
Princeton Tec Snap
Most Versatile Headlamp
The versatile Princeton Tec Snap has a modular design that allows you to use it as a headlamp, bicycle lamp, lantern, or torch. It also comes with several mounts and is magnetic, allowing you to go hands-free when required.
On the brightest mode, the lamp gives out 300 lumens for up to a remarkable 10 hours. Unfortunately, this is tempered by its poor beam quality, which means you'll struggle to see further than 50m/150ft down the trail. In proximity mode, which allows you to see around 7m/21ft around you, you'll get up to 155 hours of light from the three AAA batteries.
The one-button design allows you to cycle through the flood, spot, and strobe functions easily. However, unlike many of the other models we tested, there is no ability to dim the brightness.
From its weight (3.5 oz / 99 g) to its build quality, the Princeton Tec Snap is a pretty middling product that is not in the same league as similar headlamps manufactured by Petzl, Black Diamond, or Ledlenser. Nevertheless, if you take part in multiple outdoor activities and want one light to do it all, it's a solid choice.
PROs

Affordable
Relatively lightweight
Unique modular design
Long battery life on proximity mode

CONs

No dimmable function or red light
Durability is lacking
Low IPX rating
Bottom-Line: The Tec Snap won't set anyone's world on fire but is a decent headlamp if you want a multifunction source of illumination at a reasonable price.
Black Diamond Storm 400
Best Waterproof Headlamp
Black Diamond's Storm 400 shares many features with the BD Spot but distinguishes itself with superior waterproofing, a longer beam distance, regulated lighting lasting 5 hours on high mode, and green night vision.
These added features mean this Black Diamond headlamp is well suited for bad-weather hikes, hunting expeditions, or anyone who simply needs a little more power.
With a 400 lumen output, enabling you to see up to 100m/328ft on the highest beam intensity, the Storm packs a decent punch. It also has two lower light modes, a strobe function, and three-night vision options (red/blue/green).
One great feature is the ability to use any of the light intensities in proximity or turbo mode, which can be easily dimmed to the perfect brightness for the task at hand. A simple push of the Powertap button and you'll jump back to full intensity (or back again to your dimmed setting).
The downside to this added output compared to the Spot (and other cheaper Black Diamond models) is the heavier weight of 4.2 oz. / 120g, which is partially due to the need for four (instead of the typical three) AAA batteries.
PROs

Excellent spot and proximity beams with adjustable brightness
Regulated light and good burn time considering the output
Very sturdy and weather resistant (IP67)
Features 3 night vision modes
Meter shows remaining battery life

CONs

Quite heavy
Not USB-rechargeable
Bottom-Line: The Black Diamond Storm 400 has a myriad of lighting options, great beam distance, and great battery burn time. We prefer the Black Diamond Spot over the Storm for hiking/backpacking but would recommend the Storm for hunting or any other activity where weight is less of a concern than illumination.
Petzl Actik Core
Best Rechargeable
The Petzl Actik Core came within a whisker of taking the top prize and is our top choice for a rechargeable headlamp.
Here's our take: If you are specifically looking for a headlamp that runs on rechargeable batteries, then the Actik Core takes the top spot because it can run on both Petzl's CORE USB rechargeable battery or standard AAA batteries. If you're not fussed, then it's a dead heat between the two.
The Petzl AC has regulated spot and flood settings which are dimmable and also have similar light quality and beam distance to the BD Spot. The distance beam is rated at 450 lumens, allowing you to see just shy of 90m/295ft and the flood light gives you a wide beam of light allowing you to see about 7-8m.
The downside is that the burn time of the batteries is about 30-40% shorter than the Spot, giving you only 2 and 120 hours on distance and spot respectively.
The easily adjustable headband and headlamp together weigh just 2.64 oz. / 75g, making it one of the lightest headlamps, second only to the Biolite 330 and Nitecore NU25. With an IPX4, the water-resistance of the Actik Core is at the lower end of the scale, but it survived several heavy downpours unscathed during our testing.
PROs

Compatible with standard AAA or rechargeable battery pack
Excellent beam distance and quality
Light Output Regulation
Reactive lighting technology
Lightweight

CONs

Short battery burn time on high mode
More expensive option
No locking feature
Bottom-Line: If you're searching for the best rechargeable headlamp, then your search can end here!
Ledlenser MH10
Best Range
The Ledlenser MH10 is ideal for those who need a headlight with a larger range.
The MH10 provides 600 lumens of blinding light, making it the second most powerful headlamp on our list. That many lumens, combined with excellent optical performance, will illuminate the darkest trails or caves. The distance mode will allow you to see a whopping 150m/490ft (that's over 1.5 football fields!), and the proximity light gives a 20m/65ft halo of light.
Despite the output, the MH10 surprised us with the long burn time of its rechargeable battery, lasting an incredible 10 hours on the spotlight function. Expect around 120 hours on proximity mode.
The MH10 is straightforward to use on the two standard light modes but becomes a bit more fiddly if you want to use red or green light for night vision. Instead of being fitted with separate LED lights, it uses light filters that you manually slot over the main beam. This, we discovered, is best done before going to bed (rather than trying to find the attachment in the dark!).
At 5.57 oz. / 158g, this is the second heaviest headlamp on our list. Combined with the fact that the brightness/beam distance of this head torch is overkill for most hiking, backpacking, or car camping situations, this extra heft won't be worth the trouble for some.
PROs

Very bright light
Amazing battery burn time for a rechargeable LED model
Very intuitive and simple headlamp flashlight
Superb beam quality
Rear light for safety

CONs

Heavy and bulky
Red/Green filters are separate attachments
Bottom-Line: The Ledlenser MH10 is a brilliantly bright rechargeable headlamp that is best suited for activities such as caving, or winter sports where you need a longer beam distance to spot upcoming obstacles while traveling at speed.
Fenix HM50R
Best for Winter Activities
The Fenix HM50R is a unique headlamp ideal for cold winter conditions. Using CR123A batteries, it has a longer battery burn time in cold weather than traditional alkaline and lithium batteries.
Combine the above with the easy-to-use button, which is easy to control even with gloves on, and the Fenix is an excellent choice for winter hikes or winter camping.
The Fenix HM50R has four brightness settings, with the high mode achieving a max light beam distance of around 80m/262ft with a 2.5-hour burn time. Cycle down to the lowest setting and you will have power for around 90 hours although it does also come with a rechargeable Li-Ion battery.
With an IP68 rating and extremely sturdy aluminum casing, this headlamp will take plenty of punishment on the trail and still keep going. This design does mean that, at 3.47 oz. / 99g, the HM50R is not the lightest of headlamps, but neither is it excessively heavy (compare to the 5.57 oz. Ledlenser MH10).
PROs

CR123A compatibility makes it great for cold weather
Very durable
Great water resistance
Simple, single-button control
Battery life meter

CONs

No red night vision or strobe light modes
Bottom-Line: The Fenix HM50R specs sit largely in the middle of the pack when it comes to brightness, weight, and battery life. What sets it apart, though, is the compatibility with CR123A batteries, which work better than traditional batteries in cold weather.
Nitecore NU25
Best Ultralight Headlamp
The Nitecore NU25 is the lightest on our list, weighing a mere 1.8 ounces, making it our favorite ultralight headlamp for hiking.
Despite this, it packs a powerful punch of up to 360 lumens and has a max beam distance of 266ft/81m. The only caveat to those impressive specs is that the "turbo mode" that delivers the full 360 lm. runs for a mere 30 seconds before switching to the 190-lumen high mode.
The Nitecore's burn time is impressive in low mode (160 hours) but leaves a little to be desired in high mode (5 hours), though this is perhaps to be expected from such a minimalist piece of gear.
And minimalist it is…
The NU25 is small enough to fit in a shirt pocket with room to spare and the lamp itself is so slender that it won't obscure your vision when worn low on your forehead or helmet.
We are big fans of the NU25's simple controls, which consist of one button for white mode and one for red. Although there's no dimmer, the four brightness settings (360, 190, 38, and 1 lumen) will provide enough adjustability for most.
PROs

Ultralight (1.8 oz.)
Powerful
Affordable
Waterproof
Battery life reader
Rechargeable

CONs

Shorter burn time on high mode
Bottom-Line: A sleek, slender, ultralight light-giver that packs a strong enough punch for most uses.
Fenix HL60R
Best for Brightness
The Fenix HL60R is for hikers wanting a headlamp capable of outputting incredible brightness levels.
At just over 6 ounces, this beast of a device is the heaviest on our list. If you can deal with that, however, you get enough lumens to light up a small stadium (950!) in an incredibly robust but surprisingly low-profile product.
Lumens aside, the HL60R is a great headlamp. It provides a 380-foot beam, has an IPX8 rating, and the lamp is encased in an all-metal housing that can withstand serious abuse. It also has five brightness levels, a red light function, and recharges fairly quickly given its size and output.
While there are more powerful headlamps out there than the HL60R, most cost at least twice as much.
PROs

Very bright
Robust and durable
Fairly priced
IPX8
Rechargeable

CONs

Quite heavy
Shorter battery life in "turbo mode"
Bottom-Line: The most durable and powerful model on our list, and affordable to boot.
What to Look for in a Good Headlight For Hiking?
When deciding what hiking headlamp to buy keep in mind the features listed below.
Brightness
Beam Distance
Battery Power
Battery Type
Battery Life
Weight
Weather Resistance
Cold Weather Compatibility
Durability
Headlamp Lighting Modes
Comfort
Ease of Use
Brightness
One of the key specs provided by headlight companies is the headlamp's brightness measured in Lumens. Lumens indicate the total amount of light emitted from your headlamp; the more lumens, the brighter the output.
If you're the sort that likes to know the technical definition, a lumen is a unit of luminous flux and it's equal to the amount of visible light emitted by one candle per square meter. So your headlamp with 200 lumens is equivalent to the output of 200 candles shining on a single square meter.
There is a wide range of lumens in headlamps, ranging from 50 to 950 (on maximum setting). The maximum brightness of the headlamps we've reviewed falls between 200 and 600 lumens – which is a powerful enough range for the demands of hiking.
One thing to keep in mind is that the more powerful the output, the more power it will require. More power equates to more demand on the batteries, and therefore shorter battery life. To help extend the life of the batteries many headlamp models allow you to adjust the level of brightness.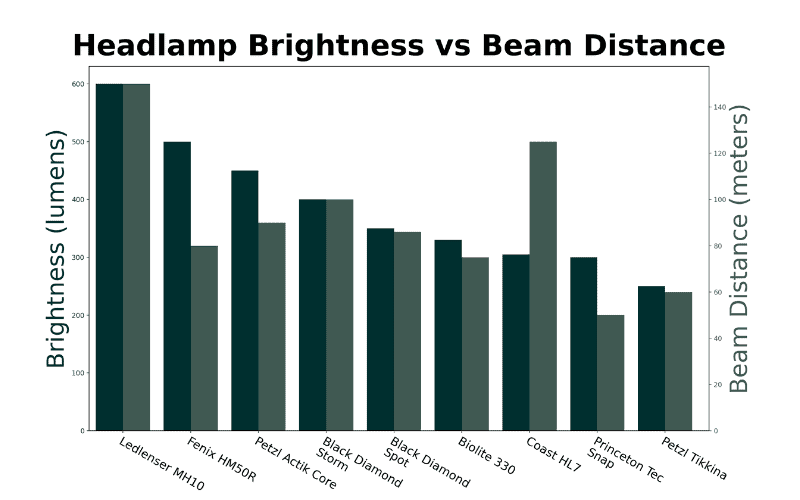 Beam Distance
Beam distance, how far the beam will illuminate objects in the distance, is a better indicator of beam quality than lumens.
Beam quality refers to how well light is focused from a headlamp by the optical lens system. Depending on the bulb type and the quality of the construction a lower-lumen headlamp may have a longer beam than a more powerful one. While one lamp may technically be brighter, it may not do as good a job of focusing the light from practical use.
Beam distance varies significantly between different models, with the products reviewed ranging between 50 to 150 meters (180 to 500 ft) while set to max brightness.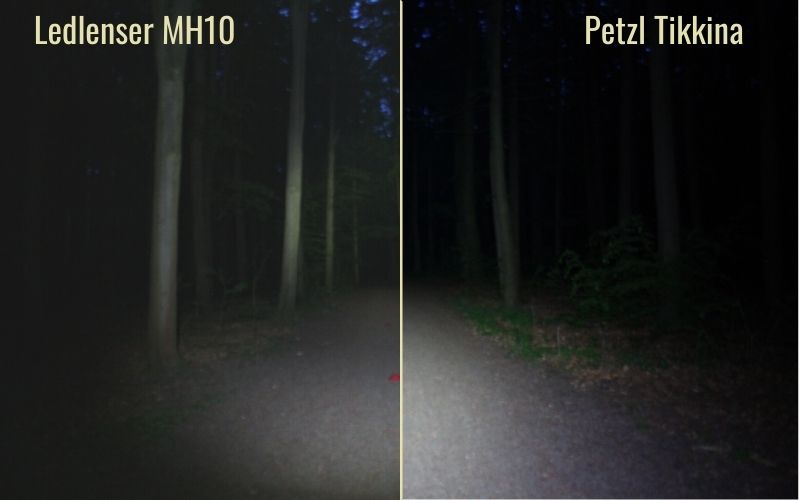 Battery Type
Most headlamps are compatible with Lithium-Ion rechargeable batteries or alkaline disposable batteries, but some, like the Fenix HM50R, can also accommodate the less common CR123 (a type of 18650 battery).
Whether you are buying AAA alkaline disposable batteries or a rechargeable lithium-ion battery, they both have their strengths and weaknesses.
Alkaline costs less than the rechargeable battery but cannot be recharged, meaning you'll (1) have ongoing battery costs & (2) you'll need to carry additional replacement batteries with you on longer trips. Although, we'd always recommend carrying spare batteries with you as a backup on every trip, no matter how short.
Conversely, lithium-ion batteries are the more expensive option but will last longer than their alkaline equivalents. While being rechargeable is a plus, it does have the downside of having to carry a power source (e.g. a solar panel or power bank) on longer trips. If you count every gram in your pack, then Li-ion batteries are also lighter than their alkaline cousins.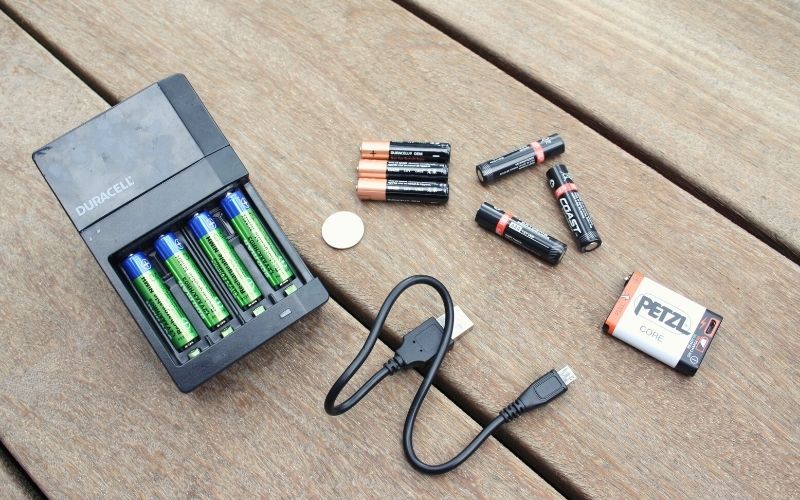 Battery Life
The battery life of your headlamp is crucial since running out of juice could lead to disaster. However, manufacturers' claims on headlamp battery life are often overstated compared to actual performance in real-life situations.
While overall duration is lower, the beam distance also suffers over time, as unless the light output is regulated then the headlamp will progressively dim as the batteries run down. Few manufacturers publish them but look out for charts of max beam distance over battery lifespan.
Regulated light headlamps such as the Petzl Actik Core will maintain the same brightness before suddenly failing. Headlamps that regulate light are great for activities such as winter sports or caving where dimming could be dangerous.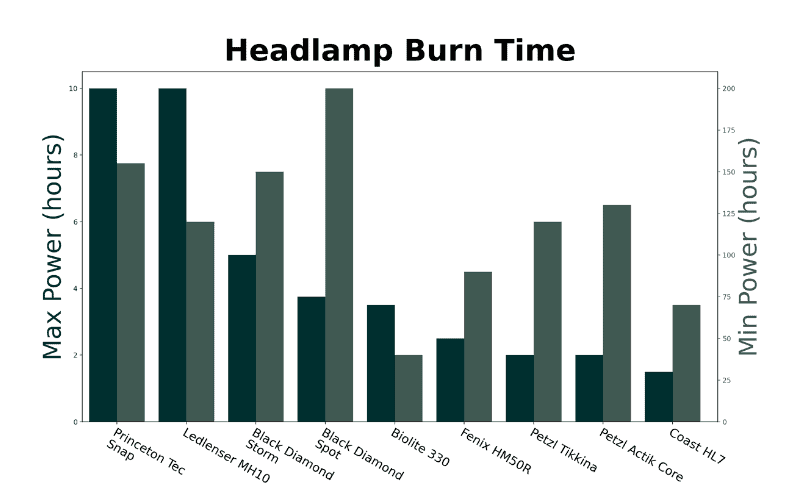 Weight
Lighter-weight headlamps are more comfortable to wear, easier to pack, and don't inhibit movement as much. More powerful and durable headlamps come with added weight. Therefore, it's best to choose the lightest model that meets your usage requirements.
The lightest models weigh less than 20 grams/0.7 ounces, and heavier ones can tip the scales at over 200 grams /7 ounces grams. This may not seem like a huge burden, but it will impact both comfort while in use and also how much gear we need to carry to keep it close by for use when needed.
Weight alone is not the sole determiner of the comfort of a headlamp, as the weight distribution of the headlamp can have a large impact on the comfort during use. Poorly distributed weight will be obvious the moment you tilt your head abruptly or try jogging a short distance.
Less important for day hikers, but for those gram-counters in the ultralight community, you may want to choose a lighter model to keep your pack weight down.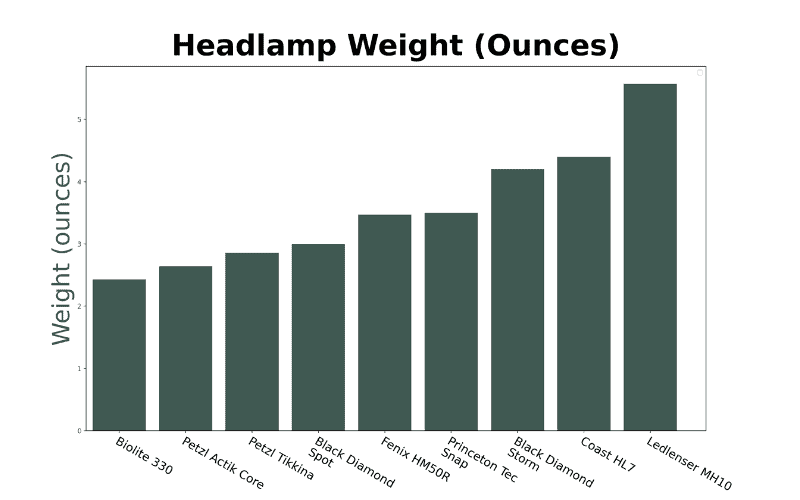 Weather Resistance
Hiking, backpacking, and camping gear are often exposed to bad weather and the occasional drop, making the weather resistance of a headlamp critical. The best way to determine this is by looking at the product's IP rating – the industry standard for electronic equipment.
Ingress Protection (IP) ratings are best known as a way of measuring how resistant electronics are from water or moisture damage. Every product is tested and given an IPXX number, with the first X representing how well it can handle the ingress of solid materials (think dust). Solids protection is rated from 1 to 6, with one being the lowest level of protection.
The second X tells you how water-resistant the product is, with the protection level ranging from 1 to 8.
Cheaper models are an IPX0 that offers no protection from the elements, and you'd best get them covered up at the first sign of bad weather. At the other end of the scale, an IPX8 rating means you have a completely waterproof headlamp you can dunk in the local lake for a while and it'll still come out shining.
For some more precise definitions of the IP ratings then check out the table below.
To live up to the weather demands of hiking and the outdoors, all the models reviewed range from a minimum of IPX4, which is protected against splashes of water (think light-moderate rain). At the top end is the Fenix HL60R, the most durable headlamp with a top rating of IP68.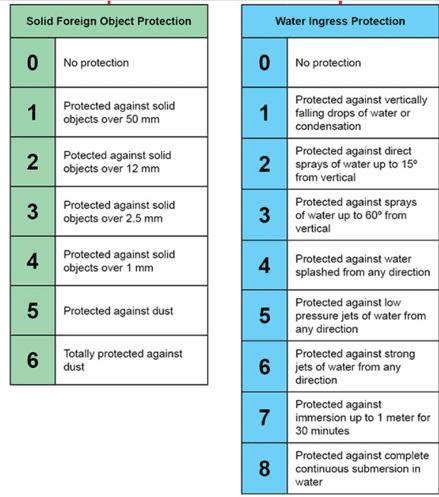 Cold Weather Compatibility
Certain batteries perform poorly in colder temperatures making compatibility in colder weather essential. This decrease in performance is due to the cold-induced thickening of the electrolyte inside the battery. This slows down the necessary chemical reactions for charging and discharging resulting in a significant decrease in the battery's lifespan and longer recharging times.
Alkaline batteries are the worst offenders here, although Lithium-Ion batteries also suffer greatly from a drop in mercury. The best option in cold weather is to choose CR or rechargeable NiMH batteries – the Fenix HM50R is the only headlamp in our review that accepts CR123A batteries, making it a great choice for colder weather trips.
A few headlamp models allow you to remove the battery pack while it is in use. Thus allowing you to store it inside your jacket or next to your body to help keep it warm.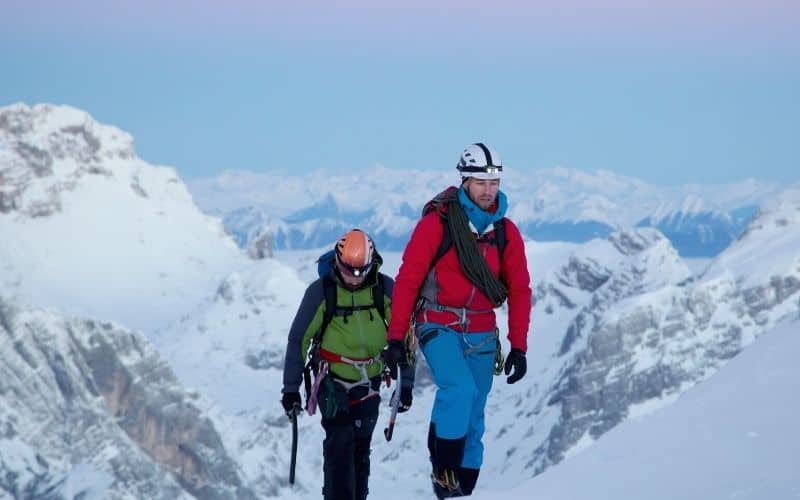 Durability
Durability is crucial for outdoor gear prone to drops, bumps, and scratches. Cheaper "plasticky" models are easily identifiable and should be avoided if you don't want to replace your headlamp every time it suffers a mishap.
More robust models like the Fenix HL60R incorporate aluminum or other light metals to help give a sturdier build, but this does come at a cost of weight. There is a middle ground between solidly built plastic models such as the Black Diamond Spot and the Petzl Actik, which combine durability with reasonable weight.
So, how to pick?
Activity type, weather, and trail conditions you expect to face play into how rugged a model you should select. For instance, if you regularly encounter rainy weather on your hikes then choosing a more water-resistant model may be a smart choice.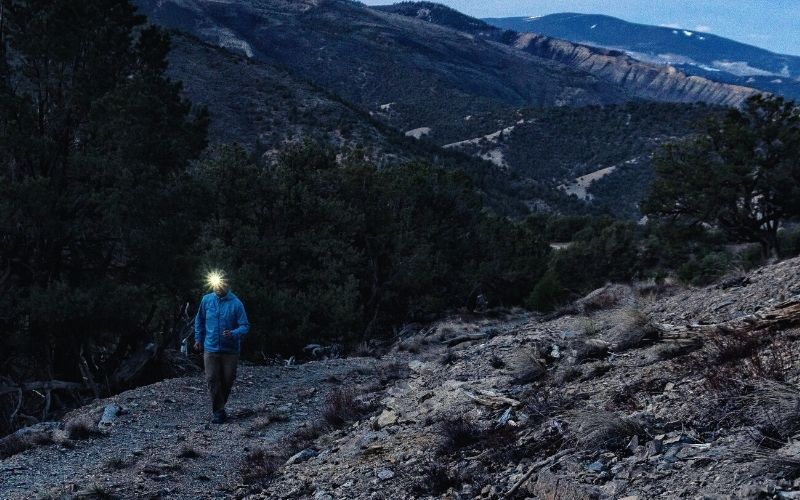 Headlamp Lighting Modes
Quality headlamps enable you to switch between different beam modes for use in various situations. Most headlamps use separate LEDs for different lighting settings, while others shape the LED to the specific function desired.
The various modes to look out for are listed below.
Spot Light
Flood Light
Strobe Light
"Night Vision" Red Light
Green or Blue Light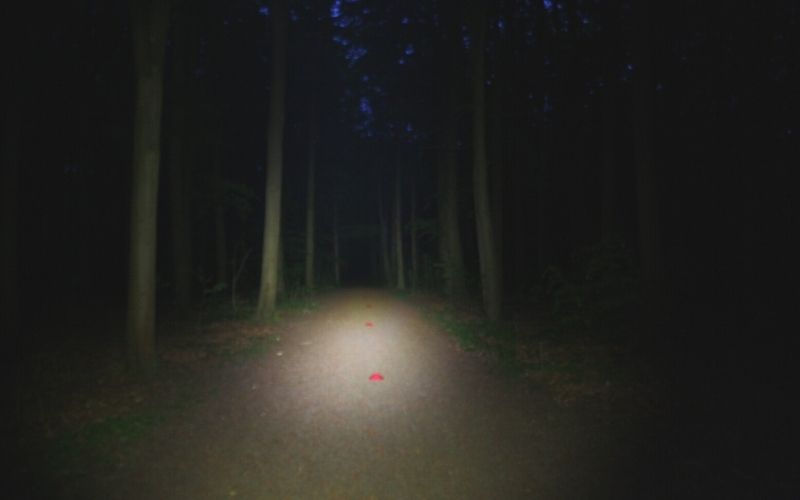 Spot Light
A spot light provides a focused beam of light, allowing you to see off into the distance. This mode is perfect for spotting an animal in the distance or following trail markers.
Some headlamps have different spot settings that allow you to choose between a wide and narrow beam. The best way to identify what is best suited for you and your needs depends on how much ground space you need illuminated.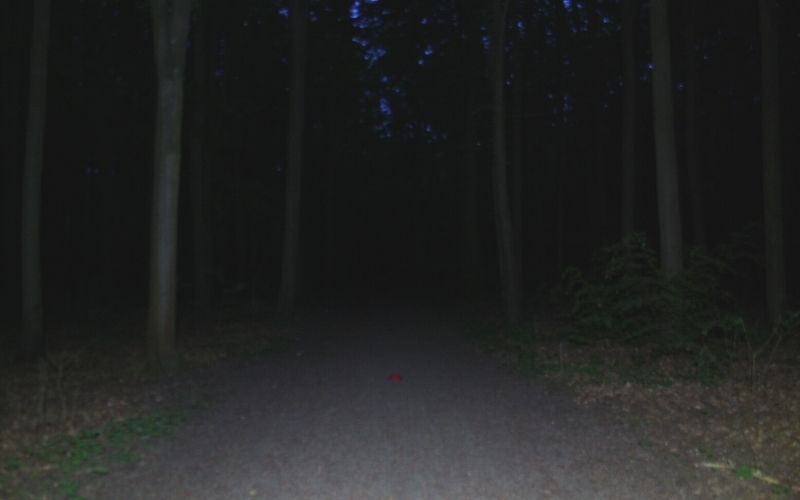 Flood Light
A flood beam diffuses the light to cast a wider beam. This gives a wider coverage area and allows you to see your immediate surroundings better.
This is best suited for campers who want to illuminate the ground and nearby objects with enough brightness so that they can find their way around in the dark.
Strobe Light
Most headlamps have a strobe light mode. This feature is intended for emergency use to attract attention while conserving battery power.
The strobe light mode is also great as a bike light or for runners who need to be seen by traffic.
"Night Vision" Red Light
Softer and gentler on the eyes than white light, the red light or night vision mode is great for reading or finding something in your tent at night without disturbing your fellow tent-mates.
Red light has the added benefit of not causing your pupils to adjust, so you won't be night blind when the dark returns. As it can take up to an hour for your eyes to fully adjust to the dark, this is a particularly useful mode if you want to do some star-gazing without fumbling your way around the campsite.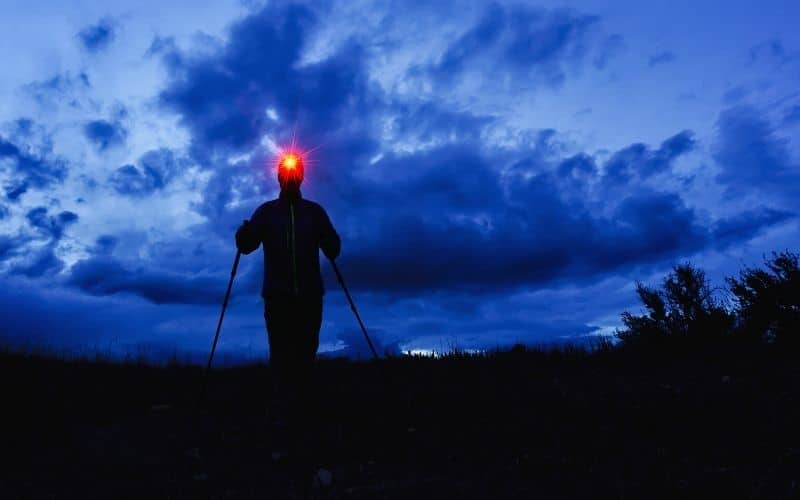 Green or Blue Light
Some headlamps come with a green or blue light mode, which preserves the natural color of objects in the dark. This is a useful color filter for hunters tracking a wounded animal, with blood showing up as vivid red in the dark.
Blue light has also been shown to prevent night blindness and decrease eye strain when reading maps or using a GPS device.
Comfort
Brightness, durability, and weather resistance are crucial, but if your headlamp isn't comfortable to wear, it won't be used often. Two main elements to consider for comfort are weight distribution and headlamp straps.
The heaviest part of any headlamp, the battery pack, is typically in the light body or as a separate pack at the back of the strap. It is standard to have the battery pack in the light housing which works well for lighter headlamps.
More powerful lamps will separate the battery pack and place it at the back of the strap to balance weight and prevent the headlamp from becoming too "front-heavy".
The weight distribution of a headlamp can be hugely important, depending on your intended use. Front-heavy models like the Black Diamond Storm feel off-balance for activities like trail running, whereas a lighter or lower profile model such as the Biolite 330 will help prevent "bounce" on the trails.
The headband straps generally come in two styles, the simple wrap-around and a two-piece design with an additional strap that crosses the dome of the head to help balance weight more. The lighter headlamp models are typically the former, and the heavier ones are the latter.
The head strap should be able to fit snugly against your head without feeling like it's cutting off the circulation to your scalp. It should also be easily adjustable when you need to throw on a beanie in cold weather, or a helmet for activities like climbing or caving.
It's not a 1:1 correlation, but you tend to get what you paid for, and cheaper models will feature cheaper, less well-made headbands that either don't wick moisture away well or feel uncomfortable next to your skin.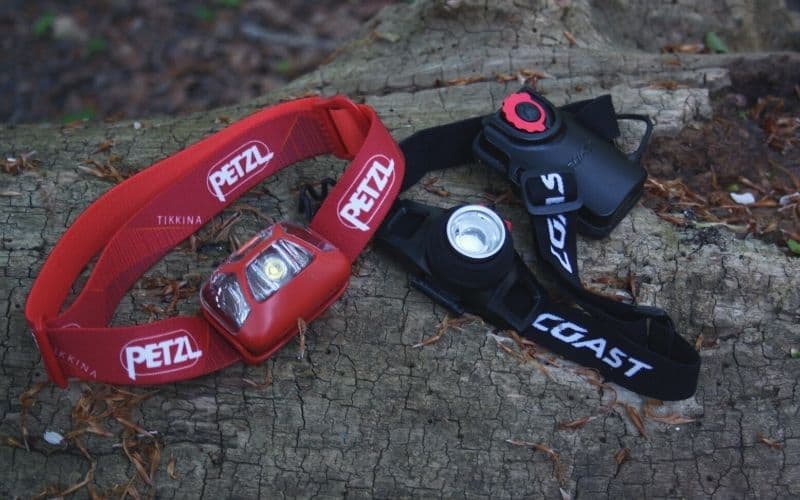 Ease of Use
Headlamps are not complicated devices and certainly won't give technophobes the "fear", but certain models have a more intuitive design that makes them easier to use.
Many headlamps use a single-touch button design, which allows you to cycle through the various light modes, which frankly, can be a bit annoying. Several of the higher-end models incorporate a brightness memory, or a two-button design to help alleviate the pain of cycling through modes.
Others like the Coast HL7 make use of a twist lens and a lever to control the flood/spot and brightness making it much easier to control the exact light output you want.
For specific tasks models that allow the headlamp housing to be tilted allowing you to direct the beam in a specific direction are hugely useful. Allowing you to stand in a more ergonomic position rather than craning your neck while you complete the task.
Another helpful feature for battery life is an On-Off Lock. This prevents any accidental turnoffs mid-task and also prevents the battery from running down if it were to accidentally get turned on when inside your pack. A battery life meter, as can be seen on both the Black Diamond models on this list as well as the Fenix HM 50R, is also handy to have.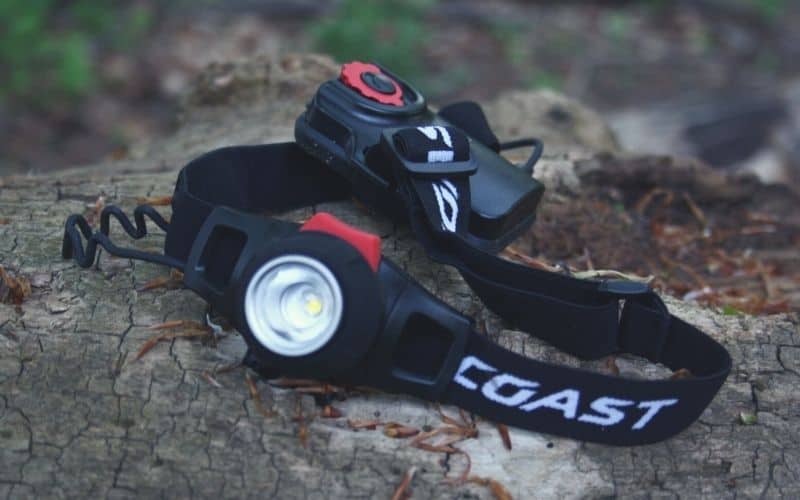 Hiking Headlamp Reviews: The Verdict
Our favorite headlamp on the market is the Black Diamond Spot 350, closely followed by the Petzl Actik. Both headlamps are powerful enough for most uses, easy to use, and have great battery life. While the Actik can run on rechargeable batteries, the Spot 350 is by far the cheaper.
If cheap and cheerful is your thing, you can't go wrong with the Petzl Tikkina. The Tikkina does everything your average hiker or camper needs their device to do and is also very lightweight and fairly priced.
If you liked our article, let us know in the comments box below. And if you'd like to share it with your friends, share away!