If you're headed to the Bay Area in Northern California, there's no shortage of exciting things to do, including hiking for more adventurous visitors. The Golden City by the Bay has fantastic viewpoints accessible from any number of incredible hikes.
You'll enjoy both cityscape and landscape views, including the famous Golden Gate Bridge from a variety of perspectives. See the Pacific Ocean, coastal bluffs, the iconic bay, and towering redwoods. You can also delve into the area's logging, mining, and military history on a number of local hikes.
1. Twin Peaks Trail, Twin Peaks Nature Area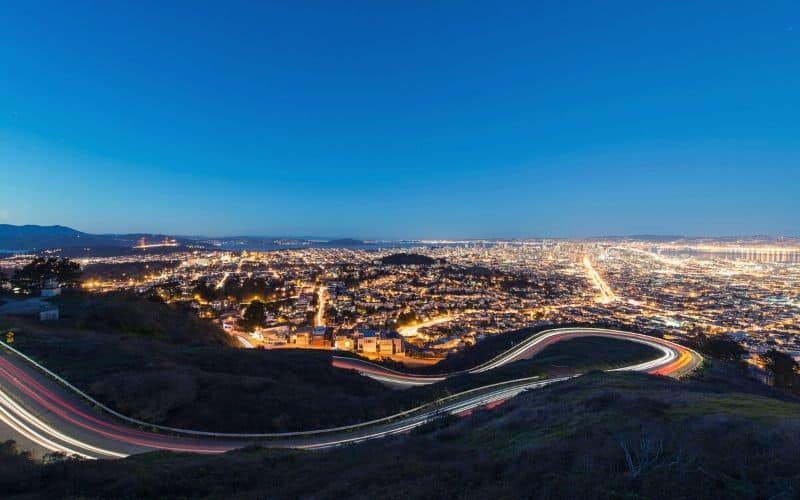 Type: Loop
Length: 1 mile
Difficulty: Easy
Find some famous postcard views on this popular hike in the heart of San Francisco. If the city's famous fog isn't too heavy, you can see the Golden Gate Bridge and Alcatraz Island from the 64-acre Twin Peaks Nature Area. This loop can span 1 to 2 miles.
Coastal scrub, colorful lupine, and grassy hills make this San Francisco park a lush escape from the surrounding city. Despite the strong winds, the natural area is a habitat to the endangered mission blue butterfly. Nesting birds, rabbits, and coyotes are also often spotted.
Read all about this compact park that packs a punch on the city's website.
2. Glen Canyon Park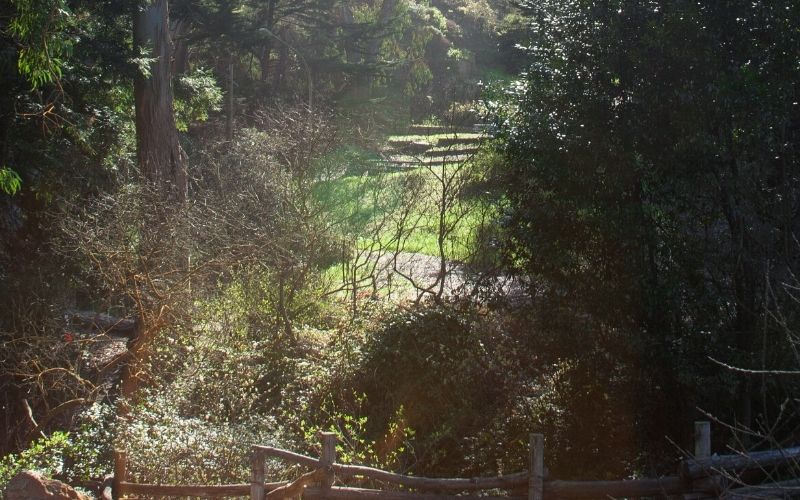 Type: Loop
Length: 1.8 miles
Difficulty: Easy
Tucked between busy San Francisco neighborhoods are 60 acres with 3.7 miles of wilderness paths to explore. A variety of habitats are found in this small-sized urban park, including a thriving riparian ecosystem. Willow trees, horsetails, and red columbine grow along the creek.
This family-friendly, short hike is accessible to all experience levels and abilities. You can combine Islais Creek, Coyote Crags, and Gum Tree Girls trails to create an easy, 1.8-mile loop. Visit the San Francisco city website for details.
3. Land's End and Coastal Trail, Golden Gate National Recreation Area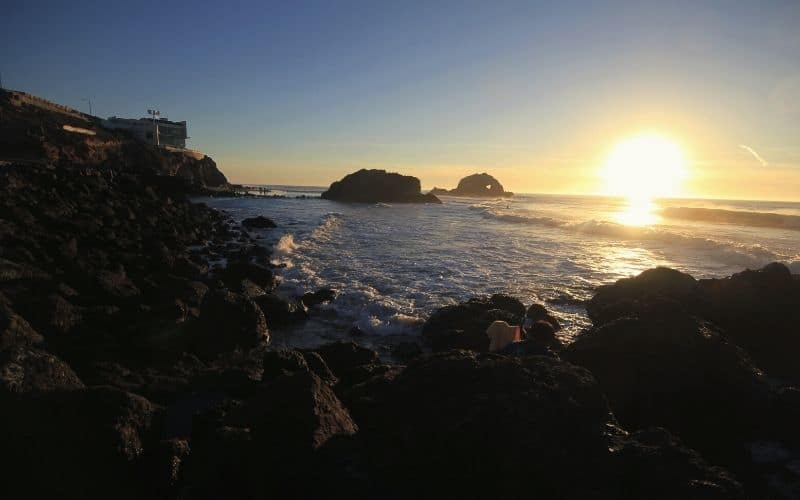 Type: Loop
Length: 4 miles
Difficulty: Moderate
At the edge of the continent, where the land ends in the northwest corner of San Francisco, you can take a journey through the bay area's history while enjoying spectacular views of the rocky shores of the Pacific coast and the Golden Gate Bridge.
Start your stroll by Cliff House, an exclusive resort built in 1863. It's perched above Ocean Beach and overlooks Seal Rocks, offering stunning views of the surrounding area. From there, head over to the Sutro Baths ruins, a formerly massive recreational enclosure built in 1894.
Wander along to Eagle Point Overlook and then head back via El Camino del Mar to see Legion of Honor and other military memorials. Other points of interest include remnants of shipwrecks, a memorial to USS San Francisco, a WWII cruiser, and Battery Chester at Fort Miley. Read more history at the park's website.
4. Golden Gate Bridge & Park, and the Presidio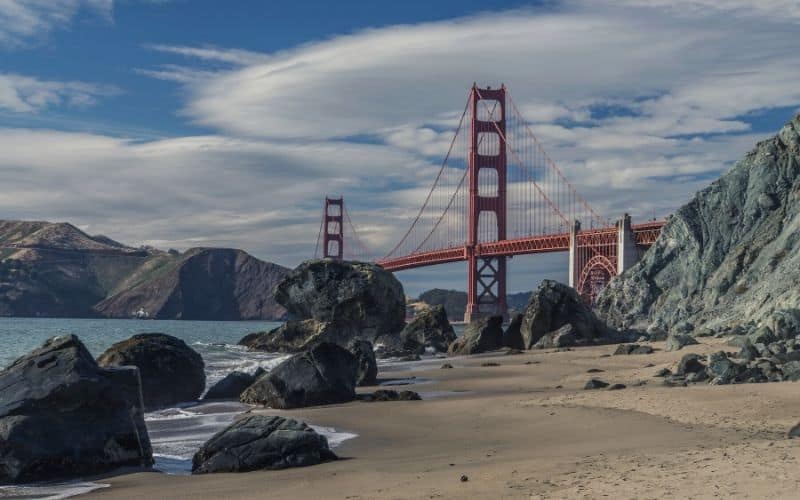 Type: Out and Back
Length: 3.4 miles
Difficulty: Easy
The Golden Gate Bridge is a colorful and shining landmark of the West Coast. As the most famous bridge in America, it's a 'can't miss' while in San Francisco.
A 1.7 mile (one way) pedestrian walkway traverses the suspension bridge and connects to the hugely popular Presidio of San Francisco. You can visit the National Cemetery and veteran memorials, stare in awe at the 100-foot tall Spire sculpture, and get an Instagram-worthy image at Baker Beach with the famous golden bridge in the background.
After you've had your fill at Presidio, head south toward Mountain Lake and cross Lake Street. A tree-covered route on either side of Park Presidio Boulevard will take you directly to Golden Gate Park in less than a mile.
The park covers 1,017 acres and offers a network of routes to explore. Highlights include a grove of some of the oldest coast live oak trees in the city and a herd of American buffalo.
With so much to see and do, plan ahead on the Golden Gate Park, bridge, and Presidio.
5. Tennessee Valley Trail, Golden Gate National Recreation Area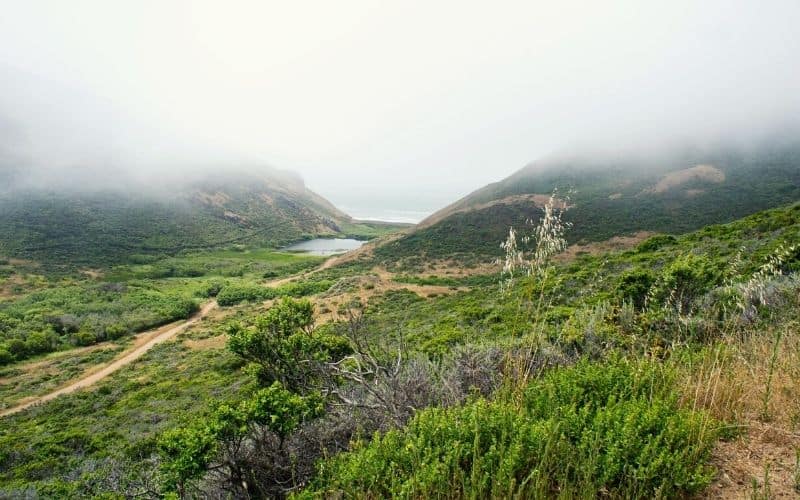 Type: Out and back
Length: 3.4 miles
Difficulty: Easy
Some of the best Bay Area hikes are located in the Marin Headlands just north of the iconic bridge.
Tennessee Valley is an awesome choice that offers an easy walk along a lush valley to a dark-sand beach. The trail passes a small pond before reaching the secluded beach. At low tide, a portion of the engine of the SS Tennessee shipwreck is visible. The passenger steamship ran aground during heavy fog in 1853 and became the namesake of the surrounding area.
If you head up some of the canyon paths you'll be rewarded with wide scenic vistas. For a more challenging loop back, climb up to Coastal Trail and connect to Wolf Ridge, Miwok, and Old Springs to return to the parking lot.
Be careful at high tide and check the website for weather alerts before heading out.
6. Cataract Falls, Mount Tamalpais Watershed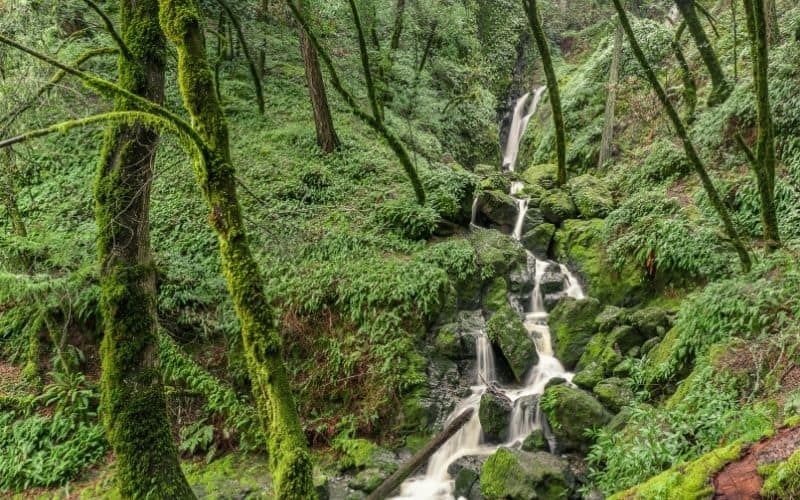 Type: Out and back
Length: 2.4 miles
Difficulty: Moderate
Head north for some of the best hikes in San Francisco at Mt. Tamalpais watershed. More than 150 miles of trails traverse the watershed, with many connecting to neighboring state and national parks. Among all of those, Cataract Falls is a favorite. It consists of several smaller falls along Cataract Creek.
Start at Alpine Lake and follow the creek for about 1.2 miles as it leads to the main cascade. You can keep following the Cataract Trail alongside the creek until it ends after about 1.5 miles. There are also a number of trails to make it a loop and return to your car.
For updates and road closures, check the watershed's website.
7. Dipsea Trail, Muir Woods National Monument, and Mount Tamalpais State Park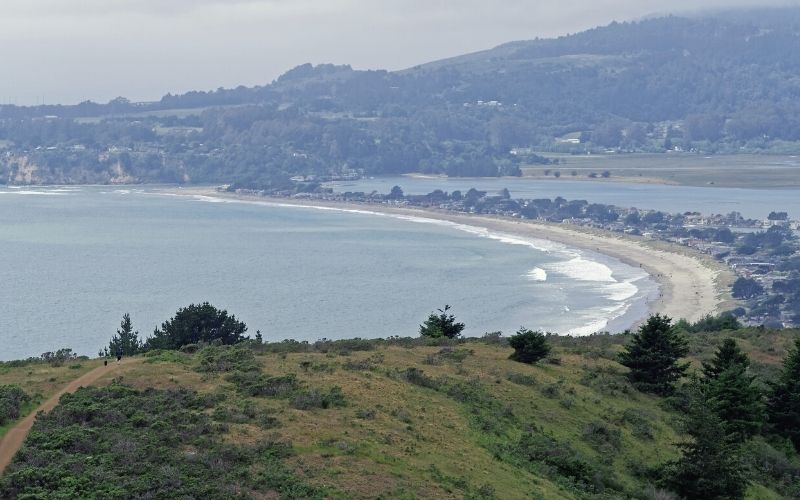 Type: Out and back
Length: 9.7 miles
Difficulty: Challenging
Just 23 miles northwest of the city, you can trek through redwood forests, deep canyons, and enjoy spectacular views. For a challenging adventure, try Dipsea Trail. Start by the Muir Woods NM visitor center, located on Muir Woods Road off the Panoramic Highway. The trail winds down difficult and steep terrain to Stinson Beach, so be prepared for a difficult hike back up.
An alternate route to Stinson Beach is a shorter but strenuous hike. This 6.8-mile loop starts at Pantoll trailhead. Head down Matt Davis Trail and connect to Dipsea for a short stretch. At the junction for Steep Ravine Trail, start the slog back up to complete your loop. You'll hike along Webb Creek, pass a few waterfalls, and even climb up one waterfall via a fixed ladder.
Check conditions at the Mt. Tamalpais SP website and/or Muir Woods NM website.
8. North Ridge and Sunset Trail Loop, Angel Island State Park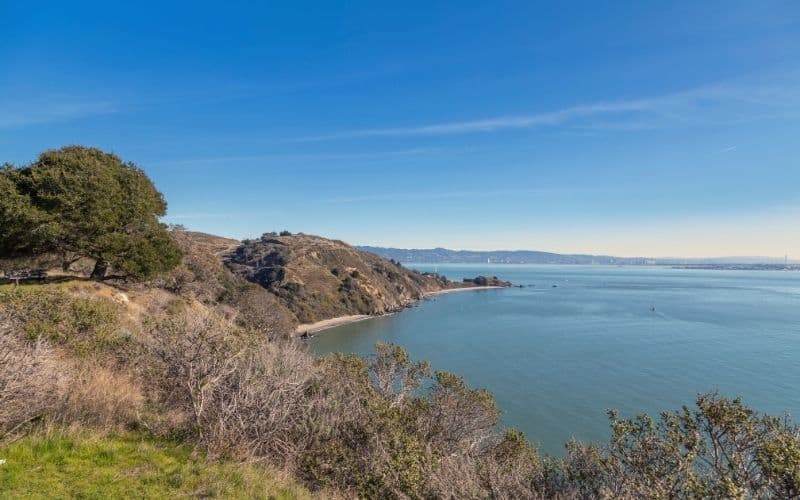 Type: Loop
Length: 4.8 miles
Difficulty: Easy
Located on Angel Island, this Bay Area hike is suitable for all skill levels, is family-friendly, and partially paved. It's accessible via a local ferry.
Angel Island is the second largest island in San Francisco Bay and has a long and varied history, including being utilized as a quarantine station and later an immigration facility. It's a very popular location for visitors, so arrive early to beat the crowd. The easy loop around the island offers one-of-a-kind views of the bay and Golden Gate Bridge.
Find links to ferries, opening hours, and more at the park's website.
9. Tomales Point Trail, Point Reyes National Seashore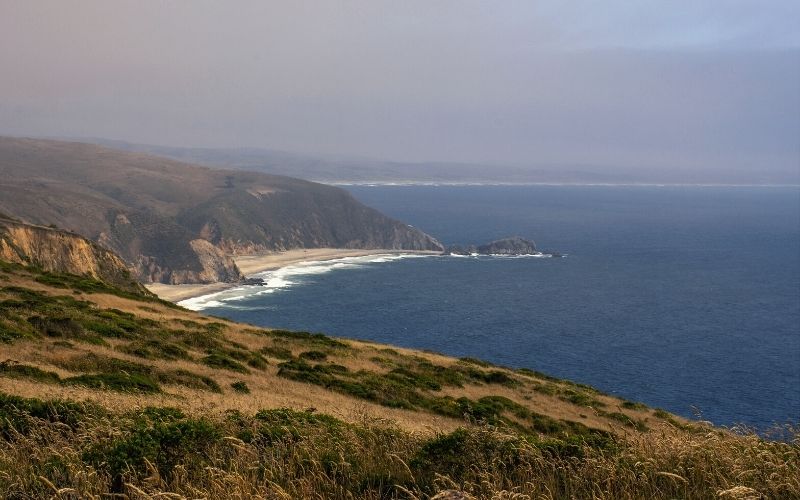 Type: Out and back
Length: 9.7 miles
Difficulty: Moderate
Located in Point Reyes National Seashore, a few hours north of the San Francisco Bay area, Tomales Point (aka Pierce Point) is out on the northern tip of the peninsula.
Start your long hike at McClure Beach access road and you will enjoy sweeping views of Tomales Bay, Bolinas Ridge, Bodega Bay, and the ocean. The path turns to sand at the end. Be careful of strong winds and steep cliffs, which can be unstable after rain.
Wild tule elk are often spotted in the area. Also keep an eye out for coyotes, deer, hawks, foxes, and seals by the water. Be sure to take a peek at the historic Pierce Point Ranch, McClures Beach, and Bird Rock.
Find more details at the Point Reyes website.
10. Mount Diablo Grand Loop, Mount Diablo State Park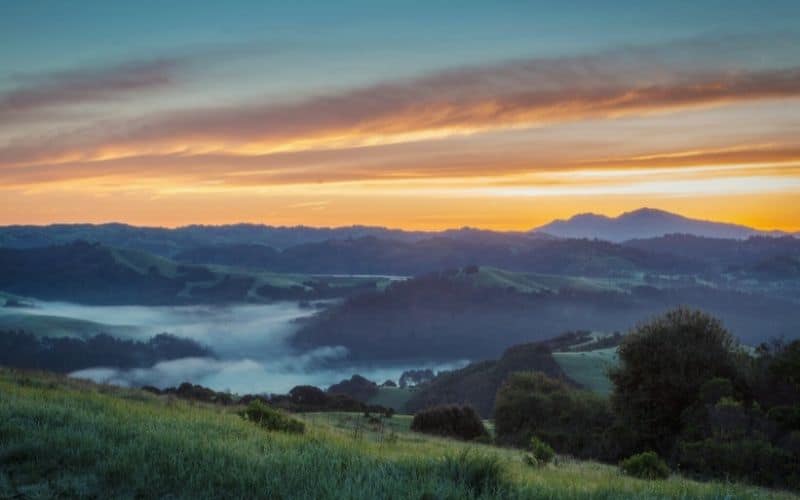 Type: Loop
Length: 6.5 miles
Difficulty: Moderate
This east bay area park spans more than 20,000 acres and, on a clear day, you can see for hundreds of miles from the 3,849-foot peak of Mount Diablo.
While the park has some of the best Bay Area hikes, the Grand Loop is the most rewarding of the bunch, serving up stunning views for your entire hike to the top of Mt. Diablo. For this, Start at Juniper Campground and head clockwise via Deer Flat and Meridian Ridge roads, and Bald Ridge and North Peak trails. The trail climbs a total of about 1,900 feet.
There are several other routes to the summit of the devilish mountain. You can try the difficult 8-mile Mount Diablo Summit Trail starting at Mitchell Canyon Staging Area. Or try the shortest route and simply drive to the Summit Visitor Center and take an easy 1-mile stroll along the Mary Bowerman Interpretive Trail.
Find out more on the state park website.
11. Eagle Peak Loop, Mount Diablo State Park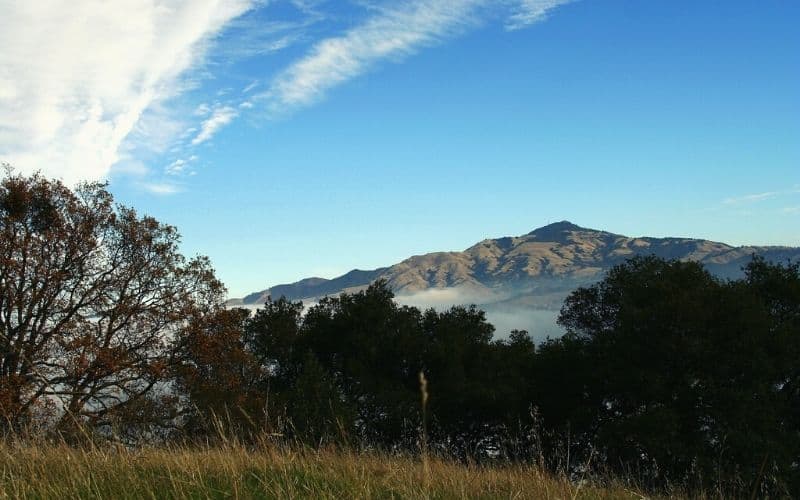 Type: Loop
Length: 6.5 miles
Difficulty: Challenging
For a unique and tough hike that can feel hidden away from some of the busier Bay Area routes, try Eagle Peak Loop. It's a challenging and fairly steep climb, with some loose gravel and scree, so trekking poles are recommended.
Take Mitchell Rock and Eagle Peak trails to reach the top. You can return on Back Creek or the longer route along Mitchell Canyon. If you're feeling up to a challenge, keep going on Bald Ridge to summit Mount Diablo.
12. French Loop Trail, Reinhardt Redwood Regional Park, Oakland
Type: Loop
Length: 8 miles
Difficulty: Moderate
Near downtown Oakland you can find a hidden redwood forest and a large network of tracks to explore at the 1,833-acre Reinhardt Redwood Regional Park.
French Trail spans almost the entire length of the park and you can use either Stream, or East or West Ridge to close the loop trail. You will walk under towering trees, climb up the canyon, and work your way along the rim above the valley. It's a great place to feel secluded within the city.
Keep an eye out for deer, raccoons, and even a rare golden eagle. The park is also home to some interesting local logging history.
13. Palos Colorados Trail, Joaquin Miller Park, Oakland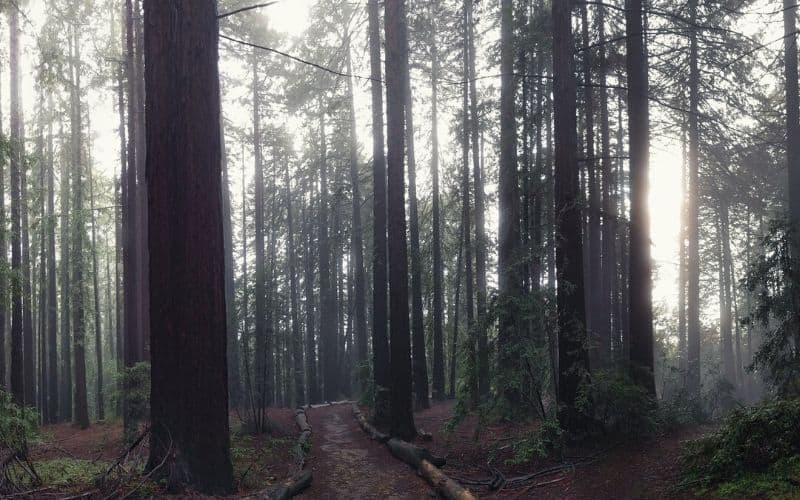 Type: Out and back
Length: 3 miles
Difficulty: Easy
Located in the 500-acre Joaquin Miller Park in Oakland, this easy trail is good for hikers of any experience level. Along the way, you'll see majestic redwoods, a canyon covered in ivy, and Sausal Creek.
The park is also home to more than 200 species of native plants. You might even spot a few rare species of flora, like the Oakland star tulip, pallid manzanita, and leatherwood. Among the wildlife that call this urban sanctuary home are hawks, wild turkeys, gray foxes, deer, and skunks.
The city's website has more information to read before heading out.
14. West Ridge Trail, Reinhardt Redwood Regional Park, Oakland
A magical and largely unfrequented forest just minutes from downtown Oakland.
Type: Loop
Length: 7.9 miles
Difficulty: Moderate
This urban woodland area is home to the largest remaining natural grove of redwood trees in East Bay. Other tree species can also be found scattered across the area. Fun fact: Fish taken from the San Leandro Creek drainage, including the park's Redwood Creek, were the basis for the naming of what we now call rainbow trout. It also has a vibrant logging history.
Climb West Ridge for a wide view of the bay, cityscapes, both the Golden Gate and Bay bridges, and the mountains in the other direction. Loop back on the Stream, French, or East Ridge trails.
15. Quicksilver History Loop, Almaden Quicksilver County Park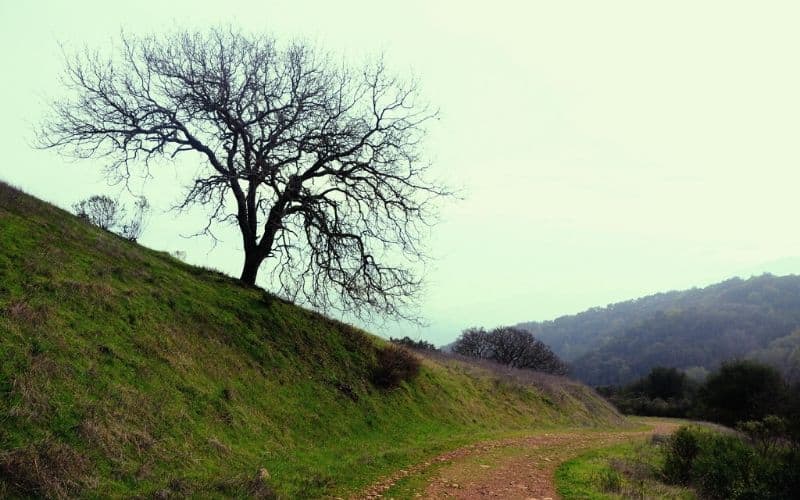 Type: Loop
Length: 8 miles
Difficulty: Moderate
Located about 15 miles south of San Jose, this hike is ideal for history buffs. It was formerly home to famous mercury ore mining operations (aka quicksilver).
Start out on the Mine Hill Trail before connecting to the April Trail for a fantastic view of the bay. You can loop back via the April Tunnel.
You also might want to explore the only tunnel in the park that allows visitors inside with a short side adventure to San Cristobal Tunnel. Points of interest include mine entrances and mining equipment, remnants from old furnaces and miners' homes, and a powder house (where explosives were stored ).
More Guides for California:
Looking for more outdoor fun in the Golden state? Here are our guides to:
Best Hiking Trails in the Bay Area: See You in San Francisco!
Leave your heart on the best hiking trails in the Bay Area of San Francisco as you explore the Golden City. With so many options, you're bound to find the perfect spot to hike!
We hope you enjoyed this guide to the best San Francisco Bay Area hikes. If you have any questions, just ask in the comments below. Feel free to share this article with any other San Francisco-bound adventurers!