An umbrella can be a valuable addition to anyone's hiking rain gear. They can offer much more breathable rain protection than rain jackets and pants can, even with the high-tech materials used in modern rain gear. They're also more effective for runoff and, bonus of all bonuses, help to keep your backpack, phone, map, and other exposed items dry, too.
Sold already? Great! In that case, let's get down to looking at what makes for a good trail-ready umbrella and check out our top picks.
Editor's Choice
SnowPeak Ultralight Umbrella
The SnowPeak Umbrella is our top pick because it combines almost all of the necessary characteristics of a top-performing "brolly" in one small, portable, ultralight package.
This is the lightest umbrella on our list and also one of the most compact. However, its 30D polyester canopy also ensures abrasion-resistance, while its combination Teflon and PU coatings guarantee solid waterproofing.
Although the UPF rating of 30+ isn't the highest on our list, it does mean that it offers decent protection from harmful UV rays. The frame is a carbon fiber and aluminum combination. This makes it flexible enough to withstand high winds but light enough to serve as a super handy addition to your rain gear in a backpacking setup.
Bottom Line: A lightweight and packable umbrella that provides outstanding protection from the wind, rain, and sun.
The Best Umbrellas: Features to Consider fro Hiking
To find the perfect hiking umbrella for your needs and budget, there are a few important features and characteristics to take into account:
Weather Protection
Weather protection is any umbrella's core capacity. As such, any umbrella that doesn't do it well isn't worth its salt.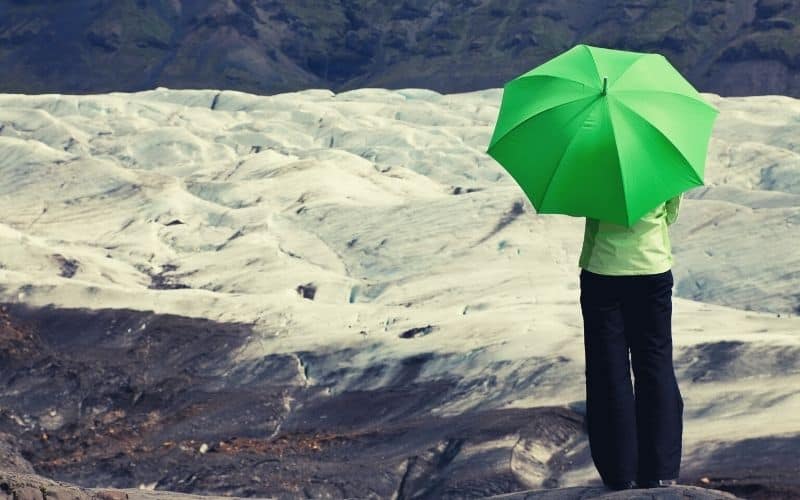 The size of the canopy is the first aspect to consider. Ensure it is wide enough to provide a "circle of protection" that will keep you and your gear dry. While your rain jacket can only keep your body dry, a wider umbrella could feasibly cover your upper body, lower body, and even your backpack.
The most waterproof brollies are made with either PVC or polyester fabric with a PU Coating, something discussed further in the "materials" section, below.
Finally, umbrellas don't only protect you from the rain, but also harmful UV rays. When buying, look for the UPF rating assigned to their fabric. Typical umbrellas, which usually have UPF 30+ ratings, only block about 75% of the sun's rays. Sun umbrellas, however, typically boast UPF 50+ ratings and can block up to 99%.
Portability
A trekking umbrella needs to be easy to carry, and two things factor into this: its weight and packed size.
Number one is the weight. Preferably, your umbrella should weigh between 6 to 8 ounces to make it as easily transportable as possible, though heavier models might bring more coverage or more robust materials.
Packed size is the next consideration. Unless you intend to use a trekking umbrella instead of trekking poles, it needs to fit easily into your backpack or use a design that lets you attach it to your backpack (i.e. as a "backpack shade") in a hands-free system.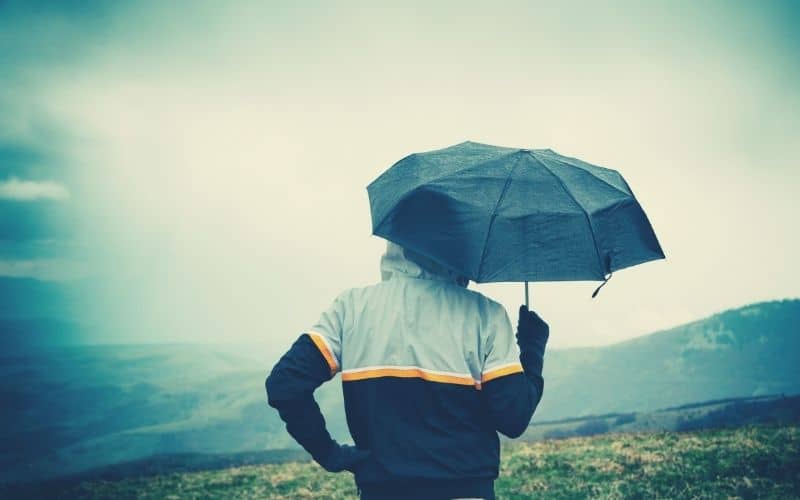 There are two types of umbrellas: full-size or stick umbrellas and collapsible.
Stick umbrellas are those that theoretically could act as trekking poles, whereas collapsible umbrellas should be able to almost fit across the palm of your hand lengthwise.
Whichever option you choose, make sure it has a tight sleeve to let you pack it as small as possible.
Durability
As with all hiking gear, the umbrellas best for hiking should be durable, both in the frame and the canopy material.
Frame Material
The strongest frames are made with steel, brass, or iron. However, these metals are also heavier and prone to rust, which, of course, is far from ideal for a piece of rain gear. You can also find aluminum and fiberglass umbrellas that aren't as strong but are much lighter and not prone to rusting.
The frames of the best umbrellas are often a combination of materials. Usually, an umbrella's shaft will be made with aluminum or fiberglass, as will the ribs. And because they are more breakable, both aluminum and fiberglass ribs are typically reinforced with pieces of iron or steel.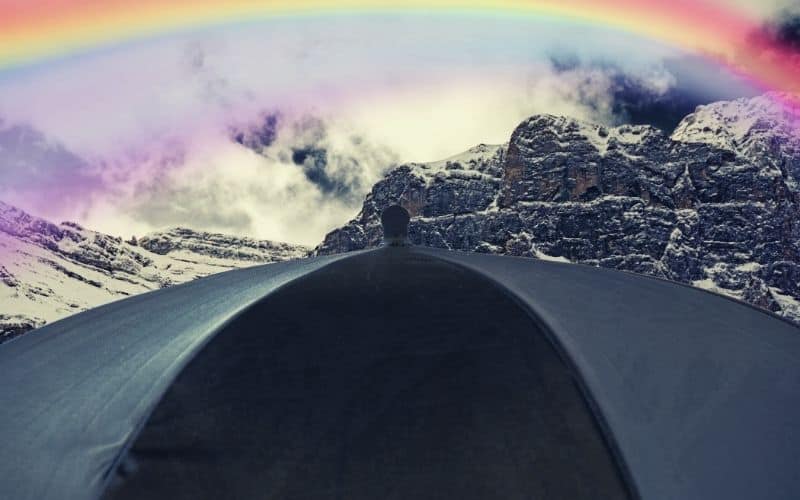 A good rule of thumb is that your hiking umbrella shouldn't have hollow or translucent ribs and should have steel or aluminum shafts and rivets made from more robust metal.
Canopy Material
The canopy of trekking umbrellas is typically made from nylon, polyester, or PVC.
PVC is a clear vinyl that blocks sunlight and heat. It is one of the heaviest options, but it also offers you the most protection from the sun.
Nylon is the strongest of the three materials for weather protection but is also more prone to abrasion and can shrink in humidity. For these reasons, it is used less commonly than polyester and PVC.
Polyester doesn't shrink in humidity, and it is very lightweight and more resistant to abrasions. It is also generally more cost-effective than PVC, so it is the most common canopy material.
Finally, it's worth remembering that both polyester and nylon need a Teflon or PU coating to be 100% waterproof.
Ease of Use
The design for most hiking umbrellas tends to be pretty straightforward, with only a couple of handle designs on offer.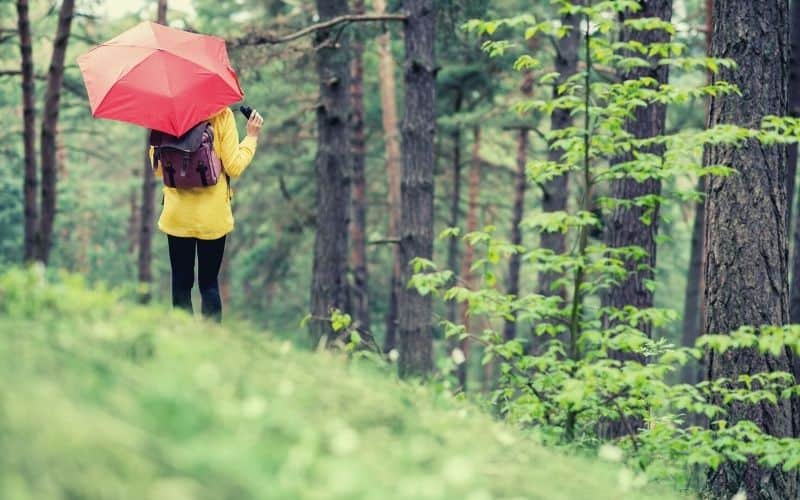 Traditional hooked handles are best avoided. Although these might look cute in movies, they are not the most practical when used as hiking umbrellas.
Instead, get a handle with a straight shape. These are more space-efficient and often have rubber padding stretched over for comfort and better grip.
The material of the handle matters in terms of its weight and durability. The best handle material is UVA hard foam because it is lightweight and more comfortable to hold. And even when it is wet, it feels dry.
Some umbrellas also can collapse or expand with one push of a button, thus providing an almost hands-free system.
The Best Hiking Umbrella Reviews: Our Top Picks
SnowPeak Ultralight Umbrella
Best Ultralight Hiking Umbrella
Thanks to its lightweight but durable build, the SnowPeak is one of the best trekking umbrellas you can find. It is the lightest on our list, but also offers outstanding protection against rain thanks to the Teflon and PU coatings on its 30D polyester canopy material.
The frame's carbon and aluminum combination brings the best of both worlds. It's light enough to make it a true contender for the title of best backpacking umbrella but tough enough to withstand strong gusts of wind. The UPF rating is 30+, meaning it offers some sun protection, but not as much as some others.
This umbrella also packs down to 8.6 inches quickly via its automatic collapsing system, meaning it's a winner as regards packed size, too. The only downside is the need to manually clip each rib into place when you open it.
Weight: 4.7 ounces
Canopy Diameter: 33 inches
PROs

Very durable fabric
Highly waterproof with PU and Teflon coating
Lightweight but robust frame

CONs

Need to clip each rib manually
Bottom-Line: A highly durableumbrella that's ultra-lightweight, sturdy, and just about as packable as they come.
Umenice UPF 50+ UV Protection Travel Umbrella
Best Umbrella for Sun Protection
A true all-rounder, the Umenice Travel Umbrella could feasibly replace rain jackets in humid weather and serve as a reliable sunshade when the clouds break and the weather takes a turn for the better.
It boasts a solid UPF rating and thanks to its reflective, polyester canopy, and uses a PU coating to ensure solid weather protection.
The composite fiberglass and aluminum frame is also very robust, while the polymer plastic is comfortable to hold and has a PU coating to keep it dry even in the rain.
There are multiple color options for this trekking umbrella, but it is most effective if you choose one of the options with the reflective outer fabric, particularly if you plan on using it in the sun. It's maybe a little too heavy for use on a backpacking trip but is still an excellent addition to your kit for day-hiking trips when you don't want to wear a rain jacket.
Weight: 12.5 ounces
Canopy Diameter: 21 inches
PROs

Durable frame and canopy material
Comes with a protective carry sack
Effective protection from UV rays

CONs

Too heavy for backpacking
Minimal canopy diameter
Bottom-Line: A highly waterproof sun umbrella that is heavier than many competitors but packs down into a nice, easily portable bundle nonetheless.
G4Free UPF 50+ UV Protection Travel Umbrella
Best Coverage
G4Free Travel Umbrella takes canopy protection seriously. If you are willing to sacrifice weight savings in return for a huge canopy, then this is the hiking umbrella for you.
This umbrella has a UPF rating of 50+, meaning it offers superb protection against the sun's harmful rays. It comes in multiple colors but should be bought in a reflective color if sun protection's your main priority. Many color options include a black layer on the underside, another sign of an umbrella that's sure to make for an effective sunshade.
The frame in the G4Free umbrella is fiberglass plated with a black, metal shaft for added strength and durability. For easy handling, it uses an automatic open-and-close button that lets you take it down and put it up in a hurry when need be.
Finally, at 12 inches long when packed into its sleeve, this umbrella is a little less pack-friendly than others on our list, but that seems a small complaint given the extra coverage and solid waterproofing it brings to the table.
Weight: 14.8 ounces
Canopy Diameter: 42 inches
PROs

Large canopy diameter
UPF rating 50+
Auto open/close button

CONs

heavy
Foot-long packed size
Bottom-Line: A heavy umbrella that's still a great choice for buyers who prioritize coverage over pack space and weight savings. 
EuroSCHIRM Swing Liteflex Trek Umbrella
Best for Protection in Harsh Weather
Unlike many competitors, the EuroSCHIRM hiking umbrella is a model that can comfortably withstand high winds without flipping or breaking. Although Hiking in high winds often makes a rain jacket more useful than an umbrella, this one mitigates the need for rain jackets due to its hugely impressive wind resistance.
The canopy of this umbrella is 100% polyester with a Teflon coating, while the fiberglass frame adds metal inserts for added sturdiness. It comes with a breathable mesh case that allows the umbrella to dry even when packed wet and uses an EVA hard foam handle for dry, comfortable handling.
But this umbrella isn't only about withstanding extended periods of high winds and rain. With a reflective silver exterior that gives it a UPF rating of 50+, it also offers robust and reliable sun protection.
Weight: 8.3 ounces
Canopy Diameter: 39.4 inches
PROs

Sturdy frame built to withstand strong winds
High UPF rating
EVA hard foam handle
Mesh carry pack included

CONs

Fiberglass frame isn't as durable as metals
Bottom-Line: Combines weather protection with sun protection and a lightweight build.
Repel Windproof Travel Umbrella
Best Umbrella for Ease of Use
The Repel Travel Umbrella is a reasonably priced umbrella that does everything you need it to do to a high standard without excelling in any one metric.
The Repel's double-vented canopy and flexible ribbing system allow it to flex with the wind instead of popping inside out. At the same time, the combination of aluminum and fiberglass ribbing makes it much sturdier than some of its peers.
This umbrella also uses a simple auto-open and auto-close button for added convenience and easy operation, and a grippy handle that's comfortable to hold even for hours on end.
While a little on the heavy side, this one's ample coverage and solid build make it a good choice for anyone who isn't counting grams.
The company also believes in its product and equips it with a lifetime replacement policy for added peace of mind.
Weight: 13.4 ounces
Canopy Diameter: 38 inches
PROs

Allows for a lot of flex in the wind
Auto-open and close
Lifetime replacement policy

CONs

No UPF rating
Long (11.5-inch packed size) and heavy
Bottom-Line: Slightly heavy for backpackers, this umbrella still makes for a great companion for day hikes done in the wind.
Six Moon Designs Silver Shadow Carbon Umbrella
Best Budget Umbrella
The frame of this one is unique among our other hiking umbrellas because it is made with carbon fiber. Carbon fiber is strong, doesn't rust, and is lightweight, making it a suitable replacement for steel or iron.
This umbrella's canopy fabric is nylon and it uses an unspecified waterproof coating. This makes it highly durable but, alas, probably not the best bet for hiking in extremely wet weather.
The umbrella canopy's silver exterior and a black interior give it a solid UPF rating of 50+. This means that, even though this one isn't as waterproof as others on our list, it's a solid performer in the sun.
Weight: 6.8 ounces
Canopy Diameter: 37 inches
PROs

Carbon fiber frame
UPF rating 50+
Protective sleeve

CONs

Unspecified waterproofing
Bottom-Line: If you are looking for an option that combines affordability, a light weight, and durable materials, this could be your brolly!
Lewis N. Clark Umbrella
Best Umbrella for Wind Resistance
The Lewis N. Clark hiking umbrella is the ideal pick for those hikers who've never let a little bit of breeze keep them away from the trails.
It has a polyester canopy with a Teflon coating and uses extra-strong steel ribs that won't break even a strong gust of wind blows the fabric inside out. The ribs also adjoin a 3-fold chrome-plated steel shaft with fiberglass tips to protect from rust, while its 39.25-inches provides more than enough coverage for the needs of most hikers.
Finally, this umbrella is also low-cost, comes with a functional storage sleeve, and is backed by a highly reassuring 1-year manufacturer warranty.
Weight: 10.2 ounces
Canopy Diameter: 39.25
PROs

Doesn't break even if flipped
Fiberglass tips protect from rust
1-year manufacturer warranty

CONs

Not the best rain protection
Kinda "quirky" coloring!
Bottom-Line: A remarkably strong umbrella that performs well in high winds and offers above-average canopy coverage.