Disclosure: My Open Country highlights products we hope you might find interesting. If you buy them, we get a small share of the sale revenue from our partners at no additional cost to you. This never drives our decision as to whether or not a product is featured or recommended.
The king of our backpack review, the Gregory Baltoro is the most comfortable pack for backpacking we have reviewed. It's Rotating Load Transfer Disc™ allows the hip belt to pivot, enabling it to conform to your natural movements for agility and stability. This does an excellent job of distributing the loads weight. However, for pack loads over 60 pounds it begins to become a bit ungainly, and we find the Altra does a better job for these heavier loads.
The Baltoro features a grid-lock system that allows easy fitting, adjusting the straps either vertically or laterally for a custom fit that will conform to most body shapes.
On organization, the Baltoro again comes near top of the class with a large kangaroo pouch, huge U-shapped zipper panel that can be accessed from any side of the pack thanks to four zips. There are two external top lid pockets for storing smaller items without having to dig through your pack to find them. The side zipper pockets can easily hold water bottles. Definitively, the best pack for backpacking.
The Osprey Atmos 65 AG is a very comfortable and versatile pack, we feel is more suited for shorter weekend trips. The antigravity suspension system of the pack does an excellent job of spreading the weight of your gear evenly for loads under 50 pounds. For loads over 50 lbs, the frame begins to lose its shape and therefore its comfort.
This pack is great for those of us who enjoy a well organized pack, with multiple pockets including a sleeping bag compartment, two zippered lid pockets, side bottle pockets, and three internal pockets for storing fuel canisters, and other medium sized items on the trip. Finally, the waist belt has two zippered pockets for smaller items like your cell phone.
Weighing in at 4.39 pounds, it is a reasonable weight for it's volume. The top lid can be removed to shave off a few more ounces.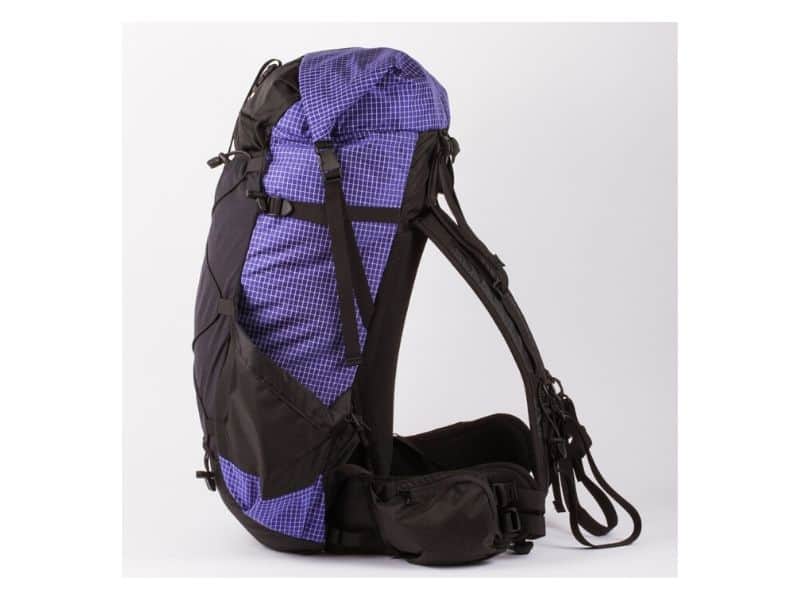 The Ula Circuit, a 68-liter pack with lots of pockets and external attachments weighs an incredible 2.2 lbs. Able to extend with an extension collar, this pack is versatile in its capacity. If you want to take advantage of the multiple pockets and external attachments, organization will be a must with this bag.
A hydration bladder sleeve and tube port make carrying and drinking water simple on the go, while the frame offers good support for up to 35 pounds of gear.
You will likely find the perfect fit with the ability to swap out waist belts and shoulder straps, adding to the comfort of the bag
Finally, the unconditional lifetime warranty for the first owner is very useful should you have any issues with the pack at all. This pack is best for those who love lots of organizational features and have a want a truly custom fit.
Best Backpacking Backpacks: 2021 Review
Looking for the Best Backpacking Packs?
You're in the right place! In this guide, we will be covering the following:
Why you need a backpacking backpack
What you should consider when buying.
Reviews of the top backpacks on the market
Our unbiased recommendation on the #1 backpack for backpacking
The backpack may be the most important piece of gear you will ever buy for a hiking trip. Buying the wrong one can be a disaster, with poor fitting, uneven weight distribution, too much or too little room, and an insufficient number of pockets and attachment points. After reading this article, you will hopefully understand what to look for in a pack for backpacking and have one picked out from the eight top bags we have reviewed.
Osprey Exos 48
ULA Circuit
Kelty Redwing 50
Gregory Baltoro 65
Osprey Atmos 65 AG
North Face Terra 65
Arc'Teryx Altra 65
Things to Consider Before Buying a Hiking Backpack
Purpose/Capacity/Length of Trip
Your packs capacity will be highly dependent on two things; 1) the duration of your trip and 2) how minimalist you travel. The backpacks in this review (45L to 65L) are good for a weekend trip for gear-intensive folks, such as beginner backpackers but equally can carry a lightweight hiker for extended trips of 5+ nights.
Traditional Guidelines for Pack Size Based on Trip Length
| Length of Trip | Pack Volume (Liters) |
| --- | --- |
| Single Day/Overnight (1-2 nights) | 20 – 50 |
| Weekend (2-3 nights) | 50 – 60 |
| Multi-day (2-5 nights) | 60 – 80 |
| Extended (5+ nights) | 80+ |
The above table is mainly for beginner hikers who have yet to economise, sports enthusiasts who need to carry a lot of equipment on their hike such as avid climbers. Alternatively, parents who need to carry kit for their children or for campers who simply enjoy more luxury and simply can't go without their camp folding chair and a full dining set.
The table below gives an attainable pack size for trips if you are willing to economise and pack only the items you truly need. However, bear in mind that choosing to pack ultralight camping gear will often require finding smaller packed size items which are often more expensive than their bulkier competitors.
Streamlined Guidelines for Pack Size Based on Trip Length
| Length of Trip | Pack Volume (Liters) |
| --- | --- |
| Single Day/Overnight (1-2 nights) | 20 – 30 |
| Weekend (2-3 nights) | 30 – 50 |
| Multi-day (2-5 nights) | 45 – 55 |
| Extended (5+ nights) | 55+ |
Sizing
There is nothing more important than having a good fitting backpack. This is because the proper fit will ensure that the load is distributed in an 80/20 ratio. The majority of your load should be squarely on your hips and lower body, with only 20% on the front of your shoulders and no weight on the top of your shoulders. Doing so will allow the weight to rest on the stronger lower body rather than, the weaker muscles of the torso and shoulders.
Comfort
Carrying a heavy load on your back for several to multiple days can be a nightmare if, even when fitted correctly your pack is uncomfortable. If you are planning on carrying heavier loads and/or for longer trips, you may want to look for backpacks with more padding on the straps and an overall better suspension system.
Weight
Unfortunately, weight tends to come as a tradeoff with comfort. The less padding and features, generally the lighter the pack. If you are planning on traveling light and fast then as the pack is one of your big four; tent, sleeping bag, sleeping pad, and bag, you can cut a hefty chunk from your total gear weight.
Frame
Have you ever wondered what kind of frame to get? There are two types of frame systems for hiking & backpacking packs: internal frame vs external frame. External frames are those that have a hollow tube made of materials such as aluminum and graphite on each side of the pack, as well as several bars going across the back horizontally. There has been a trend away from external frames, but they can have many benefits.
An External frame backpack carries higher on the back, allowing you to maintain the 80% of its weight on your lower body that is necessary for a good fit. This weight transfer also allows for a more upright posture so you can see more of what is around you and spend less time staring at the ground. This type of backpack is also perfect for hot weather, since the frame suspends the pack away from your back, making air flow between you and your backpack a breeze.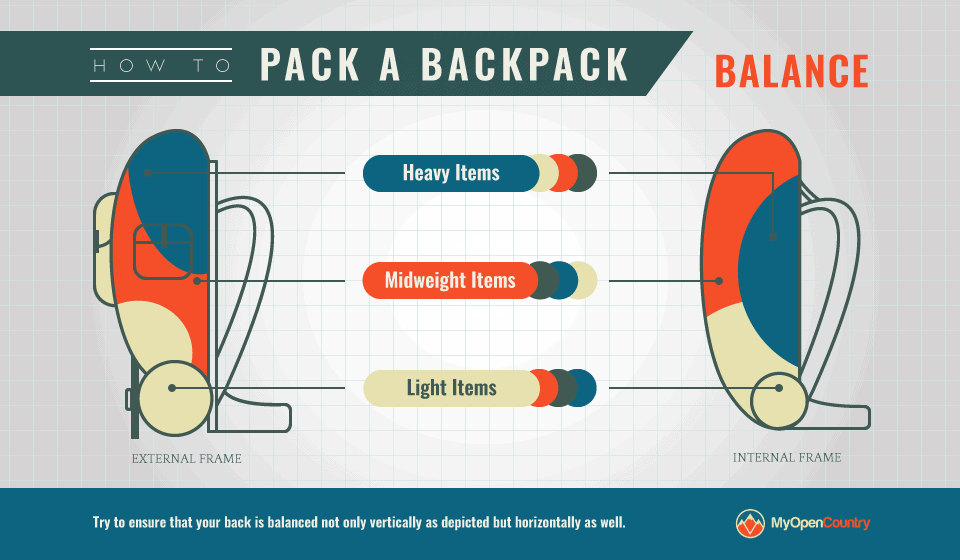 External frame backpacks are also less common to find on the market today, so they cost less, the perfect addition to your gear if you are on a tight budget. However, external frames also carry disadvantages, such as the fact that, since the weight is carried high and away from your back, you may feel off-balanced when hiking difficult terrain. Also, external frame backpacks are best for established trails because they get caught on brush and branches fairly easily.
Internal frame backpacks, on the other hand, come with their benefits and problems. First, internal frames, being much more popular these days, come in a wide diversity of styles and sizes. They are easy to find, and there are often new and innovative internal frame backpacks on the market. Because internal frame packs are streamlined and compact, they are less likely to get caught in or damaged by brush and branches, allowing you to go off-trail as much as you like.
Also, this style of pack is more comfortable to wear because of there being less pressure from the frame. Unfortunately, internal frame backpacks can be both harder on the shoulders and back because of the low distribution of weight and hotter to wear since they fit closer against the back. Being more popular and innovative, these backpacks are also more expensive, so you will want to budget accordingly.
Compartments & Pockets
Some people enjoy the simplicity of a single compartment, while others celebrate the organization of several compartments. Both have their advantages and disadvantages. Single-compartment backpacks generally weigh less because of the lack of extra fabric. If you prefer easy loading and unloading over organization, you will delight in a single-compartment pack.
If you change your mind later and want the organization of a compartmentalized backpack, you can get the same effect with stuff sacks, though you will still have only a single access point. For longer trips and trips with children, you will probably want easy access to individual items without constantly having to unpack everything. For this reason, you may want a backpack with multiple compartments and/or access points.
Keep in mind that the more organization a backpack has, the more it will usually cost. The cost of stuff sacks (approximately three for $15), is generally less expensive than the extra cost ($20 to $30) of a multiple-compartment backpack.
Women/Youth Specific
If you are female or are buying a pack for a younger hiker, you should give serious consideration to the purchase of a specifically shaped pack.
Women's backpacks (and youths) tend to be shorter and narrower than men's backpacks. Additionally, the hip belts and shoulder straps on a woman's packs are shaped with the female form in mind.
Pack Anatomy & Design Features
Main Compartment
The majority of backpacks have one large top-loading compartment for holding the majority of your gear. These packs sometimes also provide access to this main compartment from below or the sides with zippers allowing you to dig for that small item without unloading the full bag.
Back Panel/Ventilation
To help alleviate the issues of sweaty backs while carrying a load, many packs have a breathable mesh back panel that allows a few inches of cool air to travel between your back and the pack proper allowing any moisture to evaporate, rather than seeping through your clothes and backpack.
Hip Belt Pockets
With up to 80% of the weight of the backpack supported by your waist at any one point in time, a well fitted and padded hip belt is hugely important. Without one, you may quickly find sore spots developing on your hips and lower back.
Shoulder Straps
With every mile you carry your load, you want to ensure you have sufficient padding to prevent soreness on your shoulders.
The sternum strap, as the name suggests should fit snuggly over your sternum and is used to connect your shoulder straps for added stability.
Load Lifter Straps
Load lifter straps are found at the top of the shoulder straps and are there to prevent the top of the back pulling away from your body. When adjusted correctly they should form a 45° angle between your should straps and the pack, which should help keep the pack snug against your upper back.
Waterproofing
The choice of fabric the pack is made from plays a large role in how waterproof it will be. The majority are made from nylon which does offer some resistance to the elements, but with seams and pockets, a continual downpour will quickly see the contents of your pack get damp.
You can also look for a pack made from Dyneema (also known as Cuben Fiber) which is significantly more waterproof. However, the most surefire way is to buy a rain cover for your pack to keep it dry from the worst the weather can throw at you.
Pockets & Attachment Points
If you are hyper-organized, or simply need to access items quickly then a pack with multiple pockets or attachment points can save a lot of time on the trail. There are a multitude of various styles:
Trekking Pole & Ice Axe Loops
Hip Belt Pockets
Shoulder Pouch
Water Bottle Holsters
Rear Mesh Pocket
Sleeping Bag Compartment
Hydration System Compatibility
Keeping well hydrated on any trip is a must, and many packs offer a special internal sleeve or pouch that will hold a water bladder or reservoir, with holes/clips to hold the port. These systems typically hold around 3 liters of water (although, are nearly always sold separately from the main pack).
Removable Daypack/Top Lid
A few packs come with a removable daypack or top lid, that can be used for side day hikes (rather than carting around a small load in a huge backpack).
The Perfect Fit – How to Size a Backpack
Many backpacks come in a variety of sizes, and to ensure maximum comfort while out in the backcountry it is essential that you buy one that first your measurements. To do this, you will need two measurements; your torso length and your hip size.
To measure your torso size, first tilt your head forward and feel for a bony bump, where your back meets your neck. This is the C7 vertebra. Next feel for the top of your hip bones using both hands on your sides. Once, you have found these, measure the distance between the center point on your back between the top of your hip bones to your C7 vertebra. We recommend getting someone helps you do this to get the most accurate measurement.
Measuring your hip size is a little more straightforward. Find the top of your hip bones again, and simply measure the circumference of your waist at this height.
Correctly adjusting your Pack
To do this, you need a correctly fitted waist belt. When you try on the backpack, loosen the shoulder straps and tighten the waist belt around your waist. It should fit snugly around your waist and not have any gaps. Next, turn your attention to the shoulder straps. They should, once cinched, attach to the pack about two inches below the top of your shoulders. If they attach at a different point, adjust accordingly or move up or down a size as needed.
The third part of the backpack to consider is the shape of the shoulder straps across the shoulders. The straps should fit snugly across the front of the shoulders, just graze the top, and then curve down to meet the pack. With the straps adjusted correctly, you should be able to place a finger between the straps and your shoulders, but not more than one because the closer the strap is the less it will move from side to side.
Finally, the sternum strap should rest snugly across your sternum in the middle of the chest. You should also be certain that the pack sits against your back with a minimal number of gaps to maintain the center of gravity close to your body.
The Best Packs for Backpacking Reviewed
Osprey Exos 48
Weighing only 2.35 pounds, the Osprey Exos 48 is a single-compartment backpack with shoulder strap pockets and three mesh pockets on the front and sides. It also has a detachable top lid and floating pocket, multiple cord tie-off points, and a padded hip belt. The peripheral frame, a wire that runs along the exterior of the back panel, allows the pack to carry away from the back, so there is plenty of airflow, but the gear must conform to the shape of the backpack, leaving gaps inside and wasting space.
There is also an internal back panel with a clip attachment for a bottle or hydration kit up to three liters in size. An underarm trekking pole loop carries your poles when not in use, allowing your hands to free when you need them most. With the help of torso-specific sizing, you will likely be able to find the perfect size for your body.
If you are a minimalist, this backpack will get you through the week, but otherwise, plan for a larger bag such as the Ula Circuit or Kelty Coyote 80. Also, the pack often squeaks due to the rubbing of the external wire against material of each corner. A final note on this bag is that it cannot stand on its own, so you will need to brace it against something or hold it with one hand while searching through it.
Key Features
This pack rides smooth, perfectly balanced and is very light at 2.4 pounds.
The aluminum struts give strong support, unlike airframes
No-sweat fabric on the back of the pack
Three points of adjustment on the seamless mesh straps for a perfect fit
The lid, the attachment points, and the key straps can all be removed
The shoulder straps have a gel insert to protect the muscles and make it more comfortable
PROs

Trampoline mesh back kept us cool even in the high 80's with a full pack
Foam-padded hip belt stops bumping and chaffing
Detachable pocket is big enough for a day pack for a short side trek
Floating top pocket has a mesh compartment inside and outside, plus room underneath for storage

CONs

No straps for a sleeping bag or tent attachment at the bottom of the pack
There is no coating on the aluminum frame, so after a while, it creaks and squeaks.
Side pockets are awkwardly placed, tilted at an angle that is slanted too far forward
ULA Circuit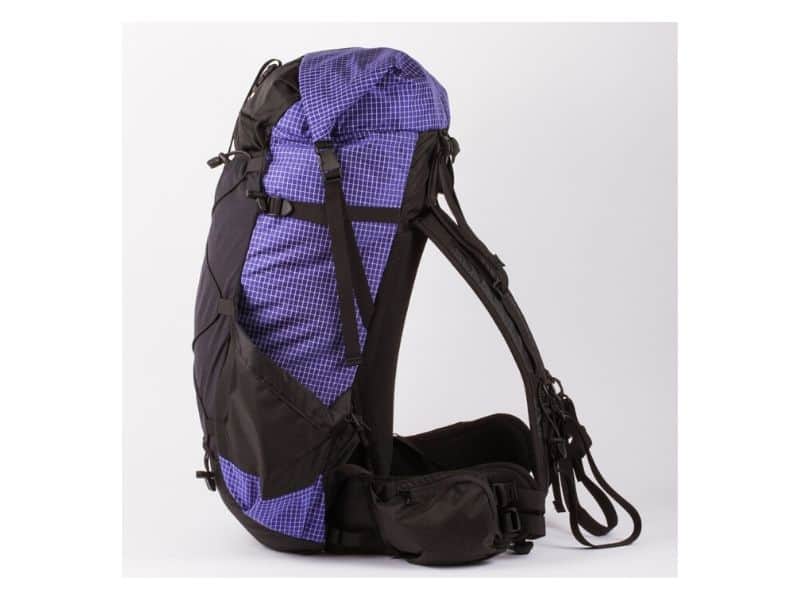 Able to hold about 68 liters of gear, the Ula Circuit weighs in at an astonishing 2.2 pounds. The main compartment secures with a roll-top closure with an extension collar to hold more stuff when you need it and stow out of the way when you do not.
Certainly not a minimalist pack, the Circuit has two interior accessory pockets, one for hydration bladders and the other for cash, cards, and other small valuables.On the exterior are two large mesh side pockets, two bottle pockets with drain holes, and a front mesh pocket. One issue with the large side pockets is that, while they are ideal for storing larger water bottles, the design does not allow you to reach back and pull out its contents while walking. However, the hip belt also has two pockets, both zippered, for quick-access items such as cell phone or camera.
Not only does it have lots of pockets, but it also has lots of external attachment points, from the axe holders to the sleeping mat cables. The side panels have compression straps for securing longer items, and the front panel has zigzag cabling for more external attachments.
The frame is comprised of a thin plastic sheet, aluminum stay, and a fiberglass cable along the exterior of the back panel that is open to the bottom. These three components give ample support for up to 35 pounds while still allowing the bag to fit to the contours of your back. A webbing handle over the roll-top offers a comfortable way to carry the pack short distances without replacing it on your back.
Padding or mesh covers the entirety of the back panel, shoulder straps, and hip belt, but watch out because the mesh easily attracts debris if you go off-trail. Best of all, the ULA Circuit comes with an unconditional, albeit non-transferable, lifetime warranty. Able to carry a week's worth of gear, this lightweight backpack is well worth the price.
Key Features
68 Liter total capacity
Large extension collar for extra storage & many external attachment points for bulkier items
Two side, large rear mesh, and hip belt with two zippered exterior pockets
Internal frame and suspension system
One hydration pocket and one small pocket for valuables in interior
PROs

Sturdy hip belt pockets make for excellent durability
Unisex thanks to multiple strap options
Extension collar provides extra space when necessary, rolls up when not
Replaceable hip belt with varied size options for comfortable custom fit

CONs

Water bottle side pockets are too far to reach back
Overloading bottom compartment can lead to back panel pushing into your back
Spacer mesh can pick up small leaves and pine needles for annoying cleanup
Small objects not recommended inside water bottle pockets, can fall out through front pocket opening
Kelty Redwing 50
Weighing in at 3.19 pounds, the Kelty Redwing 50 has a hybrid U-shaped zipper and top compression clips to give you the choice of top- or panel-loading. It has great organization with zippered side pockets and stash pocket, a large front pocket with organization for small items, a large pocket on the top, and dual pass-behind side pockets.
The frame is made up of an aluminum stay and a polyethylene sheet, both of which are removable to lighten the load, though you lose the support of a frame. A mesh front panel, along with mesh on the shoulder straps, provides good airflow, preventing your back and shoulders from overheating.
A dual-density waistbelt and lumbar pad give you comfort and support, while fixed suspension offers all-day carrying without the need to stop and adjust. It does, however, disallow adjustment of the fit. For some people, this may be an issue because they will want to change the fit based on the comfort level, which changes throughout the day.
A hydration pocket with two clip attachments can fit a bladder up to three liters or be a hidden pocket for a laptop. There is even a hydration tube port, negating the need to run your tube between the zippers of the top lid. The Redwing's front stash pocket has a webbing handle, which makes short-distance carrying easier and is also a perfect place to clip a camp mug, trekking pole or small first aid kit.
One final benefit of this pack is its torso and hip belt sizing, which makes finding the right fit that much easier. Finally, though it can be made to work, particularly if you are a minimalist, the size is just not quite big enough for a full week's gear. Our pick for the best budget hiking backpack.
Key Features
Well-padded and ventilated back panel with LightBeam aluminum stay with removable padded waist belt
Kelty's PerfectFIT™ Suspension system
Integrated padded hydration sleeve doubles as laptop sleeve
Side compression straps
Front organization pocket, water bottle pockets, and tent pole/hiking pole pockets
PROs

Stuff pocket for jackets or other bulky items
Hybrid U-shaped main compartment zipper allows access from top of pack and sides
Hidden daisy chain and hook to attach additional gear
Fantastic suspension system that allows a highly customizable fit

CONs

Fabric choice cuts down on weight but is vulnerable to punctures and rips
Very tall or very short individuals may have difficulty with the suspension
Chest strap is weak and prone to breaking
Osprey Atmos 65 AG
A comfortable and versatile pack, the Osprey Atmos 65 AG weighs in at 4.39 pounds, a decent weight for this size pack. If you need something lighter, however, try the Ula Circuit or, alternatively, remove the top lid to save a bit of weight and the flat jacket compression will protect your gear from the elements. The top lid can also be extended if you need extra room for your gear, though be careful not to overload this pack.
It's recommended load weight is 30 to 50 pounds and if you go over 50 lbs, the frame starts to lose shape, and the bag loses its comfortability. If you need to carry loads heavier than 50 pounds, check out the next backpack, the Gregory Baltoro as a great alternative. Under 50 pounds, however, the antigravity suspension of this pack does an excellent job of spreading the weight of your gear evenly, avoiding pressure points or hot spots and providing a very comfortable ride.
While the suspension system provides support, the internal and external compression straps provide stability to the load, ensuring that there will be little shifting as you hike.
Available in only three sizes, this backpack nonetheless fits most users because of its great torso length and waist belt adjustment system. Full of pockets, this is not the bag for you if you prefer to go minimalist.
If organization is your game, however, you will delight in the number of pockets on this pack. It starts with a large stretch beaver-tail pocket for stowing away gear that is awkward to pack, like sandals or a fuel canister. Behind this pocket, two zippered medium-sized pockets give easy access to items you will need during the hike. Below this is a zippered sleeping bag compartment with a removable divider, two zippered lid pockets, and removable straps to carry a sleeping pad. On each side is a bottle pocket, which accommodates a traditionally vertical bottle or allows you to tilt the bottle forward for easier access while the backpack is on.
Finally, you can store a cell phone and camera in the waist belt's two zippered pockets for quick access on the go. On the outside of the pack, there is also a stow-on-the-go trekking pole attachment system to give you full access to your hands when you need them. Overall, this is one of the most versatile and comfortable hiking backpacks on the market.
Key Features
AntiGravity™ 3D suspended mesh backpanel with Fit-on-the-Fly™ adjustable hipbelt
ExoForm™/BioStretch™ harness with load lifter 'bar'
Stow-on-the-Go™ trekking pole attachment and twin ice axe loops
Compatible with Hydraulics™ Reservoir
Top lid access and FlapJacket™ top cover for use without lid
Integrated & detachable raincover
Sleeping bag base compartment with internal divider
PROs

Great organization with lots of pockets
Awesome ventilation and great adjustability
Removable components that can save some weight
Very comfortable

CONs

Gets a bit ungainly with heavier loads
Gregory Baltoro 65
This is not the lightest backpack at 4.9 pounds, but if what you want is ultra-comfort on the hike, consider the Gregory Baltoro 65 a real contender. One of the reasons for this is the A3 suspension which, among other features, allows the shoulder straps and waist belt to pivot to the perfect angle to evenly distribute the load weight. Another reason this pack is so comfortable is the custom fitting possibilities.
While the pack only comes in three torso lengths, it has a waist belt and shoulder harness that can be swapped out for a custom fit. There is also a foam lumbar support foam pad, but it may be a bit too much foam. Fortunately, it is removable if you desire.
Organization is another great feature of the Gregory Baltoro 65 due to the variety of pockets. On the inside, the main compartment can be used as both a top- and panel-loader thanks to a U-shaped zippered front access point, and a sleeping bag compartment with removable divider can give bottom access to the pack as well. The removable bag may not be very useful as a day pack, but it is great as a hydration bladder holder or extra organization within your main compartment. Besides the traditional two bottle holders with drawstrings, there is an additional holder on one side, providing further room for necessary water bottles.
While there are two waist belt zippered pockets coated for water-proofing, these pockets do not fit all cell phone sizes, so you may want to look at another backpack if you have a larger smartphone.
Another benefit of this backpack is that it comes with a rain cover, saving you money you would have spent getting one. One disadvantage of this pack is that if you have a short torso, you lose about eight liters of capacity, which is enough to make this pack go from a great size for a week-long trip to a not-so-good one. It is recommended that if you have a short torso, you put up the extra money to get the next size up, as it will offer you the room needed for that week's trip. Conclusively one of the top packs for its comfort and organization, this pack has something for almost everyone.
Key Features
Double Barrel dual-sided lid compartments with internal divider for increased on-trail organization
Stretch mesh water bottle/trail stash pocket
Multistraps removable via girth-hitch, adjustable straps that can be positioned at multiple lash points on the exterior of the pack for carrying a sleeping pad, outerwear, camp shoes, dirty laundry, etc.
Reflective zipper pulls
Sidekick pack combination hydration reservoir sleeve and ultra-light removable daypack, perfect for unscheduled day trips, summit hikes, or supply runs into town during a thru-hike
Main access top-loader
PROs

Incredibly comfortable
Easy access via the huge u-shaped opening
Able to hold larger, heavier loads better than other packs in the review
Dual zippered lid pockets
Organization is brilliant

CONs

Heaviest bag in terms of weight to volume ratio in our review
North Face Terra 65
An average weight for the size, the North Face Terra 65 weighs 4.36 pounds. At first glance, this is a minimalist, no-frills backpack for a week or two of backpacking. However, it contains many surprise features.
The first feature that is great is the main compartment that can be accessed via a wide mouth at the top or a side zipper. This side zipper access point allows for easy access to all the contents of the bag without having to unpack.
The frame, made up of a polyethylene frame sheet and dual aluminum stays, offers all-day support and comfort. A custom fit can be achieved with the optifit system, which adjusts to a variety of torso lengths.
If you want external pockets, this is not the bag for you, as that is lacking, but it has plenty of organization on the inside, from a top lid compartment to a bottom sleeping bag compartment with removable divider. It also has an internal hydration bladder sleeve that holds up to three liters and the traditional external side bottle pockets, so there will be no concern about hydration.
While there is a vertical ventilation panel, it may not work well enough to keep your back dry, though it will probably prevent it from being drenched in sweat at the end of the day. Overall a comfortable pack, what it lacks in external pockets it certainly makes up for with internal ones.
Key Features
65-liter technical pack features a user friendly design
OPTIFIT™ suspension fit system ensures comfort
Padded shoulder harness is sleek and anatomical
Improved, anatomically correct, load-spreading hipbelt is lined with soft air mesh
Huge zippered side entry to main compartment
Improved zippered sleeping bag compartment access
PROs

Great internal organization
Comfortable
Durable
Relatively inexpensive

CONs

Ventilation could be improved
Lack of external pockets
Arc'Teryx Altra 65
One of the most comfortable hiking backpacks on the market, the Arc'teryx Altra 65 is right up there with the Gregory Baltoro 65 and the Osprey Atmos 65 AG. At 4.94 pounds, this pack is about average for its size range, but you may not even feel the weight because the pivoting waist belt does such a good job distributing the load weight. While the waist belt's padding is just right, the shoulder straps have a little less than expected. It is not terribly uncomfortable, but it seems a little skimpy.
After the Gregory Baltoro 65, the Arc'teryx Altra 65 has the best lumbar support of all the bags reviewed. It also comes in second behind the Baltoro for ease of carriage for large loads more than 60 pounds but does ideal for loads up to 50 pounds. Some of the greatest features on this backpack are its pockets. A large kangaroo pouch is accessed by a U-shaped zipper panel with four zippers to allow you to access the pouch from anywhere on the pack. Another great pocket is the two external top lid pockets, which are zippered and are awesome for quick access to small items without having to dig through the main compartment.
Instead of open mesh bottle pockets, this backpack offers two zippered side pockets that can easily hold water bottles but are also perfect for more quick access to small items, since they will not fall out.
For easy fitting, the Altra features a grid-lock system that can adjust the shoulder straps either vertically or laterally, making a custom fit to most body shapes simple to achieve.
More expensive than the other packs reviewed, this backpack still deserves five stars because of comfort, versatility, and an excellent fitting system.
Key Features
Breathable suspensions system provides a direct link between spine, suspension and bag
Rotating Load Transfer Disc™ lets the hipbelt pivot, following your natural movements for agility and stability
Removable and expandable top lid comes with 2 zippered compartments and a map pocket
Dual side zippers allow quick access to the main compartment through the front panel
Features a hydration-reservoir sleeve with port and hose clip for the drinking tube (reservoir sold separately)
Front kangaroo pocket is perfect for stashing gear you may need in a hurry
100-denier Invista HD Mini Ripstop™ nylon and 210-denier Ripstorm™ nylon fabric is light and strong; silicone/polyurethane coating resists punctures and water
PROs

Most comfortable pack in our review
Pivoting waist belt does conform to your movements
Awesome adjustment system
Great features

CONs

The weight to volume ratio
Expensive
Last update on 2021-03-02 / Affiliate links / Images from Amazon Product Advertising API