Your backpack may be the most important piece of gear you'll ever buy for a backpacking trip.
Not only is this piece of kit going to be slung over your back for multiple hours each day, but it's also tasked with ensuring the rest of your kit survives the trip in good nick.
It is, in a few words, a biggie…!
While this knowledge puts a little more pressure on you when making a purchase, we prefer to see it as an opportunity to save yourself a multitude of pains, hassles, and annoyances suffered and endured by hikers who aren't so careful at the point of purchase.
To ensure you make the right choice for your backpacking trips, we're here to help. In this post, we'll introduce you to a selection of the top backpacks on the market today.
We'll also provide all the info you need to understand what goes into the making of a good backpacking pack and give you further tips on sizing and fitting.
Whether you're taking on the John Muir Trail or heading on a weekend camping trip with the family, our list of our favorite backpacks for backpacking has something for you!
Top Choices by Category
Budget: Gregory Optic 48/Octal 45, Osprey Rook 65, and R.E.I. Flash 55
Lightest: HMG 2400 Southwest and Gossamer Gear Gorilla 50
Most comfortable: Osprey Atmos AG 65/Aura AG 65, Osprey Aether AG 70/Ariel AG 65, and Gregory Baltoro 65/Deva 60
Editor's Choice
Osprey Atmos and Aura AG 65
For long-distance, multi-day backpacking adventures, you need a pack that's tough, comfortable, and blessed with plenty of organizational features to help you locate and manage your gear with ease. Enter the Osprey Atmos, winner of our title for best overall backpacking pack!
The Atmos (click here for the women's version the Aura AG 65) isn't the lightest pack in our review by a long stretch, but it makes up for its excess heft by trumping the best of the rest in every other metric.
Its "Anti-Gravity" suspension system and plush padding make the Atmos one of the most comfortable packs we've ever worn. The Gregory Baltoro (below) is a fraction better with loads over 50 lbs., but for anything below that, the Atmos is our go-to.
If you like to keep things organized, you'll love the array of pockets on this pack. It starts with a large, front shove-it pocket for quick access. Behind this pocket, two curved zippered access side panels give you quick and easy access to items you might need during your hike that are in the main compartment.
At the base of the pack, you have a zippered sleeping bag compartment with a removable divider, two zippered front pockets, and removable straps to carry a sleeping pad. On each side, there's a tilted water bottle pocket for on-the-go access, and the hipbelt is home to two large zippered pockets for essentials you need to keep to hand.
The Atmos is also among the most durable packs on our list thanks to the use of 510D high tenacity nylon on the base, and 210D honeycomb and high-tenacity nylon elsewhere.
Bottom Line: It may be a touch heavy, but the Atmos is one of the most versatile, comfortable, and user-friendly backpacks for backpacking on the market.
The 9 Best Backpacking Backpacks Reviewed
Osprey Atmos and Aura AG 65
Editor's Choice
Weight: (Atmos): S/M: 4 lbs. 6 oz., L/XL: 4 lbs. 8 oz., (Aura): XS/S: 4 lbs. 4.7 oz., M/L: 4 lbs. 6 oz. ⸱ Capacity: 62 L, 65 L, 68 L ⸱ Materials: 210D & 510D nylon
Few backpacking backpacks manage to strike a perfect balance between toughness, compartmentalization, comfort, and weight, but in the Atmos (click here for the women's version the Aura AG 65), Osprey has gone and done just that.
(Very) nearly…
While the Atmos is among the heaviest packs in our review, it performs so well in every other metric that we had no choice but to hand it our top spot.
The feature that almost single-handedly sets the Atmos apart from its peers is the pack's game-changing "Anti-Gravity" suspension system. There are plenty of packs out there that use suspended spacer mesh in the rear panel, but this system goes one step further by covering your entire back – from the gear hauler strap at the top right down to the waist and hipbelt.
By creating a more extensive air channel between your back and the pack this system makes the Atmos one of the best-ventilated packs we've ever worn and superbly comfortable.
But this backpack's got a lot more going for it than the suspension system alone.
It's also made with ultra-durable 210D and 510D nylon fabric, has a plethora of compartments and pockets, and has a fully adjustable harness and hipbelt to give you a more dialed-in fit.
At 4 lbs. 6 oz. for S/M or 4 lbs. 8 oz. for L/XL, the Atmos is the third heaviest option on our list after the Osprey Aether and Gregory Baltoro. However, much of that added weight goes towards the pack's mightily impressive feature set, which includes an integrated rain cover, floating top lid, an internal FlapJacket for weather protection, curved zip access to both side panels, and removable dividers and straps.
PROs

Loads of pockets and compartments

Adjustable harness and hipbelt

Plenty of padding

Integrated FlapJacket protects contents from the rain

Hydration compatible

CONs
Bottom-Line: A slightly heavy but superbly comfortable option that boasts awesome organizational features and nigh-on unrivaled ventilation.
Hyperlite Mountain Gear 2400 Southwest
Best Ultralight
Weight: 2 lbs. 0.2 oz. ⸱ Capacity: 40 L  ⸱ Materials: Dyneema composite (Black: 150-denier; white: 50-denier)
The HMG Southwest is, without doubt, the toughest pack we've ever put through its paces. We've lugged it on adventures that would have torn lesser packs to shreds, and each time it came through entirely unscathed.
The Southwest's toughness comes courtesy of its 100% Dyneema composite construction, which not only makes it able to deal with all kinds of rough treatment on the trails but also capable of carrying far heavier loads than nylon-made packs of the same size and weight.
The 2400 Southwest is also one of the lightest packs in our review, tipping the scales at a tiny 2.02 lbs. If you want to go even lighter, you can opt for the white colorway (1.88 lbs.) instead of the black, but the white version's thinner materials mean doing so results in a hefty drop in ruggedness and durability.
Compared to other packs on our list, the Southwest is a very basic affair. It has minimal back padding, one large main compartment, and only three pockets, two of which are on the hipbelt. However, given the pack's intended end use of ultralight backpacking or thru-hiking, it would feel harsh to hate on it too much for sticking (pretty much perfectly) to its bottom line.
In a head-to-head with our list's other ultralight pack, the Gossamer Gear Gorilla, the Southwest is a little heavier despite having a lower capacity. We also found the Gorilla's more substantial padding made it a more comfortable carry with heavier loads, while its extra storage options made it more convenient. The Southwest, however, is more durable by far.
PROs

Lightweight
Waterproof
Tough as nails!
External storage
Hydration compatible

CONs

Dyneema fabric lacks breathability
Pricey
Minimal back padding
Bottom-Line: An incredibly lightweight, robust, and waterproof pack that's built to withstand the very roughest treatment.
Gossamer Gear Gorilla 50
Best Value Ultralight
Weight: S: 1 lb. 12 oz., M: 1 lbs. 13.8 oz., L: 1 lb. 15.4 oz. ⸱ Capacity: 50 L ⸱ Materials: 70 & 100D Robic nylon
For gram-counting minimalists, there are few packs out there quite as suitable for you as Gossamer Gear's Gorilla 50.
This Gorilla weighs just under 2 pounds but offers 50 liters of interior storage in addition to 5 generously sized exterior pockets – one kangaroo pocket, two hip belt pockets, and two huge water-bottle pockets. It also has plush padding in the shoulders and the back panel, and if you want to go even lighter, the internal frame and rear cushioning can be removed.
Compared to our favorite ultralight pack, the HMG 2400 Southwest, the Gorilla is less durable. While its 70/100D Robic nylon fabric will be plenty burly for gentler adventures and more careful users, the Southwest's Dyneema construction makes it a better choice if you're prone to treat your backpacks to a fair share of rough and tumble on the trail.
The Gorilla, however, is also much cheaper. Those extra storage options and all that cushioning also make it a better option if comfort and convenience are higher on your list of priorities than toughness and longevity.
PROs

Ultralight
Unisex harness
5 large exterior pockets
Hydration compatible
Removable internal frame
Includes a SitLight pad and a removable stay

CONs

Not as water-resistant or durable as HMG 2400 Southwest
Bottom-Line: A featherlight, 50-liter backpack that's comfortable and blessed with ample storage options to boot. What's not to love?
Deuter Aircontact Lite 50+10
Best Value
Weight: 3 lbs. 14 oz. ⸱ Capacity: 60 L ⸱ Materials: 330/250D polyamide and 600D polyester with a PU coating
If you're looking for a mid-range option that does most of what its pricier peers do, minus a few bells and whistles, then the Deuter Aircontact Lite is well worth a place on your shortlist.
This 60L backpack has a more streamlined design than other backpacks in our review, weighs a relatively lightweight 3 lbs. 14 oz., and is surprisingly tough for such a light pack. It also has a wealth of interior and exterior storage options and effective load transfer features that enhance comfort when you're carrying extra gear.
But how does this Aircontact Lite compare to the other low-cost models on our list, the Gregory Optic, REI Co-Op Flash 55, and Osprey Rook? The Aircontact is the priciest of the bunch, but it's made with burlier materials than the Optic and Flash 55 and has a wider – and more sophisticated – array of features than the Osprey Rook.
Compared to the winner of our review, the Atmos, the Aircontact boasts a similar set of organizational features. It has a large sleeping bag compartment, an elasticated inner compartment, 2 hipbelt pockets, a large stretch-mesh pocket on the front, an expandable top lid, mesh side pockets, helmet holder loops, and ice tool attachments.
The Atmos' Anti-Gravity suspension system, however, makes it a far more comfortable carry, even if the Aircontact's X-Frame load-distribution system is fairly impressive for such a reasonably priced pack.
The only way in which the Aircontact lets itself down is in the padding in the shoulders and rear panel, which is a little too thin for all-day comfort with loads over around 45 pounds.
PROs

Affordable
Tough materials
High capacity
Front "kangaroo" pocket
Removable top lid serves as a 10L daypack

CONs

Only available in one size
Back panel padding less substantial than in other models
Bottom-Line: A well-designed pack that boasts most of the fancy features we'd only expect to find on models that cost double its price.
Gregory Optic 48 & Octal 45
Best Budget
Weight: (Optic) S: 2 lbs. 6 oz., M: 2 lbs. 7.5 oz., L: 2 lbs. 10 oz., (Octal) 2lbs. 4 oz. ⸱ Capacity: S: 45 L, M: 48 L, L: 51 L ⸱ Materials: 100D/210D HD tenacity nylon
The Gregory Optic (women's version Octal) is a great pack for buyers looking for an affordable, lower-capacity pack for a weekend or shorter multi-day trips in the wilds.
There are plenty of great budget packs out there, but this one wins our vote because it makes the fewest compromises of the bunch. The Optic weighs in at just 2 lbs., 7.5 oz. (medium), making it a fraction lighter than the REI Co-Op Flash 55 and more than a pound lighter than the similarly priced Osprey Rook and Deuter Aircontact Lite.
Compared to these other low-cost packs, the Optic is also a more comfortable carry thanks to its AeroSpan suspension, dual-density FocusForm shoulder harness, and nicely padded supportive hipbelt. It also boasts a pair of large hip belt pockets and an integrated rain cover – features that are far from standard in UL packs or packs in this price range.
And the downsides?
Well, the Optic's lack of a sleeping gear compartment and zippered side pockets mean it's less than ideal if you're the type of backpacker who likes to keep things neat and tidy. Its 100D/210D nylon construction and fairly flimsy buckles, moreover, make it one of the least rugged packs in our review.
Nevertheless, if you're looking for the best lightweight backpack for buyers on a budget, this one's impressive suspension and surprising comfort levels make it a serious contender.
PROs

Lightweight
Tough for such a lightweight pack
Affordable
Hydration compatible
Comfortable

CONs

Short on pockets/compartments
Small, fiddly buckles
Bottom-Line: A fairly basic but very well-made option with an integrated raincover, made with reasonably tough materials, and most – but not all – desirable features.
REI Co-Op Flash 55
Best Sustainable
Weight: S: 2 lbs. 9 oz., M: 2 lbs. 10 oz., L: 2 lbs. 11 oz. ⸱ Capacity: S: 53 L, M: 55 L, L: 57 L ⸱ Materials: 100D ripstop nylon main body & 420D nylon bottom
While previous iterations of REI Co-Op's Flash 55 always left a little to be desired, the latest version is one step closer to challenging our favorite UL packs, the HMG Southwest and GG Gorilla.
The design of the Flash 55 has undergone a bit of a makeover. There are now four large external pockets, a handy roll-top closure, and a handful of removable features (the top lid, shoulder strap pocket, hip belt pockets, and compression straps) that let you trim weight down further when need be.
And despite cutting the weight of the Flash down to just 2 lbs. 10 oz., REI has somehow managed to make it more comfortable than ever before, even when you've maxed out the 30-pound recommended load capacity.
Compared to our review's other UL packs, the GG Gorilla and HMF Southwest, the Flash is heavier and slightly less durable. However, its suspension system and plush padding make it a more comfortable carry and its organizational features are far superior.
The only real downside to the Flash is the limited adjustability – because the straps and hip belt are fixed in place, there's less scope for achieving a dialed-in fit.
PROs

Lightweight
Reinforced bottom
Comfortable
Ample storage options
bluesign-approved materials

CONs

Limited adjustability
Heavier than other UL packs
Bottom-Line: A comfortable, ultralight option with superior storage to most of its UL peers.
Osprey Aether AG 70 & Ariel AG 65
Best for Extended Hikes
Weight: (Aether) S: 5 lbs. 1.4 oz., M: 5 lbs. 2.2 oz., L: 5 lbs. 3 oz., XL: 5 lbs. 3.8 oz., (Ariel) XS: 4 lbs. 10.5 oz., S: 4 lbs. 13.3 oz., M: 4 lbs. 14 oz., L: 4 lbs. 14.8 oz. ⸱ Capacity: (Aether) S: 67 L, M: 70 L, L: 73 L, XL: 76 L, (Ariel) XS: 59 L, S: 62 L, M: 65 L, L: 68 L ⸱ Materials: 210D nylon dobby & 500D nylon packcloth
The Osprey Aether (click here for the women's version the Ariel AG 65) is our go-to backpacking backpack for longer multi-day trips when we want a little more in the way of comfort and convenience than a UL pack can offer.
At 5 lbs. 3 oz. (large), this 70L backpack is the heaviest model on our list, a couple of ounces heavier than the Gregory Baltoro and 11 oz. more than the Osprey Atmos. However, it has 5 more liters of storage space than both these packs and is a fraction cheaper than the Baltoro.
Like the Atmos, the Aether scores very highly in the comfort stakes owing to its use of Osprey's oh-so-lovable Anti-Gravity ventilated mesh back panel, which we found provided a more precise fit by contouring to the shape of our body and centering the weight over our hips. The harness is also fully adjustable and a "Fit-on-the-Fly" hip belt allows for further fine-tuning.
Storage-wise, the Aether is a bit of a dream.
In addition to a huge central compartment, there's a zippered sleeping gear compartment, ice tool loops, Stow-on-the-Go trekking pole attachments, a hydration reservoir sleeve, dual front panel zippered pockets for easy-access storage, a huge kangaroo pocket, dual-access water bottle pockets, and zippered front access to the main compartment.
A few additional, non-standard features also give you the option of lightening the pack's weight and make the Aether a little more versatile than many of its peers – namely, a removable divider in the sleeping bag compartment, removable sleeping pad straps, and a floating lid that can be whipped off and deployed as a daypack.
PROs

Large capacity – ideal for bulky gear and longer trips
Tough
Comfortable
Lid converts into a daypack
Built-in raincover

CONs
Bottom-Line: While a little too heavy and pricey for some, the Aether's huge capacity, excellent organization features, and tough build make it ideal for long-term backcountry travel.
Gregory Baltoro 65 and Deva 60
Best for Comfort
Weight: (Baltoro) S: 4 lbs. 10.4 oz., M: 4 lbs. 13.4 oz., L: 5 lbs. 2 oz., (Deva) XS: 4 lbs. 7.7 oz., S: 4 lbs. 9.8 oz., M: 4 lbs. 13.3 oz. ⸱ Capacity: (Baltoro) S: 62 L, M: 65 L, L: 68 L, XL: 76 L, (Deva) XS: 46 L, S: 50 L, M: 60 L ⸱ Materials: 210D Honeycomb CryptoRip & 210D high-tenacity nylon
The Gregory Baltoro (women's version the Deva 60) has been one of our favorite backpacking packs for several years. It's tough, well-thought-out, far more practical than most of its peers, and so comfortable that it's almost a pleasure to wear, even when carrying a full load.
The Baltoro uses a Rotating Load Transfer Disc that allows the hip belt to pivot and enables it to conform to your natural movements for enhanced agility and stability. This does an excellent job of distributing the load weight and makes hiking on bumpy trails and in trickier terrain a lot easier.
The Baltoro also features a grid-lock system that allows you to adjust the straps either vertically or laterally for a custom fit that will conform to most body shapes.
With regard to organization, the Baltoro leaves most of its competitors in the shade. In addition to a wide opening and spacious main compartment, it boasts a large front pouch, a huge U-shaped zipper panel that lets you access your gear from any side, two external top lid pockets, and side zipper pockets for water bottles, cameras, or even a bear canister.
The removable hydration sleeve also converts into a daypack with shoulder harnesses and an accessory pocket.
This compartmentalized design not only helps to keep things tidy and provides easy access to your gear, but it also helps to stabilize the load by encouraging an even weight distribution and centering your load in the optimal position.
Compared to the other heavier backpacks on our list, the Osprey Atmos and Aether, the Baltoro's slightly less durable and a fraction more expensive, but also a little more comfortable when lugging heavier loads.
PROs

Zippered front access
A very comfortable pack, even with a heavy load
Roomy enough for 5+ days' backpacking kit
Fully adjustable
Removable hydration sleeve converts into a daypack

CONs
Bottom-Line: A hard-wearing, trail-ready option that goes the extra mile in terms of comfort and convenience.
Osprey Rook 65
Honorable Mention
Weight: 3 lbs.6 oz. ⸱ Capacity: 65 L⸱ Materials: 600D polyester & 1000D nylon
The Osprey Rook 65 is essentially a pared-down version of our review's winner, the Osprey Atmos.
If you're a "cup half empty" kinda person, then this pack's lack of Anti-Gravity suspension and dearth of storage options as compared to the Atmos will make the Rook seem a poor cousin. If, however, you're a "cup half full" kinda person, then its favorable price tag, lighter weight, and comparable burliness and capacity make it, all things considered, a bit of a bargain.
The Rook is the most affordable option on our list, costing less than even our top budget pick, the Gregory Optic. Compared to the Optic, the Rook is a far more durable and rugged pack owing to its use of super-burly 600D and 1000D fabric, and also offers an extra 14 liters (large version of the Optic) of storage.
On the downside, the Rook's fairly rudimentary suspension system and light padding meant it felt less comfortable when carrying loads over 25 pounds. It also weighs almost a whole pound more than the Optic, meaning it's not ideal if traveling fast and light with ultralight gear is your thing.
If you're wavering between the two, then, the Optic's a better choice for ultralight backpacking but the Rook's a great alternative if you want a little extra space and a tougher, more durable pack.
PROs

Cheap!
Incredibly robust
Integrated raincover
Adjustable harness

CONs

Less comfortable with heavy loads
Lacks storage options
Only one size available
Bottom-Line: A basic but extremely tough, well-made pack that's ideal for buyers who are happy to compromise on comfort and features to maximize value for money.
How to Choose a Great Backpack for Backpacking
Choosing a gear-hauling system for multi-day backpacking trips is a little trickier and more involved than choosing other outdoor gear. To help you out, we've included a detailed, BS-free guide on the most important things to consider when buying:
Recommended Capacity
To determine the capacity of backpack you need, it's a good idea to first consider the following:
The length of your trip (in days)
The kind of gear you'll be carrying
What season you'll be traveling in
Here are our recommended backpack capacities based on the length of trip:
Length of Trip
Pack Volume
(Liters)
Single Day/Overnight (1-2 nights)
20 – 30
Weekend (2-3 nights)
30 – 50
Multi-day (2-5 nights)
45 – 55
Extended (5+ nights)
55+
There are, however, a few variables to take into account. Because winter gear is typically bulkier than the warm-weather kind, it's a good idea to choose a pack that's roughly 10-15% bigger for cold-weather excursions.
If you're traveling with kids or carrying kit for fishing, slacklining, or gear-intensive activities like climbing or mountaineering, then it's wise to choose a pack at the upper end of the ranges listed above. This also applies if you're the type of camper who likes to carry a few luxury items as opposed to a bare-bones minimalist.
If you're unsure, there's one easy way that will help you gauge the capacity you require.
First up, grab all the gear you'll need for your trip and lay it out on the floor. Next, throw all of the gear into a 40, 50, or 60-liter trash bag, duffel, or old backpack, and use this to measure what size pack you'll need.
If in doubt, we recommend opting for a model with a slightly higher capacity than you think you'll need – the weight penalty will be negligible and you can always cinch down the compression straps to consolidate your load if the pack's not full.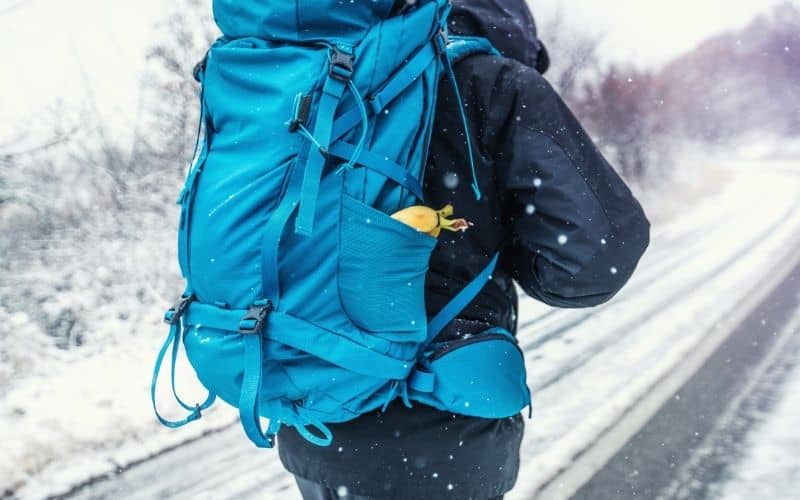 Suspension System and Comfort
A backpack's "suspension system" consists of all the parts that connect the pack to your body and support the load – the shoulder straps, load lifter straps, hipbelt, sternum strap, and back panel. Below, we've added a short overview of the desirable qualities to look for in each of these features.
Shoulder Straps
Although a pack's weight should be distributed so that only 20% rests on the shoulders, 20% of 15, 25, or 50 pounds can become mightily uncomfortable if the shoulder straps on your pack don't have sufficient padding.
To save yourself from sore shoulders, we recommend choosing a backpacking pack with thick foam padding and wider straps that distribute the weight more evenly across the breadth of the shoulder instead of digging into your skin.
Hip Belt
On a well-fitted backpack, around 80% of the weight of the pack will be supported by your waist. For this reason, an adjustable and padded hip belt is hugely important.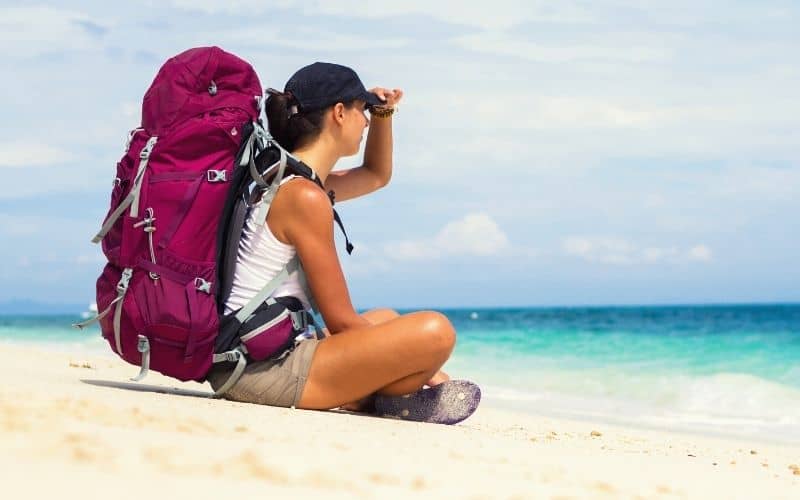 Generally speaking, wider hip belts are more comfortable than narrower ones, which can cause chafing or cheese-wire your midriff when carrying heavy loads. Because the hips tend to be sweaty, hip belts with mesh panels that increase airflow are a better bet if you plan on doing most of your hiking in warmer temps.
Load-Lifter Straps
Load-lifter straps are found at the top of the shoulder straps and are there to prevent the top of the pack from pulling away from your body. When adjusted correctly they should form a 45° angle between your shoulder straps and the pack, which should help keep the pack snug against your upper back.
Because this feature is so fundamental to load distribution, we wouldn't recommend buying any backpacking pack that doesn't have 'em (something that's more common in hiking backpacks with large enough capacities to serve as a weekend backpack).
Back Panel
This should use contoured foam padding or a mesh suspension panel to provide comfort and necessary airflow. Ultralight backpacks like the HMG Southwest, however, often do away with back panel padding in order to save on weight. This naturally results in a significant drop in comfort and also means you have to pack carefully to avoid hard gear items from poking into your back.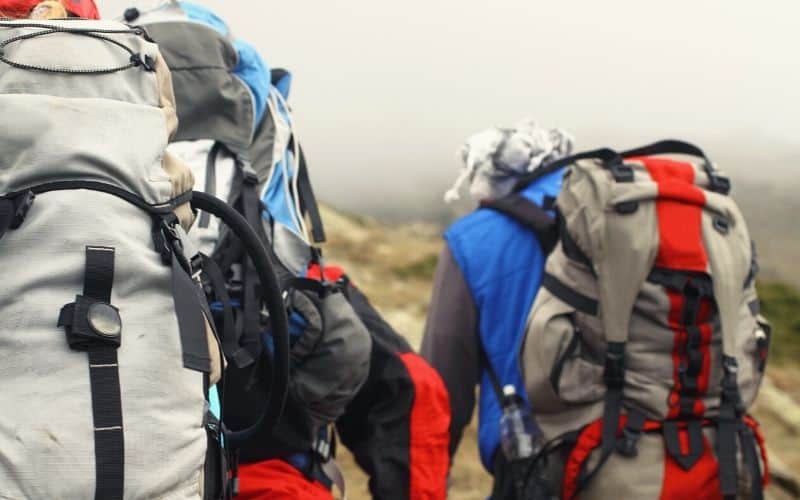 It's worth bearing in mind that no matter how plush the padding on the back panel, straps, or hipbelt, no pack is going to be a comfortable carry if the fit isn't right. For this reason, choosing a pack with an adjustable harness/suspension is the way to go.
Pack Weight and Load Range
In all but a few cases, there is a direct correspondence between the weight of the backpack and the weight of the load it can carry. To give you a ballpark idea of the load weight that different weights of pack can usually carry, take a look at the following:
2-3 lb. pack weight = 15-30 pounds of gear
3-5 lb. pack weight = 30-50 pounds of gear
5+ lb. pack weight = 40-70 pounds of gear
While a lighter pack equals a lighter overall load, it's worth bearing in mind that lighter packs often scrimp on some of the desirable features found on heavier models. Ultralight packs, for example, often have much less padding in the back panel and shoulder straps, and/or forego convenient features like pockets, compartments, or wide, comfortable hipbelts.
Backpack Organizational Features
Internal and external organization features can vary significantly from pack to pack. Below, we've added a list of features and what they're good for: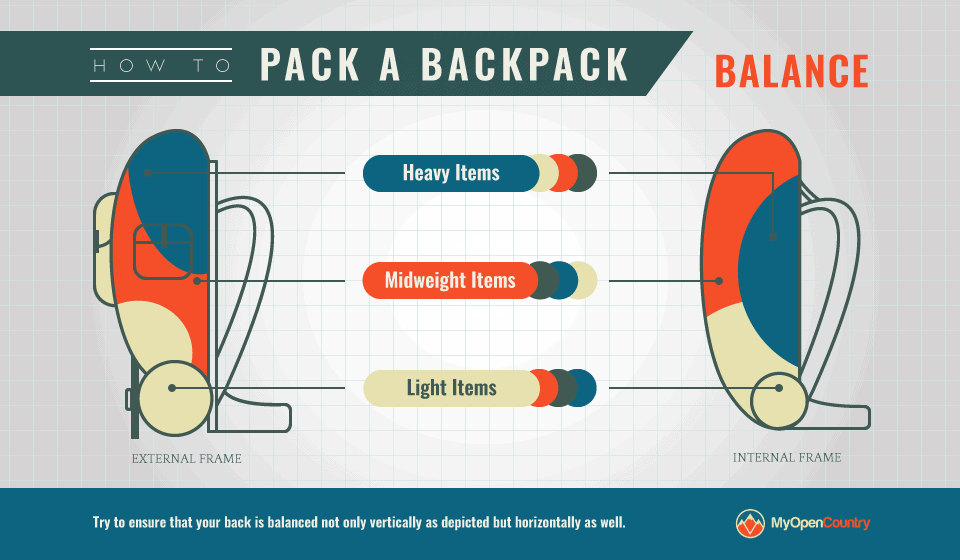 Front Access
Most backpacks' central compartments are accessed via a large top opening that is sealed and secured with a drawstring and buckle-down lid. Other packs, however, also have a front or side zipper, which lets you access gear in the main compartment of the pack body more easily and without having to empty out all the contents.
Extendable Top Lids
A few packs (the Osprey Atmos, Osprey Aether, REI Flash, and Deuter Aircontact Lite) use an extendable lid that allows you to increase storage by cramming in gear at the top of the pack.
Hip Belt Pockets
These non-standard features are useful for storing your phone, camera, and other small items you want to keep accessible.
Gear Loops
Useful for attaching ice axes or trekking poles.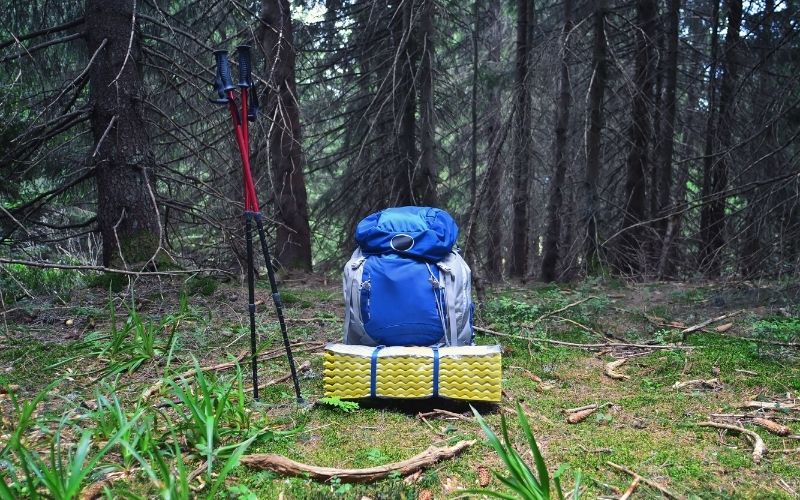 Shoulder Strap Pockets
Ideal for storing sunglasses or a GPS device.
Front Mesh Pocket
Aka "kangaroo pockets," these provide plenty of room for bulkier items like sandals or gas canisters and are also handy for drying out wet gear.
Compartments for Sleeping Bags
These let you keep sleeping equipment separate from your other gear and also provide easier access to kit at the bottom of the pack.
Compression Straps
These help to reduce bulk and stabilize your load for enhanced weight distribution and comfort. The straps can also be used to attach longer items like tent poles or camping chairs to the pack's exterior.
Water Bottle Pocket
Most packs have these pockets but the design of some is better than others – the most convenient are slanted forward for easy, on-the-go access.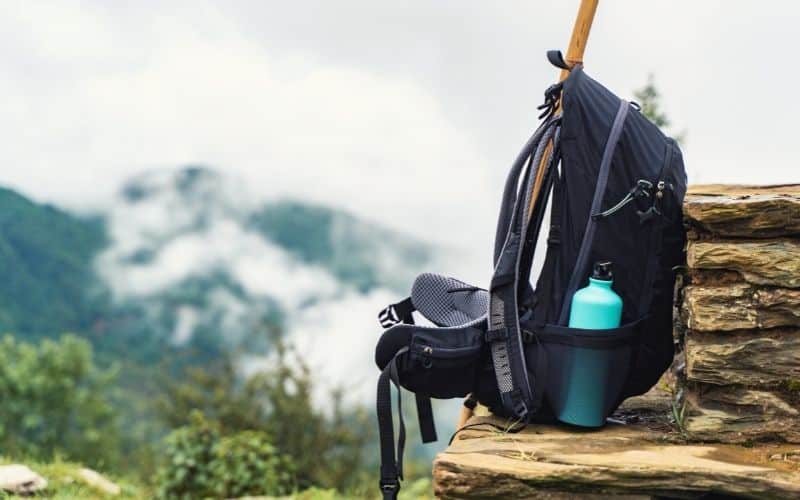 Ventilation
A well-ventilated backpack is one that permits ample airflow around the back panel and the waist, thus preventing you from becoming soaked in sweat when in warmer conditions or hiking hard.
As a general rule, ultralight packs offer the least ventilation of the bunch. This is because they typically do away with plush foam padding on the back panel in an effort to keep weight to a minimum, as with the HMG 2400 Southwest and, to a lesser extent, the Gossamer Gear Gorilla.
More substantial packs usually use one of two systems to encourage airflow:
A molded foam back panel with air channels that help air circulate around your back (Deuter Aircontact Lite, REI Co-Op Flash)
Offset, suspended mesh panels that create a gap between the pack and your back (Osprey Atmos/Aura, Osprey Aether/Ariel, Gregory Optic, Gregory Baltoro, Osprey Rook).
In our experience, suspended mesh is usually the best option if you tend to run hot or you're hiking in summer because it creates a more sizable channel for fresh air to circulate and for your sweat to escape.
Water Protection
When it comes to water protection, you have three options. One, buy a pack with a DWR-treated exterior that provides moderate water resistance. Two, choose a pack that's made with waterproof materials for more robust protection. Three, do things the old-fashioned way and carry a waterproof raincover (in many cases, this will be included with the pack).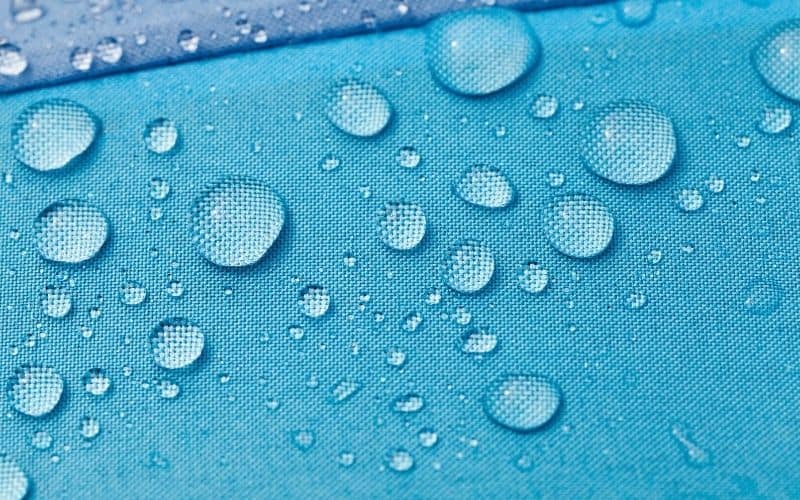 In our review, the only waterproof pack is the HMG 2400 Southwest, which has a main compartment made with 100% waterproof Dyneema Composite Fabric.
Packs that come with an integrated raincover are the Osprey Aether/Ariel, Gregory Baltoro, Osprey Rook, and Gregory Optic. The REI Flash 55 uses a seam-sealed water-resistant lining in the lid and the Osprey Atmos and Aether have both a hydrophobic coating and an Integrated FlapJacket that protects the pack's contents from precipitation.
Adjustability and Torso Fit
An ill-fitting backpack is sure to become an instrument of torture just a short way down the trail. Mainly because an imperfect fit will result in too much of the load being carried on your shoulders as opposed to your hips.
As mentioned above, the proper fit will ensure that the load is distributed in an 80/20 ratio, with the majority of your load squarely on your hips and lower body, only 20% on the front of your shoulders, and no weight on the top of your shoulders.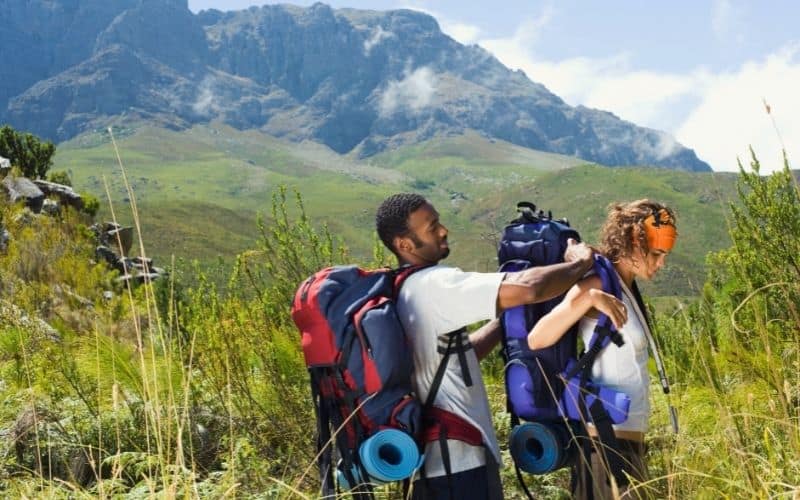 This ratio means the bulk of the pack's weight will rest on the stronger lower body rather than the weaker muscles of the torso and shoulders.
To get the right fit, measure the length of your back from the C7 vertebrae at the base of your neck to the center point of your spine between the tops of your hip bones. This spot is called the iliac crest, and it is where you should be carrying most of your pack's weight. Compare this measurement to the measurements listed with any potential purchase.
Whichever pack you ultimately choose, it's unlikely that the fit will be just right, even if the pack is sold in 2 or 3 different sizes. For this reason, it's a good idea to choose a pack with an adjustable torso length so you can customize the fit to your specific body shape.
In our review, the following packs have adjustable torso lengths: Osprey Atmos/Aura, Gregory Baltoro, Deuter Aircontact Lite, Osprey Rook, and Osprey Aether/Ariel.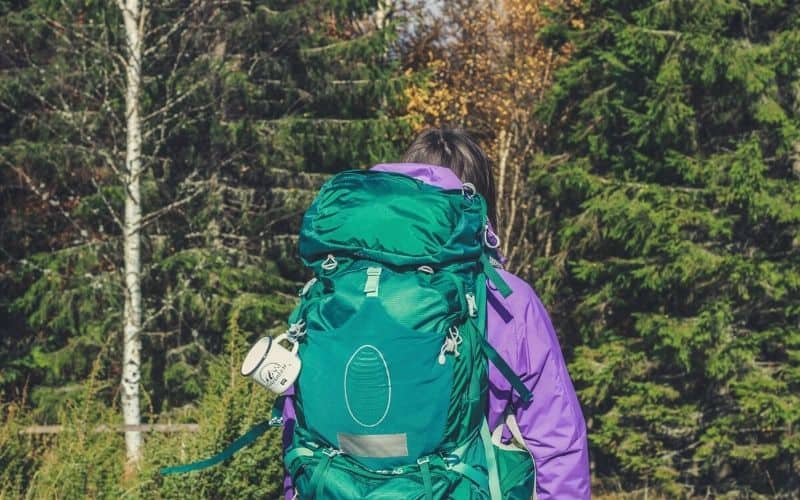 Other Pack Features
Hydration Compatibility – Many backpacking packs have an internal sleeve for storing a water bladder and a port for the drinking hose – handy if you like to hydrate on the go.
Removable Top Lid – Some packs have top lids that can be detached and used as a day pack. This is useful if you're base camping and want to take on a few side hikes without having to empty (and then lug) your main pack.
Integrated Rain Cover – Most packs use densely knitted fabrics that will block out light rain showers, but an integrated rainfly will cover the entire pack and protect your backpacking gear if things take a turn for the torrential.
A Word on Ultralight Backpacks
In recent years, ultralight backpacks have taken the market by storm. These packs are designed for long-term backcountry travel – they weigh next to nothing and most are made with either Dyneema Composite Fabric (DCF) or Robic nylon, both of which are far tougher and more water-resistant than the standard nylon or polyester used on other packs.
The trade-off for all of the above is that UL packs are usually less comfortable and lack some of the convenience-enhancing features, such as interior compartments and exterior pockets, found on regular packs.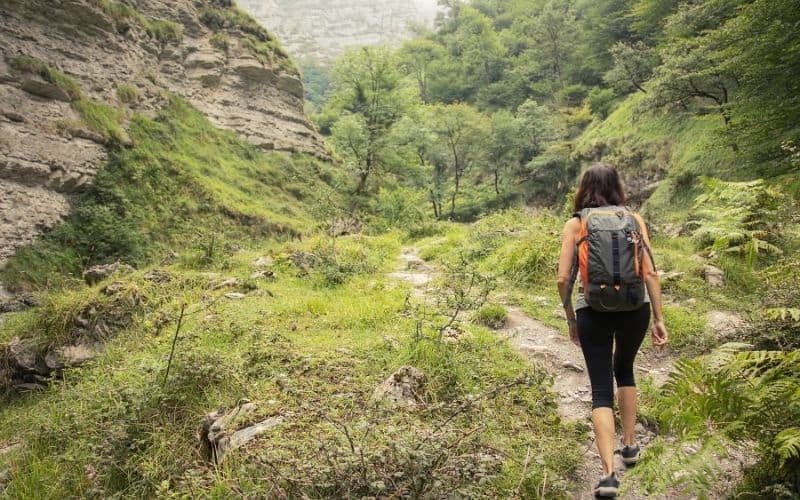 So, is an ultralight backpack for you? This depends on the type of backpacking you plan on doing along with your personal preference. If comfort and organization are high on your list of priorities, then a weightier pack is probably the way to go. For long thru-hikes where every ounce has to earn its keep, an ultralight backpack is well worth considering.
Best Backpacking Bags: The Verdict
Out of all the backpacking backpacks we reviewed, the Osprey Atmos 65/Aura 65 was our runaway winner. Despite its heavier weight compared to most other packs on our list, it stands out due to its super comfortable suspension system, oodles of organizational pockets, and dialed-in fit.
If you are more of an ultralight backpacker or thru-hiker then we recommend either the super light HMG 2400 Southwest or Gossamer Gear Gorilla 50, both will substantially lighten your load. And if you need something on the more affordable end of the spectrum we love the value for money of the Gregory Optic 48/Octal 45, Osprey Rook 65, and R.E.I. Flash 55.
If you liked this post, let us know in the comments box below! And if you'd like to share it with your friends, share away!