Okay, we get it. Hydro Flasks are in right now. But there are other reusable water bottle options out there!
You can still keep cold drinks cold and hot drinks hot with one of these water bottles. And, here comes the best bit…you might end up paying half the price of a Hydro Flask!
From simple BPA-free reusable bottles to burly double-walled vessels to keep water cold all day, this review has something for everyone.
Editor's Choice
YETI Rambler 36 oz Bottle
We love the Yeti Rambler because it has a huge carrying capacity. Load it up with ice-cold H2O and you'll have a refreshing drink all day.
The Rambler is made with some of the strongest and thickest stainless steel out there. So, you know you won't dent your new water bottle when you drop it.
The Rambler comes with a two-piece lid, a clever solution for making a wide-mouth bottle easier to drink from. The top piece of the lid has a haul loop and threads onto the lower piece, which threads into the bottle. The lower part of the lid creates a smaller opening than the mouth, but you can still load the bottle up with ice cubes through the wide mouth, so you have the best of both worlds!
Bottom Line: A high-capacity, trail-ready H2O-hauler that comes with 2 lids to accommodate personal preferences.
At a Glance: Top Hydro Flask Alternatives
Best Hydro Flask Alternative: Our Top 7 Picks
YETI Rambler 36 oz Bottle
Editor's Choice
The Yeti Rambler Bottle is big enough to keep you hydrated on the hottest days. And, it will keep your drinks ice-cold. The Rambler comes with a two-piece lid. The top piece threads into the bottom piece, which threads into the wide-mouth bottle. This makes drinking out of this bottle easier and means you won't spill on yourself when chugging it down on extra-hot days.
The Rambler is significantly heavier than a Hydro Flask Water Bottle, even when you compare it to an HF with a comparable volume. However, the Rambler is made with heavy-duty stainless steel and is much stronger, which means it won't get dented as easily as an HF. Both bottles are double-wall vacuum insulated and have excellent temperature retention.
Perhaps the only downside of the Rambler is the hefty price tag. This is the most expensive water bottle we reviewed here, and also more expensive than a Hydro Flask.
Specs:
Volume: 36 oz
Weight: 24.5 oz
Material: 18/8 stainless steel
Color Choices: 6
PROs

High capacity
5-year warranty
Insulated
Durable material

CONs
Bottom-Line: This is the strongest and highest volume of all the best Hydro Flask alternatives on this list, but also the heaviest.
Takeya Actives 24-Oz Insulated Water Bottle
Most Durable
The Takeya Actives Insulated Bottle uses double-wall vacuum insulation to keep your drinks cold for 24 hours and hot for 12. It has a unique flip cap design that makes drinking with one hand easy. And when you flip the cap back, the hinge lock keeps it from slapping you in the face while you're drinking – a big bonus for some.
Compared to the Hydro Flask, this bottle's flip cap makes it a standout. While you can get an HF with a straw lid, there isn't a flip-top lid option. You can also get the Takeya Actives bottle with a straw lid instead if that's more your jam.
Specs:
Volume: 24 oz
Weight: 12.8 oz
Material: 18/8 stainless steel
Color Choices: 19
PROs

Double-walled insulation
Durable material
Lifetime warranty
Keeps liquids cold or hot for a long time
No metallic taste

CONs
Bottom-Line: The Takeya Actives is insulated, super-durable, and has a nifty lid.
Iron Flask Sports Water Bottle
Best Value
The Iron Flask Sports Bottle is a 32-ounce stainless steel water bottle. It uses double-wall vacuum insulation to keep your drink cold or hot all day.
What sets this bottle apart from a Hydro Flask is that it comes with three different leak-proof lids. Yes, you can buy other lids for an HF, but you'll have to pay extra for them. With the Iron Flask, you get a straw lid, flip lid, and a stainless steel lid. And it costs less, too!
Specs:
Volume: 32 oz
Weight: 22.88 oz
Material: 18/8 stainless steel
Color Choices: 25
PROs

Affordable
Comes with 3 caps
Double-walled insulation
Durable material

CONs
Bottom-Line: This is the second heaviest stainless steel water bottle we reviewed here, but it does come with 3 caps and has a high capacity.
Tritan Thermos 24 oz Hydration Bottle
Best Budget
The Tritan Thermos 24 oz Hydration Bottle is a BPA-free and highly durable plastic bottle. It has a clever flip-up lid that opens with the push of a button. It also has a rotating intake meter so you can keep track of how many bottles of water you drink in a day, all without using any single-use plastic bottles.
The Tritan is also comfortable to grip, has a flip-up carrying loop on the plastic cap, is dishwasher safe, and at such a low price is one of the most affordable plastic water bottles we reviewed.
On the downside, this is not a vacuum-insulated bottle like the Hydro Flask, so won't keep your drinks at the desired temperature for nearly so long.
Specs:
Volume: 24 oz
Weight: 6.7oz
Material: Eastman Tritan polyester
Color Choices: 6
PROs

Affordable
Made of durable plastic
Easy to drink from
Lightweight
Rotating intake meter incorporated
BPA Free

CONs
Bottom-Line: This is a durable plastic water bottle with no insulation, but it's easy to drink from and the incorporated intake meter is a nice feature.
Nalgene 32 Oz Wide Mouth Plastic Water Bottle
Best Water Bottle
The Nalgene 32 oz plastic water bottle is a staple in the outdoor community and a regular sight in the water bottle pockets of hikers everywhere.
Though these Nalgene bottles lack the double-wall vacuum insulation of the Hydro Flask brand bottle, they are extremely durable. So durable that if you drop it off a cliff while climbing it probably won't break. And, Nalgene plastic bottles are much, much lighter than an HF, so are a far better option for minimalists.
The BPA-free plastic used in the Nalgene is also dishwasher safe and can handle hot drinks as well as cold ones.
While vacuum insulated water bottles are all the rage these days, Nalgenes are a classic that will never go out of fashion.
Specs:
Volume: 32 oz
Weight: 6.25 oz
Material: Tritan
Color Choices: Endless
PROs

Affordable
Durable plastic material
High capacity
Lightweight
Time tested
Dishwasher safe

CONs
Bottom-Line: This reusable plastic bottle is lightweight, dishwasher safe, and is made of a time-tested, durable material.
Klean Kanteen Classic 27 Oz Stainless Steel Water Bottle
Runner Up
The Klean Kanteen Classic water bottle features a 2-inch-wide opening for easy pouring and filling. It is made of lightweight and durable stainless steel and has a simple yet elegant screw top lid with a haul loop. The wide mouth also makes this bottle compatible with most backcountry water filters.
This stainless steel bottle is the perfect size for daily use. While not insulated like a Hydro Flask, its use of one instead of two layers of steel means it has a much higher capacity than a double-walled bottle of similar external dimensions. Though it is not intended for hot liquids, it can be used to carry them – just be aware that the bottle will just get very hot!
Specs:
Volume: 27 oz
Weight: 7.25 oz
Material: 18/8 stainless steel
Color Choices: 1
PROs

Affordable
Durable material
Lightweight
Compact considering its capacity
Fits in most cup holders

CONs

Single-walled
Not intended for hot liquids
Bottom-Line: This is the only single-walled flask made of stainless steel we tested and is half the weight of a double-walled flask.
CamelBak Podium
Best Ultralight
The CamelBak Podium insulated water bottle is intended for cycling, but it has many applications beyond the bike. The sports cap on the Podium is easy to drink out of – just squeeze the bottle and you'll get a rush of the wet stuff. If you're going to throw this in your backpack, just flip the positive lock-out mechanism and rest assured that no liquid will leak out.
This option is different from most of the bottles in this review. It is double-walled and insulated, but soft-sided. And unlike an HF, it's only designed for cold liquids. We've used it with hot coffee on a morning bike commute and know others who have done so too, but it isn't specifically intended for use with hot beverages.
Specs:
Volume: 21 oz
Weight: 3.5 oz
Material: Polypropylene plastic
Color Choices: 4
PROs

Durable
Ultralight
Hydroguard prevents H2O from tasting like plastic
Affordable

CONs

Too sporty for some applications
Bottom-Line: This is the lightest water bottle we tested and is great for active pursuits.
How to Choose a Hydro Flask Alternative
Volume
The total volume of the flask you purchase will dictate how much water you can bring with you. We tested bottles that range from 21 ounces (CamelBak Podium) to 36 ounces (Yeti Rambler). Not sure how much H2O you need? Check our guide on how much water to take hiking?
Leak-Proof
Given that your H2O carrier will be in beside (or at least very close to) your hiking gear in your backpack, leak-proof bottles are the way to go. Knowing how disastrous spillage can be when you're out hiking or backpacking, we carefully excluded any bottles over which there were any question marks. Therefore, all the bottles you see above are genuinely leak-proof.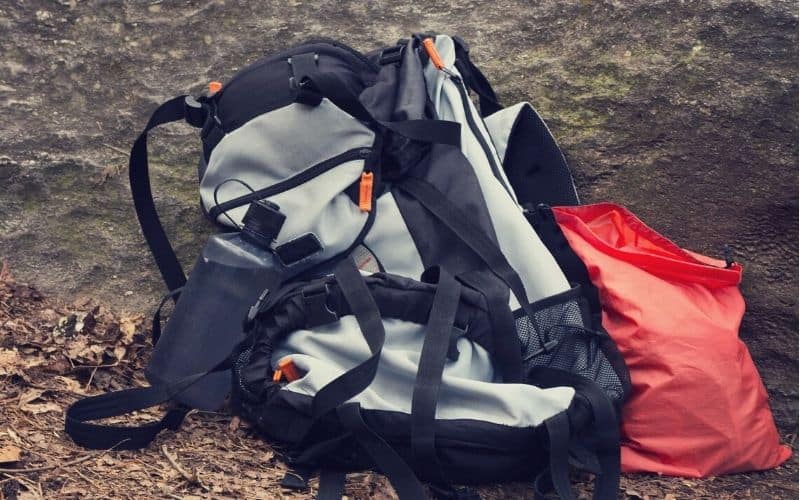 Insulation
Insulation dictates how well a reusable bottle regulates the temperature of your liquids. Want hot beverages for hours? Be sure to get a vacuum-insulated bottle. It'll keep those ice cubes cold, too. However, double-walled stainless steel bottles are heavy. You've been warned.
The only bottles in this review that don't have insulation are the Nalgene, Klean Kanteen, and the Tritan Thermos 24 oz.
Caps
Your reusable bottle's cap doesn't just keep liquids in, it also controls how you'll drink that water.
We like the time-tested simplicity of the standard lid threaded caps found on the Klean Kanteen Classic and the Nalgene 32 Oz. These might not be the most convenient but they'll sure last a long time. The Iron Flask Sports Bottle, on the other hand, comes with three different caps, and we're big fans of that versatility!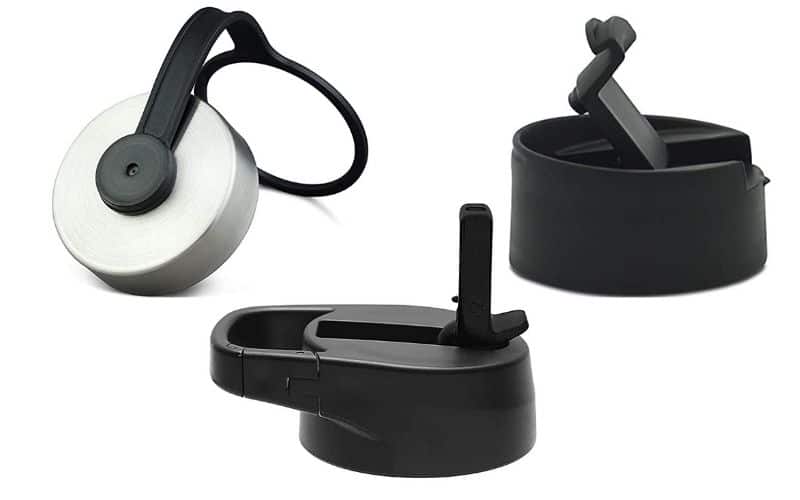 We also like the convenience of some of the other types of caps. The CamelBak Podium's sports cap is ultra-convenient for drinking during activities like bike riding and hiking. We also like the flip caps found on the Tritan Thermos 24 oz, Takeya Actives, and the Iron Flask.
Best Alternatives to Hydro Flask: The Verdict
Whatever your jam, the above listed has served up many worthy alternatives to the kinda pricey but uber-popular Hydro Flask. While the best option for you will come down to personal preference, our recommendations might help sway the undecided.
For backpacking trips, the Nalgene 32 oz is a shoo-in alternative to Hydro Flask bottles due to its light weight, durability, and huge capacity. For year-round day hikes, the YETI Rambler is a winner. While heavy, it will keep your drinks hot or cold for hours and let you carry plenty of them, too.
We hope this review helped you pick the perfect Hydro Flask substitute. Did we miss your favorite? If so, leave us a comment below! And as always, feel free to share this with a friend!