The Best Lightweight Long-Sleeve Hiking Shirt for Year-Round Adventures
Looking For A Great Long-Sleeve Hiking Shirt?
You're in the right place! In this guide, we will be covering the following:
Why you need a long-sleeve hiking shirt
What to look for when buying
Tips on how to choose the perfect shirt for you
Our 9 favorite long-sleeve shirts
Long-sleeve hiking shirts are among the most versatile garments in the world of hiking couture. These shirts are good for anything, from high-output activities in the shoulder seasons and summer to keeping you warm and sweat-free when worn as part of a multi-piece layering system in cool conditions.
At the more stylish end of the market, you'll also find models dapper enough for a day in the office or a night on the town.
Our list of the best lightweight long-sleeve hiking shirts includes a little bit of everything, from technical, performance-oriented merino baselayers to button-up shirts that are ideal for long days on sun-scorched trails. Read on to find the perfect shirt for you!
Editor's Choice
Icebreaker 150 Zone
The Icebreaker 150 Zone is made from a performance-oriented blend of 83% merino wool, 12% nylon, and 5% spandex, a combo that makes it ideal for outdoor adventure.
The nylon and spandex content provides added durability and freedom of movement, while the merino's natural antimicrobial properties keep it smelling fresh between washes, no matter how sweaty and high-output your activity.
The 150 Zone is also one of the most breathable shirts in our review, boasting zoned mesh panels that boost ventilation where you need it most.
The slim fit of this long-sleeve t-shirt makes it an ideal baselayer in three- or four-season conditions, but it's stylish and warm enough for standalone use when you need a little more coverage than a tee but less insulation than a mid-layer.
Bottom Line: A well-made and versatile shirt that's suitable for wearing as a baselayer in cooler temps or on its lonesome in summer or warmer three-season conditions.
The Best Lightweight Long-Sleeve Hiking Shirts: Quick Recommendations
The 9 Best Long-Sleeve Hiking Shirts
Icebreaker 150 Zone
Best Overall
Let's cut straight to the chase: the Icebreaker 150 Zone does everything we could possibly ask a long-sleeve shirt to do. It's lightweight, highly breathable, comfortable, and helps to regulate temperature by insulating when temps are cool and letting your body breathe when you're working up a sweat.
The 150 Zone shirt is made with a performance-primed combo of merino wool, nylon, and spandex, which together lend it a soft tough, ample toughness, and enough stretch for unrestricted freedom of movement.
Despite its use of strategically located mesh vents that help to keep things cool when you're hiking hard, the tighter, athletic fit on the 150 Zone means it doesn't allow as much airflow as loose-fitting button-ups like the Silver Ridge or the ExOfficio Air Strip. However, it's a more practical choice for high-output activities and fits more snugly under a mid-layer.
Specs
Fabric: 83% Merino wool, 12% Nylon & 5% Spandex
Weight: 8 oz.
UPF: 20
PROs

Breathable and antimicrobial
Responsibly sourced fabric
Flatlock stitching prevents chafing

CONs
Bottom-Line: A comfortable and highly versatile shirt that performs well in various conditions and activity types.
REI Co-op Lightweight
Best Budget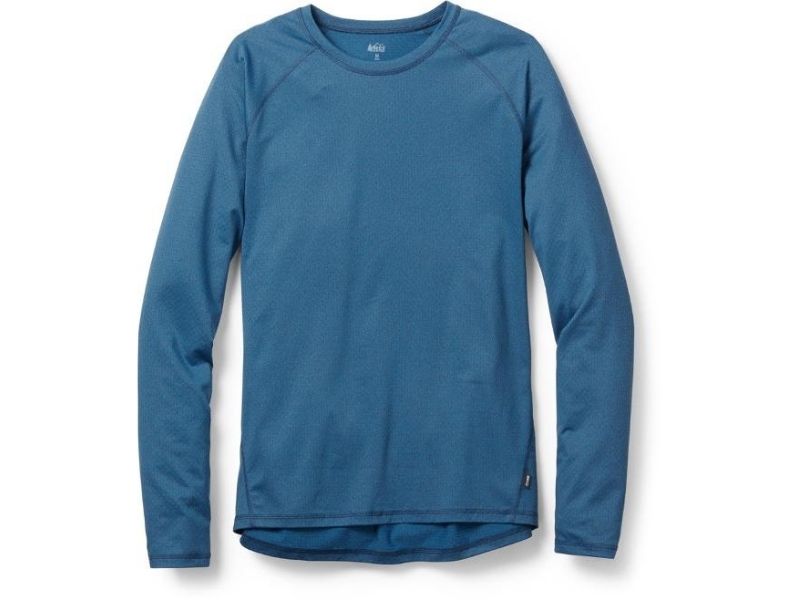 Looking for a low-cost but high-performing alternative to all those merino and big-name-brand shirts that cost an arm and a leg? If so, the REI Co-op Lightweight long-sleeve hiking shirt is a great option.
This crew-style shirt isn't quite as breathable or soft against the skin as the Icebreaker Zone 150 or Smartwool 150 (below), but it also costs a fraction of the price, is made with a high-wicking and stretchy polyester-spandex blend, and packs enough in the way of performance for the needs of your average hiker.
This shirt can also be worn as a standalone outer or a base layer, has a UPF rating of 50+, and uses underarm gussets to increase mobility.
Specs
Fabric: 92% Polyester, 8% Spandex
UPF: 50+
PROs

Robust sun protection
Moisture-wicking
Semi-fitted

CONs

Less durable than other options
Not the most breathable
Bottom-Line: A simple but attractive long-sleeve tee for hikers who prioritize value for money over top-end performance. 
Smartwool Merino 150
Best Lightweight Shirt
Made with 87% merino wool and 13% nylon, this is among the most durable lightweight merino shirts out there. The breathable, 150-weight fabric also makes it a solid option for standalone use or a base layer in a two- or three-layer system.
What we love most about this one is its "barely there" feel – weighing just 6 ounces, this is the lightest shirt in our review.
Like the Icebreaker Zone 150, the Smartwool 150's high merino content means it helps to regulate your body temperature while out on your hikes, making it a great option for year-round adventures. While a few ounces lighter than the Zone 150, the Smartwool 150's lack of stretch means it offers a little less in the way of mobility.
Specs
Fabric: 87% Merino Wool, 13% Nylon
Weight: 6 oz.
PROs

Slim fit
Durable
Antimicrobial
Lightweight, breathable fabric
Flatlock seams

CONs

Slightly itchy
Less stretch than models with spandex
Bottom-Line: An ultralight, stylish, and versatile crewneck shirt that works well on its own or as part of a layering system in cooler temps. 
Patagonia Capilene Cool Daily Hoodie
Best for Comfort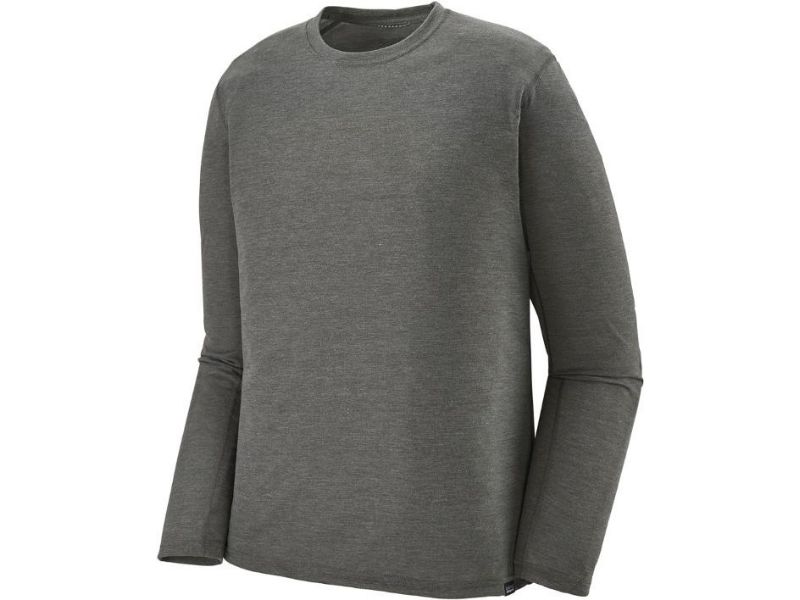 Patagonia's Cool Daily Hoodie is a great option for hikers who prefer clothing that provides a little more comfort without compromising on performance.
This hoodie is made by Fair Trade Certified producers in Sri Lanka with Bluesign-approved fabric – namely, Patagonia's proprietary Capilene, a form of polyester that's high-wicking, quick-drying, stretchy, and imbued with an odor-resistant Polygiene treatment.
This one wins our award for comfort on account of its relaxed fit, cozy hood, and use of built-in miDori bioSoft fabric softener, a game-changing technology that gives the fabric peerless next-to-skin softness.
While not a "technical hoodie" – i.e. one that prioritizes performance above all else – like the Icebreaker 150 Zone or Odlo Blackcomb, the Cool Daily's a hands-down winner in the comfort stakes and offers more than enough in the way of performance for general hiking.
Specs
Fabric: 100% recycled polyester
Weight: 6.3 oz.
UPF: 50
PROs

Bluesign-approved fabric
Cozy hood
Capilene fabric is stretchy and high-wicking
Polygiene treatment

CONs

Polygiene treatment does wear off
Not as breathable as other options
Bottom-Line: The Polygiene treatment, cushy Capilene fabric, and built-in miDori bioSoft fabric softener make this shirt stand out from the crowd for odor resistance and comfort.
Columbia Silver Ridge Lite
Best Button-Up
This low-cost shirt is the ideal pick for hikers who want performance-oriented fabrics in a light, airy, and well-designed button-up.
The Silver Ridge Lite is made with 100% polyester and uses Omni-wick technology to deliver above-average moisture management. While not as breathable as some of the other fabrics in our review, the loose-fitting design and hidden vents in the back mean this top provides ample airflow even when tucked into your pants.
But how does it measure up to the other button-ups in our review?
Compared to the ExOfficio Air Strip, the Silver Ridge packs a little more sun protection but also less breathability. Both, however, are solid options for summer hiking. Fjallraven Singi Trekking Shirt, on the other hand, is a different beast entirely, weighing 6.5 ounces more and using water-resistant fabric that makes it a better option for hiking in variable conditions.
Specs
Fabric: 100% polyester
Weight: 6.5 oz.
UPF: 40
PROs

Omni-wick tech helps manage moisture
Zippered key pocket
Button tabs on sleeves
2 chest pockets

CONs

Not the most breathable fabric
Lacks versatility (hard to wear as a baselayer!)
Bottom-Line: A classy-looking, lightweight button-up that provides ample airflow and sun protection for summer hiking in hot climates. 
ExOfficio Air Strip
Best for Breathability
The ExOfficio Air Strip focuses on moisture and temperature management by using high-wicking, quick-dry fabric that enhances the shirt's breathability. To help keep you cool in hot weather, it also employs an Airomesh ventilation system that includes a back yoke, a pair of side seams, and button-up sleeves.
Other endearing features in this shirt include two chest pockets with hook-and-loop closures, a zippered key pocket, a UPF of 30+, and an adjustable sun collar for added neck protection.
While pricier and heavier than the Columbia Silver Ridge, we found that the ExOfficio offers a little more breathability and its stretchier fabric provides more freedom of movement.
Specs
Fabric: 73% Nylon, 27% Polyester
Weight: 8.2 oz.
UPF: 30+
PROs

Airomesh ventilation system
Great sun protection
Breathable, high-wicking fabric

CONs
Bottom-Line: An intelligently designed shirt that goes the extra mile to keep you cool and safe from the sun on summer hikes. 
Fjallraven Singi Trekking
Best Long-Sleeve Hiking Shirt for Variable Conditions
This wildcard entry on our list is one that's sure to raise a few eyebrows.
Compared to the other button-ups on our list, the Columbia Silver Ridge and ExOfficio Air Strip, the Singhi is a heavy shirt. It's also a lot less breathable, takes longer to dry, and costs significantly more.
Despite all of this, there are several reasons why this shirt is well worth considering.
The Singhi is a one-of-a-kind adventure shirt. It's made with Fjallraven's signature fabric, G-1000, a poly-cotton blend sealed with Greenland wax to add both durability and water resistance. While this treatment makes it far heavier than any other shirt in our review, it also means the Singi is a great choice for hiking in light rain and high humidity.
The Singi is also the toughest shirt in our review, so is ideal if you're the type of hiker who values longevity in their threads or typically exposes them to a fair amount of rough treatment.
Specs
Fabric: 65% Polyester, 35% Cotton
Weight: 13 oz.
PROs

Water-resistant
Two chest pockets and one sleeve pocket
Back and underarm ventilation panels

CONs

Heavy
Lacks breathability
Bottom-Line: An incredibly tough, hard-wearing shirt that brings the added benefit of water resistance and the ability to adapt to varying climatic conditions.
Marmot Windridge
Best for Sun Protection
Looking for the best lightweight long-sleeve hiking shirt to beat the summer heat or protect your skin on bluebird days? If so, the Marmot Windridge is well worth a place on your shortlist.
With a UPF rating of 50+, this crew-style shirt is the most protective on our list. It's also highly breathable, quick-drying, and uses flat-locked seams to prevent chafing, and mesh panels that boost ventilation when you're working up a sweat.
While a little heavier than other crews and long-sleeve T's like the Icebreaker Zone 150 and Smartwool 150, that UPF rating makes it a better option for buyers with sun-sensitive skin or who plan on hiking in sunny climates or at altitude.
Specs
Fabric: 100% Polyester Jersey and Mesh
Weight: 10 oz.
UPF: 50+
PROs

Highly breathable fabric
Seam design prevents chafing
Mixed polyester fabric
Chunky enough to keep you warm on summer evenings

CONs
Bottom-Line: A slightly heavy but cozy shirt that ticks all the boxes for buyers who need extra sun protection in a technical solo or base layer.
Odlo Blackcomb Half Zip TurtleNeck
Best for Temperature Control
The Odlo Blackcomb has a slightly different design from the other shirts on our list. Instead of a button-up or crew neck design, it uses a zippered turtleneck that provides you with a little more control over ventilation. The Blackcomb also uses strategically-placed ventilation zones to manage moisture and body mapping for enhanced freedom of movement.
This shirt also scores highly as regards pong prevention thanks to its use of Odlo's ZeroScent anti-odor technology, which uses silver ions to neutralize scent agents.
This shirt has a more athletic, figure-hugging fit than the crew-style shirts – the Icebreaker Zone 150, Smartwool 150, and REI Lightweight – listed above. As such, it's a good option for trail running, technical hiking, and layering, but maybe not ideal for those who don't want to place every inch of their anatomy on display to fellow hikers or simply prefer a little more leeway for movement.
Specs
Fabric: 68% Polyester, 27% Polyamide, 5% Elastane
PROs

Controls body temperature
ZeroScent anti-odor technology
Slim, athletic fit

CONs

Will be a little too tight-fitting for some
Bottom-Line: A great option for buyers who like a snugger fit and want the ability to dump heat in a hurry when need be.
Characteristics to Look For in Lightweight Long-Sleeve Hiking Shirts
When shopping for lightweight, long-sleeve hiking shirts, these are the most important factors to take into consideration:
Weight
"Lightweight" long-sleeve hiking shirts should weigh under 10 ounces. If it weighs any more than this, ask yourself what added features it offers – zippered pockets, water resistance, a hood, better sun protection, insect-repellent treatments etc. – and if these add-ons are worth the extra weight.
For day hikes, the weight of your shirt isn't so much of an issue, though heavier shirts do tend to offer a little more insulation and are typically less breathable due to the density of the fabric. If you're backpacking and plan on carrying multiple shirts to change into along the way, however, then choosing lighter models could bring a significant – and welcome! – reduction in overall pack weight.
Shirt Fabric
The most common hiking shirt materials are merino wool and synthetics like nylon or polyester.
Merino Wool
Merino wool is one of the most popular materials used in hiking duds, and with good reason.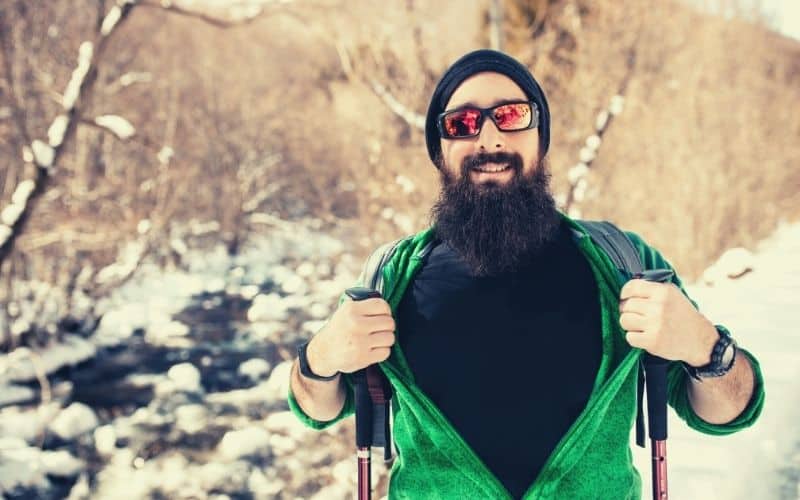 Although pricey, it's very comfortable, breathable, moisture-wicking, dries quickly, and has natural antimicrobial properties that keep it smelling fresh. The natural fibers also allow your body to adjust to different conditions, providing insulation in cold weather and helping to keep you cool when temps are high.
The only downside to merino wool, beyond the price, is that it isn't as durable as synthetic materials. If durability's a concern, look for merino products that are blended with a higher percentage of nylon or polyester to add toughness to the yarn.
Synthetics
The two most common synthetic fabrics used in long-sleeve hiking shirts are polyester and nylon.
Polyester
Polyester isn't quite as durable as nylon, but it dries a little faster, is highly breathable, and wicks moisture away well.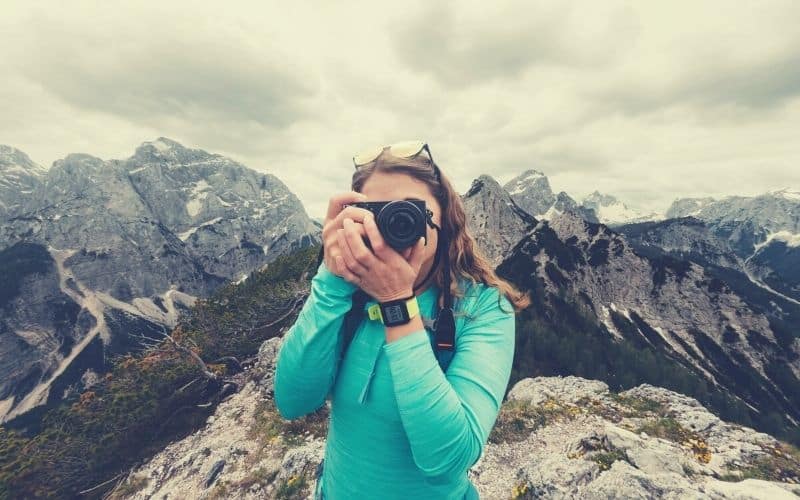 Nylon
Nylon is breathable, quick-drying, moisture-wicking, and a fraction more durable than polyester. On the downside, it's a little stiffer and often not as comfortable. Some brands word around this by adding elastane or spandex to give the fabric a little more stretch and mobility.
Cotton
Although comfortable, cotton isn't a good choice for the great outdoors. It's not the most durable, is slow to dry, isn't high-wicking, and loses all breathability when soaked in sweat.
Antimicrobial Properties
Antimicrobial fabrics are, essentially, odor-resistant ones. They work by killing or preventing the growth of bacteria and other microorganisms that can cause clothes to stink after a sweaty day on the trails.
Merino wool is naturally antimicrobial, so remains smelling fresh long after synthetics start producing a pong. Some synthetic shirts, like that Odlo Blackcomb, use anti-odor treatments in the fabric, but it's worth noting that these usually wear off after a certain number of washes.
UV Protection
One of the main benefits of shirts with long sleeves is that they provide full upper-body coverage and, thus, better protection against the sun's UV rays than their short-sleeve siblings. Some fabrics, however, provide better UV protection than others thanks to the density of the weave or specialized treatments. This is quantified by the fabric's UPF (Ultraviolet Protection Factor).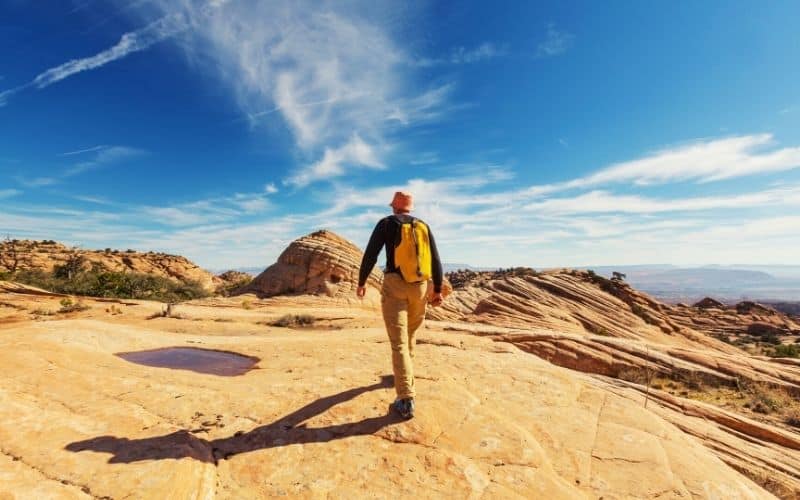 If you plan on hiking in sunny climates, we recommend choosing a hiking shirt with a UPF rating of 20 to 50+. Those at the lower end of the scale will suffice for most buyers on low-level hikes in three-season conditions, while those in the 40-50+ range are a better bet for hikes at altitude.