Group camping trips can be a great way to spend some quality time with your family and friends. However, without a little bit of privacy and alone time, they can also test the patience of the average saint.
Back in the day, your only option was to take a wander in the woods or hide out in the campground John. These days, there is a much more convenient savior of our sanity that has arrived in the form of the multi-room tent.
As the name suggests, these tents are similar to regular models but throw in a room divider or two to give you and your friends or kids some personal space. We're not talking soundproof walls here, but it's amazing what a difference a little sheet of fabric between sleeping areas can make!
To help you find the best option for your needs, we've put together a list of our favorite models on the market. Our list caters to every budget and includes everything from affordable instant tents to waterproof models and palatial affairs for large families. Below our individual reviews, you'll also find expert buying advice to help you narrow down the options.
Top Choices by Category
Budget: CAMPROS CP and Coleman Tenaya Lake
3-Room: Ozark Trail Base Camp 404, NTK Arizona, and Ozark Trail 3-Room
Instant: CORE 9-Person Instant Cabin and CORE 12-Person Instant Cabin 404
Editor's Choice
NTK Super Arizona GT Sport
Looking for a multi-room family camping tent that boasts the ideal combination of livability, weather resistance, storage, and durability? If the answer is 'yes', then this is the tent for you!
The Super Arizona's 210 square feet of interior space and 81" peak height mean it's big enough for 12 sleepers, plus gear, and tall enough for even the loftiest of campers to walk around in.
It also offers great storage. There are two roomy vestibules and several stash pockets in the walls, features that help free up space for sleepers. Its duo of room dividers also lets you create three separate rooms and enjoy a little privacy.
Storage space and livability aside, the Super Arizona has a lot to love. It's 2,500 mm HH, full-coverage fly and fully waterproof, bathtub-style floor make it the most bad-weather-worthy shelter on our list. Its double-layer 190T polyester fabric is also tough enough to withstand frequent use and abuse.
Bottom Line: A robust, waterproof, and roomy shelter that has all the features needed for a comfortable family camping trip.
At a Glance: Quick Recommendations
Best Tents With Room Dividers: Our Top 7 Picks
NTK Super Arizona GT Sport
Editor's Choice
Weight: 42 lbs. ⸱ Center Height: 81" ⸱ Floor Area: 210 sq. ft.
The NTK Super Arizona has everything we look for in a great family tent. It's sturdy, durable, highly waterproof, extra-roomy, and has a bunch of convenient features. The fact that it allows you to create multiple rooms with its sewn-in room dividers just seals the deal.
This is, first and foremost, a massive tent. With 210 square feet of space and a peak height of 81 inches, it's only behind the two Ozark Trail tents in regards to livability. Its large vestibules and interior storage pockets also mean that none of that interior space has to be used for gear storage.
Unlike other tents on our list, the SA uses a full-coverage rainfly with an impressive 2,500mm HH rating. This makes it the most waterproof shelter on our list and perhaps the only one we'd consider using in stormy, three-season conditions. It's also made with burly materials and has multiple vents and mesh windows to reduce stuffiness and condensation in hot weather.
A few other features that make the Super Arizona a standout are its mesh screen room (handy for bug-free evening card games or drying wet gear and sleeping bags), two large D-shaped doors, and a large gear loft for overhead storage.
As a dome tent, we found the SA outperformed all of its peers in windy conditions thanks to its more aerodynamic profile.
PROs

Spacious interior
Solid waterproofing
Great peak height
Two doors
Easy to set up

CONs

Expensive (but fairly priced for such a large tent)
Fiberglass poles
Bottom-Line: An extra-spacious tent with excellent waterproofing, a separate room for gear or lounging, a detachable room divider, and plenty of interior storage features.
Ozark Trail Base Camp 14-Person
Best for Big Groups
Weight: 50 lbs. ⸱ Center Height: 78" ⸱ Floor Area: 400 sq. ft.
This beast of a tent is our top pick for families or groups who like plenty of space. With a total of 400 square feet to roam around in (enough for 5 queen-size air mattresses!), the OT Base Camp is the closest to a "home away from home" you're likely to find in anything made from polyester fabric and fiberglass poles.
Dimensions aside, this tent has a lot going for it. Most notably, it can be divided into four rooms instead of three or two, meaning it's a great option for camping couples or groups of friends who aren't keen on the idea of one huge, communal living space and all the issues that might entail.
The OT Basecamp also has a ton of endearing features. These include an e-port for electrical hookups, 4 doors, 12 windows, an all-mesh ceiling for ventilation, and one hanging storage pocket per person.
PROs

Huge sleeping space
12 windows let in plenty of natural light
Ample headroom
4 doors
Max. 4 rooms

CONs

Fiberglass poles
Partial-coverage rainfly
Bottom-Line: If you need an extra-large tent for an extra-large camping crew, they don't get any better than this!
CORE 12-Person Instant Cabin Tent
Best Instant Tent
Weight: 47.8 lbs. ⸱ Center Height: 80" ⸱ Floor Area: 180 sq. ft.
If you're the kinda camper who prefers to get things underway with the minimum of fuss, this multi-room cabin tent from CORE is a great option.
The Instant Cabin's 180 square feet of interior space makes it large enough to accommodate three queen air beds and two singles. It doesn't have a vestibule, but that roomy interior means you can have plenty of space for 10–12 sleepers and extra camping gear. It also has two room dividers, so you can create three separate areas.
Weighing just under 50 lbs., this is the second heaviest option on our list after the Ozark Trail 3-Room. Nevertheless, its pre-attached, telescoping poles and central pole hub make it a cinch to set up – with some help from a friend, it shouldn't take you any more than five minutes. A handy, duffel-style carry bag also makes it easy to transport.
PROs

Roomy
3 rooms
Resilient materials
Easy setup
Fairly priced
Sturdy steel poles

CONs

No vestibules
Partial-coverage rainfly
Heavy
Bottom-Line: Can be pitched in just 3 to 4 minutes and provides a well-ventilated, partitioned living space for all of the family.
Coleman Tenaya Lake
Best Value
Weight: 33.8 lbs. ⸱ Center Height: 80" ⸱ Floor Area: 117 sq. ft.
Coleman tents are famed for offering excellent value for money, and the Tenaya Lake is no exception.
This cabin tent is one of our favorites for summer camping trips with the family. While there's no vestibule or screen room, it has a closet with a hanger bar and shelves where you can store your clothes and gear out of the way. Its huge door and plethora of windows also make it one of the most well-ventilated options out there.
The TL has just 117 square feet of interior space, making it one of the smaller tents on our list. However, this is enough to fit two queen-sized air mattresses and its near-vertical walls help to maximize headroom from end to end and side to side, giving it a far roomier feel.
And the downsides? The Tenaya Lake is dubbed a "fast pitch" tent by Coleman, but it will take two people in the region of ten minutes to set it up. Its tiny rainfly also makes it a lot less waterproof than models like the NKT Super Arizona and its single partition means you can only create two rooms instead of three.
PROs

Enough space for two queen air mattresses
Built-in closet!
Pitches in under 10 minutes
Divider creates two separate rooms
Sturdy steel poles
E-port for campsite electric hookups

CONs

Heavy
No vestibule or screen room
Only 2 rooms
Partial-coverage fly
Bottom-Line: A well-made, 8-person car camping tent that's easy to pitch, roomy, and comes with an awesome built-in storage closet.
CAMPROS CP 8-Person
Best Budget
Weight: 17.4 lbs. ⸱ Center Height: 75" ⸱ Floor Area: 126 sq. ft.
If you're looking for a basic family tent for occasional nights in the sticks, the CAMPROS 8-Person is well worth considering.
This tunnel-style tent weighs just 17.4 lbs. and has a simple, color-coded pole system that makes setup a breeze. Its 126 square feet of interior space can easily accommodate 8 sleepers, and a central divider lets you create one room for the kids and one for the adults. While not fully waterproof, it's 1,000mm HH rainfly will keep you dry in lighter, sustained rainfall.
This is the smallest tent on our list and is a little short on extra space for gear storage. However, given that it costs almost half the price of the next cheapest model we reviewed, the Coleman Tenaya Lake, it's a decent tent for buyers working with a tighter budget.
PROs

Affordable
Lightweight (17.4 lbs.)
Easy setup
Decent ventilation

CONs

Not waterproof
Only one door
Bottom-Line: A basic, 8-person shelter that's great for infrequent, fair-weather campers.
CORE 9-Person Instant Cabin Tent
Honorable Mention
Weight: 27.62 lbs. ⸱ Center Height: 76" ⸱ Floor Area: 126 sq. ft.
If you're looking for a shelter that can be transformed from packed to pitched in next to no time, and yet still offers enough room for large groups, the CORE 9-Person Instant Cabin is well worth a look.
This cabin-style tent can be set up in under two minutes thanks to its pre-attached poles and central pole hub, making it the easiest and quickest to pitch on our list. This is particularly impressive given its size – with a peak height of 76 inches and 126 square feet of interior space, it's hardly petite!
Easy setup aside, there's a lot more to love about this tent. In addition to its huge mesh doors and windows, the CORE Instant Cabin has "adjustable air intake vents" that draw in cool air from the ground and allow warm air to escape through the ceiling. This makes it a great option for hot and humid conditions.
The only complaints we have with the CORE Instant Cabin are that its partial-coverage rainfly leaves a lot of the inner fabric exposed to the elements, and the waterproof rating of the fabric is unlikely to withstand heavy or sustained rainfall.
PROs

Roomy
Zippered privacy divider
Great ventilation
Hanging storage pockets
Takes roughly one minute to set up
Electrical cord access port

CONs

Short on weather resistance
Bottom-Line: Not ideal in wet weather, but a piece of cake to set up and a standout performer in warm conditions.
Ozark Trail Three-Room Tent
Best Three-Room
Weight: 61 lbs. ⸱ Center Height: 82" ⸱ Floor Area: 256 sq. ft.
The OT 12-Person Instant is a great tent for large families and groups of friends who want an extra-roomy shelter without paying a penalty as regards setup time.
This palatial, three-room shelter weighs in at a hefty 61 pounds and offers 256 square feet of floor space, making it the second largest on our list after the OT Base Camp. Despite this, it can be pitched in around two minutes thanks to pre-attached poles and a central pole hub that opens like a giant umbrella. All told, the total setup will take 3–4 minutes.
While there's no vestibule, you do get a super-handy, oversized awning under which you can dry out gear or chill in the shade.
This cabin-style tent also has a handful of great features. These include oversized ground vents to boost airflow and stave off stuffiness and condensation, an e-port for electric hookups, two walk-through doors, and seven large windows.
PROs

Huge!
Fairly priced for the size
Easy setup
Two huge doors
7 windows

CONs

Partial-coverage rainfly
Heavy
Bottom-Line: A huge, well-made shelter that boasts a real "home away from home" feel.
How to Choose a Multi-Room Tent
Livability: Living Space, Storage, and Center Height
If you're looking for the best multi-room tent, the chances are that livability is one of your main priorities. 
But what makes one tent more livable than another? The most important factors to consider are the overall square footage, peak height, vestibule space, and storage features.
We recommend opting for a shelter that provides each sleeper with around 14 square feet of floor space, this will give them enough room for a sleeping pad and some gear each. Concerning peak height, anything that's tall enough to allow all members of your group to move around without hunching over is ideal. This means around 74 inches and above if you're all under 6 feet tall.
Vestibule space and storage features like gear lofts and pockets play an important part in a tent's livability. They free up interior space by allowing you to store your gear either outside or above the sleeping area.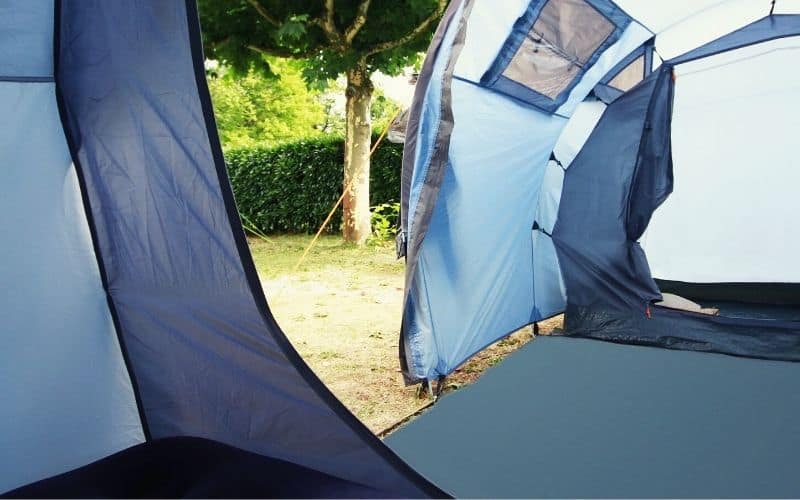 All of the tents on our list have plenty of wall pockets and/or gear lofts for storage. However, standouts are the Coleman Tenaya Lake, which has its own built-in closet, and the NKT Arizona, Ozark Trail Base Camp, and Ozark Trail 3-Room, all of which have separate screen rooms.
Weatherproofing
In this metric, there are two things to pay attention to, the coverage provided by the rainfly and the hydrostatic head of the rainfly fabric.
Rainfly Coverage
There are two types of rainfly: full-coverage and partial-coverage.
As the names suggest, full-coverage flys cover the whole tent providing superior protection against the elements.
Partial-coverage flys cover only part of the tent and thus leave part of the inner tent exposed. In many cases, however, the exposed part of the tent will be made with waterproof fabric to mitigate the risk of it leaking in wet weather. It's also worth bearing in mind that partial flys allow more airflow, which often makes them a better pick for summer camping.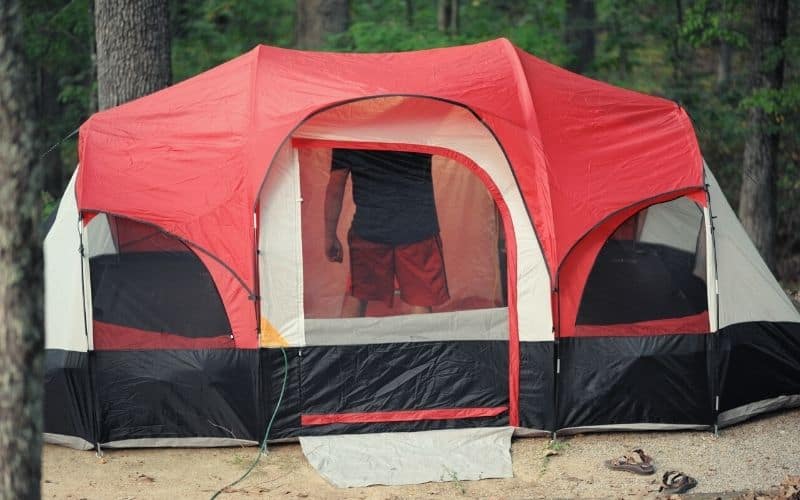 In our review, the only tent with a full-coverage fly is the NKT Arizona.
Hydrostatic Head
This is the rating system used to distinguish the degree of water resistance in tent fabrics. In a few words, the higher the hydrostatic head (HH), the more waterproof the fabric is. For example, a tent with a HH rating of 2,500 mm, like the NTK Super Arizona, will offer more robust protection than one with a HH of 1,000 mm, like the CAMPROS CP.
Ease of Use
Multi-room tents tend to be on the big side, and are generally trickier to pitch than their smaller siblings in the tent market. While some of these tents can be pitched by one person, most will require an extra pair of hands at setup.
The easiest to pitch on our list are the CORE 9-Person and CORE 12-Person instant tents, both of which can be pitched in under 5 minutes. The trickiest to pitch is the Ozark Trail Base Camp, though this is perhaps understandable given its size!
Tent Features
A few additional, non-standard features will up any tent's game in terms of convenience and practicality. The most important of these are vestibules for gear storage, a screened porch, removable room dividers, air vents for ventilation, and internal storage features like a gear loft or built-in pockets in the tent walls.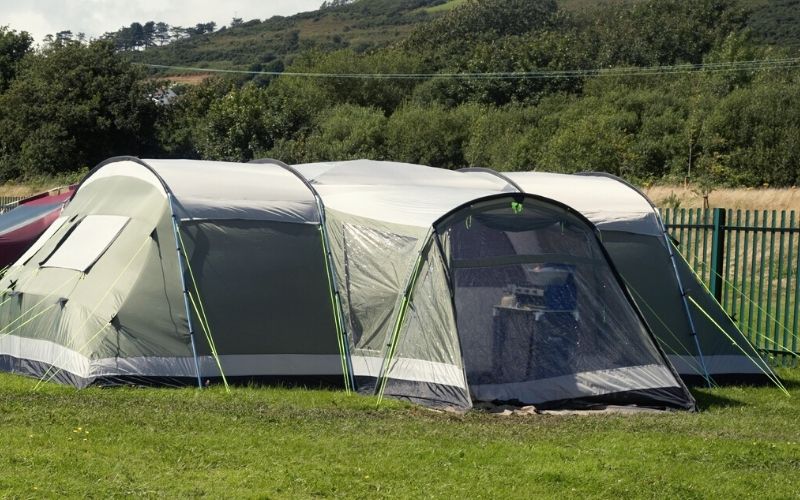 Best Multi-Room Tent: The Verdict
Just in case you're still undecided, let's have a little recap of our top picks.
Our favorite multi-room shelter is the NKT Super Arizona. Not only is this the most waterproof tent on our list, but it's also highly durable, among the roomiest, and has a bounty of standout, value-adding features.
If the Super Arizona's price tag puts you off, take a look at the CAMPROS CP and Coleman Tenaya Lake. While neither of these tents is waterproof enough for three-season conditions, they're great for summer camping, roomy enough for all the family, and cost a fraction of the price.
If you liked this post or have any questions, let us know in the comments box below. And if you'd like to share it with your friends, please do!