As all dog owners know, bringing a canine into the family home requires a few tweaks to your living arrangements. When camping, however, we have the luxury and benefit of being able to choose a home that's already pre-tweaked and primed to accommodate your canine best friend.
In this guide, we review 7 tents that fit that bill to a 'T'. Each one is tough enough to deal with all sorts of maltreatment from your mutt, roomy enough to accommodate a pack of wolfhounds, and otherwise equipped to make life at camp altogether more comfortable for humans and canines alike.
Best Dog-Friendly Tents by Category
Best Budget Tents for Dogs: Mountainsmith Morrison and Coleman Evanston
Best Backpacking Tents: Mountainsmith Morrison and Coleman Juniper Lake
Best Tents for Big Dogs: Coleman Weathermaster, Coleman Red Canyon, and Wenzel Klondike 8-Person
Editor's Choice
Coleman Elite WeatherMaster 6
Scooping our award as the best tent for dogs out there is the Coleman Elite WeatherMaster 6.
The WeatherMaster ticks every box for camping with canines. It's tough, spacious, well-ventilated, waterproof, and has a 53-square-foot screen room that can be used as a doggie dormitory or a simple playpen for your pooch.
Like other Coleman tents, the Weathermaster offers great value for money by outperforming many of its far pricier competitors in all the most important metrics.
In addition to being made with burly, dog-resistant fabrics, it has an impressive waterproof rating (6,000mm…more on that later!), space galore, and great features. The most notable of these is its wealth of interior storage pockets, hinged door, and an integrated, dimmable LED lighting system that makes it feel like a passable version of your lounge at home.
Bottom Line: Blessed with all the toughness and space you need in a shelter for camping trips with your canine.
At a Glance: Quick Recommendations
Best Tents for Dogs: Our Top 7 Picks
Coleman Elite WeatherMaster 6
Editor's Choice
Size: 153 sq. ft. ⸱ Weight: 31 lbs.
The Weathermaster is an awesome choice if you and your furry friend want a little bit of luxury, plenty of space, and a shelter that won't tear up after just a few trips.
This spacious tent excels in both warm and wet conditions. The WeatherTec waterproofing is rated to 6,000mm, so you and your canine camping crew will be safe from soakings in rainy weather, and your gear will stay dry if your wet dog chooses the vicinity of your tent for their post-river-dip shakedown.
In hot conditions, the duo of large doors, mesh ceiling, and mesh-lined windows keep stuffiness and condensation to a minimum.
Two features make the WeatherMaster a standout for critters and keepers alike. First, a huge screened room in which your pup can chill in the shade in the daytime or catch Zs at nighttime. Secondly, an LED lighting system that makes it easy for them, after dark, to locate essentials like dog toys, bones, or the treats you've hidden in your backpack.
PROs

Massive (fits two queen air mattresses)!
80-inch peak height
Room divider
Tough, 75D fabric
LED lighting system
Waterproof

CONs
Bottom-Line: One of the best tents for camping with dogs when you need a little more space and plan on heading out in all weather.
Wenzel Klondike 8-Person
Runner Up
Size: 158 sq. ft. ⸱ Weight: 27.3 lbs.
One of the main features we highlight in our buying advice below is additional space in the form of an annex, screened room, or vestibule. The USP of the Wenzel Klondike is that it doesn't just have any old vestibule but one that measures a whopping 60 sq. ft. In dog terms, that's enough space to swing a cat in, or at least for plenty of privacy from pesky humans.
The sleeping area in this shelter measures 98 sq. ft., so four-legged campers could feasibly allow a few humans (6 or 7 tops) in there too if they so choose. Inside, you'll also find plenty of storage pockets and mesh windows that permit ample airflow.
While not as waterproof as the Coleman WeatherMaster, the Klondike is a slightly better performer in warm weather thanks to its smaller rain fly, large windows, and a handy ground vent at the rear, which can also be used by your pup to sneak in unnoticed after a night out on the prowl.
The Klondike is also easier to pitch than many of the larger tents on our list, so your pup won't be embarrassed by their human taking an age to do something they'd take care of in seconds if you'd only let them help by chewing the poles, sitting on the fly, stealing the stakes, etc.
PROs

Affordable
Huge screen room
Welded polyethylene floor resistant to tears caused by dog's paws
Great ventilation
Easy setup
10-year warranty

CONs

Not the most waterproof
Only one door
Bottom-Line: Great in hot weather, space galore, and offers a separate room/living area each for humans and hounds.
Coleman Juniper Lake Instant Dome Tent with Annexe
Best Budget
Size: 63 + 28 sq. ft. ⸱ Weight: 13 lbs.
This four-person tent isn't only cheap, it's also very, very cheerful.
How cheerful?
Let's start with the doggie bits.
First of all, the Juniper Lake has plenty of space for the suggested number of occupants (4), boasting 63 square feet of floor space. This gives each sleeper a generous over 15 square feet of personal space. While the peak height is low (50 inches), this is to be expected in a hybrid tent geared toward both backpacking and car camping.
Secondly, in addition to that main sleeping area, you get a nicely sized annex. At 28 square feet, this doesn't compare to the screen rooms on the Coleman Evanston or Wenzel Klondike, etc., but it's more than big enough for a few canines.
Now over to the causes for cheer for the humans.
Firstly, this tent is cheap! While cheapness usually entails a few compromises in metrics such as durability or sturdiness, with the Coleman Juniper Lake, this isn't the case.
Sure, it uses fiberglass tent poles instead of sturdier steel or aluminum poles, but these will serve you well unless you start using them for games of "fetch" or camp out in hurricane-force winds. The polyguard fabric is also tough enough to deal with those madcap digging sessions and is surprisingly effective in wet weather.
Secondly, the setup is an absolute cinch. Even if your pup's pawing at your legs for attention and your kids are too busy taking pics of the scene to lend a hand, it shouldn't take you any more than a minute (seven minutes in dog time).
There are, however, a few downsides.
First of all, while getting the thing up is child's play, getting it back into the carry bag requires a Ph.D. of some kind. Either that, or we're missing something.
Secondly, the annex is, for reasons unknown, situated at the rear of the shelter. While this means it's far from critters who might sneak in to steal your dog food supplies, it also means your dog will have to traverse the entire tent interior to get to their designated bedroom. Even if you have a well-trained dog, it's hard to imagine they'll be wiping their feet before doing so.
PROs

Cheap!
Nice annex space
Plenty roomy for 4 (and big enough for a queen-size air mattress)
60-second setup
Hard-wearing tent floor

CONs

Getting it back into the carry bag can be tricky!
Only one door (fine if you're ok with your dog wandering through the tent to reach the annex)
No vents to help keep tent temperature down
Bottom-Line: One of the best camping tents out there for human-canine adventure teams who value convenience above all else.
Coleman Red Canyon
Best for Large Families (with Large Dogs!)
Size: 170 sq. ft. ⸱ Weight: 21.5 lbs.
If space is your number one priority, this Coleman dome tent-tunnel hybrid is well worth considering.
The Red Canyon has a giant, 170-square-foot interior. This makes it both the largest model we reviewed and capable of hosting an annual county dog show, never mind accommodating a pair of pooches and a few humans. While dubbed an 8-person shelter, you could comfortably squeeze in 8-10 adults plus a few dogs. Given its low price tag, that's a lot of room for very few $.
But the Red Canyon has a lot more going for it than space alone. Its large windows and wall vents mean it ventilates well in warm weather, while its two-room dividers let you get a little privacy come bedtime. The tent material isn't quite as rugged as the WeatherMaster, but it's waterproof and tough enough to deal with the passage of many paws.
At 21.5 pounds, it's a little too heavy for a backpacking trip, but it's light for the size and downright feathery compared to the Coleman WeatherMaster, which is slightly smaller but weighs 10 pounds more.
PROs

Huge!
Affordable
Great ventilation
Two doors
Dividers let you create 3 separate rooms

CONs

Less durable materials
Takes 15-20 minutes to pitch
Bottom-Line: An affordable multi-room shelter that boasts enough space for a huge camping crew and their canine companions.
Coleman Evanston Screened Tent
Best Value
Size: 90 sq. ft. + 50 sq. ft. ⸱ Weight: 20.9 lbs.
The Coleman Evanston is, in essence, a pared-down and more affordable version of the hugely popular WeatherMaster (above).
The Evanston has a 90-square foot sleeping area and a 50-square foot screen room. While these dimensions aren't as generous as other options on our list, that's still enough for 6 adult sleepers, all your camping gear, and a pack of pups.
Like most Coleman tents, the Evanston uses the brand's patented WeatherTec waterproofing technology. This includes a partial-coverage waterproof rainfly, welded corners, and inverted seams, all of which make it an above-average performer in wet weather.
This is also a surprisingly rugged shelter for the price. It's made with 75D polyester taffeta, which isn't the toughest fabric out there but burly enough to withstand a bit of abuse. The floor is also hardy enough to handle scratches from even sharp pawnails.
Other admirable features in the Evanston include window awnings, interior storage pockets, and a skylight for star-viewing on clear nights.
The main downsides to the Evanston are that it only has one tent door and the shape of the screen room leaves a portion of it exposed to rain – not ideal if you were planning on using it as a sleeping area for your pup.
PROs

Plenty of interior space
Separate screen room
Affordable
Tough fabric

CONs

Rain fly doesn't cover the screened porch
Only one door
Bottom-Line: A well-made and nicely priced tent that lacks a few bells and whistles but offers great value nonetheless.
Mountainsmith Morrison 2-Person
Best Backpacking Tent
Size: 35 sq. ft.+ 14 sq. ft. ⸱ Weight: 5.5 lbs.
Weighing in at just 5.5 pounds, the Mountainsmith Morrison is the lightest of all the tents on our list by a long way. It's one of only two tents on our list that's suitable for backpacking trips or tent camping a few miles from the trailhead. But to achieve that, this lightweight tent does do away with a few extra features and attributes.
Like most backpacking tents, the MM is a bare-bones affair. All you get are a reasonably sized sleeping compartment and two small vestibules where you can let your dog sleep separately from the humans if he/she ain't a snuggler. The sleeping area measures 35 square feet and the vestibules 7 square feet each.
Unlike most of the other shelters on our list, the Mountainsmith Morrison is a genuine three-season tent. That means it's capable of keeping you and your dog warm and dry even in heavy rain showers and strong winds.
We also love that it has two doors and two vestibules. This layout means that you and your camping partner (or pup) have one entryway/exit each, as well as two spaces for storing gear or creating a dog sleeping area.
Above all else, the MM is very well-made. The aluminum poles are robust, the 185/190T fabric tough as nails (almost), the seams well stitched and sealed, and the bathtub floor resilient enough to keep the tent interior dry and deal with sharp claws.
And the downsides? Well, there's no denying the vestibule space falls a long way short of the giant screen rooms on other tents on this list (okay for smaller dogs, not so much for big ones) and the low peak height could make things a little claustrophobic. This, however, is the trade-off you almost always have to make in return for portability.
PROs

Portable
Two doors
Waterproof
14 sq. ft. of vestibule space (7 + 7)
Accommodates up to two people and up to two dogs
Water-resistant stuff sack
Reflective tent cords/guylines

CONs

Small (but not pokey)
Low center height
Bottom-Line: Brilliant for backpacking and a standout performer in wet and cold weather.
Yolafe Dog Camping Tent
Best Dog-Only Tent
Size: 9 sq. ft. ⸱ Weight: 5.4 lbs.
If you'd like to treat your dog to a tent all of their own, the Yolafe Pet Tent is the perfect option.
On first impressions, this "dog house" might look cute or like a quirky novelty item. However, there is a lot more substance to it and we'd happily spend a night or two inside it ourselves if they made them in a bigger size!
The Yolafe's interior measures 36" x 36" x 26", which makes it roomy enough for all but very large dog breeds. It's also very easy to pitch thanks to the use of a central pole hub that pops into place in the same way as an umbrella.
Performance-wise, this little shelter took us by surprise. Not only is it made with extra-burly, 600D oxford fabric, but it also has a rain fly that's rated to 1500mm (enough for even heavy rain showers) and mesh walls that ensure your furry homie gets plenty of fresh air.
Depending on your pet-parenting style, you might also appreciate the zippered closure on the front entrance, which will allow you to leave your dog inside without worrying about him busting out and going AWOL.
PROs

Waterproof
High-denier, rip-resistant fabric
Convenient carrying bag
Roomy (measures 36" x 36" x 26")
Closeable entrance

CONs
Bottom-Line: The perfect tent for pups that prefer to sleep solo!
How to Choose a Tent for Camping With Your Canine
Materials
As all dog owners know, our furry friends' capacity for the destruction of fabrics (and other, more solid materials) is high. As such, any tent you plan on camping with your canine in has to be made with materials that can withstand a little bit of rough treatment.
But how are we to determine this?
Two things will tell us just how rugged and durable any tent fabric will be: the type of fabric and its thickness.
The most rip-resistant fabric is something called "ripstop" nylon or polyester. This simply means that the fabric is made with a dense, crisscrossed, diamond-patterned weave that increases tear strength.
And thickness? This is quantified in something called "denier" and appears in product descriptions as a figure followed by a "D", i.e. 50D, 70D, etc. The higher the figure, the thicker and more durable the fabric will be.
Whichever tent you end up buying, we recommend giving your pup's nails a trim before your camping trips!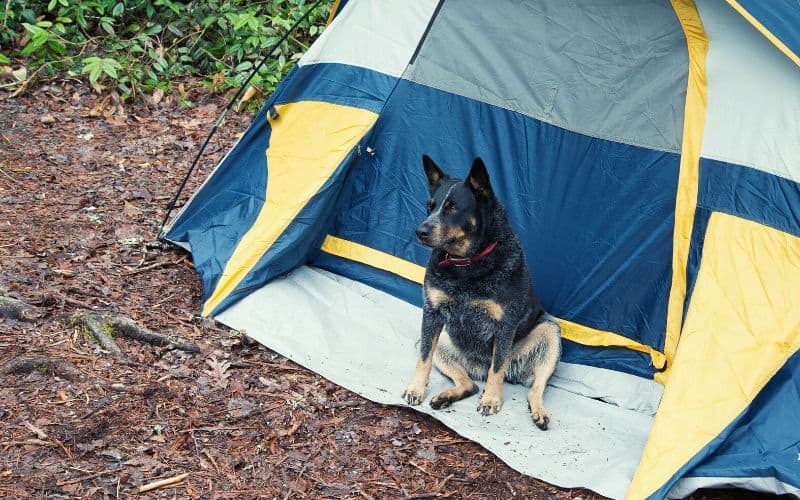 Vestibules or Screen Room Space
Here's the bottom line: any tent that doesn't have vestibule space or a screen room can't really be considered a dog-friendly tent.
The reasons for this are simple. First of all, a vestibule or screen room gives you a little extra space, whether it be for gear storage (you'll have more when camping with your canine) or sleeping.
Secondly, screen rooms are often better ventilated than the interior (the tent body), so oftentimes your pup will gravitate there to avoid overheating.
Finally, canines have little regard for our wish to keep living spaces clean, so will happily drag their toys, sticks, and whatever else they happen to find around camp inside the tent. Vestibule space gives you somewhere to stash all of this and keep your sleeping area free of clutter, drool, etc.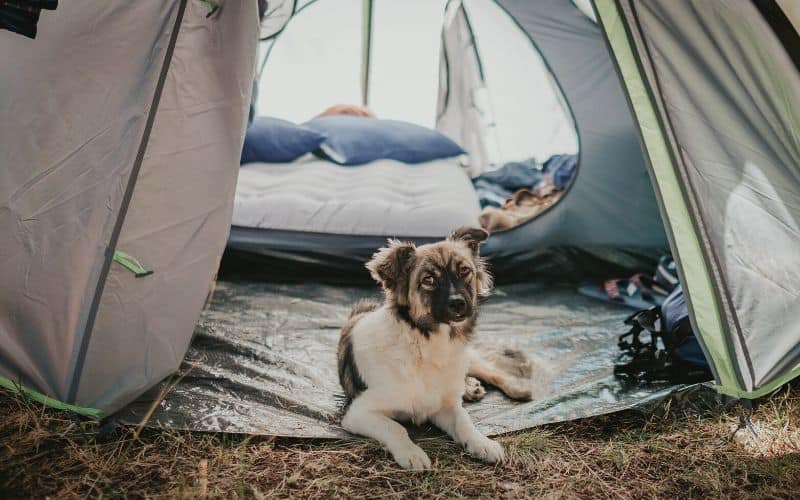 Size
We generally recommend buying a shelter that provides each sleeper with around 14 square feet of floor space. When your dog joins you on your camping trip, however, you're going to need a little extra sleeping space.
But how much? This depends both on the size of your dog and how they prefer to sleep. If they're snugglers, then you'll probably only need a few extra square feet of space. If they tend to sleep in their own dog bed, however, they'll likely take up 5-8 square feet of space, which effectively reduces the capacity of your shelter by one person.
Most of the tents on our list aren't specially designed to accommodate dogs. So, when browsing the options, just bear in mind that you'll need around 14 sq. ft. of space for every human on the trip, plus a few more square feet for each canine.
The roomiest model on our list is the Coleman Red Canyon, which boasts 170 square feet of interior space. If using the screened room for sleepers, this should accommodate 10 to 12 humans plus a couple of canine companions.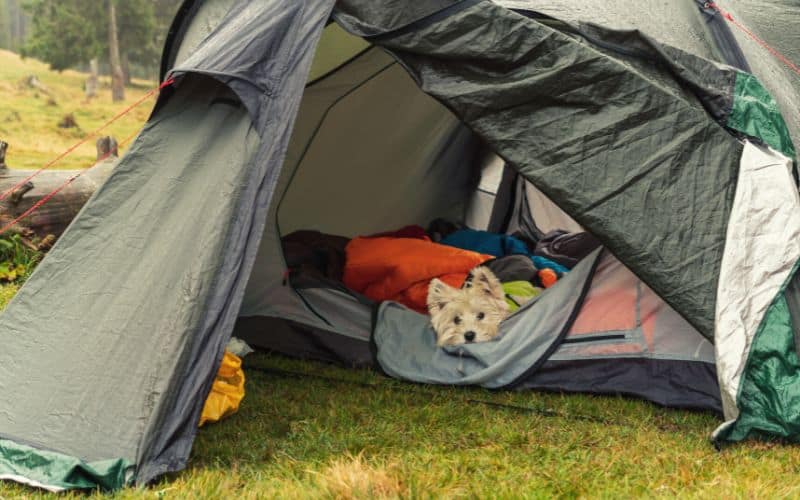 One Door or Two?
Canine or no canine, having two doors is always far more convenient than having just one. With two doors, you won't have to clamber over your tentmates to get in and out. Likewise, your pup won't have to step on all of them, you included, to dash for their nighttime or early morning pee.
Two doors also make it easier to load or unload your gear and seriously improve air circulation.
Ventilation
This is important for two reasons, especially when you take your dog's camping in warm weather. First, it prevents overheating in high temps or when your tent's capacity is maxed out. Secondly, it helps prevent condensation by allowing fresh air to circulate.
The features that aid ventilation in any camping or backpacking tent include mesh panels in the walls and canopy, ground and/or ceiling vents, and large doors.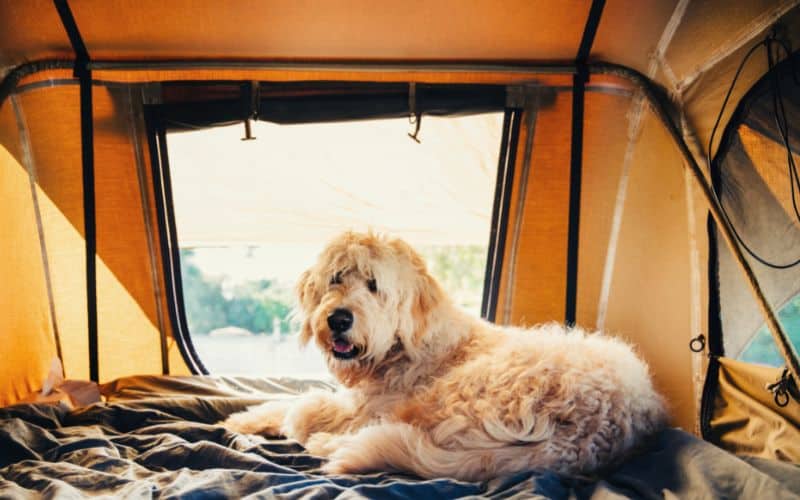 Best Tent for Camping with Dogs: The Verdict
Just in case you're still undecided, let's have a quick recap of our top picks.
Our favorite shelter for camping with dogs is the wonderful Coleman Elite Weathermaster. This beast of a tent ticks all the boxes for human-canine camping trips. It has a palatially spacious interior, made with claw-resistant materials, has a huge screen room, and performs well in both wet and warm weather. It may be a little pricey, but it's well worth the expense.
If the WeatherMaster's too expensive for your budget, take a look at the Coleman Juniper Lake. This tent isn't quite as well-thought-out as the WeatherMaster, but it covers all of the important bases and is an absolute steal at the price.
If you liked this article or have any questions about dog-friendly tents or camping with your dog, let us know in the comments box below. And if you'd like to share it with your friends, please do!