No hiker's outdoor getup is complete without a little luxury in the form of a good ol' woolen shirt.
These may seem like simple pieces of gear, we know. However, the best ones on the market nowadays are actually jam-packed with technology that can help to keep you warm, comfortable, and sweat-free from start to finish on your hikes.
In this guide, we'll introduce you to 9 of our favorite merino short-sleeve and long-sleeve tops on the market. As an added bonus, we'll also clue you into everything you need to know to get the best merino wool hiking shirt for all your adventures.
Editor's Choice
Icebreaker Merino Wool Tech Lite
When it comes to merino wool t-shirts, versatility is key. That's why the Icebreaker Tech Lite is our go-to short-sleeve shirt for all-around hiking pursuits.
The Tech Lite's 150 gsm Corespun merino wool provides it with unparalleled durability and comfort on the trail. It also offers both UPF 30+ protection and odor-resistance, so it's a solid choice for adventures in all weather conditions.
While some folks might find that the Tech Lite is a bit thick for high-octane pursuits in hot climates, it's still a solid option for the majority of adventurers.
Bottom line: If you need one shirt to do it all, the Icebreaker Tech Lite is an outstanding choice.
The Top Wool-Based Hiking Shirts: Everything You Need To Know
Like any outdoor gear, woolen shirts can be a hit or a miss. As a result, it's imperative that you know what to look for before you buy.
In this section, we'll give you the low-down on everything you need to know about woolen hiking shirts to help you on your way.
What Is Merino Clothing?
If you're in the market for a woolen shirt, you've probably heard folks talking about merino wool. But, what exactly is merino wool?
Basically, merino wool is a type of fabric that comes from a specific breed of sheep—merino sheep. Merino sheep are most commonly found in New Zealand and Australia, so most shirts with merino fabric are sourced from these two countries.
Compared to regular woolen fabrics, merino wool offers a number of benefits. While your standard woolen sweater is likely to be itchy, heavy, and bulky, shirts made with merino wool are anything but.
In particular, some of the many benefits of merino include:
High breathability
Excellent moisture-wicking properties
Odor-resistance
Quick-drying abilities
Soft-to-the-touch
Given all of the above, merino wool garments are a solid all-around choice for use in just about all outdoor environments.
How To Choose A Wool Shirt For Hiking
Now that you know about the benefits merino has to offer, let's talk a bit about how to actually choose a woolen shirt for your adventures.
Fiber Diameter
The first thing you'll notice when shopping for merino wool t-shirts is that these shirts all have a "fiber diameter" listed in their specs. This diameter refers to the size of the individual fibers used in the fabric.
Fiber diameters are expressed in something called microns, which is a millionth of a meter. You'll see anything from about 15 microns up to 21 microns in most merino wool t-shirts.
Basically, the lower the micron, the softer the merino. The best merino wool shirts in terms of comfort and performance normally have a fiber diameter of around 16 to 19 microns. However, the smaller the fiber diameter, the more expensive and less durable the shirt is likely to be.
Fabric Weight
In addition to fiber diameter, another spec you'll see on your standard merino wool t-shirt is something called fabric weight.
Merino wool fabric weights are expressed in grams per square meter (gsm). In a merino wool t-shirt, you'll normally see weights between about 100 gsm and 400 gsm.
Essentially, the lower the fabric weight, the thinner the fabric. While there's no single fabric weight that's best for all environments, something in the 100 to 200 gsm range is ideal for warmer conditions. Meanwhile, 200 gsm and up is usually better for colder temperatures.
Garment Fabric Composition
If you're reading this article, you're probably looking to wear a regular or merino wool t-shirt on your adventures. However, it's worth mentioning that relatively few merino wool t-shirts on the market are actually made from 100% merino.
In fact, most are a blend of merino and nylon. Merino/nylon blends are very popular in the industry because nylon provides the durability that thin merino fibers naturally lack.
However, adding nylon to a merino wool shirt does decrease some of merino's natural softness and moisture-wicking abilities. It also makes it slightly less breathable and less quick to dry.
The take-home? Opt for a shirt with lower nylon content if breathability's your main priority; shoot for a nylon-rich option if you're more concerned about durability.
Affordability
Finally, it's worth mentioning that both regular and merino wool shirts for hiking don't come cheap.
Most woolen tops sell for 3 or 4 times the price of your standard short-sleeve crew tee, so they're not the most economical option out there. Models that are made from a blend of nylon and merino tend to be more affordable, but they're still pricier than your standard cotton short-sleeve tee.
So, if you're working with a tight budget, a merino wool t-shirt that has nylon blended in is a great option.
The 9 Best Wool Shirts And Base Layers For Hiking
Smartwool Merino 150
Best for Light & Fast Adventures
If ultralight mountain missions are more your style, the Smartwool Merino 150 is a great option.
Crafted out of a 150 gsm merino wool blend, this men's t-shirt is lightweight enough for summertime adventures. This merino tee is engineered with Smartwool's Core Spun technology, which blends together nylon and merino fibers for enhanced durability.
It boasts a slim fit and a crew neck for added comfort as well as flatlock seams to reduce chafing after long days on the trail. Plus, it comes with Smartwool's highly reassuring 2-year warranty, so you can feel confident in what you buy.
That being said, we're not jazzed about the relatively high price point on this tee, especially since it's not made from 100% merino. But, if you want a lightweight top to keep you cool and comfortable on the trail, this model is hard to beat.
PROs

Flatlock seams prevent chafing
Lightweight and highly breathable
Nylon fibers blended in for durability

CONs

Fairly high price for a merino wool and nylon blend
Bottom-Line: Whether you're a thru-hiker or a passionate mountain runner, the versatile Smartwool Merino 150 is a superb tee to add to your gear list.
Icebreaker Tech Lite
Editor's Choice
Our top choice for men's merino wool tees, the Icebreaker Tech Lite is a high-quality shirt that brings its A-game in a wide variety of situations.
The Tech Lite is made out of 150 gsm Corespun merino that's blended with nylon for extra durability. It also boasts a UPF 30+ rating for improved protection against the sun's harmful rays.
At the same time, the Tech Lite is designed to be both odor-resistant and completely machine washable, so it's a great choice for every-day use and frequent campers.
That being said, the Tech Lite is a bit heavier than some of its merino t-shirt counterparts, so it's not great for very hot weather. Regardless, if all-around performance is your goal, it's one of the best merino wool t-shirts available.
PROs

UPF 30+ sun protection
Odor-resistant
Machine-washable

CONs

A touch too thick for high temps
Bottom-Line: If you need an ultrafine merino t-shirt that performs well in just about any situation, it's hard to go wrong with the Icebreaker Tech Lite. 
REI Co-op Merino Midweight Base Layer Crew Top
Best Midweight Base Layer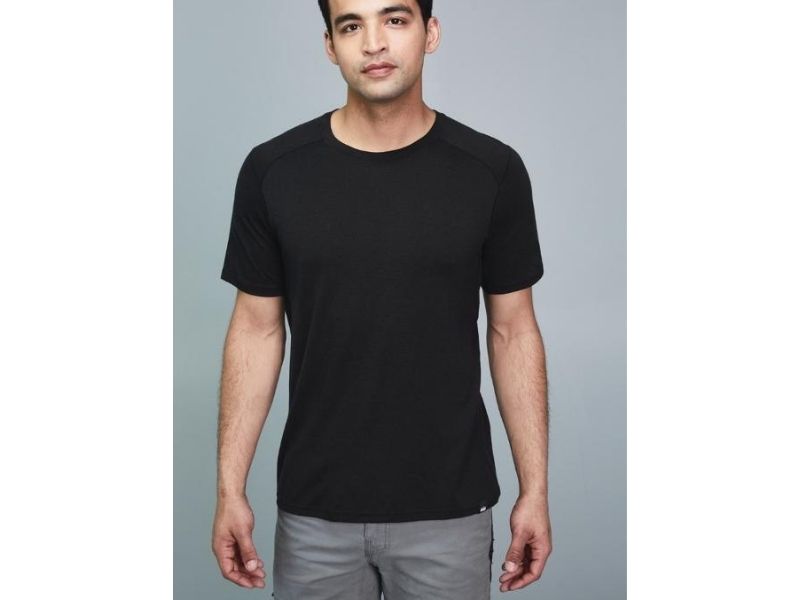 Designed to be your go-to midweight layer in the mountains, the REI Co-op Merino Midweight Base Layer Crew Top is a super-soft crew-neck t-shirt that's worthy of any adventure.
REI crafted this tee out of 18.5-micron merino, which is both comfortable and capable of excellent body temperature regulation. It's also 250 gsm in thickness, so it's easy to layer under other garments.
This top also features underarm gussets for improved range of motion and has a drop-tail hem that's made to stay in place under your pack's hip belt. These small non-standard features may seem negligible, but they make a big difference to the top's overall comfort and performance.
Some folks might find that this tee is a bit thick for summertime use, but that really depends on where you're spending your summers!
PROs

Midweight construction to keep you warm
Underarm gussets for range of motion
Droptail hem for a better fit under a pack

CONs

A bit too heavy for warm conditions
Bottom-Line: Warm, cozy, durable, and oh-so functional, this tee from REI is one shirt that's ready for a lifetime of adventure.
MERIWOOL Merino 190 Base Layer
Best Value
Think merino is too pricey for the budget-conscious hiker? Think again! The MERIWOOL Merino 190 is one of the most affordable merino shirts for men on the market and performs, we've found, almost as well as most of its far pricier competitors.
One of the few merino t-shirts made from 100% merino wool, this tee is crafted out of 16.5-micron fibers for added comfort on the trail. This merino comes directly from Australia, too, so you can feel confident that you're investing in quality gear.
Being 100% merino, this model is also naturally antibacterial and odor-resistant. That means you can go on a week-long trip without washing it and still not scare away all your friends in the process.
We ought to note, however, that this ultrafine merino t-shirt is less durable than some of the alternatives. Nevertheless, for such an affordable tee, it's hard to beat in terms of overall value.
PROs

Affordable price point
Merino is ethically sourced
Lightweight and soft to the touch

CONs

Durability concerns with thinner fabric
Bottom-Line: When affordability is your chief concern, you can't go wrong with the MERIWOOL Merino 190 Base Layer.
Kari Traa Lokke Crew Top
Best Style
Blending style and functionality into one unique shirt, the Kari Traa Lokke Crew Top for women is a stunning long-sleeve crew that every female outdoor-goer should have in their kit.
Made out of 100% merino wool, this 235 gsm top has an ultra-soft feel for increased comfort on the trail. It's also capable of keeping you warm when wet and is naturally antibacterial.
The real showstopper with this top, though, is its sweet, Nordic-inspired pattern, which is perfect if you want to look good while also enjoying all the other benefits inherent to merino wool products (not all of which, we assure you, are quite so stylish!).
The downside? The Kari Traa Lokke doesn't come cheap. For quality and style like this, though, the added cost might be worth it.
PROs

Nordic-inspired patterning
Made from 100% merino
235 gsm weight is ideal for year-round use

CONs
Bottom-Line: If you need a merino shirt that combines style and performance, the Kari Traa Lokke is well worth considering. 
Black Diamond LS Rhythm Tee
Best for Range of Motion
Sick of tight long-sleeve shirts that restrict your range of motion? If so, then Black Diamond LS Rhythm Tee might just be the solution you've been looking for.
One of the lightest long sleeves in our review, the Rhythm is made from 95 gsm Nuyarn nylon/merino fabric. Nuyarn is designed to stretch with you as you move, so this top is a great pick for buyers who plan on doing a little scrambling, climbing, or who simply like a little more "give" in their fabrics.
This high-tech fabric is also very quick to dry, highly breathable, reasonably durable, and a fraction lighter than most of its competitors.
Like many other merino tee models on the market, the Rhythm isn't exactly most people's definition of affordable. Regardless, it's an ultralight top that's super comfortable to wear.
PROs

Quick-drying fabric
Provides superb range of motion
Ultralight and highly breathable

CONs
Bottom-Line: If you're okay with a higher price tag, it's hard to argue with the Black Diamond LS Rhythm Tee.
Minus33 Algonquin Men's Merino Short Sleeve
Best for Warm Weather
Crafted specifically with hot, sunny weather in mind, the Minus33 Algonquin Men's Merino Short Sleeve is a do-anything tee for summertime mountain adventures.
The Algonquin is made with merino ethically sourced from sheep in Australia and boasts a 170 gsm fabric weight that affords outstanding breathability on hot summer days. It also uses 17.5-micron fibers, making it soft enough for all-day use.
Other winning attributes the Algonquin boasts include a UPF 25 rating for sun protection, and flatlock seams and a tagless label for superior comfort.
Closing caveat: the sizing of some of Minus33's clothing can be a bit funky, so it's important to check the company's sizing charts before you buy!
PROs

Flatlock seams and tagless label reduce chafing
UPF 25 sun protection
Lightweight and highly breathable

CONs
Bottom-Line: When comfort and breathability are key, the Minus33 Algonquin's a hands-down winner!
Icebreaker Merino Departure
Best for Versatility
Want to look just as good on the trail as you do in town? The Icebreaker Merino Departure has you covered.
This slick button-up men's merino shirt is made from 150 gsm woolen fabric from New Zealand sheep, which means it offers amazing breathability. It also has a UPF 50+ rating to shield you from the sun's harmful rays, so it's a great choice for warm-weather adventuring.
Icebreaker designed the Departure so that it has underarm gussets. As a result, it's one of the best merino wool button-up shirts out there when it comes to range of motion.
Of course, button-up hiking shirts aren't for everyone, nor are they particularly great for your finances. But, if you want performance and style in one package, the Departure is a fantastic choice.
PROs

Underarm gussets for improved range of motion
Highly breathable design
UPF 50+ rating

CONs
Bottom-Line: If you need a top that you can wear every day and in any environment, the Icebreaker Merino Departure is well worth considering.
Pendleton Long Sleeve Classic Fit Trail
Best for Shoulder-Season Hiking
When the mercury drops, the breathable, yet cozy warm Pendleton Long Sleeve Classic Fit Trail for men is just what you need.
Although it's not made from merino, the Trail is crafted from Umatilla wool, which is produced at a family-owned farm in Oregon, USA. This woolen top is naturally water-, odor-, and stain-resistant so it's easy to layer for body temperature regulation. The Trail also comes with a set of Ultrasuede elbow patches for enhanced durability and a little bit of old-school style.
Woolen flannels like this are a bit too warm for summertime use, maybe, but if you're in the market for spring and fall hiking shirt, this one's well worth the investment.
PROs

Raw materials are sourced from a US-based farm
Elbow patches for added durability
Naturally water-resistant

CONs
Bottom-Line: The warmth and comfort of the Pendleton Long Sleeve Classic Fit Trail short make it the ideal choice for shoulder-season hikes or evenings around the campsite.