In most cases, the room sprays or colognes available online or in stores these days are a little too tame, sterile, samey, or plain lacking in pizazz and character.
When campfire-scented options first hit the market, then, we were excited. At long last, we could have on-demand, unique, gritty, wholesome scents for our homes and bodies that radiated our love of the great outdoors.
Since that time, we've tried dozens upon dozens of the best on the market in a bid to find the cream of the crop. In this post, we reveal our top 7 picks and provide all the info you need to find the ideal option for you when buying online.
Editor's Choice
Candeo Campfire Smoke Room Spray
Let's get straight to the bottom line: After just a few sprays of Candeo's formula, we legit thought that the best campfires we've ever set ablaze had been lifted and transported into our living room. It is, without doubt, the most authentic-smelling campfire spray we've had the pleasure of using.
Unlike other sprays we tried, this one is lasting without being overwhelming. It also doesn't blend in too many nicey-nicey fruity ingredients that detract from the oomph and awesomeness of its raw fiery fragrance.
The superlativeness of its scent aside, the best bit is that you get a lot of product for a modest outlay of $, so you can be as liberal as you like in applying it without breaking the bank.
Bottom Line: The closest to the real thing we've come across on our search!
At a Glance: Quick Recommendations
Best Campfire-Scented Sprays to Remind You of the Good Ol' Outdoors
Candeo Campfire Smoke Room Spray
Editor's Choice
In our search for the best campfire spray, we sought real-life scents that delivered us straight to the wilds with just one whiff and boasted the ability to instantly refresh any room in the house. This, folks, is precisely what Candeo Candle Spray offers.
This spray is the most authentic of any we tried and also impressed us with its ability to linger for hours after spraying without being overpowering.
When first receiving our bottle, we were a little put off that this product isn't made with natural ingredients, but when it comes to the smell test, it can't be beaten!
PROs

Great value for money
Really authentic!
Comes in a durable black plastic bottle

CONs

Some synthetic ingredients (SD alcohol, polysorbate 20, glycerine, preservatives)
Bottom-Line: So authentic your family members will be rushing for the fire extinguisher! 
Pinrose Perfumes Campfire Rebel
Best Perfume
Looking for a campfire-inspired perfume or cologne that's a little more upmarket? If so, pencil Pinrose's Rebel perfume in at the top of your shortlist.
This unisex perfume is a little on the pricey side, and not quite as gritty and gutsy as some of the options listed below. Instead, its blend of burning wood, whiskey, bourbon, vanilla, and vetiver provides a slightly more sophisticated and luxe take on things.
The ingredients used in this perfume are all hypoallergenic, vegan, and phthalate-, paraben-, and cruelty-free.
PROs

Unisex
Blend of burning wood, whiskey, vanilla, raspberry, vetiver, and bourbon scents
Sophisticated scent

CONs

Small bottle (and expensive for the size)
Not a campfirey a scent as others
Bottom-Line: A unisex perfume/cologne with a downright delicious scent.
Outlaw Fire in the Hole Campfire Cologne
Best Cologne
If you're looking for something with a little more attitude and kick than standard musky colognes designed by jazzy Milanese and Parisiennes, Outlaw's Fire in the Hole Cologne is well worth a try.
This small-batch cologne has so much personality that you feel the bottle might get up, go for a walk, and regale you with tales of the old wild west.
These attributes come courtesy of its combo of gunpowder, campfire, sagebrush, and whiskey scents, which together produce a scent that's simultaneously warm and welcoming and bold and brooding – kinda like all our favorite characters from any old-school western!
Outlaw dubs its products as colognes for "not cologne people", and it's easy to see why – after just a few sprays you probably won't want to wear anything else, no matter how averse you are to the idea of colognes.
PROs

Unique scent with a fiery kick
The star of the show in Outlaw's lineup
Grittier than all the colognes we tried
Return policy comes with a no-risk satisfaction guarantee
One skoosh does the job
Attractive glass bottle inside a durable box

CONs
Bottom-Line: A rugged, robust, and joy-inspiring scent.
Yankee Candle Crisp Campfire Apples Spray
Best Budget
At just 1.5 oz, Yankee Candle's room fragrance spray might be a little on the small side, but the brand delivers on its promise that just two sprays from the bottle will give you 4 hours of awesome aroma.
And awesome is the word. This scent combines the deep, musky notes of burning wood and the sweetness of apples to imbue your room with a warm, cozy, fragrance. Each bottle gives you around 300 sprays, so that equates to a lot of bang for your buck!
PROs

Sweet and smoky scent
Highly concentrated formula makes any room fresh and fragrant
Affordable

CONs

Scent might be a little too sweet for some
Bottom-Line: A highly concentrated and long-lasting spray produced by a world leader in scented products.
CAMP FIRE No. 13 Linen Spray
Best for Linen/Upholstery
Looking to liven up your living space and neutralize pet or other odors with a fresh and fabulously fragrant, outdoor-inspired scent? If so, the CAMP FIRE No. 13 Linen Spray is just what you need.
This 4 oz. spray is like a forest in a bottle, combining the scent of cedar, sandalwood, birch, and lemongrass-like vetiver to bring some of the best of nature's scents into your home. The result? A hearty, wholesome dose of nostalgia and childhood memories of camping trips every time you open the door!
The only downside to this product is that the 4-ounce bottle is a little on the small side. The formula isn't as concentrated as some of the others on our list, so you'll have to use a little more to get the same effect.
PROs

Available in spray and roll-on format
Notes of cedar, sandalwood, birch, and vetiver
Custom-made
Blend of natural and synthetic scents

CONs

4 oz. size is small for an entire house
Bottom-Line: Lets you imbue your entire home with the cozy scent of campfires!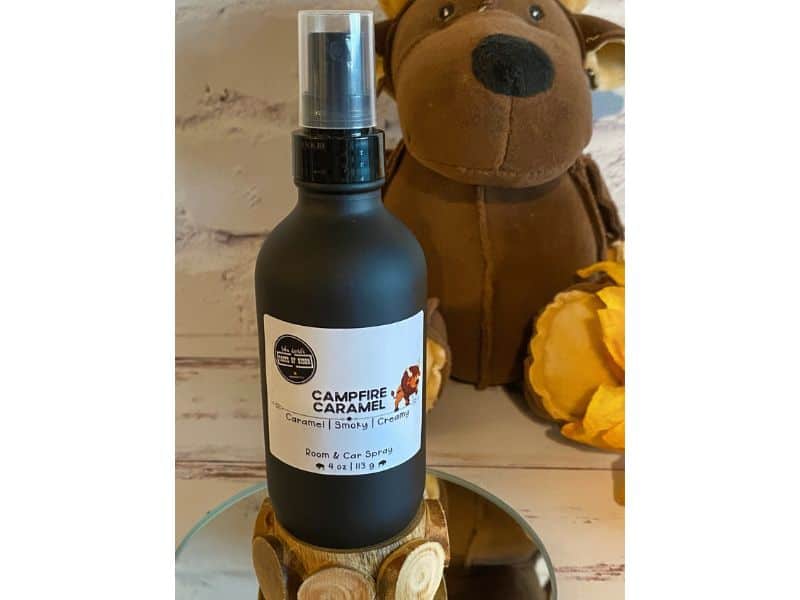 TasteOfBison Campfire Caramel Room Spray
Best for Your Home
Want to spice up the scent of your entire home, office, or car with something redolent of the great outdoors? If so, grab yourself a bottle or two of TasteOfBison's Campfire Caramel Room Spray.
This spray's combination of smoky and creamy caramel scents creates a warm and inviting aroma, perfect for creating a cozy atmosphere in any room of the house or masking suboptimal odors in your car.
This one's a little sweeter than most of the other options on our list, but we found the caramel tones were the perfect complement to the more prominent fiery muskiness.
This is a concentrated formula, so just a few sprays go a long way and will leave your home smelling great for hours, if not days. It is also non-toxic and free of phthalates, parabens, petroleum, alcohol, and dyes.
PROs

Affordable
Delightful sweet-and-smoky aroma
Can be used on pillows, bedsheets, sofas, and car upholstery
Handmade

CONs

Maybe a little too sweet-smelling for some
Bottom-Line: Will instantly freshen any space and continue exuding its sweet and smoky scent for hours, if not days!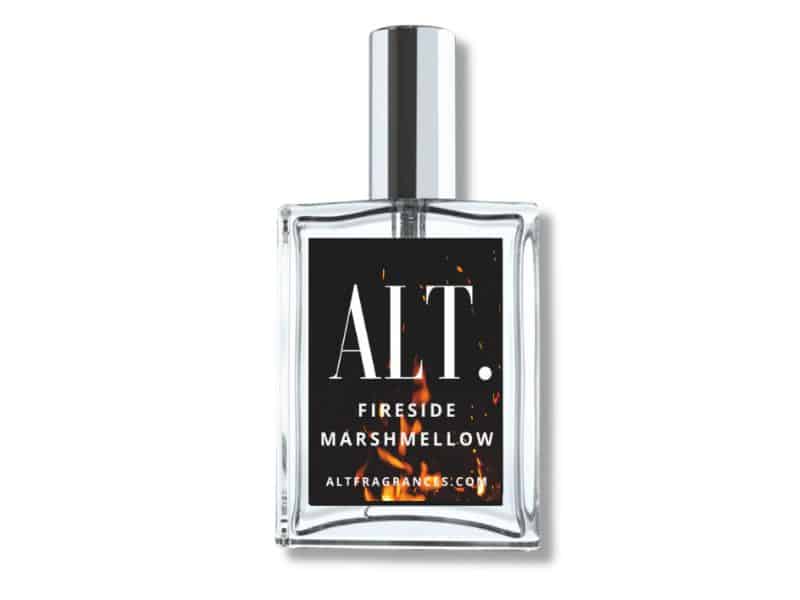 Alt Fragrances Fireside Marshmallow
Premium Pick
Alt Fragrances Fireside Marshmallow perfume manages to encapsulate both the smell of roasting marshmallows and the musky scent of campfire. On paper, this maybe shouldn't deliver a smell you'd like to wear. In reality, it's simply gorgeous.
Mingling with those top notes of campfire and marshmallow, you'll catch undertones of orange blossom, vanilla, chestnut, Peru balsam, and juniper. Combined, this palate provides a slightly fancier take on things than most other campfire perfumes and colognes, but it's sufficiently subtle not to make you blush in a crowded elevator.
This perfume spray is vegan, sustainably made, and comes in a recyclable glass bottle.
PROs

Sophisticated scent
Just a few sprays last all-day
Unique blend delivers an authentic campfire smell with a touch of sweetness
Superior quality to other colognes we tried

CONs
Bottom-Line: This natural cologne/perfume provides a sweeter take on the options above.
Other Campfire-Scented Products for Your Home
How to Choose a Campfire Cologne, Perfume, or Spray
Choosing the best campfire-smelling spray for you comes down to two things: personal preference and whether you want a room spray, scented body mist or a perfume/cologne.
Scent is, of course, a highly subjective thing. However, we can steer you in the right direction. If you're looking for a robust, gritty, and warm scent for your home, it's hard to beat Candeo's remarkably authentic campfire room spray.
For cologne, we recommend Outlaw's Fire in the Hole, a natural cologne inspired by quintessential and classic scents like gunpowder and burning wood, with a healthy dose of whiskey for good measure.
If you're looking for a mellower, more subtle kind of scent that evokes childhood memories of an open fire, then the CAMP FIRE No. 13 Linen Spray is the ideal choice.
Campfire Spray Final Thoughts
Whether you're looking for a cologne, perfume, candle, or a room or linen spray, there's sure to be something on our list of the best campfire sprays to suit your tastes and bring a dose of the great outdoors into your everyday life!
If you liked this post or have any questions, let us know in the box below. And if you'd like to share it with your friends, please do!