Family camping trips are sure to create picture-perfect moments and lasting memories. Camping offers the perfect way to spend quality time with each other, get outside, and give your children a sense of adventure.
However, gearing up for a trip with the whole family can be a stressful process! Don't worry. We've got you covered. In this packing checklist, we break down everything you'll need for a successful camping trip. We've included clothing, kitchen items, must-have accessories, and even a few of our additional personal favorites.
The Ultimate Checklist for Camping
Here's a quick glance list of must-take items for you and your family's next camping adventure:
Sleep System and Shelter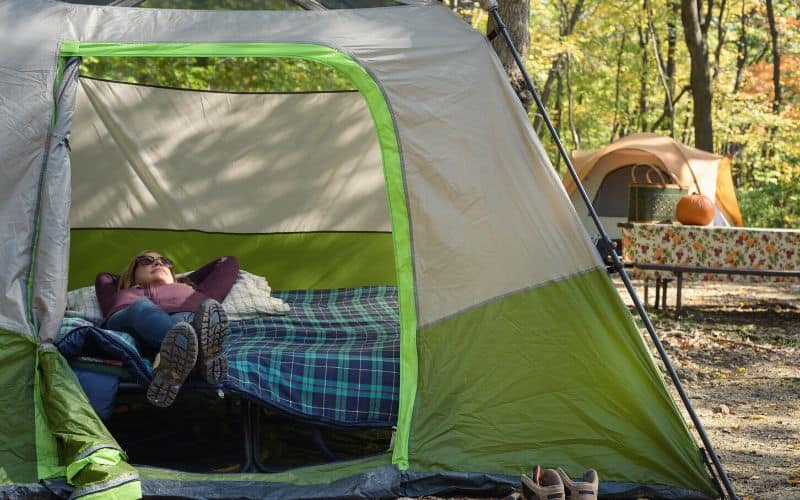 Clothing
Base, mid, and out layers
Hats, gloves, and fleece mid-layers (for cold evenings and mornings)
Pajamas
Rain pants and jackets
Fresh socks (for sleeping)
Toiletries
Toilet paper
Baby wipes
Hand sanitizer
Toothbrush and toothpaste
Camp Kitchen
Stove
Water storage
Cooking utensils, pots, and pans
Cleaning supplies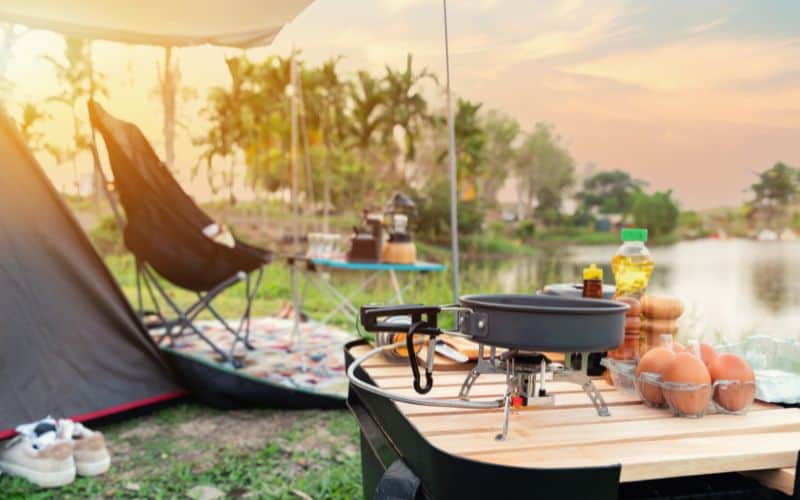 Toiletries
Toilet paper
Baby wipes
Hand sanitizer
Hand soap
Toothbrush and toothpaste
Washcloth
Other Camping Supplies, Gear, and Accessories
Lantern
Bug spray
Multi-tool
Tent repair kit
Games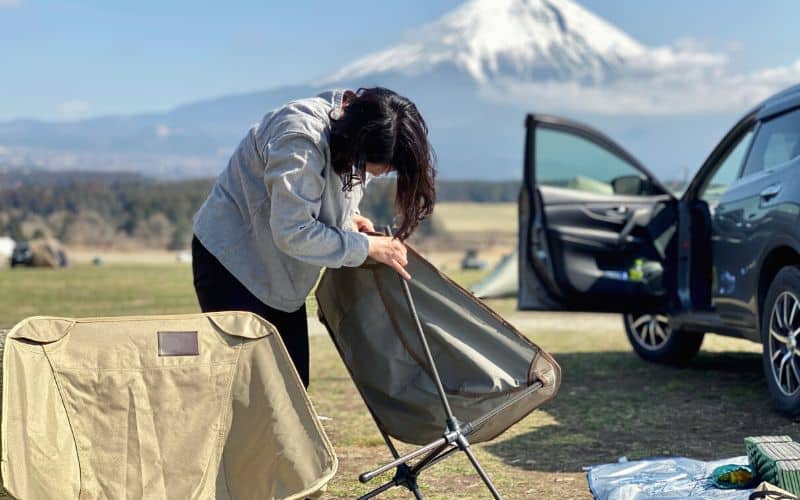 Detailed Checklist for Family Camping
Now you have the basics let's dive deeper into what makes for the most ideal equipment for camping:
Shelter
There are a few options for shelter depending on family size, weather, and everybody's sleeping style. If you are comfortable cozying up, one big tent makes for a fun night. Look for something with good vestibule space and lots of pockets and storage room.
Or separate the adults and children with a kids-only tent. This works better for older kids who have camped before and won't find the tent experience scary. Whichever you choose, don't forget the tent footprint stakes, poles, and rain fly.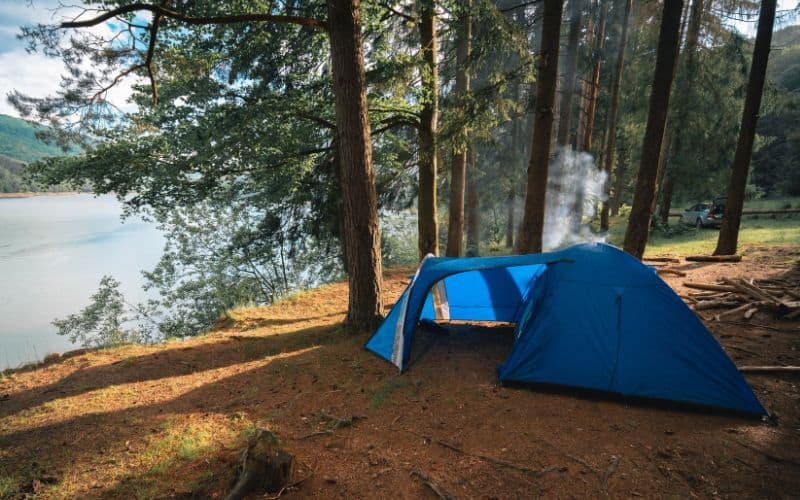 Sleep System
A sleep system consists of a sleeping bag, sleeping pad, pillow, and what you wear to bed.
The components of a sleep system work together to keep you comfortable through the night. If you're missing a component, the other parts don't work as well.
Sleeping Bag
Sleeping bags are an important part of a good night's sleep. However, sleeping bags are not recommended for children under three. Likewise, children over three should be in child-specific bags to avoid them getting overwhelmed by the extra material.
For shoulder-season trips, it's also a good idea to bring a few extra blankets just in case.
Sleeping Pad
Sleeping pads are an essential part of a family camping packing list. In fact, your sleeping bag temperature rating is only accurate with a sleeping pad that insulates you from the cold ground.
Squirmy sleepers and young children might do better with a sleeping pad that attaches to their sleeping bag.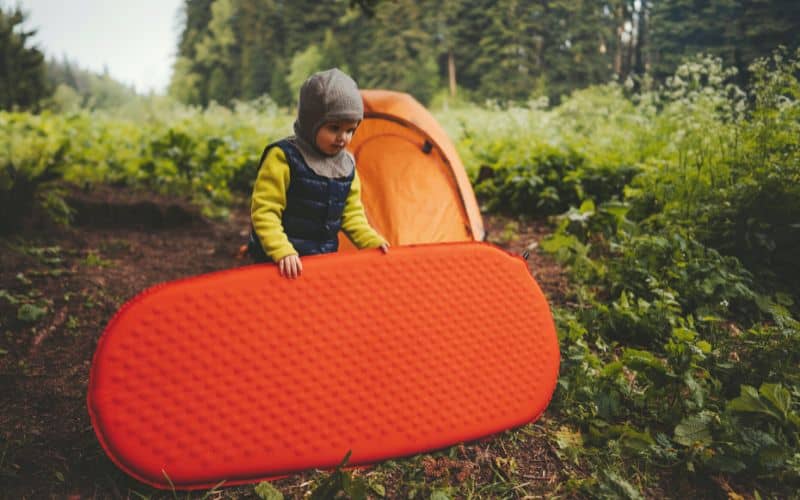 Pillow
Camping pillows come in all shapes and sizes. There are inflatable versions designed for side sleepers, compression pillows, and even memory foam camp pillows. When you're not worried about space, you can even bring your normal pillows.
Clothing
What clothes everyone will need depends on the weather and the season. For example, Spring and Fall tend to be warm during the day but chilly when the sun is down. Use the following general guidelines, and be sure to check the forecast before heading out.
Base, Mid, and Outer Layers
Cover your bases by bringing a base, mid, and outer layer for all family members. Layers are key for staying comfortable at your campsite. Children might feel warm while collecting firewood or playing, but they will quickly get cold when they stop moving.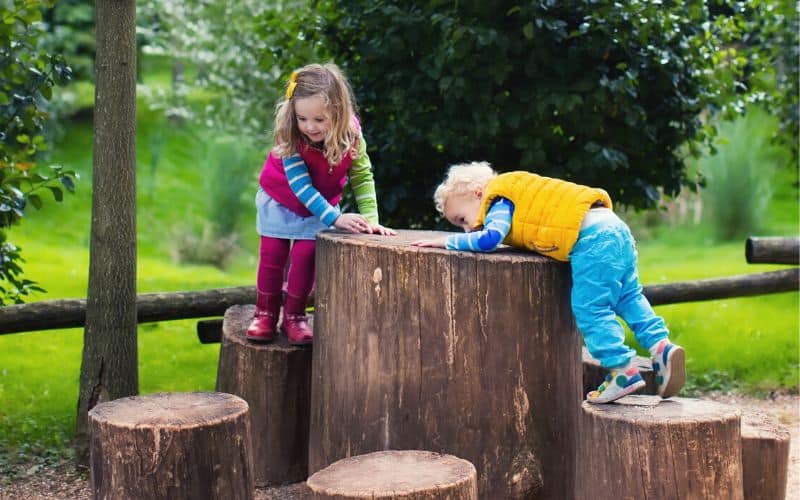 Hats and Gloves (for cold evenings and mornings)
When you first get up in the morning and when the sun goes down, it's nice to have a warm hat and gloves. You can keep your hands warm, and a hat can double as a sleeping mask if the campground is illuminated at night.
Pajamas
Clean pajamas are part of a complete sleep system and contribute to how well a sleeping bag performs. Make sure to bring pajamas for yourself and the rest of the family. A thermal shirt and long johns will do the trick in almost all temperatures.
Rain pants and jackets
Nothing ruins a camping trip faster than being wet. But, with the right gear, a rainstorm can turn into a fun adventure!
If there is even a slight chance for precipitation, bring rain pants and jackets. Waterproof hiking boots are also a good idea.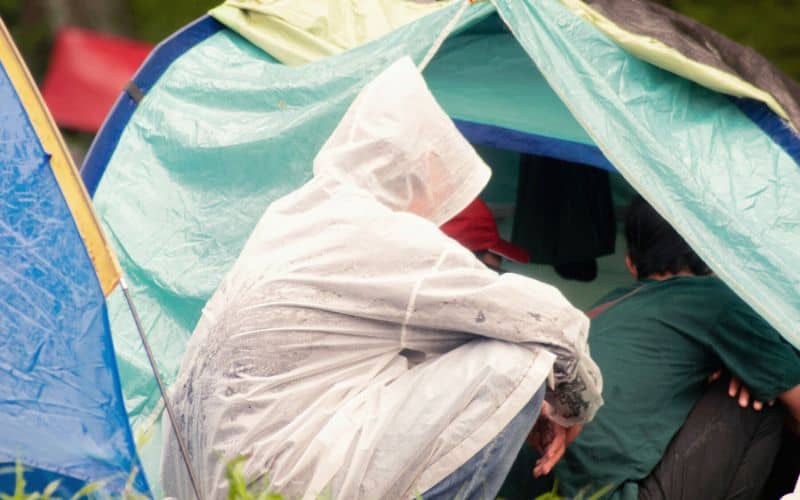 Extra socks
At the end of the day, a fresh pair of socks can feel heavenly. For sleeping or for just in case, extra socks are always better to have and not need. For socks, we always recommend something wool or wool blend. Wool helps wick moisture and will keep your feet dry all day long.
Camp Kitchen
Some of the best family camping memories come from sitting around the campfire, eating a delicious meal, and roasting marshmallows. Here's what we always bring in our camp kitchen.
Stove
Campfires are great for lots of things, but the right camping stove allows you to cook like you would at home. When it comes to heating water or making enough food for the whole family, you'll want a camp stove. Our favorite is the Camp Chef Everest.
Water Storage
Even if you're headed to an established campground with water hookups, it's still nice to have a water storage system in your camp kitchen.
5-gallon Gotts and water jugs make convenient water bottle filling and hand washing stations. Try collapsible water jugs or water bottles for car camping. They fold down when empty and give you more room on the car ride.
Cooler
Keeping food fresh for the whole family requires a big cooler. Look for something that has space for all the ice and treats you'll need.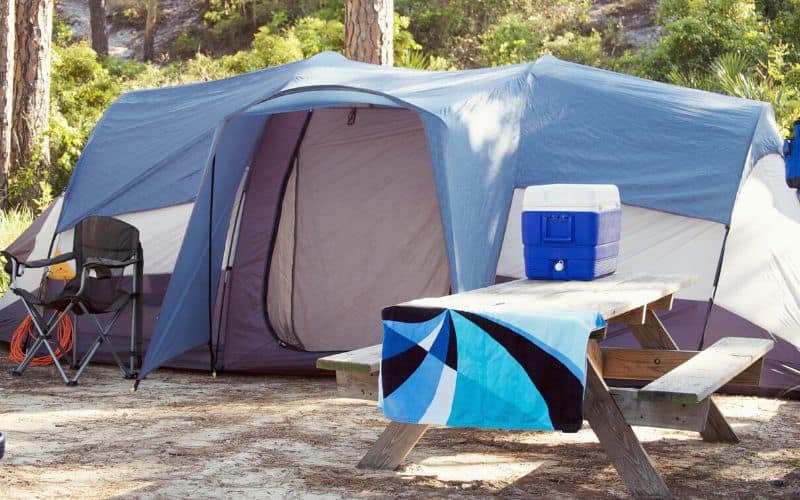 Utensils, Pots, and Pans
When packing utensils and dishes for several people, we love multi-use items, such as forks that are also spoons, bowls that work as cups, and pans that can be used as plates. The more uses an object has, the better.
We also like nesting pots and pans. They are convenient and take up less space in your kitchen box. Collapsible pots and pans also save space but don't work as well for cooking.
Cleaning Supplies
Cleaning dishes and cooking surfaces while camping doesn't have to be a pain, especially when you pack the right cleaning supplies.
Your camp cleaning kit should include a dishwashing tub, biodegradable soap, a sponge and a scrubby, and a drying towel. Make sure to capture your gray water and dispose of it properly.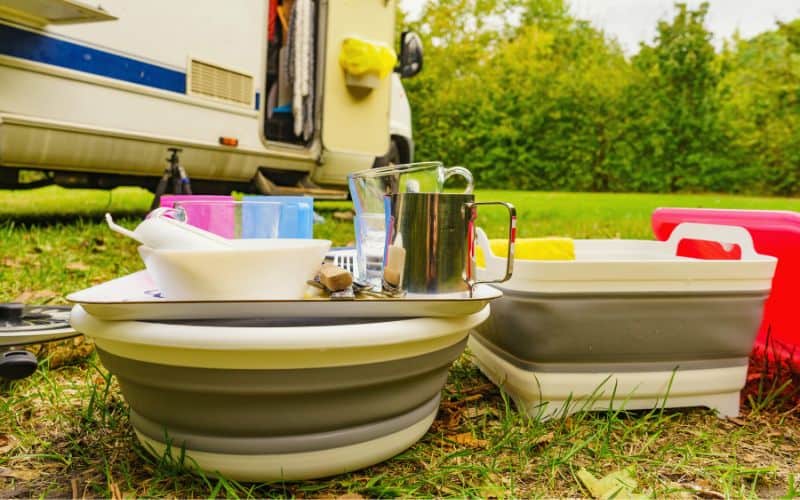 Other Camping Gear and Accessories
Besides the above necessities, here are a few other family camping essentials.
First aid kit
It should go without saying that you need a first aid kit in your camping gear.
A basic first-aid kit includes adhesive bandages in various sizes, gauze, tweezers, sterilizing wipes, antibiotic ointment, pain medicine, antihistamines, and hand sanitizer.
More advanced kits will also come with splints, hemostatic gauze, and a CPR mask, among other items.
Whether you build your own kit or find something premade, always double-check what's there before heading out.
Chairs
Camp chairs come in every size and color imaginable, and young children love picking out their fun chairs. Plus, chairs make sitting around the campfire a lot easier. Try the ALPS Mountaineering King Kong for a chair that is as comfortable as it is durable.
Tables
Even at a campsite with a picnic table, you might need extra table space to accommodate the whole family.
When looking for a camping table, consider stability, size, and transportability. Collapsible and roll-up tables are easy to transport and don't take up too much room in your vehicle, but they might be a little less stable.
Headlamp
Headlamps are a must-have when the sun goes down. They can help you find your way to the tent or the bathroom.
We prefer headlamps that have a red-light setting. Using the red light setting instead of white saves your night vision for stargazing.
Lantern
Lanterns provide 360-degree light and won't accidentally blind anyone. They are helpful in the kitchen area during meal prep and can add a nice ambiance to your campsite. Lanterns are also useful for playing campfire games. Some lanterns have colors and you can let the lantern cycle through the colors or choose your favorite.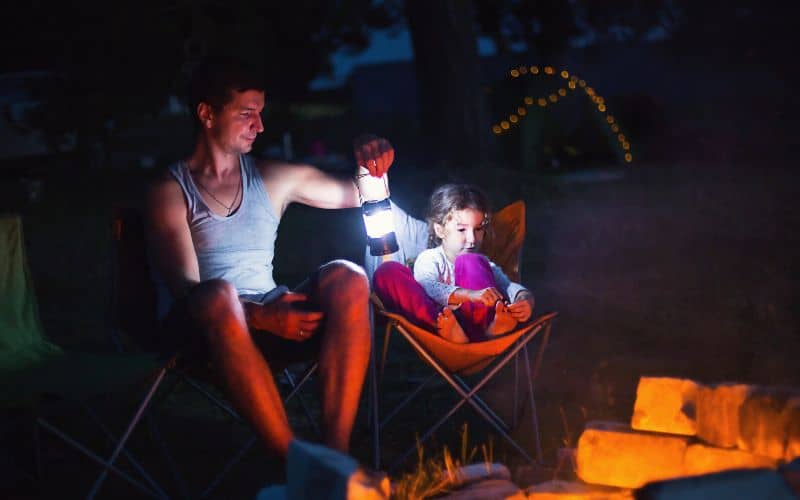 Bug Spray
There's nothing worse than bugs swarming your campsite and biting you. In other words, bring bug spray. You never know what critters might be flying around, and bug spray can be a lifesaver.
Multi-tool
As the name suggests, multi-tools are useful in all kinds of situations. If you need to cut paracord for a tarp, whittle a marshmallow stick, or forgot your can opener, a multi-tool can do it all.
Games
There are myriad games you can play to liven up both days and nights at camp. Check out our guides to family camping games and camp games for adults to learn more.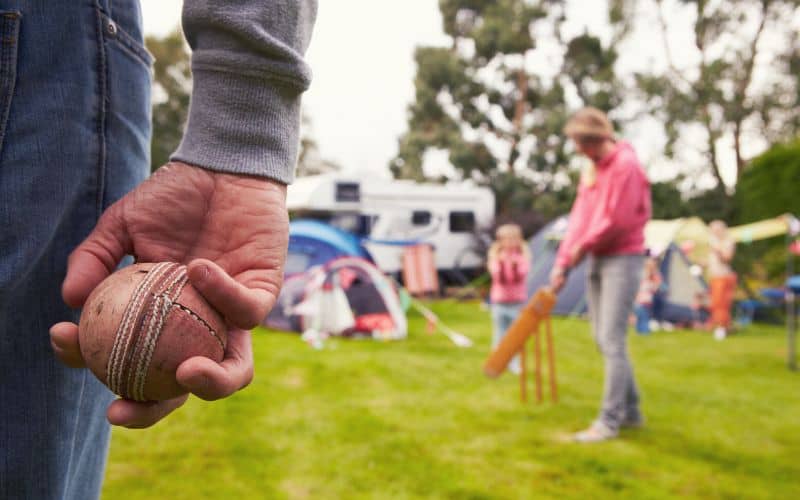 Additional Family Camping Tips
Getting the first few camping trips right is important. One bad experience and your children will never want to go outdoors again. Here are a few additional tips to make sure camping becomes a favorite family pastime.
1. Start Small
Your family's first-ever trip shouldn't be to a far-flung and unfamiliar place. Sleeping outside can be a scary experience the first time, especially for younger kids.
Pitch a tent in your own backyard and try sleeping and eating outside with the safety net of being close to home. This will set your family up for success when you head out for the real deal.
2. Plan Ahead
Camping is getting more popular every year. With this in mind, book your campsite as early as you can. It also doesn't hurt to have an agreed-upon Plan B if your first choice is already booked.
Planning ahead also involves knowing what amenities and activities are available at your campground. Your children will get bored no matter how beautiful the area is. But if the campground has horseshoes, a playground, or an easy hiking trail, you'll be ready to counter the inevitable "I'm bored."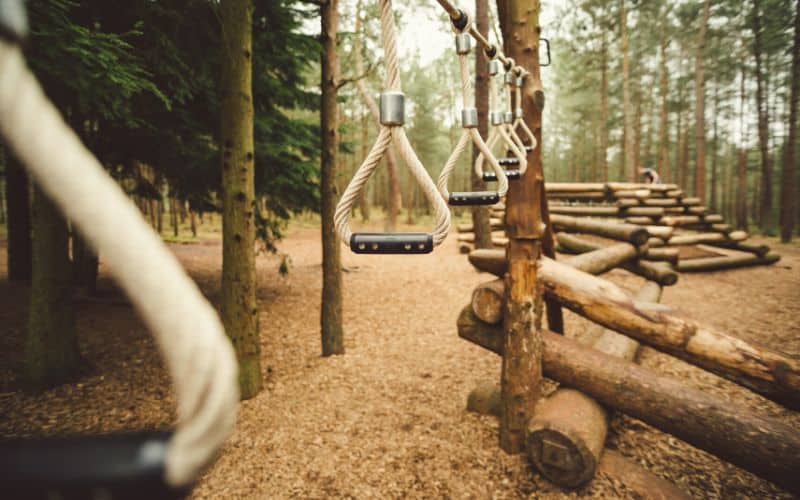 3. Plan Together
Get everyone involved in the planning process. Decide on a location and shop for camp meals together to get children excited about the adventure ahead. Let each child pack their own gear and a few personal items – kids love to be involved (but double-check everything with a kids checklist!).
Planning together also helps eliminate any big surprises about where you're going and for how long.
4. Invite Another Family
Camping with your friends makes everything seem more fun. Invite another family and plan a camping trip together. Children and adults can entertain each other and the shared experience will create a strong bond.
5. Get Dirty
One of the joys of camping is not worrying about tidiness and cleanliness. Between running around outside and playing in the dirt, your kids are going to be messy, and that's ok!
Use campground spigots or set up a wash bucket to at least have clean hands for meal times. Otherwise, use your trip as a great opportunity to let kids be kids.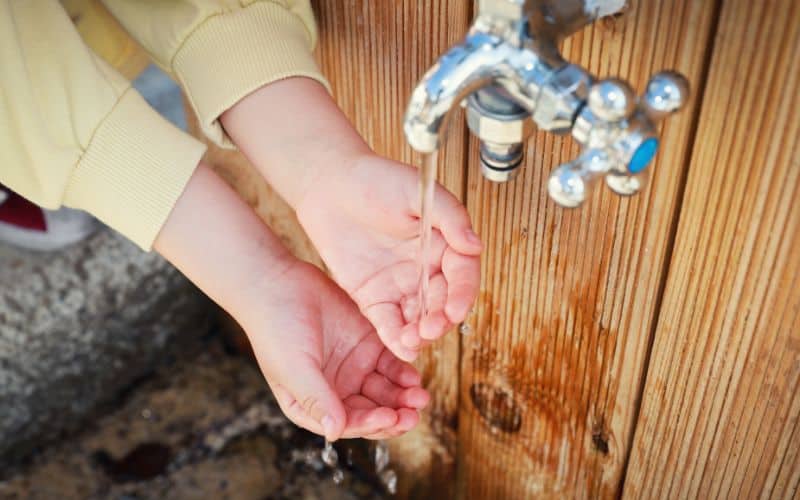 6. No Devices
To connect with nature and each other, it's important to leave your devices at home or packed away. This includes tablets and even phones.
Bring a digital or disposable camera for photos and take a break from your devices. It can be challenging, but you will be glad you did.
7. Stick to Your Bedtime Routine
Sleep-deprived children will not make good camping partners. Stick to your normal bedtimes and nap times for smaller children. It's tempting to let them stay up late (or let them convince you they should), but you will regret it later.
8. Hang Fairy Lights
Battery-powered fairy lights can turn a dark tent into a magical fortress. The cozier you can make the sleeping environment, the better. Hang lights, bring comfy sleeping pads, and let small children pack their stuffed animals or special blankets.
Sometimes camping is about roughing it. However, to create fond memories and lifelong outdoor enthusiasts try and make things comfortable, especially for a newbie.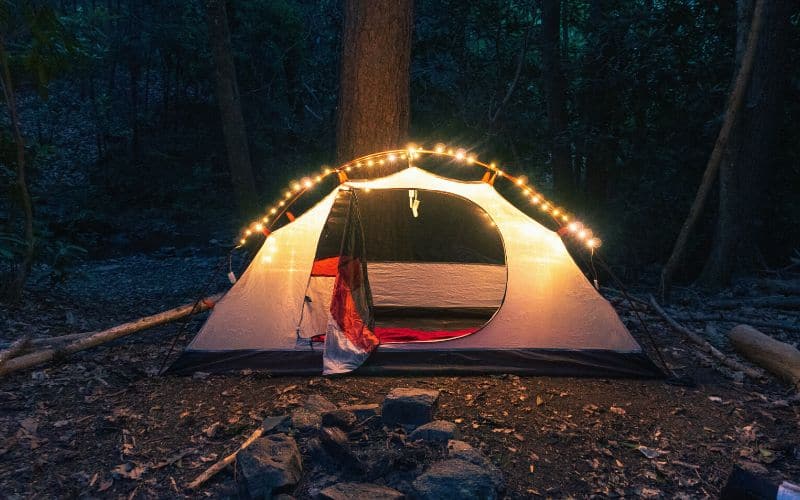 Family Camping Checklist for Happy Camping!
There is nothing better than sitting around a campfire with your loved ones. Whether you're RVing or tent camping, family camping trips provide a unique opportunity to bond with each other in the great outdoors. It's always worth the effort.
We hope this family camping checklist makes getting together and reconnecting with nature a little easier.
What's your idea of must-have camping equipment? Let us know in the comments, and don't forget to share this with other family campers.