If the thought of camping on your own as a woman have you quivering in your hiking boots and hiding in your sleeping bag, we get it. The idea of spending time alone in the remote wilderness as a female can be overwhelming and straight-up frightening.
But camping alone offers a one-of-a-kind sense of accomplishment and adventure that everyone should have a chance to enjoy, regardless of gender. Many women feel like they've got to miss out on all the fun over safety concerns. We're hoping to change your mind about that! 
Before we get too kum-ba-yah about girl power, it's important to stress that camping alone as a woman still requires caution and preparation. Before you embark on your next solo outdoor adventure, check out these 9 top tips for solo camping to help you feel safe and have fun.
Key Takeaways
Enjoy nature undisturbed

– There's nothing like enjoying the peace and serenity of nature all to yourself.

Confidence building

– Relying on your own skills and resourcefulness as you overcome challenges by yourself is a great feeling.

Mastery

– Learn at your own pace as you master a new skill.

Safety first

– There's always an element of risk involved with doing any outdoor activity alone, but the following tips can help minimize the risk.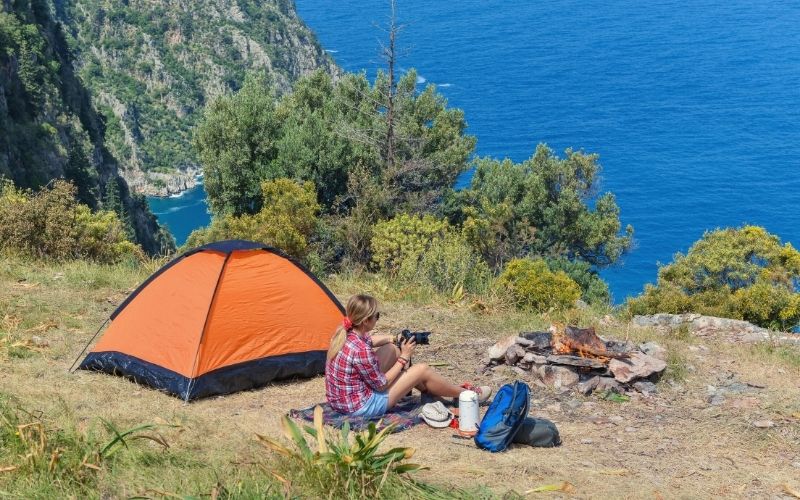 1. Safety Starts at Home: Planning and Packing
The trick to staying safe while soloing? Planning, bear spray (it can keep away a whole lot more than just bears!), and more planning. The Girl Scouts weren't kidding when they said 'be prepared'.
Always, and we mean always, tell someone where and when you'll be camping and when you're expected to return. Let that person know where you park your car, the route you'll be taking the entire time, and when they can expect to hear that you've made it home safely.
Whether you're tent or car camping, choosing a location you feel comfortable navigating will help you get the most out of your solo-camping experience.
If it's your first solo camp, choose a campsite in a state or national park. The presence of other campers is encouraging and not having to worry about creature comforts like water or bathrooms should help you relax and enjoy the experience.
Another location tip is to choose a site that allows you to park your car next to it. There's something extra-reassuring about knowing your car is right there for a mad getaway on the rare chance you'll need it!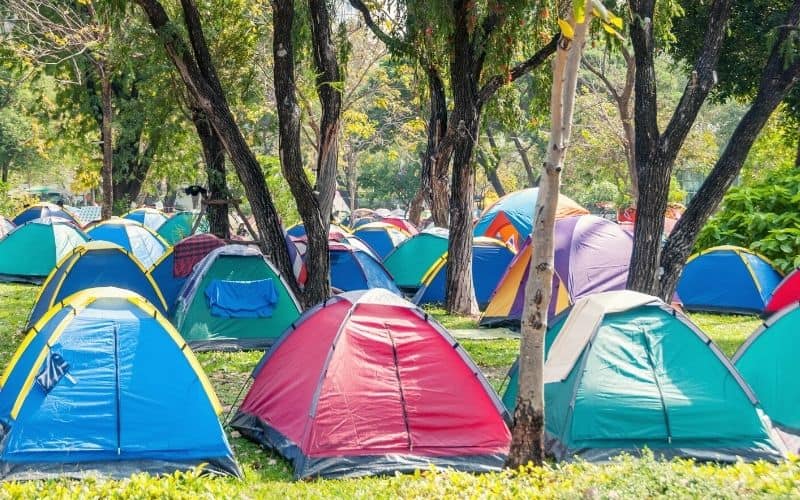 2. Gear Essentials
Camping doesn't have to be rocket science or super complicated. At the end of the day, all you need is a tent and a sleeping bag (and a pillow if you're getting fancy!). But with safety in mind, there are a few essential pieces of gear you'll need for safe solo female camping trips. 
Long before you start packing, research the area where you'll be going. Much of the gear you'll need to bring will be dependent on the landscapes, the wildlife there, and the weather. Will you need to fend off mosquitoes? Strong winds? Torrential downpours? Stop potential fun destroyers in their tracks through careful research and planning.
No matter where you end up, remember that a cell phone is great for navigation but it should never be your only resource. If you encounter a zone with no cell service, you'll need a backup plan. Download an offline map of the area you'll be staying in and check your phone's network coverage to know where you can go if you need to make an emergency call.
We all love the convenience of our smartphones, but you should also get comfortable using an old-school paper map…. just make sure you know how to read it (it's trickier than you might think!). For this, check out our guide on how to use a compass and map.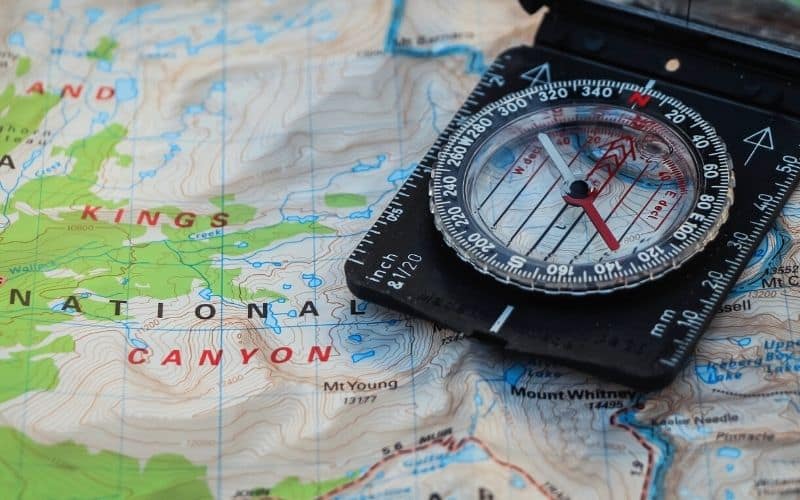 One last safety tip – pack a pair of worn-out, busted-up, men's hiking boots and leave them outside your tent for the night. It's a sad truth but believing that a man is inside the tent will keep a lot of creepy people from disturbing your beauty sleep.
3. Trust Your Instincts
We've all felt it, that twist in your stomach, the tightening of your shoulders, the slowed breathing as your body alerts you that something's not right. While camping alone, sometimes all it takes to stay safe is to trust your instincts. Anytime a person, a place, or a situation gives you bad vibes, it's time to roll up your sleeping bag, pack up your tent, and get the heck out of there.
Many women fall into the trap of wanting to be nice and not hurt anyone's feelings, but when your instincts are screaming that it's time to move on, all bets about niceness are off. Be rude if you need to, look crazy, or get awkward, but never apologize for putting your own safety first.
4. Camp Near Other People
When it comes to picking your campsite, try and pick one that's close to other people. Safety in numbers, right? You don't even have to camp right next to other people, but knowing that fellow campers are just a few sites away might help you feel safer at your own campsite.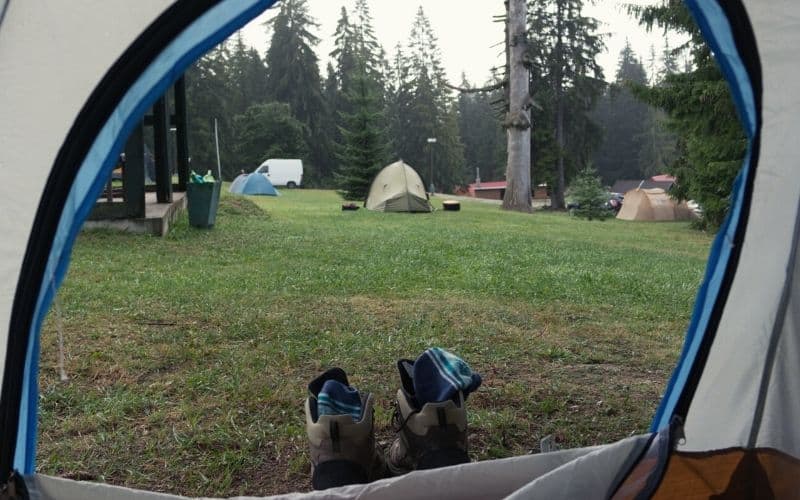 Don't forget about the location of the bathrooms and showers either. If you don't feel comfortable creeping through the woods at night every time nature calls, consider choosing a campsite close to the restrooms.
5. Plan for the Weather
Nothing will ruin your trip faster than weather you didn't plan for, and when you're all alone, bad weather can be dangerous. Check the weather forecast before you leave and pack accordingly. Make sure you check both the daytime and nighttime weather since a sunny day can turn into a frosty night pretty fast.
Remember to always prepare for dramatic weather changes. It's kind of an unwritten rule for campers that whatever weather you plan for, the exact opposite is likely going to happen. If the forecast is calling for particularly bad weather though, you might want to reschedule your solo excursion or bring a friend.
If you plan to spend any time in the sun, think carefully about sun safety too. The last thing you want is a bout of sunstroke while you're camping or hiking alone!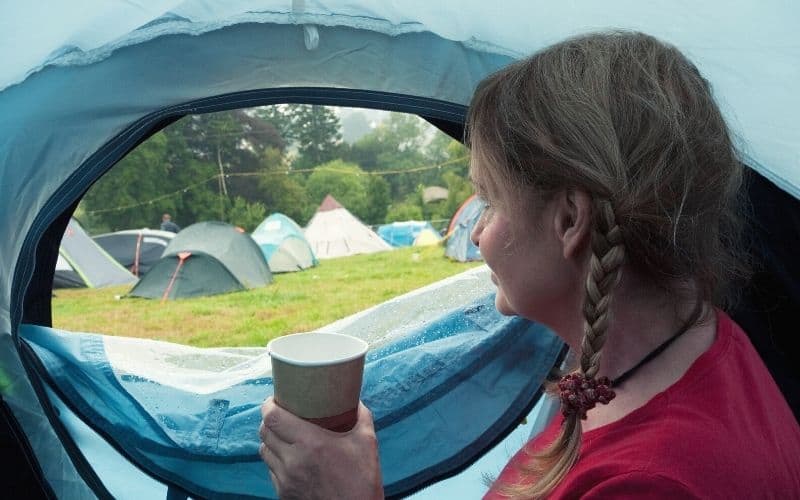 6. Camping at That Time of the Month
First, let's get a persistent myth out of the way: no, Yogi Bear and his pals are not going to be attracted to your menstrual blood. A 2016 paper published by the National Park Service found that no substantial evidence exists that black bears or grizzly bears are attracted to menstrual blood more than any other smells.
Since we know your period won't turn you into bear bait, all that's left to deal with is the actual logistics of period management in the great outdoors. Remember that any of the typical sanitary products will have to be carried out with you, so this might be a good time to ditch the Tampax and consider some eco-friendly, reusable alternatives.
Period underwear or pants are easy to wear, wash, and store in your pack. A menstrual cup can be worn for up to 12 hours, making it an ideal choice for long days (just remember that the blood will have to be handled like any other human waste).
If you can't give up on your pads or tampons, make sure you bring a heavy-duty Ziploc bag to store your used supplies until you can properly dispose of them.
7. Don't Blast your Trip on Social Media
So now you're off to camp solo for the first time and do all sorts of cool outdoorsy stuff and you want to let your family and friends know about it. While you might want to blast your camping and hiking pics and videos all over social media, it's best to wait until you get home.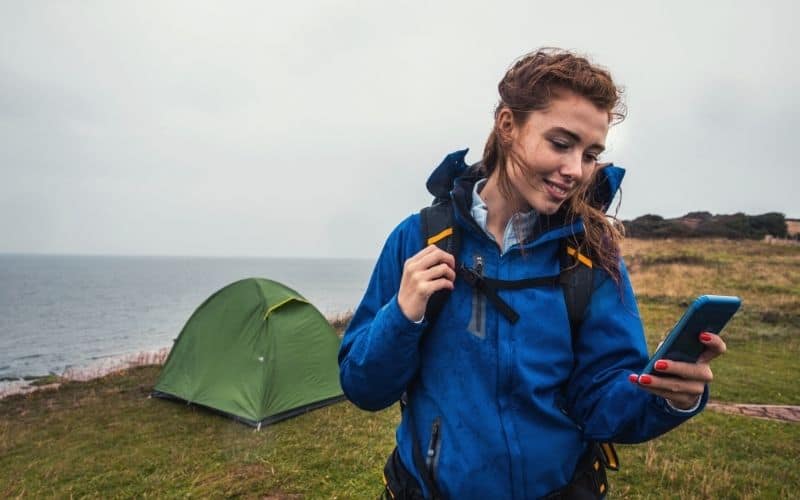 Never advertise to strangers that you'll be all alone or that your house will be empty. Not only is it dangerous, but you're also letting the world know your home is empty and ready for the taking! Only share your plans with trusted friends, family, and your emergency contacts, and leave the #wanderlust selfies until after you get home.
8. Build Confidence with Other Solo Activities First
If you're still a little nervous about the idea of camping solo, try warming up to it with other solo activities first. Solo hiking is a great way to experience being alone in the wilderness without the vulnerability of having to spend the night alone in a tent. Once you've got a few solo hiking trips under your belt, you'll feel more confident to tackle a solo camping or backpacking trip.
Just remember, you've got nothing to prove. If you never feel ready to camp alone, who cares! The whole point of camping is to have fun and explore nature, with or without other people.
9. Do What the F**k You Want
Talking about how to safely camp alone as women can at best be a bit overwhelming and at worst, a total drag. That's why we want to remind you that the whole point of solo camping is to get bold and have fun in the great outdoors. Once you've done all the necessary planning and preparation, let go of your apprehension and get out there and embrace the wild in your own way.
FAQs
Is it safe to camp alone as a woman?
Yes, it is safe to camp alone as a female as long as you take the proper precautions. Try and camp in a state or national park, let others know about your plans, and make sure you pack all the appropriate gear. With careful planning, you can have a blast while camping alone.
Is it safe to camp in bear country while on my period?
Yes, it is safe to camp in most places while on your period. The majority of data suggest that bears are not attracted to menstrual blood and that women shouldn't be deterred from spending time in nature while on their period.
How do I get over my fear of camping alone?
The best way to overcome your fear is to start small and slowly build your confidence. Instead of heading right for the backcountry, try going solo at a state or national park campground. Prepare a checklist for your gear and choose a site near other campers. Once you complete your first successful solo trip, you'll gain the confidence to tackle bigger challenges.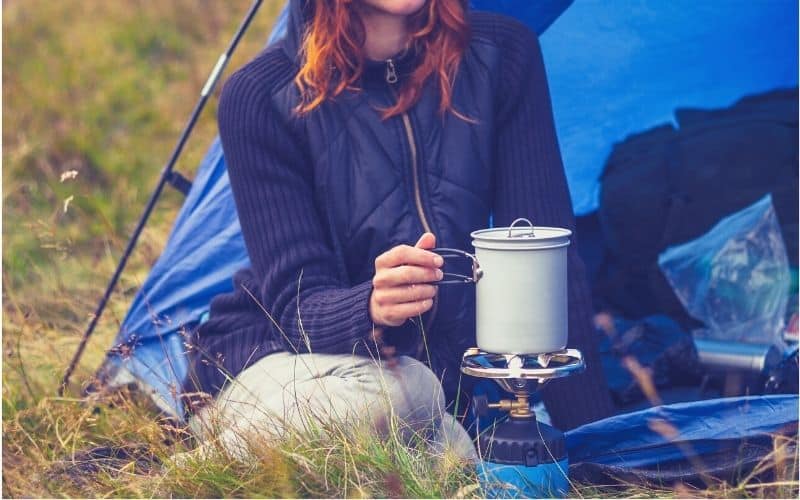 Solo Female Camping? Definately Doable!
We hope that after reading our tips you feel empowered to plan your own solo camping trip. While it may seem overwhelming at first, everyone deserves to feel that sense of accomplishment and adventure only a solo camping experience can provide.
Now get out there and enjoy your solo adventure! Just remember to come back and tell us all about it in the comments below. If you've got any of your own tips for other fellow female campers, we'd love to hear about them!