Backpacking Checklist: 3 Season Gear List
Looking for the Best Backpacking Check List?
You're in the right place! In this guide, we will be covering the following:
A run-down of the essentials, the recommended and the optional items
Our tested & recommended backpacking gear guide
A personalizable check-list that you alter/print-out/cross-off
A raft of packing tips
Backpacking and hiking have undergone somewhat of a resurgence over the past decade, with more and more people keen to experience the outdoors and reconnect with nature. One of the main stumbling blocks for most beginners, however, is the wide selection of gear marketed to them as essential for their safety/enjoyment/comfort (delete where applicable).
So what is essential? What is necessary? What should you bring?
We have pulled together our list of items that we think are important to at least mention, and give our reasons as to whether such a piece of kit should be in your pack everytime or only in certain situations. We have also given a few recommendations here and there of products that we have used out on the trail and loved.
Do
Do plan ahead of time
Do lay your items out and check them off before starting to pack
Do learn to pack correctly
Do test your new equipment before your trip
Don't
Don't forget to leave your route plan with a friend/family member.
Don't assume your trip partner will remember the first aid kit, or extra fuel for the stove. Coordinate!
Don't think your phone is sufficient for navigation – bring a map and compass!
Introduction
Backpacking gear has come along way over the last few decades. Gone are the 45 lbs external frame gear racks that towered over their owners head, to be replaced with more compact and lightweight items thanks to modern technology and materials.
Backpacking Related Further Reading
If you are new to backpacking then please be sure to check out our other backpacking guides on:
Knowing exactly what you need, whats superfluous and what is just downright useless is a complex topic to navigate. To help you out we've put together the following gear list for backpacking to give you an idea of what we pack for the trail, and give you our reasons why.
The backpacking gear list spreadsheet above can also be accessed (and printed/downloaded) by following this LINK HERE.
The 'Big' 4
We will start out with the "Big" 4. The "Big" 4 is the term often given to the four largest/heaviest items of your gear. These will also likely make the biggest dent to your wallet, so when planning your budget it's also a good place to start. The "Big 4" consists of:
Shelter
Backpack
Sleeping Bag
Sleeping Pad
Shelter
Starting with shelter, there are several paths that can be traveled, with the traditional and most common being your standard backpacking tent. We've used or borrowed several models and we find the Big Agnes Copper Spur HV UL2 to be our favorite.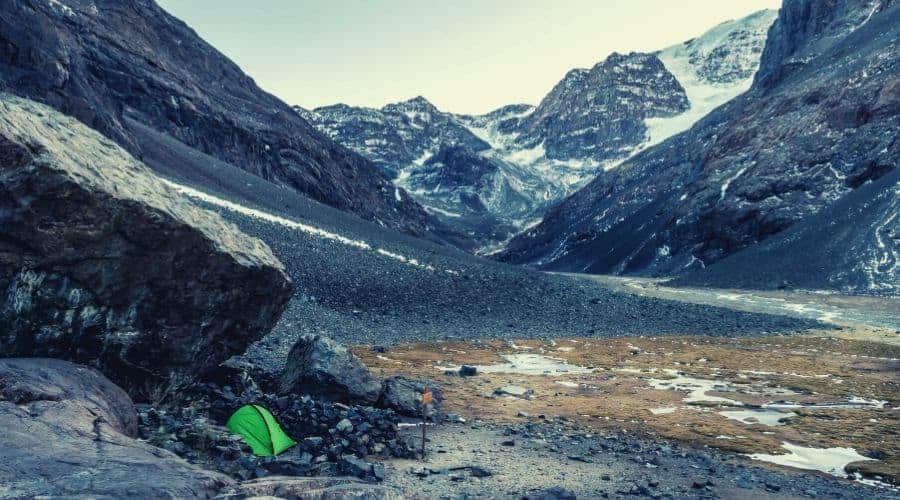 Alternatively, if you are a solo backpacker, you could try the increasingly popular trend of switching to hammock camping. Setup is a bit more involved than a traditional tent, but with practice it'll become second nature.
Lastly, and only recommended for more experienced backpackers is taking some nylon cord and a couple of tarps and build your own shelter. This requires some more advanced knowledge (such as knots for camping), and will leave you more exposed to the elements but can significantly lighten your load.
Sleeping Bag
We would always recommend choosing a backpacking sleeping bag that is rated to at least 100F colder than you will expect to experience out on the trail.
Sleeping Pad
While it is possible to forgo a backpacking sleeping pad, we would not recommend it. Getting a decent night's rest is essential to be able to hit the trail again and again, day after day. Similar to the sleeping bag, choose a pad that is suited to the expected weather conditions. Our personal favorite is the Therm-a-rest NeoAir XLite.
Backpack
The last of the big 4, and we would contend one of the last pieces of kit you should consider buying is your backpacking backpack. Our reasoning? We hypothesize that many backpackers will subconsciously (or consciously) fill a bag if there is still room.
We feel a better approach is to assemble the majority of your gear, then, make a determination on what size of pack you will need. We would also encourage serious backpackers to own several packs to cater
The 10 Backpacking Essentials
Following hotly on the heels of your four biggest pieces of kit, you should pay attention to the hiking & backpacking "10 essentials". The history of these 'essentials for backpacking' can be traced back to the Mountaineers Club who around 80 years ago devised a list of items that would help you to survive a night or more, outside.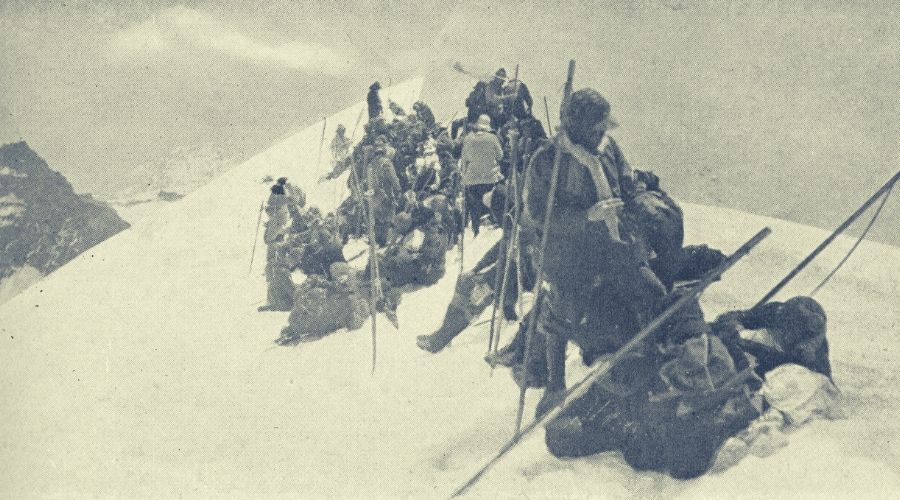 A testament to the original essential backpacking gear list it remained untouched until the early 2000s when it had a makeover to help reflect the change in times (and principally in technology). Let's go through these backpacking necessities and discuss what to bring.
Navigation
Starting with Navigation, you should always bring a map & compass, and just as importantly, be able to proficiently use them.
In addition to the map and backpacking compass, a GPS and/or altimeter can be good navigational companions. Although, don't bring just a GPS and skimp on the map. Gadgets fail and batteries die, so having a paper map as backup is a must.
Hydration
When it comes to hydration, you need something to transport the wet stuff. This can take the form of water bottles such as Nalgenes, collapsible water reservoirs or hydration bladders. Personally, I'm a big fan of the Geigerrig Hydration Engine but I know Chris loves his Platypus collapsible bottles.
Sourcing water on the trail means sterilizing and/or filtering it to get rid of nasty bugs and silt/dirt. As such, you have a decent system to sterilize your water such as the small, lightweight SteriPEN Ultra. We would also recommend taking some backup iodine tablets just in case.
Nutrition
To put it simply, food. You are going need a lot of calories on the trail.
Put together a backpacking meal plan for each day of your trip (plus one emergency days supply), then either purchase freeze dried camping food or prepare your own. When it comes to trail meals, we recommend that they are calorie dense and simple to prepare at camp.
In addition, to breakfast, lunch and dinner, pack calorie dense snacks to munch on the go.
Lastly, if you are a coffee nut, or want to add some powdered energy drink to improve the taste of the water then make sure and bring those along too.
Pro Tip: Daily Meals
Pack each days meals + snacks + beverage powders into its own zip lock bag, saving you from digging around your pack every time it's mealtime.
Shelter
Unsurprisingly, shelter makes it onto this list but hopefully you have already picked out and packed your tent/hammock. That being said, an emergency blanket (like those at the end of marathons) isn't a bad idea for emergencies.
Sun Protection
It may be cold, and gray but if you are out all day you can still be susceptible to sunburn. Especially at higher elevations. Protect yourself with decent sunscreen, such as Sun Bum Factor 30.
A good hot weather hat and a pair of sunglasses, along with a good long-sleeved top should complete your sun protection.
Fire
There is a military saying "two is one, one is none" which in our world translates to carry a redundancy that'll work if your first one doesn't. As such, bring matches/lighter (in a waterproof container) but we would recommend also taking an additional emergency fire starter.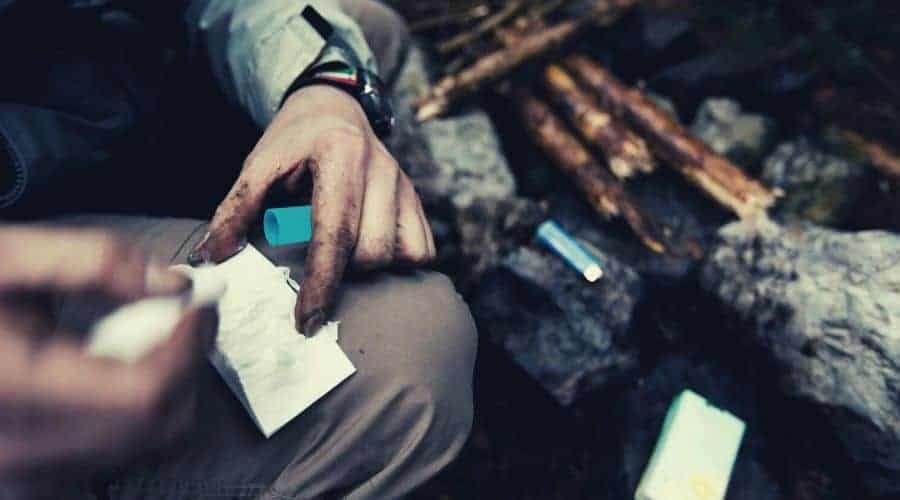 Illumination
When the sun begins to dip below the horizon you'll need someway to be able to see around camp, whether that is with a headlamp, a flashlight or a backpacking lantern. Personally, I would recommend taking a headlamp, such as the Black Diamond Storm, leaving your hands free to tackle whatever task is at hand.
First-Aid
This really shouldn't need any explanation, just make sure you pack one that is fully stocked. You can either purchase a ready made one such as the Medical Kit 0.7 (or check out our guide to the best first aid kits) or building a first aid kit yourself.
Toolkit
If you are out on the trail for a while, things will break, tear or fray. As such you'll need some tools to help mend items or at least hold them together till you can get to town.
This category can cover a fairly wide variety of tools/kits, but we would suggest at an absolute minimum to pack a good camping knife/multi-tool and some duct tape. After that you can add additional items, such as patch repair kits, tent pole repair splints, folding camp saw and cord.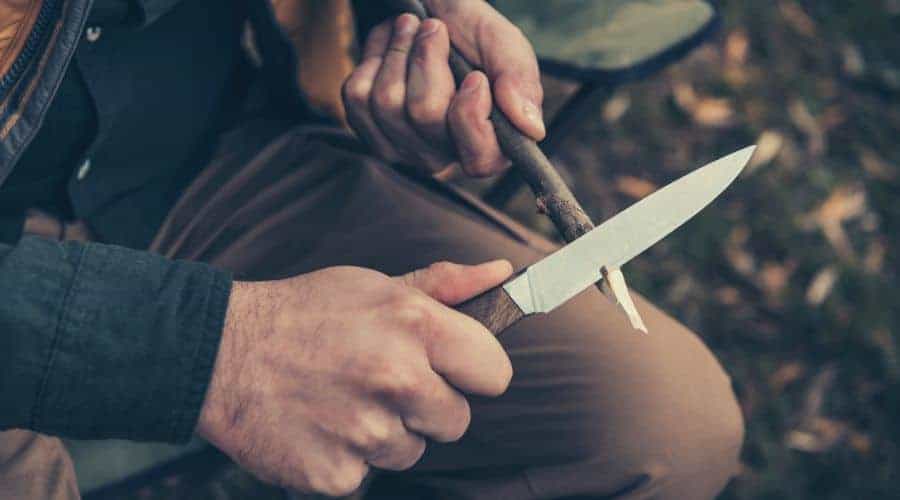 Insulation (Clothing)
Unless you are a naturalist, I would expect you would have considered clothing an essential also. When it comes to clothing in the outdoors it is best to apply a layering system, we'll go into more detail on the type of clothes to pack below.
Everything Else
Once past your 'ten essentials' & your 'big 4', there are still plenty more gear decisions to be made. So let's take a look at what else you may (or may not) want to bring with you on the trail.
Cooking System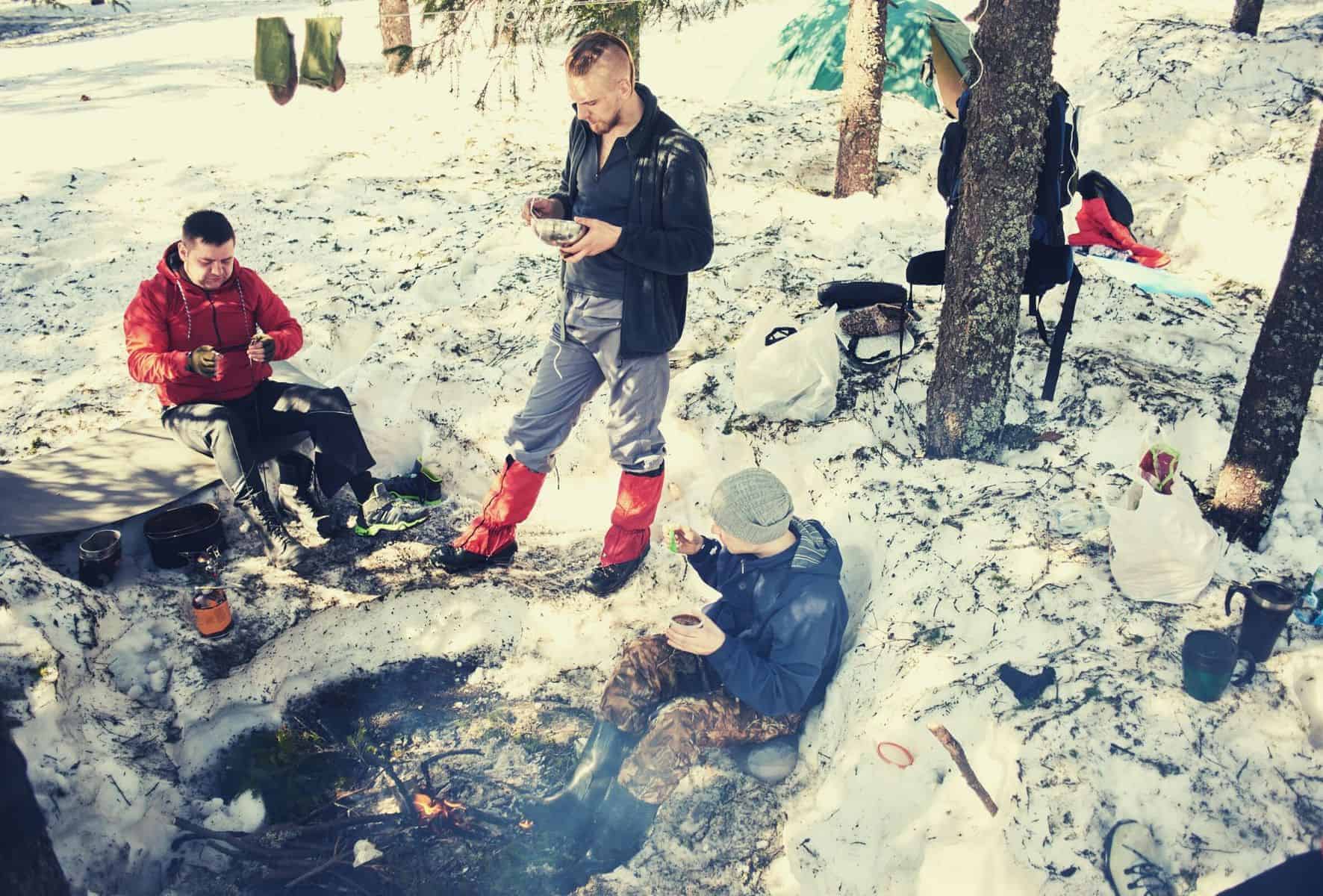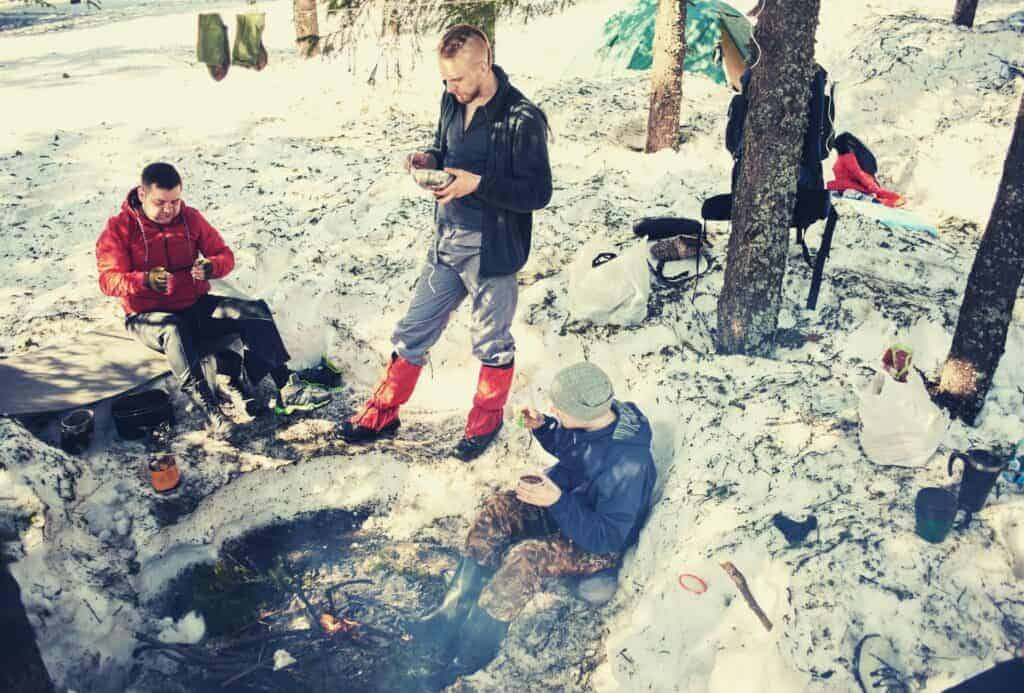 What you plan to eat throughout your trip, will have a direct impact on your cooking system. For example, I do know people who will eat nothing but cold oats and wraps just so they don't need to carry the weight of a stove plus fuel. However, this does get boring so we would recommend the following:
Clothing
The key to the clothing you pack is to minimise the amount of clothes you need with you, while maximising your protection from the elements. Knowledgeable outdoors folks use a layering system to combine complimentary clothing to do just that. Such a system is comprised of three (sometimes four in really bad weather) layers:
Base Layer: This layer provides moisture management, and does so by wearing breathable materials that will wick perspiration away from the skin.
Mid Layer: The mid layer is there to provide you with insulation i.e. warmth. You will typically see backpackers wearing down, wool or fleece mid-layers.
Shell Layer: The shell layer is to protect you from the elements, whether that be rain or wind.
By removing, or adding a layer you can adequately control your body temperature (and comfort) while not weighing yourself down with lots of extra clothing.
Warm Weather Clothing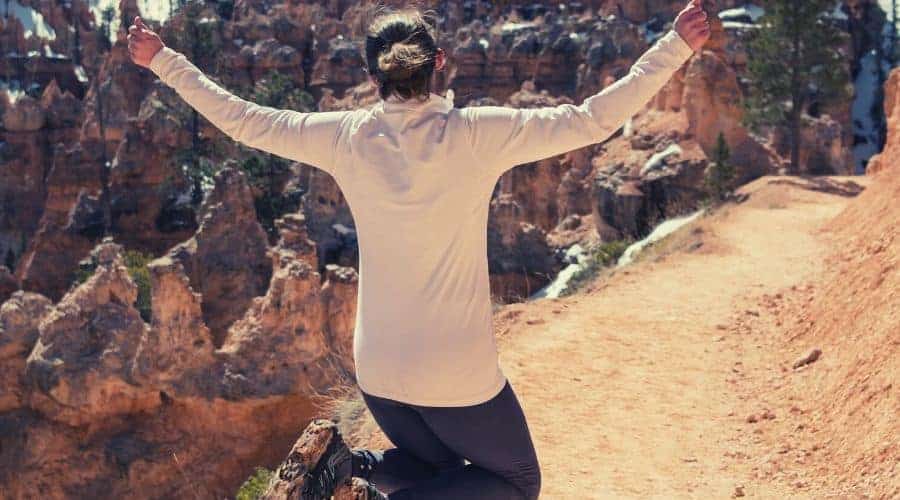 For those warmer weather trips, we would pack the following:
Hiking pants: We'd go with Fjallraven Keb Trousers for the gents and Marmot Lobo for the ladies.
Hiking T-Shirt: Synthetic or wool materials are great for wicking, such as the Woolx Outback (for men) or Tesla's Compression shirt (for women).
Long Sleeve Shirt: Largely for protection from the sun and bugs, look for something tightly woven with a high SPF. We'd recommend Baleaf or Coolibars shirts.
Lightweight Down or Insulated Jacket: For chillier evenings I always pack my Marmot Down Jacket while my better half likes her REI Magma 850 Down Jacket.
Lightweight Rain Jacket: At some point the heavens will open, so you having a decent rain jacket will keep you from being miserable. Our top choices are the Outdoor Research Foray (for men) & the Outdoor Research Aspire (for the ladies).
Good wicking underwear: Again go for synthetic or wool undergarments.
Gaiters (Optional): If precipitation is on the cards, then gaiters like Outdoor Research's Rocky Mountain can help keep your ankles/socks/feet dry. Particularly if you opt for hiking shoes over boots.
Bandana or Buff (Optional): A bandana or buff has a multitude of uses and is a versatile utility garment.
Cool/Cold Weather Clothing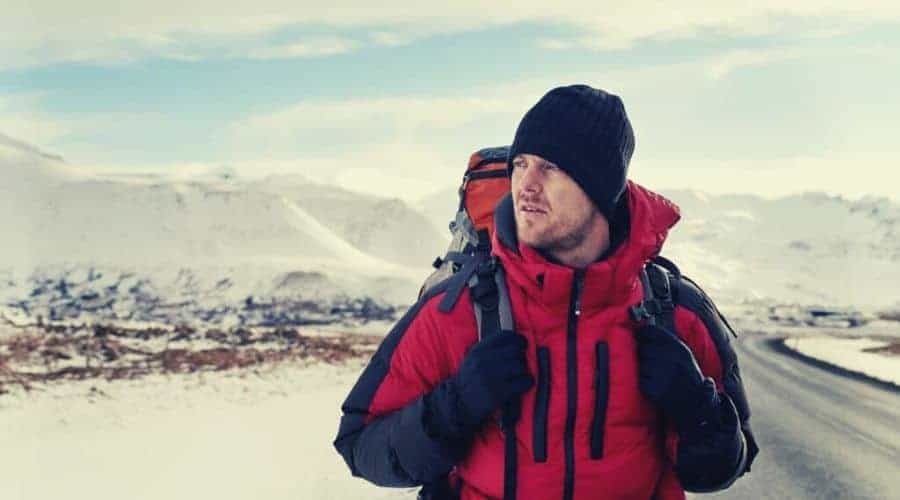 If the weather is likely to be a little fresher then we would pack the following in addition to the above:
Balaclava: Save your face from taking the brunt of the cold weather, I am a bit of a sucker for all things SmartWool so I would recommend the Merino 250 Balaclava.
Hat/Beanie: If you aren't a fan of balaclavas then go with a wool or synthetic beanie.
Gloves: Depending on the conditions choose a woollen pair (when you expect just cold, and not much damp) such as Prodigen and a heavier duty pair such as Outdoor Research Arete if you are expecting it to be wet as well as cold.
A fleece/down/wool mid layer top: We are big fans of the 7Even Merino pullover for guys and the Fjallraven Keb hoodie for gals.
Base Layer pants: 7Even pants for men & MERIWOOL pants for women are our recommendations.
Rain pant: If the cooler weather is likely to be accompanied by some downpours then consider also investing in some rain pants.
Hardshell jacket: If the weather is going to be cooler and wetter then we would recommend changing out the softshell jacket for warmer weather with a hardshell one such as the Arc'Teryx Alpha FL (men) or the Outdoor Research Clairvoyant (Women).
Footwear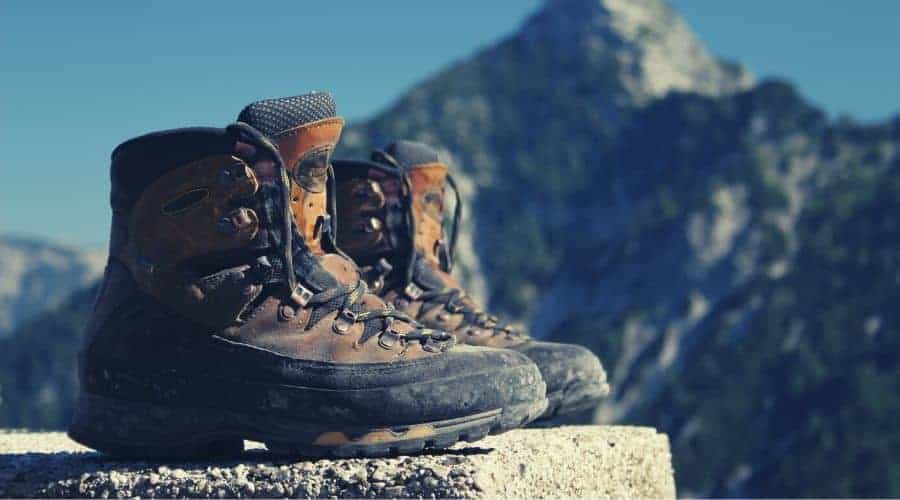 For some time now, there has been a raging argument in the outdoors community about whether hiking boots are better than hiking shoes, or even trail runners. We take the pragmatic view – it depends. Firstly, on personal preference and secondly, on the type and length of hike. However, you will need some form of footwear, so here are our recommendations:
Hiking Shoes/Boots/Trail Runners: You can take a look at our guides to both best light hiking shoes and backpacking boots to see if any meet your personal preferences.
Sandals: Come the end of a long day on the trail, you will love changing into a pair of lightweight sandals for stomping around your campsite.
Socks: We have reviewed several different pairs of best socks for hiking. Just make sure to pack several pairs.
Optional Extra – Camp Shoes: To help your feet breathe, and your boots dry, consider taking a lightweight pair of camping shoes (sandals/flip-flops/etc) with you.
Organization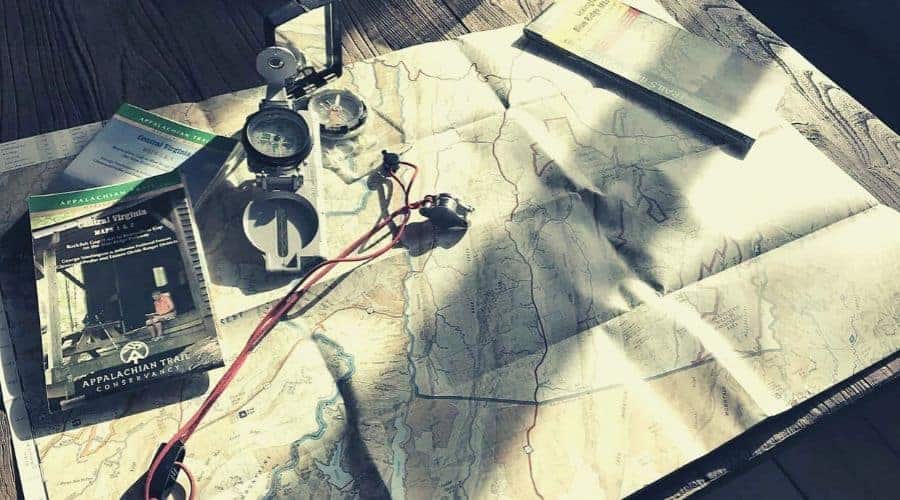 On the organization front some of us are better than others, and others simply don't care a jot about such things. There are of course several things that you'll be hard-pressed to have a successful trip without, including:
Permits: Always, always, always, double-check which permits are required for your trip and make sure to get them before you start out on the trail.
Guidebook/Route Description: You can make do with having your route plotted on your map, but again, we highly recommend taking a guidebook or route description with you.
Credit Card + Cash: Just in case of emergencies.
Field Guides/Pocketbooks (Optional): Part of the wonder of spending so much time in the outdoors is learning more about it. Help yourself out by taking a few choice pocketbooks.
Journal + Pencil (Optional): If you want to relive your trip, then taking some writing implements could be a good idea.
Watch: Unless you are a dab hand at telling the time from the position of the sun, we'd recommend taking a watch to make sure you are keeping to your trail pace.
Cell Phone: Just in case of emergencies. Make sure you have the local authorities numbers stored.
Hygiene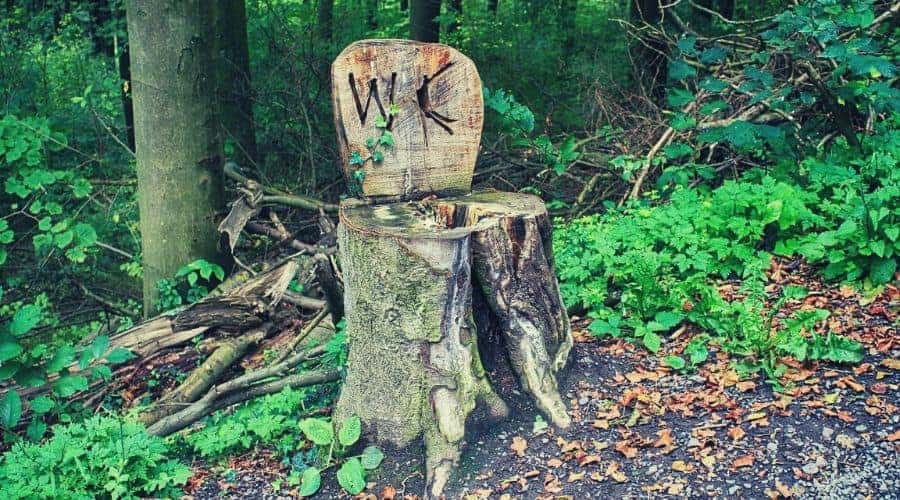 Backpacking through the countryside doesn't have to entail coming home dirty and smelling like death. A few items can make your trip much cleaner, and sanitary. We would recommend taking the following:
Towel: Make sure it is quick drying – see our guide to find out the best backpacking towel on the market.
Poop Kit: We recommend pulling the following into its own separate stuff sack so it's good to go, when you are…good to go.
Toiletry Kit containing:

Wet wipes
Lip balm
Toothbrush + toothpaste
Biodegradable Soap
Deodorant
Feminine Hygiene Products

Collapsible container/sink: Useful for washing yourself and for washing your cooking utensils…we would recommend not doing both simultaneously. Check out this lightweight option from BSGSH.
Optional/Recommended Items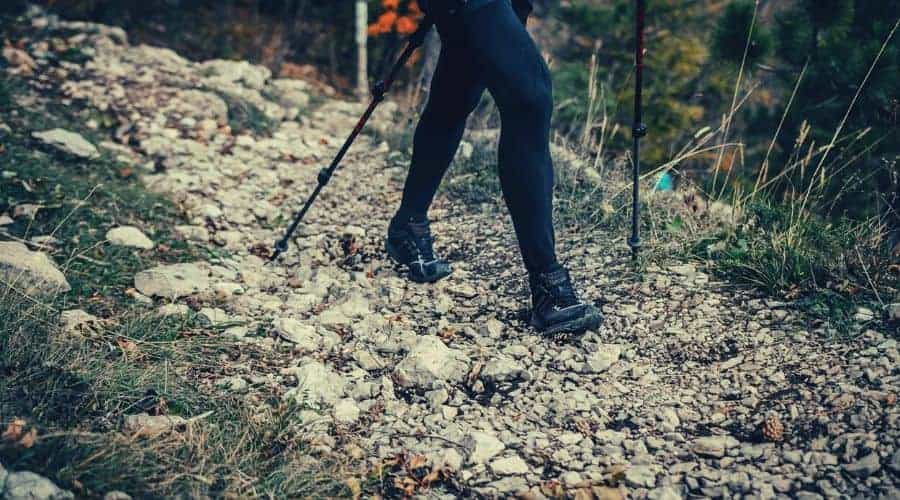 If the above list hasn't put you (or your wallet) off your trip yet, there are some additional items that we would classify as anywhere between optional, depending on your own proclivities – to recommended but you can get by without. These would include:
Pillow: You could roll up some clothes and tuck them under your head, although we would recommend you check out our guide to the best ultralight backpacking pillow on the market. Trust us, your neck will thank you for it.
Earplugs + Eyeshade: If you are a light sleeper, then these could be invaluable, particularly at popular communal shelters along the trail.
Trekking Poles: Designed to make your trek more efficient and more painless. Most people who have used poles, seldom go back to hiking without them.
Ice axe: If you are expecting snowy/icy conditions then you may need an ice axe. Just make sure you are trained in how to use one correctly.
Satellite Communicator/2-way radios: If you are travelling where there is no cell coverage, a satellite phone may be a good purchase should you run into trouble and need some help.
Personal Locator Beacon: These are becoming an increasingly popular sight, and are a great thing to carry to alert authorities if you are in need of rescue.
Whistle: This oldschool safety device should be carried by everyone as it is cheap, takes up no room and could potentially save your life.
Insect Repellent: No one like being bitten to death, so do yourself a favor and bring some even if you don't think it'll be buggy.
Bear Spray: If you are hiking through bear country, we would highly recommend you take some bear spray along.
External Battery (+ Solar Charger): Your other electronic gizmos run on batteries, so an external battery plus a solar charging device could be the way to go on longer hikes.
Pack Rain Cover: Backpacks aren't waterproof, so help protect your gear by using a pack rain cover. Note, that this can be as simple as lining the inside of your bag with a trash liner.
Stuff Sacks: Take your organization/packing game to a whole new level by using stuff sacks to organize your gear.
Bear Canister or Hang Bag: Again, if in bear country, don't be without one of these.
"Luxury" or "Comfort" Items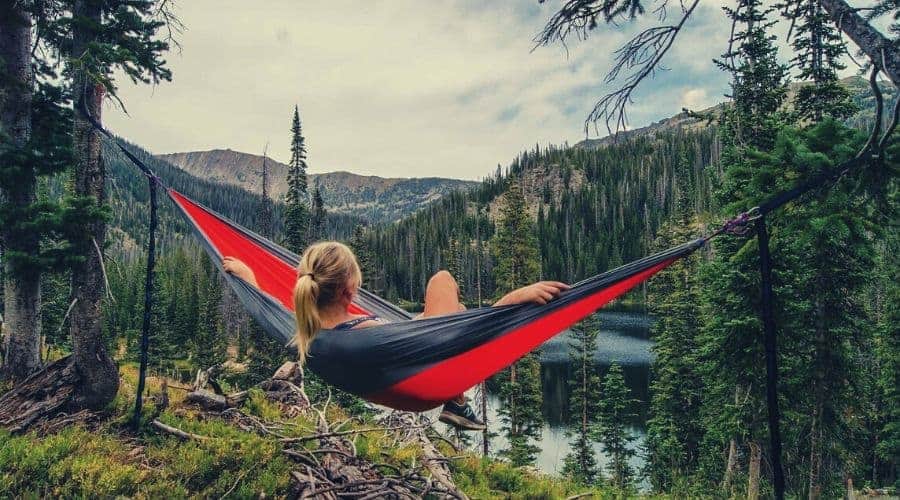 Lastly, while travelling light (or minimalist backpacking) may make the going easier it shouldn't stop yourself from taking along one or two "luxury" items that will make your trip more enjoyable. Remember that you are doing this for fun, not to count ounces! To give you some examples:
Camera: 99% of us will have a camera on our cell phone, but if you really want to bring home some awesome memories, consider taking a decent camera.
​Binoculars: Observing nature without disturbing it (read, keeping a safe distance from that bear) is easier with a pair of decent binoculars.
Day Hammock: If you plan on having a few zero days, and just want to lounge/relax then consider bringing a lightweight day hammock such as the Kammok Roo to chill in.
​eReader: If like me, books are your drug of choice then consider taking an eReader such as the Kindle Voyage which is much lighter than your average paperback.
Camping Chair: After a day on your feet, consider bringing a chair you can spend the evening at camp off them.