Merino does boast natural antibacterial properties and is more resistant to stains than other fabrics, but if you're reading this, we're guessing you've pushed the odor limit.
Your once new and beautiful merino socks now smell terrible. But they are made from wool, right? How do you remove the odor without destroying your socks? Don't worry, you've come to the right place! Follow our step-by-step instructions and washing your wool socks will be a breeze.
Gather Your Supplies
To follow this tutorial, you'll need the following items:
Your dirty hosiery
A washing machine
Wool-specific (or mild) detergent
Sink or basin for a hand wash
A towel
How to Wash Merino Wool Socks: Step-by-Step Instructions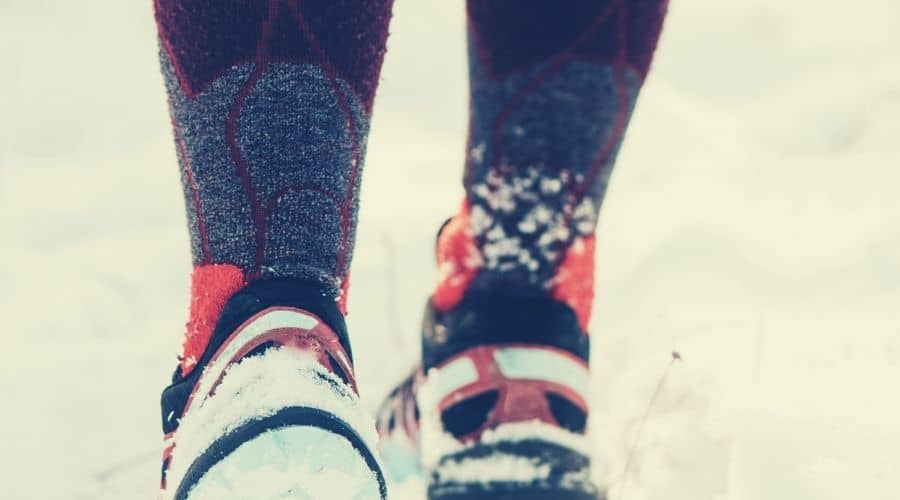 Machine Wash
Step 1: Turn Them Inside Out
When machine washing, small coils of fluff can form on the surface of woolen garments (aka "pilling"). Turning your wool socks inside out ensures that they won't become balls of static fuzz and keep them coil- and fluff-free.
Step 2: Adjust Your Washer Settings
Choose the gentle cycle for your machine wash. We recommend setting your washing machine to cold. Lukewarm water is alright, but anything more and the wool fibers will shrink. Avoid hot water at all costs.
Step 3: Detergents, Chemicals, Fabric Softener?
If you don't have access to a specific detergent for woolen garments when washing merino wool, we recommend that you go for the most chemical-free and mild detergent available.
And never be tempted to use bleach. It'll do a lot of harm to your clothing, particularly the woolen kind. Also avoid fabric softeners, which are sure to mess with your yarn's wicking capacity and breathability.
Step 4: Drying
Now that you are done with your merino wool washing, it's time to dry.
While you can use a machine dryer on low-heat and tumble dry settings, we don't recommend it. To give your socks the care they deserve, lay them out to air dry on top of a towel instead. Try not to leave your wool in the line of direct sunlight or too close to a heater, as both of these might just cause shrinkage.
Another approach you should avoid is hang drying. When hang drying, gravity brings water to the end of the sock, weighing it down and stretching it out. It'll look funny and feel lumpy in all the wrong places.
Hand Wash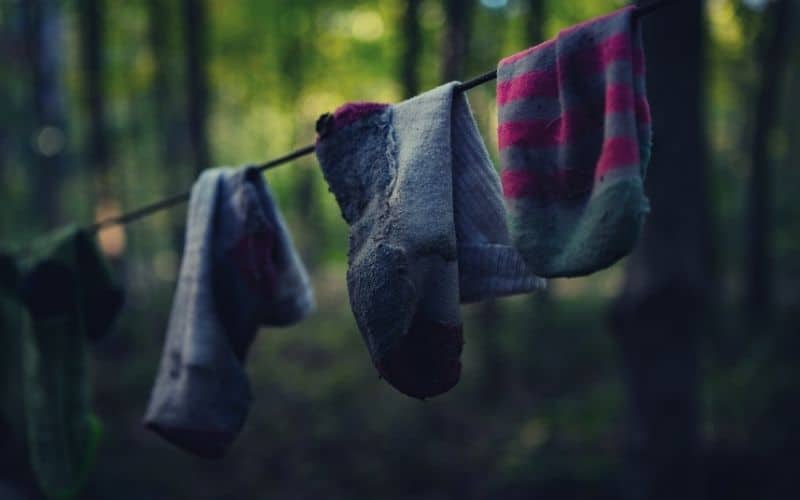 Before washing any garments, make sure you read the care instructions. If machine washing ain't an option, here's how to do it the old-school way:
Step 1: Soak
Fill a sink or basin with cold water, add your detergent, and allow your yarn to soak for around 10 minutes.
Step 2: Rinse
Rinse each sock down in lukewarm or warm water to get rid of the detergent and any lingering dirt.
Step 3: Dry
As above, take the gentle approach. Instead of wringing your hosiery out—which can cause stretching—give it a gentle squeeze to oust excess water and then lay it on a towel.
Does Merino Wool Shrink?
Like any kind of sheep-sourced fabric, merino is prone to shrinkage if not treated with the appropriate TLC.
If your yarn comes out of the wash looking a little on the small side, however, all is not lost.
If this happens, whip out your hair conditioner from the shower and pour a dime-size drop into a sink filled with lukewarm water. Leave your yarn to soak for ten minutes, drain the sink, then dry by laying on top of a towel.
Before completely dry, massage the fabric like a pile of pizza dough and tenderly, even lovingly, stretch your socks back into shape.
This process can help to reverse the shrinking by unlocking the fibers in the material and restoring some of their suppleness.
Care for Your Woolwear!
We hope we've demonstrated that, once you understand how woolen garments react to water and different temperatures, washing them correctly is easily done. Just avoid heat and harsh chemicals and you can't go too wrong! By following the above instructions, you'll be ensuring your high-priced hosiery gives you a decent ROI for the long term.
Now you've read how to wash merino wool socks have we missed anything out? Let us know in the comments box below!