Tired of blisters, bunions, trench foot, abrasions, and/or athlete's foot caused by less-than-perfect socks?
If, like many hikers, you're apt to overlook the importance of wearing a great pair of socks, then you're likely already familiar with some (or all!) of the above foot problems.
If you want to ensure they never blight your backcountry escapades again, then you're in the right place.
In this article, we're going to introduce you to 9 of our favorites on the market. Below our individual reviews, you'll also find detailed buying advice to help you choose the perfect pair for you.
Editor's Choice
Darn Tough Light Hiker Micro Crew
The Darn Tough Light Hiker Micro Crew (women's version here) wins our vote as the best socks for hiking out there. The Micro Crew are true all-rounders. They boast great breathability, high-wicking fabric, and use plenty of springy cushioning. Together, these attributes ensure your feet will stay cool, dry, and comfortable even when your mileage on the trail hits double digits.
But what makes the Darn Tough Micro Crew such a standout compared to their competitors?
Well, more than anything else, the most appealing qualities the Micro Crew brings to the table are their versatility and durability.
This is a light slash medium-weight sock that offers enough insulation for cooler conditions but enough breathability to keep your feet cool and sweat-free in warmer conditions.
They're also made with a winning blend of 61% Merino Wool, 36% Nylon, and 3% Lycra Spandex. Unlike many other blends we've tried, this three-fabric combo delivers on all fronts, making them durable, odorless after long days on the trail, comfy as hell, and stretchy enough to maintain their shape after multiple washes.
Bottom line: A great hiking sock that is versatile and high-performing, excelling in a wide range of conditions. The Darn Tough Micro Crew is our go-to hosiery for three-season hikes.
At a Glance: Quick Recommendations
Our Top 9 Picks for Best Hiking Socks
Darn Tough Light Hiker Micro Crew
Best Overall
The Darn Tough Light Hiker Micro Crew (women's version here) is a versatile hiking sock that can be worn in varying conditions year-round. It combines comfort, style, and performance as well as providing light cushioning in all the right places.
This lightweight hiking sock is made from 61% merino wool, 36% nylon, and 3% Lycra spandex. This blend delivers on all fronts, bringing outstanding breathability, durability, support, with shape-maintaining stretch to boot.
Though classed in the "lightweight" category, this sock offers good cushioning all the way from the toes to the base of the Achilles. This, simply put, translates into oodles of comfort and makes it ideal for day hiking and backpacking alike.
The thinner fabric used in these lightweight hiking socks means they're more capable of shifting sweat and keeping feet dry and cool in warmer weather, even in intensive activities like fastpacking or trail running. This thin construction also provides decent ventilation in the underfoot area and gives the sock the ability to dry quicker than most of its competitors.
PROs

Fast-drying
Excellent support and ventilation in the underfoot area
Cushioned toes, heel, and Achilles
Available in men's and women's sizes

CONs
Bottom-Line: Superbly versatile hiking socks that pip their peers to the post as the best lightweight hiking socks out there on account of their outstanding performance in every metric. 
REI Co-op Merino Wool Crew
Best Value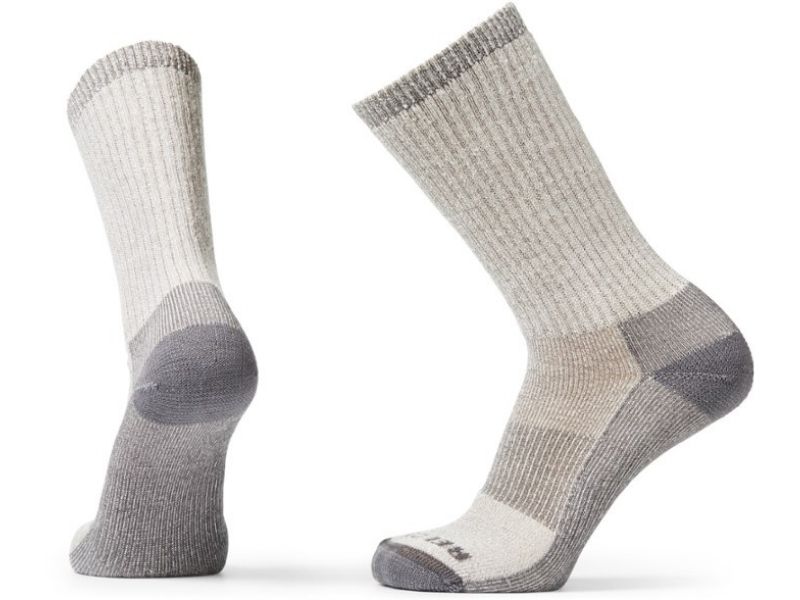 Looking for a high-quality pair of socks that won't break the bank and will serve you well for many hundreds of trail miles? If so, the REI Co-op Merino Wool Crew is well worth considering.
The REI MWC are made with 79% merino wool, 20% nylon, and 1% Lycra spandex. The shortage of Lycra does mean they are prone to sliding down when worn with certain footwear and that they lack compression. However, all that merino makes them superbly comfortable, odor-resistant, and top performers in both warm and cool conditions.
Compared to similar offerings from brands such as Smartwool and Icebreaker, these are an absolute steal, yet are made with the same high-quality wool and have a nigh-on identical design. As far as value for money goes, they're hard to beat.
REI Co-Op also sells this sock in multiple weights (ultralight, light, medium, and expedition) and two heights (quarter and crew), so you have enough choice to pick the perfect pair for your needs.
PROs

Available in multiple weights and two heights (quarter and crew)
Affordable
Breathable
Moisture-wicking
Odor-resistant
79% merino wool construction

CONs

Less compression
Can slip down calves
Bottom-Line: Great performance at an even greater price.
Smartwool PhD Run Ultra Light Low Cut
Best for Trail Running and Summer Hiking
If you tend to do a lot of your hiking in trail runners or regular hiking shoes, the Smartwool PhD Run Ultra Light Low Cut (women's version here) are a highly worthy addition to your wardrobe.
There's no getting around the fact that this is some darn expensive hosiery, but this is to be expected given their high merino content. And the highest praise we can give these socks is that, despite the price, they still offer great value for money.
While merino accounts for over half of the material used in the PhD Ultra running socks, they also contain a healthy measure of nylon and elastane, giving them trail-worthy durability and plenty of supportive compression, respectively.
While lightweight and low-profile, the Ultras also boast just the right amount of cushioning in all the right places – namely, the heel, lower instep, and balls of the feet. The merino is also carefully distributed to these areas to boost both padding and breathability. Out on the trail, we found this translated into great impact-absorption and pleasingly sweat-free feet.
Besides the price, the only downside to the Ultras is their lack of versatility. While awesome with low-cut shoes, their lack of height means they're unsuitable for use with hiking boots. Also, these socks run a little small, so buy a size up if you're on the threshold of the size range.
PROs

Targeted cushioning
Very comfortable
Wick well
Breathable
Odor-resistant

CONs
Bottom-Line: Our go-to when wearing trail runners or approach shoes.
Balega Hidden Comfort
Best Ankle Socks
The Balega Hidden Comfort are the ideal choice for anyone who likes to hike in a hiking shoe or trail runner.
Unlike many no-show models, the Hidden Comfort has plenty of padding on the sole. While this makes them a little warmer and reduces breathability, it bolsters underfoot protection and helps to reduce impact, particularly on the heel and balls of the foot. Our testers also felt that the added comfort the padding provided was well worth the loss of a little breathability.
Although no-shows are avoided by many hikers owing to the lack of protection at the cuff of their shoes, the Hidden Comfort have a plush heel tab that rises above the collar to prevent chafing and stop them from slipping down.
The only real downside to the Hidden Comforts is their all-synthetic construction means they stink up a little quicker than merino blends – not an issue for day hikes, maybe, but something to bear in mind if you plan on using (and reusing) them on multi-day adventures.
PROs

Moisture-wicking
Breathable
Affordable
Comfortable

CONs

Less breathable than a merino sock
Not odor-resistant
Bottom-Line: Simple but super-comfortable no-shows with a few well-thought-out, trail-specific features.
Farm to Feet Damascus
Most Durable
The all-American-made Farm to Feet Damascus (women's version here) are a great choice for hiking and backpacking trips when you need a little more cushioning and warmth than a minimalist sock, but not quite so much of either as provided by beefier models like the Darn Tough Full Cushion (below).
The Damascus are made with a blend of 61% merino wool, 34% nylon, and 5% Lycra spandex. On the face of it, this doesn't make them appear too different from other models on our list, but when unpacked it reveals its hidden strengths.
The high merino content lends to the comfort and odor resistance of the Damascus, while the high percentage of nylon – which is tougher than polyester – means you'll get more mileage out of them than any other option on our list. Finally, that extra Lycra spandex ensures they provide good but not constrictive compression and will maintain their shape in the long term.
A few dialed-in design attributes make the Damascus a standout and more performance-oriented than many of its peers. It has focused cushioning in the heel and toe to protect against impact, and also across the forefoot and instep to minimize pressure caused by shoelaces. The seamless toe closure also reduces bulk and lessens blister-generating friction.
PROs

Available in quarter, low, ¾ crew, and crew heights
Breathable
Moisture-wicking
Odor-resistant,
Lifetime warranty

CONs

Quite pricey
Light cushioning
Bottom-Line: The ideal sock for multi-day backpacking trips and summer hikes in trail runners, approach shoes, or boots.
Injinji Outdoor Midweight Crew
Best Toe Socks
The Injinji 2.0 Medium Crew's toe-sock design might not be to everyone's liking, but if your feet are prone to blisters, they are well worth considering.
This sock is made with 64% NüWool, 43% Acrylic, 12% Nylon, and 2% Lycra. Although marketed as midweight, its thin design and lack of padding actually make it closer to lightweight. Performance-wise, however, this thin design is a winner for warm temps, making the Injinji 2.0 highly breathable, quick-drying, and among the highest-wicking in our review.
In terms of durability, this sock ranks slightly above average, with only a few pilling problems a few months down the line detracting from its otherwise "steady-seven" report card.
And the downsides?
Well, the NüWool fabric used in this sock provides decent comfort but is not quite as soft to the touch as merino. Also, the Injinji 2.0 is not a warm sock. Although the individual toe pockets do bring added insulation to this frequently cited cold spot, they're just a little on the skinny side to keep the rest of your foot warm in cooler conditions.
PROs

Designed to prevent blisters
No toe seam
Great wicking properties
Quick-drying

CONs

Light on insulation
Not as soft as other wool socks in our review
Bottom-Line: A quirky-looking, comfortable wool sock that's perfect for feet prone to blistering but a little short on comfort compared to its pricier peers.
Smartwool Hike Light Margarita Crew
Best Women's Socks
The Hike Light Margarita Crew Sock is a high-quality, high-performing sock that's ideally suited to summer and shoulder-season hikes and backpacking adventures.
These Smartwool hiking socks use a blend of 62% merino wool, 36% nylon, and 2% elastane content. They are very soft to the touch and have an elasticized arch brace to ensure a nice, snug fit.
While the term 'light' features prominently in the name, the Margarita is a fraction thicker and heavier than others in its weight class, meaning it's perfectly well-suited to summer, spring, and fall hiking alike.
While a little light on cushioning, the Margarita is still a very comfy sock. It also breathes and wicks well, offers outstanding durability, and dries just as quickly as most hiking socks in our review.
PROs

Comfortable
Durable
Warmer than other lightweights

CONs
Bottom-Line: A super-comfortable hiking sock that lacks cushioning but bests most other socks in its price range as regards performance in warm weather.
Danish Endurance
Best Budget
Danish Endurance Men's Wool Socks provide the perfect combo of breathability, comfort, and wicking capacity needed for hiking in higher temps, scooping both our "best budget" award and "best summer hiking socks" award.
The fabric consists of 33% merino wool, 33% acrylic, 33% polyamide, and 1% elastane. The lower merino content in these socks means they aren't quite as soft to the touch as others on our list. It does, however, make them far more durable, rugged, and more likely to keep their shape in the longer term.
The DE's mid-calf length makes them ideally suited to hiking, backpacking, and even warmer-weather adventures above the snowline. They also boast plenty of cushioning and compression around the arch and calf areas and have enough stretch to prevent them slipping down your calves while you're on the move.
One of the most appealing features of this sock is the integration of "breathing" panels on the top of the foot and along the front of the legs. This means that, even though it's beefier than other mid-weights on our list, it still provides plenty of breathability and ventilation on warm days.
PROs

Highly breathable

Long-term durability

Inexpensive

Integrated ventilation panels

Great price!

Medium cushioning

CONs

Not as soft as socks with higher merino content

Don't have the dialed-in fit of more technical socks
Bottom-Line: A solid three-season sock that lacks the comfort of options with higher merino content but breathes well, wicks well, and is highly durable. The best hiking socks out there for buyers seeking maximum bang for their buck.
Darn Tough Boot Cut Full Cushion
Best Winter Hiking Socks
If you need a warmer sock with beefier cushioning and insulation from top to toe, the Darn Tough Hiker Boot Full Cushion (women's version here) is a shoo-in.
The DT Full Cushion are made with 66% merino wool, 32% nylon, and 2% Lycra spandex. While this means they have a little less stretch than some of the competitors featured above, all that merino makes them toasty warm, high-wicking, breathable, fast-drying, antimicrobial, and wonderfully comfortable against the skin.
As the name suggests, these socks are all about the cushioning. While this provides extra impact protection in the heel and balls of the feet, it also means they're a lot warmer than other options on our list. As such, these are a good pick for peeps prone to sore feet or hiking particularly rugged trails in cold weather, but overkill for summer hiking.
As with other Darn Tough Socks, the Full Cushion are made with "undetectable seam fusion" to eliminate blister-causing friction, have a performance-oriented fit that prevents slipping and bunching, and come with a frickin' amazing lifetime guarantee.
PROs

The warmest sock on our list
Excellent fabric blend wicks moisture effectively and dries quickly
Fits nicely; very little movement of sock over foot
Durable
Ideal for cold-weather hiking

CONs

Heavy
Overkill in warm weather
Bottom-Line: All told, one of the best winter socks out there.
Features To Consider When Shopping for a Good Pair of Hiking Socks
Purpose
Trail Running and Speed Hiking
When it comes to speed then weight is vitally important. A few grams might not seem likely to make a big difference, but over a distance of many miles, it can add to leg fatigue. As such, low is the "weight" to go.
The other important factor to consider is cushioning and padding. Because impact is greater for runners, we recommend opting for models with plenty of padding around the ball of the foot and heel for better impact absorption. The Smartwool PhD Run Ultra Light Low Cut and Balega Hidden Comfort both fit the bill.
Hiking and Backpacking
The ideal weight and thickness of your socks will depend on the conditions you're hiking in.
Lightweight socks like the Smartwool PhD Run Ultra Light, Balega Hidden Comfort, and the ultralight version of the REI Merino Wool Crew are, of course, the best bet for hot weather, but a beefier pair with more cushioned soles will serve you better if hiking in rougher terrain.
In cooler conditions, thicker socks (midweight or heavyweight) like the Darn Tough Full Cushion or the "Expedition" version of the REI Merino Crew will provide the insulation needed to keep your toes toasty.
Whatever the case, breathability, high-wicking capability, and quick-drying capacity should remain at the top of your list of priorities when choosing.
Mountaineering
Again, ambient temps play a key role in determining suitability. As a general rule, however, mountaineering socks for serious peak-bagging should be thick enough and tall enough to protect the shins from the cuff of your boots and provide enough insulation to keep feet warm when traveling in snow or at higher, cooler altitudes.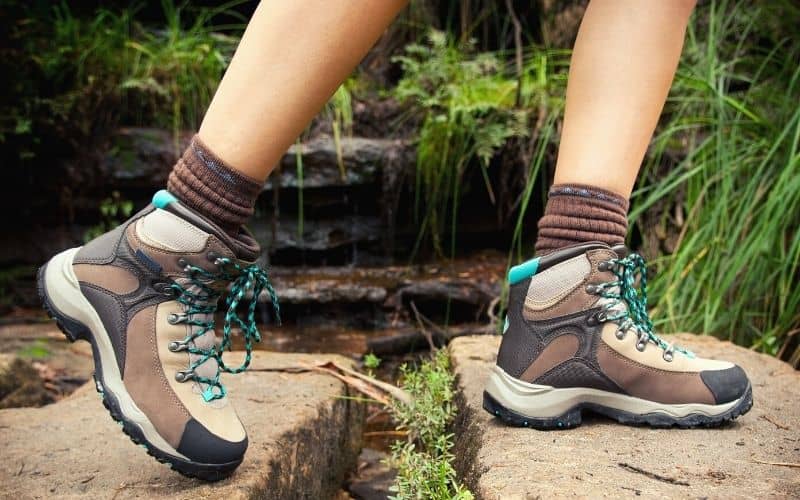 Material Selection
Wool, synthetics, or a combination of the two? Below, we summarize the benefits and drawbacks of each material type.
Wool Hiking Socks: Tried & True
The benefits of wool socks have ensured that they have, since time immemorial, been considered the gold standard of hiking hosiery. Wool wicks well, is breathable, naturally antimicrobial, and also thermoregulatory, meaning it adapts to the heat of your body to keep you cool in hot conditions and warm in cold conditions.
Owing to the itchiness and abrasiveness of traditional socks made from wool, however, synthetics like polyester and nylon have become increasingly popular with trail-goers since the '80s and '90s, and might have established a monopoly had it not been for the astronomical rise of merino wool in the past two decades.
If traditional wool was once the gold standard for hiking socks, merino is the holy grail.
Merino boasts all the attributes of wool sourced from other breeds of sheep. Unlike other varieties, however, the average diameter of merino is around 11 microns, which is about a third of the diameter of human hair. This thinness means it bends instead of poking into the skin, which makes it wonderfully soft and comfortable to the touch.
The only real downsides to merino are the cost (it's pricey!) and its lack of durability compared to synthetic socks.
All the socks on our list are made with a high percentage of merino except for the Balega Hidden Comfort.
Synthetic Materials: Modern Technology's Finest.
Like wool models, those made with synthetics like polyester and nylon have advantages and disadvantages. While high-wicking, breathable, quick-drying, durable, and cheaper than merino, for some wearers they feel less comfortable against the skin. They also tend to stink up quicker than merino because they lack naturally antimicrobial properties.
A Happy Medium: Wool and Synthetic Blends
Merino wool might be a wonder fabric, but used alone it is far from durable and prone to losing shape a few months down the line. To get around this, most merino wool outdoor gear uses what's typically termed a "merino wool blend", meaning it combines merino with synthetics like polyester, nylon, polyamide, acrylic, and/or elastane or Lycra spandex.
Using synthetics like polyester and nylon makes merino hiking socks more durable without sacrificing too much comfort. That said, the higher the merino content, the softer and more supple the sock will be. Elastane, on the other hand, helps merino-rich models keep their shape, provides a touch of compression and helps to prevent them from sliding down your calves.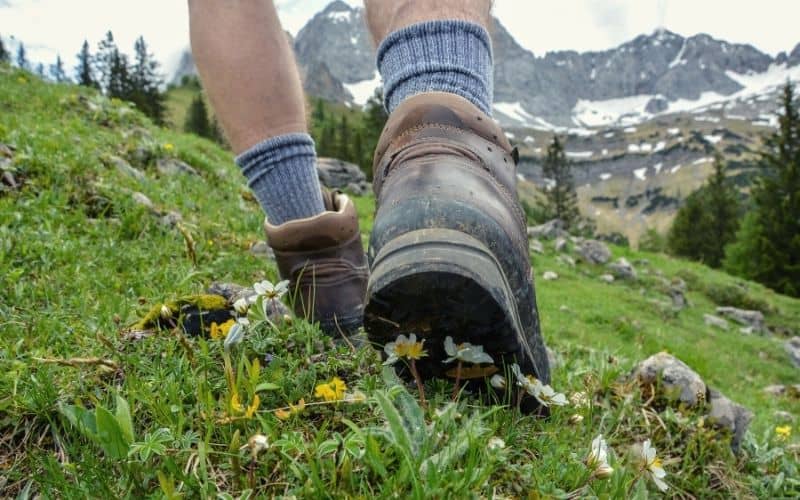 The above is exemplified nicely by the models on our list. The most durable are those with high percentages of nylon, such as the Darn Tough Micro Crew and Farm to Feet Damascus. Those that offer the best compression are the Farm to Feet Damascus (5% elastane), the Darn Tough Micro Crew (3% elastane), and Injinji Midweight Crew (3% Lycra).
Need more compression? Check out our guide to the best compression socks.
Cotton Is Rotten
The most common mistake made by newbie hikers is hiking in cotton socks. Cotton is a comfortable and affordable material, but entirely unsuitable for the demands of the trail.
The reason for this is that cotton absorbs water readily and takes an age to dry out once wet. As a result, moisture from sweaty feet tends to hang around. As the cotton dampens, the material becomes heavier, less elastic, more abrasive, and more likely to move around, making hot spots and blisters a near certainty.
Sock Design
Cut (Height)
No-show: These are meant to be worn with low-cut footwear like trail-running shoes and approach shoes. In most cases, they provide minimal protection against skin-to-shoe abrasion and, of course, zero protection for the ankles.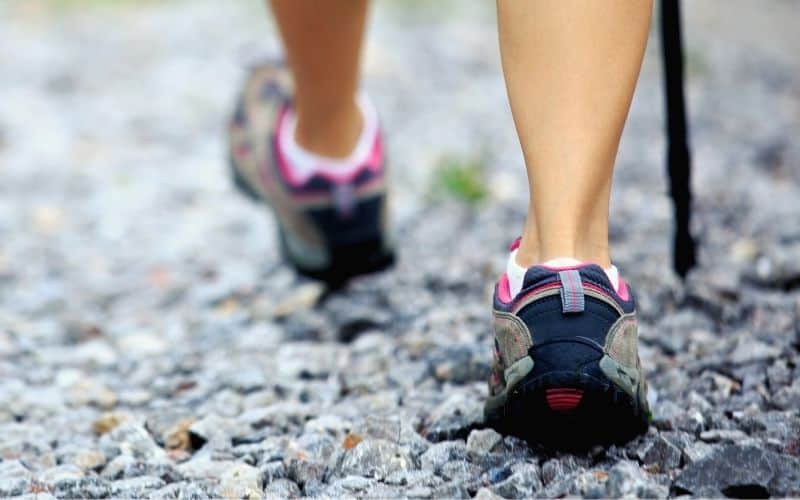 Ankle: Just a little higher than no-shows, ankle socks typically cover your ankle bone for more protection and several models offer more in the way of impact-absorbing padding in the soles.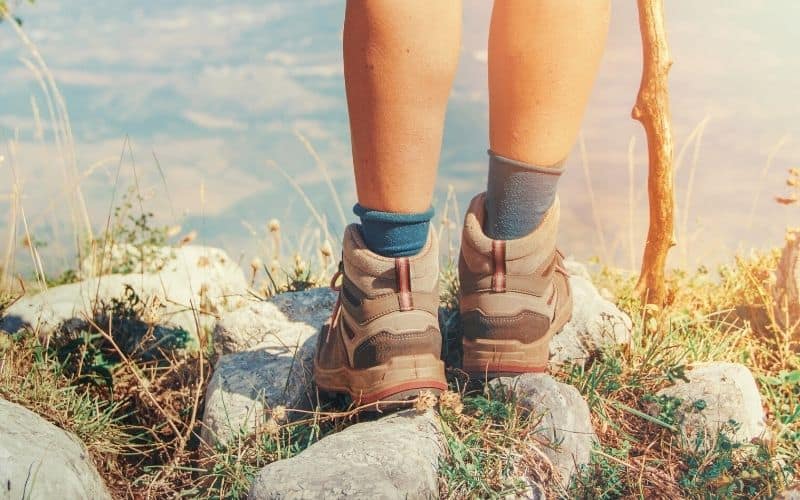 Crew socks: Usually reach midway between your ankle and knee. They protect against scuffs from both the collars of boots and undergrowth on trails. The most versatile option out there, these can be worn with low-cut hiking shoes, mid-cut boots, and high-cut hiking boots alike.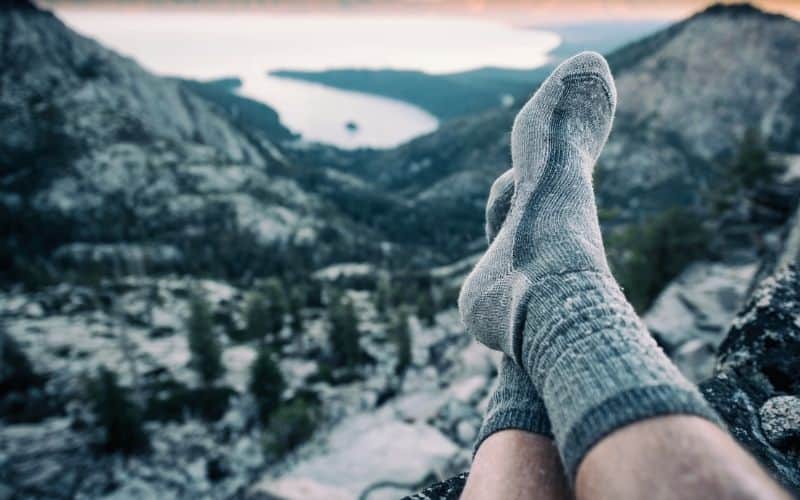 Knee-high: These are best suited to mountaineering or hiking in winter. They offer the coverage needed to keep your lower legs warm and ensure there's no gap for cold air to sneak in at the base of thermal pants. They also provide added protection for your shins that are needed when wading through deep snow.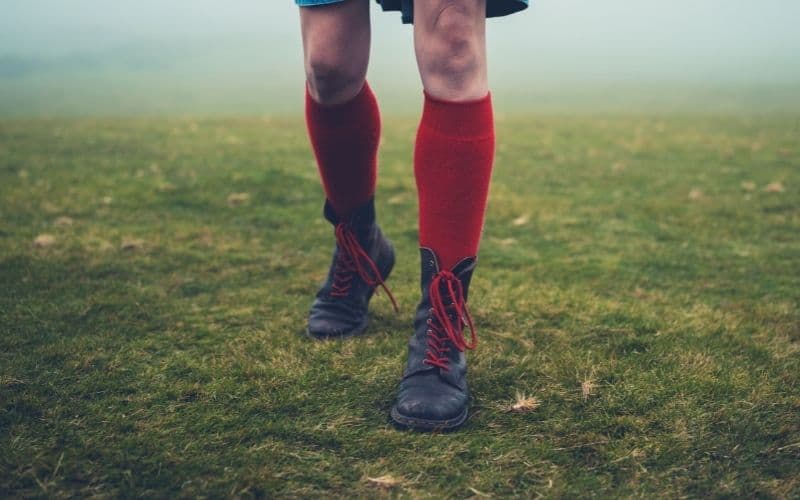 Pro-Tip: On well-maintained trails, you can get away with ankle or no-show socks. Off-trail and in thick brush, a crew cut, or knee-high sock will provide the protection your legs need, especially if you're wearing shorts.
Weight
Wool socks are usually categorized by weight. This doesn't refer to their overall weight, per se, but rather their weight per amount of fabric. This is measured in grams per square meter (GSM), or ounces per square yard (oz/y²).
While other factors come into play, the weight of the sock – lightweight, midweight, or heavyweight – essentially determines how much warmth it provides.
Lightweight: A very thin sock that prioritizes breathability and moisture-wicking over warmth. In most cases, lightweights are scantily cushioned in key areas like the balls and heels of your foot.
Midweight: Compared to their lighter counterparts, these provide enough warmth for 3-season hikes and (usually) decent extra padding in the heels and balls of the feet.
Heavyweight: As the name suggests, these are the thickest and heaviest of the bunch. This translates into both added warmth and more cushioned impact areas. These socks are made with tough terrain and low temperatures in mind. As such, they're usually overkill for a backpacking sock or hiking in warm weather.
Sizing
While this should be relatively straightforward, as we assume you know your shoe size, slight differences between brands can mean that what may be a perfect fit with one brand may be a bit loose or tight with another. For example, we find that Darn Tough models are not exactly true to size and run a little small, so we recommend buying one size bigger to get the perfect fit.
In addition, if your shoe size falls in between two sock sizes or in an overlap in size ranges, it is best to try them on before buying. This isn't always easy to do (especially shopping online), so you may consider buying one pair to try on before ordering the rest or, alternatively, buying a pair in each size and returning the pair that is ill-fitting.
Too large a sock can lead to bunching of the sock material, a common starting point for hot spots and blisters. However, while a snug fit will aid breathability and prevent bunching, if the sock is too tight you run the risk of restricting blood flow, which isn't just uncomfortable but could also lead to cold toes in low temps.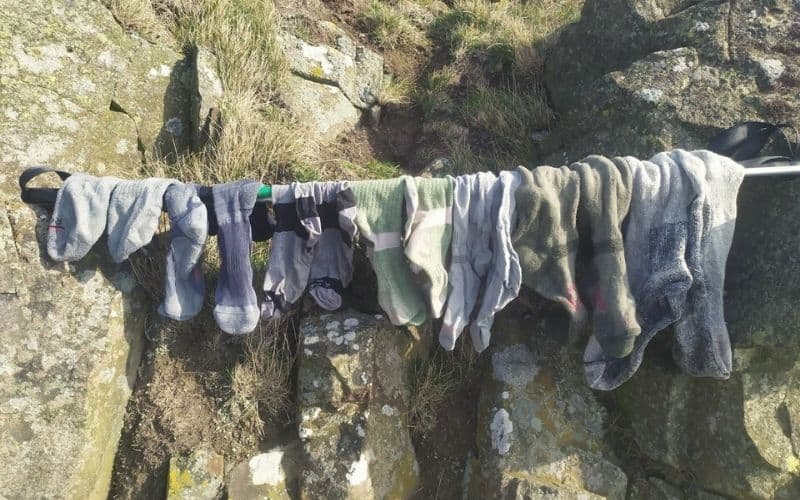 Hiking Socks: The Verdict
Just in case you're still undecided, we'll quickly summarize our top picks below.
For general, 2- or 3-season hiking, you can't go wrong with the Darn Tough Micro Crew. The Micro Crew keeps your feet warm in colder temps, cool in hot temps, are as tough as the brand name claims, and remain comfortable after many months of regular use.
For summer hiking, our favorites are the Balega Hidden Comfort and the Smartwool PhD Run Ultra Light Low Cut. The Balega are ideal if no-shows are your jam, while the Smartwool PhD are a better choice if you prefer a little more protection around the cuff of your hiking shoes.
Cold-weather adventurer? If so, we recommend the Darn Tough Boot Full Cushion, though the "Expedition" version of the REI Co-op Merino Wool Crew are a worthy alternative.
So, how did you like our article? Got any questions or comments? If so, drop us a line in the box below. And if you'd like to share this post with your hiker friends, please share away!